Announcing Merch Informer Lister Launch + Massive Keyword Finder Update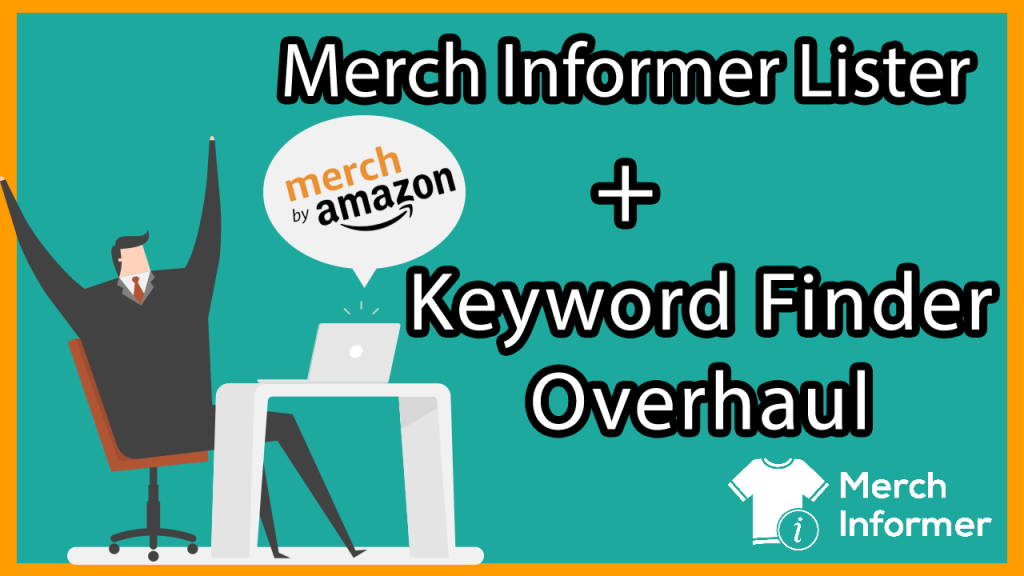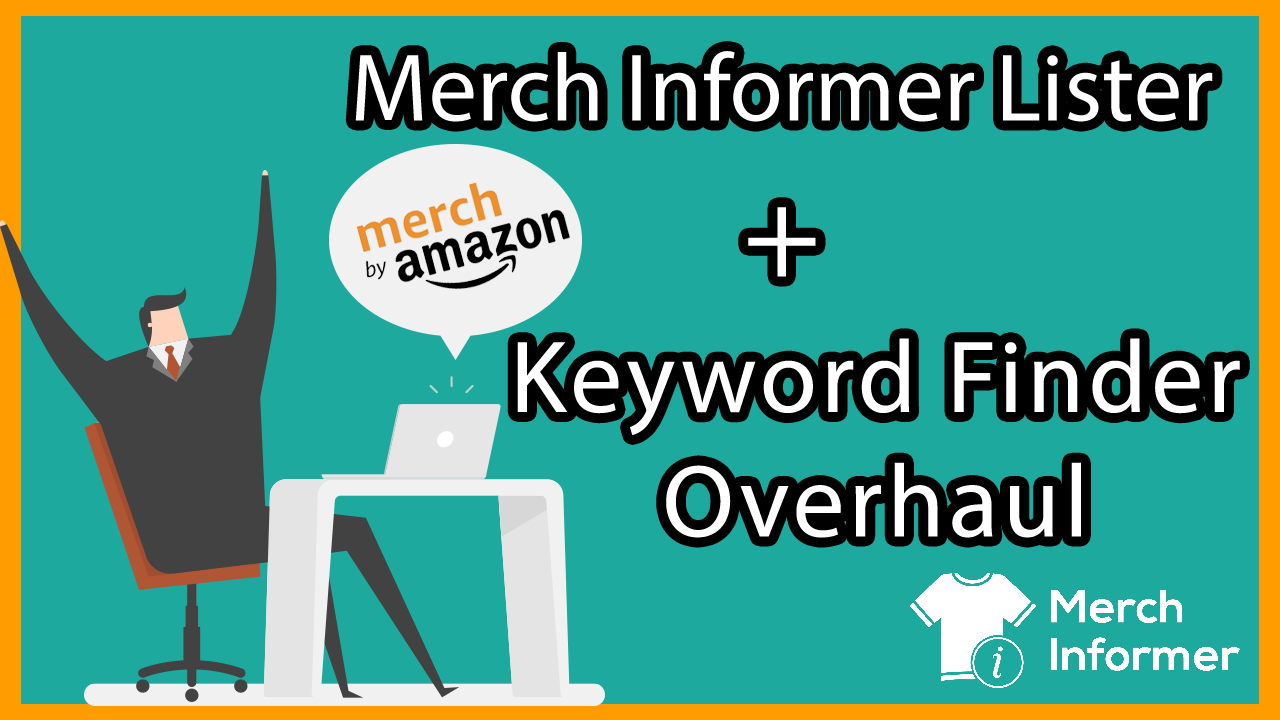 Today we are happy to announce two MASSIVE updates to Merch Informer!
As of 5 minutes ago, The Merch Informer Lister Chrome Plugin is now live in the Google store (which is free for all Merch Informer subscribers) as well as a complete overhaul to the backend of the keyword finder.
So… what exactly are these updates and what do they mean to you?
It means you are about to get a whole lot more productive throughout your day. Get ready to produce more in less time, here is how it works!
Merch Informer Lister Chrome Plugin
Put simply, the Informer Lister is a Chrome Plugin that acts as a macro recorder. What this means is that you can set up "profiles" for colors, listing data, and price that are hotkeyed to a single key on your keyboard.
When you are uploading your Merch by Amazon products, all you need to do is simply tap that key on your keyboard and the listing is automatically filled out for you!
You can download the Merch Informer Lister Plugin HERE
Color Profiles
You might not realize it now, but when you are uploading a LOT of shirts to Merch, selecting the colors for each and every one as well as a price starts to eat up valuable time. You probably find yourself selecting the same type of colors, and there is really no need for that.
Once you have the plugin, simply click on it in the upper right hand corner, log in to Merch Informer, and then head straight to the color profiles. Add a color profile.
You can then give the maco a name. In this case, I made a dark color profile, selected the dark colors I usually use, picked a fit (Men, Women, Youth), a price, and then finally I hooked it up to a Hotkey.
I always set my hotkeys to Shift + a key on my keyboard. This makes sure that I do not accidentally hit it when typing.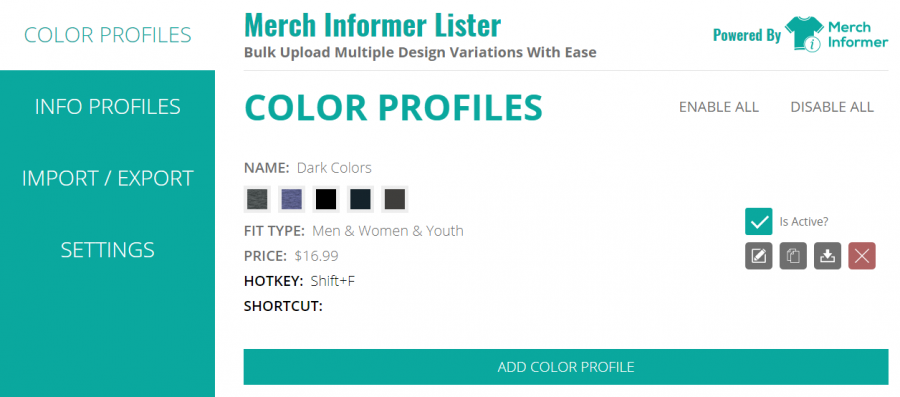 Now when you are uploading to Merch, when you are on the color selection screen, simply click "Shift+F" and everything is automatically selected. You will just need to click on the button at the bottom of the page to fill out your products listing details.
You can set up as many color profiles as you want.
Info Profiles
Info Profiles are much like Color Profiles, but these macros are set up for filling out the actual listing information for you.
If you find yourself filling out the same bullet points, same bullet points, or same description/title on occasion, the info profiles are exactly what you need.
Fill out an info profile ONCE and use a hotkey on your keyboard to automatically fill this information out in your Merch by Amazon listing.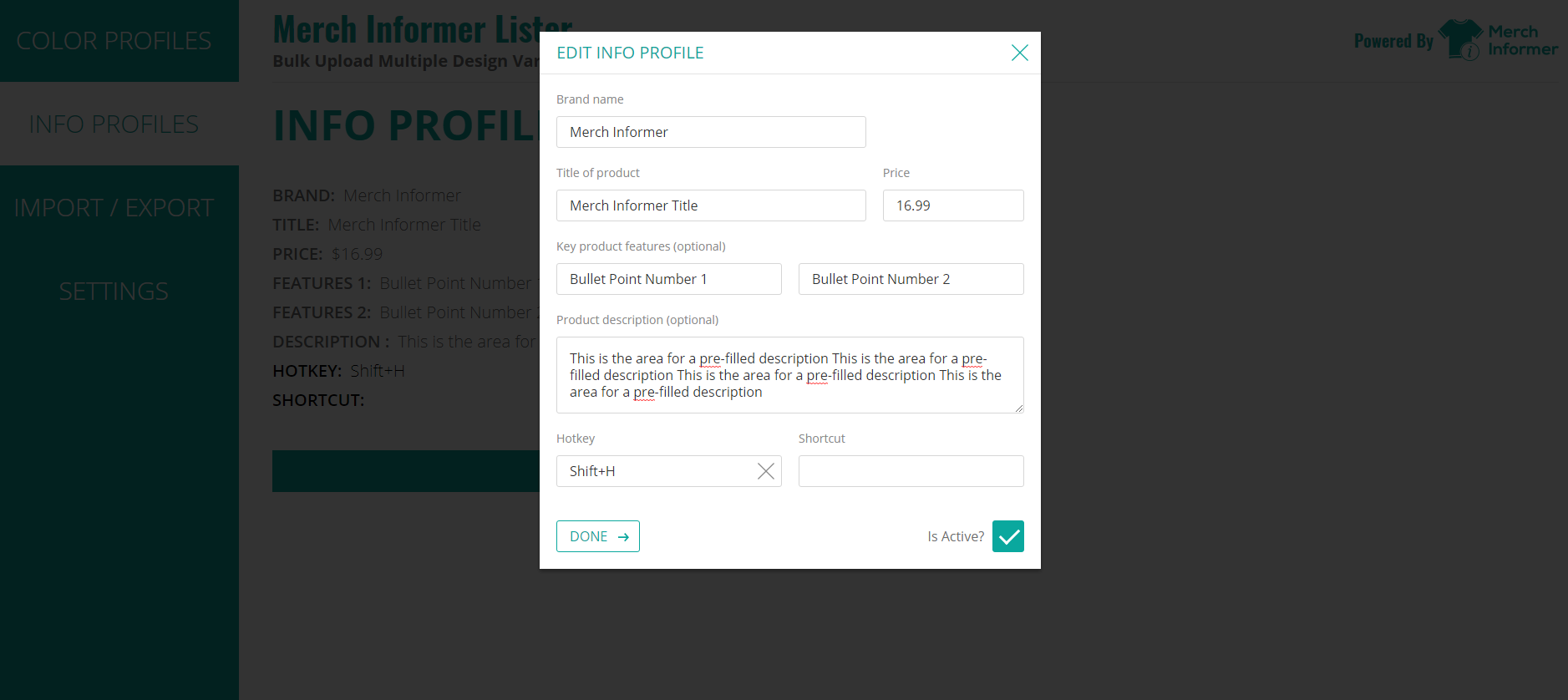 Filling out the Title, price, bullet points and description are probably the most time consuming thing we do as Merch Sellers.
Now you can finally reclaim that time to use for what actually leads to making more money, research and high quality designs.
If you want to read more about everything this plugin does, please check out the Merch Informer Lister page:
https://merchinformer.com/merch-informer-lister/
Keyword Finder Overhaul – 10X Your Keywords
Along with the lister, we did a lot of work to the keyword finder module within Merch Informer.
When you first look at it, it will look very similar, but start to use it, and you start to notice some really useful changes!

Etsy Keywords
The first is that we added a checkbox to pull keywords from Etsy. Not only is this incredibly helpful for Etsy sellers, but these are excellent keywords for Amazon as well!
The best part about all of this is that instead of a few hundred keywords max, this can pull over 1000 keywords:


By default, just Amazon is selected. This will typically be a search that takes under 20-30 seconds to complete and can bring back a few hundred keywords. If you are willing to wait a few minutes (cross checking and pulling back the best results can take a bit), then you can get the results above by checking all the boxes and searching.
Download CSV
You asked for it, and we delivered! Merch Informer now supports downloading keyword lists into a CSV. This can be incredibly useful for those who are diving deep into niches and want to do further analysis in their own spreadsheets.
Sort By Search Volume
With the new sort by function in the Keyword Finder, you can now sort your results by Search Volume and CPC (cost per click).



This function seems like a small change but can be incredibly useful for niching down or finding niches where there is BIG MONEY being spent. Niche down to find places where you are not competing against 10,000 other sellers, or find niches where there is lots of money to be made, but you will need to rank your shirt first. The choice is yours, and now the data is readily available for you in the Keyword Finder.
Wrapping It Up
That about finishes out this update. We thought about staggering these updates, but with the release of the Merch Informer Lister, you should be able to upload over twice as fast as you were previously. That means you will need more designs, and that takes research. It just made sense to give our subscribers the tools to find winning niches now, rather than wait.
I hope everyone finds these updates valuable in their Merch by Amazon business.
After playing around with the tools mentioned above, we would love to hear from you in the comments below!