Cats may be the sweetheart of the Internet, but are they as big on Amazon Merch on Demand?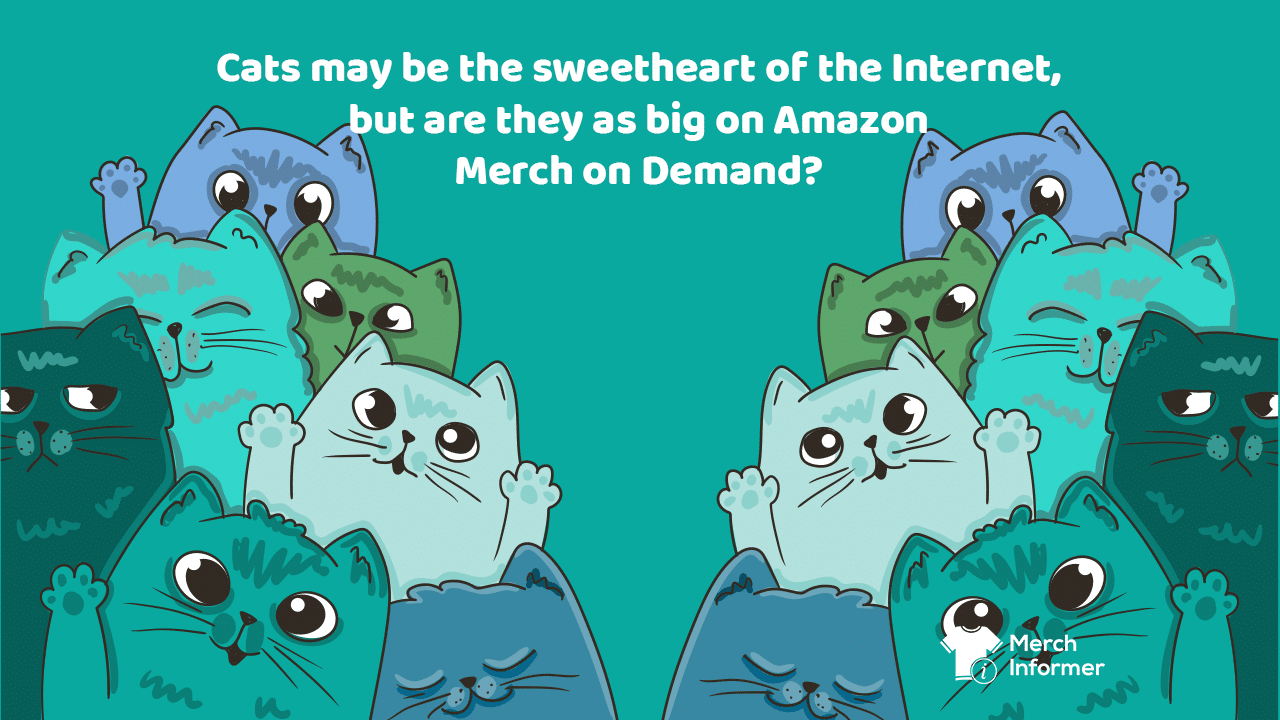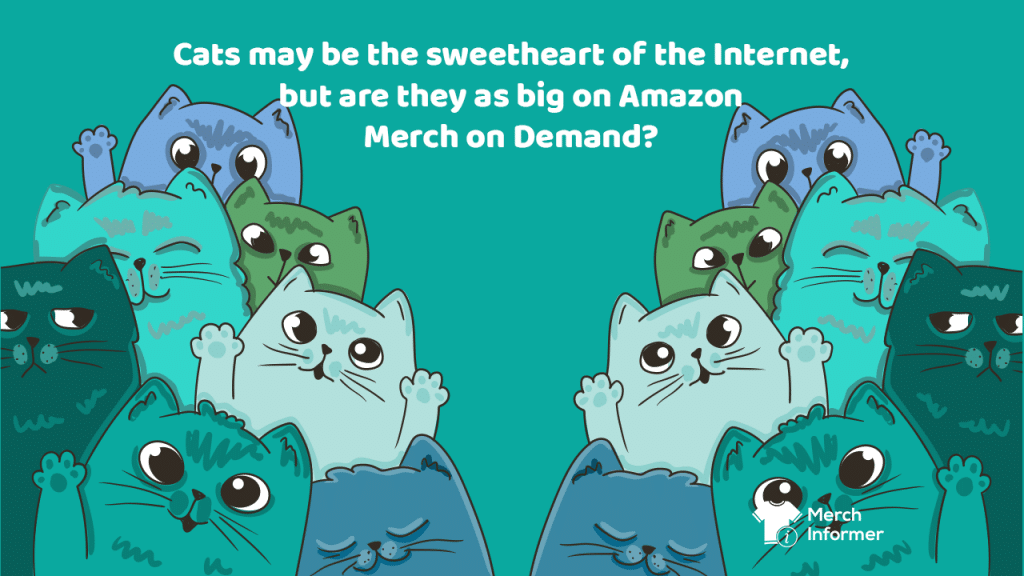 If we do a quick Google search, the words "cat" and "cats" bring us over six billion search results. That's nearly as many people as the total population of the world.
We've all watched cat videos, images, and memes of funny and adorable cats. And the love for them is strong. But does this love for cats generate as much interest on the Amazon Merch on Demand platform? And if so, which category of merch is raking in the big bucks?
In this post, we explore the market size, best-selling practices, and most profitable merchants.
Read on to find out more.
How big is the market for cat-themed merch?
A quick search query for the keyword "cat" on Merch Informer's Merch Hunter module tells us that there's not only a variety of t-shirt products out there. There are also many sellers making multiple sales. And with low best-sellers ranks (BSR) in the region of 300,570 – this already tells us that the audience for cat-themed merch is huge.



But how far does the love for our feline friends go? Below, we explore the different categories of merch and whether there is any scope for maneuver and exploration in this niche.
An overview of each merch category
To take a deep-dive into the cat-themed merch categories, we again made use of Merch Informer's Merch Hunter tool. We left the default parameters, excluded all the trademarked brands, typed in "cat" as our keyword, and went through the process of selecting each merch category one by one.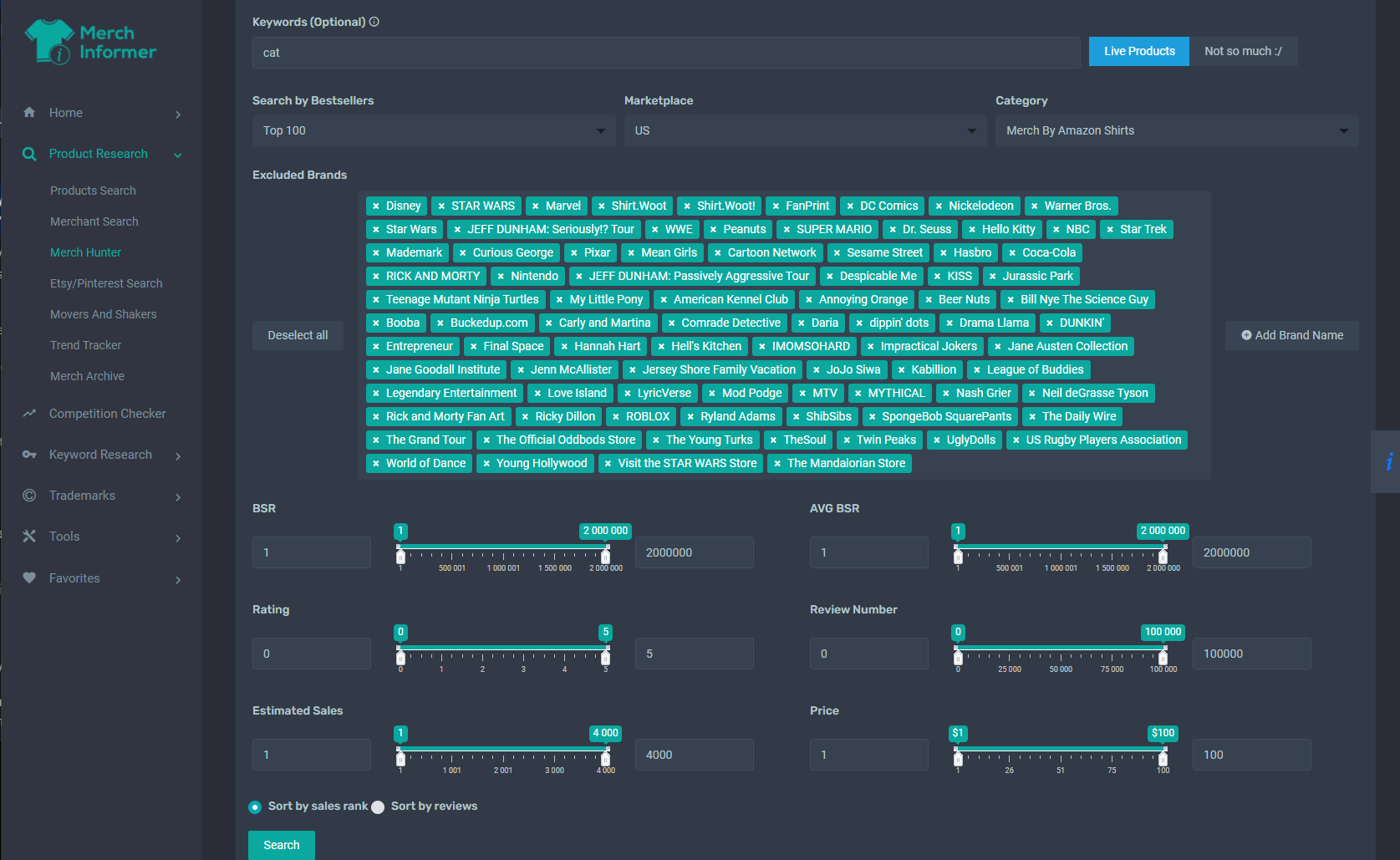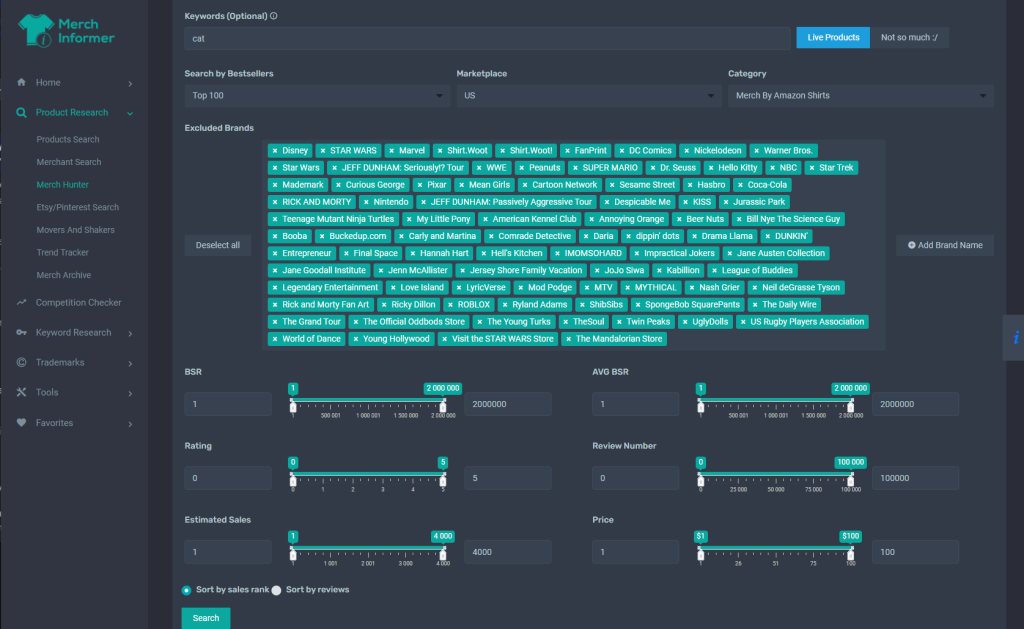 Here's what we found.
T-shirts: the average BSR for this category of merch is 300,570, with a median price for t-shirts being $18.99.
Long sleeve shirt: long sleeve shirts have a relatively higher BSR at 990,227 but their average prices are also higher at $23.42.
Sweatshirts: the same trend as mentioned for long sleeve shirts is recorded for sweatshirts with a BSR of 1,167,613 and average prices at $32.47.
Hoodies: hoodies have a comparatively lower BSR at 715,786 and an average price of $33.34.
V-neck: v-necks tend to be more affordable than the three preceding categories with an average price of $22.34 and an average BSR of 846,001.
Raglan: these merch products have the highest BSR so far at 1,224,544 and average prices of $25.19.
Based on this data, we gather that cat-themed t-shirts are making good sales, followed by hoodies and v-necks. Long sleeve shirts, sweatshirts and raglans seem to be less competitive on the Amazon marketplace. With this in mind, what are some of the keywords and search volumes associated with the cat-themed niche across the different categories?
We set out to explore this topic in more detail below.
Keywords and search volume
Using Merch Informer's Products module, we typed in "cat" as our primary search query. Here are the keyword results and their corresponding search volume.


"Cats cats cats": search volume – 290,894
"Cat cat cat": search volume – 271,800
"Cats cats": search volume – 247,597
"Cat cats": search volume – 232,430
"Cat cat": search volume – 211,396
"Cat cat cat cat": search volume – 89,581
"Cat in cat": search volume – 70,949
"Cats, cats": search volume – 11,141
"Cats are cats": search volume – 4,816
"Not a cat cat": search volume – 4,739
What becomes evident is that audiences are searching for the term "cat" either in its singular or plural forms, or both. In addition, the search volume is tremendous, signaling great demand from cat lovers across the world.
Keyword saturation
Next, we explore the keywords that sellers are using to capture these search queries. We were able to ascertain this data with the help of Merch Informer's Products Search module.
The top performing keywords used in product titles and the number of times they were used are as follows:
Cat (9,290)
Cats (1,591)
Funny (1,545)
Cute (581)
Owner (487)
Gifts (419)
Kitten (346)
Sphynx (249)
Pet (196)
Retro (193)
Kitty (181)
Vintage (177)
Cool (170)
Crazy (169)
Animal (162)
Kittens (137)
Graphic (137)
Based on these keyword counts, we can conclude that "cat", its variations "kitty" and "kitten", as well as their plural forms, are the most common words used by print-on-demand merch sellers. Next in line are keywords that describe what kind of cat is being depicted on the design such as "cute", "retro", "vintage", "cool", etc. Among these descriptions, "funny" comes out as the dominant word, which goes to show that most of the cat-related merch designs are intended as humorous illustrations.
Also worth noting is that there is a small reference to rescue cats and their role in our families, which indicates a level of empathy that is to be expected when it comes to pets.
Listings saturation
We now head over to Amazon.com to check out the number of listings for our search query "cat". In the Men's Fashion category, we get over 30,000 results and in the Women's Fashion category, there are over 50,000 listings.
There are over 10,000 results in the Girls' Fashion category while the same number of listings appears in the Boys' Fashion category. As such we are looking at around 100,000 listings on Amazon for this search term.
But does this mean that there is no scope for competition and that the market is oversaturated? We don't think so. And we'll get into more on that below.
What are some of the best-selling merchants doing right?
We identified two best-sellers in the cat-themed niche in the t-shirt and hoodies categories. We picked these branches intentionally, as they have proven to perform best.
First on the scales is the "Cottagecore Cats Aesthetic Cat Mushroom Hat Kawaii T-Shirt" listing in the t-shirt category by seller Cottagecore Aesthetic Cat Mushroom Kawaii. This product goes for $18.98 with an incredibly low BSR of 29,307 and 86 estimated sales.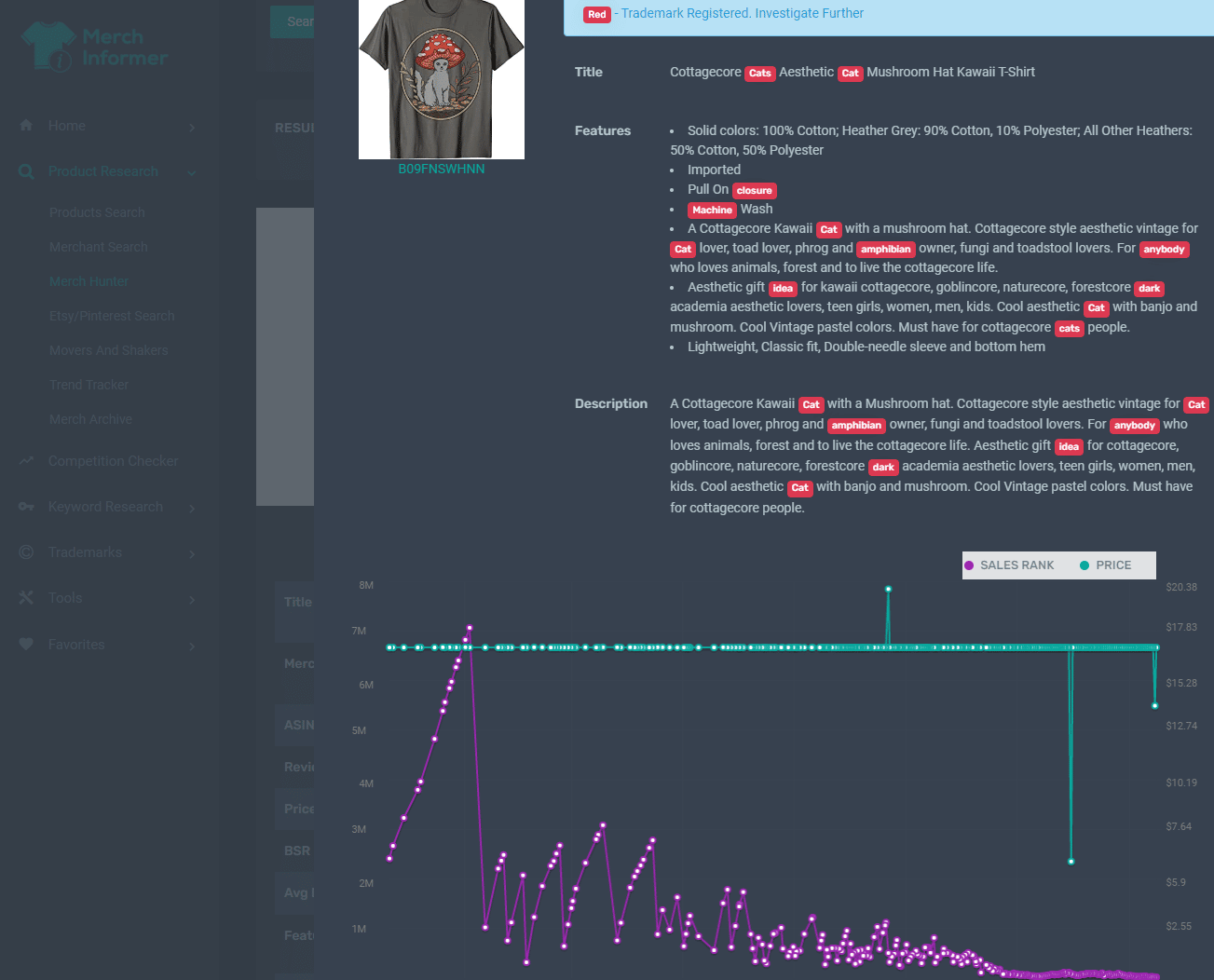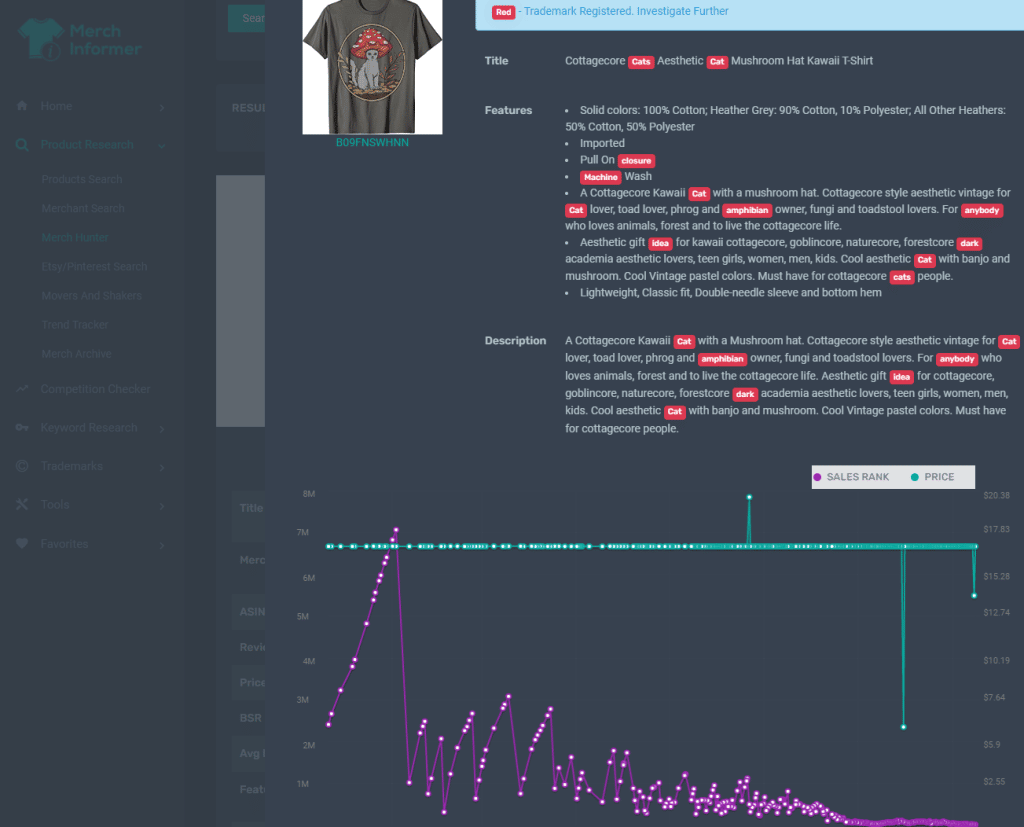 As for hoodies, we have the "Cat Deadlift Hoodie – Powerlifting Kitty Sweater, Muscle Cat Pullover Hoodie" listing by seller Visit the CAT Store. Priced at $27.99, this item has a BSR of 107,617 and 24 estimated sales.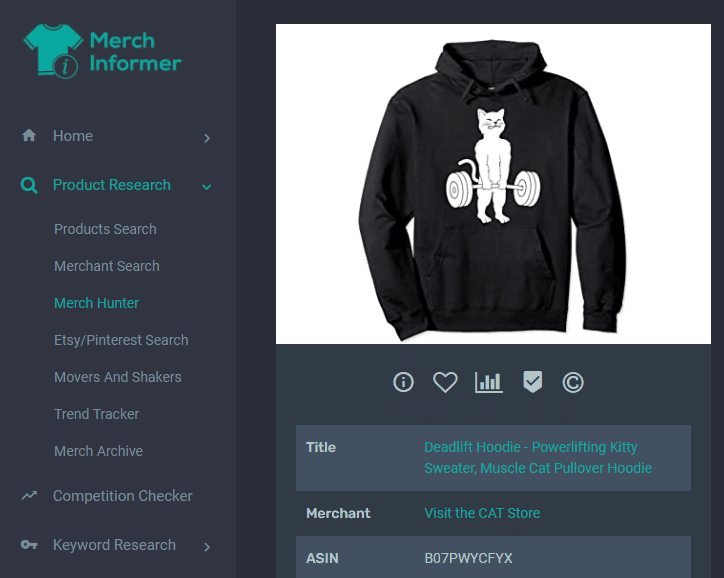 So, what have these bestsellers done to achieve such incredible rankings? Let's take a closer look.
Keyword usage
The t-shirt seller has used an adjective in front of the primary keyword, which is the word "aesthetic" (much like we saw in the keyword saturation discussion above). The second seller has gone further. They've used the keywords "cat", "kitty" and "muscle cat" to get in front of an audience, rank higher, and earn more sales.
However, the second seller has gone one step further by combining the cat niche with the sports niche, by specifically focusing on deadlifting. This combination of niches can be a powerful way to generate more sales.
Pricing
The first best-seller named above has been absolutely precise in pricing their products with one cent less than the average of $18.99. Perhaps they've been using Merch Informer, too.
Meanwhile, the best-selling hoodie merchant has priced around $5.00 less than the average, which is $33.34.
Designs
Apart from the fact that all the bestselling merchants have cats on their merch, the actual designs are quite a bit different. In some cases, the cats or kittens are caricatures. In other cases, they are mere outlines. While for other instances, they are images of real cats.
They can be funny and humorous, serious, psychedelic, retro, cool, cute, and others. There is very little that brings any cat-related merch together, and that's a good thing. Creativity is what matters here.


For instance, with the first t-shirt bestseller, we have a cat with a red mushroom hat on its head, encircled within nature motifs. Meanwhile, the second bestseller above has a caricature of a white cat lifting a deadlift.
Both of these designs appeal to people's sense of humor, which is in itself a good practice that we've uncovered earlier in this post.
What is the profitability within this niche?
In the t-shirts category, the first seller has sold around 86 items at a price of $18.98, resulting in total revenue of around $1,632.28.
As for the hoodie, we multiplied the selling price $27.99 by the 24 estimated sales to get a total revenue of $671.76. Not bad for those interested in getting into the cat niche.
All in all, you're looking at over $500.00 from your goods, which could go into the thousands, if you follow the right strategies.
Our recommendations
Getting in front of an audience can seem like a daunting task on Amazon Merch on Demand. But with the best practices outlined below, and the help of Merch Informer, you're much more likely to succeed.
Category
We kick off our recommendations list with a brief commentary on merch categories. With t-shirts, hoodies, and v-necks coming to the fore, we suggest choosing between two options.
Option one is to compete in the aforementioned well-performing, but high-competition categories.
Option two is to try to enter categories with less competition such as long sleeve shirts and raglans. This will net you fewer, but easier sales.
Whatever choice you make, ensure that you use the right keywords.
Keywords
The keywords to be used in your title and description should be accurate and not stuffed. Therefore, although there may be thousands of search queries for the keyword "cat cat cat", you don't want to directly copy this keyword unless it is relevant to your product.
Using "cat" or its plural form, as well as "kitten", "kitty", "pet" and "animal" can help you broaden the description of your title. Supplementing the primary keyword with adjectives such as "funny", "cool", "retro", or others can also help your product stand out.
Price
Depending on the merch product you plan on selling, you need to be guided by the average price as much as possible. This means relying on Merch Informer to do the math for you in a simple click as opposed to sitting in front of your computer with a calculator. Save yourself the time and effort and try Merch Informer instead.
Design
You have full leeway when it comes to the design. This is because cats can be depicted in so many different ways. However, funny or humorous cats seem to be the popular trend and catering to this with your original idea can help you get to market and earn sales faster.
In summary
Before you start with the cat niche on Amazon Merch on Demand, do yourself a favor and get your Merch Informer subscription. It costs a mere $9.99 per month.
This is the ultimate way to figure out which sub-niche to target, which product category to choose, how to price around the average, and what the best keywords are.