Dissecting Product Categories: Is It Worth Getting Into Phone Cases On Amazon Merch On Demand?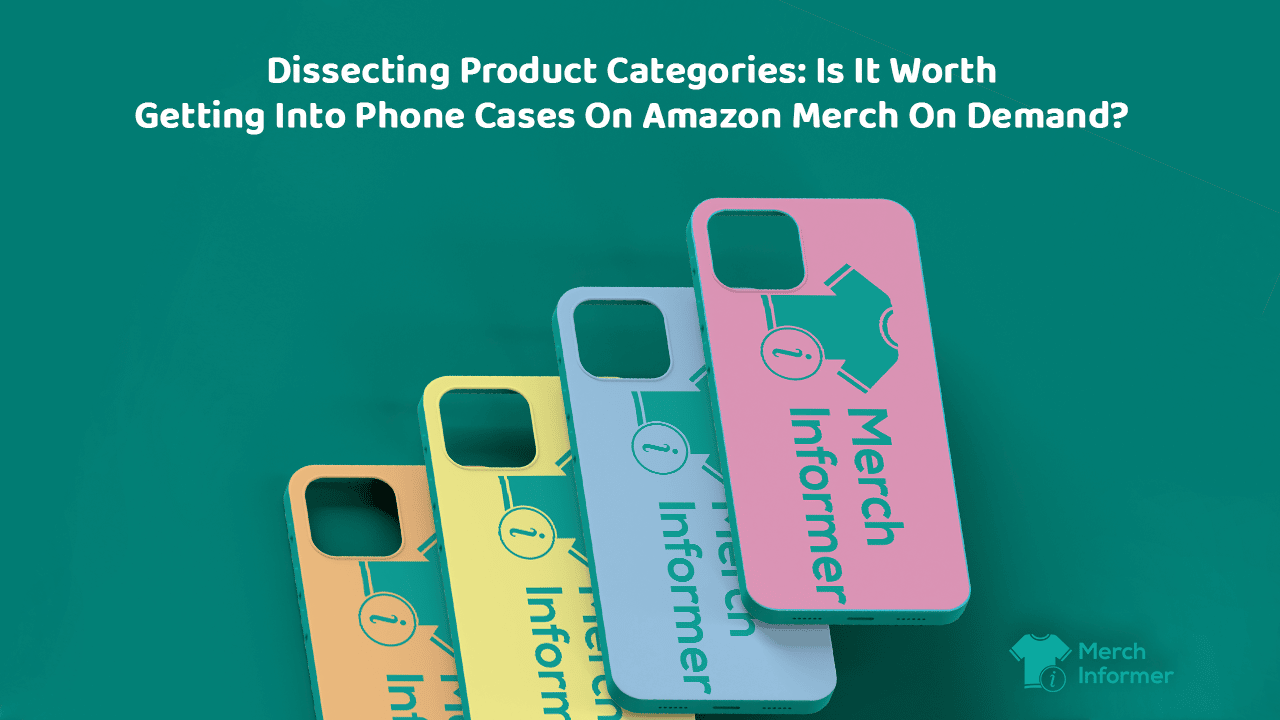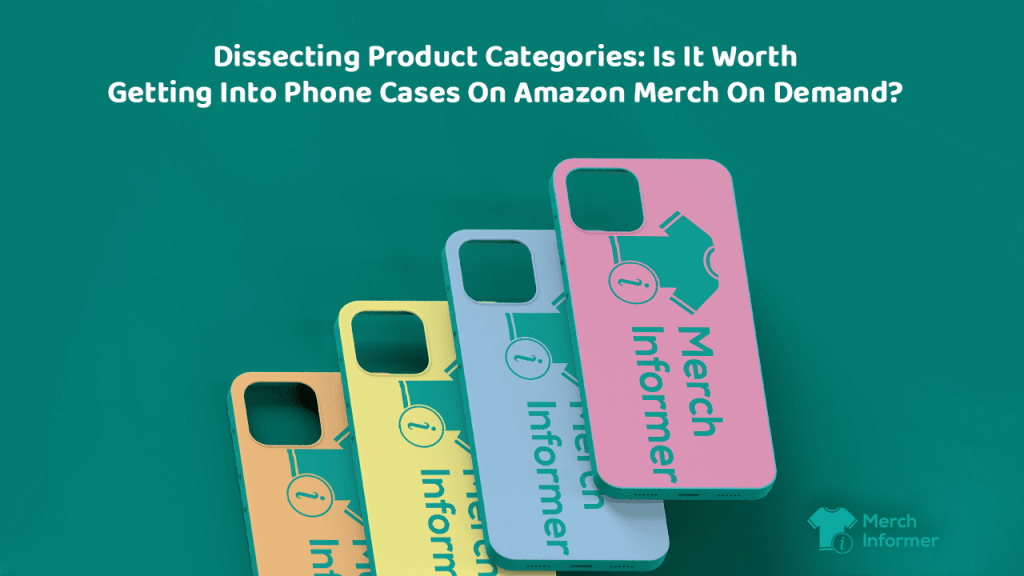 With many available categories to tap into as an Amazon Merch on Demand seller, choosing a profitable niche could be overwhelming. If you've read our previous posts, you'll have noticed that we aim to make this process easier for you by dissecting different category niches.
This time, our focus is on phone cases.
Below, we'll find out whether this market is profitable, what some top performers are doing to score sales, and how you can compete in the category.
How big is the phone case market on Amazon Merch on Demand?
The first step in our journey to category exploration is determining the market's potential. This is a reliable indicator of whether or not the category is worth your time and effort as a seller.
The phone case category on Amazon Merch on Demand is divided into two main subcategories – iPhone cases and Samsung Galaxy cases. A quick search using Merch Informer revealed that both sub-categories have more than 500 bestselling listings. In other words, the market is well-developed and attracts many sellers.



We also did some digging into the demand from Amazon shoppers. Using the Keyword Finder tool in Merch Informer, we explored how many category-related searches shoppers perform every month.
Here are our findings.
iPhone cases


The data we analyzed shows that iPhone cases are in much greater demand. The following list shows the top searched for keywords and their search volumes:
iphone 12 case – 2,626,530
iphone xs case – 2,621,666
iphone 13 case – 2,618,309
iphone case se – 2,581,690
apple iphone se case – 6,158
All of these keywords have high competition. In other words, a lot of sellers are actively competing for them. This indicates a substantial amount of interest for Apple phone cases on Amazon Merch on Demand.
Samsung Galaxy cases


The Samsung Galaxy phone case market is also saturated. However, the user demand is not as high as for iPhone cases. The following insights prove it:
samsung galaxy case – 305,173
samsung galaxy s22 case – 302,473
10+ case samsung galaxy – 95,173
samsung galaxy a11 case – 13,601
Now that we know that overall, phone cases are trending on Amazon Merch on Demand, let's look at how profitable the category is.
How profitable is the niche?
We've divided our research findings into Apple iPhone and Samsung Galaxy sections for convenience. In a nutshell, the results are very similar and the data from Merch Informer suggests that phone cases can be a rewarding niche to explore.
Apple iPhone
As a seller, your earnings from Amazon sales are directly linked to royalties. Higher listing prices result in higher royalties. To determine what types of profits you can expect, it's necessary to look at the prevalent prices in the market.
A look into the best-selling listings shows that the average price for iPhone cases is $19.09. The lowest price in the category is $9.99, while the highest is $39.99. At the same time, the average BSR of top performers is 41,104.
But what does this mean?
Here are Amazon's royalty structures for phone cases in the US marketplace. The first number represents the purchase price, while the second represents the royalty:
$14.99 – $0.80
$15.99 – $1.50
$16.99 – $2.19
$17.99 – $2.89
$18.99 – $3.59
$19.99 – $4.28
In other words, you can expect to make around $4 for every sale you land if you price your listing around the market average. If you reach the top-performing levels and achieve an average BSR of 41,104 (which translates into 110 sales), you'll generate $440 per month.
Samsung Galaxy
Let's repeat the process from above and adapt it to Samsung Galaxy cases.
The average price in the sub-category is $18.52, while the lowest and highest prices are $13.84 and $38.99. The average BSR according to Merch Informer's Merch Hunter tool is 235,579.
This equals 21 sales per month and translates into $84 profit per month.
Best-selling phone cases on Amazon Merch on Demand and their strategies
Next, it's vital to analyze what the successful sellers in the space are doing to make their products attractive and highly purchased. Let's look at the bestsellers for iPhone and Samsung Galaxy cases and assess their strategies.
iPhone
The number one best-selling listing for iPhone cases is the "iPhone SE (2020) / 7 / 8 Brown Classic Checkered Big Checkerboard Case". The product sells for $16.99 (just under the average price in the market) and has a BSR of 10,138. Interestingly, it's very similar to the next couple of top performers, which are also created with a checkerboard design.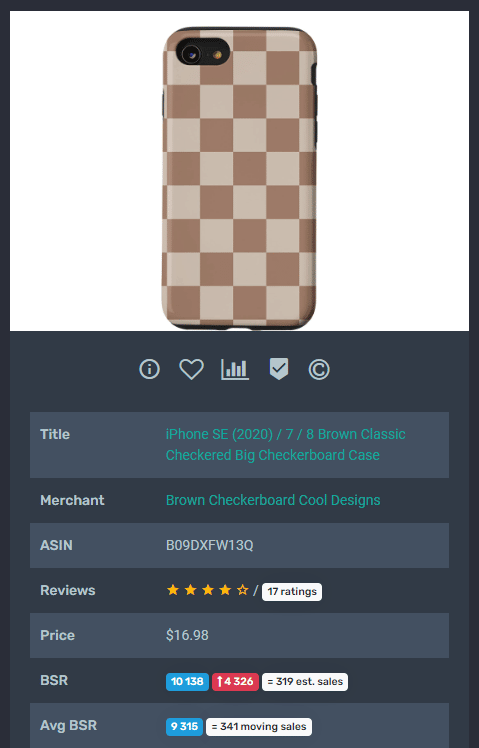 We were interested to see why this listing is so profitable. To find the answers, we performed extensive keyword research using Merch Informer. We noticed that the majority of high search volume keywords also came with vast competition.
However, one keyword stood out: brown checkered case 13 pro max
The phrase generated a monthly search volume of 1,144, but didn't have any data available, meaning that there's little to no competition for it. The seller has successfully taken advantage of this opportunity and satisfied a demand others haven't discovered yet. This allows them to gain an advantage and outperform the competition.
Apart from the checkered design, the listing has been optimized for specific keywords, like the one we mentioned above and others, like "iPhone SE". This further boosts the visibility of the listing and makes it attractive on Amazon.
Galaxy
Another bestseller we dove into is the "Galaxy S9 Hello Fall Coffee Mug Autumn Leaves Happy Fall Feeling Case". The case sells for $17.98 (again, slightly below the market average) and has a BSR of 54,232.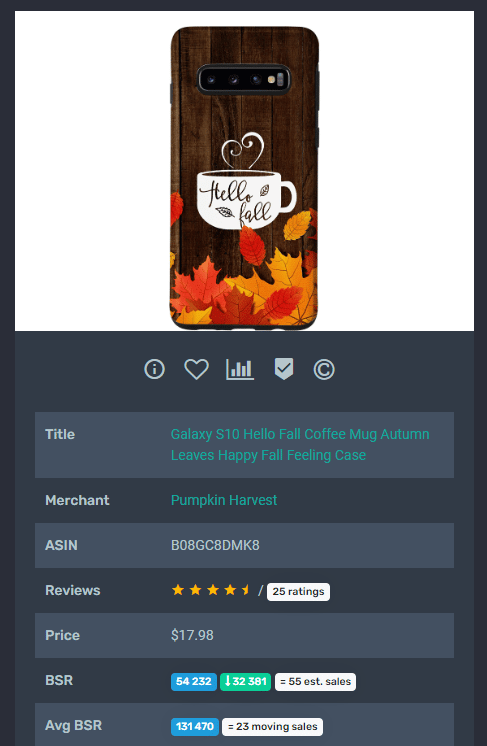 Here, the seller has exploited another type of opportunity – seasonality. We see this product performing exceptionally well at a time when autumn is just approaching. Shoppers are actively searching for season-themed merch, and this listing serves as undeniable evidence.
Just like the previous example, the product is very niche. It's tailored to the specific theme in terms of design and product listing optimization. The seller has utilized several essential keywords, like "fall", "coffee mug", "autumn leaves" "fall feeling", and others, which buyers are using to browse for related products.
How to sell phone cases like a pro
So having all of this in mind, what can you do to sell phone cases on Amazon Merch by Demand successfully?
Follow seasonal trends


Our research on Merch Informer shows that seasonality is a decisive factor influencing buyer behavior in the phone case market. Take advantage of this by researching seasonal keywords and understanding more about what drives sales during different periods of the year.
You can do this by relying on Merch Informer's Keyword Research tools. They will help you uncover the phrases that receive the most search volume and unveil the keywords with the lowest competition. Discovering such opportunities will ultimately enable you to create the right listings at the right time.
Niche down
Another step on the road to profitability is niching down. Most top-performing listings in the phone case market are created around specific themes. These are often inspired by substantial keyword research.
For instance, one of the examples we used above was a checkered iPhone case. Although most sellers may never assume that the checkered design can produce so much interest, keyword research suggests otherwise. The seller has created a best-selling listing by spotting this window of opportunity.
Just from a quick browse through popular keywords in the space, we noticed the phrase "iphone xmaxs case", which receives a monthly search volume of 2,842 and has low competition. This is another example of a low-hanging fruit you can use to your advantage.
Research trending phone models
We also noticed that a lot of the most searched for keywords are related to specific phone models. You can gain an advantage and position your listings better than competitors by staying up to date with trending phone models.
This will help you use up-to-date keywords in your listing titles and descriptions.
Pricing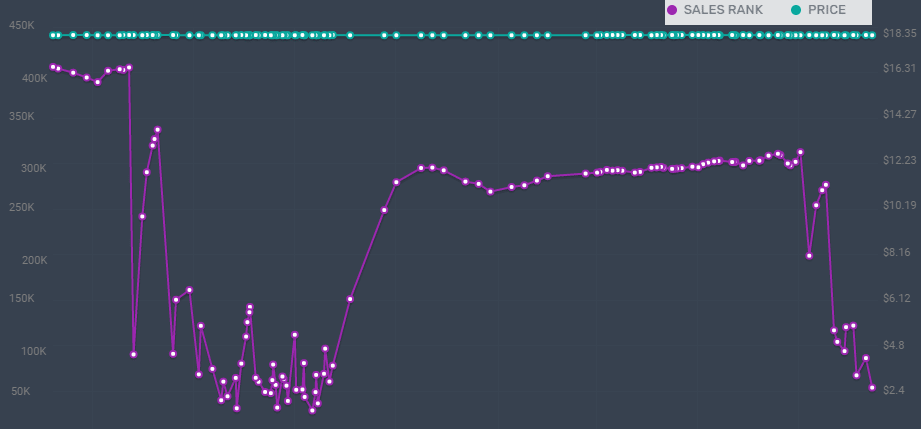 Another critical component of a winning seller's strategy is pricing. Our recommendation is to price your phone case listings slightly under the market average.
Why? Because this will allow you to quickly gain interest from shoppers as you'll provide money-saving opportunities, putting you at an advantage over other sellers. This strategy has been proven to work, as we observed in the bestsellers we analyzed earlier.
As you grow in popularity, you can consider raising your prices. At this phase, you won't compromise your sales volumes, as you'll enjoy more traffic that you can convert into sales, without the cost being an issue.
Focus on Apple cases
As a final tip and a concluding thought from our research, we recommend entering the Apple case market on Amazon Merch on Demand instead of the iPhone case category.
The iPhone case niche dominates Samsung Galaxy in size, interest from shoppers, and profitability. Considering that both categories are equally as competitive in terms of seller presence, your chances of success are much higher in a larger and more attractive niche.
Wrapping up
The phone case market on Amazon Merch on Demand is undoubtedly a well-developed and profitable one. Although saturated and characterized by a lot of competition, there are still gaps to be filled. As a seller, you have every chance of turning your phone case listings into a success story, as long as you're geared with the right insights.