Dragon-themed t-shirts on Amazon Merch on Demand: A surprisingly diverse niche worth exploring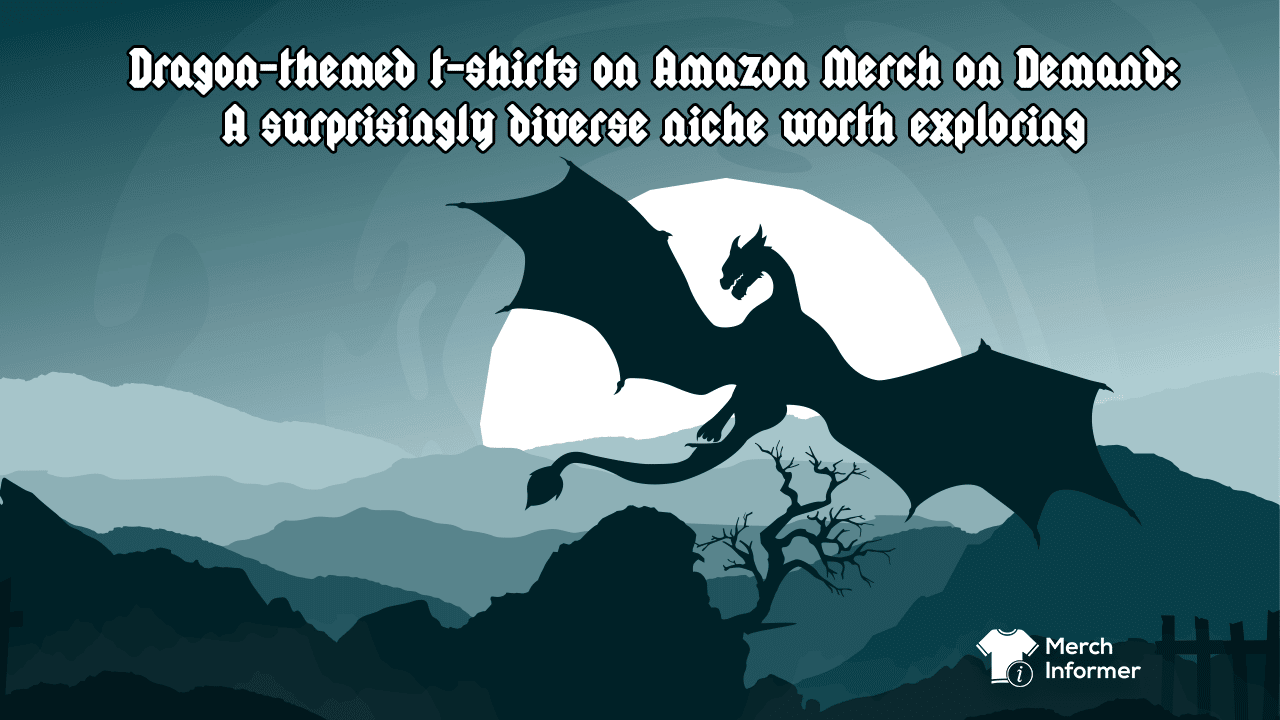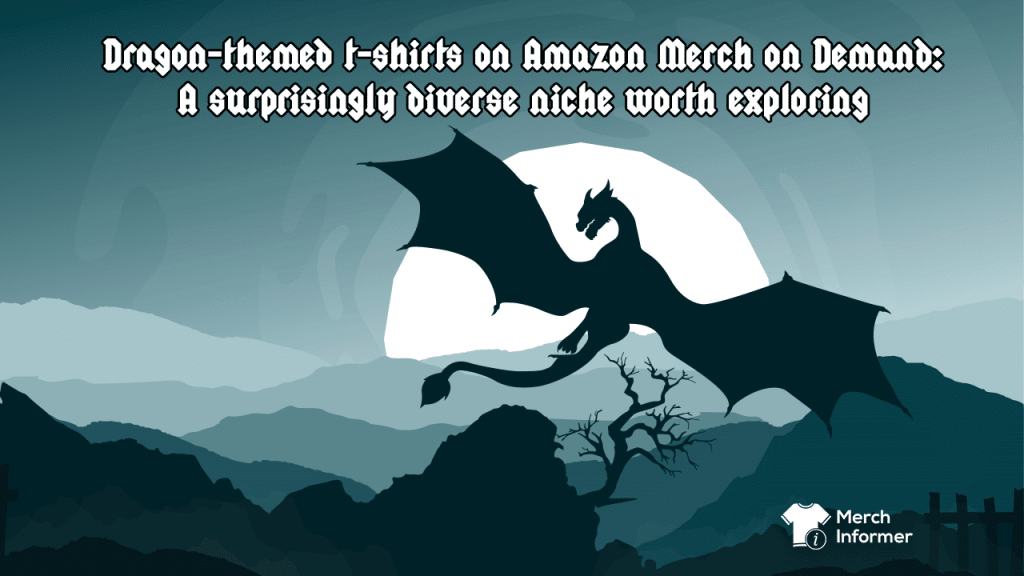 In the Far East, dragon symbolism has been around for centuries, portraying a mix of supernatural power, wisdom, strength, and hidden knowledge. With the blending of different cultures from East and West, a mutual respect for this mythical creature has arisen.
This is why we see such a plethora of dragon-themed items all around us. Naturally, this also includes apparel such as t-shirts. It is no wonder then that t-shirt designs with dragons on them have started appearing on Amazon Merch on Demand.
If you have the creative wherewithal to depict such designs, and you'd like to cater to this increasingly diverse market, this post is for you.
How big is the dragon-themed niche on Amazon Merch on Demand?
The market size is one of the primary considerations a seller needs to factor in when pursuing a niche on Amazon Merch on Demand.
Product types
We embarked on a thorough research process to determine the market scope for dragon-themed merch on the Amazon platform. Using Merch Informer's Products search module, we conducted a search for the seed keyword "dragon" whilst limiting the category parameters to t-shirts.



The resulting best-sellers rank (BSR) for such a broad search query is 6,909,781.
Next, we refined our search in terms of a number of other categories for the same keyword as well as their corresponding BSRs to get the following results: tank top (7,539,618), hoodie (7,088,575), long-sleeve shirt (6,788,601), and sweatshirt (6,713,605). There were no results for a dragon search query related to v-necks.
From this, it becomes apparent that t-shirts, long-sleeve shirts, and sweatshirts are the most popular categories of apparel related to the dragon niche on Amazon Merch on Demand.
Dragon types
Because dragons are such a prevalent myth across the globe, we further refined our research to determine the ones that net the most sales.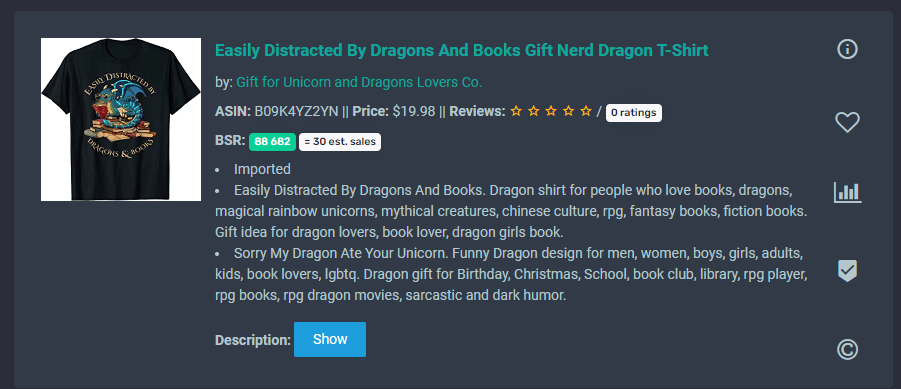 We got the following keywords and their BSR for print-on-demand t-shirts in particular.
"British dragon": 7,021,526
"Western dragon": 6,815,533
"Eastern dragon": 6,581,705
"Japanese dragon": 3,544,187
"Chinese dragon": 3,361,538
"Asian dragon": 1,526,462
"Celtic dragon": 317,035
"Nording dragon": 82,427
"European dragon": 19,094
What emerges from the above is that European-, Nordic-, Celtic- and Asian-themed dragon t-shirts sell the best, while the more specialized Chinese and Japanese dragons are decent to target.
Keep this in mind, as we delve deeper into this niche.
Keywords, search volume, and BSR
Let us now return to the seed keyword "dragon" and explore it further on Merch Informer. The purpose of this is to get an idea of where there's potential for profitability in the space. This time, we're adding another metric – search volume. The aim is to match the sales potential with the customer demand.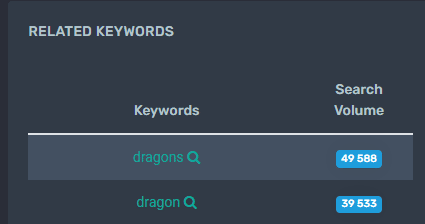 "Dragons": search volume – 49,588; BSR – 2,652,591
"Dragon": search volume – 39,533; BSR – 6,910,465
"Fathers dragon": search volume – 33,427; BSR – 43,338
"Be a dragon": search volume – 6,647; BSR – 2,363,221
"The dragons": search volume – 6 538; BSR – 392,360
"The dragon": search volume – 5,845; BSR – 738,814
"Dog dragon": search volume – 3,404; BSR – 90,351
"Dragon girls": search volume – 2,954; BSR – 1,385,828
"Great dragon": search volume – 2,902; BSR – 406,485
"Fun dragon": search volume – 2,264; BSR – 1,505,807
"Farting dragon": search volume – 1,965; BSR – 7,098,140
It's important to note that we only selected keywords, associated search volume, and BSR of t-shirt products that are not trademarked. Common search results for the popular animated show "Dragon Ball Z", the game for fantasy lovers "Dungeons and Dragons", and commonly-known expressions such as "there be dragons" were excluded from this search. Other related searches can bring up references to the TV series "Game of Thrones", which should also be excluded alongside trademarked words including "mother of dragons" or "father of dragons". In addition, it should be remembered that some reptile lovers refer to their pet lizards or iguanas as dragons and this reference has also been excluded from this search.
Having said that, the dragon theme appears to be quite broad. There's pop culture overlap, as well as light-hearted cross-references.
All of these can be exploited alongside the serious, badass dragon designs implied by the seed word and its Nordic, Celtic and Asian variants.
Listings saturation
Before we wrap this up, we also need to look at the total number of listings for popular keywords in this niche. We headed over to Amazon.com, selected the "men's fashion" search parameter (because it appears that males are the predominant buyers of these products), and hit the "search" button.
We found the following listing numbers:
"dragon t-shirt" (7,000)
"Chinese dragon t-shirt" (836)
"dragon t-shirt long sleeve" (277)
"Nordic dragon t-shirt" (147)
This data surprised us. We were expecting to see a much more mature scene, but it would appear that the market is not saturated at all. This presents you, the seller, with an opportunity to fill in the gap.
Pricing
The final consideration when it comes to determining the market size includes an evaluation of the price. Luckily, Merch Informer's Product search module enables us to discover successful sellers' pricing strategies with a click of a button.
Since the plural word "dragons" yields relatively low BSRs and has a high search volume, we typed in this keyword to find the prices sellers ask for.
We discovered that the lowest price for dragon-themed t-shirts is $12.86, the highest is $25.99, and the average stands at $18.10.

What are some of the best-selling merchants doing right?
We identified two bestsellers who appear to have some success in selling their dragon-related t-shirts on Amazon Merch on Demand.
The first bestseller identified is Gift for Unicorn and Dragon Lovers Co. They have created an item titled "Easily Distracted By Dragons And Books Gift Nerd Dragon T-Shirt". This product sells for $19.98. It has made around 15 sales this month, and has a significantly low BSR of 162,653.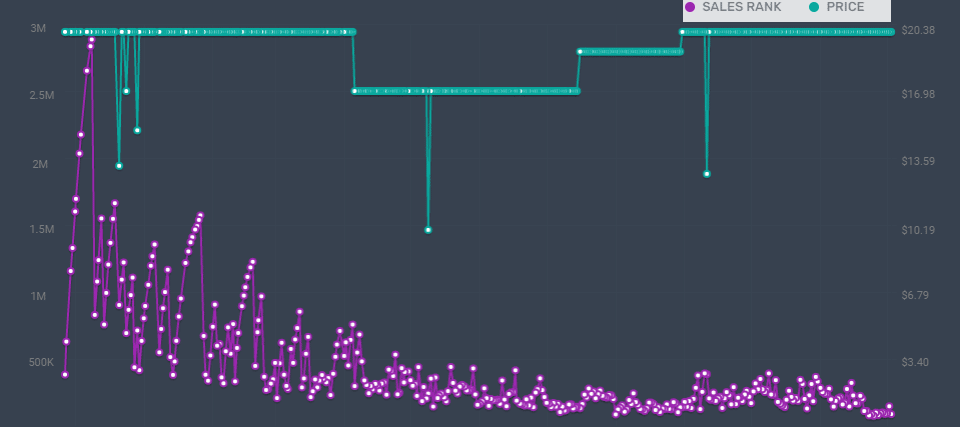 The second bestseller is Cool Fire Breathing Dragon Apparel. Their product is titled "Cool Dragon Flame-Spewing Flying Mythical Creature T-Shirt". This item sells for $19.98 (the same as the seller mentioned above). However, it has made 23 sales and has an even lower BSR of 118,105.
So, what have these sellers done right to get in front of an audience?
We start with the most obvious – their pricing strategy. They have both priced at $19.98, which is slightly over the average for this niche at $18.18.

Second up is their keyword optimization in their titles and descriptions. Incorporating the seed keywords "dragon" as well as its plural form, other notable keywords include "fire", "mythical", and "nerd".
The descriptions of these sellers are also highly detailed, with the second author indicating that their t-shirt is ideal for the celebration of various Chinese festivals. Meanwhile, the first bestseller has specified that their product is suitable for those who love Chinese culture, mythical creatures, fantasy, fiction, and more.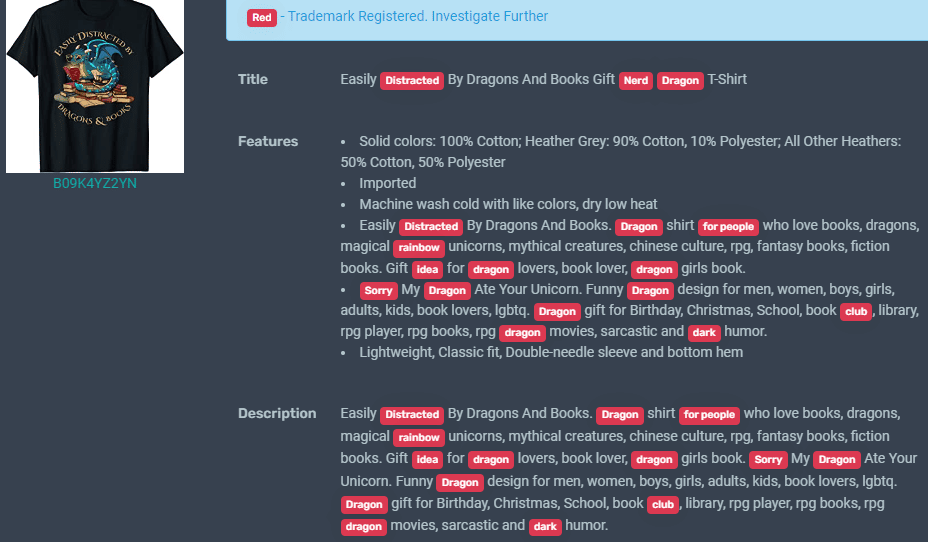 This is important, as it speaks directly to the buyer. More importantly, it establishes so-called "use cases", which is an age-old approach to sales proven to work with any product or service.
As for the designs, both t-shirts obviously feature depictions of dragons However, that's where the similarities end.
The first bestseller has created a cute, animated design that appears to be targeted at a much younger audience. In particular, these would be teens or children who love fantasy, reading, and immersing themselves in the world of dragons.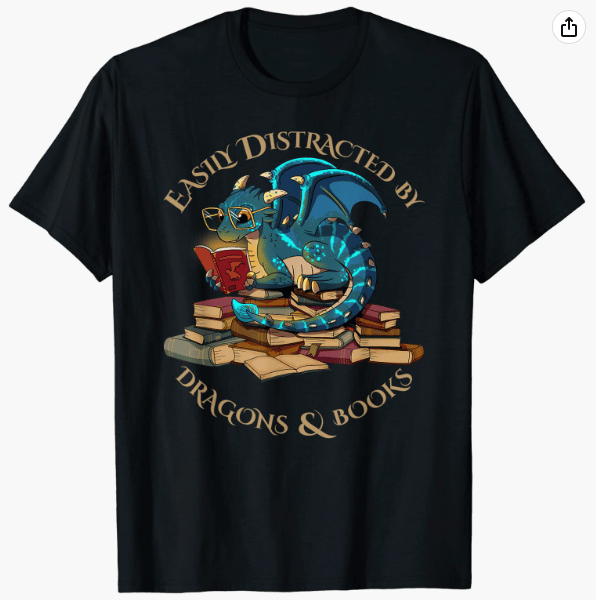 The second bestseller has designed a more realistic dragon using bold reds and oranges, which indicates that they're targeting a more mature audience. In addition, the wording on this t-shirt "If you can't take the heat… do not poke the dragon", has a more adult feel to it.
Although both sellers have experienced success, their target audiences are vastly different.
What is the profitability in the dragon-themed niche?
When exploring the potential of a niche, it's also crucial to take a look at current bestsellers and their levels of success. Hence, we multiplied the price of each seller by their number of sales to give us an estimated turnover.
For the first bestseller Gift for Unicorn and Dragon Lovers Co., we multiplied $19.98 by 15 to reach an estimated monthly turnover of $299.70.
For the second bestseller Cool Fire Breathing Dragon Apparel, we get a total of $459.54 by multiplying $19.98 by 23 sales.
It can therefore be deduced that bestsellers in this niche can earn from around $300.00 upwards to nearly $500.00 if they successfully enter the dragon-themed niche on Amazon Merch on Demand.
Our recommendations
Our recommendation to sellers seeking to enter this niche is to pay careful attention to the keywords used. The keyword "dragon" has a lower BSR and lower search volume than its plural sister keyword "dragons". However, when using such keywords, it's crucial not to use phrases, words, allusions, parodies, or even font that may be construed as a trademark infringement. This should be carefully checked.
Another important point to make here is to choose the type of dragon depicted on the t-shirt, as well as the tone of the design. The latter being serious or humorous. We found that Nordic, Celtic and Asian dragons sell the best. This should be obvious both in the design and in the listing's title and description.
Speaking of design, it should reflect the expectations of the audience and the sub-theme of the dragon itself. Creativity is very important here, as are design skills.
Finally, the pricing factor. Pricing is a key purchasing consideration and a determining factor when an Amazon customer buys a t-shirt. Therefore, to ensure you do not alienate or dissuade your audience from buying from you, it's always highly advisable to be guided by the average price in a niche. In this case, you should be pricing in the region of $18.
Closing remarks
The dragon-themed niche on Amazon Merch on Demand contains quite a lot of diversity and can cater to a number of different audiences. This is why your designs should always match the customer you're targeting. But in addition to this, your listing should be fully optimized in terms of keyword usage, as well as the prices you charge for your t-shirts.
If all this seems a bit overwhelming, don't worry. At Merch Informer, we've taken all the hard work out of doing research, creating designs, and uploading to the Amazon marketplace.
You can do all this and more with a few clicks of a button for only $9.99 per month.