Eid-Al-Fitr – Amazon Merch on Demand Opportunity?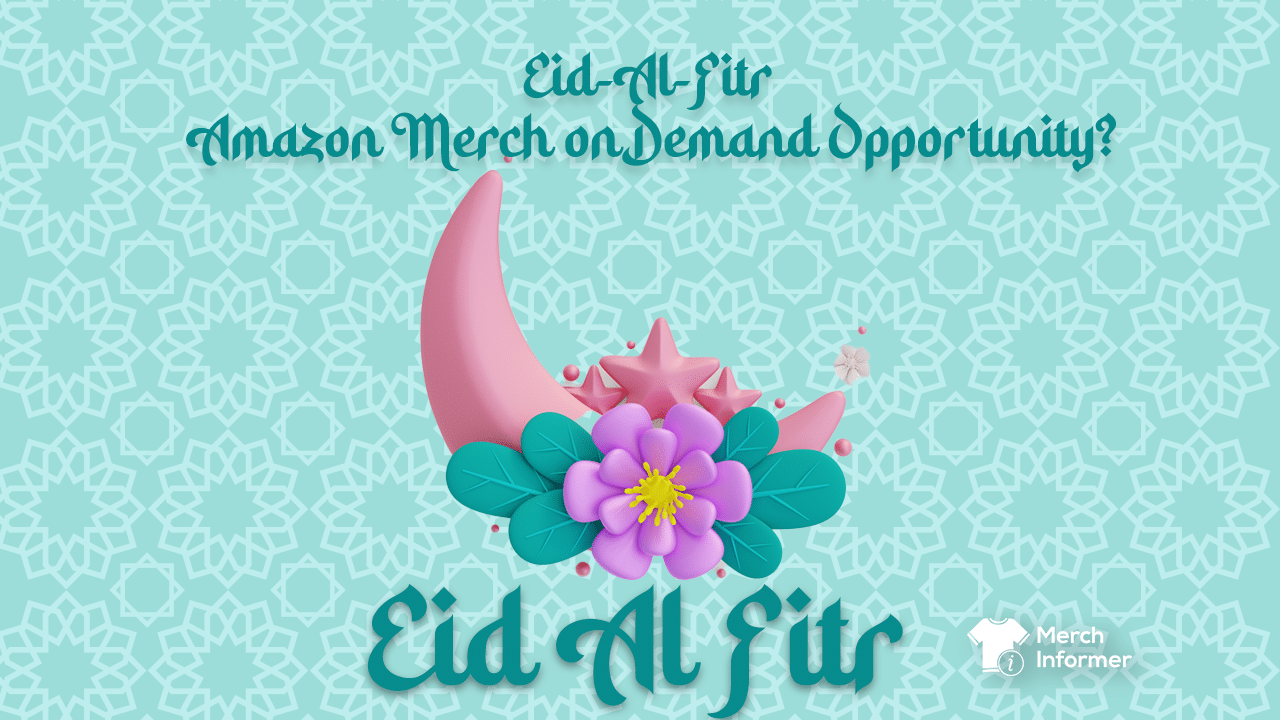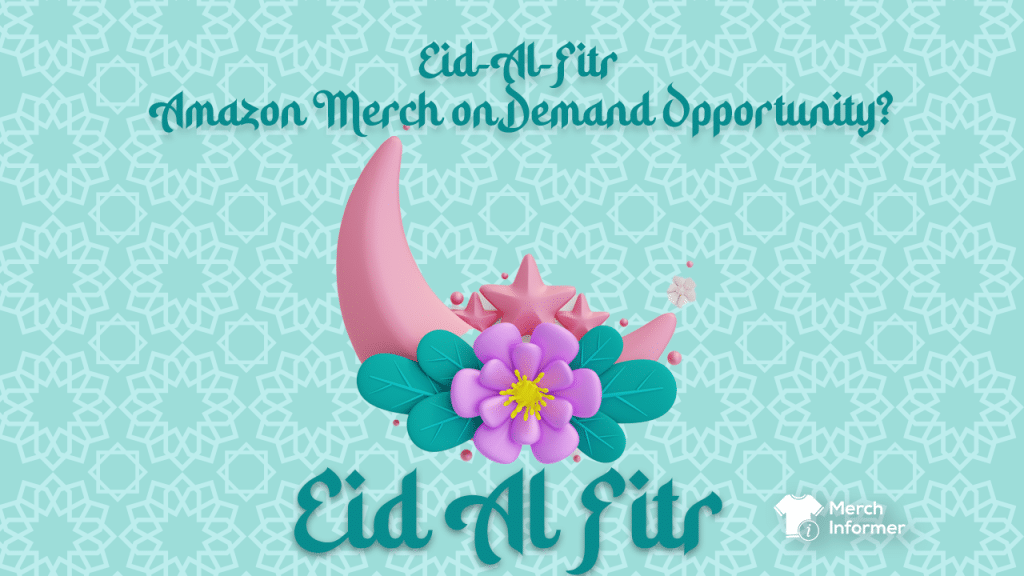 If the spring season is officially upon us, that means a series of cultural and religious celebrations are taking place. The faithful and people from all over the planet are about to embark on their annual rituals, and today we will focus on the merchandising that one can do to support Eid. Read on to learn more of the basics of this Islamic holiday and to see some examples of the popular offerings that are already out there.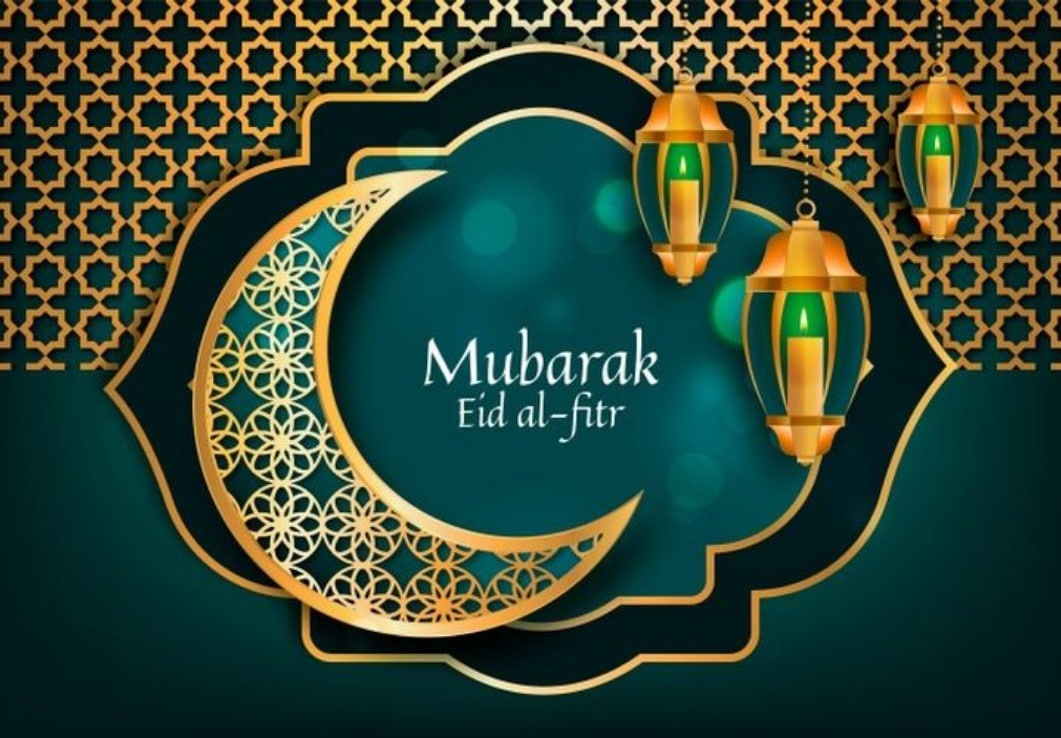 THE DIFFERENT EIDS OF ISLAM
Eid al-Fitr, also known as the "Holiday of Breaking the Fast," is a Muslim holiday celebrated on the third day of Ramadan. The earlier of Islam's two official holidays, also known as the Festival of Sweets, is observed on this day (the other being Eid al-Adha). Muslims all around the world observe the holy holiday because it signifies the conclusion of the month-long Ramadan fast, which is observed from sunrise to sunset. It occurs on the first day of Shawwal in the Islamic calendar, which does not always correspond to the same day in the Gregorian calendar because the start of each lunar month depends on the time the new moon is observed by local religious authorities. In numerous languages and nations around the world, the festival is known by many distinct names. Little Eid or just "Eid" are other names for the day.
TRADITIONS AND FOOD OF EID-AL-FITR
A specific salat (Islamic prayer) for Eid al-Fitr consists of two units and is typically offered in a wide open space or huge hall. In the Hanafi school of Sunni Islam, it includes seven additional Takbirs (raising the hands to the ears while saying "Allahu akbar," which means "God is the greatest,") three at the beginning of the first rakat and three just before ruk in the second rakat. This prayer may only be performed in congregation. There are typically twelve Takbirs in other Sunni schools. In Shia, there are six Takbirs before a specific time. This part may be considered as obligatory, highly advised, or preferred, depending on local juristic opinion. Much of this holiday is based on where you are and what the religious leaders in the area have to say about it.
Muslims celebrate Eid al-Fitr in a variety of ways after the main prayers with food as the main focus. This gives the event the moniker "Sweet Eid" or "Sugar Feast." Muslim greetings for Eid include the Arabic phrase "Eid Mubarak," which means "Happy Eid." Due to the fact that it follows a month of fasting, sweet meals and dishes are frequently made and eaten during the celebration. Muslims often adorn their homes for this time and are taught to extend forgiveness to one another. It is typically a public holiday with many schools and businesses closed in nations with sizable Muslim populations. The customs in each nation and region vary.

Dabbing Sheep Eid Mubarak T-Shirt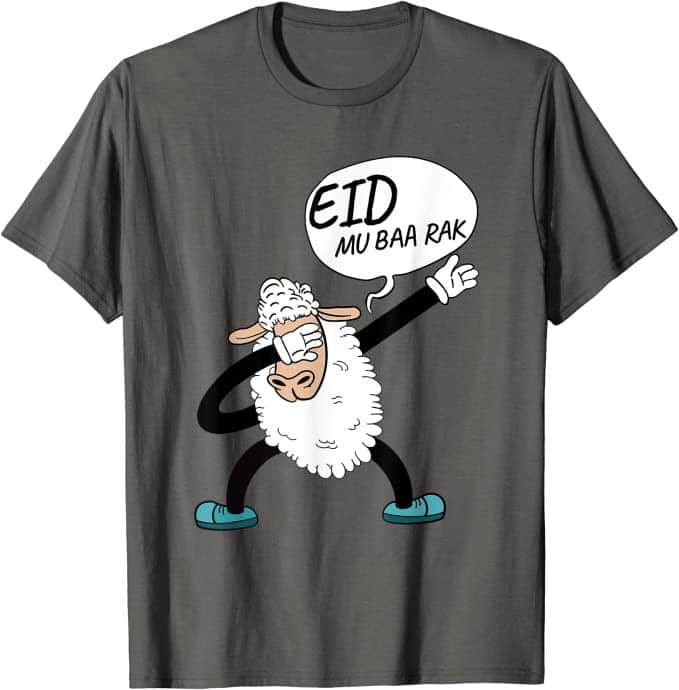 Eid al-Fitr is celebrated by Muslims in Tanzania, who typically dress elegantly and adorn their homes with lights during this time. Children get gifts as special delicacies are made and served to family members and guests. In Zanzibar, it is common for residents to purchase brand-new apparel, with ladies typically shopping for handbags, jewelry, and other accessories. Some young people spend their Eid nights partying and dancing at nightclubs
This would be wonderful to give Muslim friends or family, a Dabbing Sheep emphasizing the "baa" of "Mubarak". Ideal for commemorating the conclusion of Ramadan, Eid Al Adha, and Eid Al Fitr. Everyone can participate in "dabbing," a popular style of dance among young people, therefore doing it on Eid is something for everyone. This tee is lightweight, has a traditional fit, and a double-needle bottom hem.
Eid Al-fitr Window Clings Décor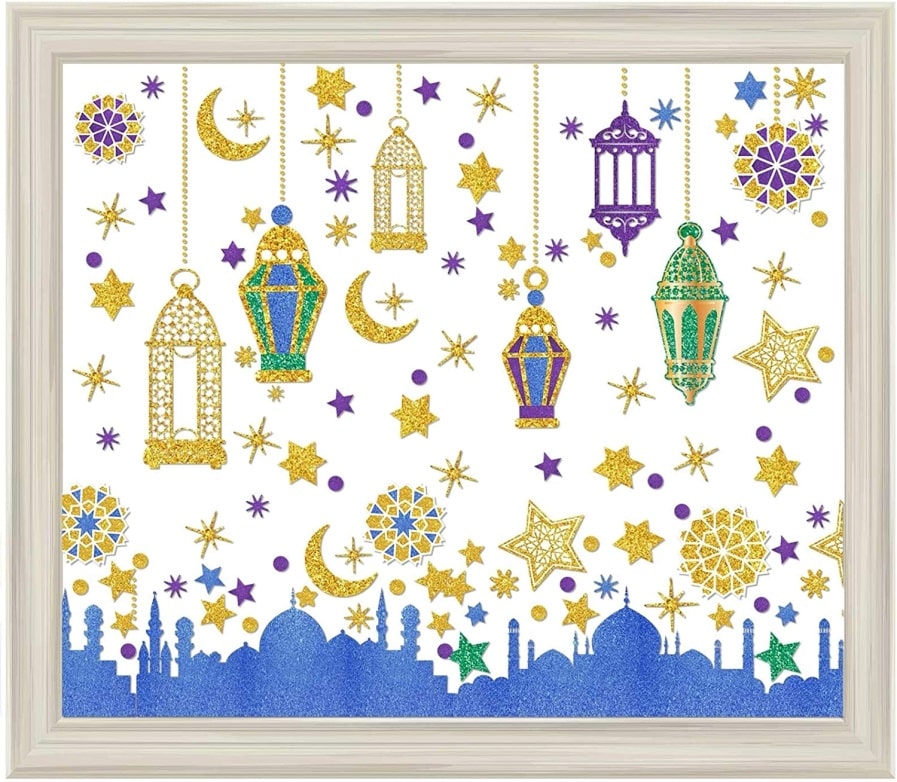 During the Eid al-Fitr prayer, the residents of Jerusalem will adorn the Al-Aqsa Mosque's courtyards with toys for the kids who traveled from every Palestinian region to observe the Eid al-Fitr worship customs. The old markets are bustling with children and women bringing trays of pastries the day before Eid. The Al-Aqsa Mosque is decked with Eid decorations.
And these window clings allow for celebrants to properly decorate their own homes as well. There are six electrostatic Eid Mubarak window clings included in the bundle; the sticker patterns' varying sizes make it simple to create a wide range of combinations. There are also plenty of decals available for your customers to create their own DIY window layouts. These Eid window decals are made of electrostatic vinyl, which ensures that they won't damage windows or leave behind ugly residue. They are also waterproof and non-fading.
After dusting the window with a duster, wet the glass with water, and stick window clings in whatever pattern is wished by peeling them off the vinyl backing. These window decals feature a variety of patterns including a mosque, moon, and lantern. They are colorful, lovely, and eye-catching, making them a terrific option for Ramadan and Eid parties. They are easy to apply and can be attached to a wide range of smooth, spotless surfaces, including windows, mirrors, tiles, refrigerators, etc.
Eid Mubarak Kids Funny Eid Sweets T-Shirt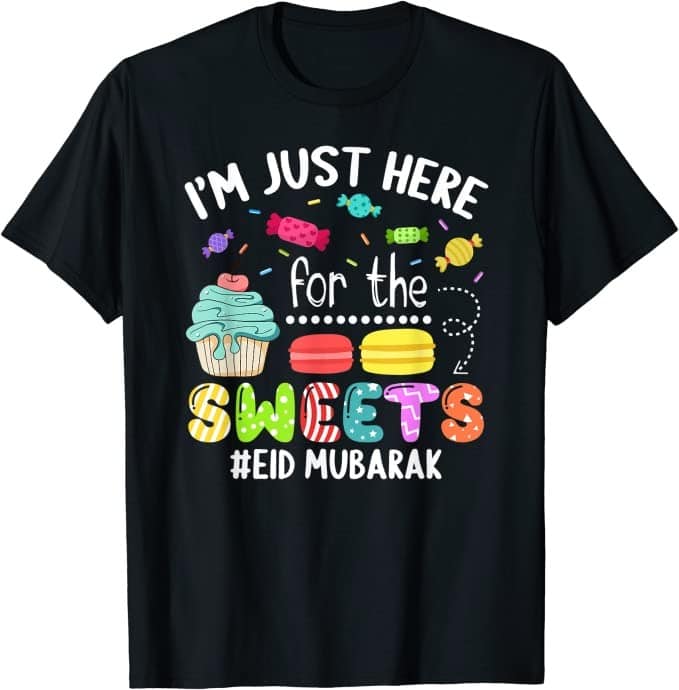 If you're a kid on Eid, this one says it all. Although the celebrations have a much deeper meaning, for the youngest of us the promise of candy and other sweets might be too much to overlook! The solid color versions of this shirt are 100% cotton and are machine washable.
100 Pieces Eid Mubarak Cellophane Printed Pattern Goodie Bags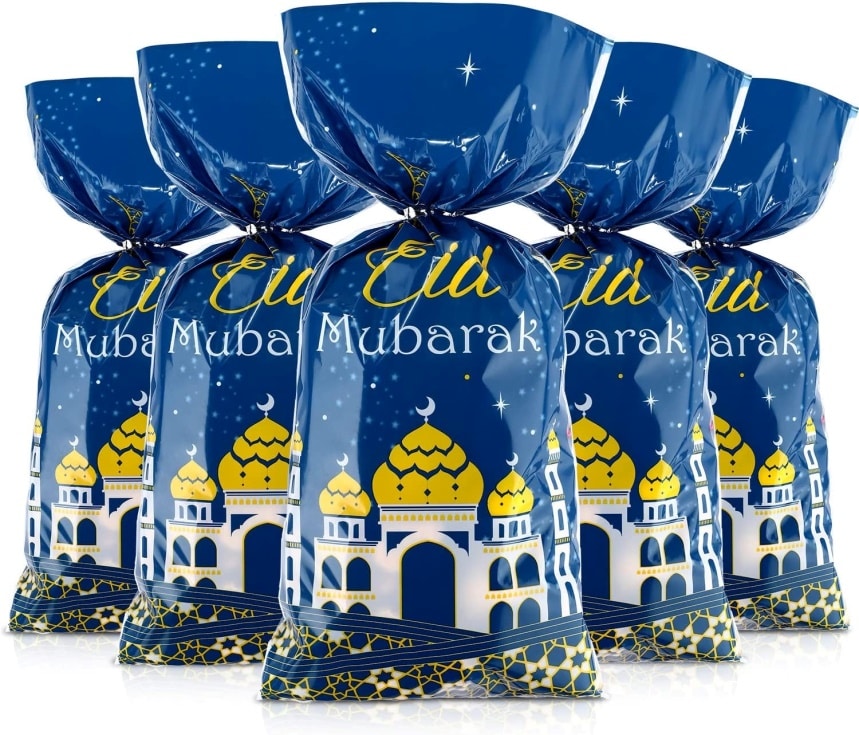 Included in the package are 100 Eid Mubarak favor bags with a double-sided Ramadan-inspired pattern and 100 silver twist ties, giving you plenty to load food and gifts for an occasion with the theme of the holiday. These cellophane treat bags are composed of thick, high-quality plastic that can even store foods that are still warm. Each bag is 27.5 x 12.5 cm/10.8 x 5 in. in size, making it easy for kids to put candy inside or take it out.
This Eid favor bag is not only a gorgeous and functional option for party supplies during the dinner and celebration for Eid Mubarak, but it also makes a nice packing adornment for your candy, cookies, and little gifts. A cute party accessory to welcome Eid, sufficient number to meet your various wrapping demands, and appropriate for Eid theme parties, gift packing, memorial events, and festivities.