Heavy metal t-shirts on Amazon Merch on Demand: Market size, bestsellers, and best practices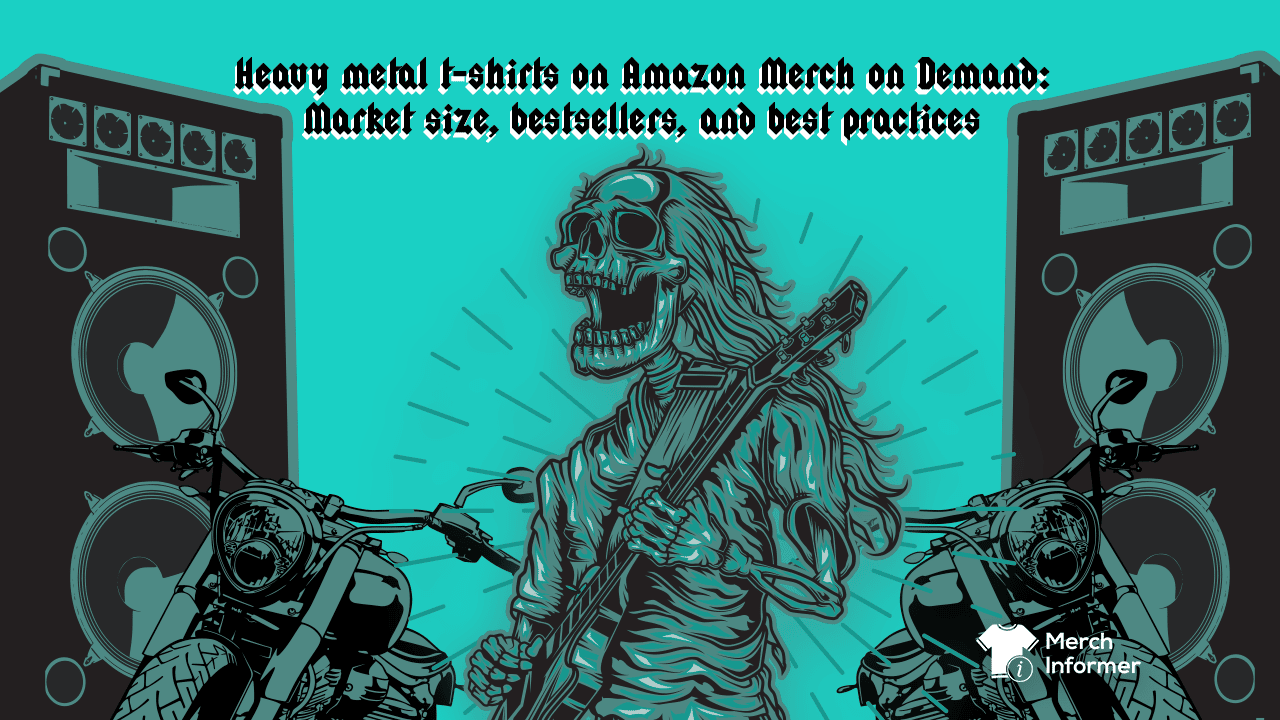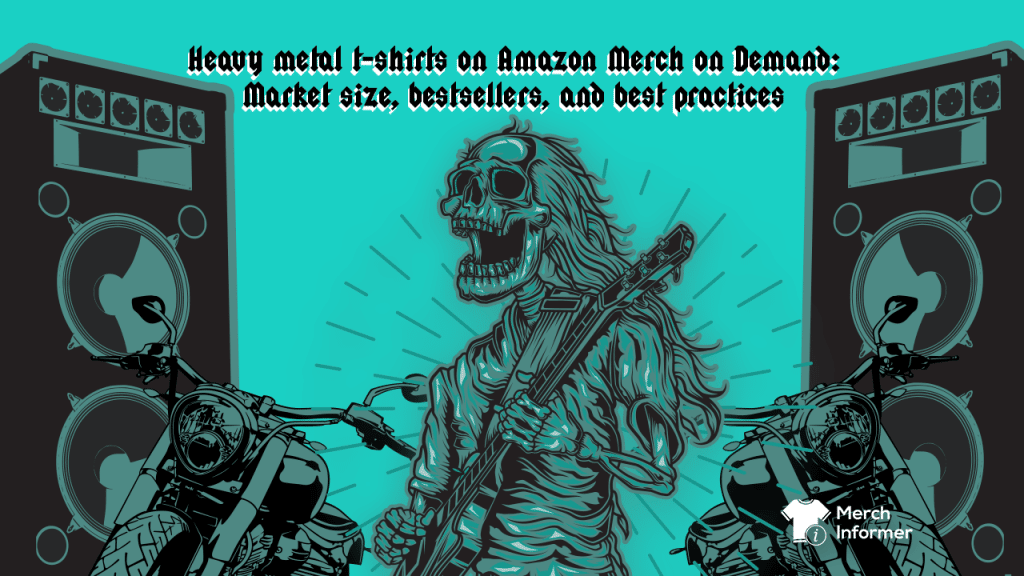 Heavy metal is a highly particular niche of music, which cannot be enjoyed without a distinct and acquired taste. With that being said, there are millions of heavy metal fans who enjoy this particular style of music.
Since apparel is one of the most expressive ways of showcasing personal characteristics, especially t-shirts, Amazon Merch on Demand sellers could look to explore the heavy metal niche as an option to diversify their portfolio.
But with this, prior research needs to be conducted into the market, competition, and best practices in the listing optimization process.
This is why we've prepared a concise guide as to how you can enter the heavy metal niche on the Amazon marketplace and thrive.
How big is the heavy metal niche on Amazon Merch on Demand?
Beginning our research process, we headed over to Merch Informer's "Product search" module to get a general idea of how the heavy metal niche is performing.

We were able to determine that the broad category of "heavy metal" has a considerably high best-sellers rank (BSR) of 6,434,580.
Digging a bit deeper, we also experimented with another keyword to try to narrow down the search. A search for the words "heavy metal t-shirt" brings back a slightly lower BSR of 6,344,428. This is why we refined our search to stay on-focus with the niche and found the following with regard to keywords, search volume, and corresponding BSR.
Keywords, search volume, and BSR
It must be remembered that the term "heavy metal" can be associated with other musical nuances. For example, there are trumpets and tubas as part of marching bands, which literally comprise heavy metal, but they are not in the heavy metal music genre.
Also important to note is that replicating logos, slogans, designs, etc. from existing heavy metal bands would be considered a trademark infringement. Therefore, sellers should stick to broader heavy metal themes without touching on others' trademarked intellectual property.
Keywords such as "death metal" (BSR: 4,758,704) are one alternative for narrowing down one's search. In summary, there are some prominent keywords that appear in search queries with a correspondingly high search volume and relatively low BSRs.
These include the following:
"Heavy metal shirts": search volume – 5,925; BSR – 6,351,187
"Heavy metal shirt": search volume – 5,799; BSR – 6,434,580
"Heavy metal s": search volume – 4,738; BSR – 6,351,187
"Heavy metal sweatshirt": search volume – 1,550; BSR – 328,556
"Heavy metal hoodies": search volume – 1,461; BSR – 962,986
"Heavy metal tshirt": search volume – 1,440; BSR – 6,387,892
"Heavy metal hoodie": search volume – 1,416; BSR – 1,177,220
Based on these examples, it becomes apparent that the "heavy metal" niche can be sub-divided into three successful categories. These are t-shirts, sweatshirts, and hoodies. In addition, it also appears that heavy metal t-shirts and apparel are primarily geared at men as opposed to women.
The reason for this conclusion is that these search terms not only have a relatively high search volume on Amazon.com. They also have considerably lower BSRs, making them a competitive category to get into.
Listings saturation
In order to explore the competitiveness of this niche, it's also crucial to consider the number of listings on Amazon.com for some of the most prominent high search volume, low competition keywords. Hence, we headed over to Amazon.com, selected a few of the most competitive keywords, and typed them in the search bar.
Our findings indicate that the following search terms yield the corresponding listings number: "heavy metal tshirt" (3,000) listings; "heavy metal sweatshirt" (250 listings); and "heavy metal hoodie" (1,000 listings). It becomes apparent that there is great scope for exploration in this niche because the number of listings is not high at all.
Pricing

A search for the seed keyword "heavy metal" on Merch Informer's Products search module also yields some surprising results. The lowest price for such apparel items is $13.07, and the average price is $18.76.
Meanwhile, the highest price represents a form of an anomaly as it is listed at $38.98.
What are some of the best-selling merchants doing right?
Even though a search for "heavy metal" on Merch Informer's "Products search" gives us a list of the best-performing items in this category, a parody of heavy metal marching band t-shirts appears as a best-seller. However, we exclude it from our analysis exactly because it is a parody and not directly related to this particular niche.
As a result, we found two sellers who appear to be performing quite well. Their offerings are a bit different from one another and these nuances and differences should be explored in more detail.
The first bestseller in our analysis is the "WEIRDO Punk Emo T-Shirt Funny Goth Heavy Metal Shirt Gift T-Shirt" by Black Underground Subculture Shirts. It has generated 286 ratings with an extremely low BSR of 224,481. This translates into 9 sales this month, at a price of $24.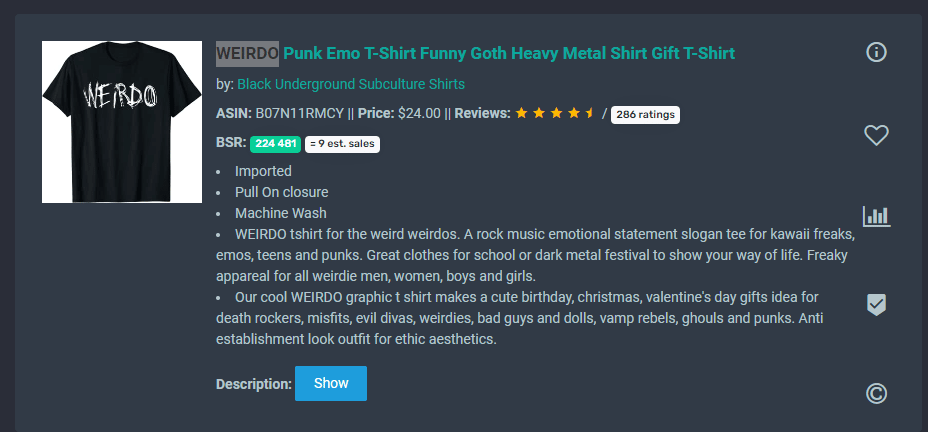 The second best-seller in this niche is the "Gothic Heavy Metal Dark Rock Sunshine And Happiness For All T-Shirt".. Priced at $19.55 this item has generated 39 ratings, and also has a considerably low BSR at 201,233. It has made a couple of sales this month.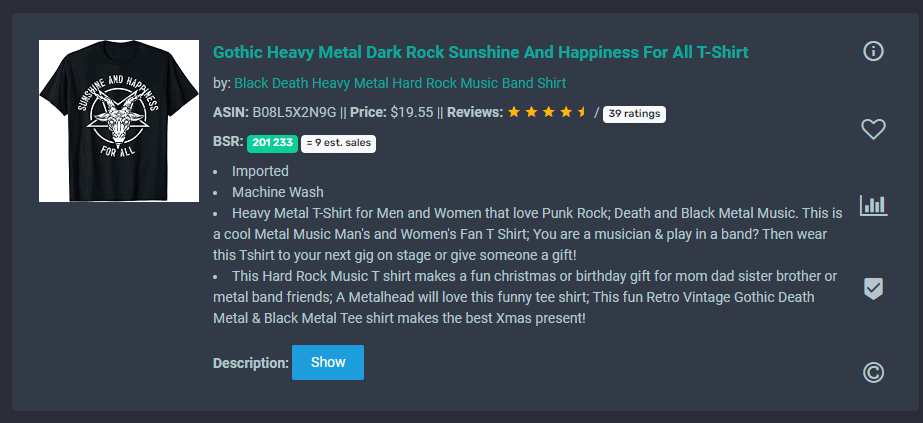 Despite the comparatively low sales figures, these are best-sellers in their own right. It must be remembered that entering a niche, and being successful in it, requires persistent effort and dedication. These sellers have demonstrated that they have the wherewithal to continue selling in this low-competition niche.
Here's what they've done.
Both have used up a lot of the 200 character limit in their titles to accurately describe their product using bullet points
Both sellers have utilized keywords like "heavy metal", "goth" or "gothic", "punk" and "emo". These alterations in the keywords used in their title are descriptive and will make them more easily discoverable when a buyer enters a search query on Amazon.com
They have also created thoroughly detailed descriptions. They not only mention that these are suitable as gifts, but also who they can be worn by
As for the designs, they are unique and do not infringe on any heavy metal band's intellectual property. Whereas 99 Gifts have used humor with an otherwise sinister depiction of a goat's head to throw off curious onlookers, the bestseller in the niche has employed a simple theme-appropriate design of the word "weirdo"
Finally, whereas the first bestseller is priced in the region of the average for this category, the second is somewhat closer to the lowest. This implies a steady-sales strategy for the former, and a niche-penetration approach for the latter.
What is the profitability in the heavy metal niche?
It must be noted from the outset that because there are so few listings on Amazon.com for "heavy metal" apparel, there is a relatively high search volume for these items. This makes the niche worth considering as an option. However, if you have expectations for making hundreds of dollars in a short period of time, these need to be tempered and made more realistic.
The reason for this is that even the absolute bestseller described above has made just nine sales at a price of $24. This immediately tells us what the seller has earned.
Therefore, sellers should have realistic expectations of what they can earn from this highly specialized niche.
Our recommendations
Exploring some of the better performing designs for the "heavy metal" niche on Merch Informer, we see quite a variety. From parody-like unicorns and self-ironic fandom to skull hands that signal the devil horn symbol, there is a plethora of designs and scope for creativity in this niche.
Remember though that you need to be unique and that you should never encroach on others' intellectual property by creating merch products with specific band names, lyrics, symbols, or designs (whether created as a parody or not).
It's also essential to optimize your listing. This is done through ensuring that you have a fully optimized title and description. Some sellers choose to leave the description completely blank, but this is not recommended. Peppering your title and description with high search volume, low competition keywords is much more likely to get you ranking on Amazon's search results page better.
Choosing the right category of merch is another important consideration. As mentioned earlier, some of the most popular categories are t-shirts, sweatshirts, and hoodies. You can always attempt to diversify your portfolio by catering to all three categories with the same design.
There is also the price factor to be considered. Pricing too high, as the above-mentioned anomaly shows, is a surefire way of alienating your audience. The price of over $100.00 for a single product is out of reach for most people and high prices need to be justified by a truly unique offering. Hence, offering items that are priced around the average is a best practice we encourage you to follow.
If you need help determining the average price for an apparel item on Amazon Merch on Demand, Merch Informer is a quick and easy way to give you the right data with a few clicks of a button.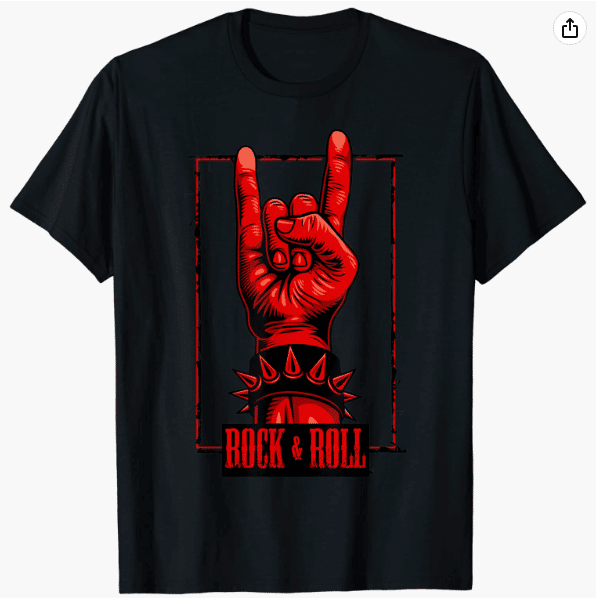 Concluding remarks
The heavy metal niche on Amazon Merch on Demand is not yet oversaturated. Yes, it is true that it caters to a highly specific and isolated market. But this doesn't mean there is no room for exploration. In fact, you can be one of the first few sellers to make inroads into this niche as you will face less competition.
While the potential for profitability is not as high as some of the other niches we've explored, there is space to grow. It's a matter of putting out a high quality design with an optimized listing.
Let Merch Informer help you with both aspects through its varied and insightful modules. For only $9.99 per month, it's a real bargain and a great investment into your print-on-demand, passive income side-gig.