How big is the popsocket market on Amazon Merch on Demand and is it worth your while?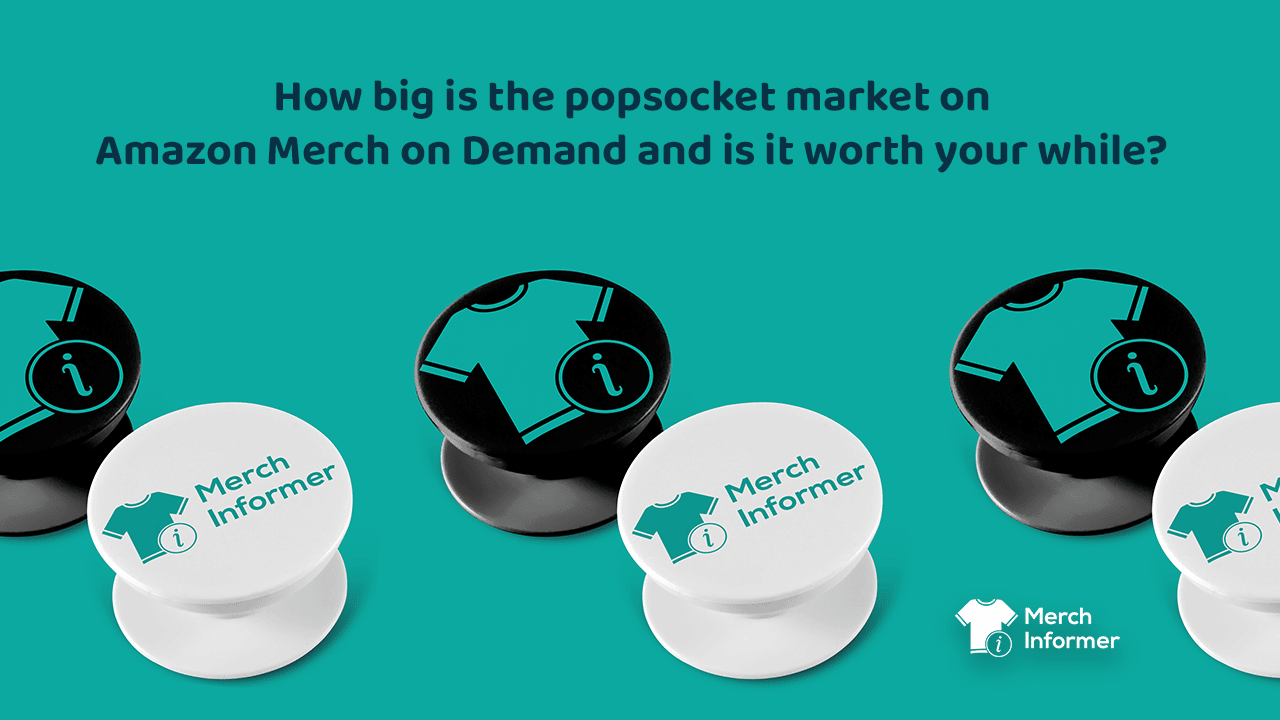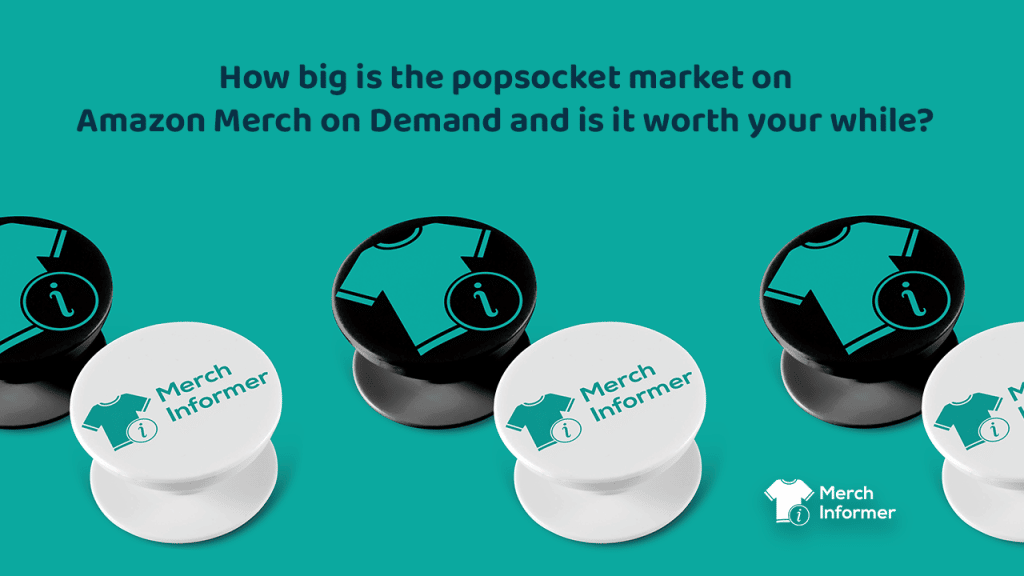 Many Amazon Merch on Demand sellers believe that the t-shirt category is a golden pot. To some extent, this is true, as t-shirts are undoubtedly the most searched-for merch on demand products on the marketplace. However, neglecting the other available categories could limit your growth potential.
To maximize your chances of success and to create a diversified and well-balanced portfolio, it's worth exploring other niches, like popsockets.
In this article, we offer a full analysis of the popsocket market on Amazon Merch on Demand. We'll use Merch Informer to identify how large the market is, how attractive it is to shoppers, the level of competition, and more.
How big is the popsocket market on Amazon Merch on Demand?
Size is a critical factor when analyzing the potential of a market. It can reveal whether the niche is worth your time and effort by establishing how many other sellers are in the space and how many shoppers are browsing for related products. At the same time, this data can seem like a needle in a haystack.
Luckily, with Merch Informer, market size analysis only takes a few clicks of a button.

Let's now see how the popsocket category performs on Amazon by exploring three vital components – active listings, BSR, and search volumes.
Number of active listings
When researching a niche, we always start by assessing whether there is a decent number of active listings in the niche. Our findings reveal that the popsocket market is large enough to grab your attention from this perspective.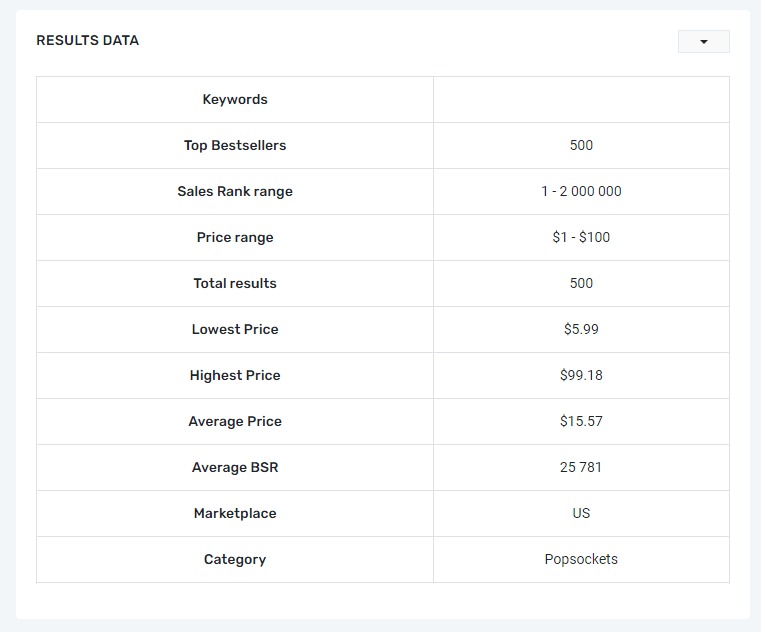 There are more than 500 results that show up when browsing for bestselling popsockets. At the same time, there are also more than 500 listings when searching for standard products sold in this category.
What this tells us is that the market is already developed and could even be saturated. We're yet to confirm this when inspecting the keywords relevant to the category and their competition levels.
Average BSR
Next, we examined the average BSR for both bestsellers and all listings. The average BSR reveals how well products from the category sell.
The bestselling listings in the market have an average BSR of 25,781. This number is much lower than that of other categories. The lower the BSR, the more sales the listing has generated. In other words, the bestsellers in the popsockets space sell well, generating fruitful profits for sellers.
Meanwhile, the average BSR of all listings in the category is 496,757. As a comparison, the average BSR of all t-shirts on Amazon Merch on Demand is 7 210 839. The dramatic difference suggests that popsockets sell much better than t-shirts.
Search volume
The final piece of the size puzzle can be put in place by looking at the search volume of category-related keywords.


A quick keyword research on Merch Informer shows that words like "popsockets" generate a monthly search volume of 256,372. That means that more than 250,000 Amazon shoppers search for popsockets every month. This is a substantial demand that you can use to your advantage.
However, it's worth noting that the word "popsockets" also has a high competition level, with  fellow sellers actively competing in the niche.
Regardless, with the right strategy in place, your popsocket business can grow and flourish. We'll show you how in some of the following sections.
How profitable is the popsocket market?
The profitability of a given product category is one of the most critical factors to consider before making a move.
When it comes to popsockets, the top-performing listings have the following average prices:
Lowest Price $5.99
Highest Price $79.99
Average Price $14.97
And these are the prices for all active listings in the market:
Lowest Price – $7.43
Highest Price – $59.99
Average Price – $14.99
When analyzing a niche's profitability, we recommend considering the average price in the category. This is because one of the winning pricing strategies for new market entrants is to price products around the market average. This will make you competitive, yet attractive to potential buyers.
Popular niches in the popsocket market on Amazon Merch on Demand
A look into the most commonly searched for keywords in the popsocket space rewarded us with some ideas on popular niches in the space. Some of the most popular words and phrases include:
be kind popsocket – 17 024 – no data
nhl popsocket – 14 745 – high
mgk popsocket – 14 521 – high
nfc popsocket – 14 520 – high
edm popsocket – 14 513 – high
asl popsocket – 14 500 – high
et popsocket – 13 837 – no data
Along with the keywords, we've also extracted their search volumes and competition level. The words that contain "no data" are usually the ones with extremely low competition. Given that they have a large search volume, you can rank for them more easily than for others with high competition.
A look into the popsocket bestsellers
So far, so good. We've uncovered that the popsocket market offers a lucrative potential for Amazon sellers. But what are the best-performing listings doing differently from the rest? How are they attracting shoppers and landing sales?
Let's find out with a sneak peek into the number one selling popsocket on Amazon – the "PopSockets: Phone Grip with Expanding Kickstand, Pop Socket for Phone – Aluminum Black".
Priced at $14.30, the listing has a BSR of 49 and sells tremendously well, generating around 3,000 purchases per month. It's worth mentioning that from all of the categories and niches that we've researched before, we've never come across a listing with such a low BSR.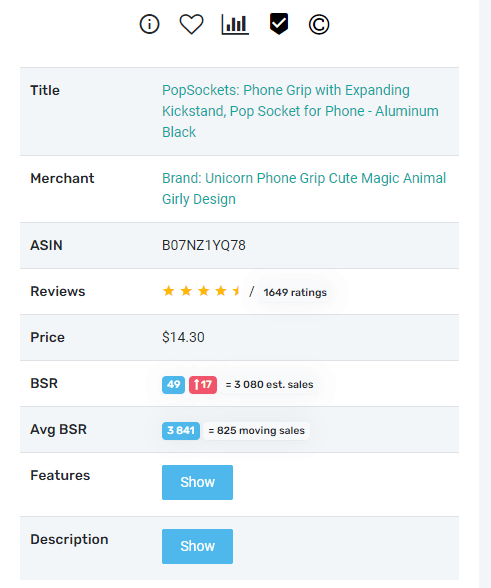 In terms of design, the popsocket is clean, stylish, and all-black. It has more than 1649 ratings and certainly catches the attention of shoppers.
The following eight top performers are also single color designs and are sold by the same seller as the bestselling listing.
From these findings, we can conclude that single-colored popsockets perform exceptionally well on Amazon Merch on Demand. We also noticed a lot of chart-toppers with colorful backgrounds or images with black backgrounds. Furthermore, we saw a lot of different textures contributing to high sales volumes. For example, some popsockets have knurled texture, sparkling texture, and more.
A lot of the listings in the list of best-sold popsockets were targeted at the sports niche, with team logos and names.
Regarding price, it was surprising to see that the number one listing was priced much higher than the average in the space. However, the following listings that were right behind it were priced at around $9.99, which is higher than the lowest price in the space, yet lower than the average price.
This is the perfect pricing point according to our research. We always advise choosing this approach when you first enter a new market. It will help you grow your presence and attract positive reviews.
How to stand out in the popsocket market as an Amazon seller
What can all of these findings do for you as a new entrant in the category? They can help you create a bullet-proof strategy that is bound to succeed.
Here are a few valuable tips for entering the market and standing out from the rest.
Be creative with texture
Our discoveries indicate that texture plays an important role in the performance of a popsocket. If you're offering a single-color product, make sure it's attractive from another perspective. Besides, a nice texture will make the product not only visually attractive but satisfying to touch and hold.


Make sure to select a popular texture type and use related keywords in your titles and listing description to draw attention to the fact. This will make your popsocket easily discoverable to shoppers actively browsing for similar products. It will also help you position yourself one step ahead of competitors, who are likely simply relying on color and imagery for scoring sales.
Start with a single color
The analysis we performed with Merch Informer reveals that listings with the lowest BSR were generally ones with a single-color design. This indicates that a lot of shoppers are attracted to simple, minimalistic popsocket designs.
Use this information to your advantage and create designs that are clean and stylish. If you're not yet familiar with your audience, start off with a single color and examine how the market responds.

Our recommendation is to choose a color that is trendy for the current season or perhaps related to a popular holiday that's approaching. For example, the popular autumn colors are brown, orange, and yellow. If you're preparing a popsocket design in October, relying on shades of these colors will likely get your listings noticed.
Price around the middle
We already mentioned pricing as a core feature of your listing. The truth is that we always recommend setting a price that will make your listing competitive and appealing to the audience. For most markets, this means a price that is more than the minimum in the space, but slightly lower than the average price.
For popsockets, our advice is to enter the market with listings priced at around $12-$13. This will give you a couple of dollars advantage over others, as the average price in the category is $14.99. At the same time, you won't appear too cheap, which is oftentimes associated with low quality.
Use keywords strategically
Finally, use keywords to your advantage and rely on the ones that you know will expose your popsockets to the right audience. In addition, you can use keywords to design new popsockets and find the right track to follow.
From the examples we shared above, we discovered a particularly interesting phrase – "be kind popsocket". Sellers use the word to perform searches on Amazon more than 17,000 times every month. Yet, the keyword has no competition.
This is a tremendous opportunity to create a "be kind" popsocket and optimize your listing with this phrase and similar keywords. As a result, you will be satisfying a niche with significant demand, which will reward you with profitable results.
In a nutshell
The popsocket category on Amazon Merch on Demand is a major league opportunity to explore as a seller. It could simply turn into the best thing since sliced bread for you, as long as you approach the market with a strategy in mind and follow the best practices from the space.
Don't forget to use Merch Informer's capabilities to make the right decisions and stay ahead of the pack throughout your Amazon journey.