How to Check PopSocket Trademarks BEFORE You Upload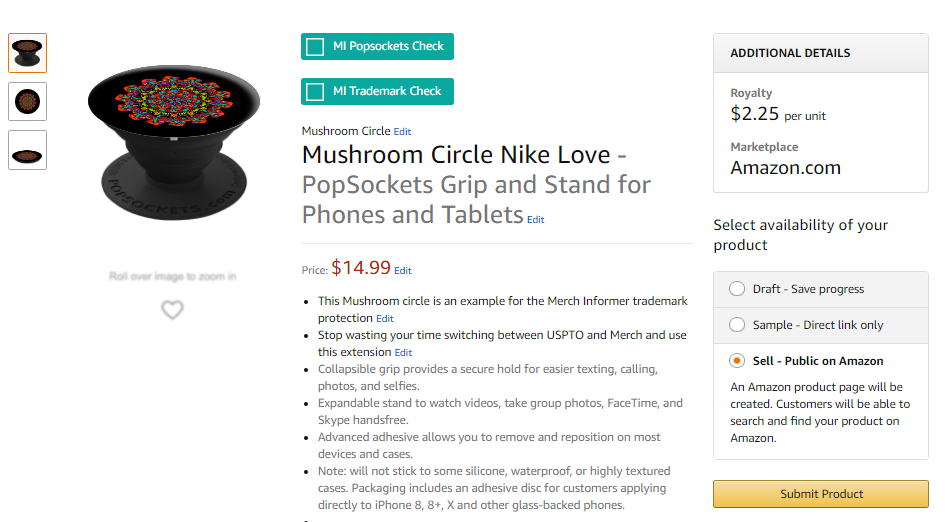 This post is also available in:
German
When it comes to checking Trademarks for wording used in our designs and listings, we all know how much of a pain it can be.
The USPTO website looks and acts like it is out of the early 90s, and if you have not spent the time to learn your way around, it can seem pretty daunting.
That being said, it is a MUST that you understand trademark in this industry, or you simply will not last long.
On the TESS website, most everyone is familiar with the basic word mark search, but if you want to SPECIFICALLY search for trademarks in the 009 category (this is for PopSockets), you will want to use the free form search.
Specifically this string: (live)[LD] AND "nike"[BI] AND 009[IC] AND (4[MD] OR 1[MD])
If all of this looks like a foreign language to you….
Then GOOD NEWS! Because we just updated the Merch by Amazon Trademark Protection Plugin to include PopSocket Searches: https://chrome.google.com/webstore/detail/merch-by-amazon-trademark/aakigomphmlnijlfonlhcobonfhfipoi
How It Works
This Chrome Plugin has been a complete game changer thus far. It is powered by Merch Informer and will check every single word, every single word/phrase combination and line by line of EVERY SINGLE WORD in your Merch listing.
You can do all of this directly from your Merch by Amazon upload page which means you never have to leave to go check the USPTO.
Previously, this was just for t-shirt trademarks, but the update we just pushed includes PopSockets as well! Not only will this save you a ton of time going back and forth doing this mundane searches, but it will ensure you are not infringing on anyone else to help keep your account in good standing.
Merch Informer Trademark Protection In Use
After you install the plugin (located here), simply click the icon in Chrome and log in. You are now ready to use the Merch Informer Trademark Protection in the back end of your Merch account.
Upload your design and fill out the information until you get to the page where you will submit your product.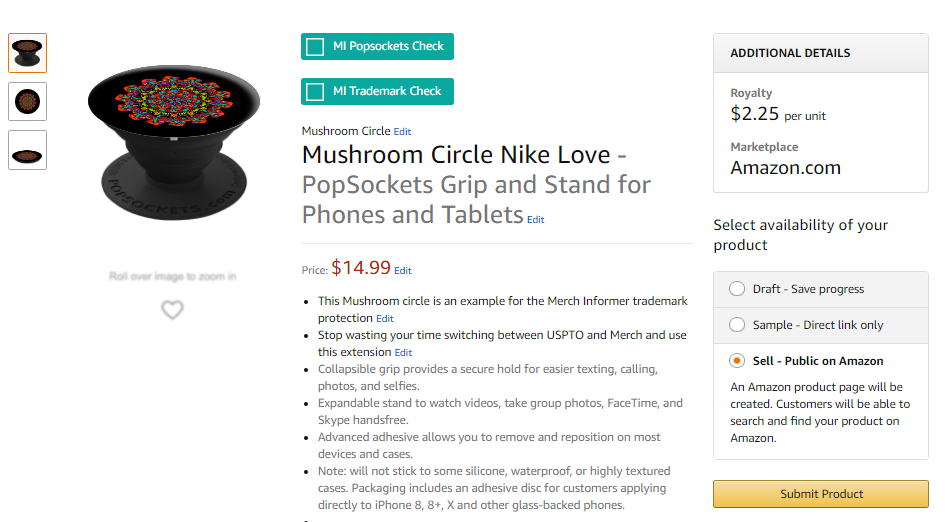 As you can tell from the image above, I have put in at least one trademark that I know will be flagged to show an example of how this works.
Before you submit your PopSocket, ALWAYS use the MI Popsockets check. This will go through your entire listing and look for trademark issues.
Previously, you could check just the clothing category, but with the addition of the PopSockets check, we have it all covered!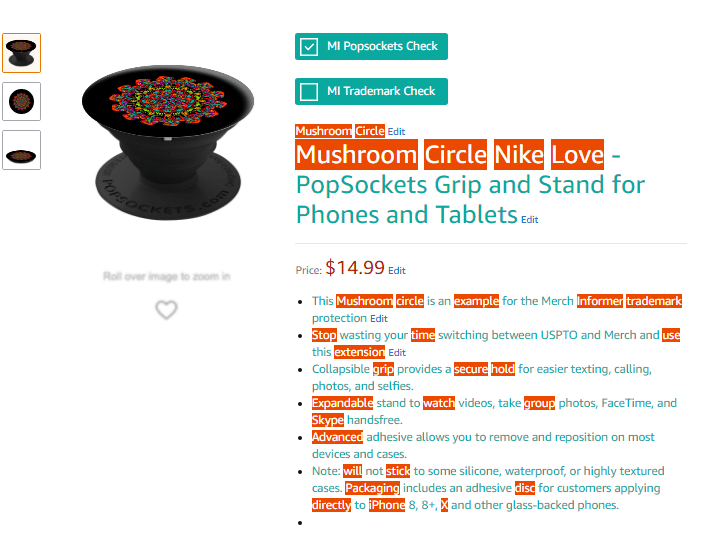 Simply by clicking the extension button, within a few seconds, it will scan the entire listing and highlight all the words that have a trademark in the 009 category. These are clickable!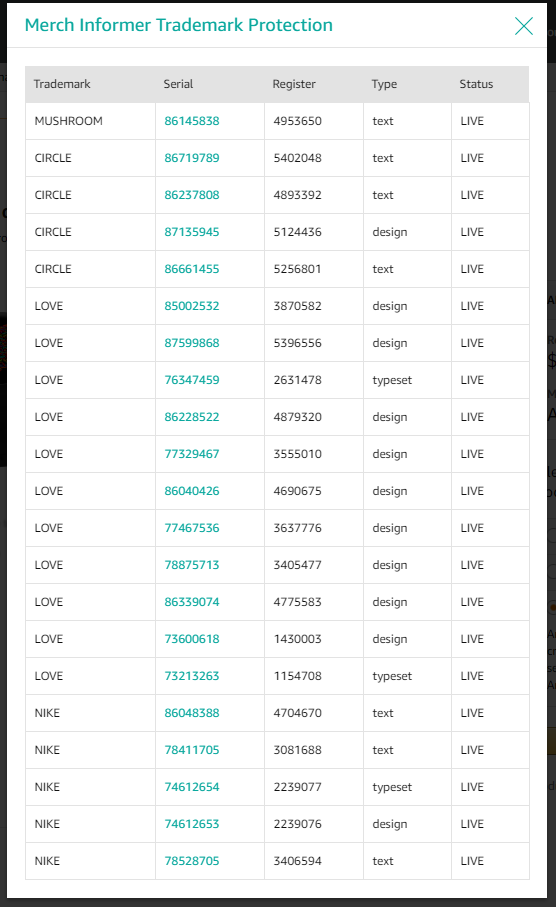 You can now see the Trademark, the serial number, registration number, type of mark, and the status. If you want to read more on a specific mark (which I HIGHLY recommend, click on the serial number and it will take you over to the USPTO website:
By checking the goods and services you can see the primary class of the mark: 009.
Wrapping It Up
With thousands of people already using this plugin, there is really no reason you should be going back and forth from TESS all day long. This plugin will not just check the words you "THINK" might be trademarked, but it will step through your entire listing to make sure you do not miss anything.
The plugin will work on ANY Merch Informer subscription, which you can check out here: https://merchinformer.com/pricing/.
Stay safe out there!