Making sense of the throw pillow category on Amazon Merch on Demand: niches and best practices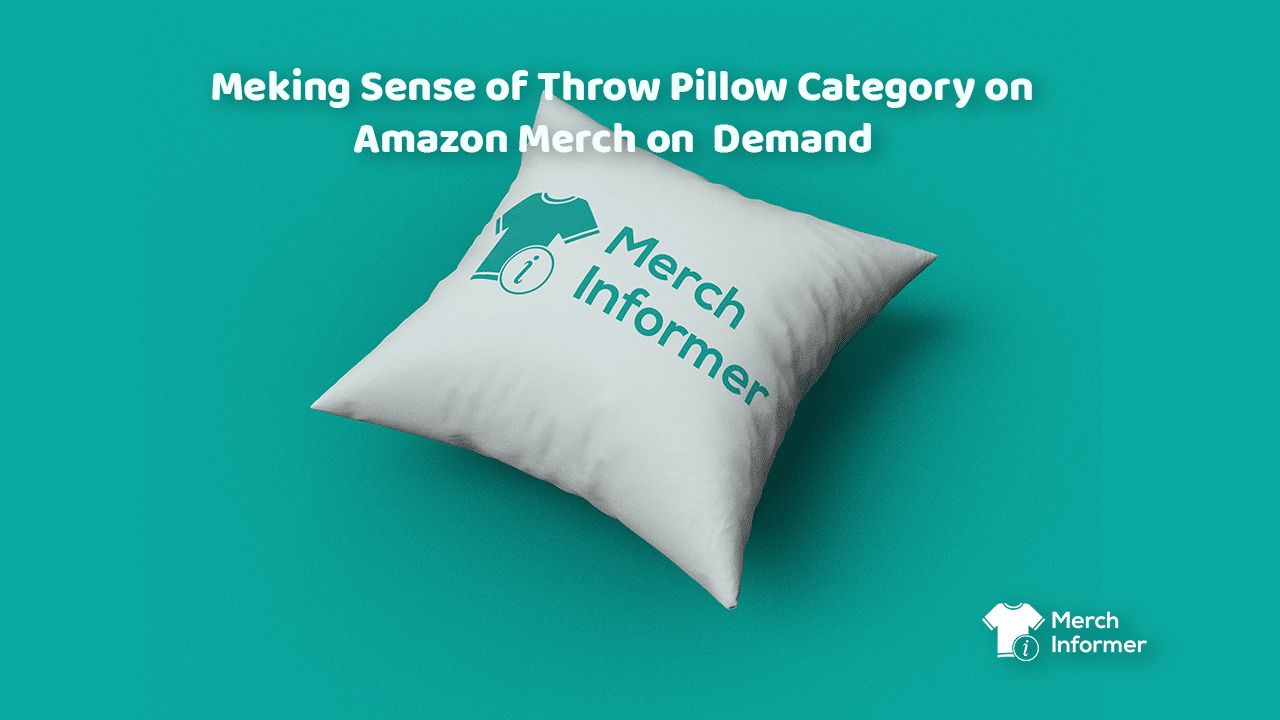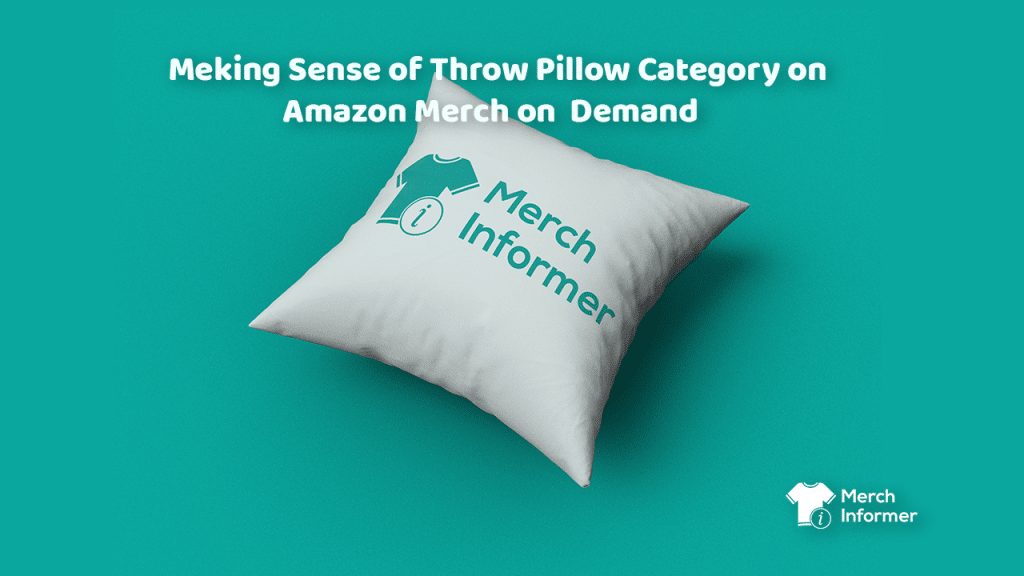 With a vast range of Amazon Merch on Demand categories to choose from, pinning down the most profitable markets can put you in a pickle. No matter whether you're a beginner or an experienced seller, tapping into the wrong categories can be detrimental to your overall performance.
To save you the headaches, we offer valuable business insights on print-on-demand merch items on Amazon. And this time, our focus is on throw pillows – one of the least popular areas on the platform.
But does this mean that it's a dead end with no earning opportunities?
Let's find out.
The throw pillow market size
To gain an understanding of the throw pillow sector, we started with a market size analysis using Merch Informer. The reliable business intelligence tool allowed us to dive deep into the waters of average BSRs, the number of listings on Amazon, sales volumes, and user search volumes.



We discovered that the average BSR in the throw pillow market is 5,311,149. This number is much higher than that of other sectors, like t-shirts. However, it reduces when looking at the bestsellers in the throw pillow space. Analyzing the top-selling 500 listings, we uncovered that the average BSR is 767,697. Translated into sales, the number one listing in the market generates around 30 sales per month.
Although this is not ideal for sole reliance, it can certainly make a difference as an extra sector for additional profit.
Overall, there are plenty of competitors in the field, with more than 500 bestselling listings appearing in Merch Informer. This is only natural as the keyword "throw pillows" accumulates more than 280,000 monthly search volume. Put otherwise, these products are definitely on the radar of a lot of consumers.
When observing the chart-toppers, we also spotted popular keywords used in successful listings, like sewn, print, sided, double, filled, fabric, and more. At the same time, our keyword research helped us identify the following keywords as most popular among shoppers. Below, you'll see the keyword and its search volume:
throw pillows for couch – 96 814
18×18 throw pillows – 94 745
throw pillow cover – 94 036
throw pillows for bed – 38 086
As you can see, nearly 100,000 people search for "throw pillows for couch". Creating a listing optimized for this keyword can reward you with substantial traffic and potential sales.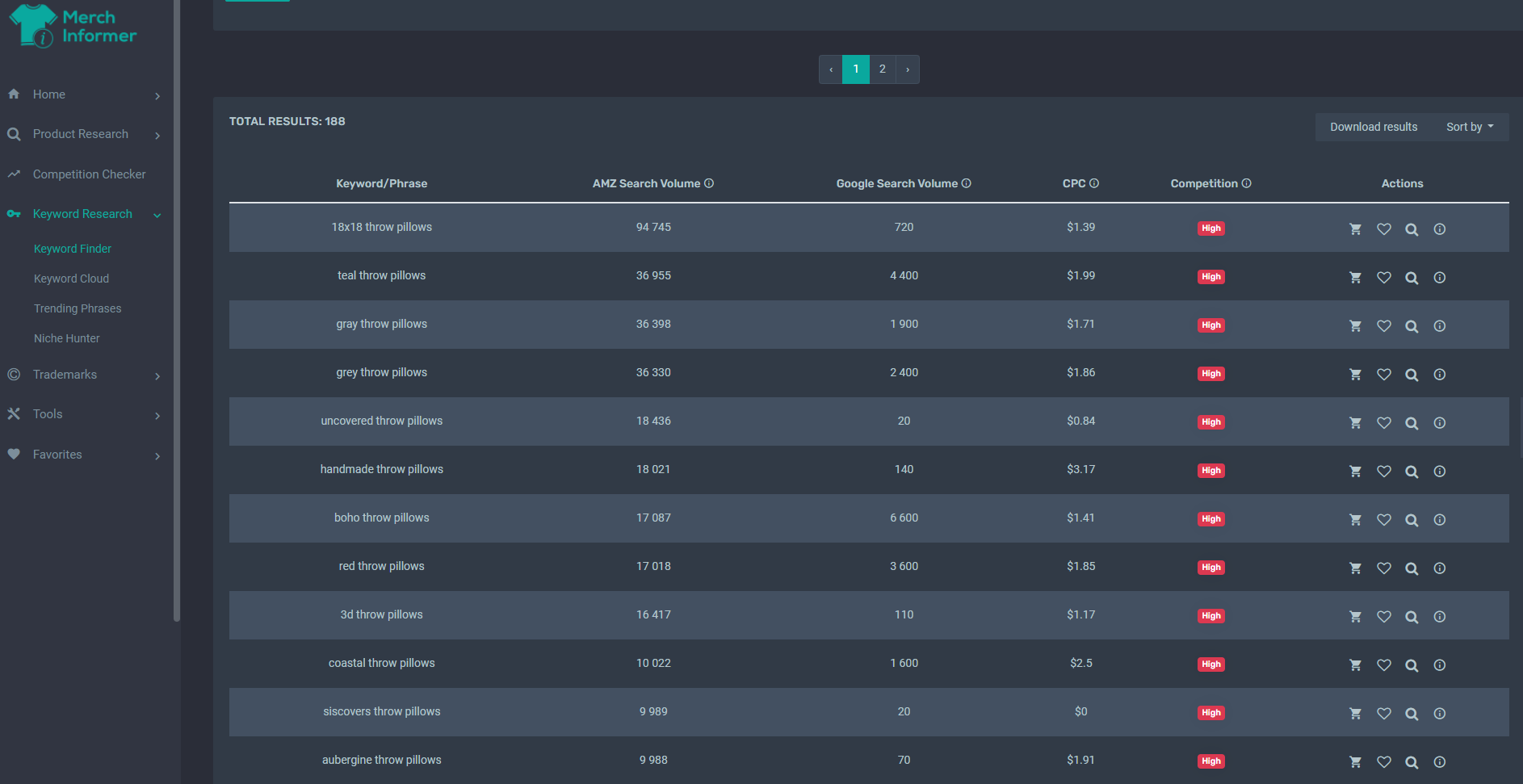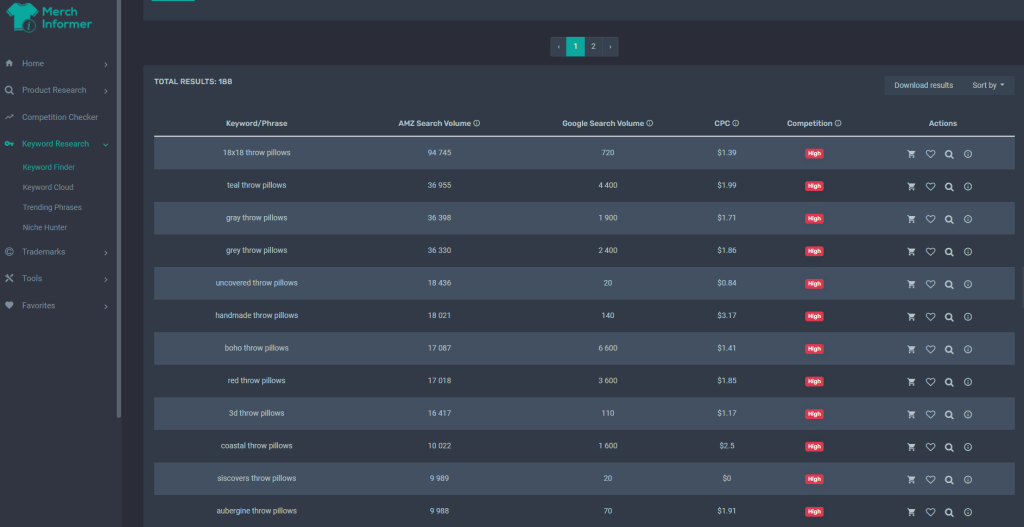 Popular niches
But general keywords won't do the trick. Why? Because they're usually more competitive and difficult to rank for. Instead, we recommend niching down and finding a narrower market to position yourself in.
An examination of the top-performing listings in the throw pillow category displayed a number of recurring niches. Some of them include funny, animated characters, love, birthdays, women, gaming, day (indicating products related to holidays, like St. Valentine's Day), cute, and dogs.
To back up our findings, we checked how much search volume some of these words generate. For example, "funny throw pillows" receives 4,138 monthly searches, while "birthday throw pillow covers" receives 1,797. Although these numbers signal interest from buyers, were they the most attractive ones?
As it turns out, the following niche-related keywords receive some of the highest search volumes in the space:
eclectic throw pillows – 37 741
beige throw pillow – 36 948
gray throw pillows – 36 398
handmade throw pillows – 18 021
boho throw pillows – 17 436
huyaw throw pillow – 17 419
red throw pillows – 17 018
coastal throw pillows – 10 022
What's even better? All of them are low-competition, according to Merch Informer. This means that you can easily rank for them with a high-quality, well-optimized listing.
What these keywords tell us is that different color niches perform better than others, styles like boho and coastal work well, and handmade throw pillows are not a mistake.
Market profitability
Let's say you decide to enter a specific throw pillow niche, you've optimized your listings, and you're waiting for the sales to kick in. How profitable can you expect to be?
This all comes down to pricing and sales volumes. For print-on-demand throw pillows on Amazon, the lowest, average, and highest prices are $11, $98, and $22.88. As a new entrant, it's always safest to start at the average price point, or even slightly below it. This approach guarantees competitiveness and helps sellers attract visitors quickly.
In this case, the best initial price would be around $20. Remember that the number one listing scores around 30 sales per month. Depending on the size of your throw pillow, you can earn royalties between $2.90 and $4.51. Continuing the example, if you sell 30 products per month, this translates into either $87 or $135.
Is this a satisfactory number for most? Probably not. But it does make a difference in your overall bottom line when combined with different markets and niches. Plus, don't forget that you can create a number of throw pillows and multiply this number by 10, 20, 30, or more.
Bestsellers analysis: The best practices uncovered
Now that we've covered the basics, it's time to look at the listings that sell best. This exercise will enable us to spot successful practices and gather ideas.
The number one top-selling listing in the category is "Jonny Cota Studio Metamorphosis Print Throw Pillow, 16×16, Multicolor. At a price of $19.98, it has a BSR of 98,324, which is the lowest among all other competitors. The design is extremely simple. The product has a white background and a black human figure with butterflies flying out of its chest, symbolizing the metamorphosis.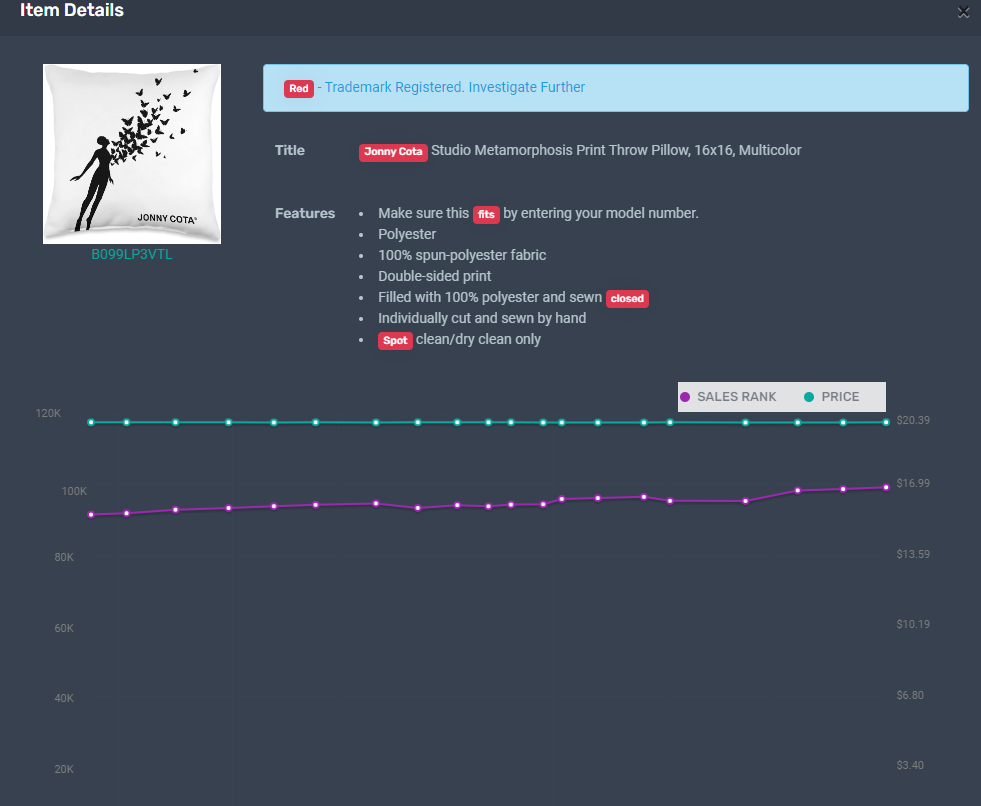 Another interesting example is the "Baby Crib Decorative Pillows for Boys & Girls Sleeping Elephant on Moon with Stars I Nursery Room Decor Throw Pillow, 18×18, Multicolor". This listing has a BSR of 105,473 and sells at the same price of $19.98. It's much more playful in terms of design. Again, the background is white but there's more use of color, including shades of blue and yellow. A cute elephant is nicely drawn in a sleeping position on top of a moon, with stars surrounding the image.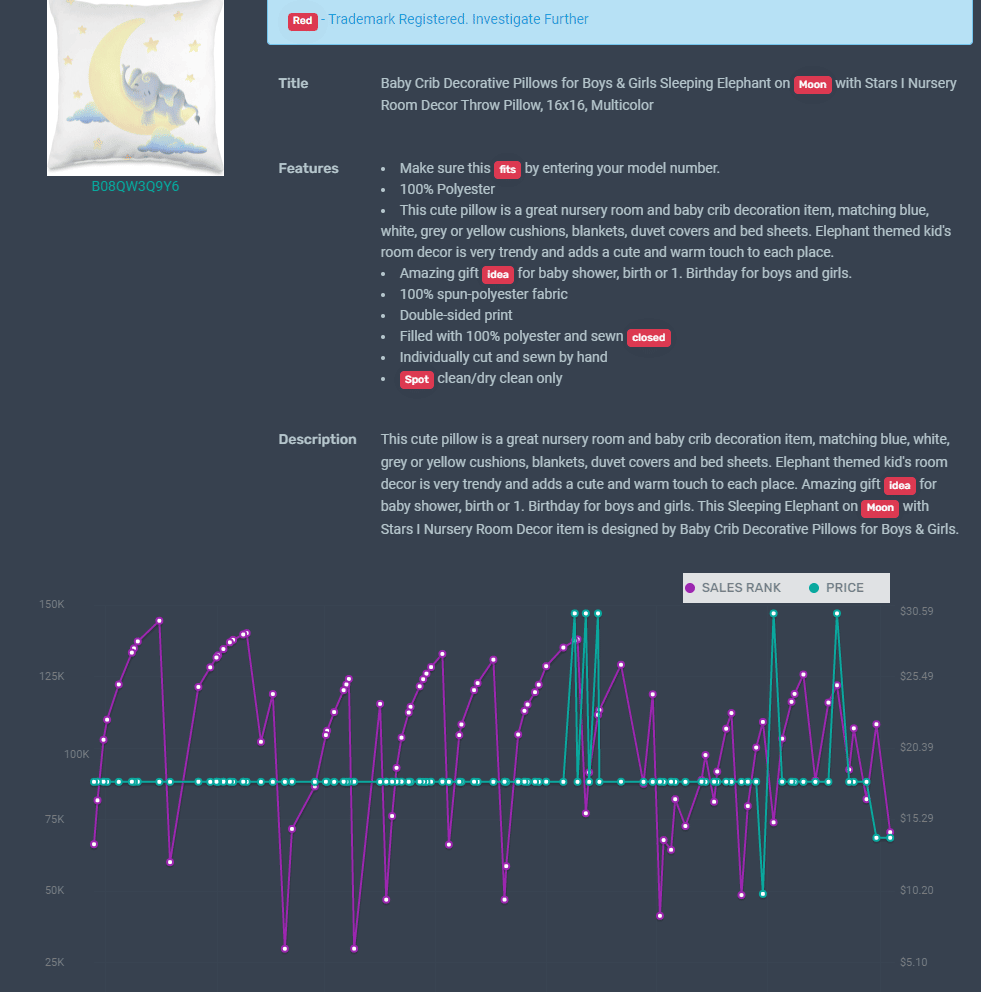 Here, you'll notice that the seller has cleverly utilized some popular keywords, like "throw pillow 18×18", "nursery room decor", "decorative pillows", "baby", and others. This positions the listing higher in search results for these words and helps users quickly land on the product.
By exploring different bestsellers, we were able to conclude the following.
The majority of the background colors were either white or black. This enables the creative use of different shades in the main images, contrasting the background. There are more 16×16 best-selling throw pillows than 18×18. This creates a contradiction as more people search for 18×18 throw pillows instead of 16×16 throw pillows. In fact, some of the top searches for 16×16 products only include words like "pillow", or "inserts", without the use of "throw pillow".
This could mean that 16×16 listings were better optimized for other keywords related to trending niches, leading to higher sales volumes. Furthermore, none of the bestsellers utilize the most searched-for keyword – "eclectic throw pillows". That's an opportunity knocking on your door.
So let's now see how you can take advantage of these discoveries.
Tips on entering the market
If you're planning to enter the throw pillow market, you'll need to remember two things. The market is not among the most profitable ones, considering bestsellers' sales volumes and average prices. At the same time, with a well-rounded portfolio and diversified listings, you can enjoy some decent earnings.
Second, to make money in this market, you'll need a bullet-proof strategy. How? By following these tips:
Listing optimization to its fullest potential
No matter how outstanding your throw pillow design is, it won't break any records without optimization. What does this mean? Enriching your listings with high-quality designs, keywords, targeting a specific audience, and setting the right price.
We shared a few of the top searched-for keywords in the throw pillow market, like "throw pillows for couch" and "18×18 throw pillows". This instantly tells you that consumers are searching for a specific size throw pillow and a specific use case.
Implement these keywords into your titles and descriptions and increase your visibility to Amazon users. Remember, these keywords are only some of the opportunities. Use Merch Informer to gather a list of attractive keywords and plan your listing strategy based on them.
Offer what shoppers are searching for
Next, don't forget that your mission as a seller is to satisfy a consumer's demand. In other words, create throw pillow designs that match the needs of your audience.
For example, earlier we concluded that eclectic throw pillows are highly searched for. At the same time, this niche doesn't appear among bestsellers. For some, this may mean that the niche altogether is unworthy. But we can't agree.
On the contrary. It's full of potential. However, the choice of niche needs to be paired perfectly with proper keyword optimization, the right pricing, a tempting design, the right size, and a suitable audience.
For example, based on our research, a profitable listing could be an 18×18 eclectic throw pillow priced at $19.99.
Keep your prices around the average
Following the previous point, make sure your prices are based on market research. Sellers often wrongfully approach pricing from the point of view of royalties. What do we mean? Let's say you predict to make 10 monthly sales. You know that your royalties are around $4 per sale. If your target profit for the month from this listing is $400, you'll have to price your product much higher than even the highest price in the market. As a result, you'll lose your competitive edge.
Instead, stick to the average price in the sector. In the throw pillow niche, the average is $22.88. We saw that two of the most successful listings have priced their designs at $19.98. This is an ideal solution as it makes the listing appear much more affordable than others, enhancing the chances of purchases.
A fruitful cocktail of design and target audience


Last but not least, tailor your designs specifically to your target audience. As we saw with the "Baby Crib Decorative Pillows for Boys & Girls Sleeping Elephant on Moon with Stars I Nursery Room Decor Throw Pillow, 18×18, Multicolor" example, the seller used colors and images suited to babies and kids.
In addition, stick to the popular background colors of white and black as the foundation for your designs. This will enable you to be as bold and creative as you want with your images, without compromising the much-needed contrast.
Conclusion
Although the throw pillow print-on-demand category on Merch by Amazon is not among the most popular and profitable ones, it does create certain opportunities for sellers. By following the tips we shared and the key insights from our research, you can expand your reach, increase your sales, and take your royalties to the next level.
Along the way, we strongly encourage you to rely on Merch Informer. As a powerful business intelligence tool, it can support you in making all the right decisions.