Merch for grandma and grandpa: what are seniors buying the most on Amazon Merch on Demand?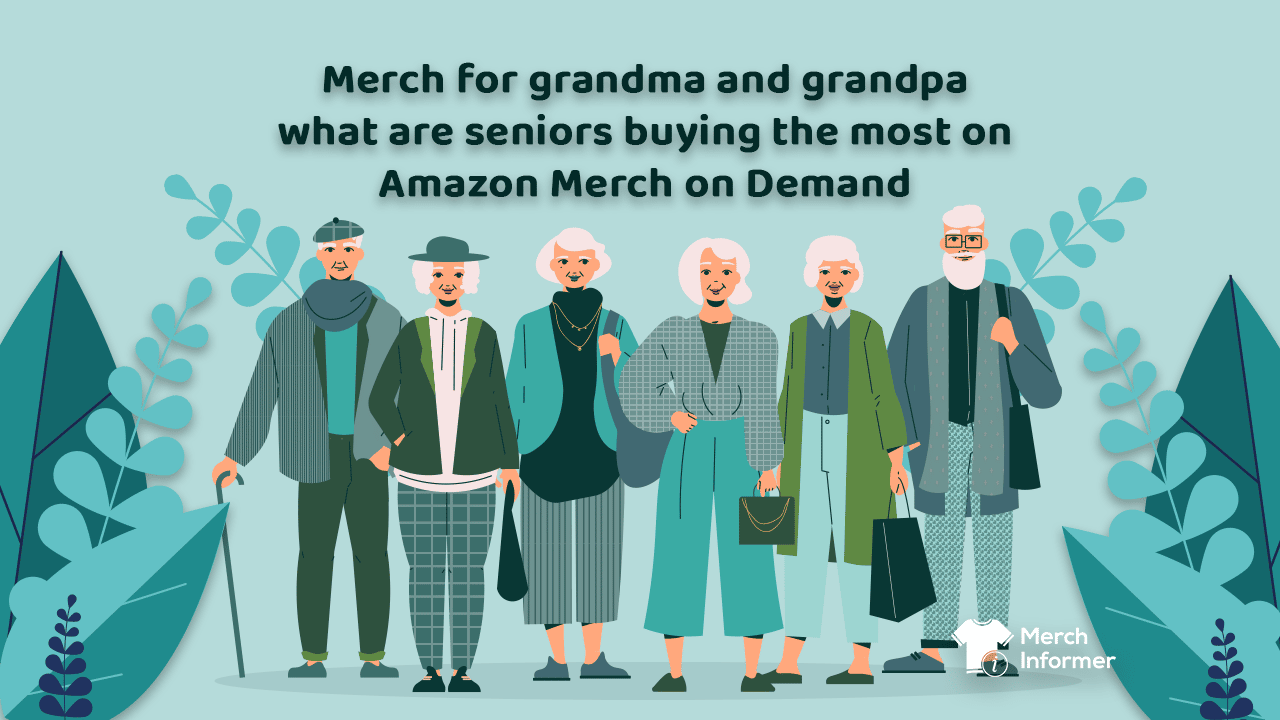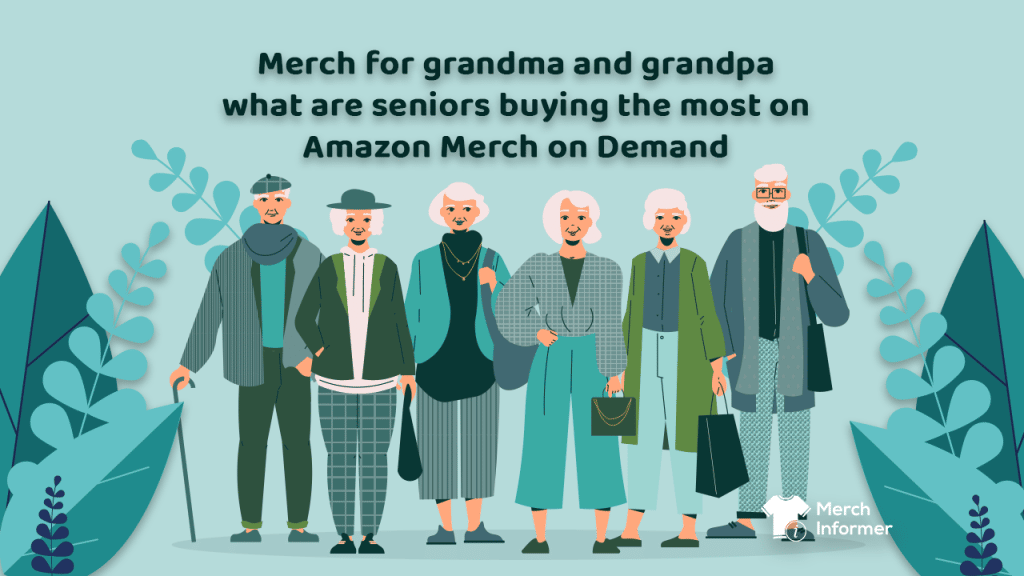 Merchants who would like to target the senior citizens niche on Amazon Merch on Demand need to be aware of several key market factors and best-selling strategies. This will help you position your offering much better.
Although there is potential for profitability, your entire listing should be optimized to its full potential if you want to gain more visibility and rank higher.
But how can you achieve this? It's simple. With Merch Informer's "Products search" module. Using this functionality, we were able to determine the market size, expected levels of profitability, as well as best-selling practices.
Wondering what they are? Take a look below.
How big is the senior citizens niche on Amazon Merch on Demand?
Keyword research is a fundamental step in any attempt to enter a new niche. However, one of the first things you may notice is that using the keyword "seniors" will bring up contradictory results.

Why? Because "seniors" is predominantly used to describe young teens in their final years of high school as opposed to elderly individuals who are in their golden years of life. To be more specific, we revised our search for keywords and got down to specifics.
For example, we looked for keywords such as "grandma shirt" and "grandpa shirt" to be more precise. The former seed keyword brings up a best-sellers rank of a mediocre 6,118,311, while the latter gives us a BSR of 6,223,184. Meanwhile, the keywords "senior citizen" as a much more targeted keyword gives us a considerably lower BSR at 2,707,363.
Keywords, search volume, and BSR
Our research would not be complete without exploring some related keywords, alongside their search volume and BSR. We broke this down into three primary categories for easier reading.
Here's what we found:
Grandma t-shirts
"Grandmas": search volume – 19,428; BSR – 719,713
"Grandma": search volume – 15,265; BSR – 6,118,378
"For grandma": search volume – 12,485; BSR – 481,200
"Mom grandma and great grandma": search volume – 10,391; BSR – 1,648,660
"Love grandma": search volume – 7,240; BSR – 4,665,645
"Badass grandma": search volume – 3,464; BSR – 386,306
"Blessed grandma" search volume – 2,677; BSR – 6,341,917
"Hippie grandma": search volume – 2,527; BSR – 322,954
"Jewish grandma": search volume – 2,484; BSR – 144,277
"Grandma to be": search volume – 2,310; BSR – 426,072
Grandpa t-shirts
"Grandpa": search volume – 15,518; BSR – 6,223,650
"Grandpas": search volume – 8,022; BSR – 1,259,618
"Best grandpa": search volume – 7 357; BSR – 6,510,732
"Dad grandpa great grandpa shirt": search volume – 6,503; BSR – 1,680,753
"Grandpa to be": search volume – 2,349; BSR – 448,647
"Awesome grandpas": search volume – 2,188; BSR – 170,248
"Becoming grandpa": search volume – 2,152; BSR – 37,251
"Blessed grandpa": search volume – 2,076; BSR – 642,000
"Amazing grandpa": search volume – 1,428; BSR – 149,052
"Christian grandpa": search volume – 1 245; BSR – 107,131
Senior citizens
"For seniors citizens": search volume – 9,711; BSR – 19,614
"For senior citizens": search volume – 6,071; BSR – 101,287
"Senior citizen t": search volume – 3,806; BSR – 2,707,987
"Senior citizens": search volume – 3,638; BSR – 243,119
"Senior citizen": search volume – 3,468; BSR – 2,707,987
"Funny senior citizen t": search volume – 3,173; BSR – 1,417,825
"Senior citizen tshirt": search volume – 1,204; BSR – 2,707,987
"Senior citizen funny": search volume – 1 159; BSR – 1,417,835
"Senior citizen shirt": search volume – 120; BSR – 2,708,026
From the above, it becomes clear that there are three separate categories that are related to retired people. These are t-shirts for grandmothers, grandfathers, and senior citizens in general. Sellers would do well to identify a particular audience such as grandmas or grandpas and cater to these separately. Alternatively, if you're planning to target the broader niche of senior citizens, you must indicate so in your listing's title and description.
In any case, you will want to opt for high search volume, low-competition keywords. Truthfully, there aren't any particularly interesting sub-niches in the space, so our advice would be to focus on lower search volume, but also lower BSR related keywords. Those are blessed, hippie and Jewish grandma; awesome, blessed and Christian grandpa, and "to be" or "becoming" for either gender.
Keyword count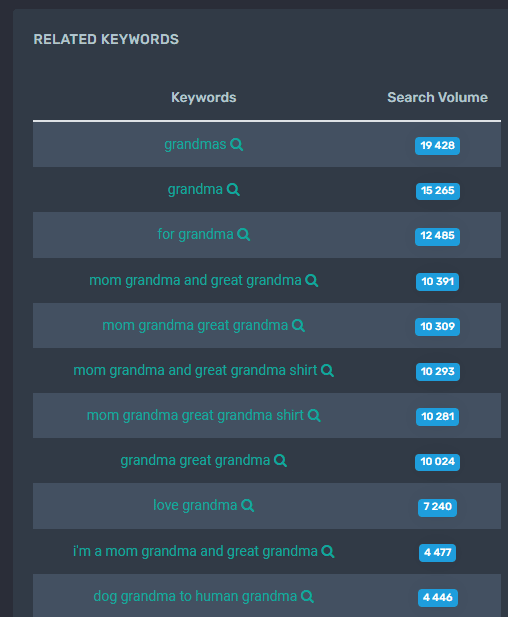 Keyword count is another important factor to consider. It usually unveils sub-niches that aren't visible at first sight. However, our research into this metric confirms our initial finding. The space just isn't as rich as other niches. Popular keywords here are simply variations of "grandpa", "grandma" and "senior citizen".
Here's a breakdown: "nana" (325), "granny" (260), "gigi" (206), "grammy" (204), "mimi" (190), "yaya" (159), "grammie" (157), "abuela" (150), "mamaw" (148), "mawmaw" (146), "pop" (206), "senior" (2,542), "citizen" (1,053), "citizens" (209), "elderly" (162), and "retirement" (135).
Listings saturation
"Grandma tshirts" on Amazon.com brings back 50,000 listings. The same applies for "grandpa tshirts". This is what we'd consider to be a developed market.
Meanwhile, a search for "senior citizens t-shirt" comes back with 10,000 results, which makes it underdeveloped. This means there's room for exploration in this broader category of searches, making it an area you may wish to target.
Pricing

As for pricing, which is another crucial part of your sales strategy, we determined that the lowest price for t-shirt products for senior citizens is $13.07, the highest price is $39.99, while the average price is $18.69.
What are some of the best-selling merchants doing right?
We were able to identify two best-selling listings that are performing comparatively well when looked at in conjunction with others in this niche.
The first bestseller relates to sales of t-shirts aimed at grandmothers. This seller is This Is My Awesome Witch Halloween Costume. They have created the "Grandma Costume Gift – This Is My Awesome Grandma Costume T-Shirt". The item has quite a low BSR of 136,089 and sells at $15.95. It has received 19 ratings to date.
The second bestseller is KaizenDesigns with their product "Mens Some Grandpas Play Bingo Real Grandpas Ride Motorcycles T-Shirt". The item also has a significantly low BSR of 123,202 and is priced at $23.99. To date, it has received around 135 ratings.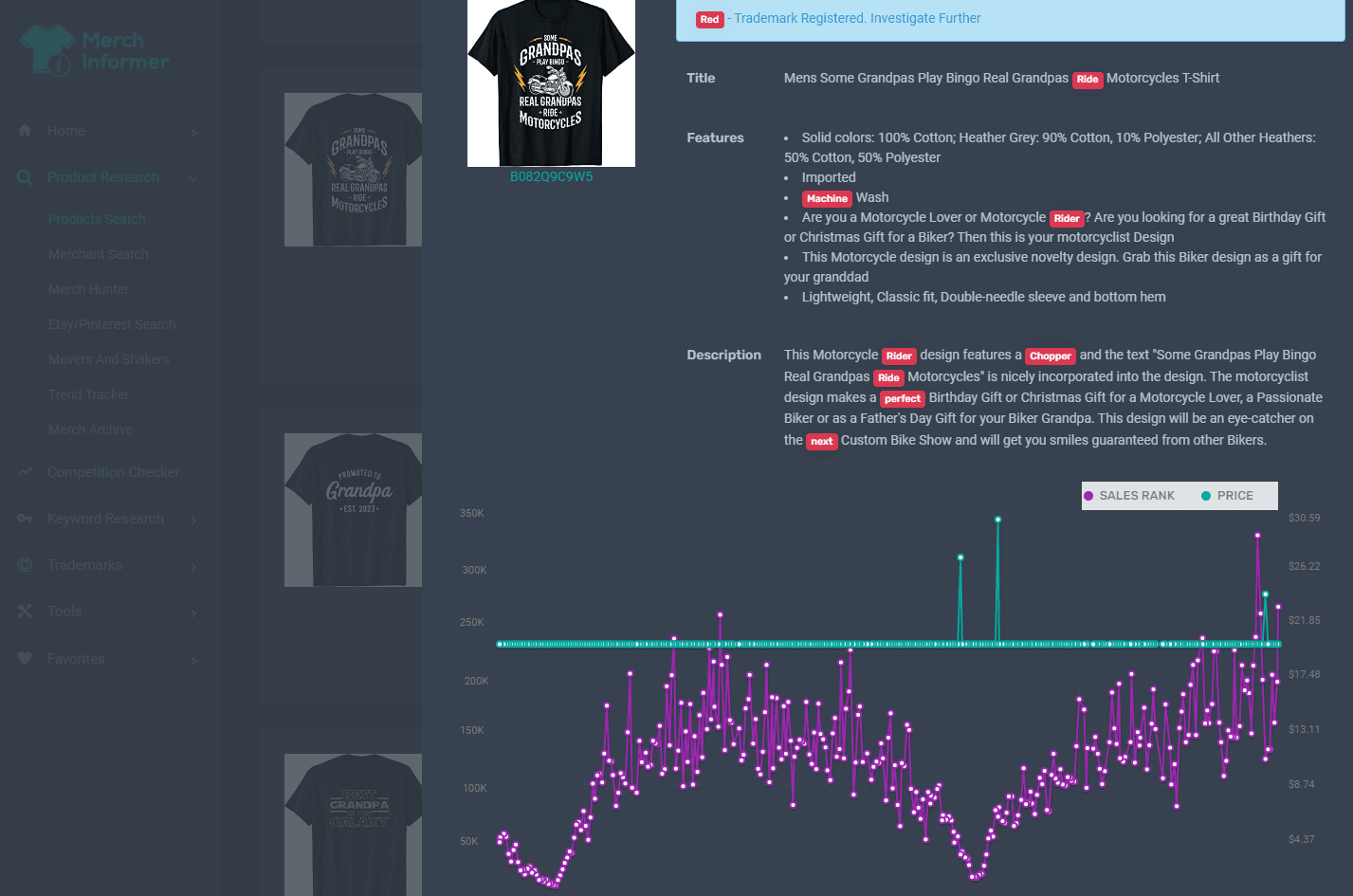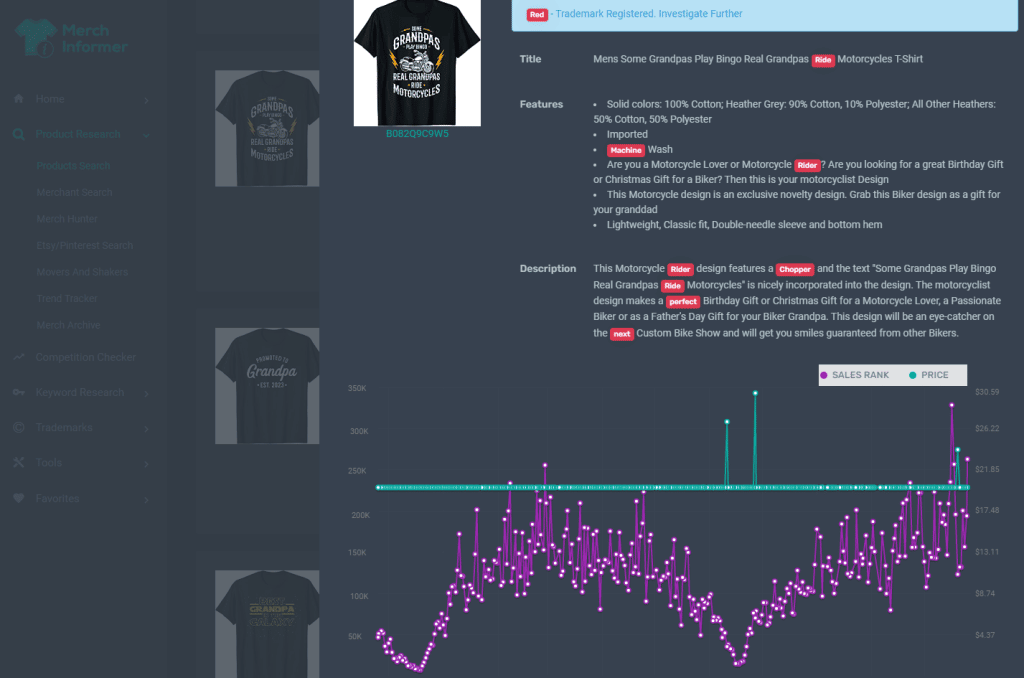 Specific audience, good title optimization
A common feature of these two bestsellers is that they've targeted a very specific audience – grandmothers or grandfathers in particular. They have not aimed for the broader senior citizens niche.
This is evident in their titles, which contain words like "grandma" and "grandpas".
Focus on humor, good description optimization
Another important feature is that these t-shirts both contain a sense of humor and the descriptions are highly detailed. This would indicate that these shirts are suitable for retired individuals over the age of 60.
In addition, the first bestseller's description contains a wide variety of keywords that are synonyms of "grandma" such as "Grandma", "Grandmom", "Grandmother", "Granny", "Nana", "Nanny", "Nonna", "Mamaw", "Gigi", "Mimi", etc.
Pricing low or high, intricate designs
The first seller has opted to position their listing near the lowest price for this niche, while the second bestseller (KaizenDesigns) has opted to price a few dollars above the average.
Both designs are quite intricate and detailed, indicating that effort has been put into the design process. This ultimately means a higher quality output and a better chance of making sales.
What is the profitability in the senior citizens niche?
In order to establish the potential for profitability in the senior citizen niche on Amazon Merch on Demand, we first looked aThis Is My Awesome Witch Halloween Costume and their bestselling grandma costume gift. With 19 sales at a price of $15.95, we estimate that profitability will be in the region of $303.05.
The second bestseller (KaizenDesigns) has sold 21 times at $23.99. This yields an estimated turnover of around $503.79.
It is therefore evident that profitability in this particular niche, if an accurate strategy is pursued, can yield in excess of $300, which is not a bad amount indeed.
Our recommendations
Catering to retired individuals means that in most cases, these t-shirt products will be given as a gift as opposed to something that's purchased by the senior citizens themselves. With this in mind, it's important to add keywords such as "gift" in your title and description alongside seed keywords and their variations. Especially those that have a high search volume and a low BSR mentioned above.
Don't forget to indicate whether this is a male-centric or female-centric product, too.
Regarding design, you have several options available to you. Firstly, don't be afraid to use humor. T-shirts that talk about receiving senior citizen discounts are quite a popular trend. Secondly, make sure that your designs are appropriate for your audience (male or female or both).
Finally, when catering to senior citizens, be sure to be respectful. For example if the product is targeted at someone who's about to become a grandma or grandpa, don't use words like "old" to denote their age. In many cases, people become grandparents in their fifties and sixties. And you also want to avoid problems of ageism.
Finally, regarding the price, our recommendation would be to consider pricing around the average. Going for a lower price has been a successful strategy for the first bestseller mentioned above as they've generated nearly 20 sales at a price of around $15,95. However, opting to go a bit higher at around $18.00, you're likely to still fall within the pricing sweet spot.
Final thoughts
The senior citizen niche on Amazon Merch on Demand is not to be underestimated. Yet, the listings count shows that many sellers are trying to compete in this category, although with mixed levels of success. This could be attributed to a variety of reasons, not least of which is an unoptimized listing. Here's where Merch Informer comes in.
The software offers a full range of functionalities to take your research process beyond anything you have ever dreamed of. Its valuable insights can help you prepare an accurate and catchy title and description, and inform you of the most appropriate price for your chosen niche/