One year later: How has the Ukraine war influenced the Amazon Merch on Demand scene?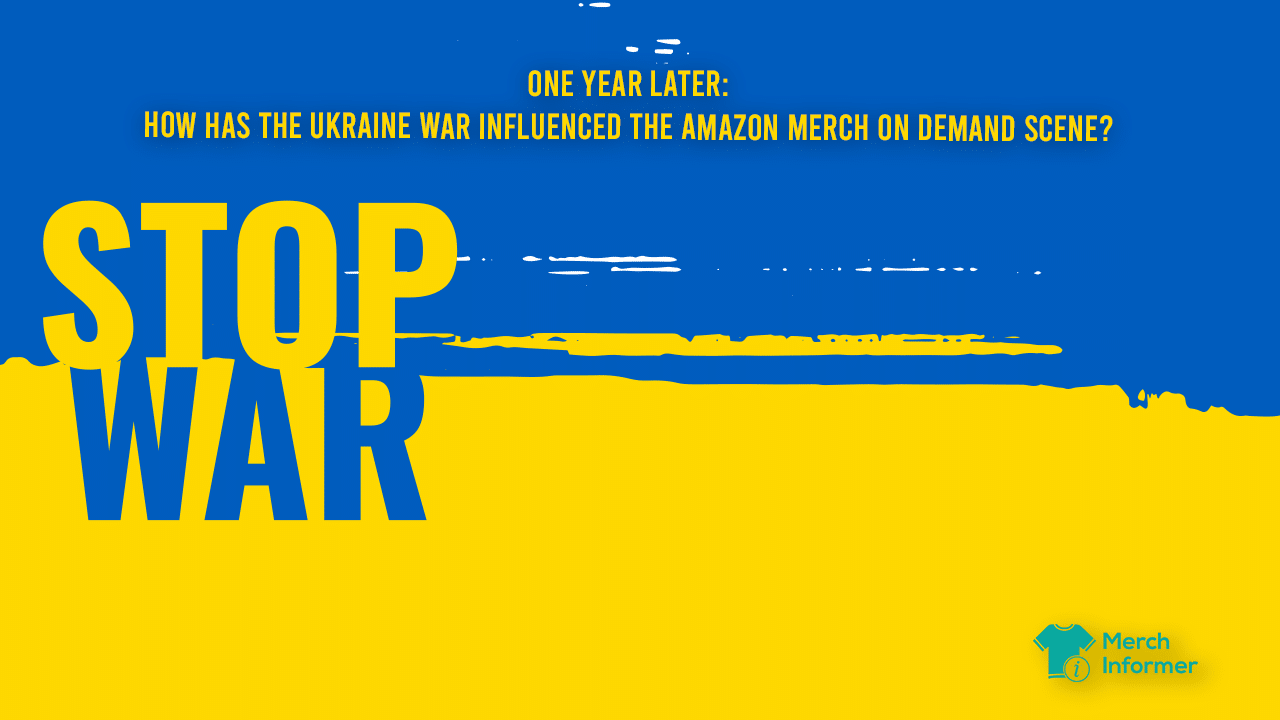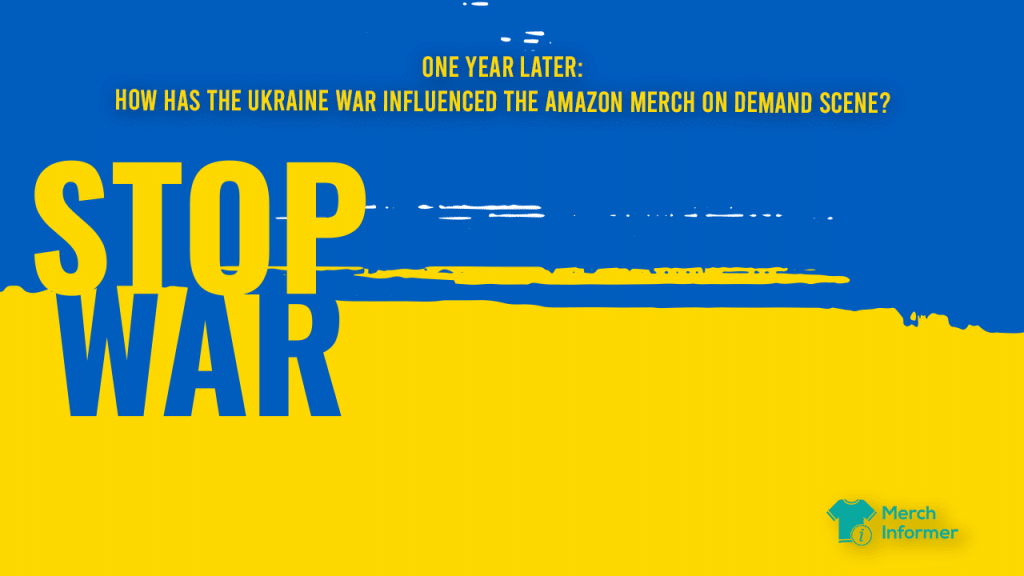 As one of the most popular eCommerce platforms in the world, Amazon's shopping patterns and user behaviour are dramatically influenced by world events. While some events may be upcoming concerts, rising actors or popular television series, others are related to war and political disputes.
Since the 24th of February, 2022, Amazon Merch on Demand has witnessed the formation of a whole new niche – the Russia-Ukraine war.
In the following sections, we explore what has changed in terms of buyer demand, merch designs and listing optimization 1 year later.
The formation of a new niche
To detect any patterns of the war's influence on Amazon Merch on Demand, we utilized Merch Informer and its powerful tools.
Via features like Keyword Cloud and Merch Archive, we were able to travel through time. We went a year back in search of any sudden pickups in demand for Ukraine-related merch. And we found the evidence we were looking for.

The conflict began on the 24th of February with Russia's invasion of Northern, Eastern and Southern Ukraine. We used Keyword Cloud to see whether any Ukraine- or Russia-based words and phrases were among the most searched for on and around that fateful day.
We concluded that no searches of the kind were being performed on the 24th and 25th. However, on the 26th of February, things changed. According to the insights, it only took two days for Amazon shoppers to start searching for war-related merch.
In the last days of February 2022, some of the most popular keywords on Amazon were "Ukraine", "Ukraine flag", and "stand with Ukraine". This symbolizes a dramatic shift in buyer demand and a call for products that satisfy this rising niche. All of this translates into significant earning opportunities for Amazon sellers.
This search trend continued in the following months, until June. Merch Informer revealed that from June until the present day, Ukraine is no longer part of the most searched-for topics.
But how did this reflect on actual sales for those that reacted and offered products in the niche?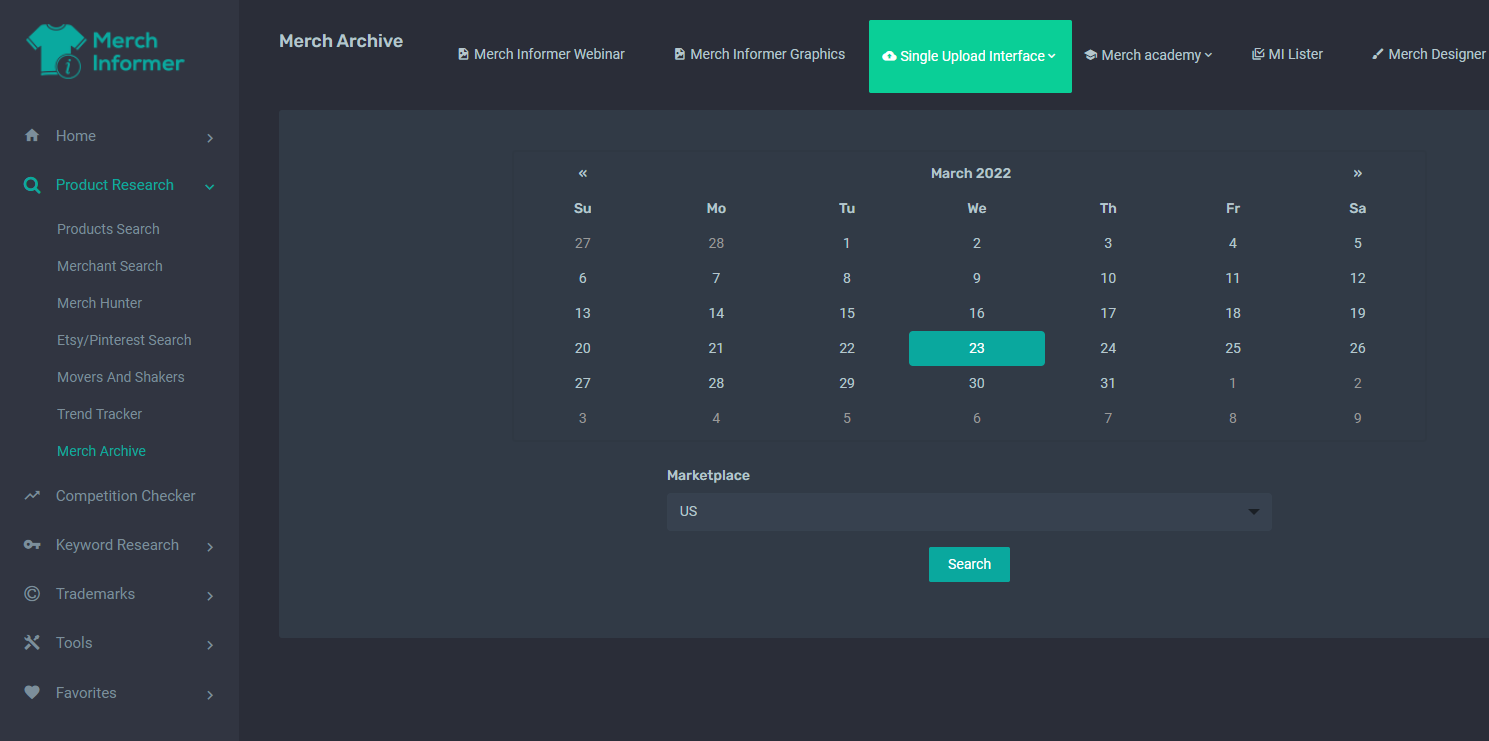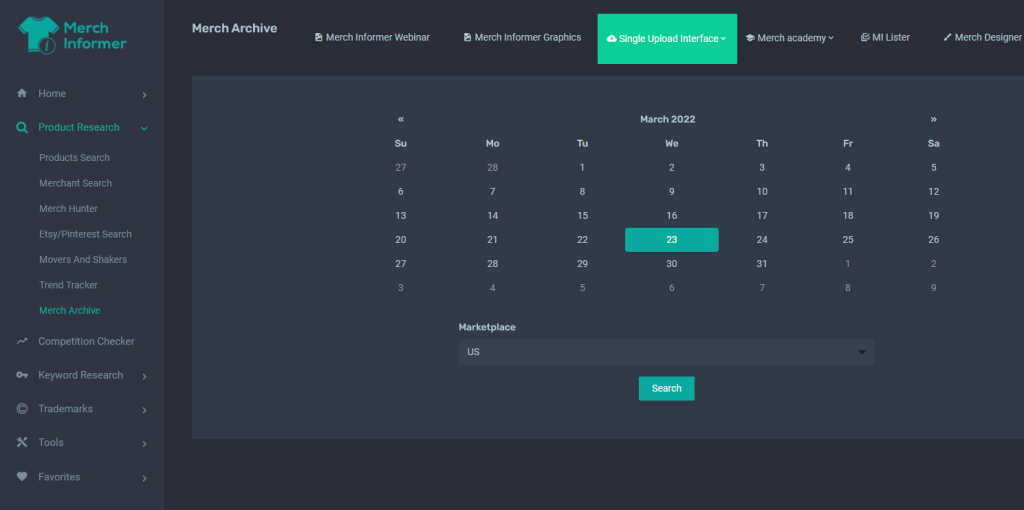 Well, using Merch Archive, we identified that on March 23, 2022, the number one top-selling listing was the "Vintage Ukraine Ukrainian Flag Pride Gift T-Shirt". With a BSR of 3,788 and a price of $13.90, the listing generated around 675 monthly sales for the seller.
What conclusion does this bring us to? The Russia-Ukraine war certainly created a new niche on Amazon Merch on Demand. It enabled sellers to offer theme-related designs, satisfy rising demand, and overall – diversify their portfolio and increase sales.
The demand for Ukraine merch – one year later
Naturally, the interest towards the war was most vivid at the time when the topic was hottest – from February to May 2022. But how does this niche look today, one year later?
Although not as popular as at the start of the conflict, the niche still generates a decent amount of search volumes on a monthly basis. Merch Informer's Keyword Finder showed us the following niche-specific keywords that are some of the most attractive ones at the moment:
flag ukraine – 2 620 155 – high
i stand with ukrain – 304 894 – medium
ukraine tshirt – 85 979 – high
i stand with ukraine – 37 134 – high
zelinsky ukraine – 34 888 – low
slava ukraini – 32 085 – low
kiev ukraine – 30 297 – low
be brave like ukraine – 18 166 – medium
pray for ukraine shirt – 18 029 – high
slava ukraine shirt – 17 333 – high
usa ukraine – 12 691 – low
glory to ukraine shirt – 9 923 – high
Next to each word or phrase you can see the monthly search volume and the level of competition.
For example, the keyword "flag Ukraine" generates more than two and a half million searches per month on Amazon alone. Sure, it's a highly competitive word to rank for, but it enjoys a massive amount of interest from buyers.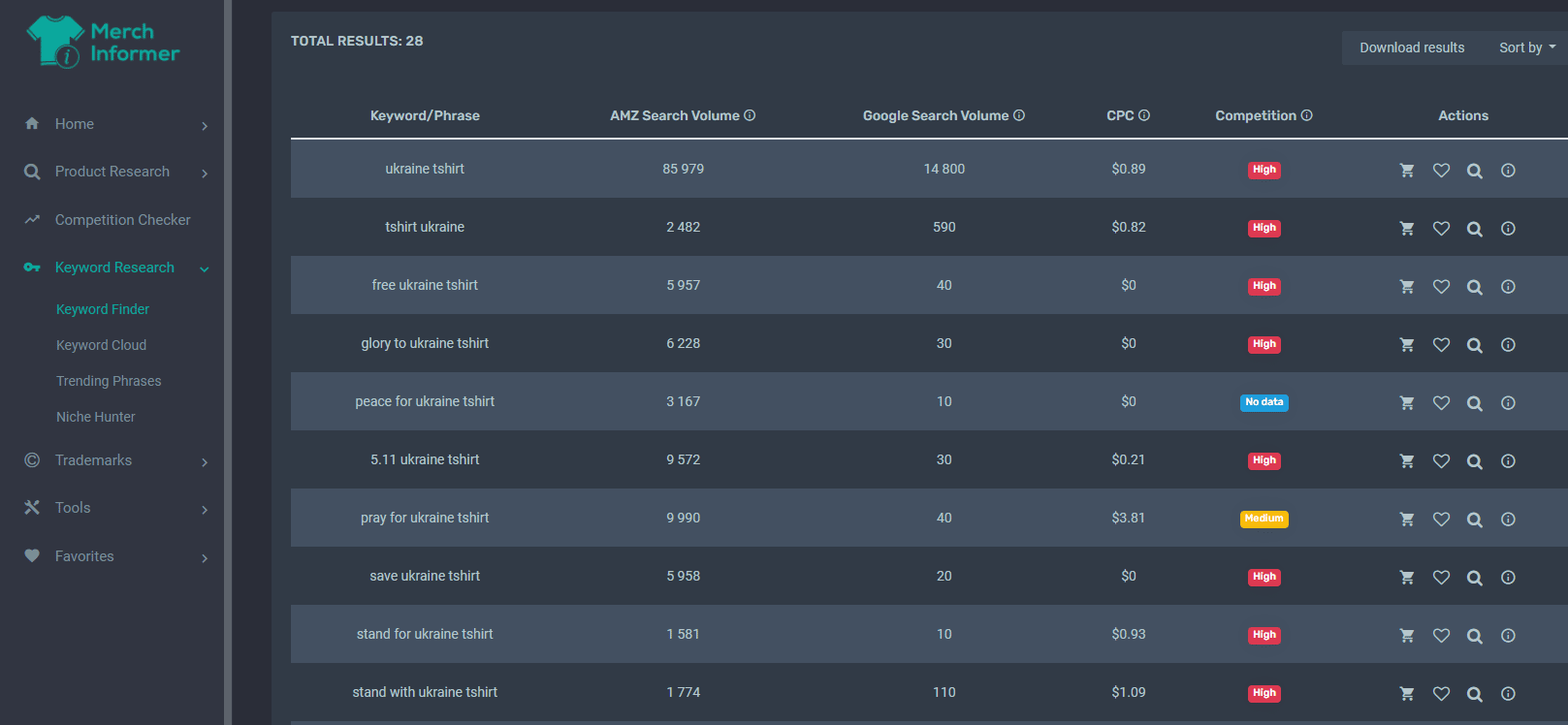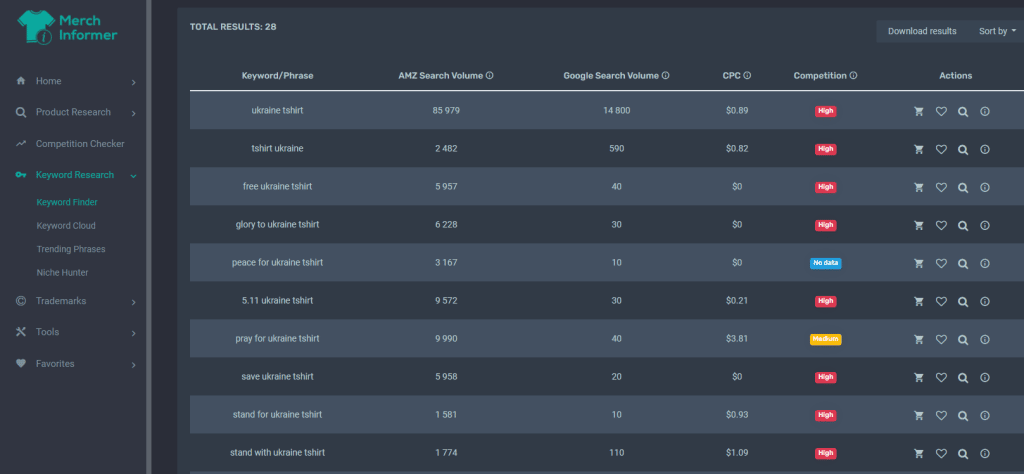 We dug deeper to identify how popular listings from the niche are in February 2023. We started by performing a generic search in the t-shirt category with Merch Informer's Merch Hunter tool. This enabled us to browse through all of the bestselling listings on the platform. We didn't come across any Ukraine-related listings, signalling that other niches are currently selling better.
Next, we attempted a different research approach. We narrowed down the search by typing in "Ukraine" in the Merch Hunter tool. As a result, we gathered information on more than 200 best-selling listings in this niche specifically.
Overall, the average BSR of all top performers is 1 102 324, while the BSR of the number one listing in the space is 147 771. Although we can't classify this niche as extremely profitable from a seller's perspective, our search brought us valuable findings.
We were able to detect the listings that attracted the most sales and examine their designs, the keywords they use, and the message they convey. For instance, some of the most commonly used keywords in the displayed listings include:
Flag
Pride
Patriotic
Kiev
Army
President
American
Zelensky
We noticed that the majority of chart-toppers optimized listings for diverse words and phrases related to the Russia-Ukraine conflict. For example, the "Ukraine Support Ukrainian President Zelensky Coat of Arms T-Shirt". It utilizes the main keyword "Ukraine", but also ranks for others like "support Ukrainian', "president Zelensky", and "coat of arms".
This strategy improves the listing's visibility and makes it easily discovered by shoppers.
Exploring the design trends in the niche
Not only has the Ukraine war opened the window to a new niche on Amazon Merch on Demand, it has also given scope for new designs.
When inspecting some of the successful designs by sellers, we noticed a few recurring patterns. The Ukrainian flag is present in most of the top-selling listings, as you can imagine. But that's not all. It's frequently paired with the American flag, representing the strong bond between the two countries.
There are also a lot of designs symbolizing hearts, the Ukrainian coat of arms symbol, as well as the Ukrainian map. President Zelensky is also often portrayed on t-shirt designs, usually in combination with text.
A great example is the "Volodymyr Zelensky I Need Ammunition, Not A Ride Ukraine T-Shirt" listing. It ties in all of the mentioned above into a single design. The background color of the t-shirt is black and the main visual feature is the Ukrainian flag with an image of president Zelensky on top. The flag also consists of the Ukrainian coat of arms. In addition, the design includes text that reads "I need ammunition. Not a ride."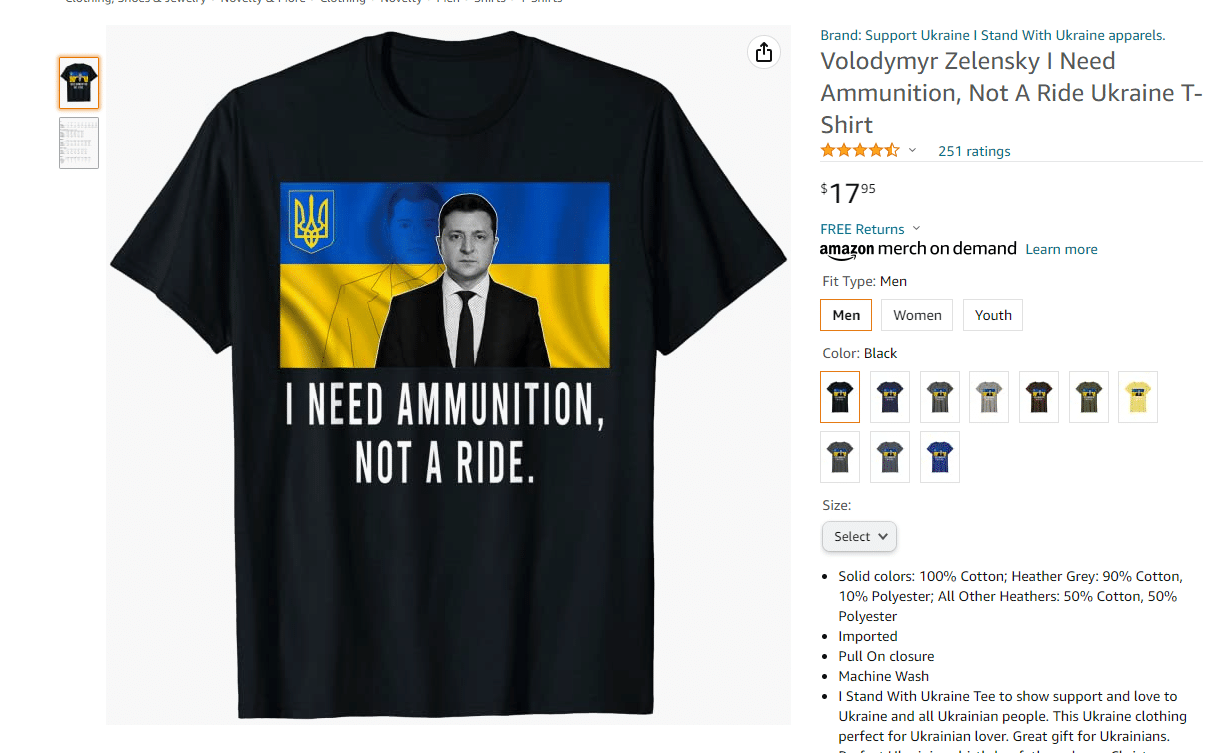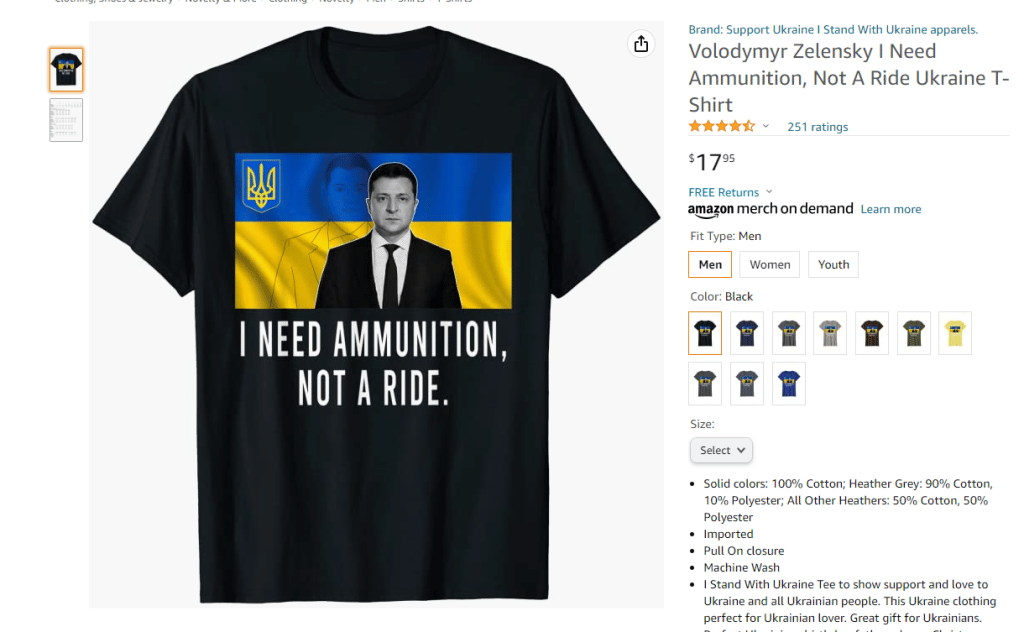 Overall, by exploring the designs inspired by the Ukraine war we can conclude that they utilize imagery and text to present support for Ukraine in this conflict.
What this means for you
The impact that the war in Ukraine has had on Amazon Merch on Demand is an eye-opener for both beginners and experienced sellers. It proves that the merch market is sensitive to real-life events. Being aware of global changes and tracking market responses will enable you to gain a competitive edge and readjust your strategy when the timing is right. Most importantly, it will enable you to satisfy buyer demands, meaning that you can establish long-term relationships with your customers and build a loyal client base.
The insights provided by Merch Informer can help you quickly spot new trends and make strategic decisions.
Conclusion
Has the war in Ukraine impacted the Amazon Merch On Demand landscape? Absolutely. The insights and examples from above prove this beyond a shadow of a doubt.
Would we recommend tapping into this niche if you still haven't? Probably not.
As mentioned above, the topic was hot and trending as the conflict unfolded in late February of 2022 and maintained momentum until June. Although there may be a few sellers who still land sales from Ukrainian war-inspired designs, the niche is no longer generating juicy sales.
However, there will certainly be other rising niches as time passes, and hopefully – none of them are linked to conflict. With Merch Informer at your fingertips, you'll have the power to be aware of them as soon as they start making waves on Amazon Merch on Demand.