Pin-up girl POD t-shirts: Can this trend from 100 years ago make money today?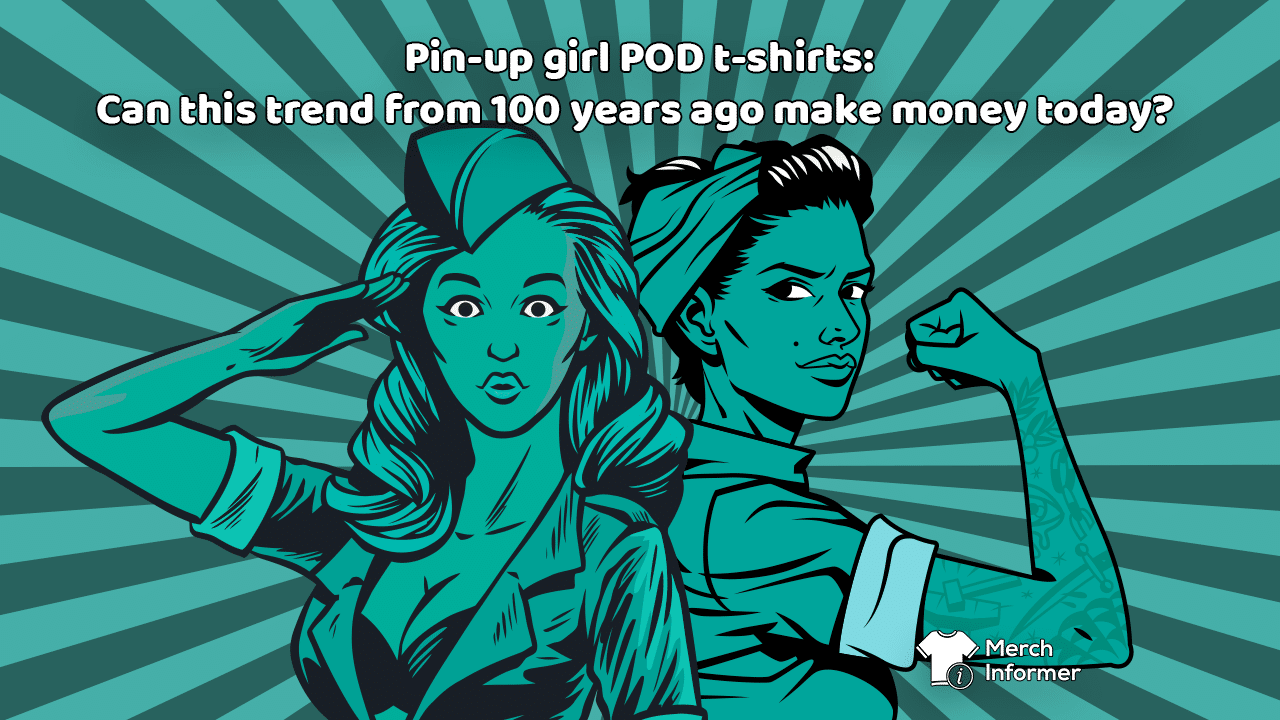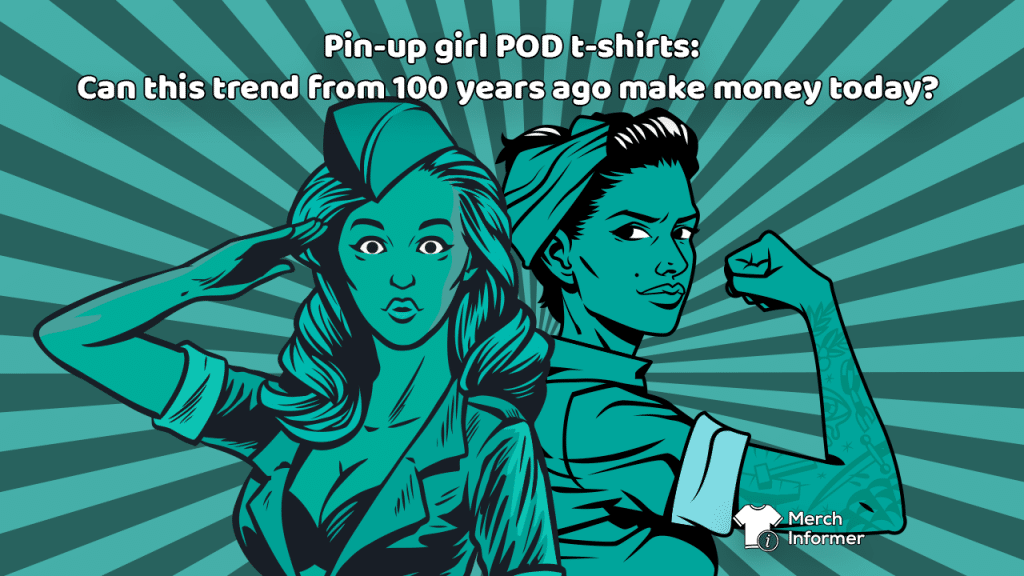 Over 100 years ago, before the magazines and posters that we grew to know today, we had pin-up girls. These were literally images of famous women and models that could be "pinned-up" on a wall.
Representing women's empowerment, femininity, and a slightly raunchy nature, these pin-ups come in the form of burlesque themes that show powerful and beautiful women who had something to say.
Despite this trend being a century old, we still see some interest for this category on Amazon Merch on Demand.
Take a look below to see if this niche is worth pursuing.
How big is the pin-up girl niche on Amazon Merch on Demand?
Right off the bat, with some help from Merch Informer, we see that the average best-sellers rank (BSR) for the pin-up girl niche on Amazon Merch on Demand is 5,214,926. This figure can be interpreted in a number of ways.

On one hand, we can say that the BSR is too high and that the niche isn't worth pursuing. On the other hand, we can consider this BSR quite low for a niche that does not get as much attention as it would have a hundred years ago.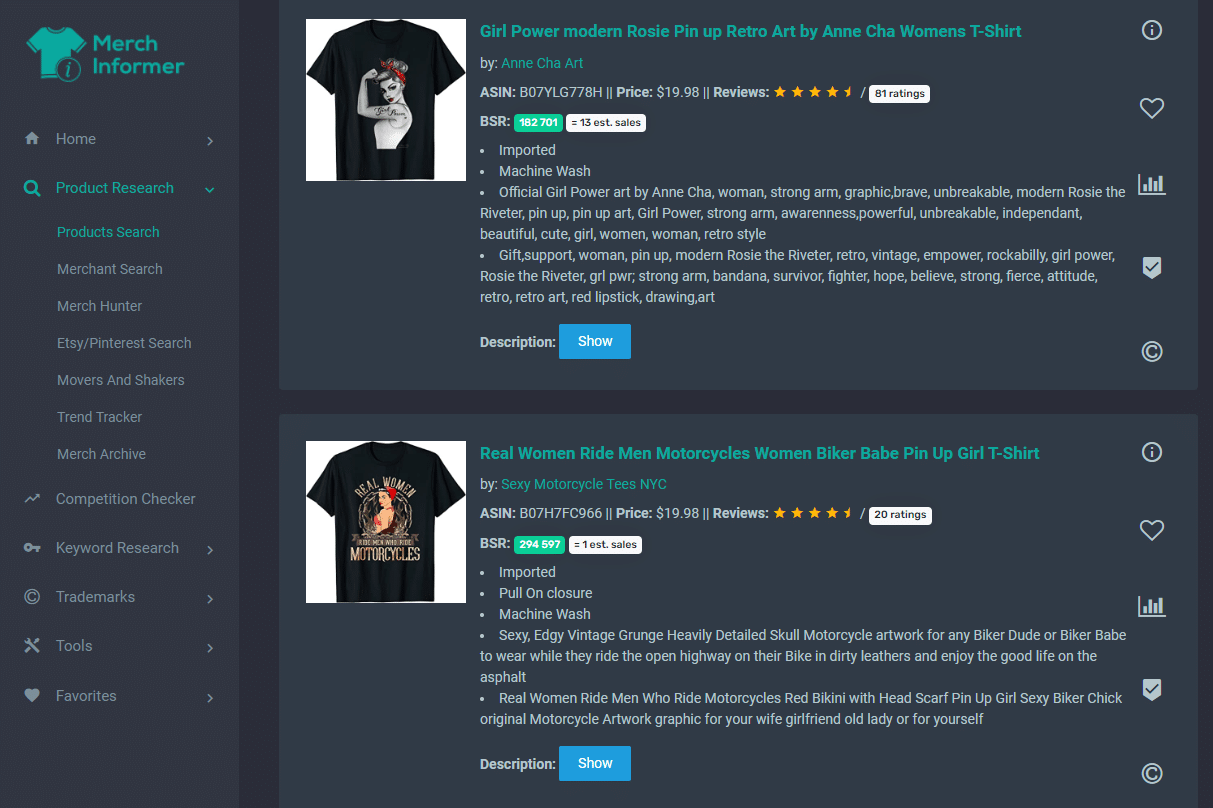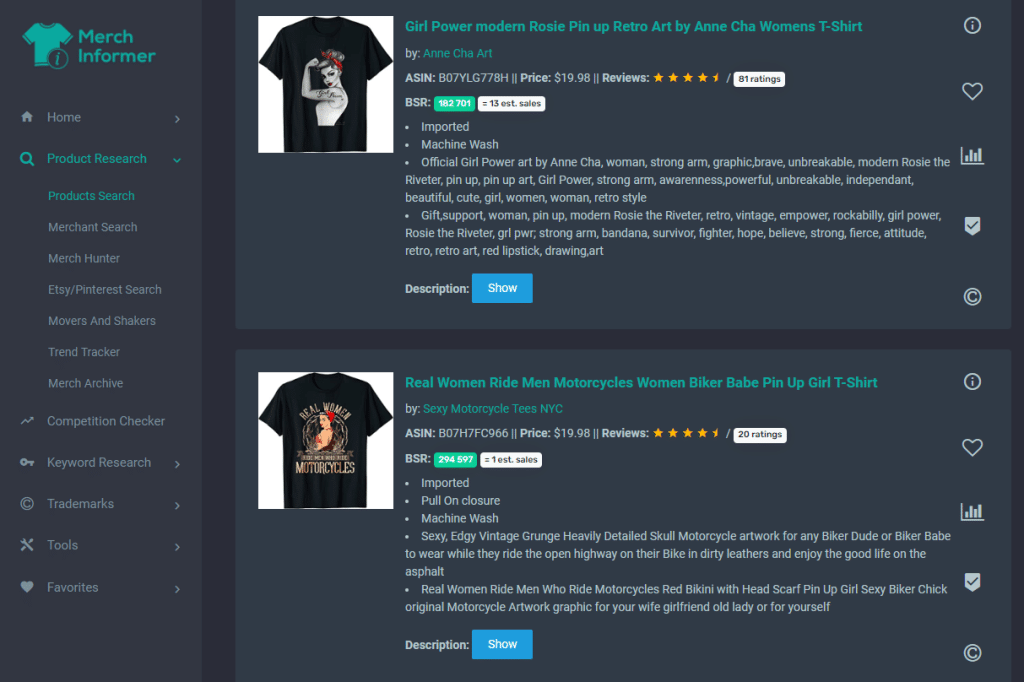 But because these are just speculations, we wanted to give you the real lowdown on the pin-up girl market, so that you can decide if it's worth pursuing or not.
To do this, we studied the most popular keywords associated with a search for pin-up girl t-shirts, the keyword saturation, and the pricing.
Keywords, search volume and BSR
In total, we get 48 keyword combinations from Merch Informer that can help us determine the search volume for this niche. Of course, we narrowed these down to the most relevant ones and also did a search of their average BSRs.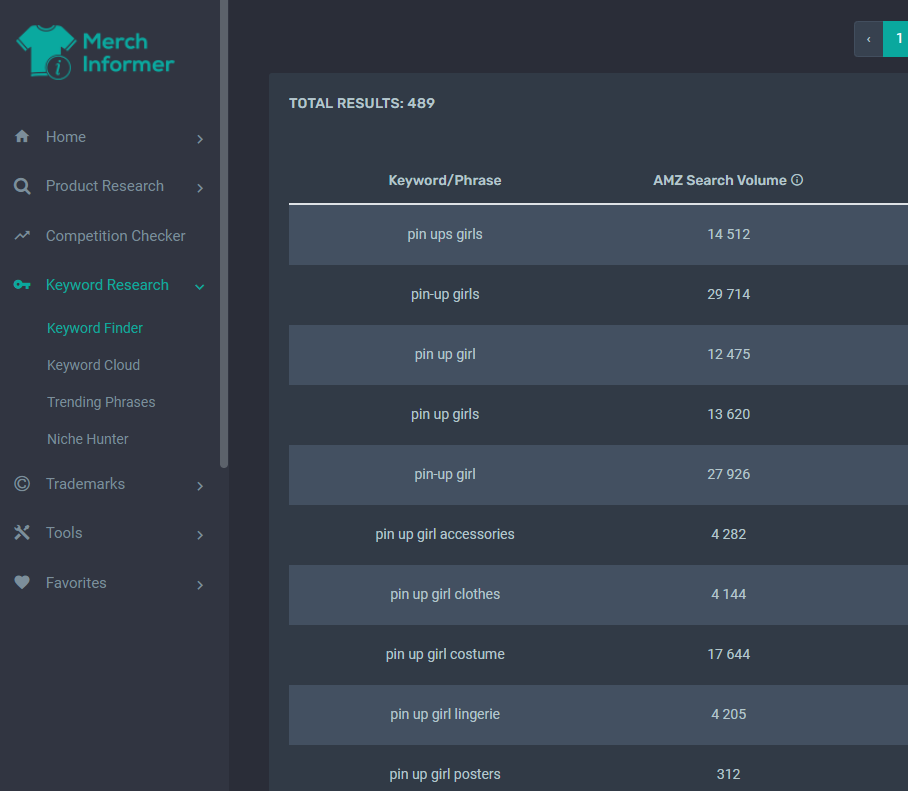 Here's what we found:
"Pin-up shirt": search volume – 30,312; BSR – 5,215,073
"Pin-up girls": search volume – 29,714; BSR – 54,409
"Pin-up girl": search volume – 27,926; BSR – 841,767
"Pin ups": search volume – 15,521; BSR – 9,962
"Pin-ups": search volume – 15,253; BSR – 6,682,488
"Pin ups girls": search volume – 14,512; BSR – 6,683,169
"Pin-up": search volume – 11,324; BSR – 1,130,091
"Pin up": search volume – 4,176; BSR – 5,215,073
"Sexy pin ups": search volume – 2,100; BSR – 6,722,039
"Retro pin up": search volume – 1,655; BSR – 1,361,995
"Pin up shirt": search volume – 1,626; BSR – 5,215,073
Now, let's examine these results in a bit more detail. Firstly, it is clear that there is an overall high search volume for pin-up and related items with the word "shirt" getting over 30,000 searches.
Furthermore, whether the word is hyphenated or not seems to be a deciding factor in search volume, as well as BSR. It would appear that most of the potential buyers are hyphenating the seed keyword when searching for the term, while not hyphenating "pin-up" results in fewer overall sales (higher BSR). This is a crucial finding that is specific to this niche. Sellers are advised to use the correct jargon, and to always hyphenate "pin-up" if they want to meet customer demand.
It's also clear that there is very little variation in terms of the keywords used by buyers to find their pin-up shirts. The words "pin-up" appears in every search term on Merch Informer. What's more is that adjectives such as "retro" and "sexy" don't seem to have much of an impact on the search volume with both of these keywords having a high BSR and a low search volume.
Finally, we see that the highest search volume with the lowest BSR relates to the words "pin-up girls" and the broad "pin ups". As such, these words should be a must when including them in your listing's title. But for more on this, take a look below.
Listing saturation
We also wanted to confirm whether the findings above correlate with what current bestsellers are doing. So, we explored the keyword saturation for these keywords using Merch Informer.
This is what we found:
Seed keyword: Pin (1,861) girl (1,313), pinup (466)
Audience: military (299), men (183), WW2 (171), veterans (90)
Descriptive associated keywords: vintage (795), art (699), retro (496), sexy (389) girls (354), rockabilly (229), women (219), American (156), Rosie (100), power (85)
Time period: 1950s (120), 50s (115), era (106), 1940s (93)
There are over 1,500 titles directly targeting the pin-up girl niche. This much is certain. However, we can assume that the number is probably higher than 2,000. Why? If we take the "pin" and "girl" numbers we can average them out at around 1,500. However, there are an additional 466 titles featuring "pinup". As sellers wouldn't put both of these keywords in the same title, we can assume that these are separate listings. This leads us to nearly or over 2,000 listings in total. .
Next, there is a clear focus on time periods. This, however, doesn't seem to be an effective strategy because none of the keywords we studied above included time periods.
Regarding the audience, these shirts seem to be catering to men (as veterans and evoking a sense of nostalgia for the past), although when we look at the bestsellers below, we will see that they are actually aimed at women.
Finally, with regard to the descriptive associated keywords, we see words like "vintage", "retro", and "sexy" appearing, suggesting that some sellers are learning to use common search terms from buyers in their listings to cater to a wider audience.
Pricing
A competitor analysis and a study of the niche would not be complete without examining the prices in the market. With the help of Merch Informer, we were able to discover the following:
Lowest price: $13.38
Highest price: $39.99
Average price: $18.45
What are some of the bestselling merchants doing right?
Despite the major search volume for the pin-up girl niche, we see a low number of sales in the t-shirt category.
There is only one bestseller who has made some sales this month, and this is Sexy Motorcycle Tees NYC. Their t-shirt title is called "Real Women Ride Men Motorcycles Women Biker Babe Pin Up Girl T-Shirt".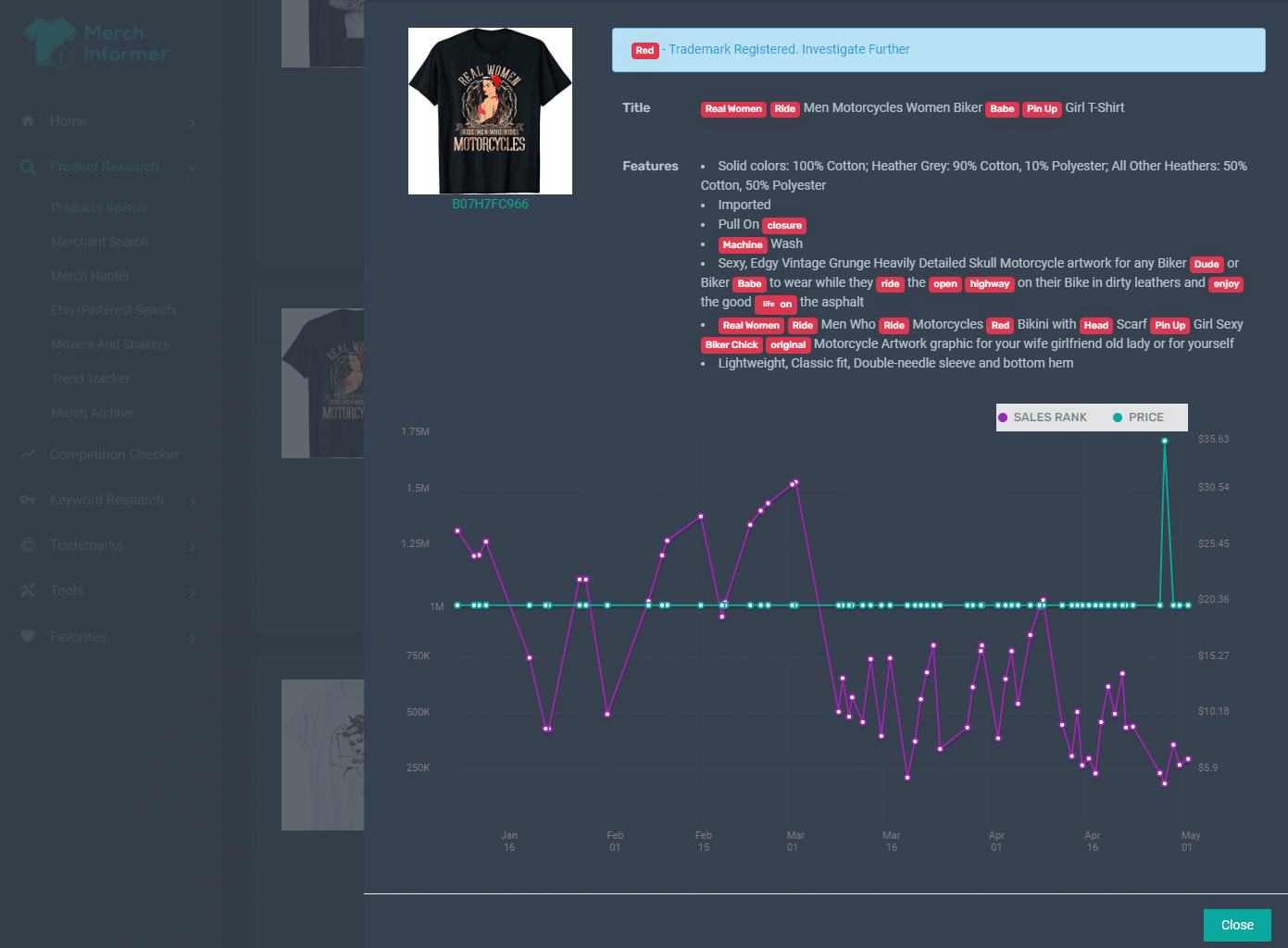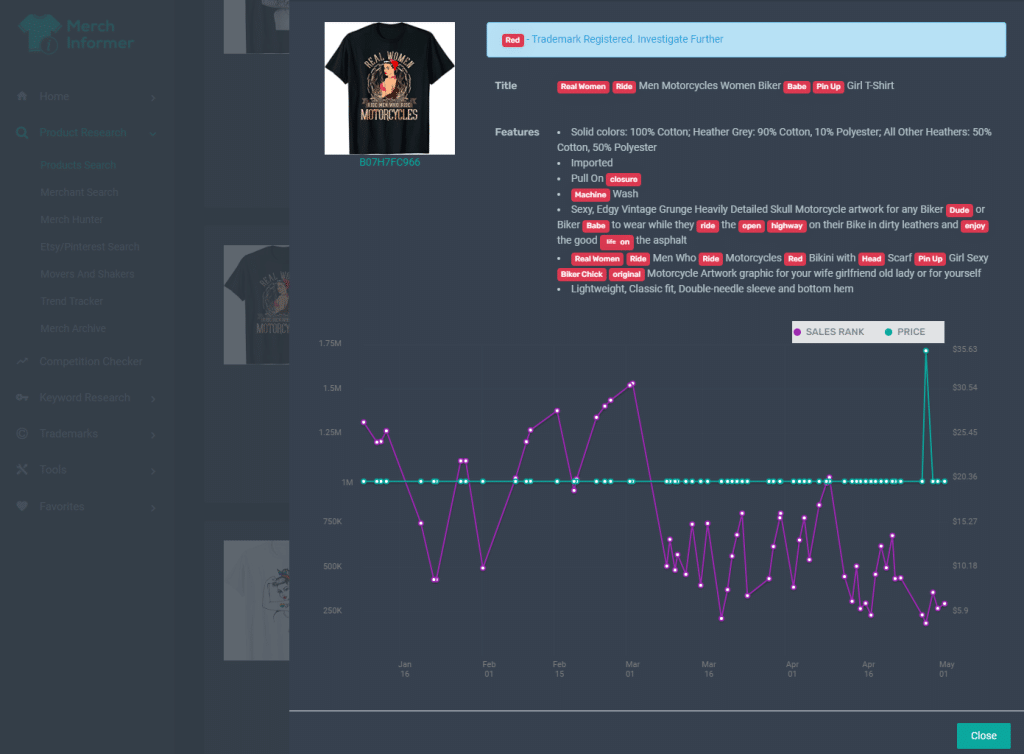 To date, it has generated sales and has a considerably low BSR of 268,041. This t-shirt product is priced at $19.98, just above the average price for this category.
It's worth studying what this seller has done right to get more sales and eyeballs on their product.
Here's what we can see.
Keywords
It's clear that this seller is targeting motorcycle riders with the inclusion of this word in the title in addition to "biker babe".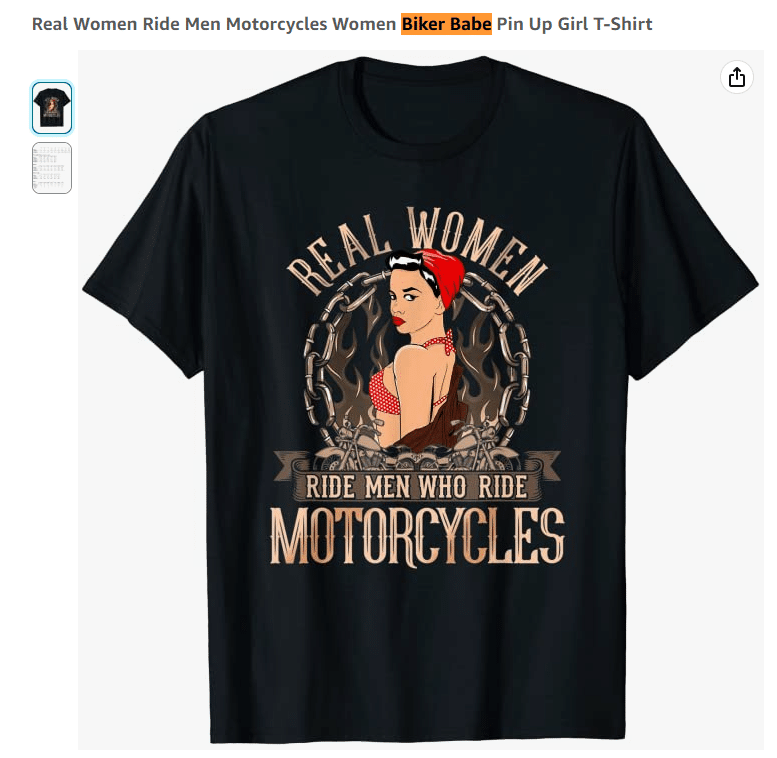 Secondly, the words "pin up girl" are prominently featured in the title. The word "sexy" as identified above, appears in the seller's description and not in the title.
However, the seller has made obvious efforts to include words with a high search volume in their listing. This is a strategy to be emulated.
Pricing
Pricing just above or near the average has worked in the seller's favor, too. Despite the high average price for this niche, pricing near the $19-mark means higher chances of producing more sales.
Designs
The design of this shirt is placed on a black background with red featuring prominently in the pin-up girl's bandana and bathing suit. The centered title "Real women ride men who ride motorcycles" is presented using a clear and logical design hierarchy and there is no over-cluttering of elements.
The pin-up girl herself has a retro look, which mirrors what the seller is promising in their title.
What is the profitability in the pin-up girl niche?
We already mentioned that the pin-up girl niche is not getting a lot of sales despite the fact that there is a high search volume for it.
With that being said, we see that Sexy Motorcycle Tees NYC is earning $119.88 from their efforts, based on our calculation of the selling price ($19.98) multiplied by six sales.
Our recommendations
With the massive search volume for pin-up girl shirts on Amazon Merch on Demand, you need a serious strategy to get in front of an audience and sell. To do this, we recommend the following:
Keywords: choose your keywords wisely. We recommend Merch Informer to help with that. Be sure to hyphenate the word "pin-up" because it gets a higher search volume overall. Also consider using words like "sexy", "retro", and "vintage" to describe your shirt. Also indicate in your description who the shirt is for. Cleary, the bestseller evaluated earlier caters to women, even though the assumption is that these shirts were initially catered to men.
Price: some sound advice that we constantly give and will keep on giving is to price around the average. By doing so, you don't risk alienating customers with a higher price. Nor do you signal that your product is of a low quality by pricing too low.
Design: whether you choose Rosie the Riveter or Dita Von Tesse as your models, or you create your own unique design, make sure to use the retro look and feel. This means choosing your colors carefully and using clever design elements to showcase your pin-up girl.
The bottom line
While some money can be made from the pin-up girl niche, it's not making as much as the search volume indicates there could be.
However, with a high search volume, we immediately see a demand for these products and this gap should be filled. If you are ready to do so, be prepared to compete effectively.
This means using Merch Informer to help guide you on your journey. It's a tiny monthly investment of only $9.99 per month.
It's a crazy low price for a platform that gives you everything you need to rank high and earn sales.