Print-on-demand t-shirt niches to prepare for in Q1 of 2023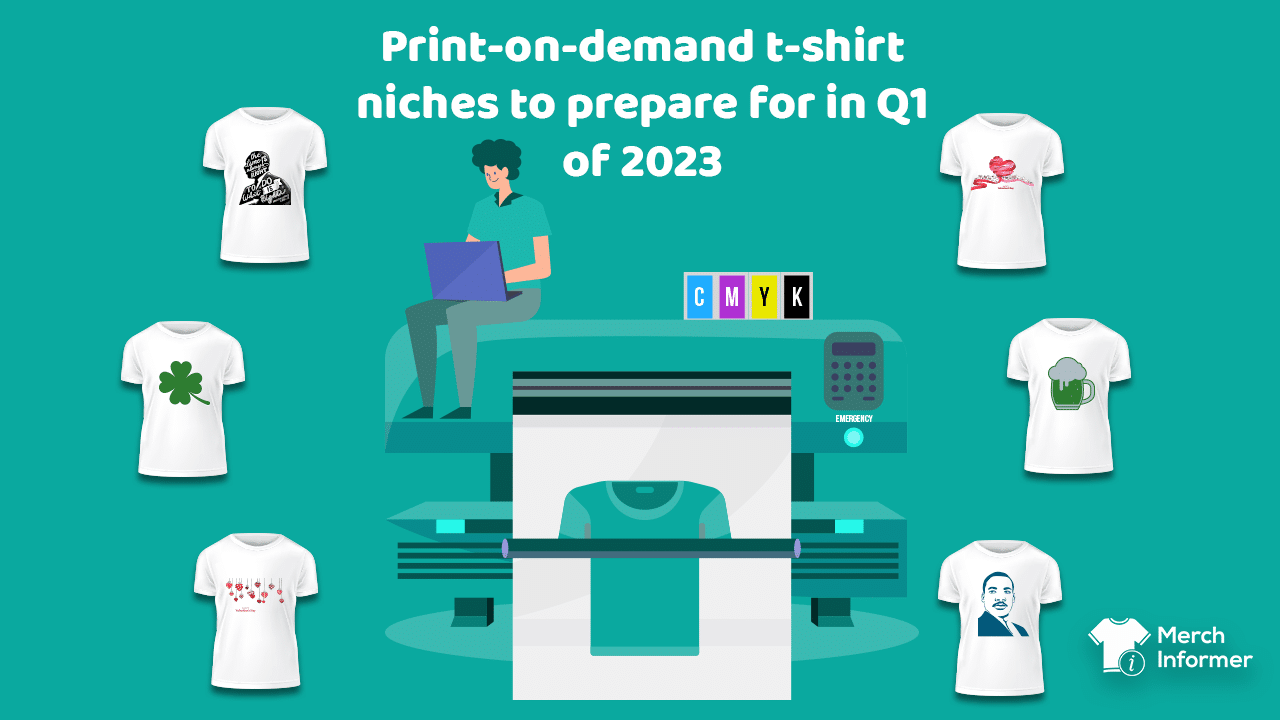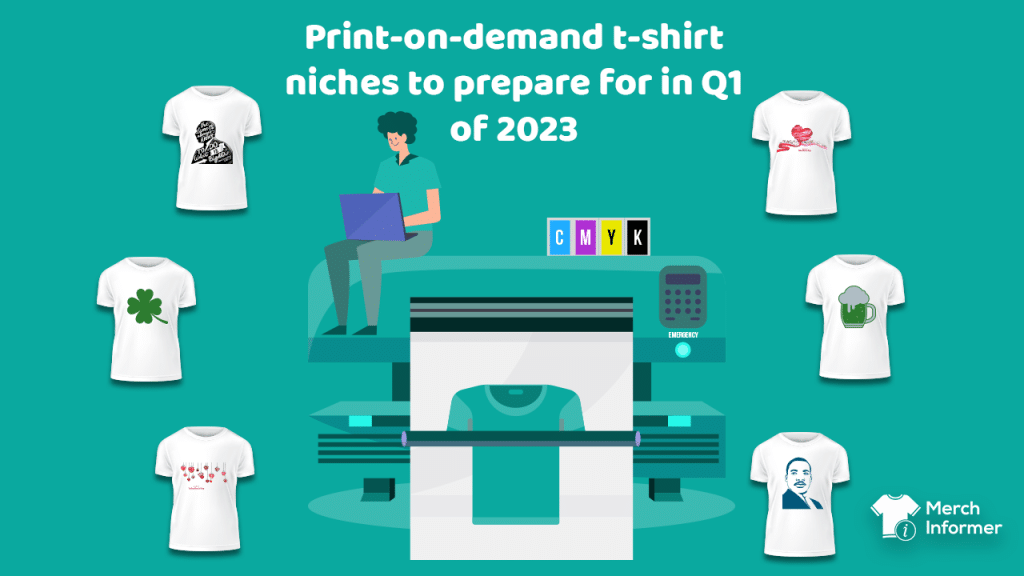 T-shirts are a fashion staple and they're here to stay. This is why most sellers on Amazon Merch on Demand are continuously looking to find the "right" niche for greater levels of profitability.
But is there a "right" niche? And coming into the first quarter of 2023, what can you expect and what do you need to know in order to succeed in this competitive marketplace? We look at both the past and present with regard to t-shirts on Amazon and let you decide for yourself.
What were the most popular niches in Q1 of 2022?
Quarter one of last year was characterized by a plethora of niches. In fact, the range of niches was so broad that we cannot possibly cover it all here. However, some of the most popular ones included: couples' matching shirts; shirts for families, jobs, and professions; teachers and schools; causes and awareness raising; mental health; dogs, cats, and pets in general; foodie shirts; hobbies; zodiac shirts; outer space; meditation; comfort color shirts; and events and holidays.
With regard to holidays and celebrations, we saw t-shirt niches that included celebrations of 100 days of school, Valentine's Day, Black History Month, birthdays, anniversaries, graduations, and t-shirts as gifts for one's wife.
Other niches that trended during this period included:

Social issues: Second Amendment, gun control, pro-gun, pro-life, anti-abortion, anti-vaccine, feminism, gender equality, global warming, LGBTQ, recycling, etc.
Jobs and professions: 911 dispatcher, accountant, ambulance driver, caregiver etc.
Awareness: ADHD, autism, cancer, Cerebral Palsy, deaf awareness, diabetes, dialysis, epilepsy awareness, mental health, Parkinson's, etc.
Black History Month: afro, American history, etc.
Pets and animals: animal rescue, cats, dogs, dog grooming, rescue dog, dinosaurs, equestrian, frogs, goats, guinea pig, hamster, horse, livestock, T-rex, tarantula, etc.
Family and relationships: aunt, aunt to be, big brother, big sister, boyfriend, cousin, dad, dad to be, fiance, girlfriend, godfather, godmother, grandma, grandpa, groom, groom to be, groomsmen, husband, etc.
Celebrations: bachelor party, birthdays, bridal party, bride and groom, bridesmaid, gender reveal, graduation, etc.
What are the current most popular niches?
To explore current trending niches, we headed over to Merch Informer's Niche Hunter module. This nifty functionality enables users to see what is trending at the given moment for t-shirts in particular. Simply select the category "shirts" and hit the "search" button and the results will instantly appear.
What is perhaps not surprising is the fact that St. Patrick's Day shirts are already trending as early as January even though the main event is celebrated in March.
What is considered surprising, however, is the fact that 4th of July shirts are already making an entrance as early as six months in advance of the major American holiday.
Other areas that we are seeing high demand for include 100 days of school t-shirts, Valentine's Day t-shirts, birthday shirts for young children, "9/11 Never forget" t-shirts, and a host of others.
What will be the most popular niches of Q1 of 2023 overall?
Early in February, we see the start of Black History Month, which is expected to dominate as an overall theme throughout the month.
As evidenced by Merch Informer's Niche Hunter and the Merch Calendar tools, we also see a spike in St. Patrick's Day t-shirts.
Other international but non-official holidays include:
Random Acts of Kindness Day
Cinco de Marcho, and
Women's History Month (starting in March).
There is also International Women's Day to be celebrated, which is likely to be a hit among Amazon audiences.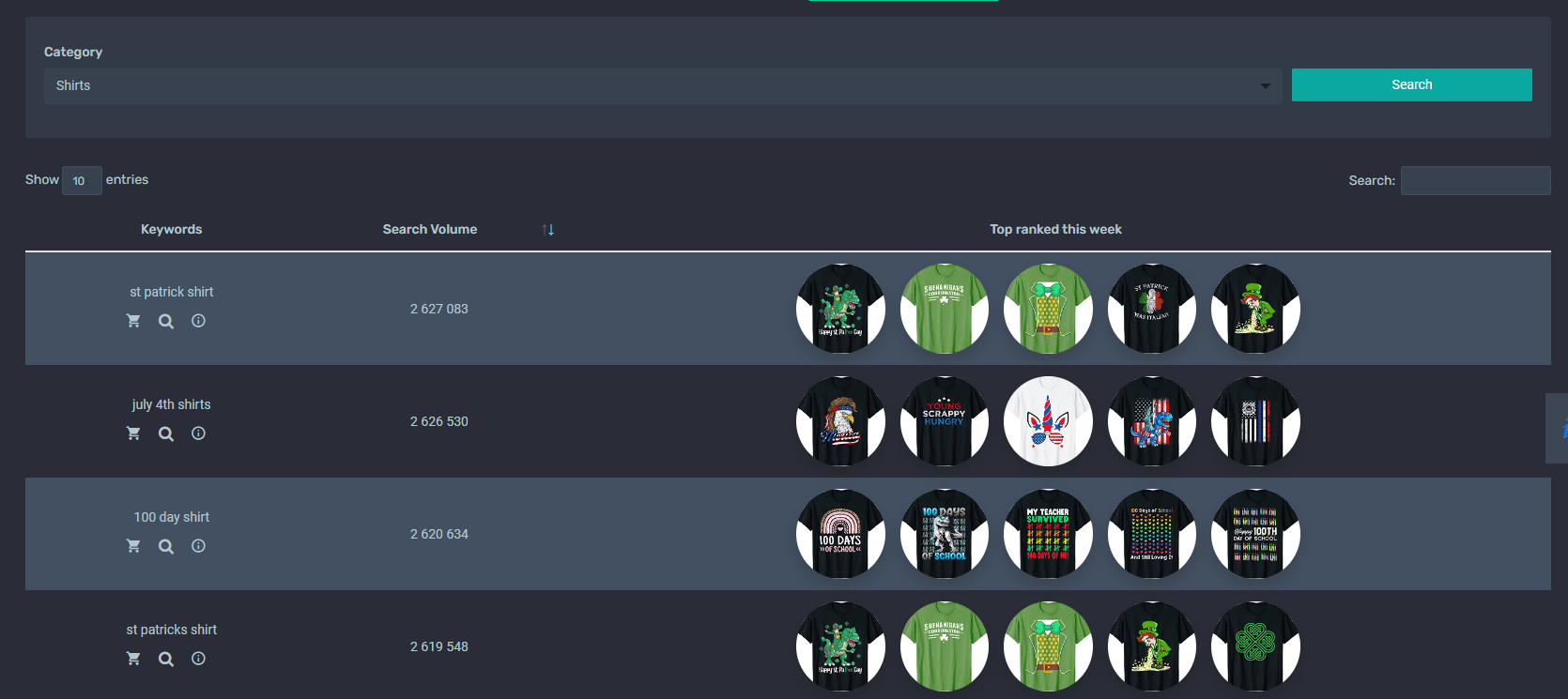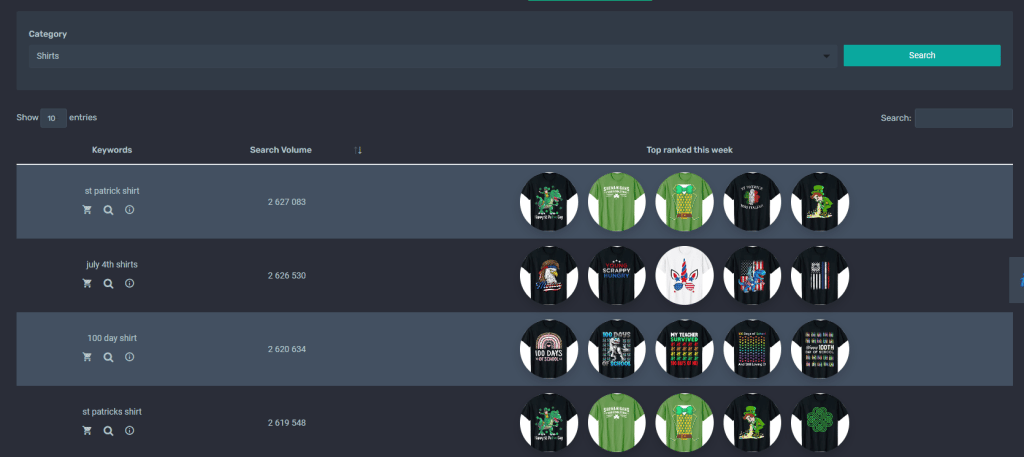 What will be the most popular combinations of niches and product categories of Q1/2023?
Although the main focus of this article is on t-shirts, it's worth paying attention to other categories of merch as well. And to do this, we again looked at Merch Informer's Niche Hunter tool, narrowing down the various product categories and seeing what is trending now, thereby extrapolating what is likely to trend over the coming quarter.
This is what we found.
Hoodies
For hoodies, we see some St. Patrick's Day themes coming to the fore. However, there is a search for over-sized or XXXL hoodies, implying that men are the target audience as they're either buying for themselves or for friends to be given as gifts.
As such, sellers interested in the hoodie category, irrespective of niche, should consider factoring in sizing in their keywords to cater to this demand.
Other hoodie themes include motivational ones that uplift and inspire both the wearer and those around them. A prime example of this is the "I can. I will. I must" hoodie that is currently trending.
Sweatshirts


As for sweatshirts, we see a similar trend of searches for oversized sweatshirts, but this time for women. In addition, location sweatshirts such as Paris or French-themed ones are also quite prominent in searches. Furthermore, we see popularity in sweatshirts that relate to "moms" or "mothers". These are likely to be given as gifts.
In most cases with sweatshirts, designs have been kept to a minimum with more text as opposed to creative works of art. This could be an important selling factor to consider for designers seeking to market sweatshirts for either men or women.
Concluding remarks
And there you have it. Our predictions for the first quarter of 2023 in terms of t-shirts and their most popular niches, in addition to looking at trending hoodies and sweatshirts. Of course, we couldn't have done this without Merch Informer and its incredibly valuable tools.
You can use them in conjunction with each other to help ensure that your research is absolutely on-point when you begin preparations for the upcoming quarter and beyond.
A Merch Informer subscription costs only $9.99 and this is probably the most sound investment you'll ever make in your Amazon Merch on Demand side gig.