How To Run Reddit Ads To Sell Merch by Amazon Shirts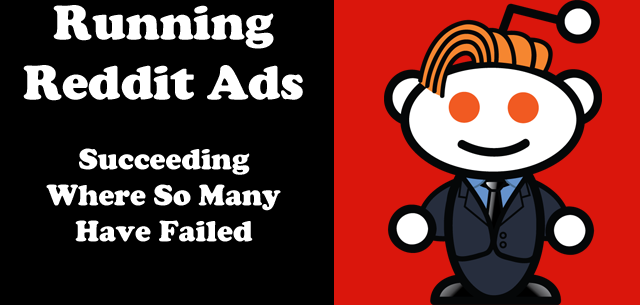 If you have been reading the Merch Informer blog for some time now, you may have picked up on two things. The first being that I come from an affiliate marketing background and love to drive traffic, and the second being that I love Reddit (almost to a fault). If you are not familiar with Reddit, it is currently the 13th most visited website in the USA and the 36th most visited website in the world with around 1.5 Billion page views a month according to Similarweb. Essentially a social network that behaves similar to a forum, Reddit is a great place to get your news, find new hobbies, and connect with people that are interested in similar things.
Reddit is also awesome for coming up with and selling a LOT of t-shirts as we wrote about in this article:
https://merchinformer.com/sell-100-merch-amazon-shirts-day-using-reddit/
What often gets overlooked though, is the ability to run ads on Reddit for DIRT CHEAP!
Now, if you are familiar with Reddit advertising, then you have more than likely heard some pretty negative things.
It does not work!
Redditors are cheap!
Redditors are ad blind!
Waste of money!
I can tell you that anyone who has run Reddit ads and has these things to say, was probably doing it wrong.
What is wrong you may ask? Well, you have to laser target your audience. Running ads to the front page of Reddit may be very very cheap, but unless you are a major global brand, this is going to be a waste of money as the audience just is not targetted at all.
Even if you were to run a targeted ad for a political part in the politics sub reddit, you would more than likely waste a lot of money from people on the other side clicking on the ads or down voting based on their political opinion.
It is 100% essentially that you laser target your audience to EXACTLY what you are selling or else you will fail. What I have found works best in my time testing this platform is that it works extremely well for really hot trending topics.
Why You Should Run Ads On Reddit
Most people that read this are probably not going to take action on this, and that is alright. However, this article would not be complete without at least telling you why you should probably consider giving it a try.
Incredibly Easy Interface. Facebook ads can be really confusing for the first time user. Reddit ads are extremely easy to set up and get running within 5-10 minutes.
CHEAP! Reddit ads are incredibly cheap because a lot of advertisers have not figured out how to properly advertise to this audience. You can use these cheap spends to your advantage.
Low spend limits. You only need a few dollars to get running on Reddit. This allows you to test quickly and kill off what is not working.
Interact with potential customers. This is a big one. You can actually respond to customers who have purchased your product or are thinking about purchasing within the comments of the ad.
When I said that I like this platform for trending designs, I meant it.
I was able to spend just around $100 dollars and sell 57 shirts. I ran an ad to a super targeted audience and it was on a trending topic. This ALSO helped boost the BSR on Amazon to turn on the organic traffic as well.
Planning Your Ad
Before you even get started with the entire process, you need to create a Reddit account. If you already have one, you can simply skip this step.
Next, you need some keywords that describe your shirt. This should be incredibly simple if you are using Merch Informer. Simple look up what is selling and read their bullet points and titles. You can also use the listing optimizer and find synonyms. If you are not using Merch Informer, make sure you sign up for the 3 day free trial because you are falling behind everyone else.
Now that you have some keywords written down and have a Reddit account, it is time to find some subreddits that would be interested in what you are selling.
Subreddits are essentially subforums and they can be about anything and everything. Go to the search bar on the home page, and enter in a keyword that you have written down previously. Click on subreddits and go through the list writing them all down. They should look like this: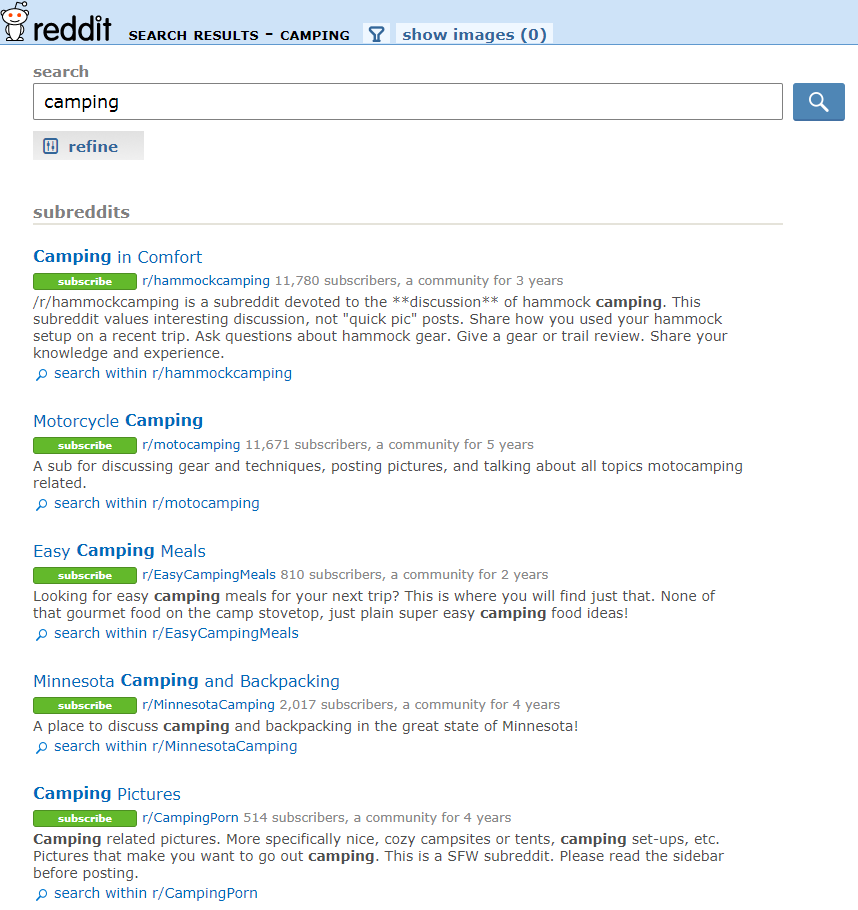 Now that you have your keywords written down, subreddits that relate to your keywords, and a product you want to promote (an awesome shirt), it is time to actually set up the ad!

Setting Up Your First Reddit Ad
Step 1 is to actually head over to this URL: https://about.reddit.com/advertise/.
You will see what the screenshot below shows. There is a few pictures on the page on how the ads look so you can take a look, but you will want to click on the green "get started" button.



Now, since you already have a reddit account, you can simply log in with that one. For this quick tutorial, I will be showing you how to set up a Reddit Ad based on the Merch Informer account since I do not want to share the actual shirt I profited off of.
Once you log in, you will be brought to this page to set up a campaign.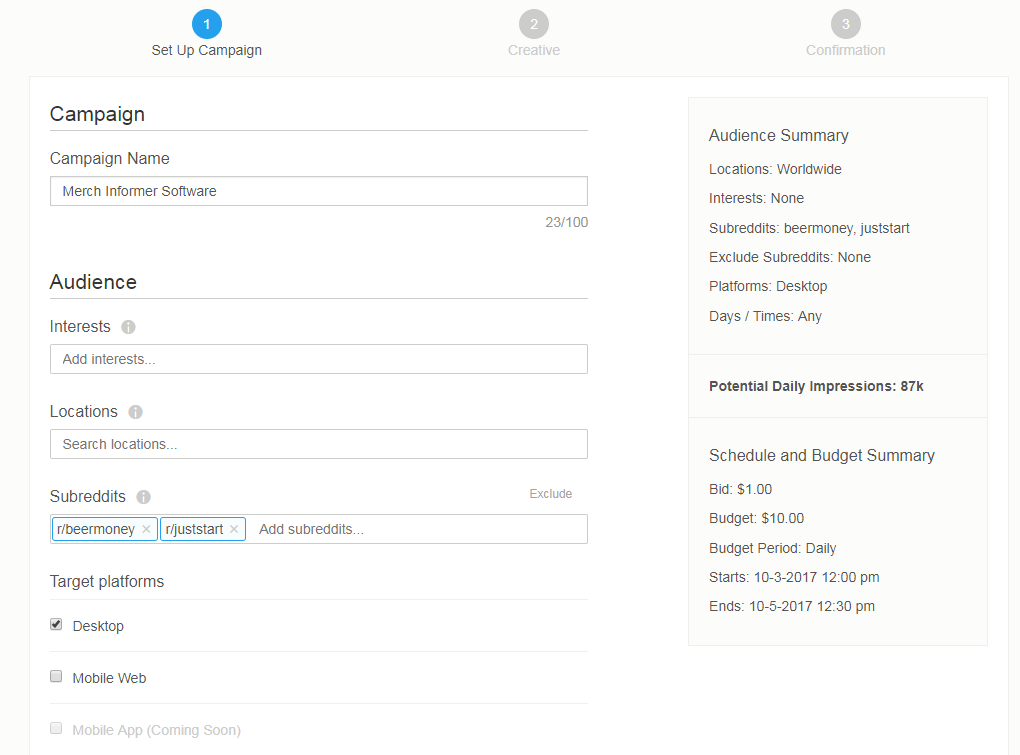 Enter in a campaign name. This can be the title of your t-shirt to make it really simple. You can then add interests or locations. For interests, you may elect to keep this blank. For locations, you want to pick the USA (since that is where your shirt is available).
Remember earlier when we went and found sub reddits that would be interested in our product? This is exactly where you want to put them in. Type the name of the subreddit in, and then select it from the drop down menu.
If you enter in a subreddit and you do NOT see it pop up in the dropdown, this means that the sub is not big enough or get enough page views to run ads to yet. This really threw me off at first, and I am not sure how big a sub has to be, but just keep that in mind.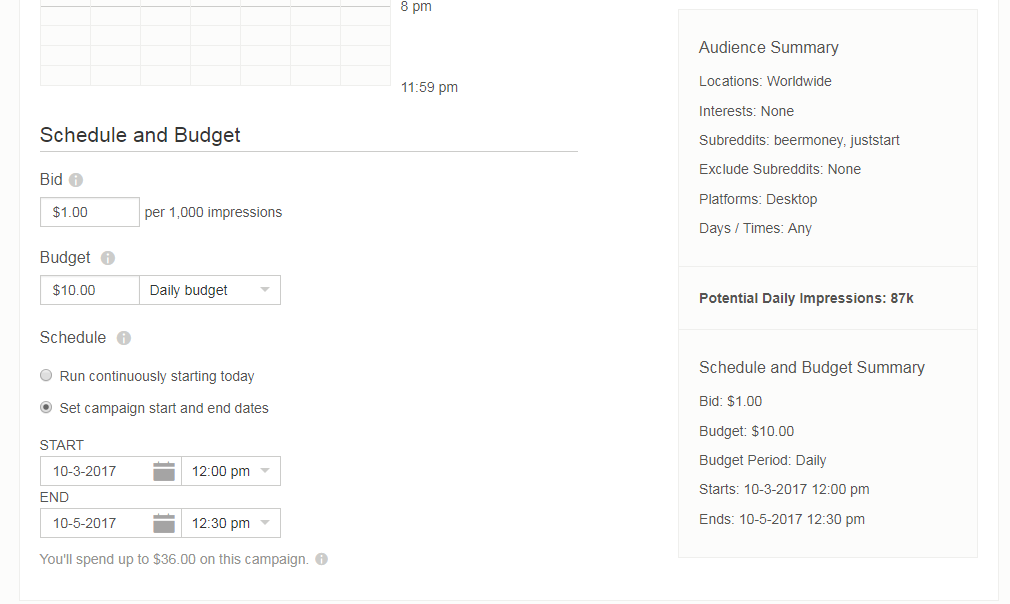 Next you want to add a bid per 1k impressions. This is how much you will pay for every 1,000 people that SEES your ad. This is NOT how many people will click your ad. Make sure you understand the difference there.
Pick a daily budget or a total budget, and then a start and end time.
I would highly recommend running just quick 1 day tests at 5-10 dollars at a time. This way you can figure out what is working, and what is not so you can tweak the campaign.


Now that you have the actual campaign set up, it is time to set up the actual ad that will be running on Reddit. Give the ad a name (or just leave it the way it is), so that you can differentiate this ad from others you may run in the future.
You can decide to do a link post or a text post. A link post is going to be exactly what it sounds like. If people click on the link, they will then go to the link, and in your case, would be an Amazon link to your t-shirt.
A text post is going to be where you could put in some backstory of who you are, what you do, and why they should listen or buy from you. I have had success with both types of Reddit ads, but links are a lot easier to do, so that is what we picked here.
You can ALSO allow comments on the Reddit post. I would recommend you make sure this is checked. This is going to give you an opportunity to interact with buyers, potential buyers, and get some feedback. If your design is bad, you will find out VERY quickly from Redditors.
Give the ad a headline, and then a link. Make the headline relevant to the subreddits you are running ads to. In this example, I am running ads to a subreddit called "Beer Money" where people just want to make some extra cash. Because of this, I titled the headline that they can make $100 a day selling designs on Amazon and linked to the Shopify article. If you were doing a design on camping, you might want to title it about wearing a camping shirt around the camp fire on their next camping trip. You get the idea!
Finally, you need a mobile image and a thumbnail image. These should be YOUR SHIRT DESIGN in an easy to read fashion. Since these are going to be small, sometimes it works better to just have your shirt design on a black background. That is what I did on my trending topic campaign I mentioned earlier. Open up photoshop or any other design software and make sure the dimensions of your picture are correct and then upload them.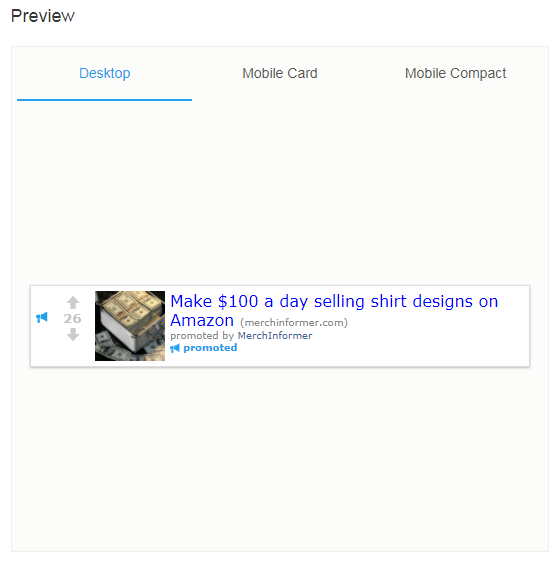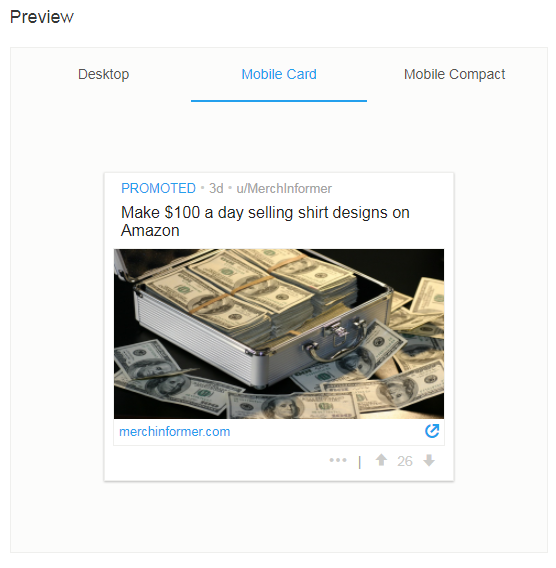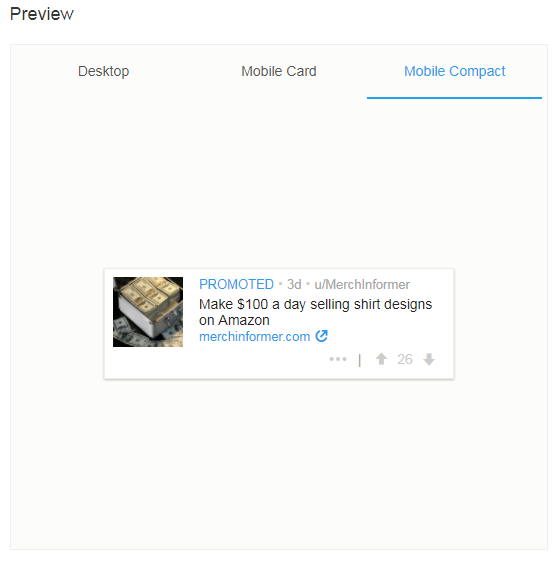 You will then get to see all of the preview images of EXACTLY how your ad will look on different platforms. This is a good place to see what it will look like and adjust to make it "pop" off the page.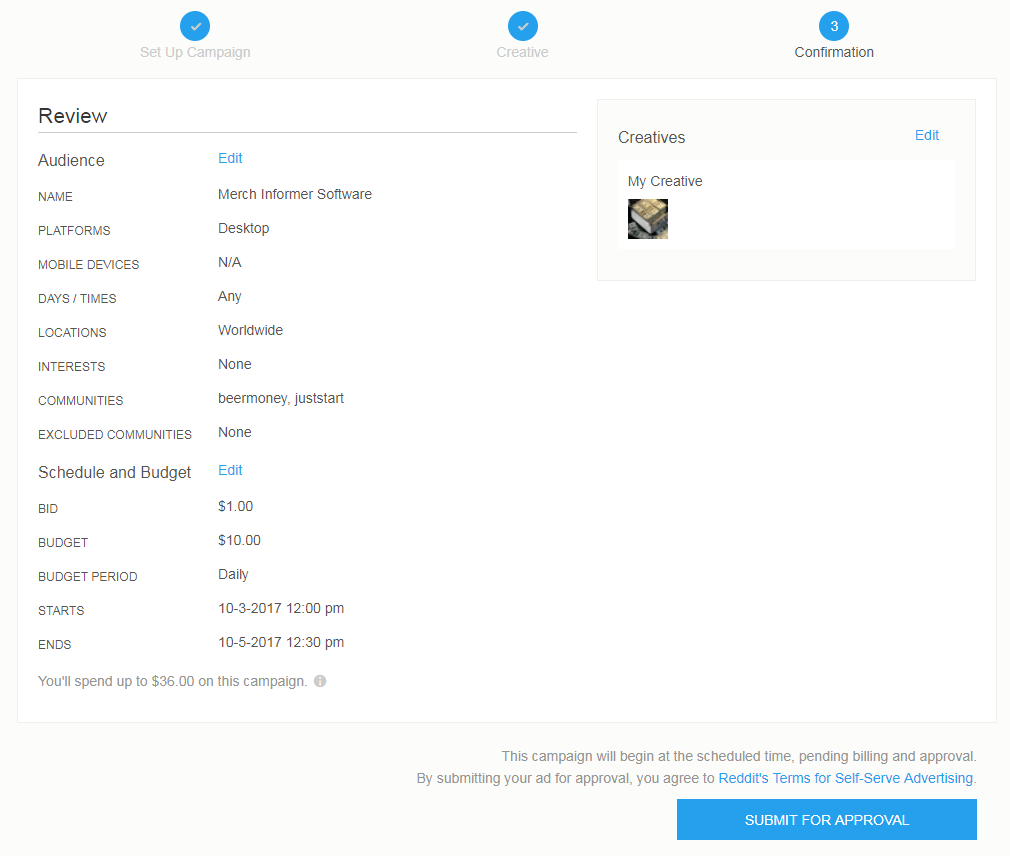 Finally review the add and click submit for approval. This approval process is very fast and should only take an hour or so before it goes live.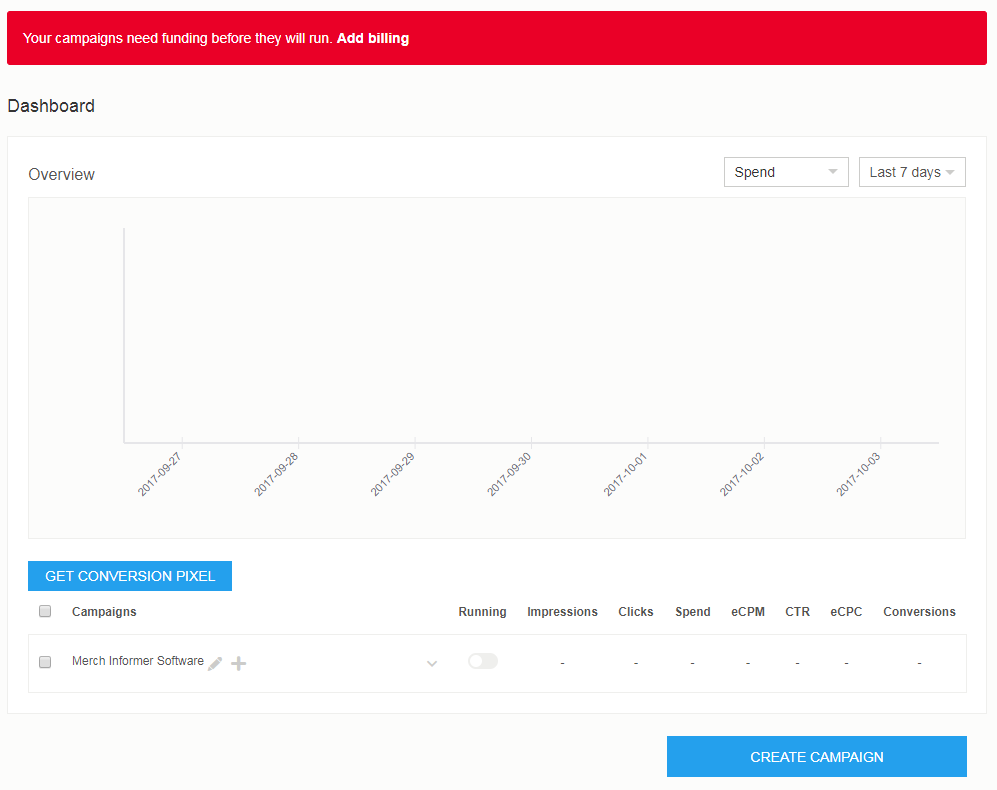 Before you do anything else though, you must first add some funding to run the ads. Click on the big red banner that says add billing and put in your credit card.
Let your ad go live and run it for a few hours and see what happens! you can install a conversion pixel if you are driving traffic to a landing page, but this is not something you will able to use if you are running traffic straight to an Amazon page.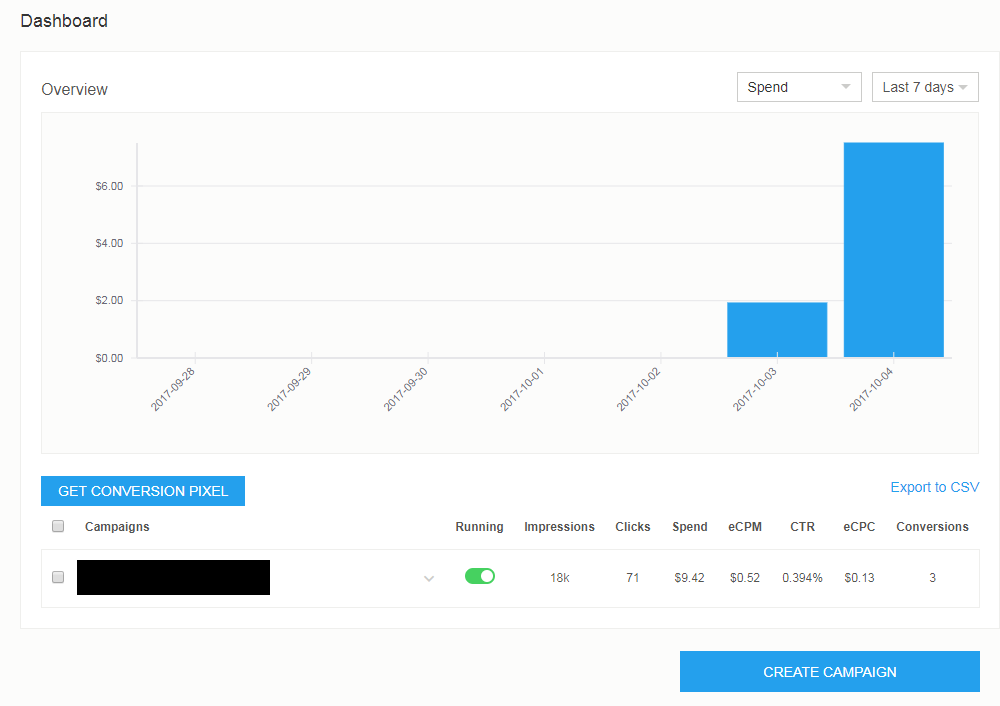 These are the results of another test I have run NOT directly to Amazon. As you can see, I was able to sell 3 shirts (again, not on Amazon because I am using the conversion pixel), with around $9 spent.
From the testing I have done, you can expect a CPC (cost per click), of around 8-15 cents depending on how well your ad performs.
Wrapping It Up
Running ads on Reddit is going to take some practice. More than likely you might lose a few dollars before you land on a winning campaign. This is NORMAL. In fact, it is actually a really good lesson. It will teach you about advertising without making you go broke.
If you can understand how Reddit works and really just nail down your targeting to only subreddits who are laser focused on something that you are selling, then you can be successful. I would highly suggest using Reddit ads to target shirts that are trending topics. This is the perfect way to get them kick started on Amazon and take advantage of all the organic traffic after you get a sale or two. It really is all about getting those extra eyeballs on your product and Reddit is the perfect place to do so quickly.
Even if you do not make sales right away, think of it as getting feedback on how good your design is. If it is bad, they will tell you. If your design is amazing, they will also tell you, and hopefully reward you with sales.
Good luck out there!