St. Patrick's merch: what is the hype all about and can you cash in on it?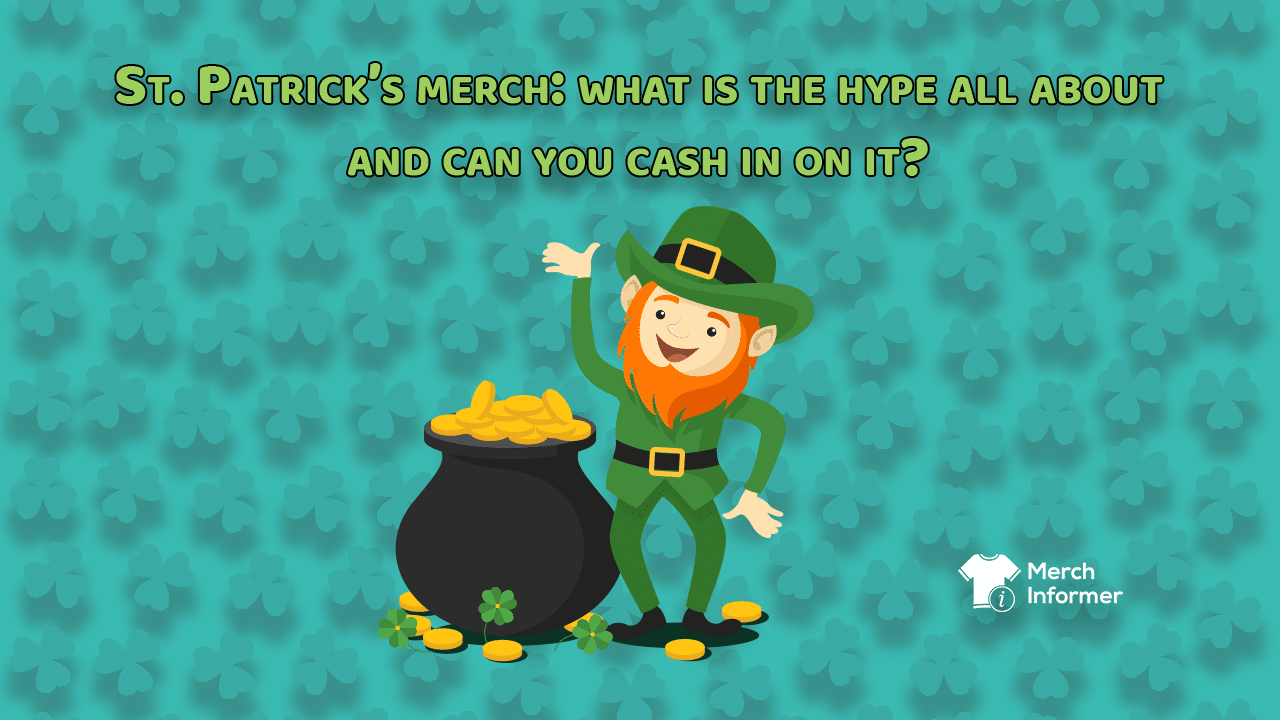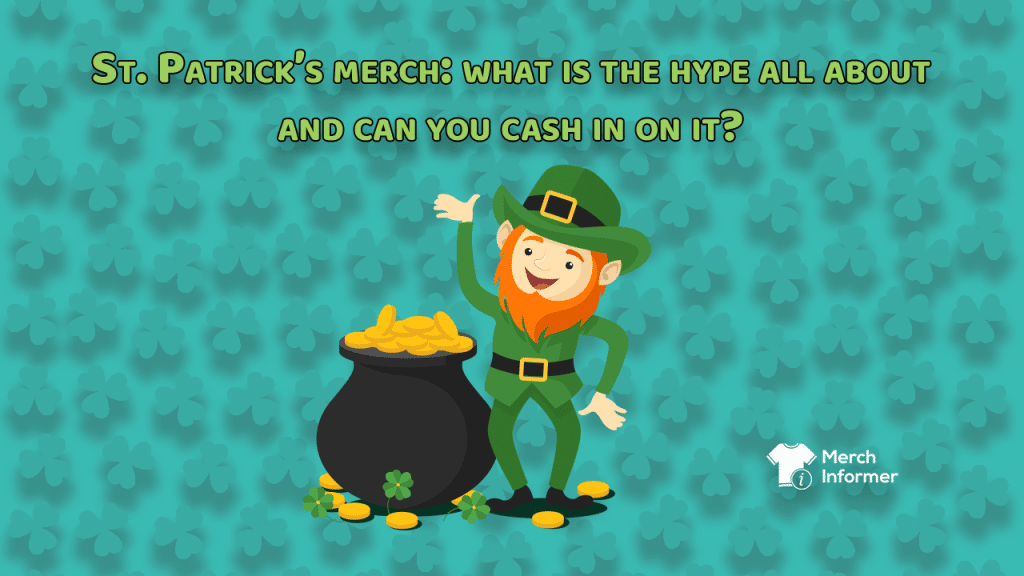 St. Patrick's day, St. Paddy's day, St. Patty's day – whichever way you say or use it, it all boils down to the same thing. A celebration of Irish heritage and culture expressed through festivities and parades. It is best symbolized through green apparel with shamrocks, leprechauns and golden pouches.
Typically celebrated on March 17 each year, this is a holiday no merch seller wants to miss. Below we've prepared all the insights you need to create and optimize your listings.
Ready to find out? Read on.
How big is St. Patrick's niche on Amazon Merch on Demand?
One thing that is consistent with this holiday niche is the name of the seed keyword "St. Patrick's". To study it in depth, we headed over to Merch Informer to determine what the best-seller's rank (BSR) is for this keyword.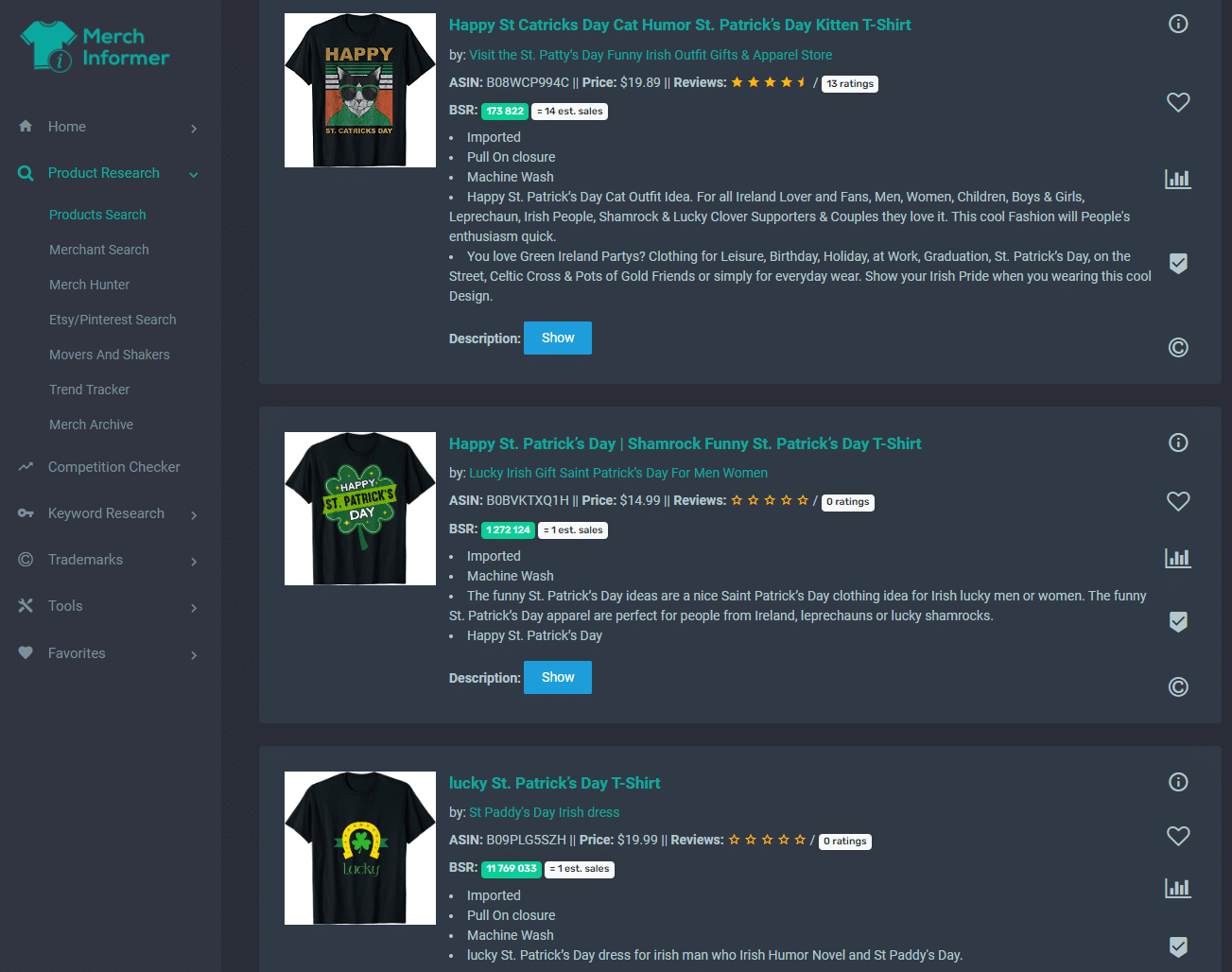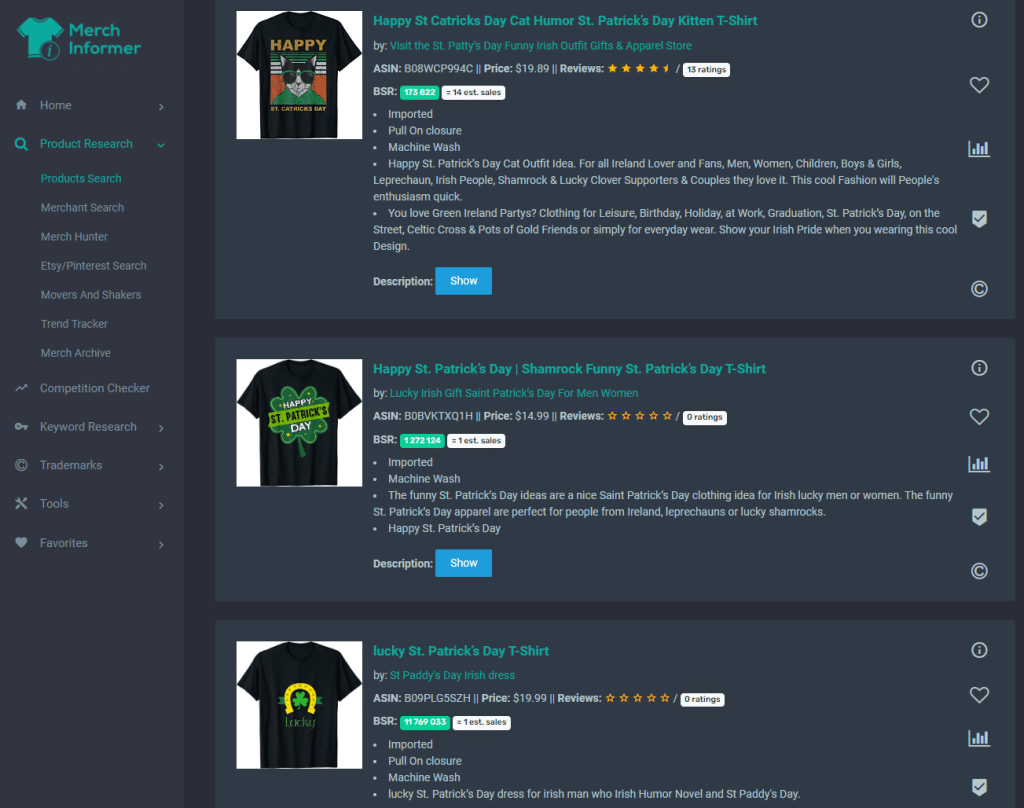 In general, the search for this particular keyword yields a BSR of 2,470,800. Although it's not incredibly low, it's not too high either. This means there's potential in the niche. It just needs to be untapped. So, how can you do this?
By studying all the related elements in this niche.
Let's now take a closer look at the keywords, search volume and associated BSR below.
Keywords, search volume and BSR
Choosing and using the right keywords in your listing title and description is an absolute must if you want to compete effectively. This is where Merch Informer comes in.
The platform's Products Search module helped us hone in on the top keywords with the highest search volume. We then explored the associated BSR of each.
This is what we discovered.
"St. Patrick's": search volume – 83,495; BSR – 2,470,800
"St. Patrick's day": search volume – 17,073; BSR – 1,429,500
"St Patrick's day shirt": search volume – 2,050; BSR – 2,402,329
"St Patrick's shirt men": search volume – 2,016; BSR – 999,495
"St Patrick's day for": search volume – 1,993; BSR – 263,455
"St Patrick's shirt": search volume – 1,906; BSR – 2,470,800
"St Patrick's day": search volume – 1,787; BSR – 1,429,500
"St. Patrick's shirt": search volume – 1,675; BSR – 2,470,800
"St Patrick's": search volume – 1, 340; BSR – 2,470,800
"St. Patrick's tshirt": search volume – 1,258; BSR – 2,557,605
What immediately becomes apparent is that all of these keywords include some variation of the phrase "St. Patrick". The high search volume of phrases containing the word "tshirt" indicates that this is indeed the dominant category in the niche. What's more, there's not a single other merch type mentioned in the top ten most searched phrases.
Furthermore, "St Patrick's shirt men" stands out with one of the lowest BSRs. A possible explanation for its performance would be that it is a niche keyword. This is a great example of why it's so important to use long-tail keywords that correspond to particular demand. These phrases are usually less competitive, easier to rank for and therefore yield more sales.
Listing saturation
Listing saturation in this niche refers to the total number of Amazon Merch on Demand products related to St. Patrick's Day.
It must be noted that St. Patrick's Day products on Amazon are not limited to merch. To gain a precise understanding of the market's boundaries, we must narrow down our search to exact phrases or Amazon departments.
This is exactly what we did.
A search for "St. Patrick's day shirts for men" yields over 20,000 listings. We did the same search for women and got 20,000 results again. We then tried the same with merch for boys and girls and received 10,000 results respectively.
This immediately tells us that the listing saturation is not as high as one may have thought, making this niche worth exploring for sellers.
Pricing
This brings us to another important leg of the research and discovery process – pricing. From Merch Informer, we gathered the lowest, highest and average prices for the "St. Patrick's" search query among bestsellers.
On average, products in the niche sell for $17.88, while the lowest and highest prices are $13.38 and $30.60.
What are some of the bestselling merchants doing right?
So far, we were able to discern that t-shirts dominate the St. Patrick's scene. We honed in on this category to identify the two bestsellers in it.
The number one listing "Happy St Catricks Day Cat Humor St. Patrick's Day Kitten T-Shirt" has achieved a BSR of 96 135, generating around 27 sales every month. The item is sold near the average price at $19.89.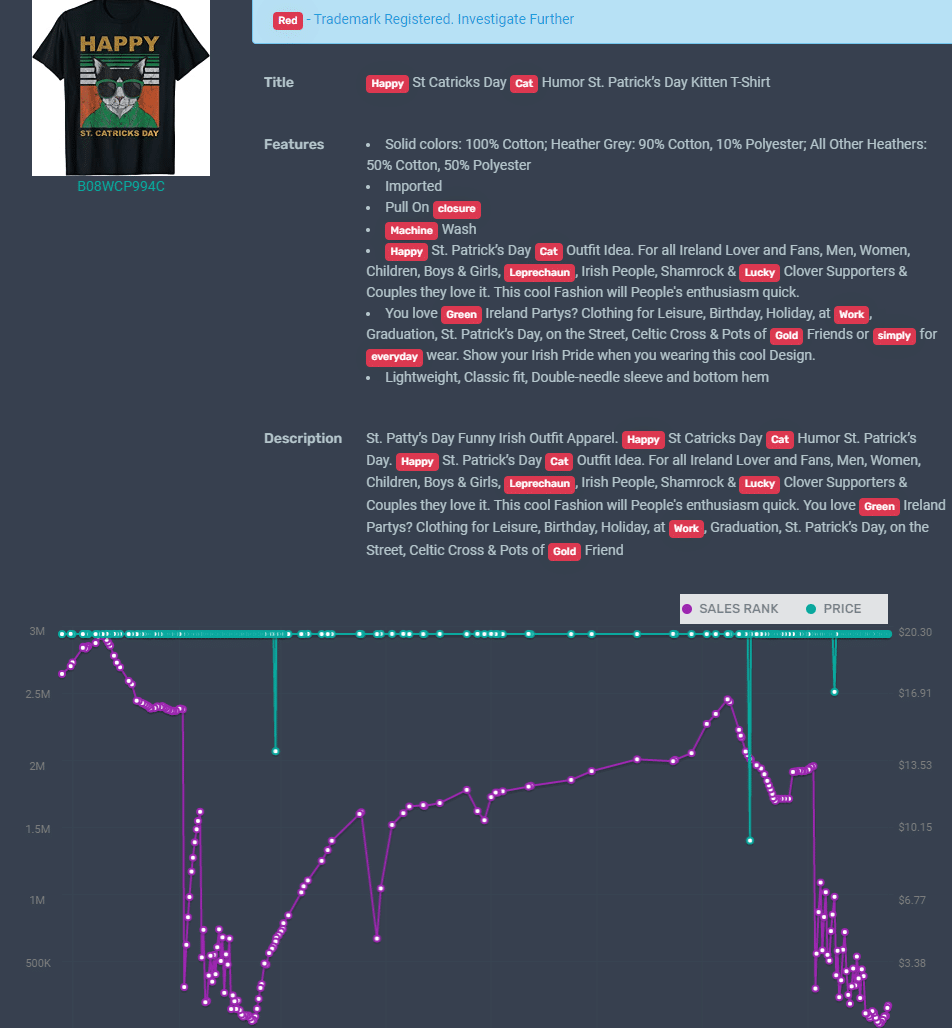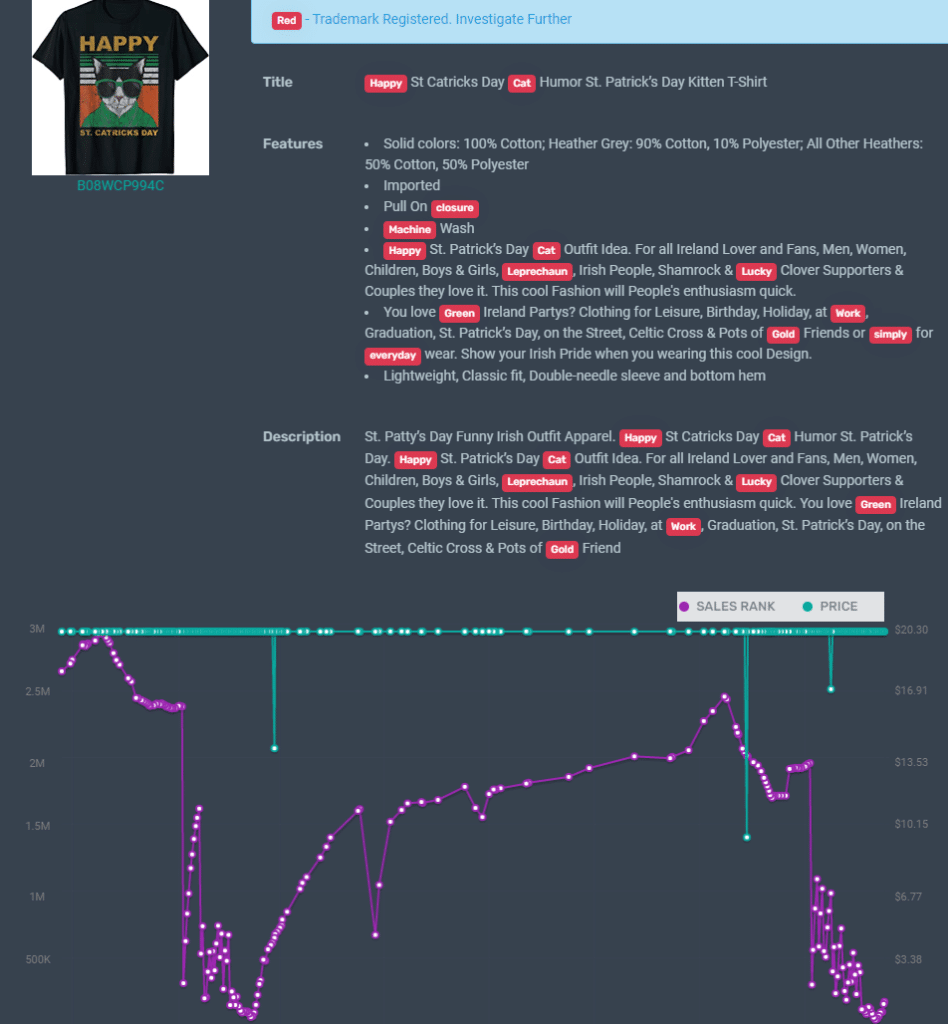 This is followed by the "Green Shamrock St. Patrick's Day T-Shirt" listing, which has the second lowest BSR (537 845) in the category. It lands an average of 24 sales per month and sells for $19.54.
Let's now discuss what each of these bestsellers have done to capture such a large audience.
Keywords
In terms of keywords, both sellers have indicated the category of merch that they're selling. They've both included the words "St. Patrick" and employed a sense of humor to bring lightheartedness to the celebration.
In addition, the first bestseller has significantly expanded the listing's audience by cross niching with a popular theme, namely cats.
Pricing
Pricing-wise, both merchants have positioned their listings just above the market average of $17.88. Merch Informer recommends this strategy as it's proven to lead to a quick competitive advantage.
Designs
Both designs depict elements related to the holiday, including green colors and shamrocks. Similarly to other top-performing t-shirts, both use black as a background color.
The designs diverge in the use of cross-niche components. One amalgamates characters from a well-known movie saga, while the other exhibits a stylish cat.
What is the profitability in the St. Patrick's Day niche?
The easiest way to estimate the approximate turnover of a listing is to multiply its sales by the asking price.
The cat-inspired "Happy St Catricks Day Cat Humor St. Patrick's Day Kitten T-Shirt" listing has made $537.03, while the movie-themed "Green Shamrock St. Patrick's Day T-Shirt"  design has grossed $468.96
This goes to show that if you price in the average region for the given category, you're more likely to hit the metaphorical bullseye and score more sales.
Our recommendations
To make your entry into the niche as smooth as possible, we've compiled a list of the most important things you should consider when creating your next listing.
Keywords
Keywords are essential for higher rankings. But how to compete if every other seller is abusing the phrase "St. Patrick's day" in their listing? The answer is apparently in cross-niching.
Making use of humor and pop-culture is a sure way to attract a bigger crowd. Other than that, remember to diversify your keyword usage, focus on long-tail words and prioritize low-competition phrases.
Pricing
You've also got to price around the average if you hope to stay competitive. Obviously, that would differ depending on the type of merch. To ascertain the most appropriate price, don't forget to consult with Merch Informer.
Design

We already noted the importance of humor. Naturally, this applies to both the title and the design itself. Apart from that, you must employ niche-specific elements, such as green colors, shamrocks and others.
Original design is especially important in seasonal and holiday niches because the market is constrained by a singular recurring theme. Adding humor, pop-culture references or activist messaging distinguishes your listing and sets it up for success.
The bottom line
And there you have it. A whole lot of insights about a highly popular niche right at your fingertips. Want to find out how you can do the same for other seasonal niches? The answer lies in Merch Informer.
Access to the platform is at a low $9.99 per month and it opens up a world of opportunities. Go on and see for yourself.