The Influencer-Affiliate Strategy for the MBA Seller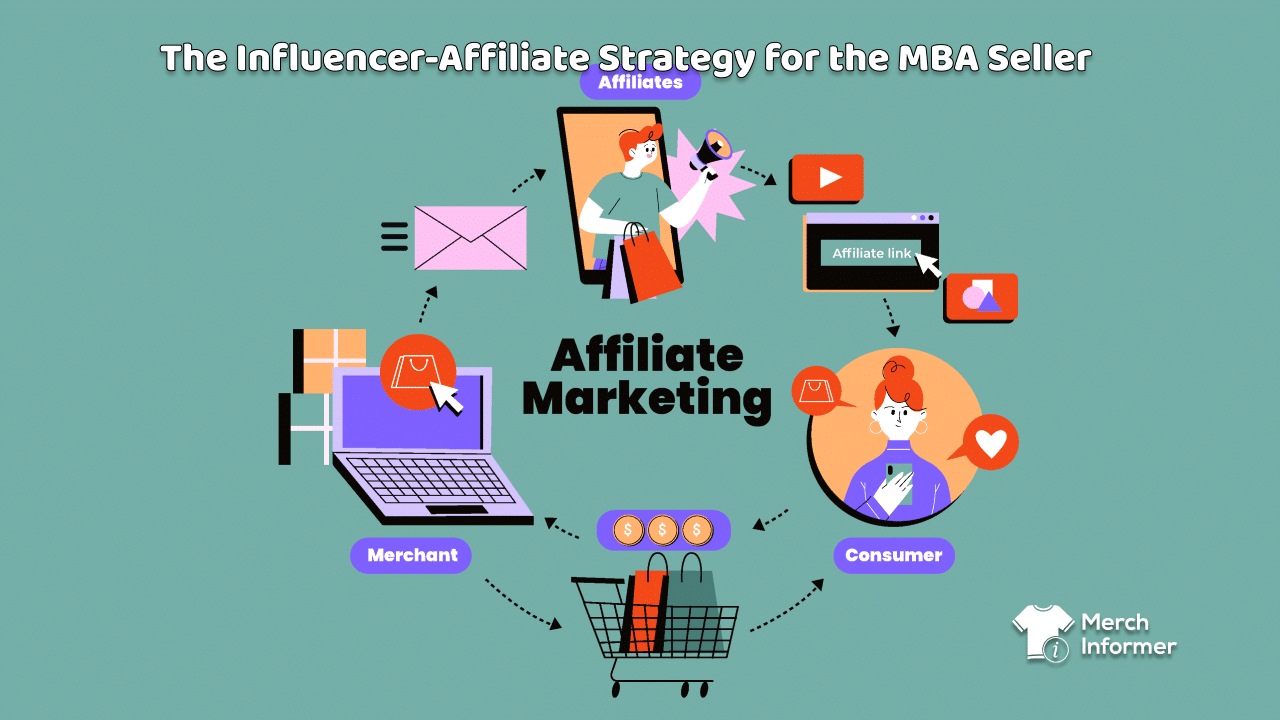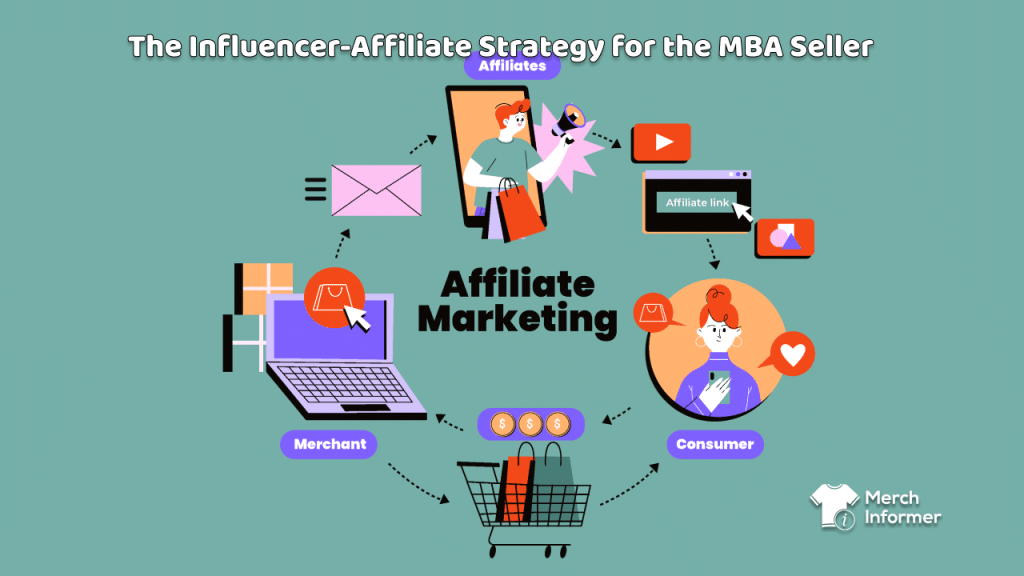 Innovation is a primary factor in determining success with any ecommerce endeavor. The most effective innovation when it comes to marketing your MBA products is to develop relationships with influencers and affiliates.
This strategic alliance has emerged as a pivotal force in propelling major brands to new heights, and it can do the same for you.
We're going to show you how to leverage influencers and affiliates to empower your MBA line, exploring how their collective power can supercharge your goals into tangible success stories.

Influencers and MBA: The Dynamics of Contemporary Influence
"Influencers" are exactly what the word says: individuals who wield an outsized influence over an audience that trusts their opinions. It's no different than the old-time "star endorsements" of classic advertising. In this era, influencers became stars through their online transparency and authenticity (or what appears to be so).
These contemporary tastemakers wield a significant amount of influence over their audiences because they operate in a digital era in which social media gives influencers the appearance of stardom, not because they were already stars.

Getting your products in front of influencers presents an incredible opportunity to increase the visibility and credibility of your line.
Accurate Targeting through the Power of Influence:
The pin-point accuracy that can be achieved through collaboration with the right influencer(s) is where the real magic lies. You can guarantee that your message will reverberate with the audience that is most likely to take up your offerings by forming a strategic alliance with an influencer whose sphere of expertise is perfectly in line with the core of your MBA products.
Authenticity and the Competitive Advantage of Conversion:
The concept of influencer marketing is built on the foundation of genuine advocacy. The endorsement of an influencer goes beyond the realm of traditional advertising and transforms into a personalized recommendation – a virtual, yet still one-to-one conversation. This authenticity helps to cultivate trust, which in turn significantly increases the likelihood of conversion.
The Art of Creating Imaginative Stories:
Influencers are more than just the producers of content; they are also storytellers. Influencers have the creative flair to infuse your products with captivating narratives that linger in the minds of their followers. This can be done in a variety of ways, including a riveting unboxing journey or a style guide that brings your MBA product to life.

Affiliates: The Unsung Catalysts Behind the Promotion of MBA Programs.
Affiliate marketing is a treasure that has been around since the beginning of online business. Collaboration with individuals who earn commissions for each sale facilitated by them through their own unique referral links is at the heart of this mutually beneficial partnership.
Affiliates facilitate the opening of doors to a wider network of promoters for MBA business owners, which in turn catalyzes exponential growth.
Cost-effective Ways to Improve Performance:
Affiliate marketing is attractive because it can generate revenue in a cost-effective manner. It is a model that is friendly to one's wallet because payments are made only when tangible sales occur. This makes it particularly appealing to MBA sellers who are navigating financial constraints.
A Wide-Ranging Arsenal of Different Promotional Methods:
Affiliates wear a variety of hats to drive sales. This versatility ensures that your MBA products will infiltrate a spectrum of online domains, thereby increasing their reach. Examples of this versatility include carefully crafted blog posts and in-depth YouTube reviews, as well as targeted social media campaigns.
Expanding One's Horizons through Outreach:
As the number of MBA affiliates grows, so does the scope of their influence for your company. Your products can venture into unexplored lands thanks to the presence of affiliates in a variety of different platforms and markets. This contributes to an increase in the presence and recognition of your brand.

How to Navigate the Alliance: Success Strategies and Best Practices
The careful selection of a partner is the fundamental component necessary for a fruitful engagement. After conducting in-depth research, you will be able to identify influencers and affiliates whose audience demographics seamlessly interlace with those of your ideal customer base. It is not possible to compromise on the genuine congruence of one's values.
Create Connections Through Personalized Efforts:
Making initial contact calls for an approach that is highly personalized. Show that you are genuinely interested in the content they produce and demonstrate how your MBA products can enhance the experiences of their audience. The addition of this personalized touch generates genuine interest and participation.
Disclosure in the Interest of Maintaining Stability:
When working conditions are open and honest, collaboration can flourish. Clearly define the terms of the collaboration, including compensation structures, expectations, content guidelines, and any other aspects that may be significant. This transparency helps to reduce instances of misunderstanding and fosters the growth of strong partnerships.
Empowerment through the Utilization of Resources:
Make sure that your affiliates and influencers have access to high-quality assets. They will be able to create compelling content that does justice to your MBA products if they have access to sharp product images, precise descriptions, and supplementary resources.
Fostering Relationships Over the Long Term:
Having a relationship with an affiliate or an influencer for a longer period of time will bring about sustained benefits. Your MBA brand's visibility will increase in direct proportion to the size and scope of their sphere of influence. This consistency is the driving force behind unending expansion and ongoing achievement.
In the constantly shifting terrain of e-commerce, the ability to adapt is essential, and innovation serves as a compass. Partnerships with influential people and affiliates are not merely strategies; rather, they are the catalysts that transform the trajectory of an MBA venture.
MBA creators benefit from increased brand visibility, increased trust, and increased potential sales thanks to the convergence of the credibility of influencers and the expansive networks of affiliates.
As an MBA seller, you have the ability to tap into the full potential of influencer reach and affiliate marketing if they embark on a journey that involves the careful selection of partners, the genuine collaboration of those partners, and the transparent communication of those partners.
This merger is the key to breaking through norms, achieving exponential growth, and making a mark that will last on Amazon's expansive platform. As the digital realm continues to undergo rapid change, the formation of strategic alliances will continue to be the lynchpin that drives ambitious businesspeople like yourself toward the pinnacle of achievement.