Wearable expressionism: How popular are abstract t-shirt designs on Amazon Merch on Demand?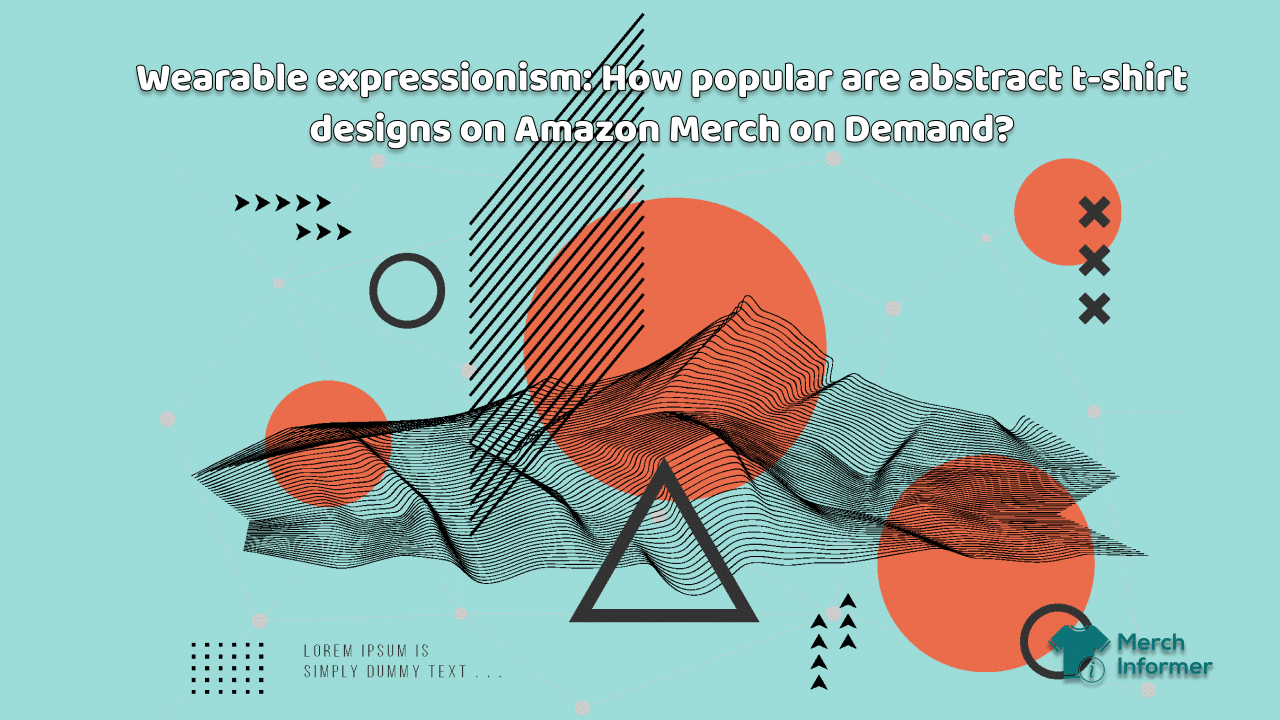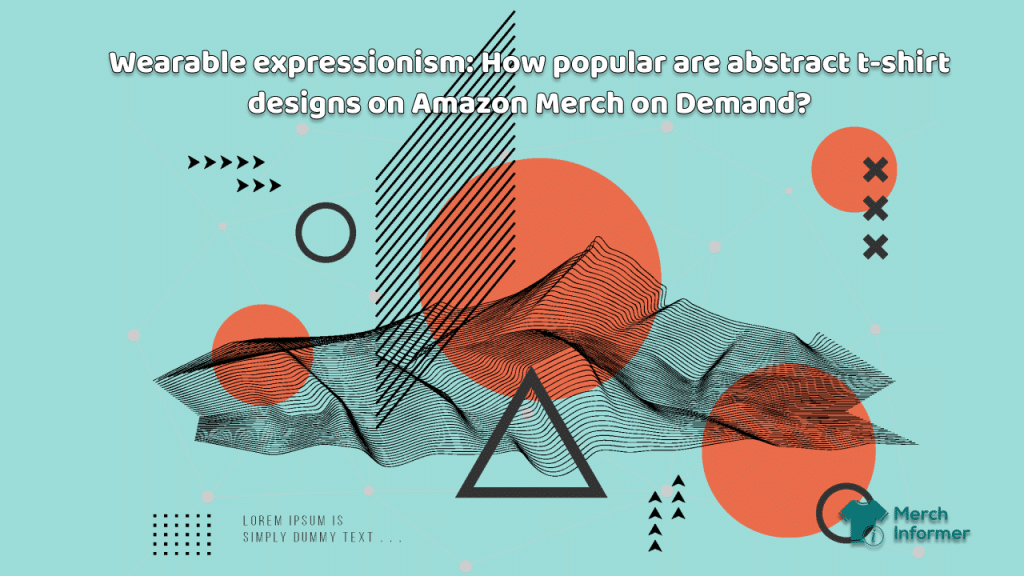 Art isn't just confined to gallery walls or museum halls.
Abstract designs, once the realm of sophisticated art galleries, are now splashed across t-shirts and becoming the wearable manifesto of modern expressionism.
Wondering how these intricate patterns and bold strokes are faring on Amazon's Merch on Demand?
Let's find out with a deep dive into the abstract t-shirt niche.
How big are abstract t-shirts on Amazon Merch on Demand?
Let's face it.

Anything "abstract" is difficult to describe and pinpoint. This stems from the very definition of the term:
"Existing in thought or as an idea but not having a physical or concrete existence".
Luckily, with the help of Merch Informer, we can get to the nuts and bolts of the abstract t-shirt segment.
If you're considering dipping your fingers into this niche, the first question to answer is whether the market is big enough to deserve your time.
To find out, we used Merch Informer's powerful business intelligence tools.
We focused on the three core metrics related to market size:
Listing saturation
Average BSRs
Keyword search volumes
Let's get right into it.
Listing saturation
The first indication that abstract t-shirts are a big deal on Amazon is that more than 500 listings appear in Merch Informer's Merch Hunter tool.
This means that there are more than 500 best selling products that rank for the phrase "abstract" in the t-shirt category.
In other words, the market is large and diverse, offering merchants the opportunity to compete for a piece of the pie.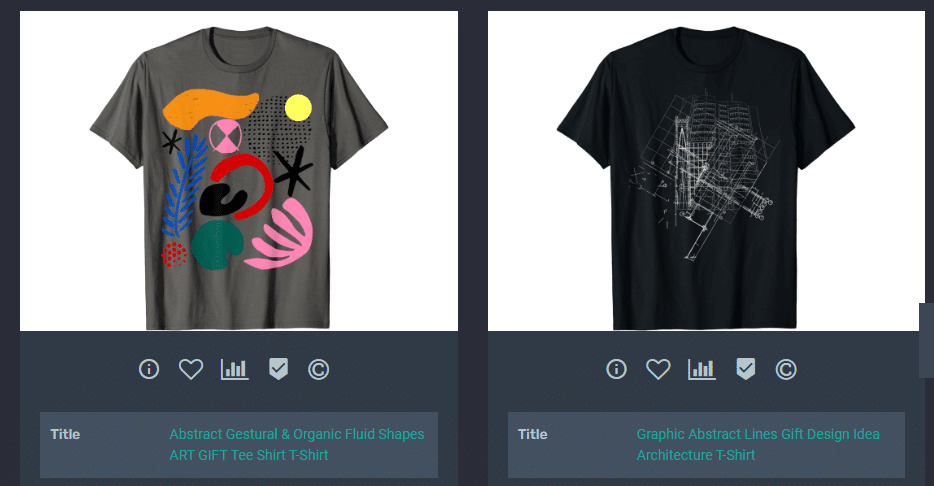 Average BSR
According to Merch Informer, the average BSR of the top performers mentioned above is 146,994.
Compared to other niches, this is a relatively low number, suggesting high sales volumes.
This piece of information is vital as it confirms the sales potential of the segment.
But to get a deeper understanding of the space, it's essential to also analyze keyword search volumes.
Keyword search volumes
Keywords play a pivotal role in your performance as an Amazon merch seller. They determine the visibility of your listings to shoppers and ultimately shape your traffic levels.
Understanding the search volumes of niche-related keywords will demonstrate whether buyers are actively browsing for abstract t-shirts. The higher the search volume, the better the sales potential.
Here are the search volumes and the competition levels of keywords related to abstract t-shirts:
abstract shirt – 1,926 – high
abstract art tshirt – 1,340 – high
abstract t shirt -1,300 – high
abstract design shirt – 1,147 – high
abstract design t shirts -1,000 – high

Interestingly, the highest searched-for phrase receives only around 2,000 monthly searches.
Compared to other markets, this doesn't reveal a huge demand.
At the same time, the competition levels of all extracted words are high. This means that ranking for these phrases will be much harder for sellers, especially beginners.
Earlier, we discovered that the average BSRs of chart-toppers are very low, suggesting high sales numbers.
So where does the discrepancy between sales and search volumes stem from?
One explanation is that abstract t-shirt sellers are niching down and optimizing listings for specific themes.
We'll explain this in more detail later on in this article.
Are abstract t-shirts a profitable niche?
Now that you're aware of the basics in the abstract t-shirt space, you're probably wondering about the profitability of the market.
Overall, sellers are positioning listings in the following price points:
Lowest Price – $8.99
Highest Price – $41.95
Average Price – $19.62
What does this mean?
Let's say you're a merchant who sticks to the best practices and your pricing strategy would be asking for something close to the market average (for example, $19).
T-shirts in the US that sell for $19 earn royalties of $4.89 per sale. If you score around 50 sales per month, you'll earn around $250.
Remember, this is your revenue from a single listing. Imagine the profit-making potential of a diverse portfolio with tens or hundreds of listings.
To make things better, picture the results of a portfolio that takes advantage of all the right themes and keywords.
The most popular themes in the abstract t-shirt space
Above, we detected a discrepancy in our findings. Bestsellers have achieved an incredibly low average BSR, while search volumes for abstract t-shirts are not very high.
To find out what other themes merchants are exploiting to generate sales, we looked at the most frequently used keywords in the niche.
We identified the following:
Art
Funny
Matter
Love
Birthday
Christmas
Cool
Style
Unique
Cute
Colorful
Modern
Festival
Fantasy
Lifestyle
Parties
The above words can help sellers style POD t-shirts to fit the audience.
For example, it appears that funny abstract t-shirt designs are creating waves on the platform.
In addition, seasonal holidays and special occasions like Christmas and birthdays are also trending. For instance, producing an abstract t-shirt birthday gift design is likely to be rewarding.
It also becomes clear that words like "festival", "matter", "love", "unique", and "fantasy" are also popular in the world of abstract art.
Abstract designs that sell
Perhaps the most important thing to understand about abstract t-shirts is the design features that attract shoppers.
An abstract t-shirt design showcases art that doesn't attempt to represent an accurate depiction of visual reality.
Instead, it uses shapes, colors, forms, and gestural marks to achieve its effect. Distinct from traditional imagery, abstract t-shirt designs usually have patterns, splashes, irregular shapes, or freeform designs that evoke feelings or ideas.
The majority of creations in this niche are very colorful and vibrant. They're limitless in terms of art barriers and principles.
Furthermore, imagery dominates designs, with very few t-shirts featuring text.
Analyzing the bestsellers
The best way to witness all of the above being implemented in reality is to assess the bestsellers in the space.
Let's take the "Mademark x MTV – The official MTV Logo with abstract funky new Wave Lines T-Shirt" listing. This design sells for $16.99 (slightly below the market average of $19.62), has a BSR of 22,124, and generates around 122 sales per month.
Working out the maths, it turns out that the seller is making a monthly profit of around $366 from this listing alone.
You'll notice that the t-shirt promotes a music television brand. The design is very colorful, futuristic, and funky (as described by the title). Unlike most abstract designs, the powerful art is complemented by text.
Merch Informer Note: You can NOT make an MTV design, this is for illustration purposes only.
However, this can be viewed as an exception due to the popularity of the brand itself.
To get another perspective, we examined a second top performer – the "Psychedelic Abstract Nude Art Lsd Hippie Trippy Gift Idea T-Shirt". This shirt sells for $19.98 (again, very close to the market average), has a BSR of 108,575, and lands roughly 24 sales per month.
Its design is entirely centered around psychedelic art, with bright colors dripping from a female's face.
The listing is specifically optimized for a sub-niche (psychedelics) and targets a narrow audience (hippies).
This strategy allows the seller to reach the perfect audience, rank high, and outperform others in the general abstract t-shirt domain.
The best practices to follow for a winning sales strategy
Based on all of the insights above, we've curated a short and practical list of best practices.
Implementing the following tips into your sales strategy will help you attract more traffic, boost sales, and grow your Amazon side gig:
Optimize your listings with the right keywords – rather than relying solely on "abstract t-shirt" to do the trick, diversify your use of keywords. Improve your listing titles and descriptions with niche or theme-related phrases. This will allow you to rank higher. As a result, your products will be easier to discover, potentially increasing sales.
Combine abstract art with popular movie themes and characters – as part of our bestseller analysis, we mentioned that eminent entertainment brands help boost sales. There's a similar trend when it comes to famous movie characters and names. Offer abstract t-shirt designs centered around such niches for more exposure and traffic.
Create colorful, vibrant, and art-rich designs – abstract t-shirt designs are all about colors, shapes, and creative art. Avoid using text (unless your designs are specifically tied to a brand or a powerful message) and focus on expressionism.
Ask for a competitive price – the safest and most efficient sales strategy is positioning your listings somewhere around the market average. This will prevent your products from appearing as too cheap or too expensive, increasing buyer interest.
Regardless of the sub-niche you select in the abstract t-shirt domain, these tips will help you grow your merch hustle.
Conclusion
Overall, the abstract t-shirt space is attractive from a profitability and growth perspective. Moreover, it's rewarding for art enthusiasts with a passion for expressionism.
To make a strong entrance into this exciting niche, you'll need to get your hands on the right insights.
Take advantage of Merch Informer's features and capabilities and stay ahead of the crowd.