Yoga-inspired POD merch: Embrace the Om on Amazon Merch on Demand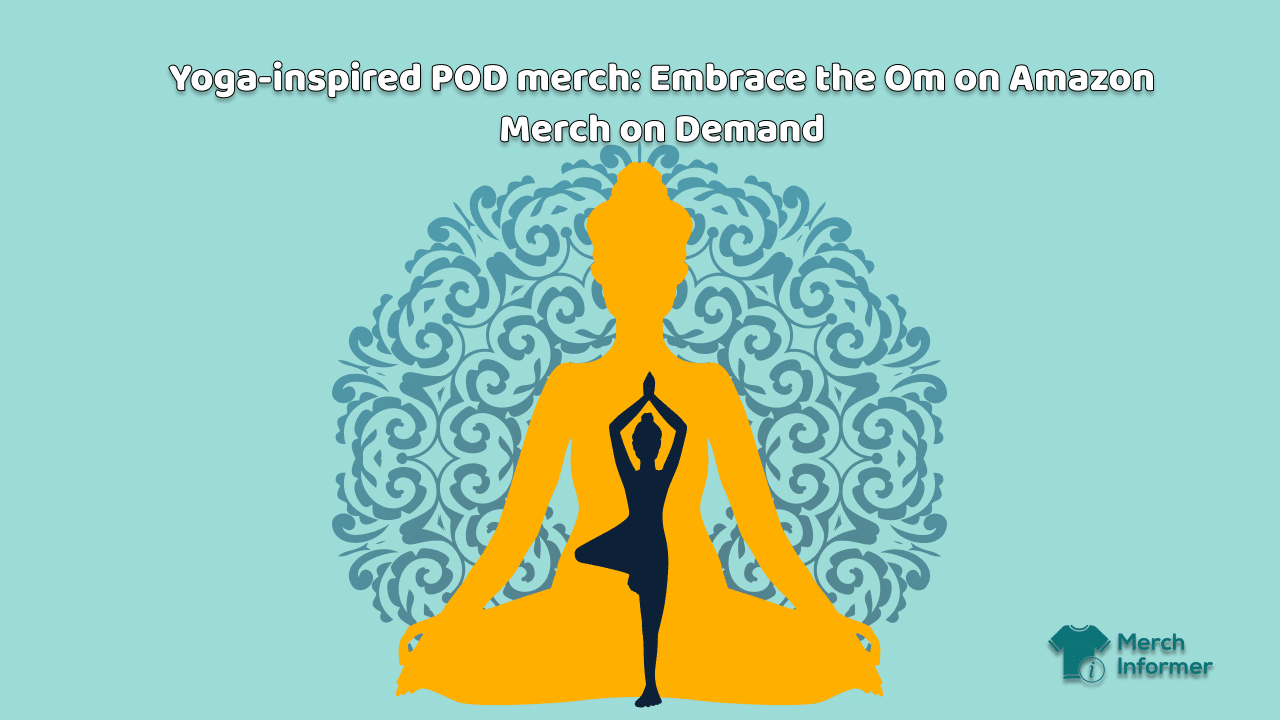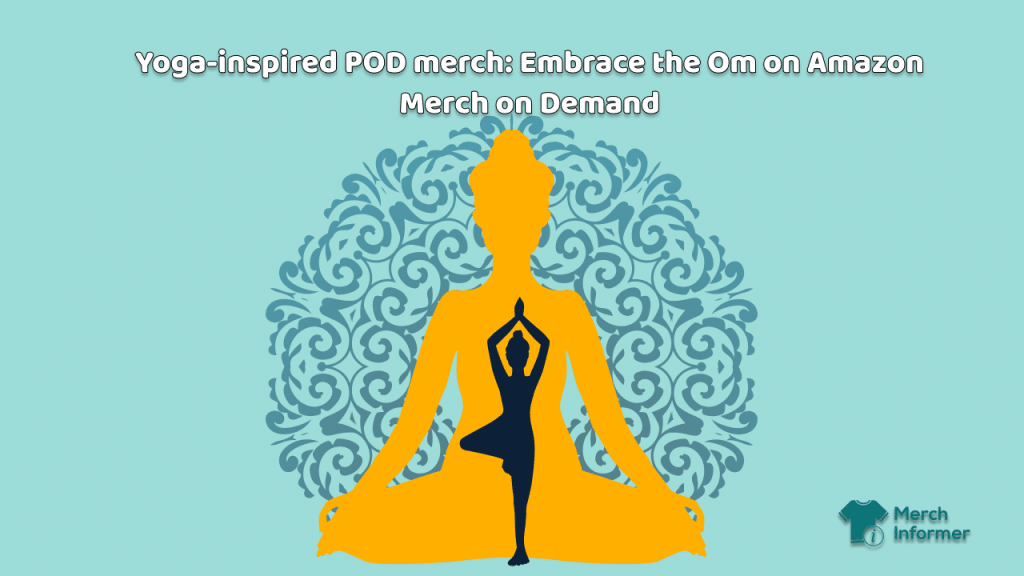 From the tranquil hush of a morning sun salutation to the invigorating energy of a power flow, the essence of yoga isn't just limited to the mat anymore.
It's leaping onto t-shirts, raglans, iPhone cases, and other POD merch categories.
Ready to embrace the 'Om' and master the art of yoga-inspired designs on Amazon Merch on Demand?
Let's unfurl the mat and journey together to uncover the insights that can help you earn more.
The most popular yoga categories on Amazon Merch on Demand
Amazon Merch on Demand provides a myriad of product types for merchants to sell.

Naturally, one of the first questions to answer is what are the most lucrative yoga categories.
To find the answer, we used Merch Informer. We compared the average BSRs and listing volumes of bestsellers from all categories.
We discovered the following vital information:
Yoga t-shirts shape the biggest market, with more than 500 top-performing listings in the niche. They have an average BSR of 429,334, which isn't the lowest of all categories. At the same time, it's significantly low considering the high listing volume.
Yoga throw pillows have the lowest average BSR (133,076). However, this result is only based on 3 bestsellers, making it incomparable to other categories.
Yoga tank tops have the highest maximum market price ($89.99). This means that sellers who can afford to ask for a price close to this mark will yield the highest royalties per sale.
Yoga sweatshirts have the highest average market price ($33.72). Merchants who abide by the golden rule of pricing around the average will be most profitable in this segment.
From all explored categories, we chose to center our research around yoga t-shirts.
Why? Because they prevail in terms of listing saturation and have a relatively low average BSR.
The size of the yoga POD t-shirt niche
Even though yoga t-shirts stand out in popularity, there are additional metrics to factor in.
Market size is one of the fundamental ones.
It will enable you to determine whether the segment is large enough for you to compete in. It will also help you predict whether the niche is worth your time.
Utilizing Merch Informers features, we uncovered three core pieces of information:
Number of listings
Search volume
Average BSR
We already noted that there are more than 500 top-selling yoga t-shirts on Amazon. We also mentioned that their average BSR is 429,334.
So far, it's safe to say that yoga t-shirts seem like an attractive segment.
But are Amazon shoppers interested in these products?
The best way to find out is by looking at keyword search volumes.

Here's what Merch Informer's insights reveal:
om yoga shirt – 32,110 – high
pug yoga t shirt – 16,368 – high
goat yoga t shirt – 9,384 – high
cat yoga t shirt – 8,984 – high
funny yoga t shirt – 5,830 – high
yoga gifts – 5,757 – high
Next to each keyword, you can find its monthly search volume and competition level.
Immediately, we can see that more than 30,000 Amazon users search for "om yoga shirt" products on the platform. Not only this, but specific niches, like pug, goat, and cat yoga t-shirts are also frequently browsed for by shoppers.
We can also identify additional sub-niches, like funny yoga t-shirts and yoga gifts in general.
But let's go back to the keyword with the highest search volume – "om yoga shirt".
"Om" is an inseparable part of the yoga world and represents the original vibration of the universe.
We checked how many people search for "om t-shirts" to find out the following:
om t shirt – 25,363 – high
om tshirt – 22,503 – high
The results indicate that there's more to the yoga niche than the main keyword.
Other words like "om", "exercise", and "mediation" bring additional search volumes to the table.
By optimizing your yoga t-shirt listings with related phrases, you can reach a wider audience and double your traffic.
Note that all of the displayed keywords have a high competition level. To stand out from the crowd, you'll need to use niche, diverse, and specific keywords.
This brings us to the next point – the most frequently used keywords by the bestsellers.
Trending yoga-related keywords used by the bestsellers
Say you decide to tap into the potential of the yoga t-shirt domain.
What are the keywords that will generate the traffic and sales you're after?
Let's look at what the bestsellers are doing.
According to Merch Informer, the following keywords dominate the scene:
Yoga
Meditation
Funny
Spiritual
Love
Namaste
Zen
Lotus
Peace
Birthday
Flower
Buddha/Buddhism
Chakra
Mindfulness
You'll notice that the majority of these words represent yoga elements. They can come in handy when brainstorming attractive t-shirt designs. In addition, they can help your listing rank higher and reach the right audience.
For example, according to this data, crafting a title like "Yoga Gift: Funny Yoga T-shirt – Namaste Birthday Gift For Peace Seekers" is bound to appeal to yoga enthusiasts.
But let's see whether this resonates with what the top performers in the niche are doing.
Analyzing the yoga t-shirt bestsellers
One of the most successful yoga t-shirt listings is "Lotus Flower Namaste Yoga Watercolor Meditation Zen Bohemian T-Shirt". It sells for $17.97 and has a BSR of 27,591, which translates into 95 sales per month.
Working out the maths, it turns out that this product is generating royalties of $3.41 per sale or $324 per month.
A look at the title shows that the seller has optimized the listing for trending keywords like "lotus", "flower", "namaste", "yoga", "meditation", and "zen".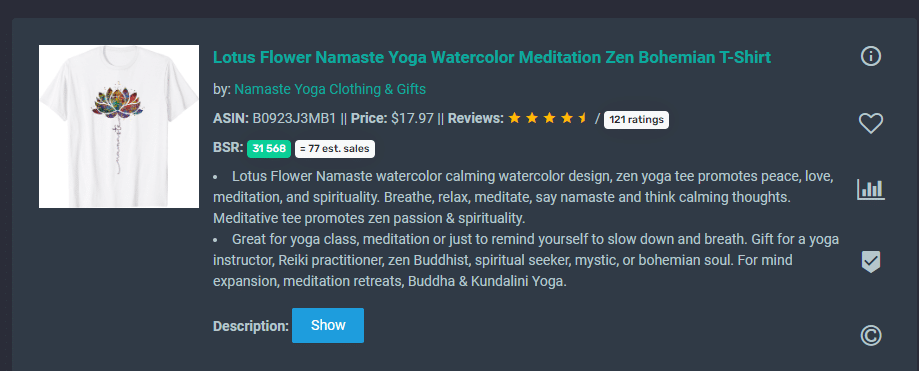 The merchant has also priced the item at $17.97, which is slightly below the market average ($19.27 in the yoga t-shirt category).
From a visual perspective, the product intelligently merges minimalism with creativity. The design features a white background and a vibrant, colorful lotus flower.
These strategies make the listing easily discoverable and attractive to consumers. At the same time, the product is positioned competitively in terms of price.
Naturally, all of this results in high buyer interest and sales volumes.
The best practices that will gear you for success
Throughout our research, we analyzed a vast range of chart-topping listings. Our research brought us to the conclusion that all of these successful t-shirts share a few core things in common.
Based on our findings, we summarized the proven best practices in the yoga t-shirt domain.
Implementing these techniques into your seller strategy will allow you to transform your Amazon Merch on Demand side gig.
Here are the tips to follow:
Choose a specific merch category to sell in – for our research, we selected t-shirts as the largest, most popular market. However, with insights from Merch Informer, you can successfully penetrate other categories, like iPhone cases, long-sleeved shirts, and more. Base your decision on insights rather than intuition.
Select target keywords strategically – don't limit yourself to the main keyword (in this case – "yoga"). Instead, examine search volumes and identify niche keywords to target (like "cat yoga t-shirts"). Ideally, opt for phrases that have a high search volume, yet low competition. In most cases, these will be very specific keywords. Use them to craft eye-pleasing designs and optimize your listing titles and descriptions.
Price your products competitively – the higher the price, the better the royalties. Naturally, most sellers are tempted to overprice their t-shirt designs. We recommend positioning your products near the market average. This will give you a competitive edge and will avoid underpricing or overcharging. Where possible, select a niche or category where the average market price is higher. This will guarantee fruitful returns.
Adapt your designs to the audience – getting your listing to appear in front of shoppers is one thing. But grabbing their attention with a stunning design is where the magic happens. In the yoga t-shirt space, focus on simplicity and a gentle touch of creativity. Avoid bold, striking designs and fonts. After all, yoga is all about relaxing and freeing your mind.
All of these best practices have helped sellers just like you climb to the summit of Amazon Merch on Demand. Implementing them in your strategy will help you achieve similar results.
Wrapping up
The yoga t-shirt universe is both exciting and rewarding. With tons of design possibilities to explore, sellers can put their creativity to use and win significant sales volumes in the process.
As you penetrate this niche, don't forget to make informed decisions based on data.
Luckily, Merch Informer is right by your side as a powerful weapon. Use it strategically and witness the transformation of your side gig.