What is the bestselling holiday season merch by type and niche?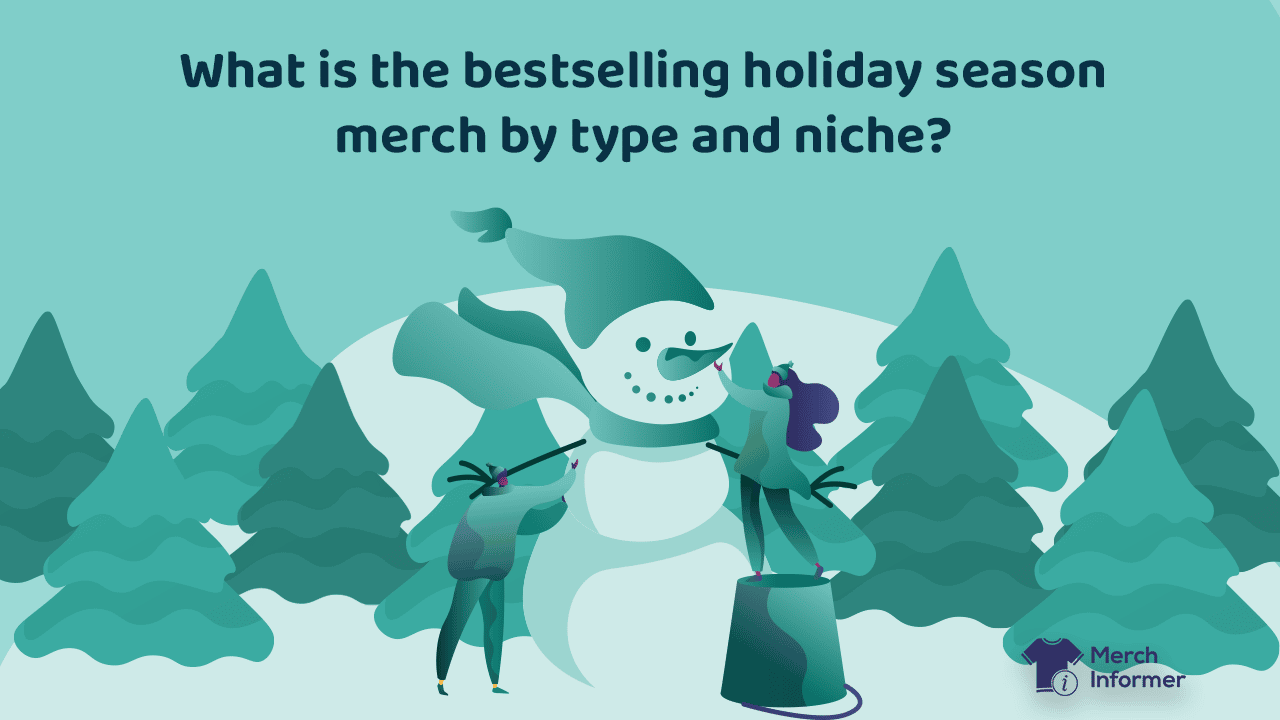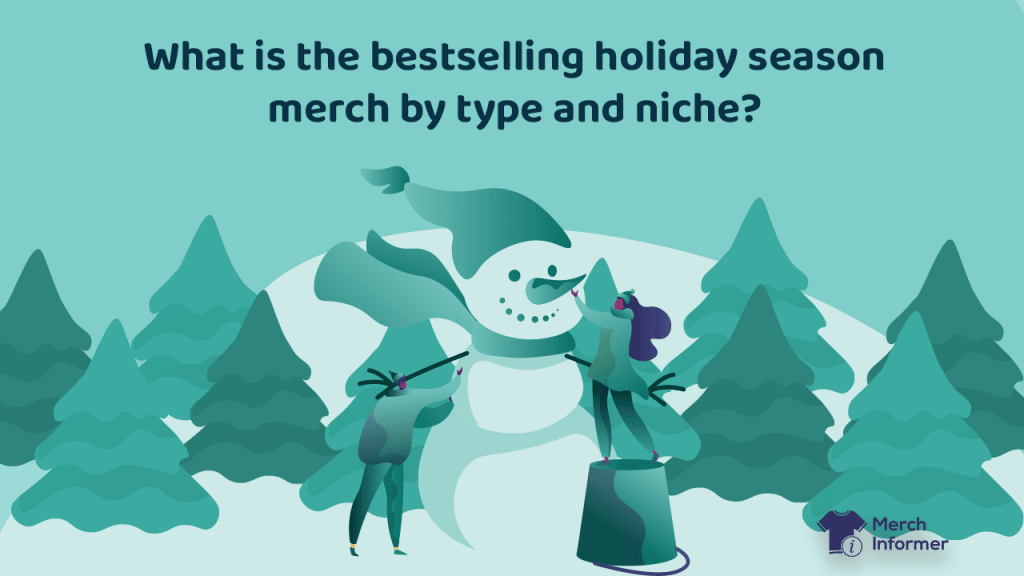 Selling apparel on Amazon Merch on Demand is a money-generating side gig for many. We know because we've done the research.
But how are sellers achieving this? The truth is that a lot of merch creators are actively taking advantage of certain seasonal trends to make up for periods of low sales. And when it comes to Amazon shopping, perhaps one of the biggest events of the year is Christmas.
The clock is ticking and the time to act is now. Find out what the best-selling holiday season merch is this year and discover some of the most profit-making niches.
The leading niches on Amazon Merch on Demand this Christmas season
Selecting a niche to tap into is a fundamental step towards Amazon Merch on Demand triumph. In fact, it's among the first things that you should do as a seller. And when it comes to enjoying a stable financial ending to the year, niches are just as important.
To help you prepare for the festive season and outperform your competitors, we've closely analyzed the top-selling niches a month before Christmas. And although some of you may assume that hot merch is strictly related to Santa designs and reindeers, our findings show a completely different story.

Here are the Christmas-time money-making niches that you should know about.
Animated movie-based characters
Using Merch Informer's Merch Hunter tool, we looked into the bestsellers on the 5th of December across different categories. We discovered that one of the recurring niches was related to animated movie-based characters.
Merch designs from this theme often include a famous main character and rarely contain any text. Interestingly, we noticed a strategic merge of niches as some chart-topping merch designs include a well-known animated character in a Christmas setting. For example, some are dressed in Santa costumes, while others are depicted with a Christmas tree or gift boxes.
This is easy to understand. After all, "Christmas" is the most popular keyword on Amazon at the moment. This indicates that shoppers are actively looking for Xmas merch. Uniting an attractive niche like animated characters with a trending one, like Christmas, is bound to result in fruitful results.
As a word of caution, always run a trademark check to ensure that you're not infringing on someone's IP by featuring a character from a movie production. If in doubt, do NOT do it. You may want to reach out and see if you can strike a licensing agreement instead!
Christmas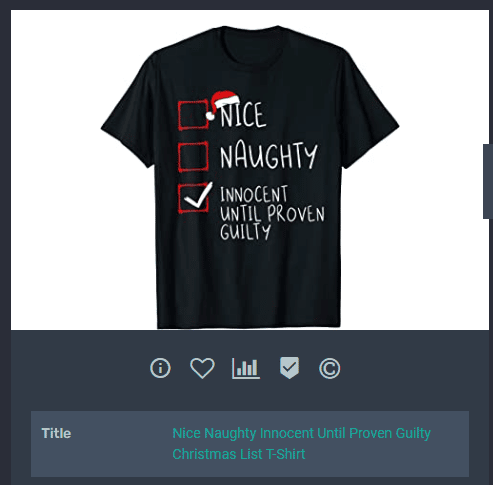 Of course, the Christmas niche is on the list of opportunity-rich themes around the holiday. Merch makes a wonderful gift and it's no wonder that sales are picking up just a month before the special day.
Let's look at an example. The number one listing from the t-shirt category at the moment is that of an eminent animated movie character in the role of Santa. The merch design displays some of the most common Christmas elements, including a Christmas tree, sleigh, décor, reindeer, and Christmas presents. Plus, the animated character is dressed in a Santa costume.
Examining the listing's sales history, we uncovered that its BSR dropped from 281,171 on the 3rd of October to 2,000 on the 5th of December. This dramatic difference in sales results from the rise in demand for Christmas-related merch.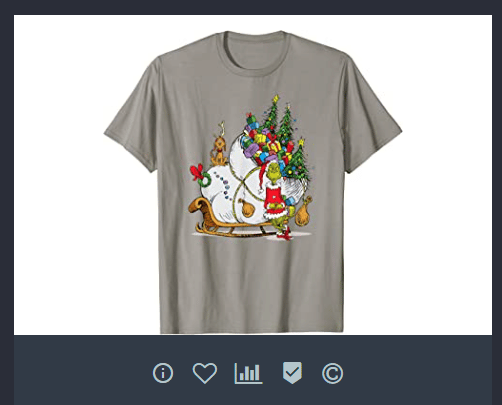 *While you will not be able to create designs with characters you do not own the rights to, you can take design elements for your own unique designs.
An assessment of products from this niche unveils that some of the actively used elements include:
Santa
Christmas lights
Christmas trees
Candy canes
Snowflakes
Snowmen
Reindeer
Santa sleighs
Christmas gifts
Santa hats
Humor
Next up, we detected an all-time favorite niche from the merch space – humor. Funny designs perform tremendously well throughout the whole year, and the festive season is no exception.
Some of the most profitable t-shirts, sweatshirts, hoodies, and other merch types all share a common denominator – funny messages or imagery. The niche fits well with Christmas shopping as it's suitable for gifts for friends and family members.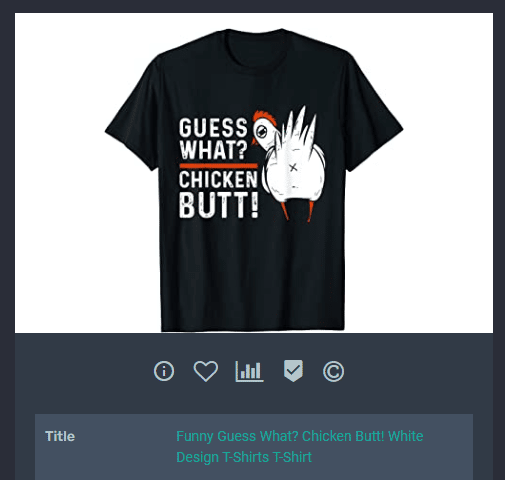 For example, the "Funny Guess What? Chicken Butt! White Design T-Shirts T-Shirt" listing has performed exceptionally well in the past few months. Its BSR fell from 69,483 on the 12th of October to 3,262 on the 5th of December. Why? One explanation is that the listing is optimized for words like "gift", which are included in its product description. To Amazon users, this signals that the t-shirt is suitable for a Xmas present. With its humorous message, it can definitely make someone's day.
Popular TV shows and movies
We already mentioned animated movie characters are a go-to niche for a lot of successful sellers around Christmas. But in reality, it's not the only media and entertainment-related theme that's winning high bucks. TV shows and movies are also included in our list of niche discoveries.
If you're wondering why this niche is landing sales around the holidays, let's think about the art of finding the perfect Christmas present for someone. It's usually related to showing them you know them well. And what better way to do so than by picking a merch design inspired by their favorite TV show or movie character?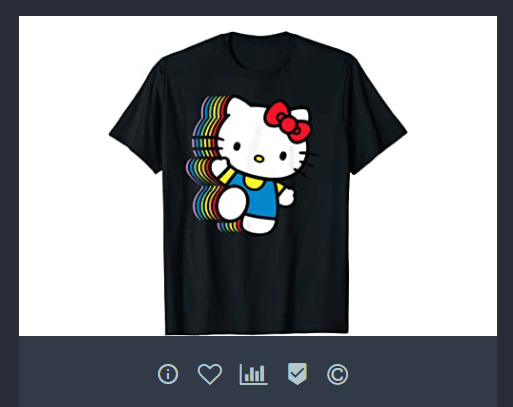 Inspecting the smasher listings' historic sales data around the big day, we detected that sales are picking up from the end of October until the start of December. This only proves our theory and suggests that TV shows and movies are a lucrative niche around this time of year.
Once again, if you plan to create and market a merch design depicting themes from a movie or TV show, you will need to reach out and see if you can get a licensing agreement before putting this content on Merch.
Gifts
Needless to say, gifts are also a niche worth exploring if the aim is a profitable holiday season. However, unlike other themes analyzed so far, the gifts niche is best represented by keywords instead of merch designs.
What do we mean?
Let's take animated movie characters or Christmas as niches we identified as successful. Sellers who've penetrated these spaces rely on creative merch designs and striking text or imagery to attract attention. At the same time, those active in the gifts niche are mostly relying on words and phrases in their listing titles and descriptions. Why? Because this is the best way to make the product relevant for buyers searching for Xmas gifts.
Keywords help make a listing discoverable and are also responsible for attracting specific traffic. Some of the most popular ones used at the moment include "Christmas gift", "Xmas gift", "Christmas present", and more.
Top-performing merch categories around the holiday
Great, you are now able to select a profit-making niche around the special holiday. But will that be enough? Not likely.
As an Amazon Merch on Demand seller, you can take advantage of diverse categories to position your designs in. So which category should you choose?
The only way to answer this question is to look at the average BSRs of all categories around Christmas. Considering that Xmas shopping has already begun, we used Merch Informer to discover the top five well-performing merch types.
We share these insights with you, along with the average BSR of all of the ones that made it on this list:
Popsockets – 1,862
T-shirts – 8,994
iPhone cases – 21,573
Hoodies – 22,137
Sweatshirts – 47,048
Surprisingly, popsockets outperform t-shirts dramatically. But if you're eager to jump on the bandwagon and start recording sky-rocketing popsocket sales, don't forget that every category has its own peculiarities, even around Christmas.
To explain what we mean, we'll look at a real-life example and dig deep into the bestsellers.
Examining the money-making listings
We were intrigued by the fact that popsockets have the lowest average BSR around Christmas. In an attempt to understand this trend, we analyzed the number one top-selling listing in the category, the "PopSockets: PopGrip with Swappable Top for Phones and Tablets – Ripple Opal Pink".


The design is extremely simple and has nothing to do with the holiday. It's a single-color, texture-rich popsocket with a cool translucent layer. Its BSR went down from 15,149 at the end of June to 147 at the start of July. Since then, it has been performing exceptionally well, generating around 3,000 sales per month.
Although it's currently one of the record-breaking listings in terms of profitability, its popularity isn't linked to the approaching holiday. Instead, popsockets are simply a product that sells all year round. Nothing in their designs or keyword optimization suggests that sellers are prepping them for Xmas sales specifically.
This is not the case in the other top categories. We already examined the listing with the lowest BSR in t-shirts, so let's look at the sweatshirts category. One of the most profitable listings combines the Christmas and humor niches. It's an offensive Christmas Santa sweatshirt that contains funny text, using inappropriate language. Its BSR moved from more than 2 million on the 4th of September to 10,782 on the 5th of December. This suggests a striking rise in demand from consumers.
How to prepare a bulletproof merch strategy
Now that you know what the most lucrative niches and categories are in terms of Xmas sales, it's time to bring your Amazon Merch on Demand game to the next level. Prepare for the holiday by creating the perfect merge between theme and category. This will allow you to satisfy an incredibly large demand, grow your popularity, and witness flourishing sales.
From our discoveries, we've concluded that the following combos are expected to perform well:
Funny t-shirts
Christmas sweaters
T-shirts and hoodies with animated movie characters or imagery or text from popular TV shows and movies
Christmas iPhone cases
Regardless of the category you choose, it's also recommended to update your titles and descriptions to include the word "gift" or "present". This will allow you to tap into the gifts niche and increase the visibility of your merch.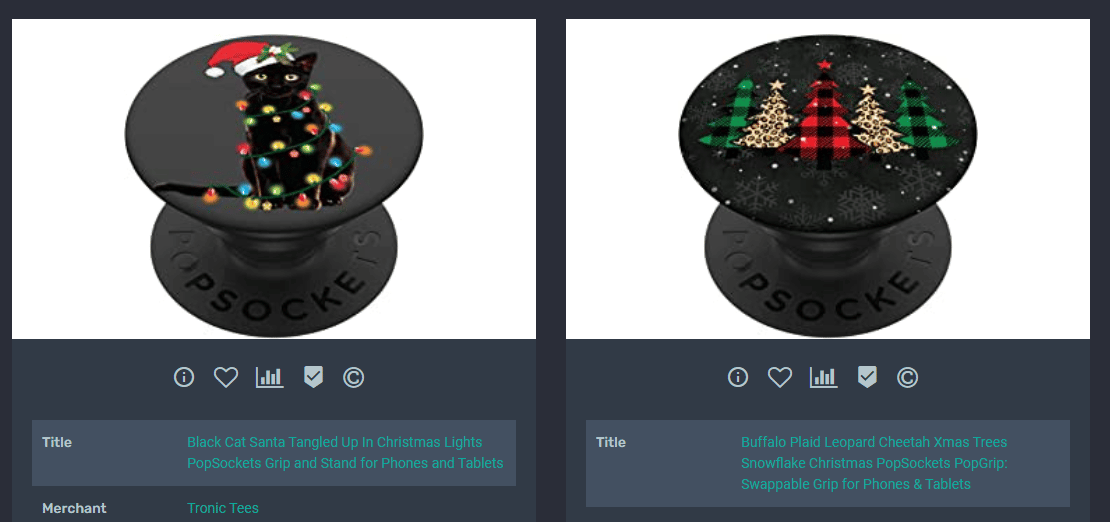 As a pro tip, we encourage you to try different approaches and offer creative solutions to Amazon users. For example, we noticed that the most popular popsockets are usually minimalistic and single-colored. Why not create a stunning Christmas design for a popsocket and optimize it for keywords like "gift" and "Christmas"? You may be surprised to see the results.
In a nutshell
Turn this Christmas into a success story for your Amazon Merch on Demand seller account. Use these insights to your advantage and don't forget that Merch Informer has a lot more to offer. By making strategic decisions and preparing your listings in advance, you can enjoy unimaginable growth in sales and earn extraordinary royalties.