What Is The Single Most Successful Print-On-Demand T-Shirt on Amazon And What Made It The Best?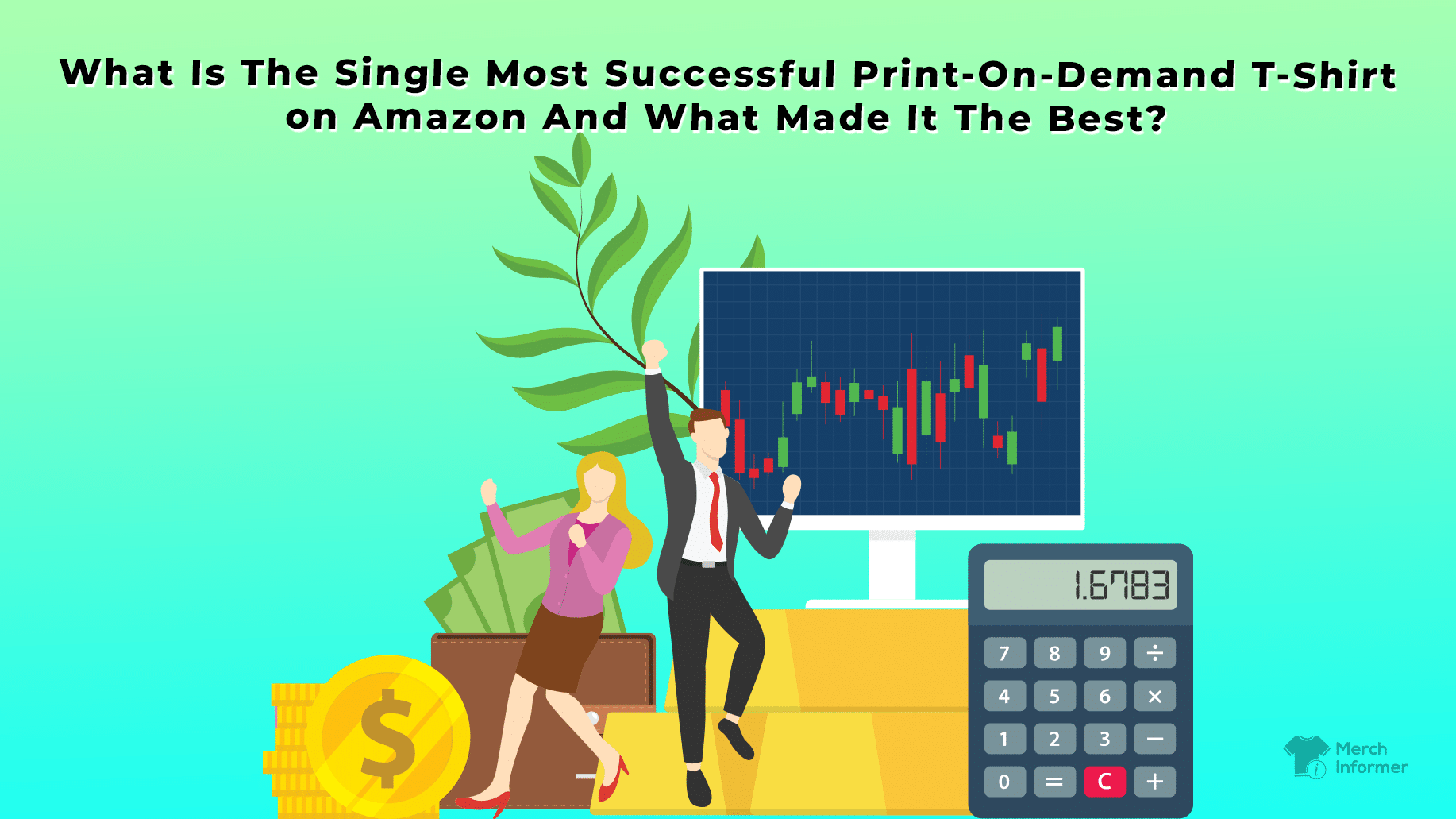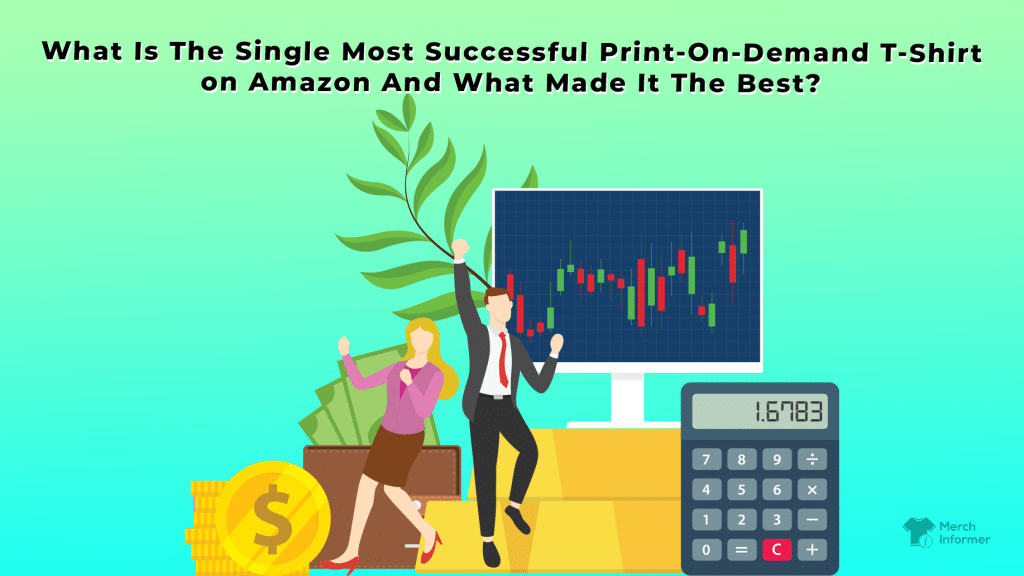 It all started in the Navy. That's when t-shirts first appear to have been introduced for soldiers to wear under their uniforms. Then, they became a sort of fashion statement. A way of expressing quirks, tastes, one's sense of humor, their style, and even an indication of hobbies and interests. They also became popular amongst cult followers of music and films.
But let's take it back to 1977, when the "I love NY" t-shirt was born. Initially, it was created as a way to promote tourism to this bustling city. However, the logo itself became massively popular and appeared on countless t-shirts ever since then. In fact, the trend has taken the world by storm, with many major cities being added to the "I love ___" mix.
Some of the best-selling t-shirts to date are basically centered around cult, mass followings. For example, you won't be surprised that The Rolling Stones, the smiley face, Che Guevara, Hard Rock Café, Harley Davidson, the anarchy symbol, the Superman symbol, "Keep Calm and Carry On", Mickey Mouse, Metallica, Batman, the peace sign, Nirvana, and Jurassic Park have made it on the list of top t-shirts of all time.
But let's try to narrow this down specifically to print-on-demand (POD) t-shirts on Amazon and see the best practices of a single well-performing creator.
Who Is The Most Successful Seller On Amazon For POD T-Shirts?
While you already know that the best-sellers rank on Amazon shifts all the time depending on sales made, it's worth looking at one of the top selling t-shirt creators in the most recent past. We're talking as far back as November 2021 when the listing first appeared and then skyrocketed to be number one on Amazon's list.

Who is this, you're wondering? The answer is a very large brand, STAR WARS.
And what is the best-selling print-on-demand t-shirt from their collection? The Yoda One For Me Cute Valentine's Graphic T-Shirt.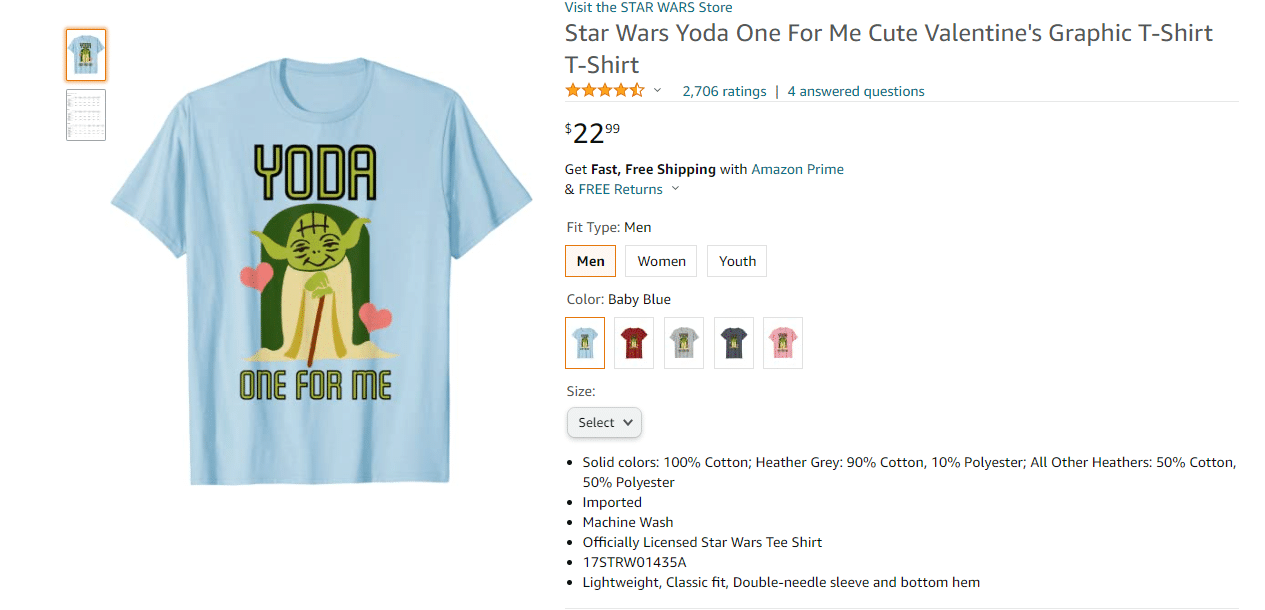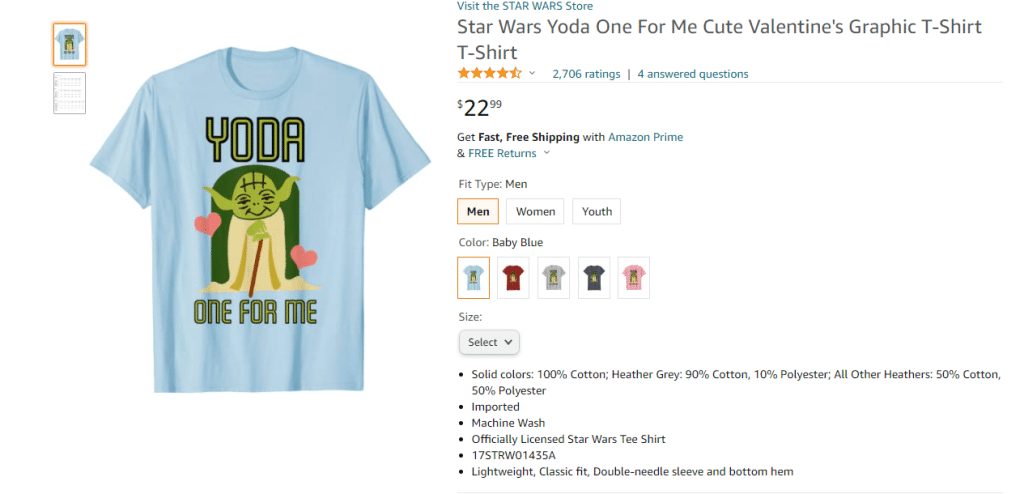 What Made This T-Shirt The Best On Amazon?
Here, we examine the different strategies employed by this Seller to give you an overview of what could work for you.
PLEASE NOTE: This is a major brand. You, as a Merch Seller are NOT allowed to use intellectual property that you do not own. This is just to showcase that building a brand can be extremely beneficial to your Merch business!
Title: We all know that the title and the keywords used in the title are one of the most important ways a customer will find you. This Seller has used the following title: "Yoda One For Me Cute Valentine's Graphic T-Shirt T-Shirt". It not only indicates that you're specifically getting a t-shirt (which is automatically added by Amazon), but it also has words like "Yoda" to identify the main design feature, and "cute" to describe the fact that this design is a cutesy version of the original Yoda and not a direct copy or image of it.
Then there's the keyword "Valentine's" which is ideal for those looking for Valentine's gifts for their significant others. And it just goes to show how far in advance (we're talking three months ahead) buyers are actually starting to buy before certain holidays. Finally, there's reference to the fact that the t-shirt is a "Graphic T-shirt" which accurately depicts it. All in all, the keywords used here aren't too many and they aren't stuffed for the sake of it. Instead, they tell the customer exactly what they need to know to get a quick overview of what they're about to buy. This strategy really seems to work and it might be worth following.
Features: The features description of this t-shirt is clear, starting with the most important ones (keep this in mind as you carve out your strategy). For example, the Seller indicates that solid colors are 100% cotton, while the heather gray is 90% cotton and 10% polyester. Meanwhile, all the other heathers are 50% cotton and 50% polyester. It's clear that this t-shirt is imported and this is explicitly stated. There are also washing machine instructions as well as the fact that this is an officially licensed Star Wars t-shirt. (Please note, as Merch Sellers, Amazon automatically adds the bit about what the colors are made out of).
Since this is actually under the STAR WARS brand, it is clearly being laid out that this is the famous Yoda from Star Wars and will not get THEM into any legal entanglements (which makes sense, because they are brand partners of Amazon, but YOU may not be!). This is a crucial strategy to follow. At the end of the features, they have indicated other characteristics of the t-shirt, including that it's lightweight, a classic fit, and that it is a double-needle sleeve and bottom hem. Overall, this gives the buyer quite a lot of information already and this is something you would want to strive towards achieving with your features.
Description: The t-shirt description is short and sweet, but it certainly packs a punch. For example, "transport yourself to a galaxy far, far away with a cool new Star Wars shirt…" is a great way of using lines from the movie and incorporating it into the description to draw the niche audience of followers in. It's also clear that other Star Wars characters such as Luke Skywalker, Darth Vader, Chewbacca, Princess Leia, Boba Fett, and others are available, too.
This means the Seller has followed a strategy of expanding the niche to other characters from the iconic movie and it creates nice cohesion and continuity in this Seller's product offering, as well as a rich offering of listings altogether.
Available colors: Although it's often said that black t-shirts are the best-selling t-shirts on Amazon in terms of choice of color, this Seller decided to pursue a different strategy, leaning away from the common and opting for something different instead. The colors that this t-shirt is available in are baby blue, cranberry, heather gray, heather blue, and pink. It just goes to show that you don't need to follow the crowd but can carve out your own unique designs based on a background color that will fit well and effectively contrast with the color of your design.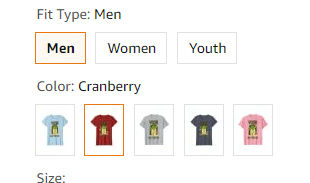 In this case, the green Yoda is perfectly positioned against these pastel colors instead of simply offering black or white alternatives.
BSR: The best-sellers rank (BSR) is not really a strategy per se, but rather an ongoing and continuous measurement of sales on Amazon. The beauty of it, however, is that it indicates the level of sales that were made and how far up the rankings the t-shirt got to.
In this example, the BSR is a lovely 441, with a 184 drop, which is considered almost insignificant compared to the low BSR the t-shirt has. The BSR is also a great indicator of estimated sales with figures indicating a whopping 2,070 sales. When multiplying this by the price (which we'll get into below), it creates a great passive income for this Seller.
Price: In general, the "Yoda One" t-shirt sells for $22.99, which when compared with the lowest ($9.99) and highest price ($22.99) actually indicates that this brand knows their product's value because they've priced it at the maximum price possible.
Interestingly enough, the brand has adopted some pricing strategies which could be worth emulating. For example, a recent historical look at the pricing indicates that the t-shirt sold at around $19.98 on January 30th this year, but because of the rising demand from customers, the brand decided to take advantage of this and raise the price to $20.47 the very next day. It was too soon to see if this strategy worked because on February 1st, the price again fell to $19.98, indicating the Seller was experimenting with the prices, even though the prices are on the higher-than-average scale.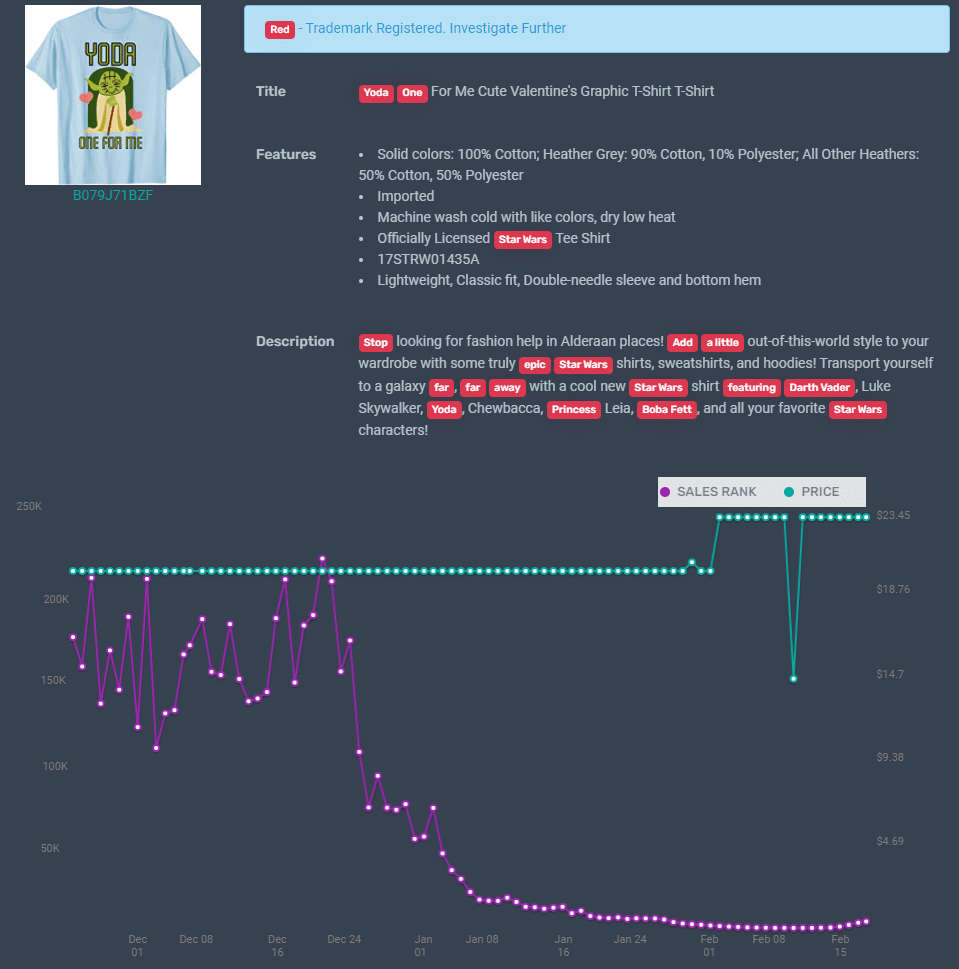 Three days later on February 3rd, the price increased again, this time to $23.45, indicating that a small increase in price did not have much significance on the sales, as the sales rank on February 5th was at a low 441.
Reviews: Reviews are a great way of gathering social proof that the t-shirt you're about to buy is actually worth it. This "Yoda One" t-shirt currently has 648 ratings, which is huge.
Note: We have updated this post after the fact, and it is closing in on 3,000!
A whopping 82% of customers that purchased it left five-star reviews, 11% left four-star reviews, and the remaining 7% left three- to one-star reviews. Overall, there's significant hype created over this t-shirt and the positive reviews go a long way to showing that other customers are satisfied. This is something that will not only please Amazon, with its customer-first policy, but the Seller, too, for doing such a great job.
What Can Be Deduced As Best Practices For Other Sellers To Use?
As best practices go, this brand seems to do it all. Here's a summary of the key takeaways upon reviewing their best-performing print-on-demand t-shirt:
Choose a specific niche where demand is high;
Ensure you put your own unique design on the t-shirt so that you set yourself apart;
If selling for a particular holiday, be sure to have your product for sale at least three months beforehand;
Use relevant keywords in your title and description but avoid stuffing them in;
Start with the most important feature first and then rank them according to priority;
Don't be afraid to price above the average. Lower prices tend to signal lower quality to customers;
Take any feedback from reviews you get moving forward.
Concluding Thoughts
So, now that you have an idea of this brand's business strategy, you may wish to emulate these tactics to develop your own source of passive income centered around POD t-shirts. If you're worried about which tools to use when getting started, Merch Informer brings absolutely everything you need in one place to help you make the most informed decisions.
Don't hesitate to give it a shot. It even offers a three-day free trial so that you can test out and play around with the software to help you decide.
We'd like to think that your print-on-demand t-shirt is as good as your market insight, which we'll readily provide to you for just $9.99 per month.