What is the size of the different merch categories on Amazon and how it impacts sales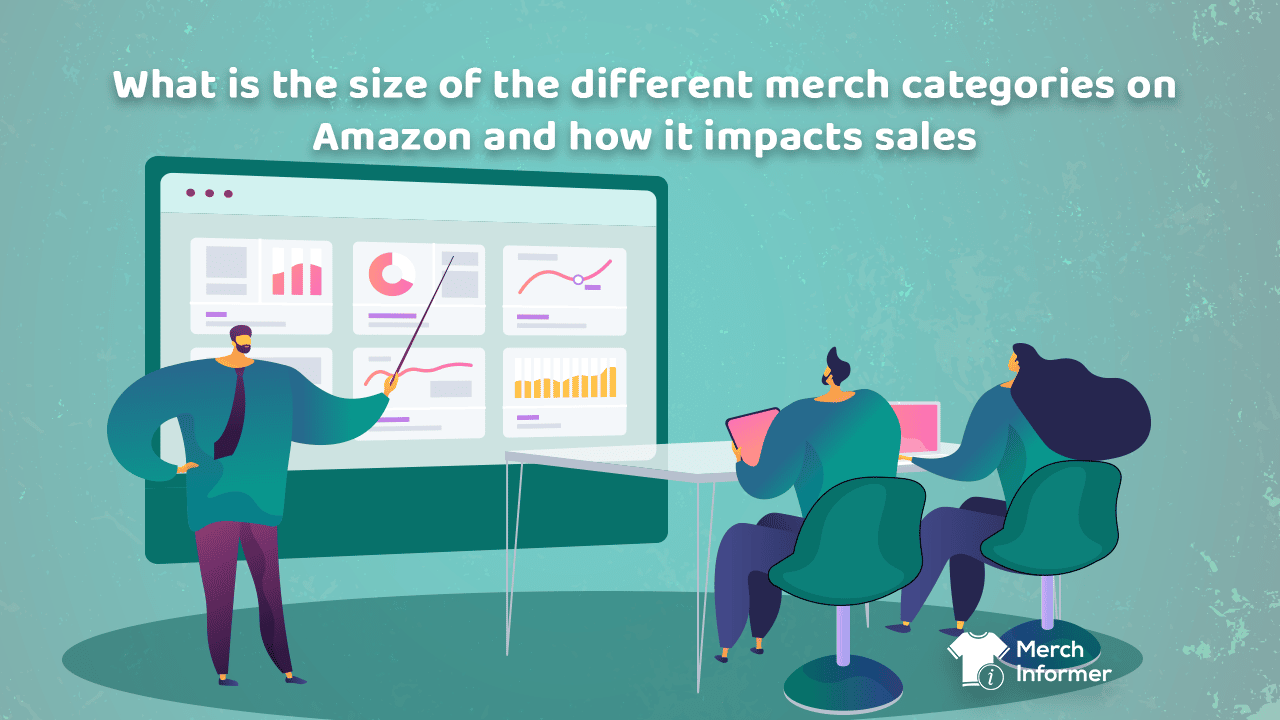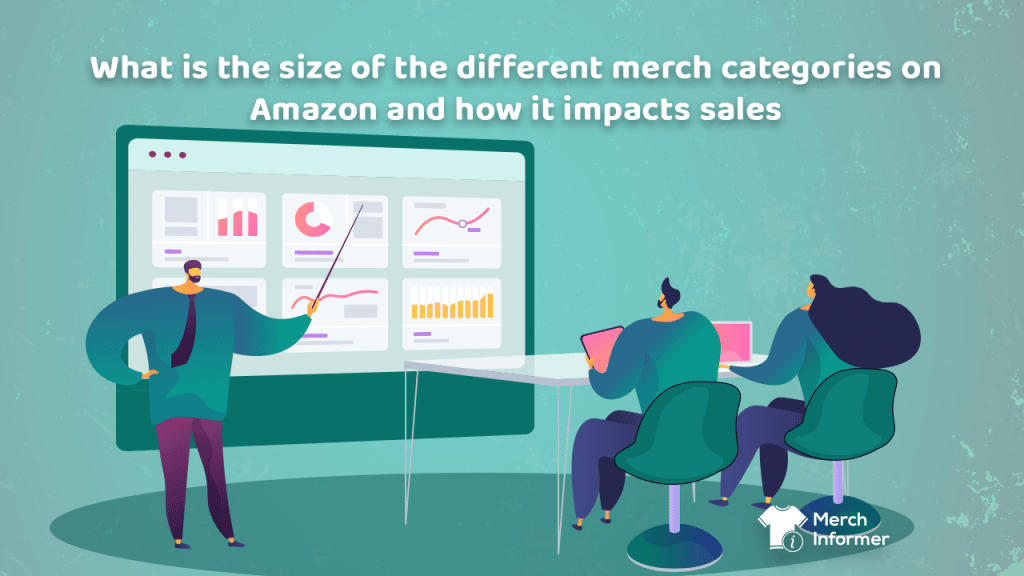 Market size is one of the fundamental elements shaping a seller's success on Amazon Merch on Demand. The platform enables creators to apply their art pieces to more than ten merch types. But which product category will result in the best performance in terms of sales?
It all comes down to how big the market is in the first place.
To save you headaches and hours of research, we've prepared a list of valuable information on the size of all available categories on Merch on Demand.
A look into the size of Amazon Merch on Demand categories
Before we share our findings with you, we must explain how best to approach this type of research. Three key components determine market size – the number of active listings in the space, the number of searches performed for category-specific keywords, and the average BSR of the top-performing listings in the market.
Why do we recommend examining the bestsellers rather than all active listings? Because this will give you an overview of the best-case scenario.

To discover all of these insights, we used the capabilities of Merch Informer. Our findings show that all categories have at least 500 bestselling listings, except for v-necks and raglans. This indicates that these markets have enough active listings to consider them prominent. However, we'll make further comparisons based on the other two factors – search volume and average BSR.
Without further ado, let's dissect Amazon Merch on Demand into separate categories and see what the most attractive ones are in terms of size.
T-shirts


T-shirts are, without a doubt, the largest product category on Amazon Merch on Demand. They attract interest from customers throughout the entire year and can generate substantial financial results for sellers.
Using Merch Informer, we revealed that the average BSR of top-performing listings is 26,986. The lower the BSR, the better the performance in terms of sales. We'll see how this BSR compares to other categories on the platform.
Next, we analyzed how popular category-specific keywords are for shoppers. To find out, we used Merch Informer's keyword research tool. One of the most popular words in the space is "tshirts for", which attracts 267,598 searches per month. In other words, more than 260,000 shoppers would look for print-on-demand t-shirts on Amazon in the span of 30 days. This creates a lucrative money-making opportunity for sellers.
Long sleeve shirts

Long sleeve shirts are another popular merch category comprising thousands of attractive listings. Here, the average BSR among the top-performing listings is much higher – 342,033. This shows that fewer sales are generated in the category compared to the t-shirt market. One possible explanation for this is that t-shirts are all-year-round products, while long sleeve shirts are seasonal.
Keywords like "long sleeve shirts for men" have a search volume of 304 976. This signals a substantial demand that can be translated into consistent profits. In addition, the lowest, average, and highest prices for long sleeve shirts are much higher than those of t-shirts. For example, whereas the average price for a t-shirt is $18.95, long sleeve shirts go for $25.83.
Sweatshirts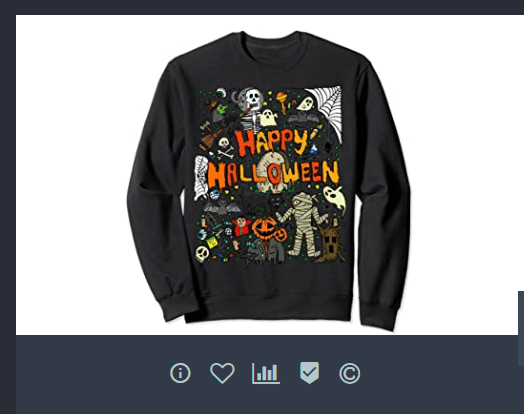 Next up, the sweatshirt category is also one that attracts a decent amount of sellers and buyers. A peek into the bestsellers shows that the average BSR in the category is 380,274. From the sales perspective, it can be ranked close to long sleeve shirts as it generates a similar average BSR. However, the space enables sellers to price products higher, as the market average price is $34.35.
Some top-searched phrases include "sweatshirt sweatshirt" with a monthly search volume of 94,597.
Hoodies
Hoodies are another interesting category to explore. They're a comfortable piece of clothing to have in your wardrobe, make the perfect gift, and are certainly an attractive niche on Amazon Merch on Demand.
The listings that perform best on the platform have an average BSR of 216,983, while keywords like "hoodie hoodie" attract monthly search volumes of 280,926. At the same time, the prices of these products are around $36 on average, enabling sellers to generate an attractive profit per sale.
Popsockets


We've reached the popsockets category, which stands out with one of the lowest average BSR of all. When analyzing the bestsellers, we uncovered that the average BSR is 28,752, which is slightly higher than t-shirts. In other words, this category is among the ones that generate the highest amount of sales.
Our keyword research proves this theory. One of the most popular keywords from the category is "popsockets". More than 250,000 Amazon shoppers search for it every month, revealing a considerable interest in this product type.
However, it's worth noting that the prices here are not as high, with the average being $15.18. What makes up for this is the low average BSR, meaning you can expect significant sales volumes, enabling you to achieve satisfactory results.
V-necks

V-necks represent one of the smallest categories of merch on Amazon. Only 126 bestsellers appear in search results when using Merch Informer. The average BSR is also much higher than most other categories, at 848,779. At the same time, keyword research suggests that the product type is of substantial interest to shoppers.
Words like "v neck shirts for men" generate a search volume of 302,214. This is a much higher number when compared to keyword search volumes from other product categories. We noticed that the competition level of most product-specific keywords is high.
A potential reason could be that selling in the v-neck space is challenging due to competition. This explains the low number of bestsellers on Amazon Merch on Demand.
Tank tops
The next category we'll analyze in terms of size is tank tops. Like most other merch types, there are more than 500 bestselling listings. Their average BSR is 324,029, indicating that the market does generate significant sales for merchants. Words like "tank top for women" are trendy among shoppers, with a monthly search volume of 303,633.
Seeing as this is a market with hundreds of thousands of shoppers, it's safe to say that its size is large enough to grab your attention. Furthermore, the average price among bestselling listings is around $21, which is similar to other categories.
Raglans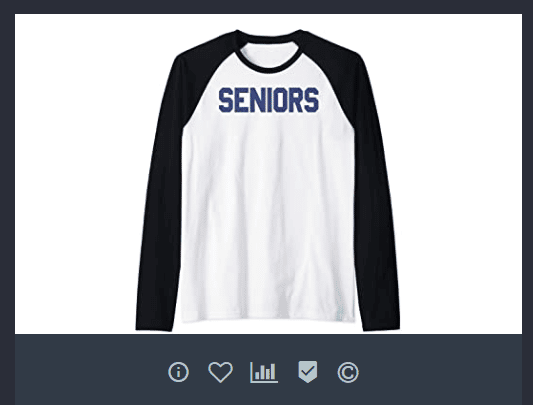 Raglans are the second merch type with fewer than 500 listings appearing when researching the bestsellers. This suggests that the category is smaller than most others on this list. With only 428 top-performing listings, raglan listings have an average BSR of 981,509. This number is much higher than most other BSRs from our research and represents fewer sales.
Meanwhile, more than 90,000 shoppers search for words like "raglan shirt women" every month. In other words, the product category attracts enough interest to be considered a large market.
iPhone and Samsung cases


Amazon Merch on Demand enables merchants to tap into two categories of phone cases – one mode for iPhones and one made for Samsung devices.
Our findings reveal that iPhone cases are the larger market and attract more interest from consumers.
While the bestsellers of iPhone cases have an average BSR of 46 072, those offering Samsung phone cases score a BSR of 221,356. Put otherwise, iPhone cases sell much better on average when compared to Samsung cases.
This can also be seen from the search volume of different words. For example, words like "iphone 12 case" stand out with a search volume of 2 626,530, while others like "samsung galaxy case" only receive a search volume of 305,173.
From a price perspective, the average prices are similar in both categories and levitate around the $19 mark.
Tote bags
When dissecting the tote bag merch category, we concluded that this is the market with the highest average BSR, generating minuscule sales. Merch Informer's Cloud tool showed us that listings from the space have an average BSR of 1 097 775. At the same time, keywords like "tote bag" attract a monthly search volume of 232 193, uncovering interest from shoppers.
However, the exceptionally high average BSR may mean that there are specific niches or best practices that you must explore in the space to enjoy profitability.
Throw pillows


The final merch type from Amazon Merch on Demand is the throw pillow category. Although there are more than 500 bestselling listings, the average BSR is still much higher than most, at 900,579.
Keyword research indicates that despite the high BSR, the category is attractive to shoppers. How do we know? Because words like "throw pillow" have a monthly search volume of 281,780.
Ranking merch categories by size
All of the metrics we've looked at throughout our research are important when analyzing the size of a market. However, we've ranked the product categories by average BSR as it's perhaps the most fundamental metric regarding profitability.
Here is our ultimate Amazon Merch on Demand product type ranking according to market size.
T-shirts
Popsockets
iPhone cases
Hoodies
Samsung cases
Tank tops
Long sleeves
Sweatshirts
V-necks
Throw pillows
Raglans
Tote bags
In a nutshell
Having insights into the market sizes of different merch types is essential for making strategic decisions as a seller. By understanding the various components that help shape a category size, you can enter these spaces confidently and enjoy maximum returns.
Don't forget to use Merch Informer to enhance your Amazon Merch on Amazon selling experience and see your merch designs skyrocket.