Zodiac sign t-shirts: Will they propel your Amazon Merch on Demand Business?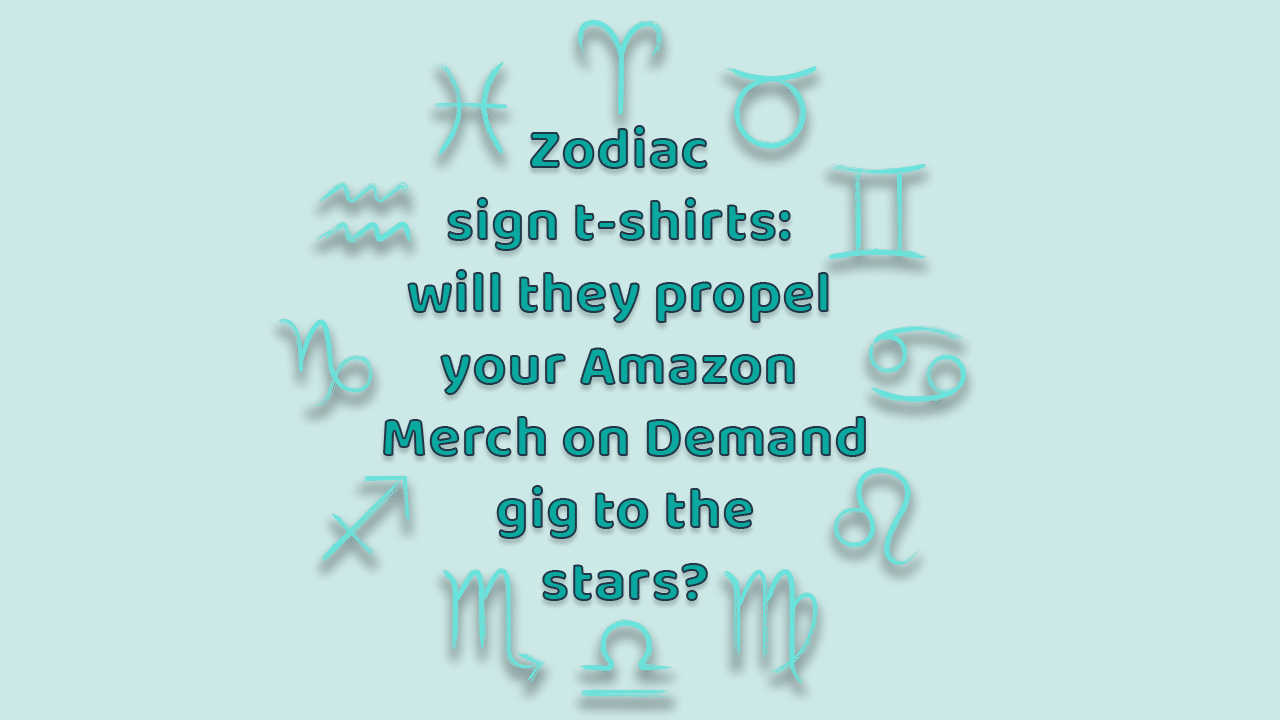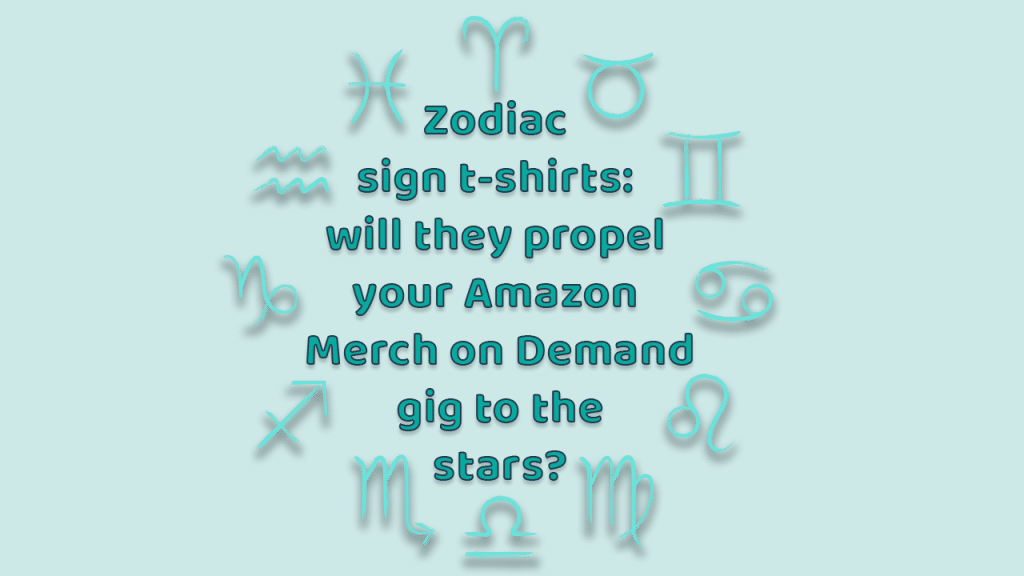 Zodiac signs and astrology are among the topics that trigger heated discussions and controversial opinions. While some believe that those who share a star sign have common personality traits, others completely reject the idea.
Regardless of your stance on the matter, the truth is that there's a vast and well-developed zodiac t-shirt market on Amazon Merch on Demand.
In this article, we'll explore the astrology niche in full depth and offer valuable insights that will help you decide whether it's worth your while.
An overview of the zodiac t-shirt market on Amazon Merch on Demand
As you can imagine, the zodiac sign t-shirt segment consists of a lot more than "zodiac tshirts". Think of anything related to the topic, such as astrology, horoscopes, constellations, star signs, and even planets and space.


Additionally, there are a total of 12 star signs that can be regarded as sub-niches:
Aries
Taurus
Gemini
Cancer
Leo
Virgo
Libra
Scorpio
Sagittarius
Capricorn
Aquarius
Pisces
For the dedicated enthusiasts, there are also sun sign, moon sign and planetary alignment t-shirts.
What does this diversity mean? To enter this zone with a winning strategy, you'll need to be precise about the niches and sub-niches that you select. To help you, we'll introduce you to some interesting and valuable discoveries made with the help of Merch Informer.
Examining average BSRs
We used the general words from the space (excluding individual star signs) to examine the best-selling t-shirt listings.
We uncovered the following average BSRs:
Star sign – 15 065
Astrology – 346 530
Zodiac – 492 613
Horoscope – 561 113
It appears that "star sign tshirts" perform best, with significant differences in BSR compared to others. However, note that this number is skewed as the displayed listings for this phrase are not limited to the zodiac theme. For example, some of the titles include the word "star" combined with other niches, like "space stars", "lone star" and others.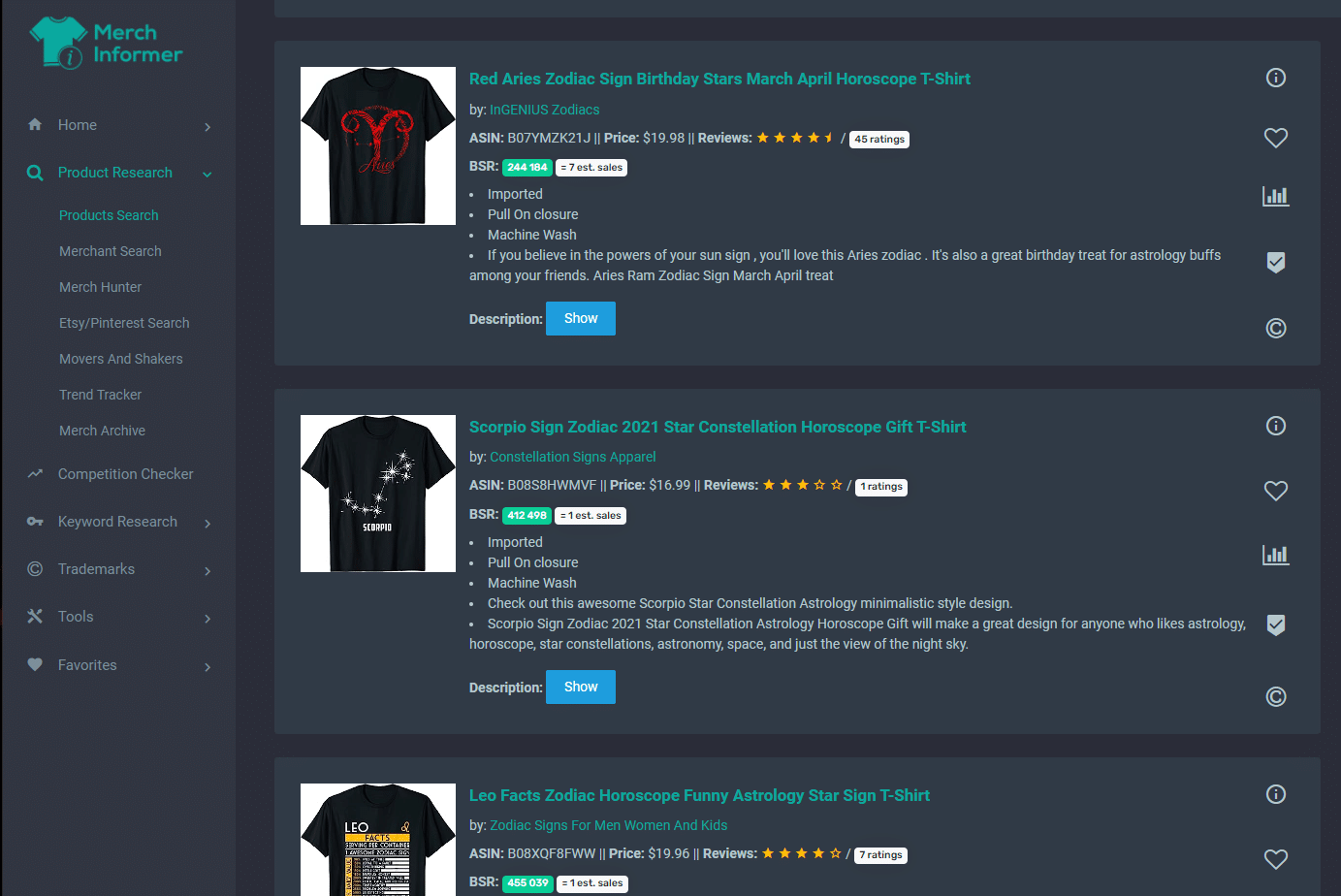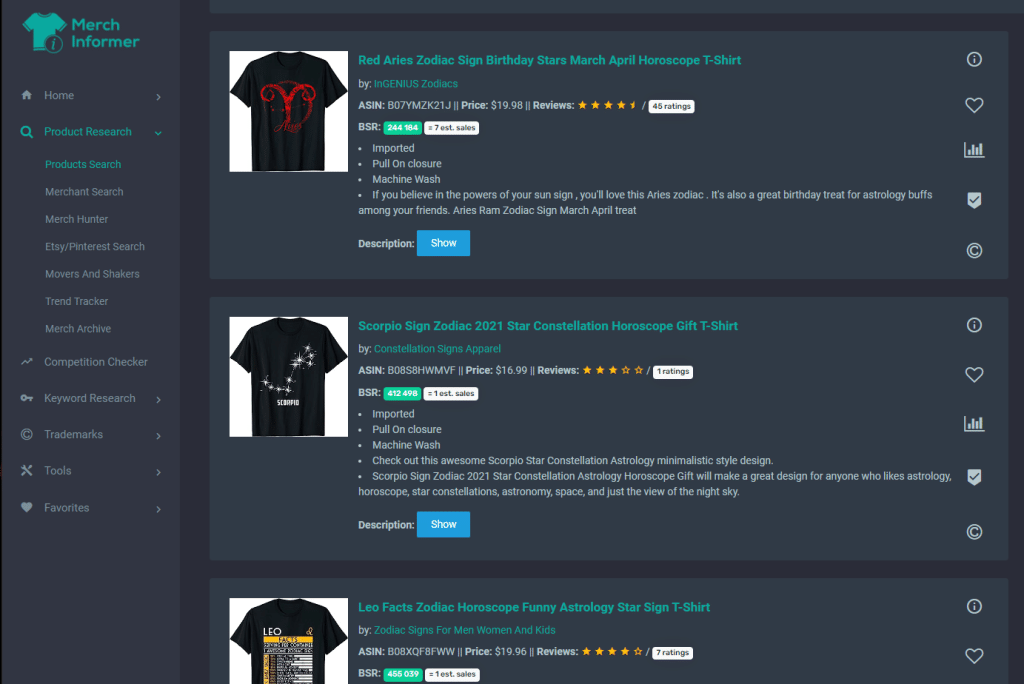 This brings us to the conclusion that "astrology t-shirts" is the dominant keyword in terms of BSR in this niche, as they are unambiguously related to the zodiac genre.
Market saturation
When it comes to market saturation, we noticed that there are less than 500 top-performing listings for all four words. The leader is "zodiac" with a total of 324 listings, followed by "astrology" with 217. Again, we've excluded "star sign" from this sorting as it includes irrelevant listings from different themes.
These numbers suggest that the market is not as saturated as others, where you can see thousands of bestsellers. Usually, this also indicates a lower level of competition. However, this theory was proven wrong with our findings from keyword research.
Competition & popularity among shoppers
Surprisingly, all keywords related to zodiac sign t-shirts are incredibly competitive, according to Merch Informer's Keyword Research tool. Here is a list of related words and phrases along with their monthly search volume and competition level:
zodiac tshirts – 3 405 – high
zodiac t-shirt – 1 900 – high
horoscope tshirt – 1 786 – high
astrology tshirt – 1 755 – high


This is an interesting case as these words are not very popular in terms of search volume. While other niches generate hundreds of thousands of searches, "zodiac tshirts" are only searched for around 3 500 times per month. Yet, a vast number of sellers are striving to rank for these terms, making them highly competitive.
Naturally, the most popular occasions for purchasing a zodiac sign t-shirt are birthdays. This is evident when inspecting the most frequently used words in chart-topping listing titles. So if you're hoping to make a strong entrance in the field, we suggest dipping your fingers in this opportunity.
A deep dive into related sub-niches
So far, we've concluded that the earning potential of zodiac t-shirts may be overshadowed by the strong competition in the niche.
But what if we go a step further and inspect the sub-niches? Don't forget that there are 12 zodiac signs that you can exploit to diversify your portfolio and increase your profits. However, they're not all equal in terms of sales potential.
Our digging uncovered that Aries t-shirts have the lowest average BSR (701 060). Put otherwise, they secure  the highest number of sales.
But before we get too excited, let's take a moment to analyze the situation. Our research was performed on March 21, 2023. People born from March 21 to April 19 are Aries as a star sign, making it natural that this type of t-shirt is booming in sales at the moment. Why? Because an Aries t-shirt makes a great birthday present and now is the perfect time to surprise someone with such a gift.
We'll dive deeper into the seasonality specifics of the niche in the following section.
From all star signs, the top five according to average BSR are as follows:
Aries – 701 060
Virgo – 1 010 175
Libra – 1 039 629
Pisces – 1 065 682
Taurus – 1 082 004
Apart from the average BSR of this sub-niche, we also noticed that from all zodiac signs, Aries triggers the most interest among consumers. Words like "aries tshirts" generate 4 738 monthly searches, indicating that this is an attractive theme for shoppers.


This keyword is followed by:
libra tshirt – 4 416 – high
virgo tshirt – 4 348 – high
taurus tshirt – 3 219 – high
gemini tshirt – 3 172 – high
As you can see, words and phrases related to individual zodiac signs are also very competitive. This only proves our initial theory that it will be more gruelling for new sellers to gain popularity in this market.
But these insights shouldn't serve as a stopper. Instead, if you've set your eyes on this niche, you can explore creative avenues to set up your strategy. For instance, we suggest merging niche-specific keywords in your titles or descriptions with trending themes, like humor. Additionally, you can target a particular audience to gain a competitive edge over other, more general listings.
There are plenty of approaches to take, which we discuss later when exploring the bestsellers.
Seasonality – a crucial factor to consider
Earlier, we noted that Aries t-shirts are particularly attractive towards the end of March due to the timing. The same goes for all other zodiac signs. While t-shirt designs that cover the broader niche (zodiac, horoscopes or astrology) can sell all year round, star sign t-shirts are a seasonal trend.
This can clearly be seen when tracking the sales volume of specific listings. For example, we used Merch Informer's Merch Hunter tool to follow the pick-ups and drops in sales for one of the top-selling listings for "libra tshirts".


We saw that while the product's BSR was more than 3 million on September 17, it suddenly dropped to 452 544 on September 29. Why? Because the libra sign governs the period from September 22 to October 23. In other words, libra t-shirts are more appealing towards the end of September, as this period is characterized by a ton of libra birthdays.
This discovery is essential to consider if you're prepping to make an entry into the zodiac sign niche. To achieve maximum sales, make sure to plan your t-shirt design releases in advance.
Analyzing the bestsellers in the space
Now that you're familiar with the basics, let's look at some top-performing examples on Amazon Merch on Demand. We've selected the "aries" and "astrology" keywords as they dominate the space according to BSR and search volumes.
The "Aries Girl Birthday Gifts Funny Leopard Sexy Lip T-Shirt" listing is number one for this zodiac sign. It has a BSR of 86 134 and lands around 30 sales per month. Shoppers can purchase it for $14.99, which is much lower than the average in the segment ($17.89). This provides an extra level of attractiveness in the mind of the consumer.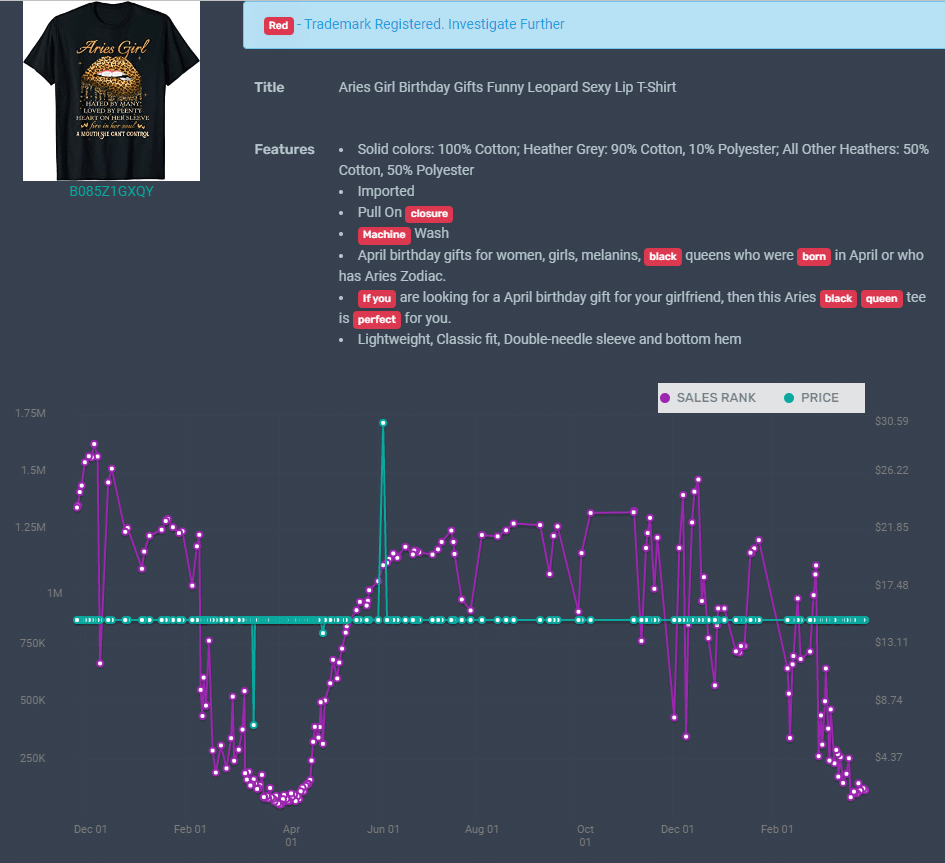 But let's analyze the title. It features some of the phrases and niche ideas we mentioned above. The listing is optimized for "aries", "birthday" and "funny". At the same time it has another layer of targeting thanks to words like "girl", "leopard" and "sexy". This technique helps the seller enjoy higher visibility, which leads to more traffic. Combined with an alluring design, the listing stands out with the most sales in the field.
The conclusions we made by looking at the record-breaking t-shirt listing for the word "astrology" is similar. The "Aries AF Astrology March April Birthday Zodiac Funny Gift T-Shirt" contains essential words, like "astrology", "birthday", "zodiac", "gift" and "funny". You'll also notice that it is targeted at Aries and strategically utilizes "March" and "April" in the title. This ties in perfectly with the seasonality trends we discussed above.
This overachiever has a BSR of 99 255, which translates into roughly 30 sales per month. It's priced at $19.98 or higher than the average in the astrology t-shirt category ($18.36). The pricing strategy here is different from the one in the previous example. This only shows that while important, pricing is not all that matters for your performance.
What all of this means for you
Let's tie all of this information into some practical advice.
The zodiac sign t-shirt space has the potential to generate extra earnings for Amazon Merch on Demand sellers. However, competing in the niche will be thorny due to the aggressive competition in the market.
We recommend making use of diverse sub-niches and creating a beautiful cocktail of genres that create an eye-grabbing, easy-to-rank listing. When making your decisions, don't forget to consider your pricing strategy, design, audience, description and other listing components.
All of this information is at your fingertips, ready to access in Merch Informer. Use it to your advantage and turn your listings into leading merch designs in the zodiac scene on Amazon Merch on Demand.