3 lesser-known but surprisingly lucrative niches on Amazon Merch On Demand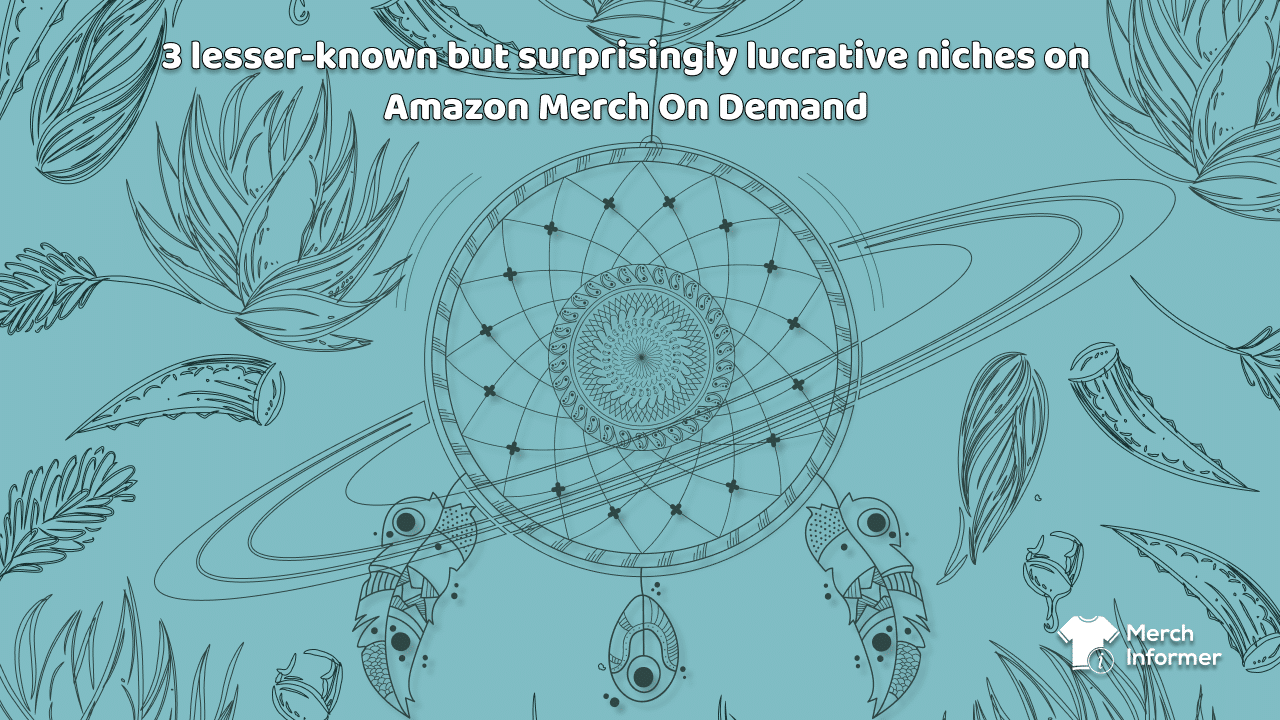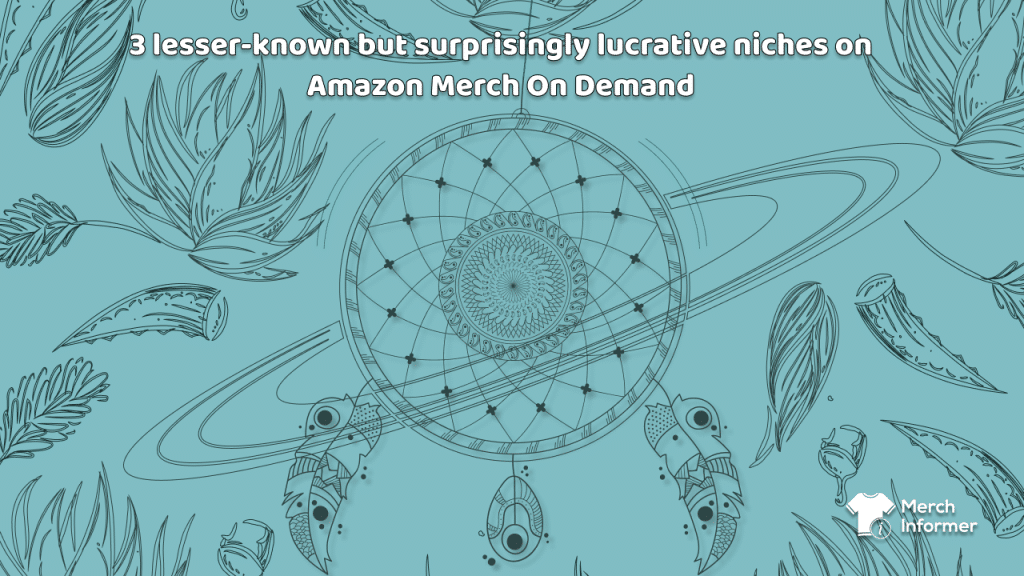 In the bustling, vibrant digital marketplace that is Amazon Merch On Demand, there's gold to be unearthed if you know where to dig. Sure, the well-trodden paths of popular niches provide a steady stream of opportunities, but the hidden wealth often lies off the beaten path.
For those brave enough to venture into the unknown, a cornucopia of surprisingly lucrative niches awaits.
In the following sections, we'll shed light on four such gems that are often overlooked yet hold enormous potential. So put on your explorer hat and let's embark on a journey to uncover lesser-known but surprisingly profitable niches on Amazon Merch On Demand.
Saturn
Zodiac signs, astrology, and anything cosmos-related are all markets that are real hits on Amazon. We've swum these waters in a separate post, where we uncovered the potential of these niches in detail.
But to escape the highly competitive markets, we took a different approach and performed research into individual planets. Our aim was to identify smaller, less trendy, yet lucrative alternatives to tap into. As it turns out, sub-niches, like Saturn, can create vast profit-making opportunities for POD merch creators.

Let's see what the numbers have to say.
One of the bestsellers from this space is the "Folklore Moon Saturn" listing. It sells for $17.98 and has a BSR of 339 827. With this price, the seller enjoys royalties of around $3.41 per sale.
Meanwhile, this market remains unpopular and underdeveloped. Using Merch Informer's Merch Hunter tool, we found out that there are only 40 listings rankings in the top-performing category. Their average BSR is 228 905, which is much lower than most other niches, indicating a high sale potential.


In addition, the average prices in the segment are reasonably attractive, guaranteeing satisfactory royalties:
Lowest Price $14.90
Highest Price $22.99
Average Price $18.50
In addition, Merch Informer helped us reveal the search trends related to this theme. We extracted the following data:
rings of saturn shirt – 6 230
saturn devouring his son shirt – 4 452
saturn tshirt – 3 219

Phrases like "rings of saturn shirt" generate a monthly search volume of more than 6,000. At the same time, general keywords such as "saturn tshirt" land around 3,000 searches per month.
All of this proves that the market is not among the hottest niches. However, considering the performance of some of the listings ranking for "saturn", it's safe to say it's one worth exploring further.
Aloe vera
Next, we examined another eminent merch niche – plants. As with most other general topics, it's characterized by loads of searches, impressive sales volumes, and low BSRs. But what if you skip the lines of other sellers and arrive directly at a sub-niche with promising potential?
Throughout our discovery process, we identified aloe vera as one of the themes that can help you achieve exactly that.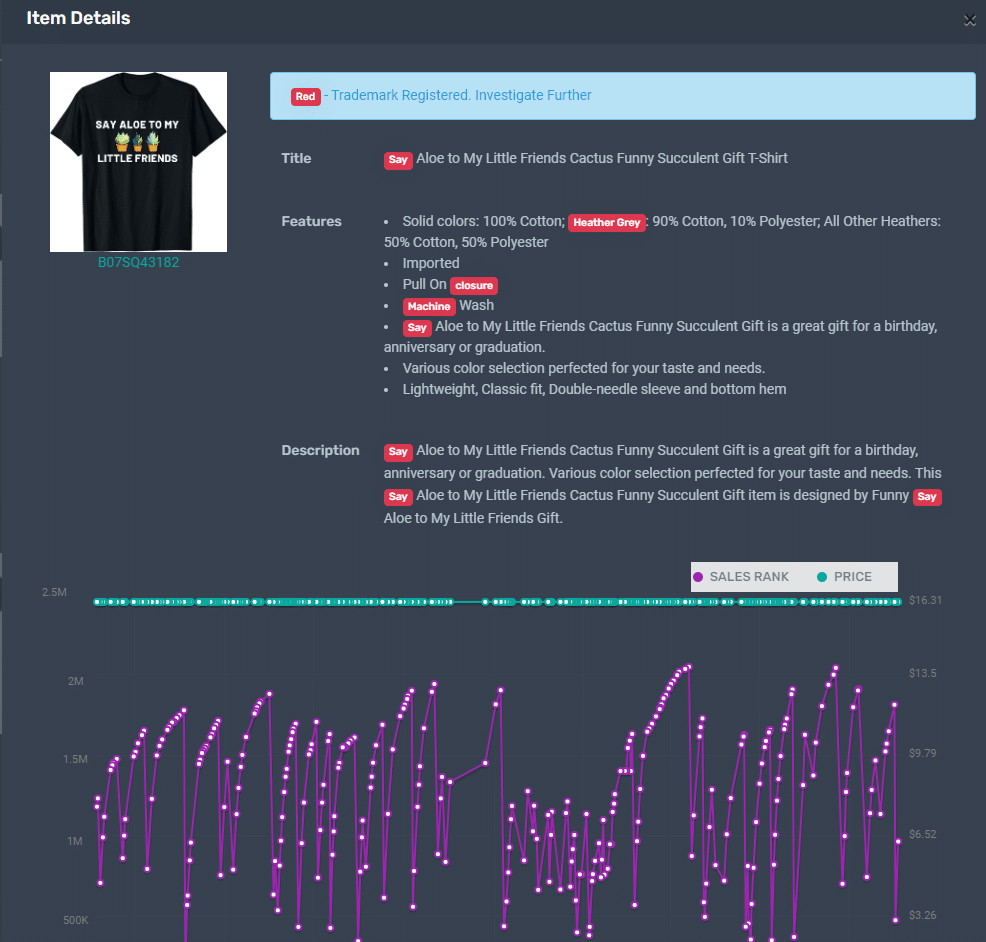 Let's take a chart-topper from the segment. The "Funny Say Aloe to My Little Friends Gift" listing sells for $15.99 and has achieved a BSR of 702 193. Keep in mind that this BSR is much higher than the previous examples. However, it's still below that of listings in the vast range of broad, well-developed niches, like plants.
When it comes to the aloe vera niche overall, there are only 6 listings that appear among bestsellers. Despite the fact that you're free to ask for any amount of money for your merch design, the market averages are:
Lowest Price $15.99
Highest Price $25.00
Average Price $20.15
Right off the bat, the highest and average prices stand out as highly competitive.
Just like all of the other explored niches in this article, aloe vera merch is not very popular among users. For instance, "aloe vera shirt" only has a monthly search volume of 1 278. Nonetheless, it's an easy grab for newbies looking to expand into less popular niches.
Feathers
Lastly, we came across an unexpected theme that opens up a lot of creative and money-making opportunities on Amazon Merch on Demand – feathers.
Think of bird designs, Native American designs, and dreamcatchers.
For example, the "Birds of a Feather T-Shirts" design is among the listings that have achieved the lowest BSRs in the market. It sells for $13.99 and has a BSR of 317 086. But don't be put off by the low price. This specific product is priced the lowest in the niche. However, the average price of items ranking for "feathers" is $19.68, while the highest is $29.99.
In other words, you can secure much higher royalties per sale when competing in this segment.
Overall, there are 91 top-performing listings, with an average BSR of 384 402. You'll notice that there are plenty of alternatives to choose from, unlike in the niches that we explored above. However, compared to other markets, the feathers theme still falls under the category of lesser-known, yet lucrative spaces.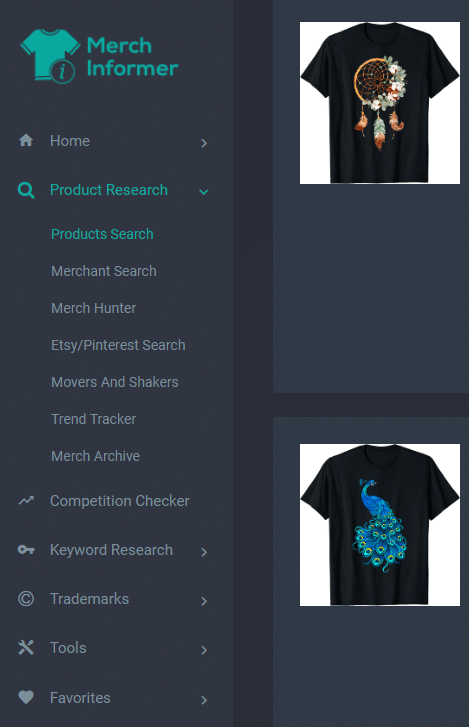 In terms of keyword popularity, we identified a similar trend as to all other examples – low search volumes:
feathers shirt – 1 932
feather sweatshirt – 1 876
These numbers prove that the feather market is limited in size. At the same time, taking into account the potential prices of merch designs, it falls under the category of lucrative opportunities.
A quick reminder
And there you have it. Four lesser known niches that have incredible potential. And how did we manage to identify them?
With Merch Informer. Your go-to Amazon intelligence tool that goes for only $9.99 per month.