5 landmark and travel-related themes to exploit as an Amazon Merch On Demand seller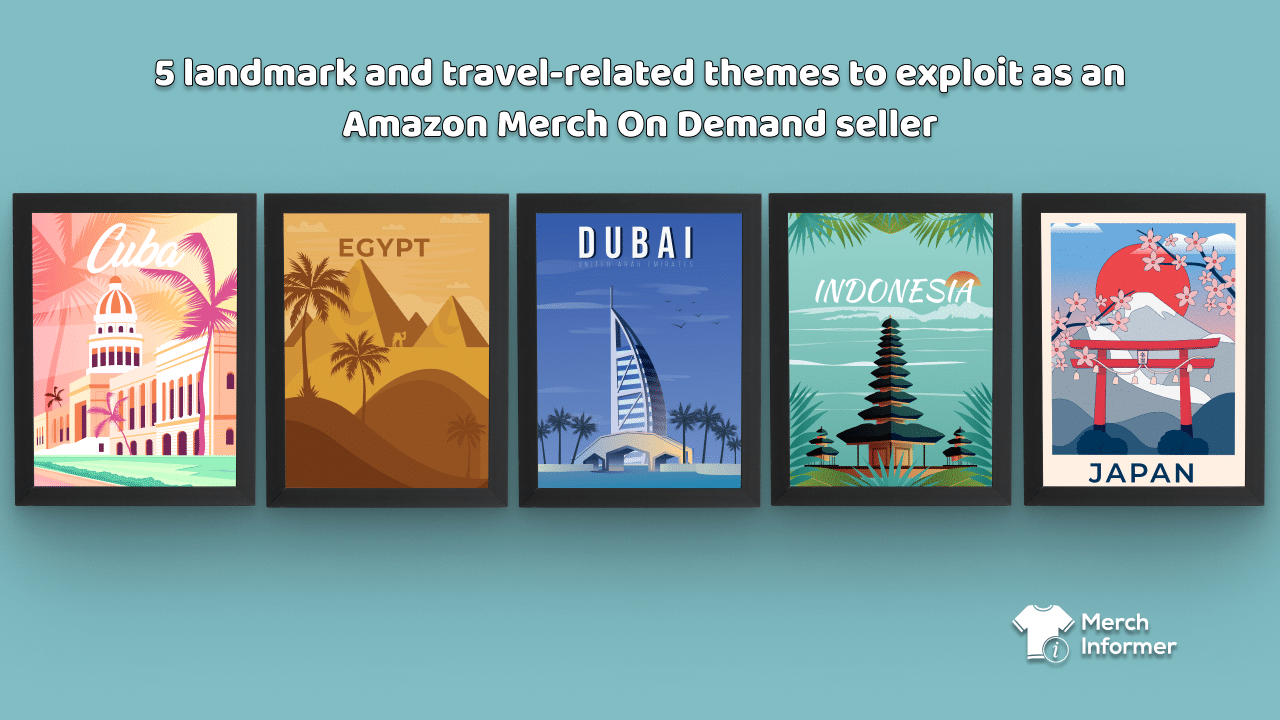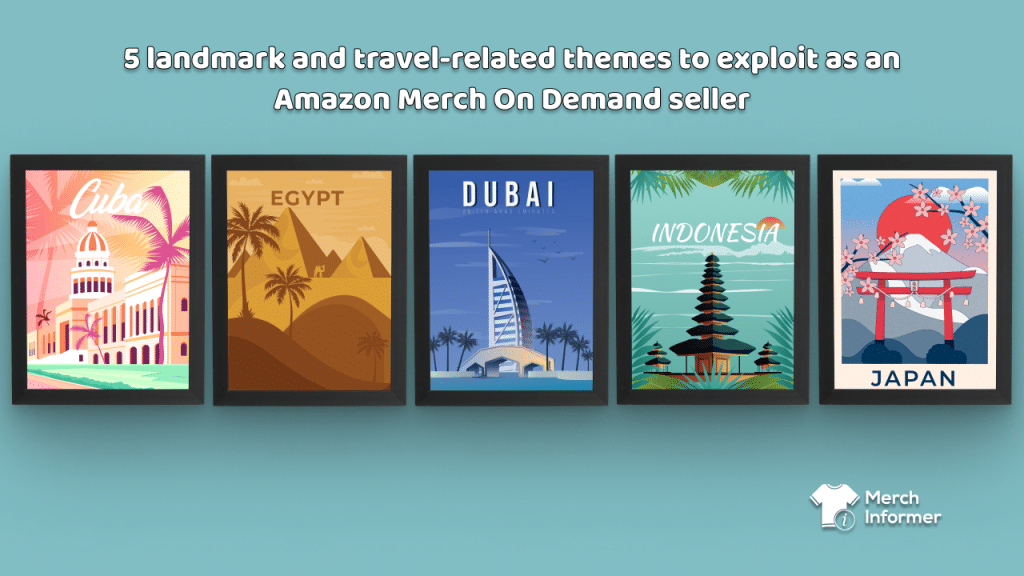 Are you an entrepreneur with wanderlust running through your veins? The travel industry has always been a lucrative realm, but guess what? You don't have to be an airline owner to cash in on it.
Amazon Merch On Demand is your passport to creating an enviable range of merch designs that'll take travel enthusiasts on a journey around the world without leaving their couch. Pack your bags as we explore five landmark and travel-related themes that will excite shoppers and offer promising returns for sellers.
Tourism as a niche on Amazon Merch on Demand
There are a myriad of diverse tourism themes you can experiment with to achieve profit maximization as a POD merch creator. Nonetheless, some specific markets are bound to sparkle with higher interest among consumers than others.
To identify these segments, we used Merch Informer's features for valuable insights. And instead of focusing solely on the bestsellers, we approached this topic with consumer behavior at the heart of our discoveries.
We researched the travel niche on Amazon Merch on Demand to uncover the themes that generate the highest search volumes. Why is search volume important in this case? Because it represents the level of interest buyers have towards certain products.

After analyzing a ton of popular travel destinations, we concluded that the top searched-for locations are:
Dubai
Japan
Cuba
Indonesia
Egypt
Now, let's dive deeper to reveal the most attractive stops within these destinations and some of the trending searches. This information is vital as it will equip you with the ability to craft a firm seller strategy.
Japan
The leader in our findings, in terms of the most attractive tourist destinations on Amazon Merch On Demand, is Japan. And when we think of Japan, the first thing that comes to mind is Tokyo.
With a striking monthly search volume of 29 699 for "tokyo hoodie", this niche should not be overlooked by merch creators.

But as tempting as this may sound, the competition level of this phrase is high. In other words, achieving success here will be much more challenging than in other markets.
Interestingly, this applies to all related phrases that we extracted from Merch Informer:
japan hoodie – 7 351 – high
japan shirts – 7 237 – high
tokyo japan shirt – 5 707 – high
japan sweatshirt – 3 799 – high
japan flag shirt – 3 737 – high
Next to each phrase, you can see its monthly search volume and the level of competition. Naturally, as a hot theme on Amazon, all keywords go hand in hand with substantial rivalry.
But will it be worth it to climb to the summit in this market? One way to find out is to inspect the bestsellers.
The "Harajuku Tokyo Japan Gifts by MCMA" listing is the best-performing item rankings for "Tokyo". With a price of $19.98, it has achieved a BSR of 203 291. This translates into roughly 10 sales per month.
Although this may not be the ideal listing in terms of metrics, it is great for diversifying your portfolio and tapping into a market with a wide audience. This can help you build on your brand awareness and make your seller name recognizable.
Cuba
Next up, we found out that Cuba also creates waves among shoppers. As expected, Havana is the most attention-grabbing destination here, which we confirmed via Merch Informer's Keyword tool.
Here are the merch-related phrases that generate the highest searches from this niche:
cuba shirt – 25 433 – high
cuba tshirt – 12 477 – high
cuba hoodies – 4 417 – high
havana shirts for men – 4 259 – high

Similarly to our findings from Japan, the competition level here is also high. You'll notice this tendency repeat itself as we continue with our list of lucrative landmark themes to exploit.
When dissecting the chart-toppers, we noticed that the majority of designs feature the Cuban flag color (white, blue, and red). The imagery tends to be vibrant, with rich colors representing Cuban culture.
For instance, the "Classic Cuban Shirt Co." best-selling listing displays the Cuban flag with text reading "Asere Que?". This is the most popular way to address a friend in Cuba and is one of the most often-used phrases in the country.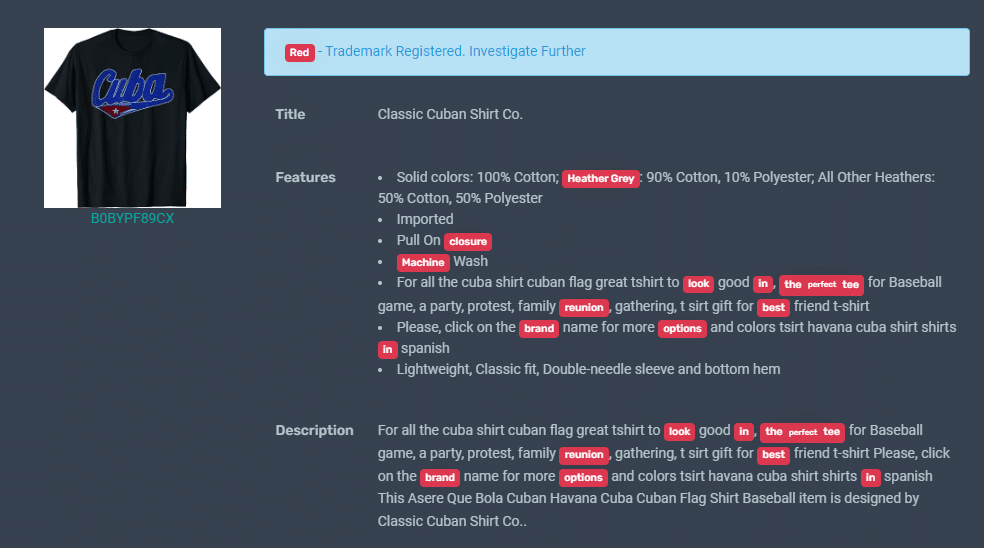 This design sells for $19.98 and has a BSR of 201 378. Just like the example from above, it generates around 10 sales per month. Looked at alone, it won't be enough to secure the earnings you're after. At the same time, it's a strategic approach to winning a market share of a high-demand segment on Amazon Merch on Demand.
Dubai
Nestled on the golden sands of the Arabian Desert and wrapped in the azure waves of the Persian Gulf, Dubai is a city where the impossible is brought to life.
With its soaring skyscrapers and a culture that's deeply rooted in Bedouin traditions, Dubai is an astonishing blend of ancient and ultra-modern. And given the multiple records, such as the tallest skyscraper, fastest roller coaster, largest frame, and largest musical fountain – it's safe to say it is a trendy travel destination.
Unsurprisingly, interest towards Dubai can also be seen on Amazon.
Users are actively searching for general niche-related terms. However, they're also interested in t-shirts and sweatshirts specifically:
burj khalifa – 30 221 – low
burj khalifa t shirt – 9 696 – high
dubai tshirts – 4 730 – high
dubai sweatshirt – 3 742 – high

What's striking about this data is that broad keywords like "burj khalifa" have a low competition, while niche phrases such as "burj khalifa t shirt" are aggressively competitive.
This signals that there is a well-developed merch segment around this topic. And while it may be difficult to enter the space as a newbie, a creative flair and valuable insights can help you turn the tables in your favor.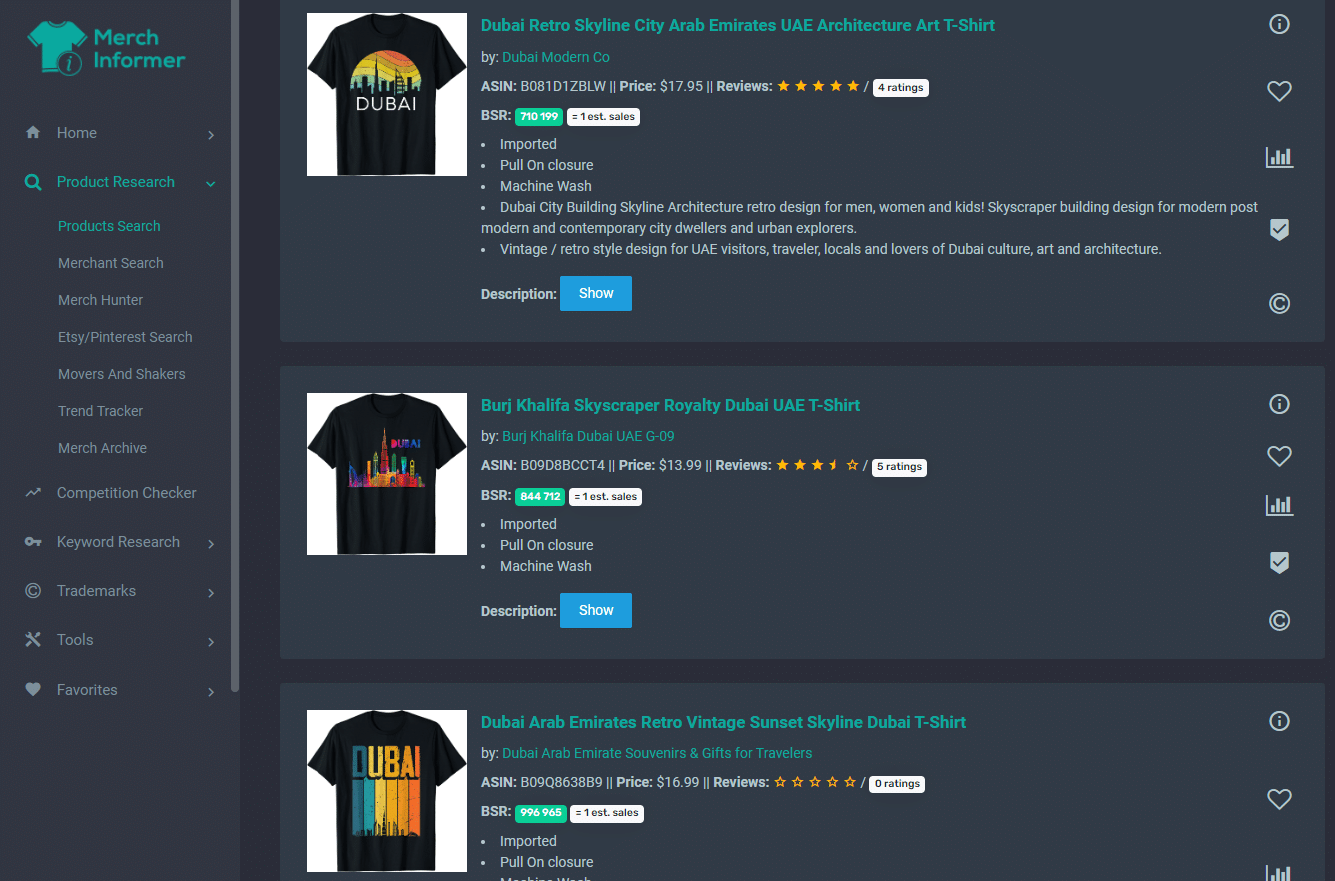 A look into the bestsellers that rank for "dubai" uncovered "Burj Khalifa Dubai UAE G-09" as the most successful design. The product sells for $13.99 and has a BSR of 885 919. It attracts shoppers with a colorful and vibrant outline of Dubai's most popular landmarks.
The seller has cleverly used "burj khalifa" and "dubai" as two popular keywords to help boost visibility.
Indonesia
With more than 17,000 islands forming a tapestry of cultures, flavors, and landscapes, Indonesia wins the hearts of tourists every year.
Nestled between the Indian and Pacific Oceans, Indonesia is a treasure trove of biodiversity and rich heritage. From the emerald rice terraces of Bali, the majestic Komodo dragons in Flores, to the ancient temples of Borobudur in Java, there is no end to the wonders that await.
But why is all of this useful to know as an Amazon merch seller? Because it can be used to your advantage to tailor your designs to meet the expectations of travel enthusiasts.
Our keyword research unveiled the following search volumes and competition levels for related phrases:
bali tshirt bra – 8 817 – high
bali tshirt – 6 651 – high
indonesia tshirt – 1 755 – high
As you can see, Bali generates more interest than Indonesia when it comes to merchandise. Still, an aggressive sales strategy could help you outperform the competition and make your listings discoverable.
We suggest creatively optimizing your listing for other popular phrases, like Komodo, Flores, Borobudur, and Java. This will enable you to maximize your chances of discoverability, traffic, and ultimately – sales.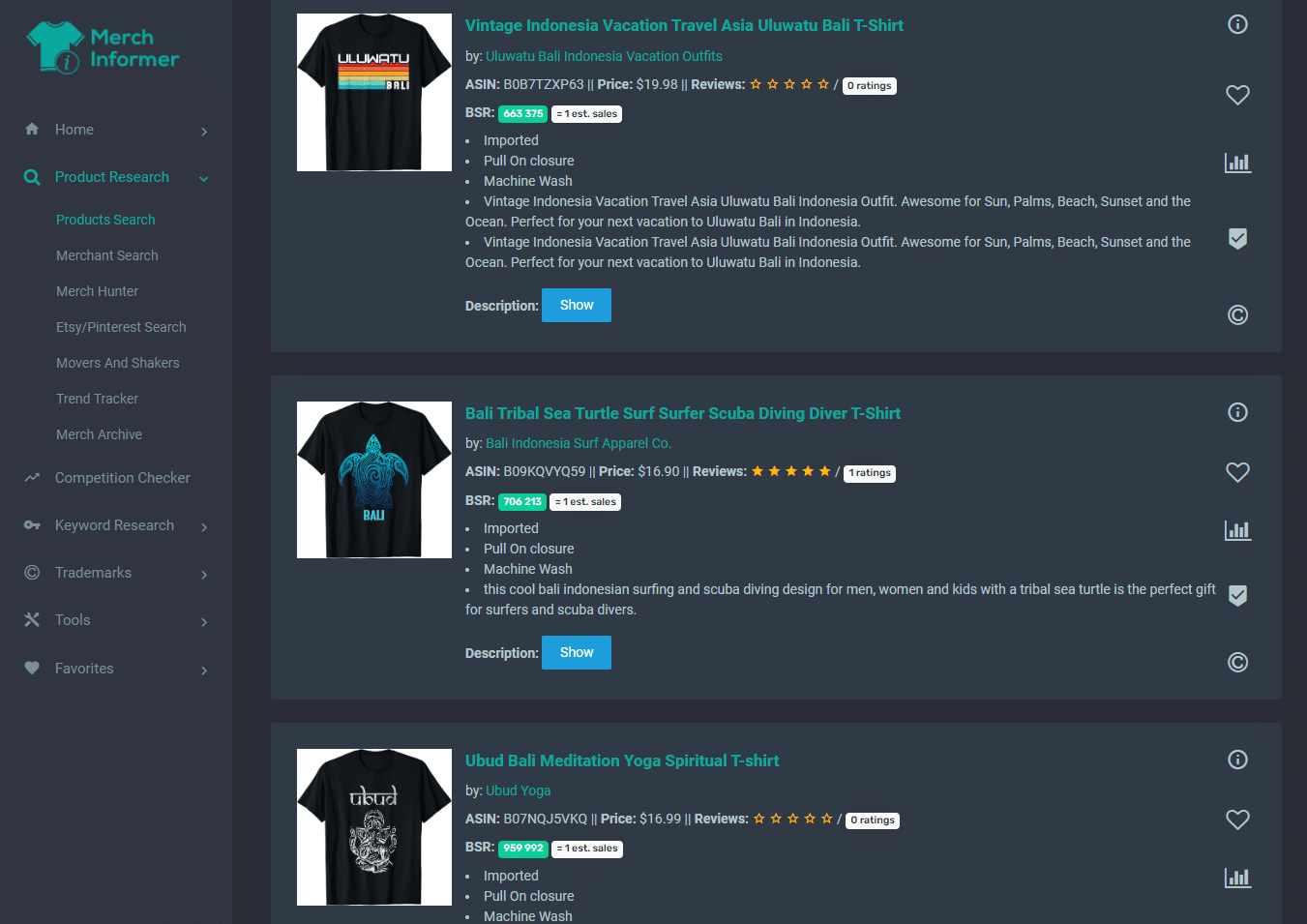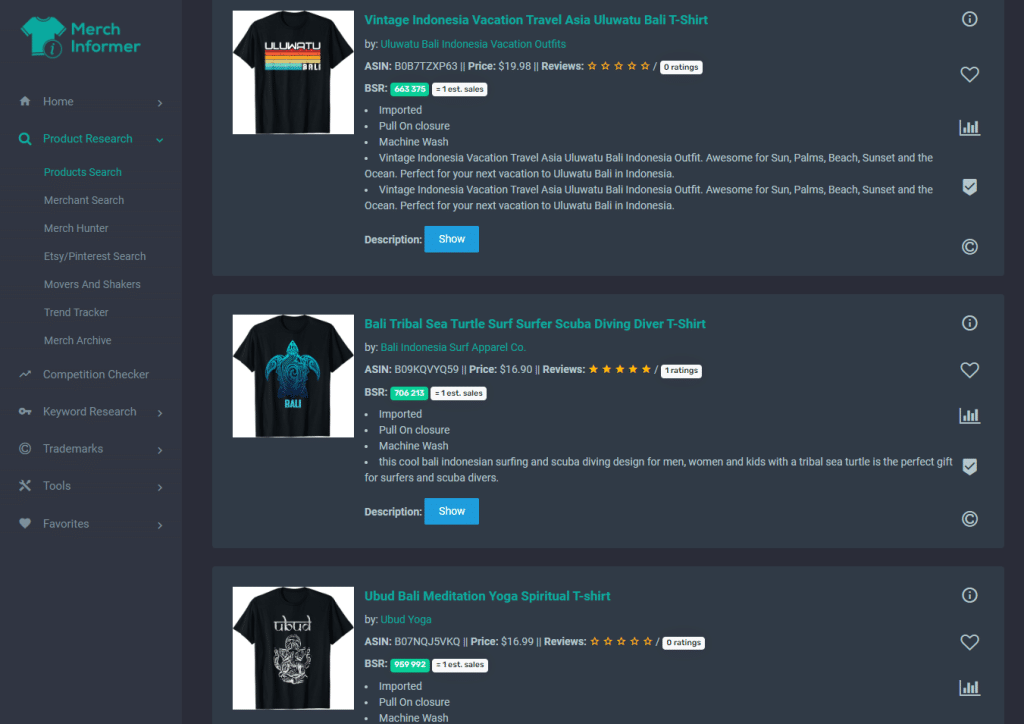 Looking into the successful merch items, we discovered the "Bali Tshirt Indonesia Men Women Kids Beach Kuta" listing. It's among the overachievers in the space, selling for $17.98 with a BSR of 1 243 184.
Here, the merch designer has utilized a combination of keywords, like "bali", "indonesia", "beach", and "kuta". In addition, they've used the listing title to address the target audience (men, women, and kids). This empowers the seller to directly reach the right audience, doubling the chances of success.
Egypt
The last landmark that we identified as exciting to target as a merch seller is Egypt.
Revered as the cradle of civilization, Egypt's enchanting landscapes are full of ancient treasures. From the spellbinding Pyramids of Giza to the majestic temples and tombs along the Nile, Egypt is an endless anthology of archaeological wonders.
Merchandise inspired by Egyptian landmarks is perpetually popular and for a good reason.
Whether it's a shirt imprinted with the mighty Anubis or a hoodie with intricate hieroglyphs, Egyptian-themed merchandise transports Amazon buyers to a thrilling land. Merch Informer's insights only prove this theory:
egypt shirt – 6 666 – high
egypt tshirt – 4 346 – high
egypt flag shirt – 3 799 – high
egypt hoodies – 3 171 – high
With nearly 7,000 people searching for "egypt shirt", it's safe to say that there is an exciting money-making opportunity here. And while this search volume is much lower than that of Japan-related merch, for instance, it is still considered lucrative from a seller perspective.
When assessing the bestsellers, we identified some of the mentioned above landmarks as trending. For instance, the number one listing in the space is "Egypt Egyptian Pyramids Gift Idea", which sells for $14.99 and has a BSR of 638 080.


It features the famous Egyptian pyramids and is clearly targeted at tourists as a gift product.
Wrapping up
Our journey around the world using Merch Informer has rewarded us with key findings on popular and fruitful landmark niches.
If you're interested in tapping into the travel theme on Amazon Merch on Demand, you're off to a good start with the provided information. Nonetheless, don't forget that business intelligence tools like Merch Informer are vital for adequate decision-making.
Use it to your advantage and get ahead of the competition.