Analyzing text-only t-shirts on Amazon Merch on Demand: Is it a lucrative market for sellers?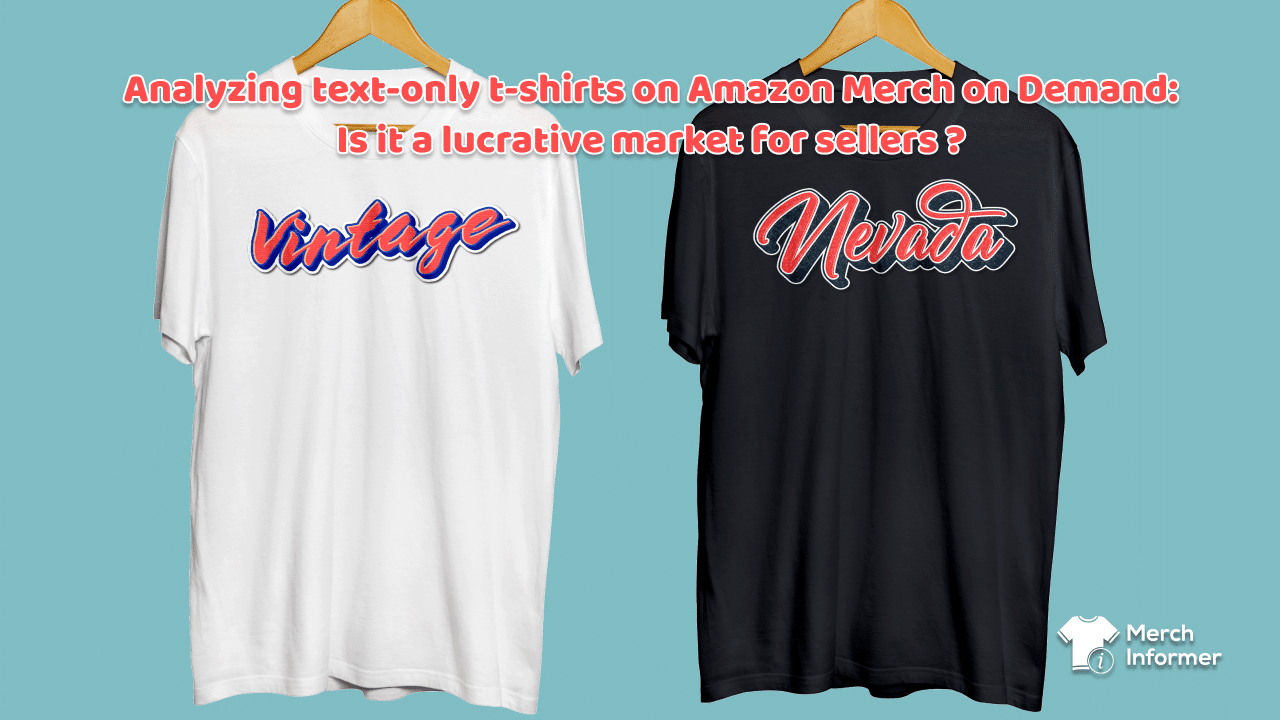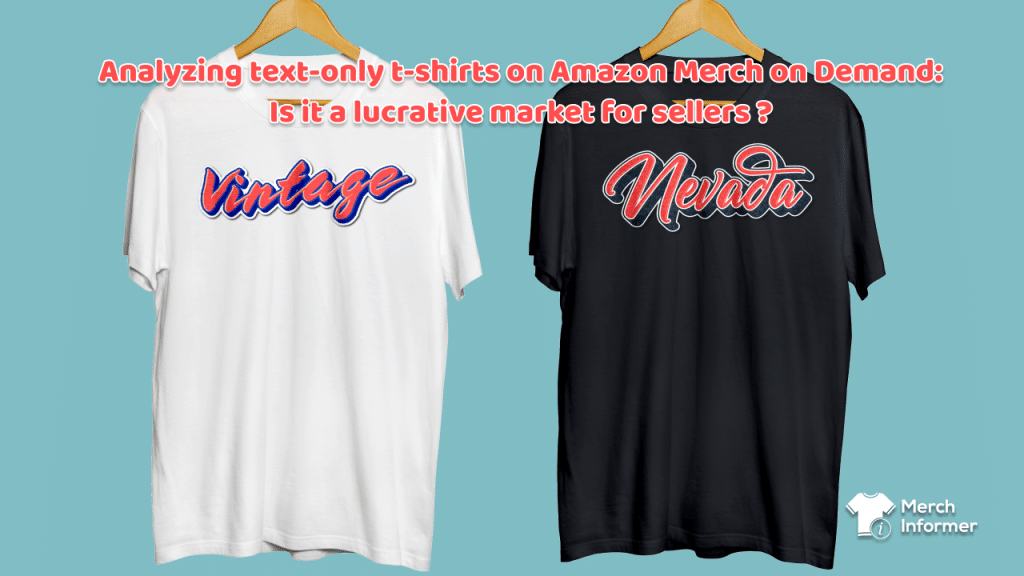 Are you an Amazon Merch on Demand seller who doesn't possess natural creative skills?
Don't worry.
Perhaps text-only t-shirts are a lucrative option to explore, especially given the variety of fonts and sizes that you can play around with.
But how attractive are these merch designs and is there scope for profitability?
Stick around to find out.

How big are text-only t-shirts on Amazon Merch on Demand?
Using Merch Informer's Products Search module we quickly revealed the market size for this niche.
We performed our search by typing in "text only" in the software's search box, choosing the US as the marketplace, and selecting t-shirts as the category of apparel.
Here's what we found in terms of keywords, search volume, and best-seller's ranks (BSRs).
Keywords, search volume and BSR
We discovered that although there are over 500 products that rank for "text only", these results have a low average BSR of only 219,654.


This indicates that while the market is competitive, the sales potential of the niche is attractive.
But to confirm our theory, we studied the top 10 short- and long-tail keywords in the space. We examined their associated search volumes to unearth if there's any demand for these products.
Here's our key finding:
"Text only": search volume – 9,642

This result signals that less than 10,000 user searches are performed on Amazon for "text only" items. Furthermore, this phrase isn't necessarily linked to apparel but could be related to any other type of product sold on Amazon.
All the remaining keywords, having a comparatively high combined search volume, are related to mobile phones, the Bible, and SIM cards.
Therefore, the niche is lacking in search queries to warrant much depth or interest in this space.
Listing saturation
To reinforce our conclusion, we also investigated how sellers are currently faring on the platform. We used listing saturation as a key metric for our assessment
By applying this approach, we can understand how existing merchants in this niche are using high-search-volume keywords to secure higher rankings and more sales.
The results revealed the following:
Seed or primary keyword: text (847)
Adjectives: funny (553), cool (112), fun (81), awesome (73), cute (72)
Occasion: birthday (238), Christmas (221), gifts (136), present (66)
Audience: women (194), men (165), senior (118), family (111), citizen (95), girls (91), teacher (89), friends (84), dad (84), mom (84), kids (78), friend (73)
Type of shirt: vintage (175), graphic (90), retro (70)
Verbs: texting (152)
Next to each word, you can see how frequently it is used across listing titles and descriptions.
The numbers show that most of the shirts in this niche are meant to be funny or fun. In most cases, this is achieved via sarcasm or irony. In addition, they are primarily purchased as gifts for special occasions such as Christmas or birthdays.
A further analysis of these results shows that the audience in this market is large and diverse.
The reason? Because text-only t-shirts cater to many different ages (like seniors, kids, and parents).
The insights above also suggest that sellers have the freedom to play around with different fonts. This can produce effects such as vintage and retro, which are also popular according to the data.
Pricing
To become familiar with the profitability perspective of a market, it's key to observe existing market prices.
We explored the different price ranges that others in this segment are charging and discovered the following:
Lowest price: $13.38
Highest price: $39.99
Average price: $19.03
From the above, we can gather that the highest price is on the extreme (nearly $40, compared to an average price of around $19). One explanation for this might be that perhaps there is an anomaly created by a single seller's pricing strategies.
For this reason, we recommend taking into consideration the average selling price, rather than counting on making big bucks with t-shirts that cost $30-$40.
What are some of the bestselling merchants doing right?
Unfortunately, we were unable to identify any bestselling merchants. This is because all so-called "bestsellers" only achieve monthly sales of one item at most.
It would appear that the niche, despite its diversity, is not as profitable or as lucrative as one might have hoped for.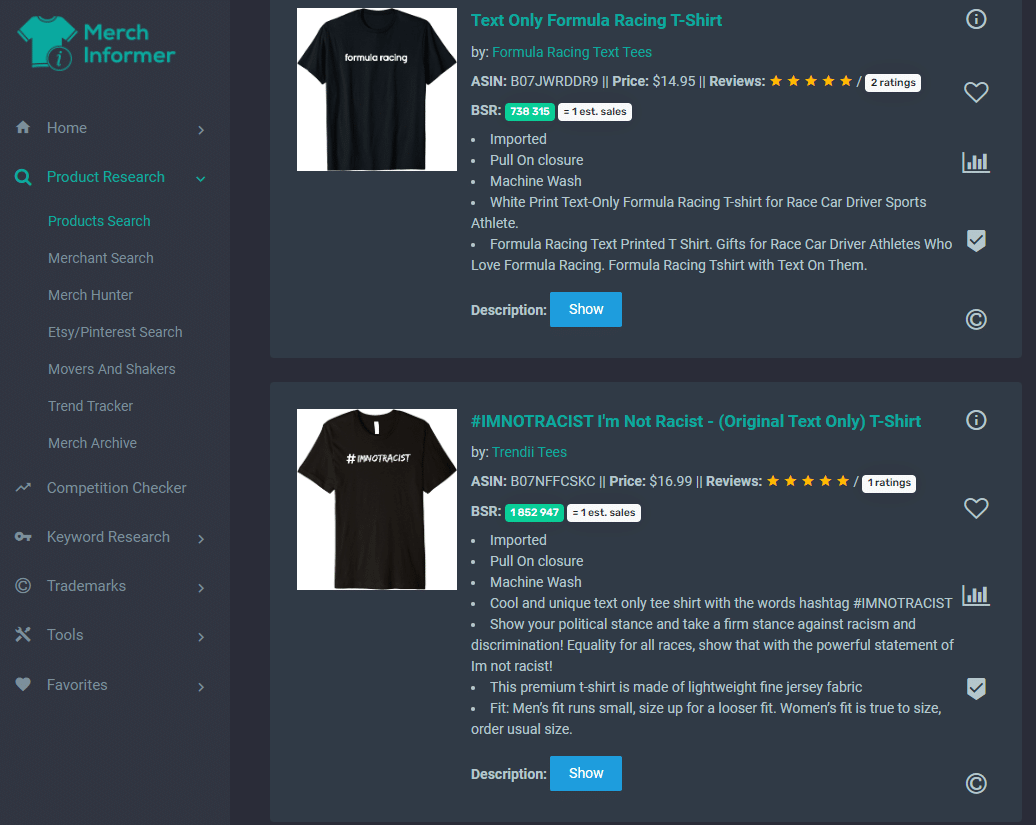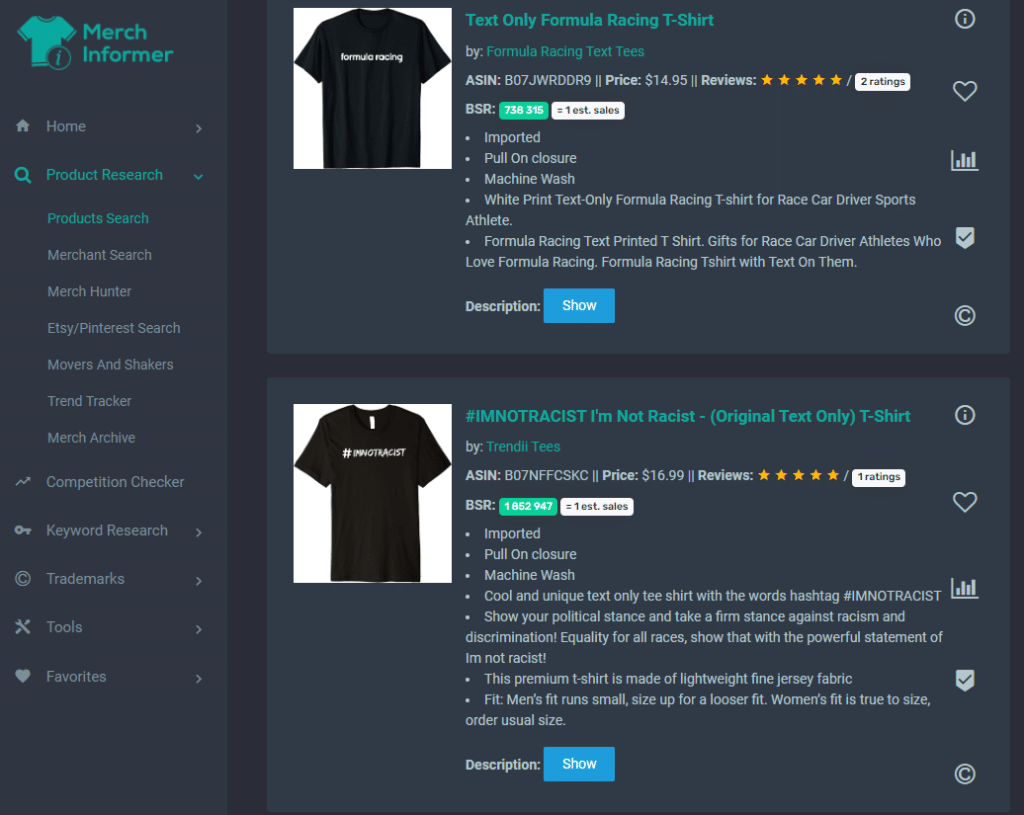 Despite this conclusion, we identified a few interesting text-only t-shirt themes throughout our research:
Names of cities (e.g. Tennessee, Boston)
Names of formula races (cars)
Names of nationalities (e.g. Vietnamese)
Sarcastic/funny t-shirts (e.g. The only easy day was yesterday or I'm only sarcastic when I speak)
#Imnotracist t-shirts
Jai Alai t-shirts
Drag boat racing
If you do decide to tap into this field, these topics are likely to enable you to reach the right audience.
What is the turnover in this niche?
As noted, the average price in the text-only t-shirt space is around 10 bucks. According to Amazon's royalty calculator, the lowest royalty that can be earned per t-shirt sale is $1.93 (given that the product costs $15.99).
Put otherwise, $10 t-shirts are likely to generate royalties of less than $1.50, if any.
Having this in mind, it's safe to say that the niche cannot be considered profitable.
At the same time, the tables could turn for sellers who successfully optimize their listings. This means using accurate, high-search-volume keywords and selecting the proper use of fonts and font sizes.
This will enable you to grab an audience's attention and quickly gain popularity.
Our recommendations
Our research leads us to one final conclusion. Earning fruitful returns in the text-only space won't be a walk in the park. Those who want to be successful will need to up their game significantly and make informed, data-backed decisions.
It may also be worthwhile to consider using paid ads to promote your products and attract more eyeballs this way.
Keep in mind that using this strategy will require a significant budget. Make sure that you are prepared to spend some money now to earn more from your efforts in the future.
Final thoughts
Not every niche on Amazon Merch on Demand is profitable and studying the best options is just as important as studying those that are less profitable.
Merch Informer will guide your efforts so that you can gauge the market size and scope of different markets.
It's a monthly subscription of a low $9.99, making it one of the best ways to improve your t-shirt side gig and ensure you are maximizing your earnings.