Are tank tops performing better in the summer and should you prioritize them in Q3?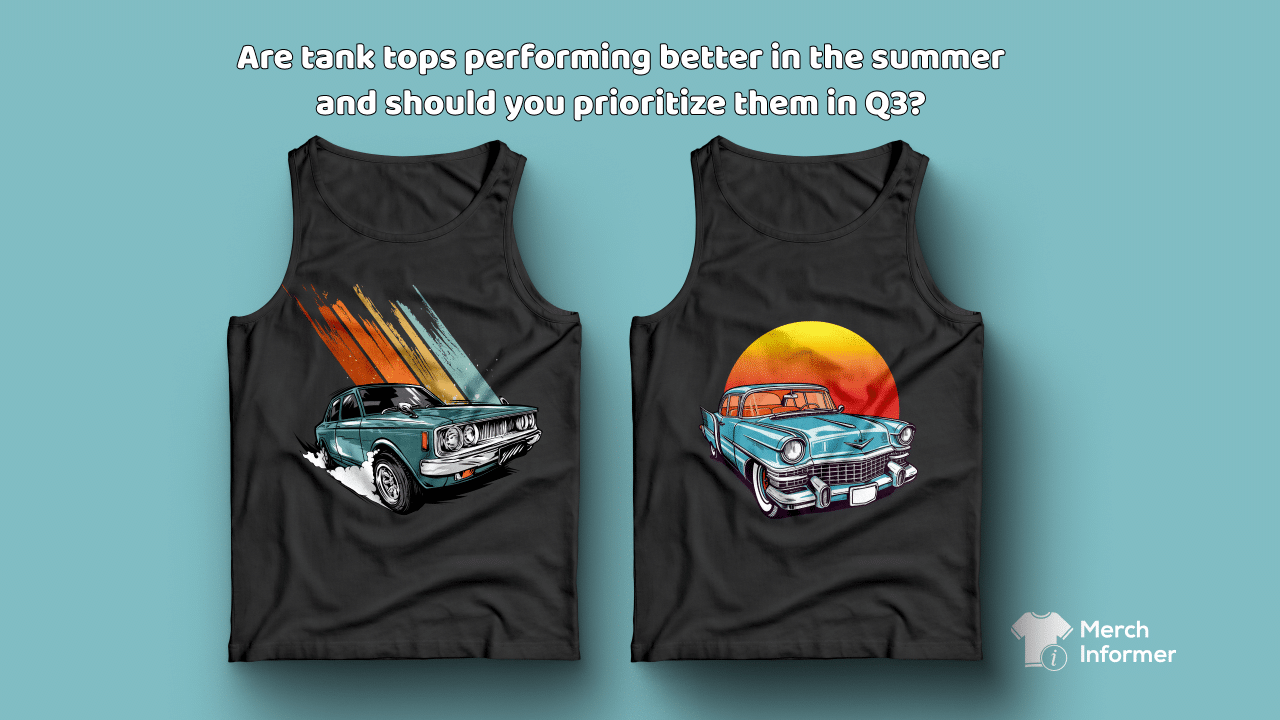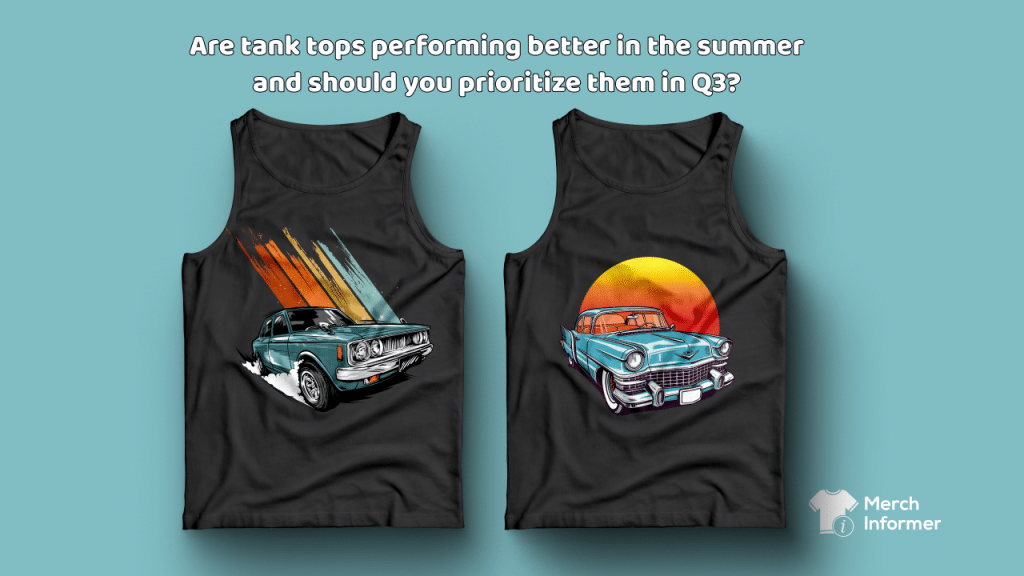 As the mercury in your thermometer rises, so does the demand for breezy clothing. And what better piece of clothing to match that need than the trusty tank top? If you're an Amazon Merch on Demand seller, this simple, yet effective garment creates lucrative opportunities for the summer season.
But should your focus be solely on tank tops in the blazing Q3 of 2023? In this blog post, we unravel the threads of tank tops to lay bare the reasons for their soaring summer performance.
Learn if you should be weaving them into the fabric of your summer strategies to keep your sales hotter than a July afternoon.
An overview of the tank top market on Amazon Merch on Demand
Before we dig deep into a detailed analysis of tank top sales during the hot months, it's important to gain an understanding of the niche as a whole.
Are shoppers searching for tank tops at all? Do bestsellers from the category have low enough BSRs to lure more sellers into exploiting this segment?

As it turns out, the answer to both these questions is an unquestionable yes. Using Merch Informer, we discovered that tank top-related keywords attract a decent search volume. At the same time, the average BSR of the most successful listings is attractively low, revealing high sales potential.
Let's look at some real-life examples and numbers to back this theory.

Phrases like "tank top for women" generate a monthly search volume of more than 300,000. Even niche-specific phrases attract more than 80,000 user searches on a monthly basis. Unfortunately, we're not able to determine whether shoppers browse for tank tops more actively in the summer season. However, this significant demand signals that the tank top space is a well-developed market in general.
When researching the bestsellers, we noticed that the average BSR of top-performing listings is 126,404. This number is much lower than that of other markets, proving the sales potential of this product category.
In addition, the lowest, average, and highest prices in the segment should not be neglected. They can show you how much royalties you can expect to earn per sale if you position your listing similarly to others in the niche.


For tank tops specifically, these prices are as follows:
Lowest Price $13.02
Highest Price $32.99
Average Price $19.98
They are relatively higher than in many other markets. This means that sellers are able to enjoy higher returns per sale.
Exploring the sales trends of top performers over time
Now that we've laid the foundation, let's get back to the question in the title. Do tank tops perform better during the summer?
To find out, we used Merch Informer's historic data to compare the BSRs of individual listings throughout different periods.
In the following sections, we'll discuss these insights in detail.
The first listing that we inspected was "Mademark" – a tank top with a simple design and a price of $17.98. At the time of writing, the BSR of the listing is 6 543, which translates into 360 estimated monthly sales.
Performance-wise, the seller generates royalties of $4.36 per sale.
We checked previous sales data to check if this product is more successful in the summer than in other seasons. As it turns out, our assumptions are correct. For instance, on the 3rd of March, the listing's BSR was 86,582. Most sellers will immediately assume that this BSR is not bad at all. However, on the 10th of June, it dropped to 6,135.
In other words, there's a 14 times difference in BSR when we compare the late winter and early summer periods.
And this trend continues as we deepen our research.
Another tank top we analyzed by the same seller has an identical price and title "Mademark" but a different design. Its BSR currently is similar to the previous example (6,551), which translates into roughly 360 sales per month.
Observing the sales trends over time, we identified that during the previous summer period the interest towards this listing skyrocketed. The start of this Q3 is promising, too.

Thanks to Merch Informer, we were able to travel back in time all the way to December 30th, 2021. On this day, this item wasn't performing very well, with a BSR of 1,521,523. Sales picked up towards the end of June 2022, resulting in a BSR of 174,292. The summer season was clearly profitable for the seller, as the tank top's performance kept improving, with a BSR of 14,620 on August 14.
A quick look at the most recent data showed us that on June 13th 2023, the listing's BSR dropped to an all-time low – 5,307.
But let's say that these two chart-toppers are pure coincidence. To make sure we're making the right conclusions, we decided to repeat our research process on a third listing.
The "Mademark x MTV – MTV Logo Pink Blue Fluid Tank Top" item is also one of the dominant ones in the niche. It sells for $22.99 and currently has a BSR of 6,645. The seller enjoys around 360 sales per month from this listing alone, with royalties of $5.89 per listing. Working out the math, this product results in monthly earnings of $2,120.
Now, let's see if this is the case during late autumn and winter.
On the 14th of September, the listing's BSR was 20,095, while on the first day of February, it rose to 56,750. Keep in mind that the product's price has been consistent throughout these time intervals. Why is this important? Because we can exclude price as a factor in the sales volume.
But let's work out the financial difference. A simple calculation reveals that there is a 9-times difference between a BSR of around 6,000 and one of roughly 56,000. Considering that the royalties from the summer BSR are $2,120, it's safe to say that the seller makes only $235 during the winter from this tank top.
What all of this means for your POD merch strategy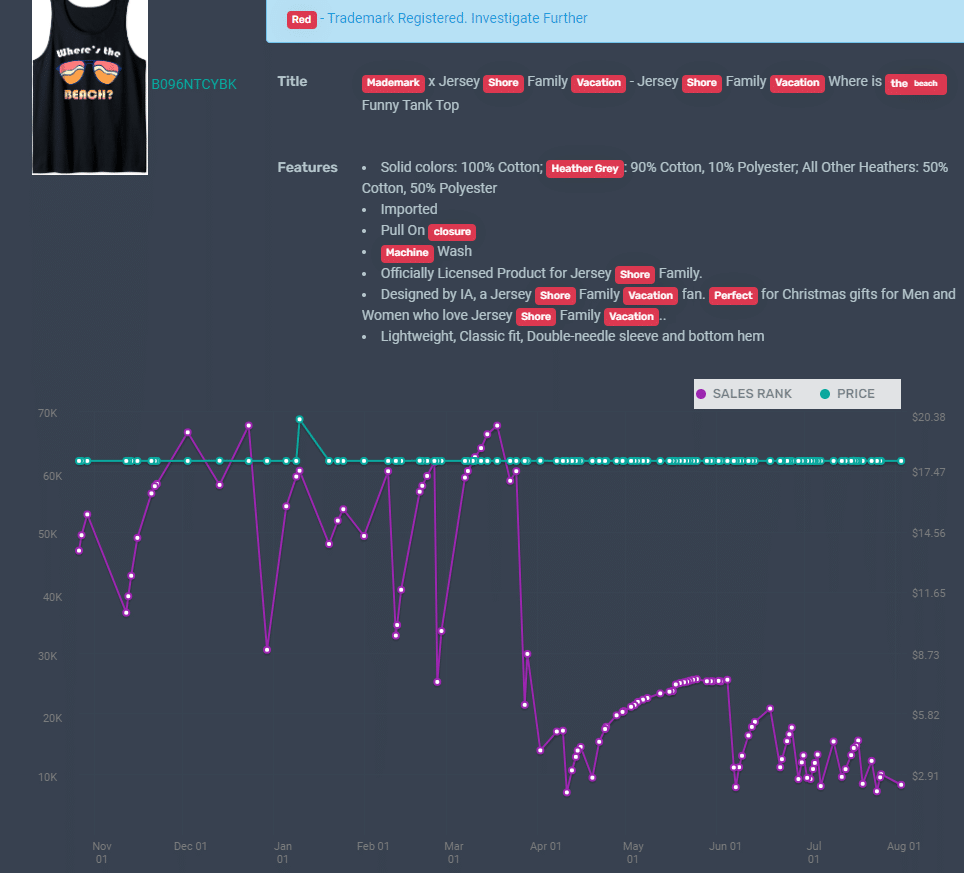 We've made one thing clear – tank tops sell exceptionally well in the summer when compared to other seasons.
But one question remains. Should you base your entire Q3 strategy on tank tops or should they simply be used as a product diversification method?
Our advice is to prioritize tank tops from mid-June to mid-September. This recommendation is based on the difference in sales volume and potential royalties that we calculated earlier.
At the same time, we identified the size of the market as a whole at the start of the article. Taking into account the substantial user demand, it's beneficial to keep tank tops in your portfolio all year round to attract specific audiences.
However, keep in mind that sales will likely be lower during spring, winter, and autumn.
Conclusion
Regardless of whether you're exploring tank tops or other merch categories on Amazon, it's essential to have access to as much data as possible.
Don't forget to use Merch Informer as your go-to business intelligence assistant. Make informed, data-backed decisions, and witness the growth of your Amazon gig.