Baseball-themed raglans: you just have to get in on this Amazon Merch on Demand niche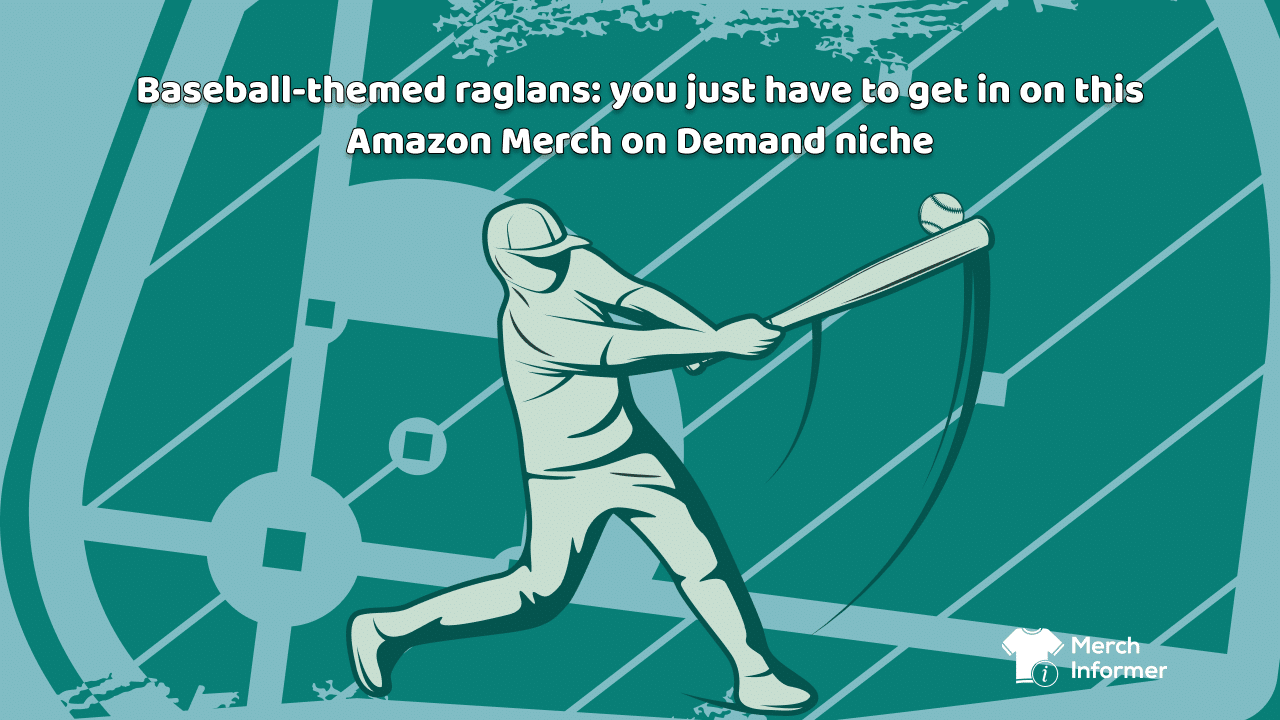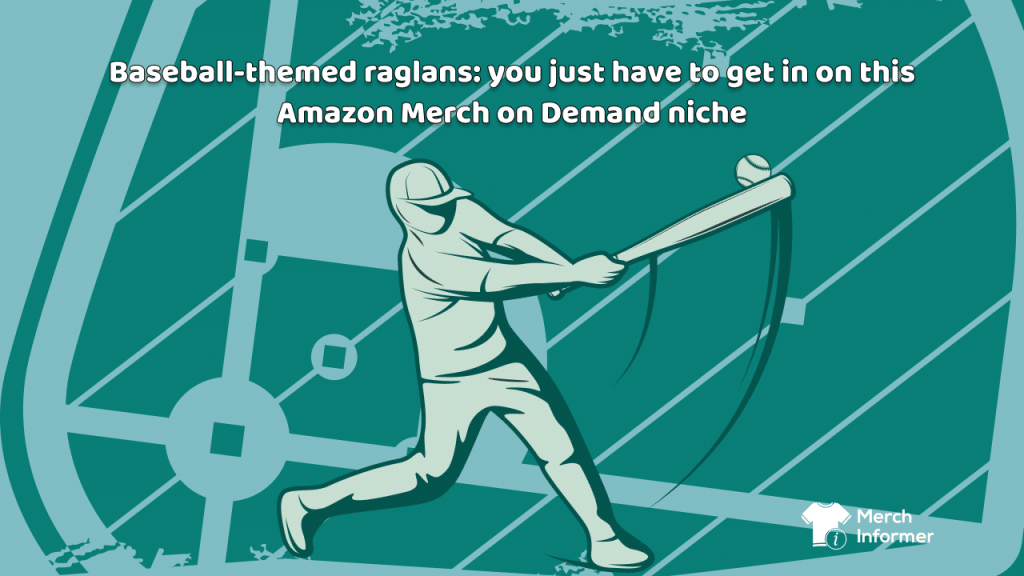 Raglans, a timeless apparel choice for baseball enthusiasts, offer a promising opportunity for sellers on Amazon Merch on Demand. Beyond just the sport, the appeal of raglan designs can extend far and wide, revealing a potentially profitable market.
To successfully navigate this niche, optimizing your product listings becomes absolutely paramount.
If you want to learn how, just read on.
How big are baseball-themed raglans on Amazon Merch on Demand?
Delving into the realm of baseball-themed raglans on Amazon Merch on Demand reveals a promising landscape. To assess the market size, we turned to Merch Informer's Products Search module. By entering the keyword "baseball" and selecting raglans from the category menu, we were able to gain a comprehensive overview of the niche.
Upon analysis, we noted that the average Best-Seller Rank (BSR) for these products is 7,129,342. While this figure may initially seem high, a closer examination of the top two sellers with BSRs of 189,845 and 22,810 underscores the substantial potential within the niche.



Furthermore, the fact that sellers are securing sales ranging from 12 to 13 units per month despite the seemingly high BSRs is a clear indicator of the viability of the raglan niche.
Keywords, search volume and BSR
Looking at the average BSR and the top sellers' total number of sales is one thing.
But exploring the buyer-side of search queries is essential to understanding how customers approach these products.
Doing so helps successful sellers better target their listing titles and therefore rank higher.
Leveraging Merch Informer's capabilities, we uncovered the primary search queries for baseball-themed raglans and extracted seed keywords with the highest search volumes, empowering you to make informed decisions.
Here are the main results:
"Baseballs": search volume – 65,066
"Baseball": search volume – 57 626
"Baseballer": search volume – 1,616
"American baseball": search volume – 1,404
Interesting to note from the results, some of which have been omitted here for the sake of clarity, is that many of the searches are location-based.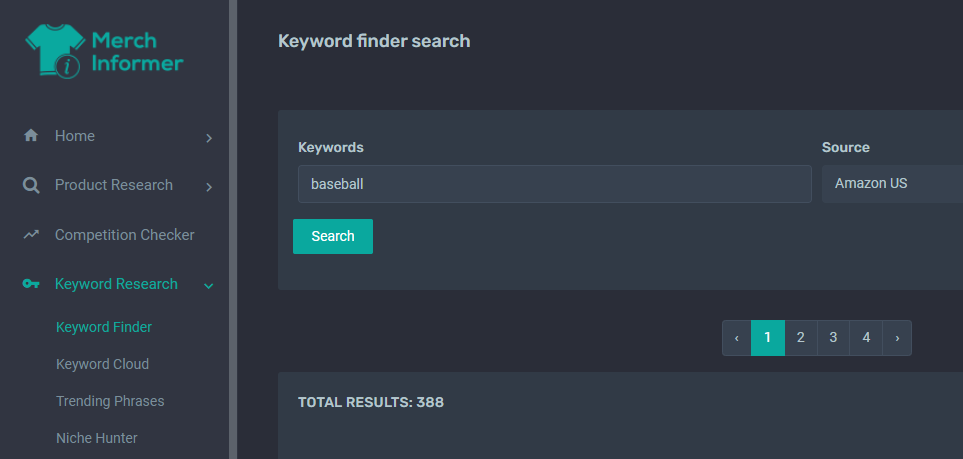 For example, we have Cincinnati baseball searches alongside Mets baseball and Cubs baseball searches.
However, what is important to note is that a seller wishing to enter this niche must ensure that they do not infringe on existing trademarks.
Merch Informer has a functionality that immediately checks this for you. But to be on the safe side, it's better to stick to more general search queries such as "baseball" in your listing title.
Listing saturation
With regard to listing saturation or the seller-side of the equation, we now explore the seed keywords used by Amazon merchants in their titles. This will help us identify how they have approached their listing optimization process.
Here's a brief breakdown:
Seed keyword: baseball (1,735), sports (293), softball (142), football (116), basketball (85), sport (60), soccer (67)
Occasion: birthday (353), game (162), Christmas (153), party (121)
Adjectives: great (324), perfect (299), funny (255), cool (94), cute (94), fun (68), pride (68)
Audience: mom (286), team (173), fan (167), women (153), dad (151), family (115), men (115), fans (86), kids (86), girls (81), friends (72), son (68), parents (63)
Design: vintage (150), retro (89), graphic (83)
Location: Houston (63)
From this breakdown of keywords used in seller titles, we see that baseball-themed raglans are popular in a wide range of sports, and not just baseball.
In addition, apart from being worn at games, they can also be used as apparel for various celebrations and parties, including Christmas.
In terms of audience, it's worth noting that baseball raglans are particularly aimed at moms and women, followed by fans, dads and families.
As for designs, these are primarily vintage and retro.
Location-wise, only one city stands out, and that's Houston, TX.
Pricing
With regard to pricing, Merch Informer also helped us figure out the lowest, highest, and average prices for these raglans in a matter of seconds. Here are the results from the platform:
Lowest price: $18.77
Highest price: $44.99
Average price: $24.27
What are some of the bestselling merchants doing right?
In terms of baseball-themed raglans that are not trademarked as of yet, we identified two bestsellers who are earning upwards of 10 sales per month for their efforts.
Here's a brief breakdown of their stats:
Seller 1: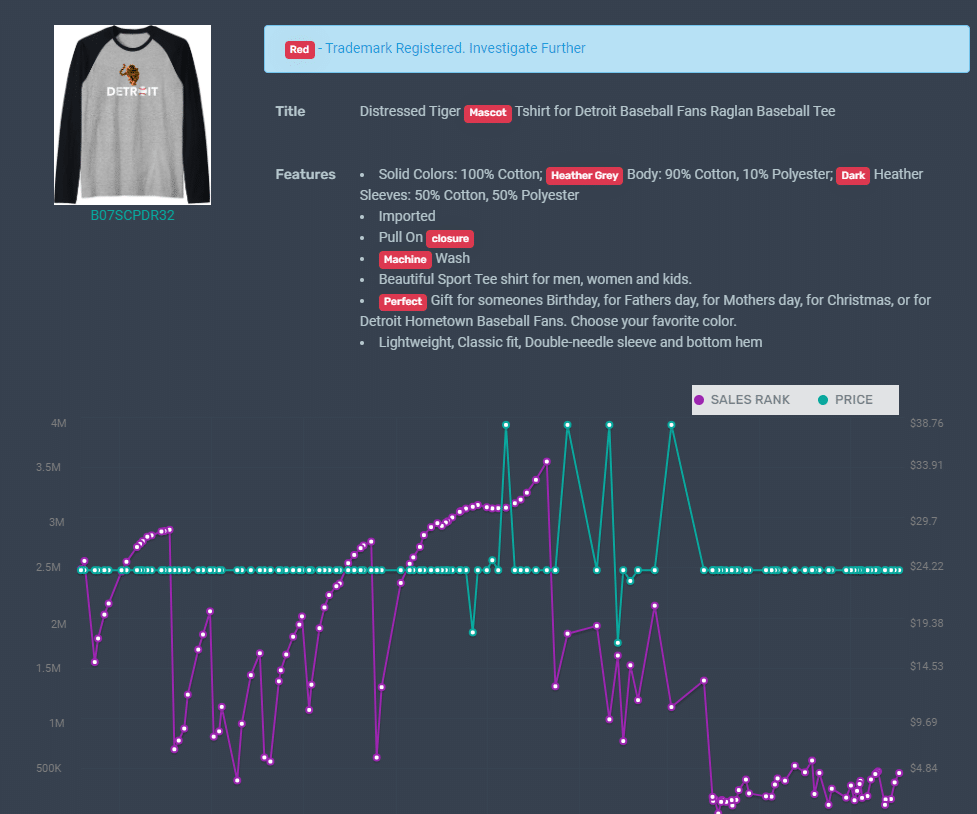 Title: Distressed Tiger Mascot Tshirt for Detroit Baseball Fans Raglan Baseball Tee
Seller: Sport City Tees
Price: $23.99
BSR: 198,480
Sales: 12
Seller 2: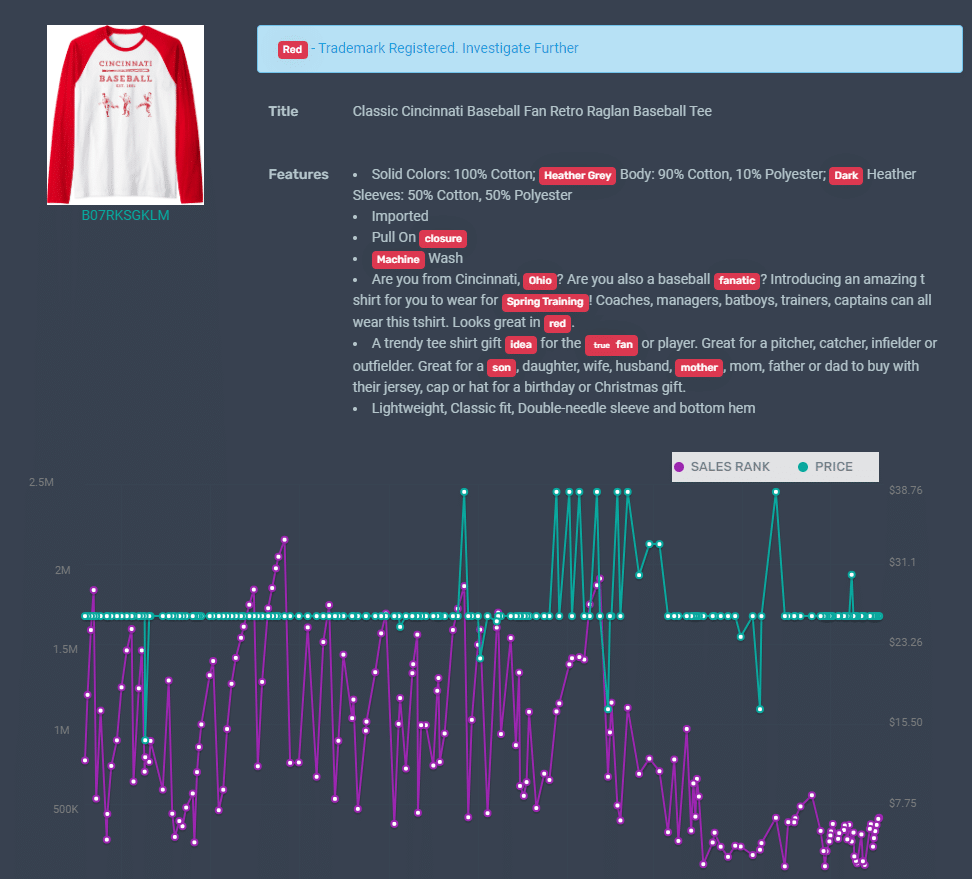 Title: Classic Cincinnati Baseball Fan Retro Raglan Baseball Tee
Seller: DiGi's Cincinnati Baseball Vintage Apparel & Tees
Price: $25.99
BSR: 189,845
Sales: 13
Keywords
In terms of keywords used in their titles, both sellers have mentioned specific locations. Seller one mentions Detroit and seller two mentions Cincinnati.
Both merchants have included the high-search-volume keyword "baseball" and both say that this raglan is intended for "fans". Therefore, the title strategy is to indicate the sport type, the location, and the designated audience.
Pricing
In terms of the average price for this niche, which we've identified to be $24.27, we see that both sellers have done an exceptional job of pricing right around the average to ensure maximum sales.
Designs
Whereas seller two has opted for a baseball player design including heavier text, seller one has opted for a tiger mascot and only the words "Detroit" appearing on the raglan as a form of support for the team.
What is the turnover of baseball-themed raglans?
To calculate the average income from raglans in this niche, we multiplied the total number of sales by the selling price to get the following:
Profitability of seller 1: $23.99 x 12 = $287.88
Profitability of seller 2: $25.99 x 13 =  $337.87
Our recommendations
With all of this data at our fingertips, we can draw some important conclusions with regard to bestselling practices in this niche. Here are some of our recommendations:
Keywords: it's critical to choose the location or home grounds or home city of the baseball team that you are going to be promoting. It's also crucial to add who the intended audience of your raglan is (women, fans, coaches, etc).
Pricing: as we saw in the discussion on turnover, a dollar's difference can mean a gap of $50 and more in profits. Therefore, it's essential that you price as close to the average as possible. This will ensure that royalties are skewed in your favor.
Designs: with regard to designs, you can choose a combination of text and design elements to bring your message across, while bearing in mind that the more retro and vintage your designs, the more likely you are to earn better sales.
The bottom line
Concluding our evaluation of the raglan-themed baseball niche on Amazon Merch on Demand, it's important to note that sellers can earn in excess of $200 from it per month. However, this requires effort and determination as well as following some best practices to help you succeed on the platform.
Of course, our search would not have been possible without Merch Informer and we highly recommend this incredible tool to help your sales and research efforts. For a monthly subscription of only $9.99, it's a no-brainer.
Help your Amazon Merch on Demand side gig thrive and give Merch Informer a go. You won't look back.