Bookworm boutique: Selling POD t-shirts for book freaks On Amazon Merch On Demand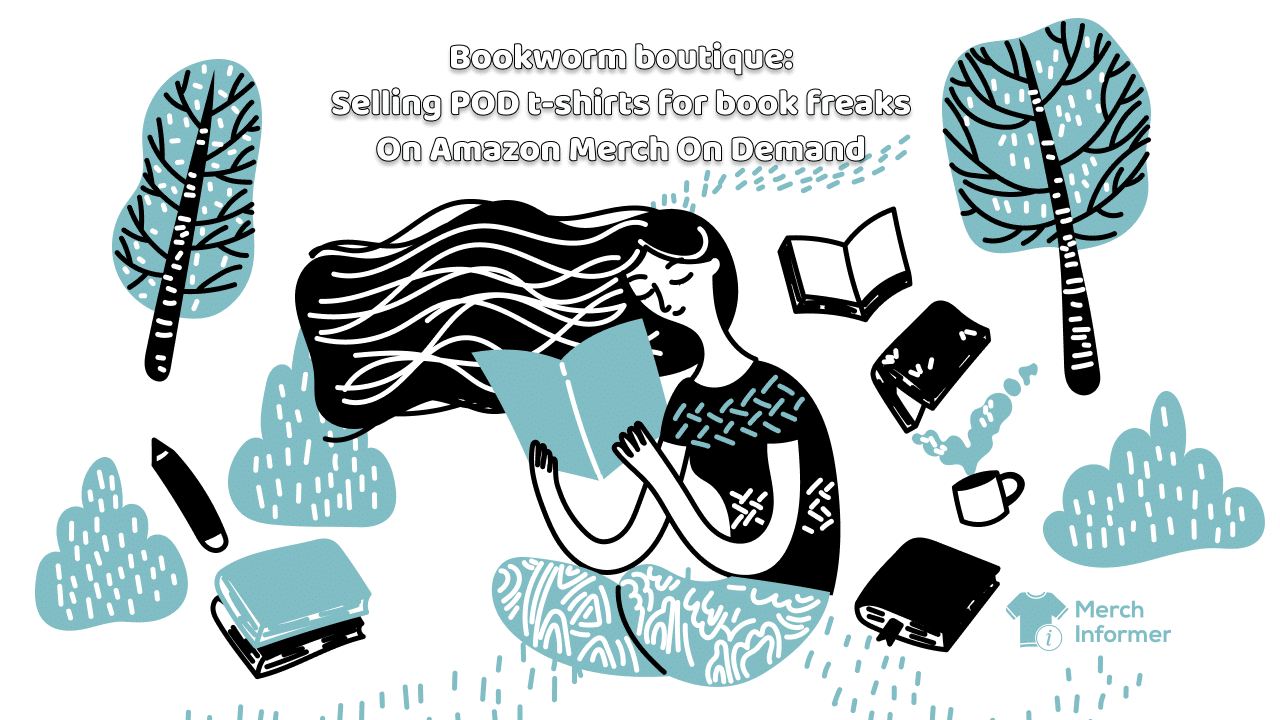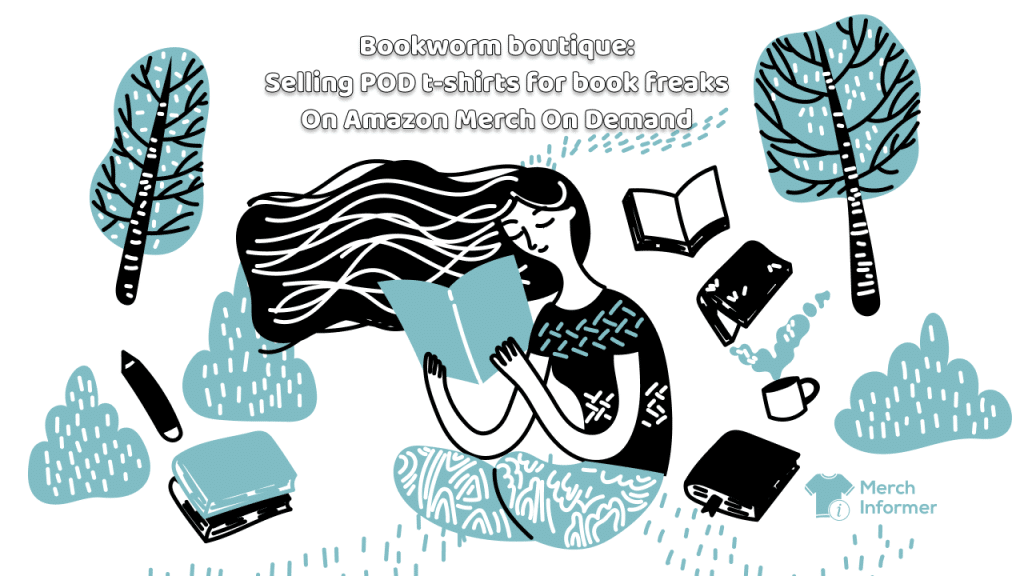 From fiction to non-fiction, there are millions of booklovers all around us. But how well does Amazon Merch on Demand cater to this group of individuals in terms of apparel?
In this blog article, we seek to explore what appears to be an undersaturated niche and present ways in which you can make your listing a success.
Let's dive in!
How big is the bookworm niche on Amazon Merch on Demand?
In order to determine the size of the bookworm niche on Amazon Merch on Demand, we headed over to Merch Informer's Products Search module.
Since we know that the seed keywords for this niche can include words like "book" and "read", we wanted to determine what the best-seller's rank (BSR) is for each of these keywords.

For "book", the BSR is 7,135,788. Meanwhile for "read", the BSR is 7,090,168 indicating very little difference between the two.
Despite such a high BSR, which indicates few sales, we continued our in-depth research process to see what this niche holds.
We did this by analyzing the buyer-side, the seller-side, and of course, the pricing involved in this equation.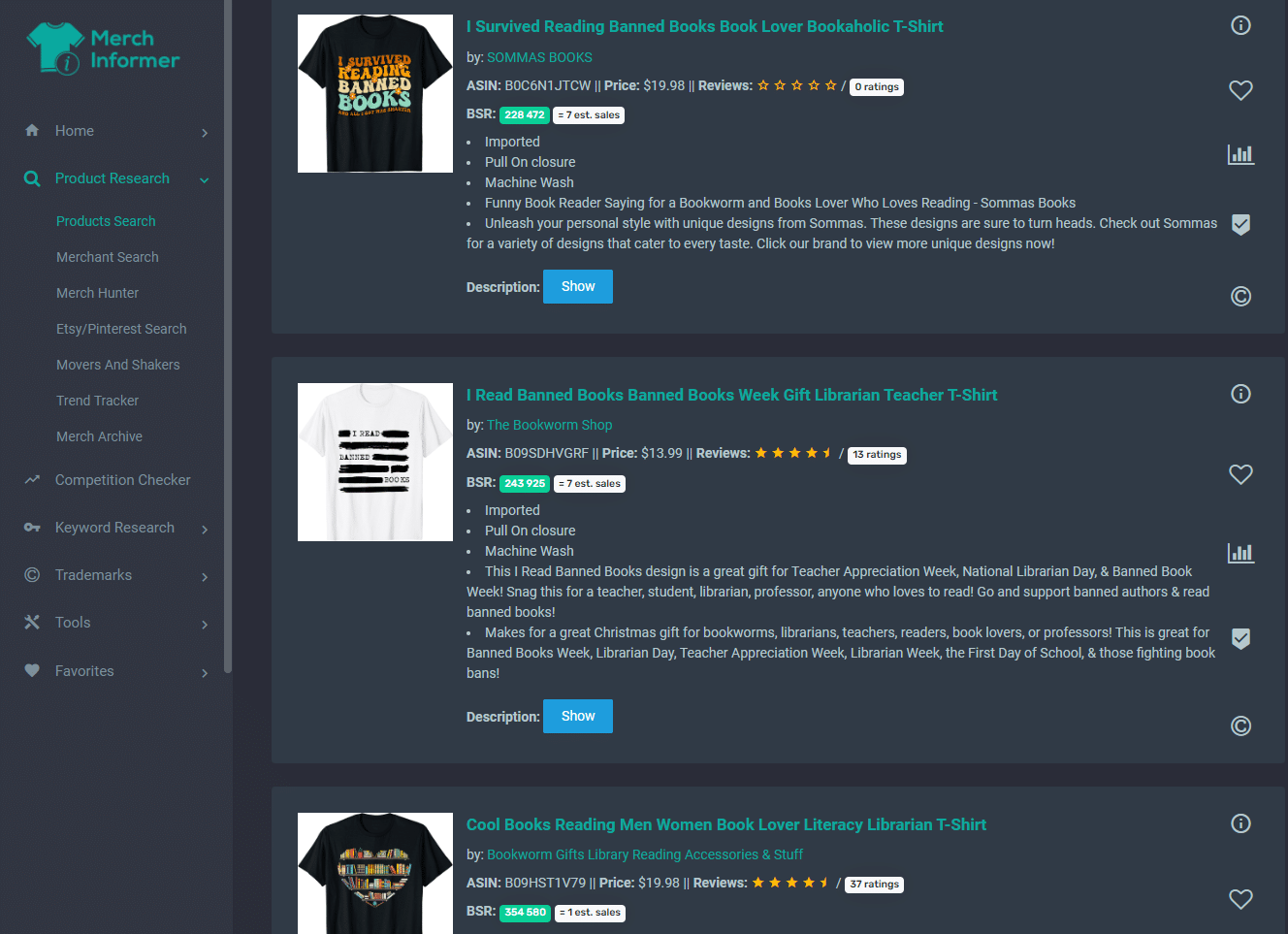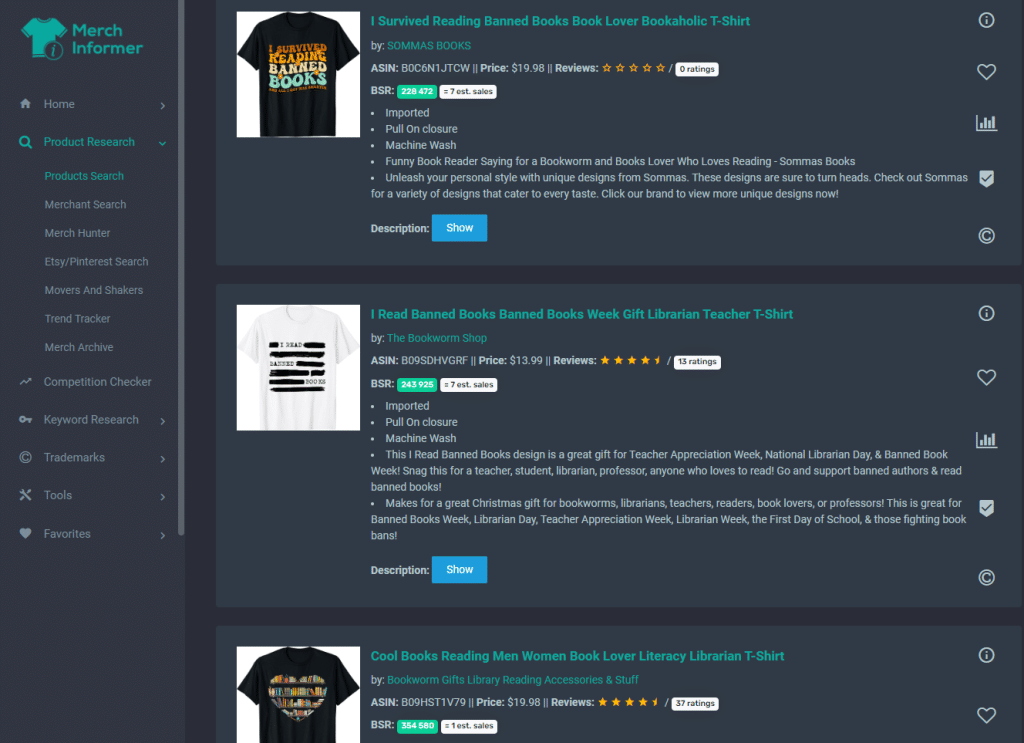 Keywords, search volume and BSR
Although there are many keywords and longtail keywords that buyers are actively searching for in this niche, Merch Informer allows us to focus on the top 40 or so.
Combined together, the search volume in this niche is over five million, which is extensive.
However, the most relevant keywords that we extracted for the keyword "book" include the following:
Book
"Books books books": search volume – 2,624,761; BSR – 4,513,663
"Book book": search volume – 2,577,391; BSR – 7,136,455
"Books books 2022": search volume – 2,186; BSR – 64,318
"Book book book": search volume – 893; BSR – 7,136,455
As for the keyword "read", we extracted the following relevant keywords:
Read
"Reading is": search volume – 72,142; BSR – 1,707,190
"Readings": search volume – 58,653; BSR – 7,087,481
"Reading": search volume – 49,634; BSR – 6,722,632
"Reads": search volume – 27,489; BSR – 72,653
"Read": search volume – 16,158; BSR – 7,087,368
"To read": search volume – 15,503; BSR – 1,126,668
"Read read read": search volume – 2 353; BSR – 7,087,368
"Reading.": search volume – 1,433; BSR – 7,087,368
Although the search volume for "book" is extremely high, we can also conclude that the BSRs are high, too. Only the query with the year 2022 included in it has a low BSR. This can already tell you that it's important to include a relevant year in your titles to garner more sales.
As for the keyword "read", the BSR is significantly high with only two keywords – "reading is" and "to read"- having a BSR of just over one million and "reads" getting the lowest BSR out of the lot with just over 72,000.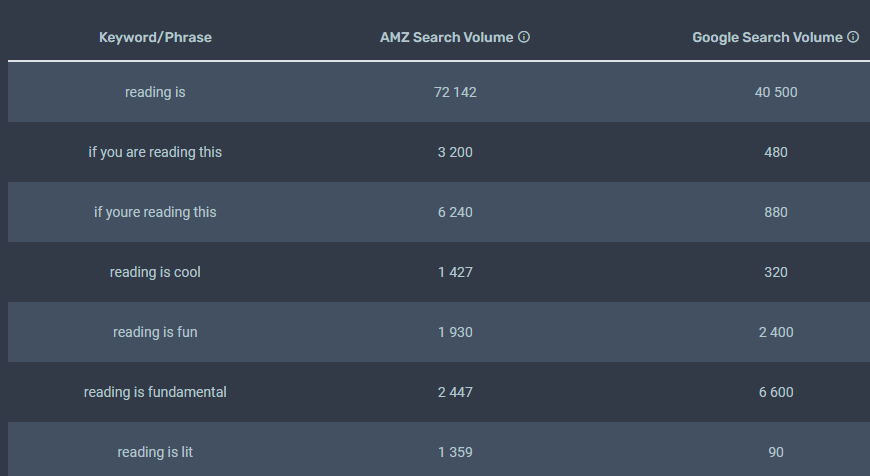 This means that, irrespective of search volume, you also need to target search queries with a low BSR.
Listing saturation
We now turn to how sellers are positioning themselves in this niche by exploring the keywords used in their titles.
Once again, we used Merch Informer to help guide our efforts.
Here's what we found:
Book
Seed keywords: book (3,896), books (2,193)
Related keywords: reading (1,591), lover (1,213), read (700), lovers (630), bookworm (552), reader (435), librarian (392), library (342), teachers (282), nerd (280), loves (275), women (262), teacher (261), readers (259), men (218), librarians (215), literature (200), bookworms (194), English (156), kids (149), nerds (124), bookish (103), students(103), anyone (103)
Purpose of t-shirt: gifts (289), Christmas (256), birthday (219), present (129)
Read
Seed keywords: reading (3,240), book (1,840), read (1,273), books (1,139)
Related keywords: lover (680), bookworm (551), teacher (538), teachers (427), librarian (341), school (339), lovers (335), reader (273), bookworms (236), library (222), librarians (205), literature (176), readers (163), stories (160), novels (156), nerds (152), nerd (150), adventures (146), students (112)
Purpose of t-shirt: Christmas (332), birthday (319), present (274), gifts (134)
From these keywords, we can see that there are quite a few titles that feature the seed keywords (being upwards of 3,000).
Secondly, we can clearly see that we've managed to gain the right insight into the niche. This is because "lover" and "bookworm" are among the most used secondary keywords.
As a result, we would recommend paying attention to the keywords with the highest listing saturation volume, such as "book", "reading", "lover" and "bookworm". Targeting those will position you in the correct niche and set you on a path to success.
All in all, it would appear that many sellers are attempting to get into this niche with high-search volume keywords. But as to whether or not they are making sales, we'll find out below.
Pricing
The final piece of the puzzle relates to the pricing of these shirts. We discovered the following with the help of Merch Informer:
Book
Lowest price: $8.39
Highest price: $29.95
Average price: $18.22
Read
Lowest price: $13.38
Highest price: $29.95
Average price: $17.58
What are some of the bestselling merchants doing right?
As we could not identify a single seller with substantial sales in this niche, it's challenging to discuss bestseller strategies.
However, we can examine sellers who've achieved low BSR levels according to Merch Informer.
Here's what we found:
Seller 1 (Keyword: "book")
Here, we have SOMMAS BOOKS pricing their t-shirt at $19.98 and with a BSR of 393,130.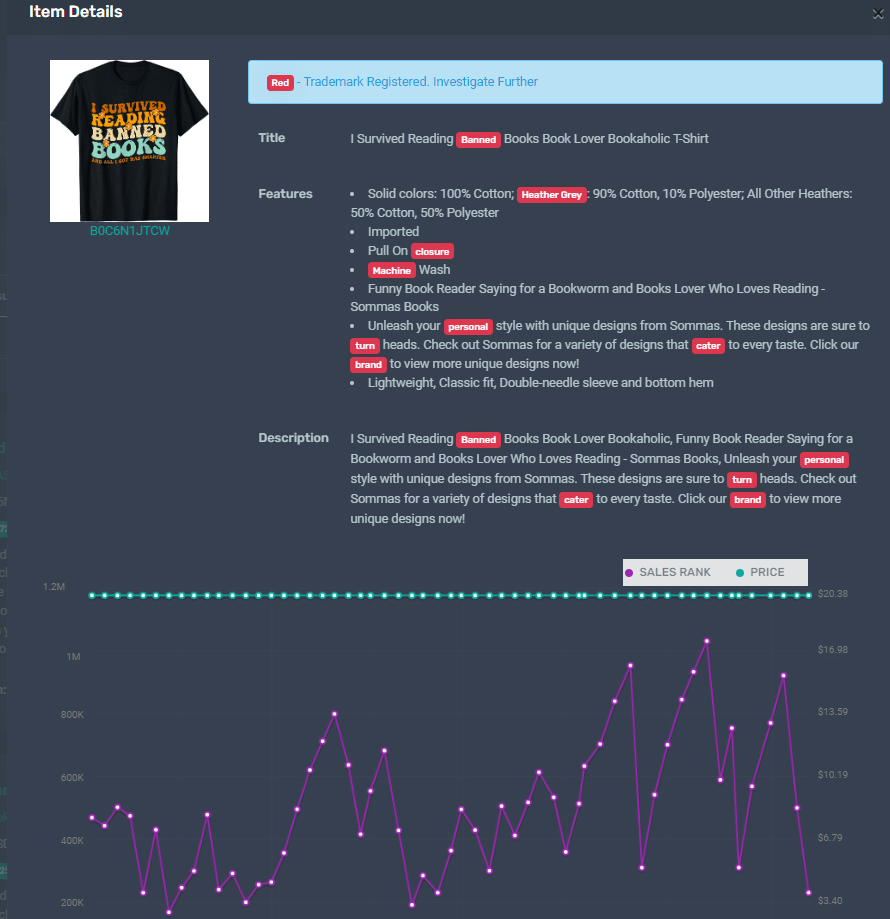 Seller 2 (Keyword: "read")
As for seller two, we have a seller going by the name of "Science of Reading Tees", offering their shirt for $19.98 and with a BSR of 396,487.
In the absence of extensive sales data in this niche, we can look at what these two sellers have done to achieve the lowest possible BSR levels.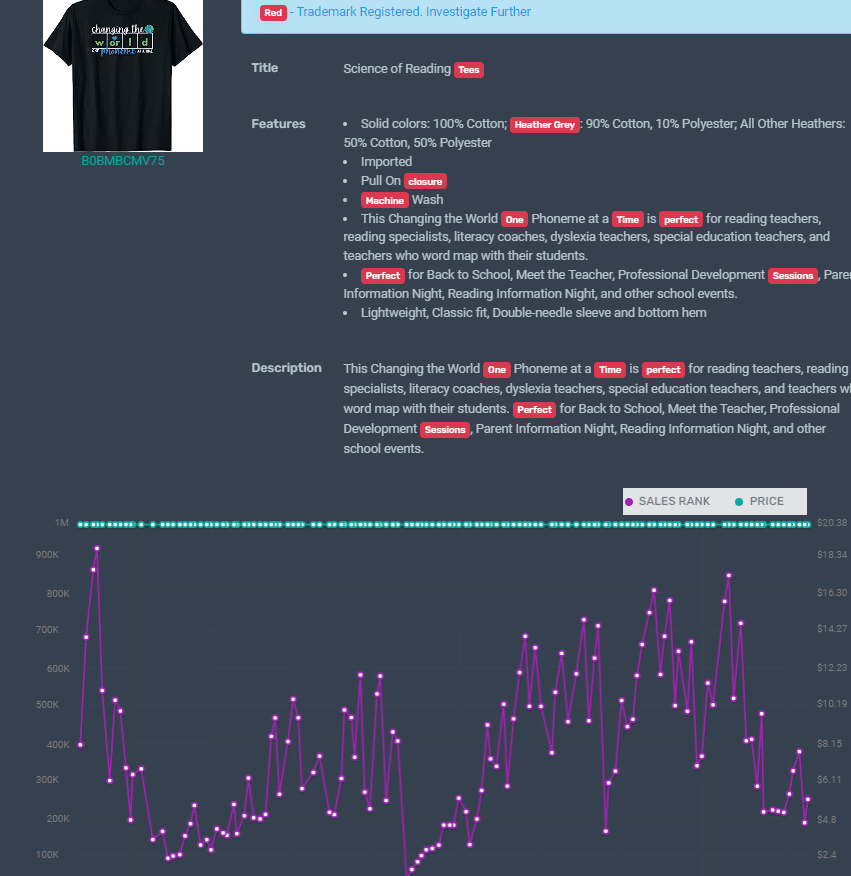 Here are our observations:
Keywords
What's interesting about these authors is that their titles contain the words "read books", which is a smart combination of the two seed keywords in this niche.
There are other high-search-volume keywords in their titles, despite the fact that these are quite popular among their competition as per the listing saturation figures mentioned earlier.
Pricing
As for pricing, both sellers have opted to price at the nearly $20-mark, which is just a few dollars shy of the average.
This is a powerful strategy to employ because it means finding the golden mean and making as many sales as possible, pricing notwithstanding.
Designs
Whereas the "book" seller has used a colorful stack of books with some text on the t-shirt design, the "read" seller has opted to use colorful text-heavy designs with some minor design elements such as images of small foxes.
Seller one's design is primarily designed for adults whereas seller two has opted to target children.
Therefore, it's essential to know which audience you are catering to with your shirt to avoid creating a broad product that no one buys.
Our recommendations
Your sales strategy for entering the bookworm niche should be accompanied by some best practices, especially if you want to gain more visibility and better rankings. As such, it's critical to employ these recommendations to ensure you get ahead of the rest:
Keywords: when it comes to keywords, the words "book" and "read", and variations thereof, must be present in your title. You can always pepper these keywords with related keywords, such as "lover" and "bookworm". However, remember that the high search volume keyword with the lowest BSR contained a year in it. This means that adding the current year to the keyword mix will help you rank higher.
Price: pricing as close as possible to the average will also assist your sales efforts, as you won't be alienating your audience with high prices or portraying your product as too cheap. Therefore, pricing in the region of $17.50 is advisable.
Design: regarding t-shirt design, make sure to prioritize your chosen target audience. Knowing your audience means knowing how to cater to them. Whether it's for kids or adults, your bookworm t-shirt can either be text or design-heavy, or contain a mixture of both. Either way, the target audience will dictate your design.
The bottom line
An unsaturated niche with few sales doesn't mean that you shouldn't attempt to enter it and make a success out of it.
If you manage to come up with an interesting design that no else has thought of before, your sales can skyrocket in a relatively uncompetitive niche.
To do this, we strongly recommend using Merch Informer to guide your efforts. At only $9.99, you get all the tools necessary for Amazon success at your fingertips.