Merch Design Or Listing Optimization: What Is Most Important For Your Merch by Amazon Business?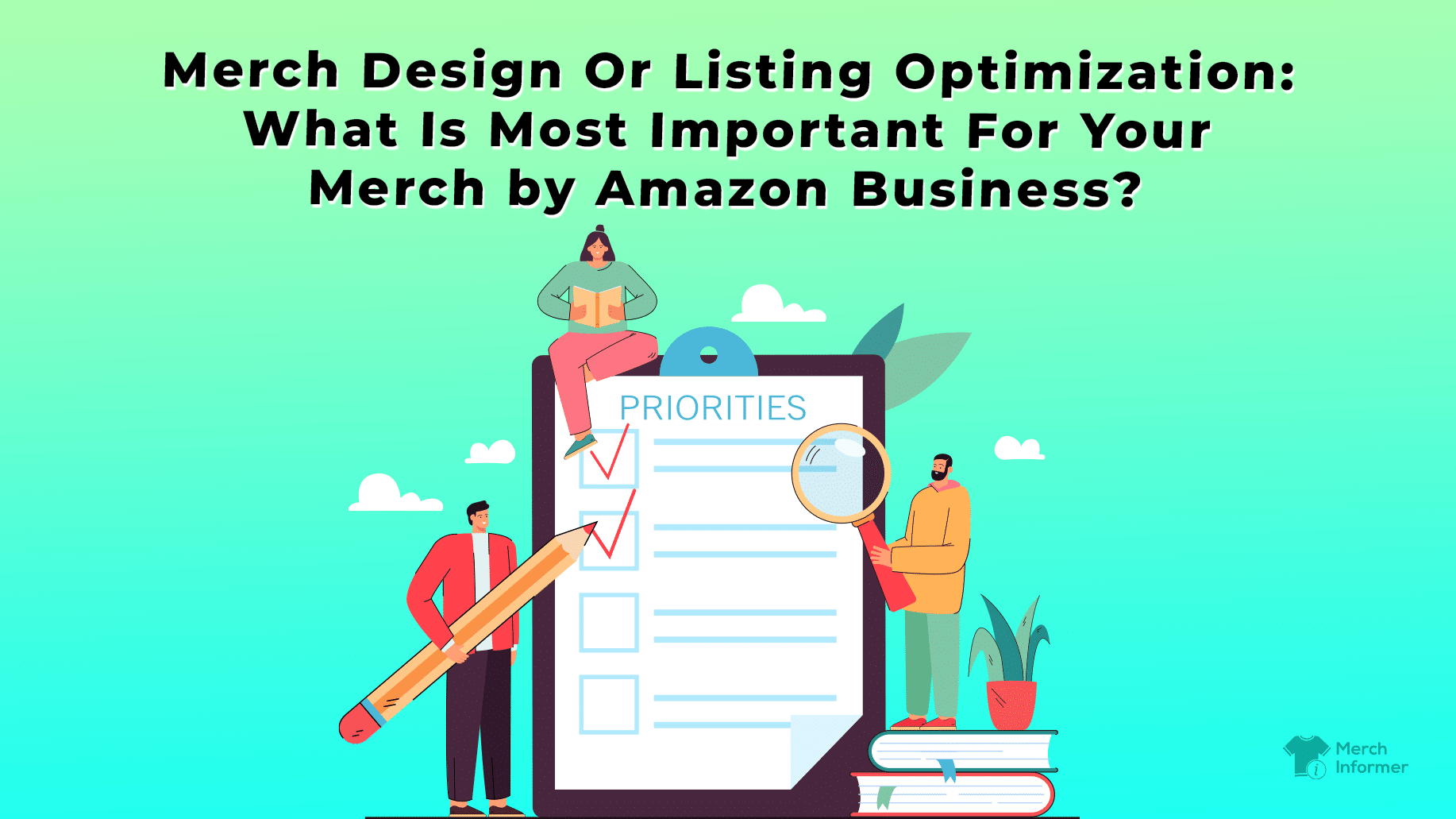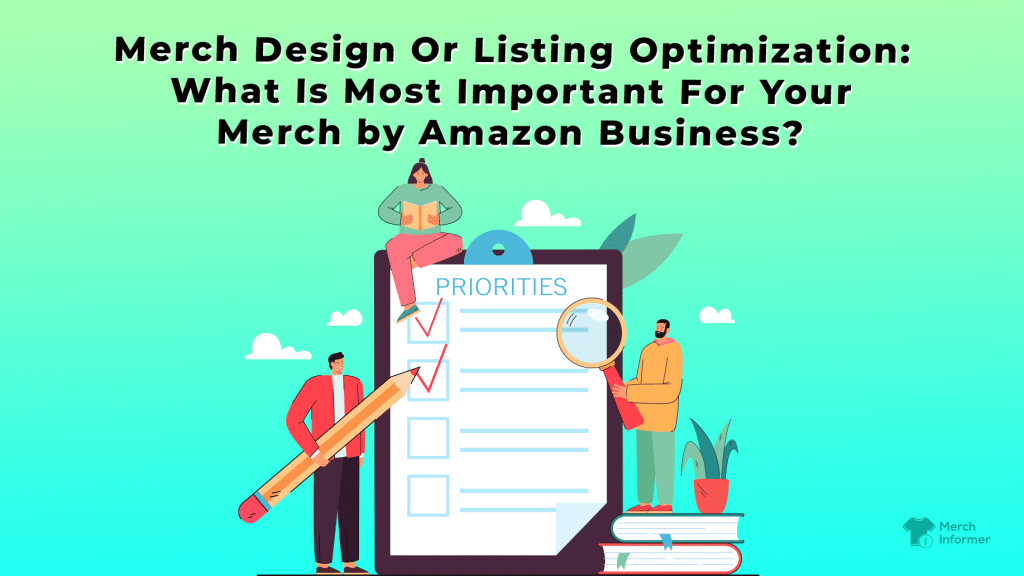 If you've already started selling Merch on Amazon, you'll probably agree that it's not just about coming up with a catchy design and expecting users to buy like crazy.
There is a steep curve to battle through before you can see your products sell like hotcakes. And even then, if you fail to apply the art of consistency to your strategy, your success in the long term will become vulnerable.
But to grow your sales volumes and enjoy a lot of interest from buyers, you must consider two key elements – design and listing optimization.
When it comes to creating the perfect strategy, most buyers struggle in deciding which one to prioritize. Is one more important than the other or are they equally essential?
What potential do they have for your sales in the long term?

And most importantly – what should you focus on as a Seller on Merch by Amazon?
Let's dig into these questions to find the answers.
How Important Is Merch Design For Generating Sales?


Without a doubt, Merch design is a crucial piece of your sales strategy. It's the first thing that your potential buyers see.
Design has the power to instantly catch attention or to quickly repel users who are not in your target audience, therefore playing a significant role in generating sales.
The beauty of design is that it also speaks for itself. You can send a message to the user or trigger certain emotions by using specific colors, fonts, layouts, and more.
Say you've recently expanded your design portfolio and you've started selling t-shirts in the pet niche. Your design includes an image of a cute puppy with a catchy text line reading "pet me please". This design is highly likely to trigger an instant emotion in certain buyer groups, leading to quick sales.
Every target audience has its specific triggers that you can use in your designs to inspire action or a purchase.
For example, women and children tend to react to cute images, while men could be inspired to purchase a design that incorporates humor or politics. By knowing what makes your target audience tick, you can adapt your designs to increase your chances of selling more.
But, all of this is only possible if your products are discoverable in the first place!
The Weight Of Merch By Amazon Listing Optimization
Listing optimization carries enormous weight for your success as a Seller on Merch by Amazon.
Why? Because the way your listings have been created will determine how visible they will be to potential buyers looking for products like yours. Listing optimization is directly linked to rankings and can make or break your sales volume in the short- and long-term. It can generate higher search visibility, therefore improving click-through rates and ultimately, conversions.
There are a few components of your listings that can make a difference in your rankings and sales:
Keywords
Adding the right keywords to your listings will make your merch visible to buyers searching for these keywords. For example, if you are selling an Easter bunny t-shirt design, you need to include the keywords "Easter', "Bunny", "Easter bunny", and any other related words that buyers are actively looking for. If you simply include keywords like "bunny t-shirt" you'll be missing out on all of the Easter search on Amazon.


You can discover keyword ideas that are highly searched for in a niche by using Merch Informer's Keyword Research tool. Including keywords with high search volumes and low competition will put your designs at a competitive advantage and will make them easily discoverable.
Image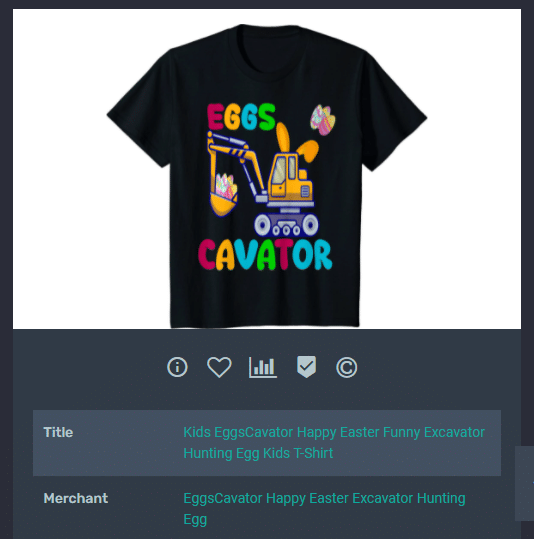 Images also play a vital role in click-through rates and conversion rates as they're the first thing users will see in your product listing. To make your listings fully optimized, make sure your images comply with Merch by Amazon rules and regulations (read the terms of service!). Make the image as large as you can on the shirt. This will help users get a better idea of what to expect in reality and could give them the confidence to complete a purchase. It will also make sure that the design sticks out in the search results.
Description
Optimizing your product description with detailed information and relevant keywords will also help generate more interest and potential sales. Descriptions are designed to provide answers to common questions and to inform about the product. They play a huge importance in the purchasing decision-making process, especially for new buyers who have never bought your designs.
Financial Gains & Long-Term Value: Listing Optimization Vs. Merch Design
Both listing optimization and Merch design could result in fruitful financial gains for you as a Seller. However, we must note that listing optimization has a slight advantage in this case.
Let's look at an example.
Easter is now approaching, so let's assume that you've decided to tap into this potential and create a few thematic t-shirt designs. You've created eye-catching, interesting, and easily lovable designs targeted mainly at women. Why women? Because they spend nearly 80% more than men on clothing and merch. So far so good. However, you were in a hurry to upload your listings and simply added the design, a title and a few descriptive sentences. You didn't do any keyword research, you haven't included any essential information on the product or answered any common buyer questions as part of your description.
What would the results be?
If someone were to look for Easter products to buy towards the last pages of search results, you would probably receive a lot of attention and generate sales.
However, this is almost never the case. Most buyers only look at the first page or the first couple of pages when browsing for Merch on Amazon. Therefore, those who have optimized their listings to enjoy higher rankings are also witnessing a lot of traffic to their products and making more sales.
In short, they have the competitive advantage while your amazing designs will likely remain unseen. Financially, this is not a scenario that Sellers want to be in.
What To Focus On To Increase Sales And Popularity
What we would advise Sellers to do, is to think of Merch design and listing optimization as two sides of the same coin.
They should not be separated or prioritized to the detriment of the other; rather they should be considered as equally important.
Let's reverse the example from above to reiterate our case. Let's imagine that you've optimized your product listing to the fullest. However, your design is not great and not attractive for buyers. It doesn't offer any emotional trigger, it's not targeted at a specific group, it's not related to a trend, and doesn't send a message.
What can we expect from this scenario? Very few sales, if any. That's because the first results pages are dedicated to the true best-sellers, both in terms of design and listing optimization. If your product makes it on these pages, it will compete with highly successful products, featuring a ton of reviews.
This is why it's vital to create a complete and all-round Seller strategy and effectively combine design with a great product listing optimization to turn your Merch by Amazon side gig into a success story.
In A Nutshell
The design vs. listing optimization conundrum is a popular topic for Sellers on Merch by Amazon. Our definitive answer is that the two shouldn't be observed as two separate strategies. Instead, they should be combined to create a top-selling plan of action that will reward you with significant financial gains in the long-term.