How A Simple Influencer Campaign Made Over $1000 With A Single Shirt (Famebit Marketing)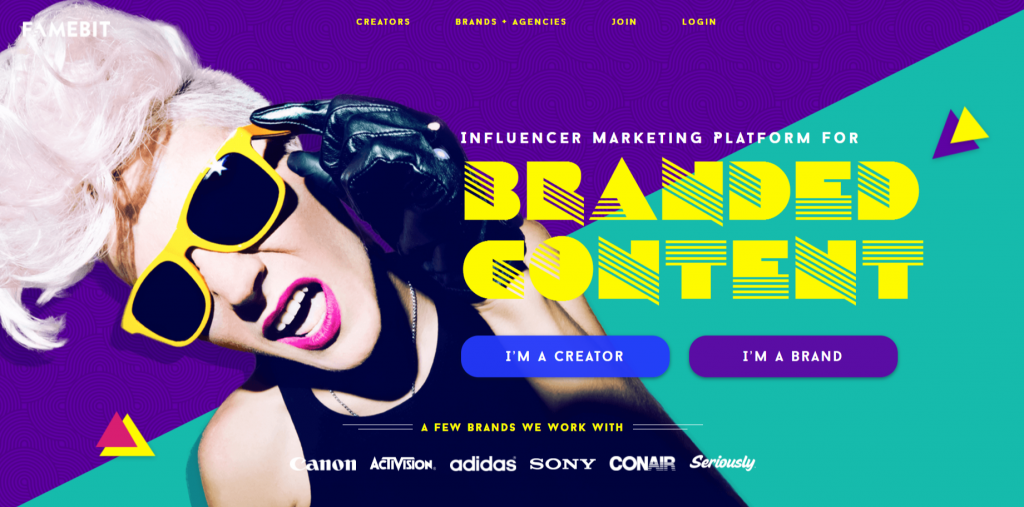 If you have not noticed, we at Merch Informer like talking about marketing your shirts once they are live on Merch by Amazon in order to stand out from the competition. Having a background in marketing has helped tackle the usual channels of marketing that have helped Merchers see success running campaigns and using social media.
To start off our guest blog series, we invited Jewel Tolentino to write a post on a marketing strategy that I have not seen anyone really talk much about: influencer marketing. Since Jewel and her business partner are Youtubers, this strategy is a pretty awesome twist on using Youtube to drive amazing sales and traffic to your shirts. Don't worry, you do not need to get in front of a camera for this!
We first met Jewel a few months ago when I stumbled onto their Youtube channel talking about their journey as Canadians to make money on the platform. As their earnings grew month over month, we decided to reach out as this strategy is pretty cool and something EVERYONE can implement. Let's get into it!
---
What is Famebit? It's an influencer marketing platform. This basically means you can hire a Youtuber, Instagrammer, Tweeter, Facebooker, Tumblr-er, or any other 'influencer' with a large amount of subscribers/followers to promote your product or service.
My business partners (I do Merch by Amazon with two other friends) and I wanted to try out an experiment to see if hiring a YouTube influencer through Famebit to promote one of our t-shirt designs would be a good investment / help us sell more t-shirts…it totally did. 🙂
In a nutshell, we spent about $235 USD – this includes the cost of hiring the youtuber, and also includes taxes / shipping 1 t-shirt to our Influencer. We made over $1000 USD in Merch by Amazon Commission sales from this campaign. So after everything, we were left with approx. $700 – $770 USD in pure juicy profits.
So in this post I'm going to lay out the 3 factors that contributed to our success and the exact process we used that resulted in our profitable Famebit marketing campaign. A few things to note before we start:
This whole process can take up to 2 weeks, so plan ahead if you are planning a campaign that is holiday themed.
This guide is geared towards using a Youtube Influencer on Famebit – we haven't tried marketing through Influencers on other social media platforms.
I cannot guarantee that you'll make the same sales as we did (although my wish for you is to make even MORE sales through this method!). We are just sharing our experience on how we did it.
Ok, let's dive in!
Here are the three main factors that contributed to our success:
Our t-shirt design
The Youtube Influencer we chose
The season (it was Christmas time when we ran this)
You'll see how each of these things play a significant role in the process below.
Here's how we did it:
1. Choose 1 t-shirt design. Since it was late November when we started our campaign, we decided to choose a Christmas themed design that was related to a popular Christmas movie. You want to pay close attention to what season it is and choose a design that is a popular "no brainer" for a customer to see it and immediately want to buy it.
2. Sign up for a Famebit account as a "Brand". https://famebit.com/brands



Click on "Get Started For Free"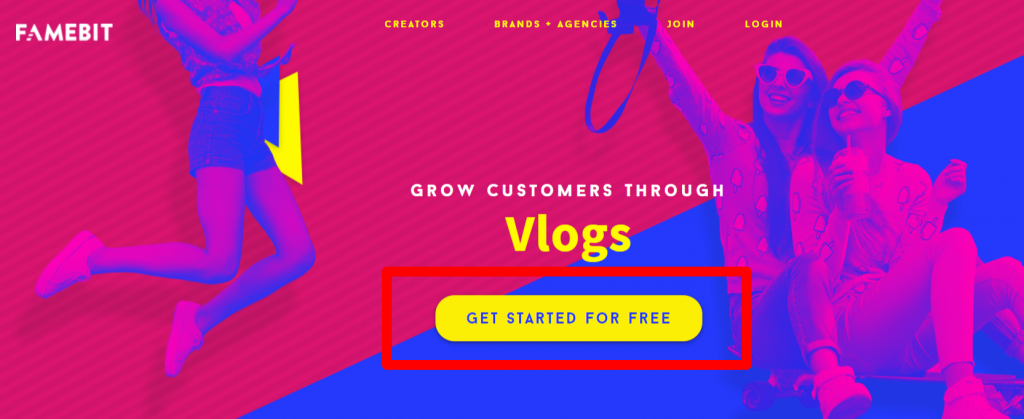 Fill in your details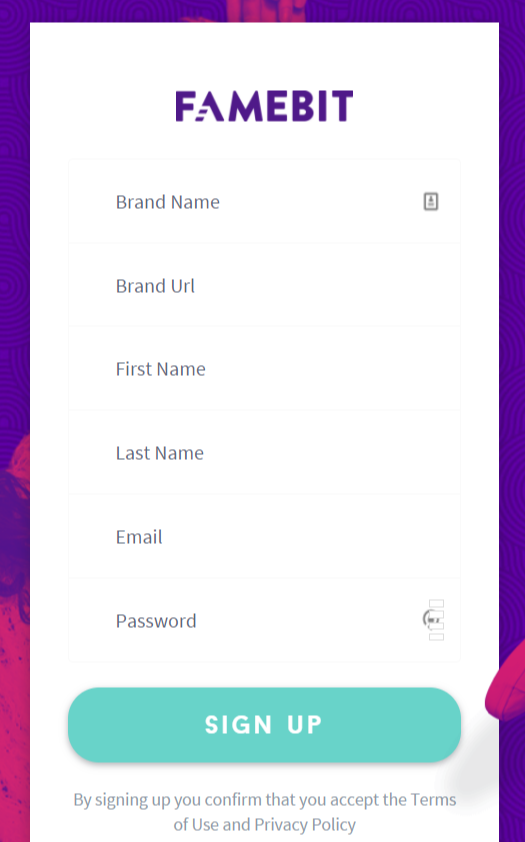 3. Once you have created your Famebit account, click on the green "Create Campaign" button in the top left area.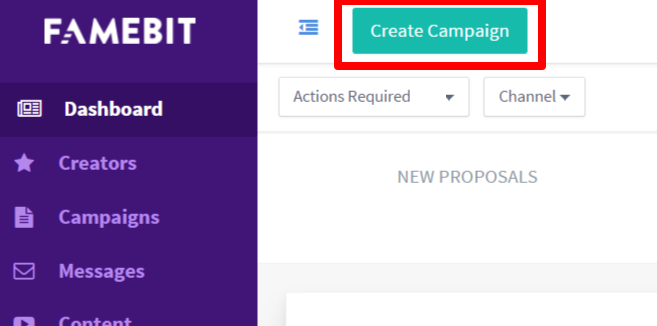 4. Choose the social media platforms that you would like to promote on and click "next".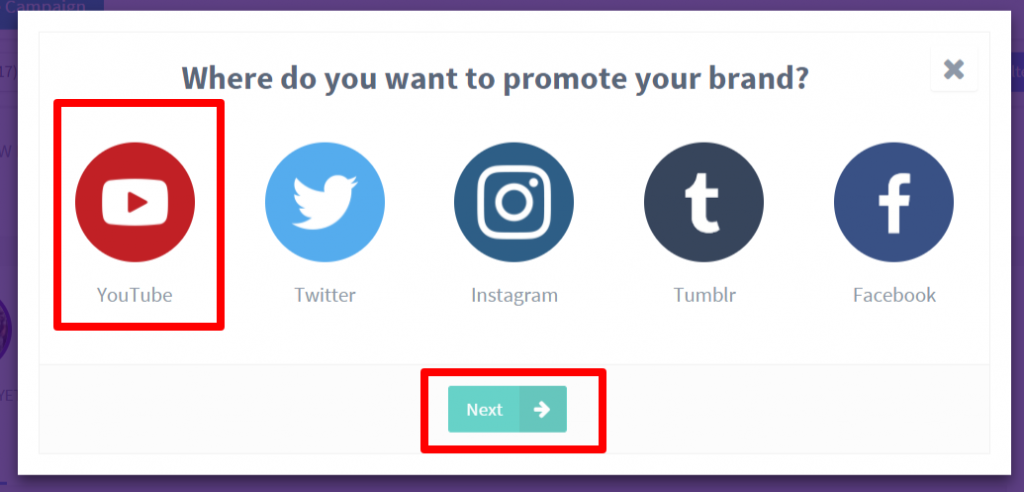 5. Select your video types for Youtube and click "next" – Make sure that this matches up with your design. For example, if your t-shirt design is geared towards females who like beauty products, then don't select "Game Play" 🙂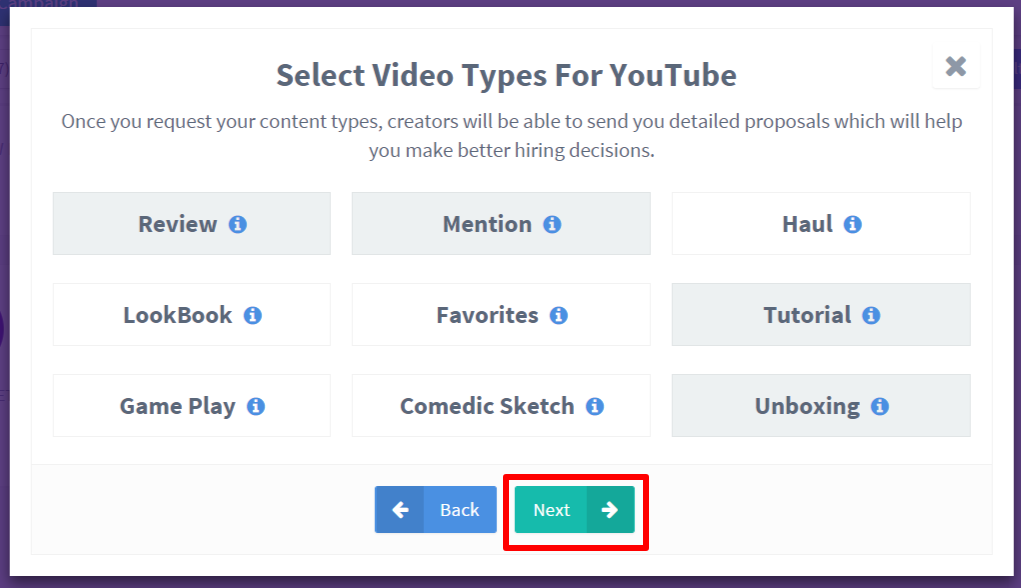 6. Fill out your campaign details and click "Create Campaign".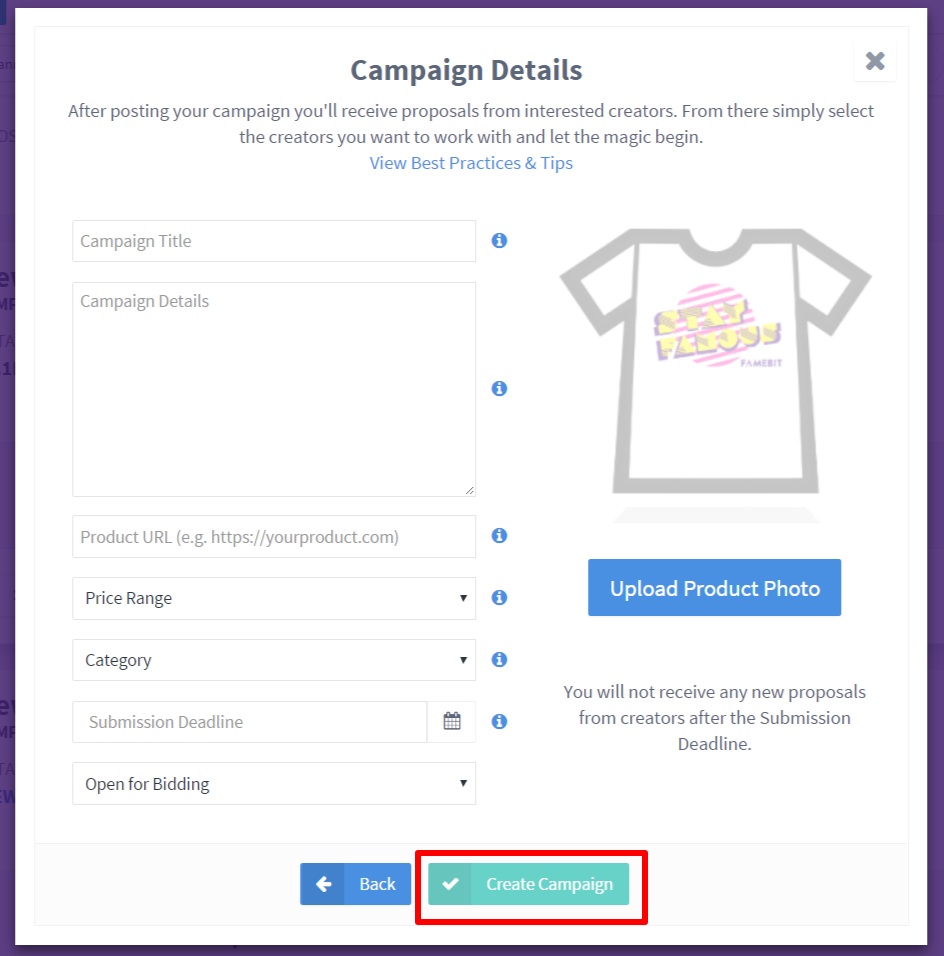 For more information on how to fill out each section, hover over the small blue "i" icon to the right of each fillable section.
For your product photo, you can just download your Amazon product pictures and upload 1 of those.
For price range, I would start off by choosing the $100 – $250 range.
7. Wait for Famebit to approve your campaign (this can take 2 – 5 days depending on how busy they are).
8. Once approved, you will start to receive a bunch of proposals from Influencers who want to bid to get hired for your campaign. Be prepared as you may get a ton of proposals! This is a GREAT thing as it gives you more options to weed out the Influencers who just aren't a good fit.
So what do you need to look for when going through each of the proposals?
Here's what to look for:
What are they offering in their proposal? The Youtuber we chose offered to wear our t-shirt for the entire duration of the video, mention and point to the t-shirt within the first minute of the video, tell people that if they want to buy the shirt they need to head "down to the description below", etc. He also offered to place our "purchase links" above the youtube description fold. This means our links were right at the top and the viewer wouldn't need to scroll down in the description. The link would also stay in the description of the video for the entire duration that the video is online. These were all really great points for us in comparison to some other proposals that only offered 1 or 2 of the above.
How many Youtube subscribers do they have? We wanted a channel that had a minimum of 100,000 subscribers, we ended up getting a channel that had over 250,000 subscribers.
How many views per video do they have? It's one thing to have a lot of subscribers, but it's also very important to check the views per video. This ratio is so important because if a YouTuber has a lot of subscribers but very low video views, this means that their subscribers aren't very engaged in what they are putting out and this isn't going to mean good exposure for your tshirts. In our example, we had a channel with over 250,000 subscribers with videos that ranged from a minimum of 22,000 – 50,000 views all the way up to over millions of views on his videos. Sweet!
What is the engagement like on their videos? Are there a bunch of "likes" and "comments"? If there are comments, are they positive? Do the viewers know, like and trust this Youtuber? You want all signs to point to YES!
Does the Youtube Influencer already sell in their videos? The Youtuber we chose often wears t-shirts and he usually promote a new one in his videos. This is a good sign because it means his audience is used to him selling so they won't be turned off if there is a product placement.
Is this Youtube Channel a good fit? Does their brand match the theme of your t-shirt design? Our t-shirt design was a Christmas themed design from a Christmas movie. The Youtuber we chose had a movie review channel and they would be reviewing a new Christmas movie that would be coming out. Everything lined up perfectly.
Do they produce QUALITY content CONSISTENTLY? It's important that the YouTuber is active, frequently posts videos on their channel and produces quality content.
Do they have good or bad reviews on Famebit? Read both good and bad reviews for this Influencer on Famebit. Make sure you're satisfied.
Is their channel based in the USA? This is really important because you are promoting an Amazon.com product link, so you want their audience to mostly be in the United States. You will receive proposals from Influencers from all over the world so this point will easily weed out a lot of potential candidates for you.
9. Once you have found your Youtube Influencer, you can either click "Accept & Hire" right away or click "Request Changes" to alter the agreement.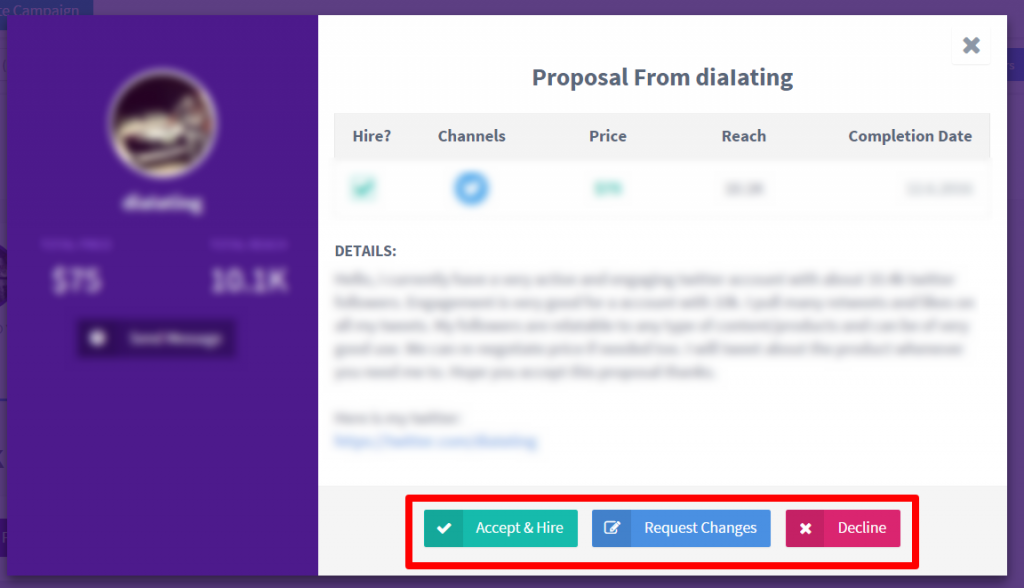 10. When you click on "Accept & Hire", the whole process begins and you pay for the campaign up front, but the money will be put in an "escrow" account for holding until you review and approve the final video from your chosen Influencer.
11. You should send your Influencer your t-shirt in their chosen color and size right away so that they can get started as soon as they receive it.
12. After all of this, it's in their hands now… The Youtube Influencer will be creating the video and will be submitting it to you for review. Once approved, they will then release the video live to their Youtube Channel!
Bonus Tip: Give the Youtuber 2 product links – The first link will be your Amazon t-shirt listing and the second link will be a Redbubble link so international customers can purchase as well. Make sure to upload your shirt to Redbubble as well 😛
So that's it, that's how we did it!
Oh and if you learn better through video, I created a video describing this entire Famebit process on our Youtube Channel which you can check out here: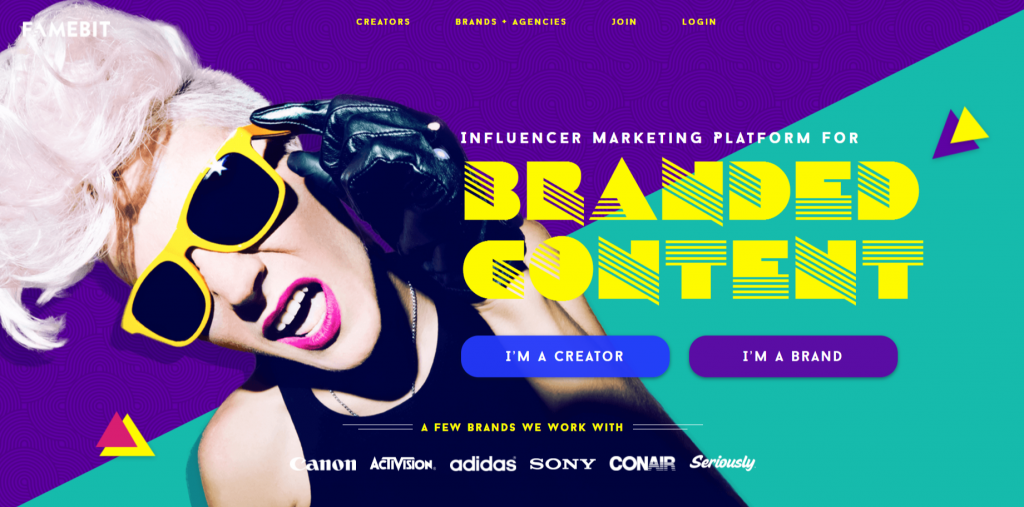 We release Merch by Amazon video updates on our YouTube channel every week, so if you would like to learn more on what's working vs not working for us, how many shirts we're selling, what resources we use, frequently asked questions, etc. – subscribe to Merch by Amazon Playlist here: https://goo.gl/WCIrqS
Hope you guys enjoyed my guest post here on Merch Informer!
Feel free to contact me directly if you have any questions or comments – you can add me / message me on Facebook: https://www.facebook.com/jeweljoytolentino
Cheers,
Jewel Tolentino
Dare To Be Dream Driven