Here are the biggest throw pillow themes on Amazon Merch on Demand that you should know about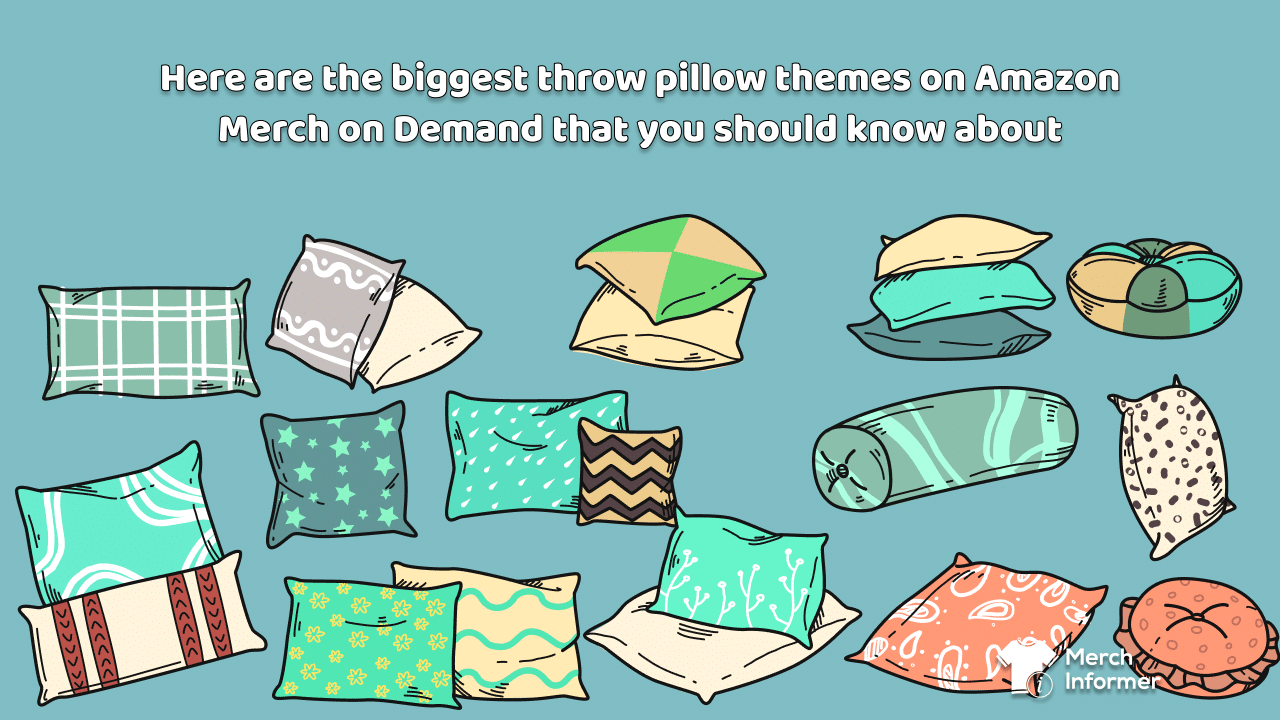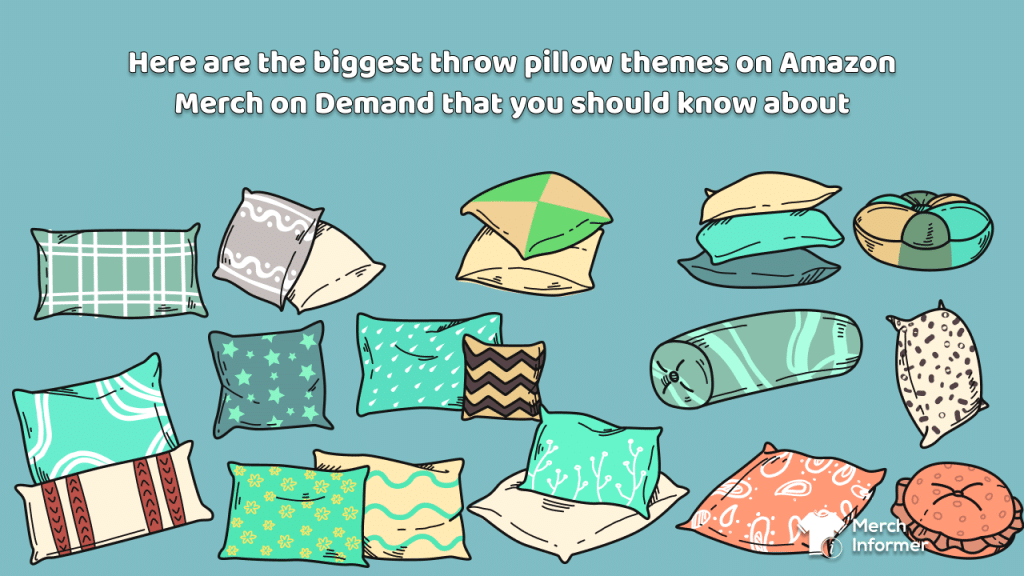 If you're an Amazon Merch on Demand seller, your path to profitable creativity is about to get a whole lot smoother.
From vibrant birthday prints to cute patterns – we've curated the ultimate guide to the biggest throw pillow themes making waves on the platform.
Prepare to be inspired as we dive into these trendsetting niches that are sure to turn your seller portfolio around for the best.
A general look into the throw pillow niche on Amazon Merch on Demand
Before we jump to the meat and potatoes, let's take a moment to get to know the throw pillow market as a whole.
Given its status as one of the less popular categories on Amazon Merch on Demand, there might be questions regarding its potential.

Using Merch Informer, we found out that there are more than 500 bestseller listings in the segment. Altogether, they generate an average BSR of 1,171,034.


This indicates a rather limited sales outlook, especially compared to other trending categories, like t-shirts. In the t-shirt category, the average BSR of all top performers is 266,934, for instance.
But don't be quick to eliminate throw pillows from your list. There are still hidden opportunities to exploit and we're about to show you why.
A look into the numbers reveals that there are some very expensive throw pillows on Amazon. This creates chances to earn fruitful royalties per sale:
Lowest Price – $8.99
Highest Price – $99.99
Average Price – $24.21
So how can you make a successful entrance into the market? With the right niche, of course.
Without further ado, let's move on to the throw pillow themes that dominate the scene.
The top tags among best-selling listings
Hopping on the bandwagon to discover the biggest throw pillow themes is no easy task. There are plenty of factors to consider and numerous metrics to analyze.
First, we detected the most frequently recurring tags within bestselling listings. Next, we considered consumer search behavior to understand what Amazon shoppers browse for.
Let's take things step by step and see what themes most bestsellers include in listing titles and descriptions:
Birthday
Funny
Gifts
Cute
Mom
In other words, these are the themes that are considered the largest and most well-developed ones in the category.
Using Merch Informer, we investigated more into each niche. Here are our findings on the top five markets.
Gifts
From all themes, gifts are the number one niche in the throw pillow category. With more than 220 bestselling listings, this topic is certainly a wave-creating one.
This is no surprise as throw pillows are a creative way to say happy birthday, wish a Merry Christmas, or simply make a unique and personal gift to a friend for no occasion.
The average BSR of top-performing throw pillow gifts is 975,357. This is a relatively high bestseller rank, indicating a lower sales potential.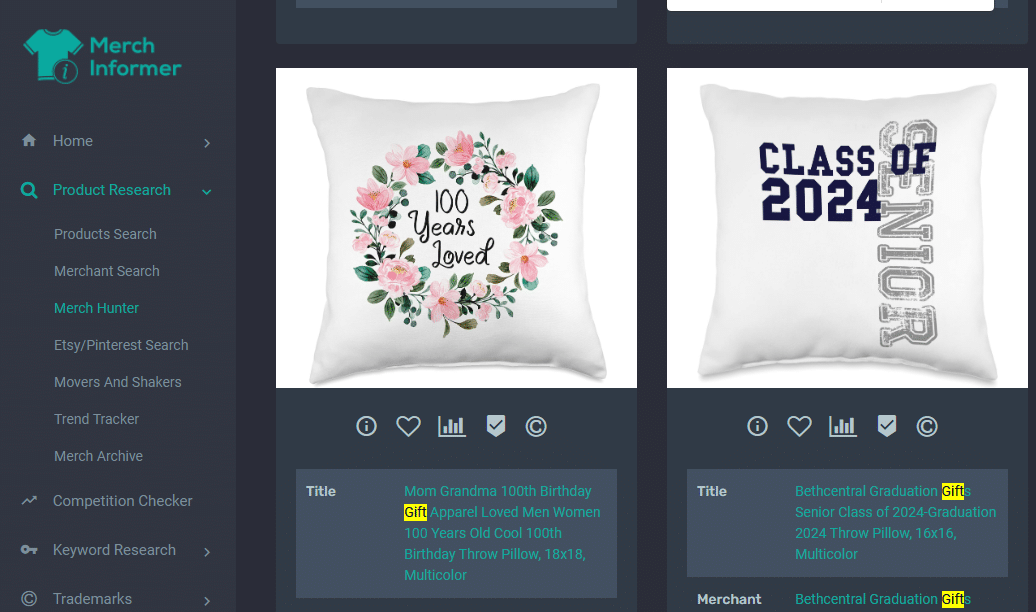 However, the number of money-making listings positions this theme at the top of our list.
In terms of profitability, the market prices that you need to know are as follows:
Lowest Price $12.99
Highest Price $79.99
Average Price $23.94
Although there are no written rules that you must abide by these rates, it's recommended to consider them for your pricing and sales strategy.
For example, asking for a price around the average in the market will put you in a competitive position and will make your listing more attractive to shoppers.
But what do the bestsellers in the market look like?
The most successful listing in the space is "Gifts For Content Creators Red Subscribe Video Blogger Play Button Throw Pillow, 16×16, Multicolor". It costs $98 (which exceeds the highest price in the niche) and has achieved a BSR of 235,052.
The throw pillow design is strategically targeted at video bloggers, while the listing features essential keywords in the title, like "gifts", "16×16", "multicolor", and "video blogger". This diversification increases the chances of higher visibility and enables the listing to rank better, catching the eyes of diverse target audiences.
Birthdays
The second largest theme in the throw pillow category after gifts is a special occasion – birthdays.
There are a total of 104 birthday throw pillows according to Merch Informer's Merch Hunter tool. Their average BSR is 449,002, which is almost half of that for throw pillow gifts. This suggests that the sales volume of birthday throw pillows is much higher than that of throw pillow gifts.
But moving beyond raw data, birthday throw pillows are part of the gift throw pillow niche. Why? Because they're usually targeted at users who wish to make a birthday gift to a friend on their special day.
Having this in mind, you can merge both themes to create an ultra-powerful listing that is geared toward success.
One such example is the "Mom Grandma 100th Birthday Gift Apparel Loved Men Women 100 Years Old Cool 100th Birthday Throw Pillow, 18×18, Multicolor" listing. This product costs $12.99 and has a BSR of 321,537. It's optimized for both "birthday" and "gift", giving it extra discoverability.
Interestingly, this item is priced at the lowest end of the price spectrum:
Lowest Price $12.99
Highest Price $49.99
Average Price $23.57
This is a strategic move that is typical for new niche entrants. The tactic intrigues consumers from a price perspective and encourages purchase decision-making.
Funny throw pillows
Next up on the list are funny throw pillows. With 99 best-selling items in the space, comedy-inspired bestsellers in this category accumulate an average BSR of 840,552.
The price tags that you need to know about are:
Lowest Price $12.99
Highest Price $99.99
Average Price $26.06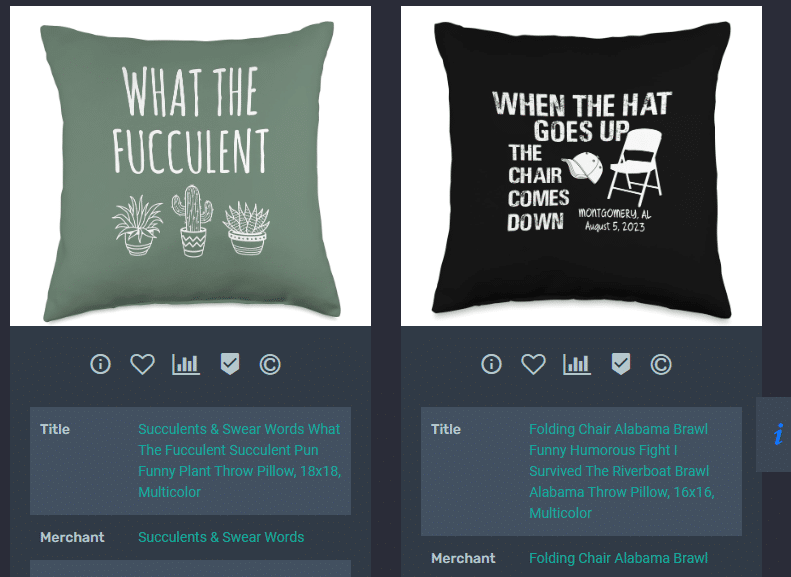 Looking into the most successful listings, we can't neglect the chart-topper – "Succulents & Swear Words What The Fucculent Succulent Pun Funny Plant Throw Pillow, 18×18, Multicolor". It sells for $21.99 and has achieved a BSR of 315,604.
It's priced slightly under the average in the market and has made use of phrases like "succulents", "swear words", "pun", and "funny" for visibility purposes.
Cute throw pillows
Apart from gifts, birthdays, and funny throw pillows, cute designs also dominate the market.
A total of 75 results appear in Merch Informer's Merch Hunter tool when typing in "cute" in the throw pillow category. Their combined average BSR is 736,624, while their market prices are the following:
Lowest Price $15.99
Highest Price $80.03
Average Price $24.49
Right off the bat, we can see that cute throw pillows have the highest lowest price of all other options.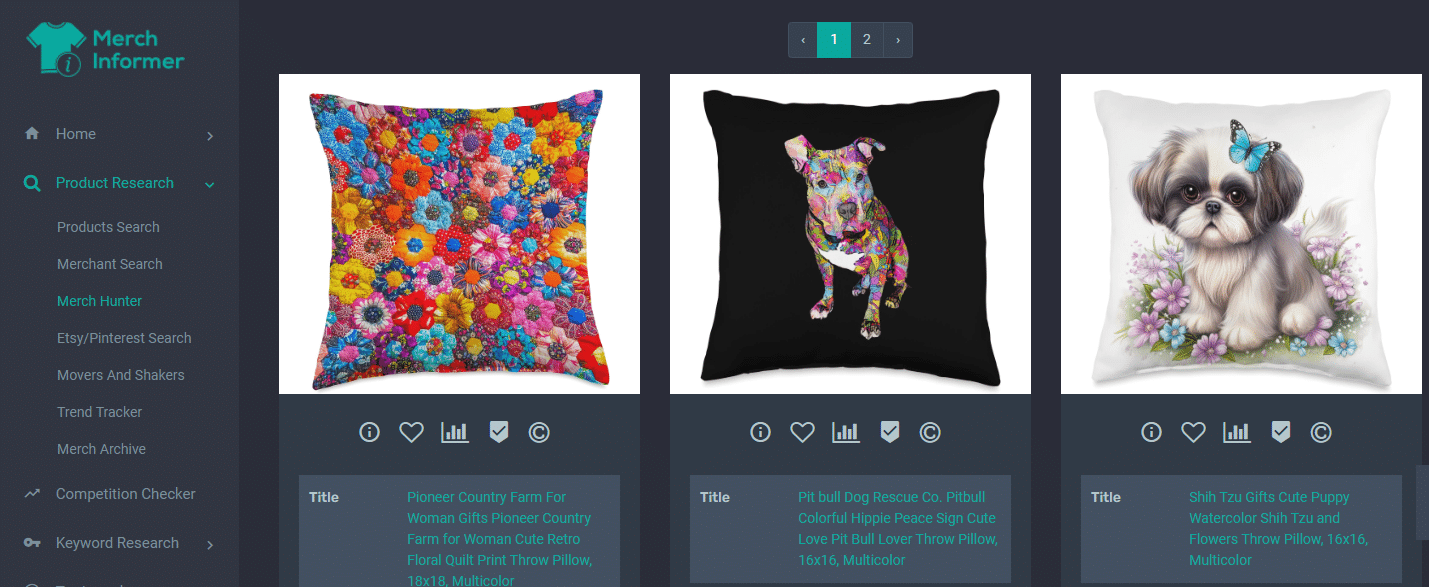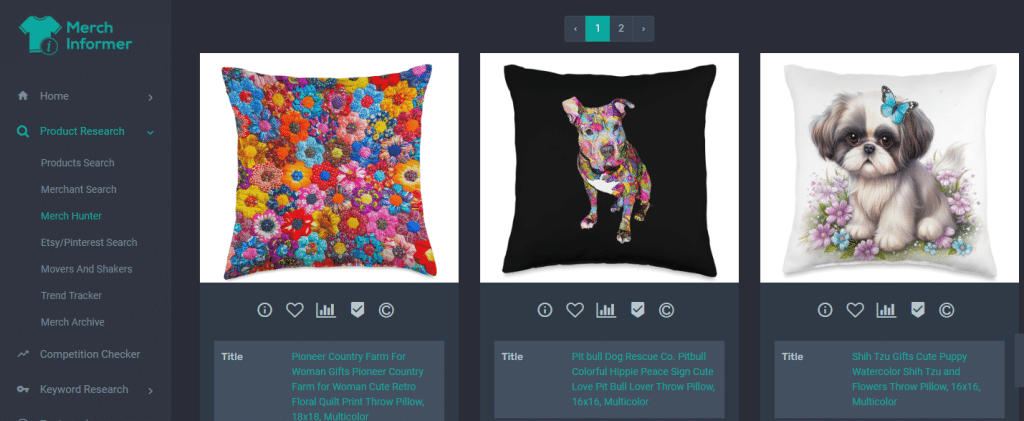 This indicates that your royalties are likely to be more gainful in this theme. After all, the greater the listing price, the higher the royalties. For new entrants, this is excellent news, as tapping into fresh markets usually involves asking for a lower price than that of other competitors.
What are the top performers doing to secure sales?
For example, the "Vine Mercantile To The Beach-Cute Summer Quote-Vintage Light Grayed Aqua Throw Pillow, 18×18, Multicolor" listing sells for $38.99 (significantly higher than the market average). It stands out with a BSR of 425,740 and has strategically merged several themes into a single listing (vine, beach, cute, summer, quote, vintage, and aqua).
This proves the power of niche combinations to create a single, well-ranking listing.
Mom throw pillows
The final theme worth investigating is the mom throw pillow niche.
A total of 64 listings have made it to the list of bestsellers on Amazon Merch on Demand, indicating a significant segment. Their average BSR is 487,772, while the market prices are:
Lowest Price $12.99
Highest Price $49.99
Average Price $23.00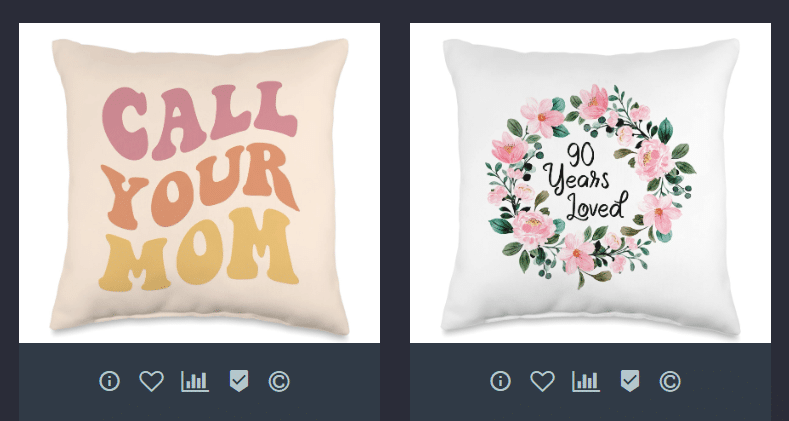 This niche, together with birthday throw pillows, has the lowest highest price. Put otherwise, even if you position your listing near the most expensive ones in the market, your earnings will be lower than in other spaces, like cute throw pillows.
Furthermore, the average price is comparable to other themes in this article, which means that sellers can enjoy similar financial rewards.
Finally, this is another theme that can be married to others, like birthdays and gifts. This is quite apparent in the number one listing, which is the same one we discovered in the birthday theme above – "Mom Grandma 100th Birthday Gift Apparel Loved Men Women 100 Years Old Cool 100th Birthday Throw Pillow, 18×18, Multicolor"
The trending themes based on buyer search behavior
So far so good. But what will happen if we do some digging into the phrases that generate the highest search volumes?
Will our list remain the same? Certainly not.
A look into Merch Informer's keyword tools helped us identify a whole new set of throw pillow markets generating interest.
As it turns out, colors and animals are very popular. At the same time, other themes like handmade, coastal and aubergine also trigger shoppers.
Below, you can see the trending themes we uncovered. Next to each phrase you can see its monthly search volume and competition level.
Colors
beige throw pillow – 36 948 – High
teal throw pillow – 17 023 – High
red throw pillow – 16 379 – High
chartreuse throw pillow – 10 008 – High
gold throw pillows – 9 587 – High
Animals
elk throw pillow – 16 685 – High
owl throw pillow – 9 119 – High
zebra throw pillows – 6 071 – High
birds throw pillows – 6 057 – High
Others
handmade throw pillows – 18 021 – High
coastal throw pillows – 10 022 – High
aubergine throw pillows – 9 988 – High
boho throw pillows – 9 595 – High
fall throw pillows – 9 584 – High
Does this mean that these are all large and well-developed markets?
No, it means that as a seller, you can use these ideas to perform further niche research. Information about the number of existing listings, their average BSRs, and prices will empower you to make informed decisions.
In a nutshell
Overall, our research into the throw pillow market provides two conclusions.
First, the throw pillow category shouldn't be underestimated as there is money-making potential in the market.
Second, gift, birthday, funny, cute, and mom throw pillows are the five biggest themes on Amazon Merch on Demand for this particular space. Use these discoveries together with additional data from Merch Informer to your advantage and craft a winning sales strategy.