How feminism evolved as a niche on Amazon Merch on Demand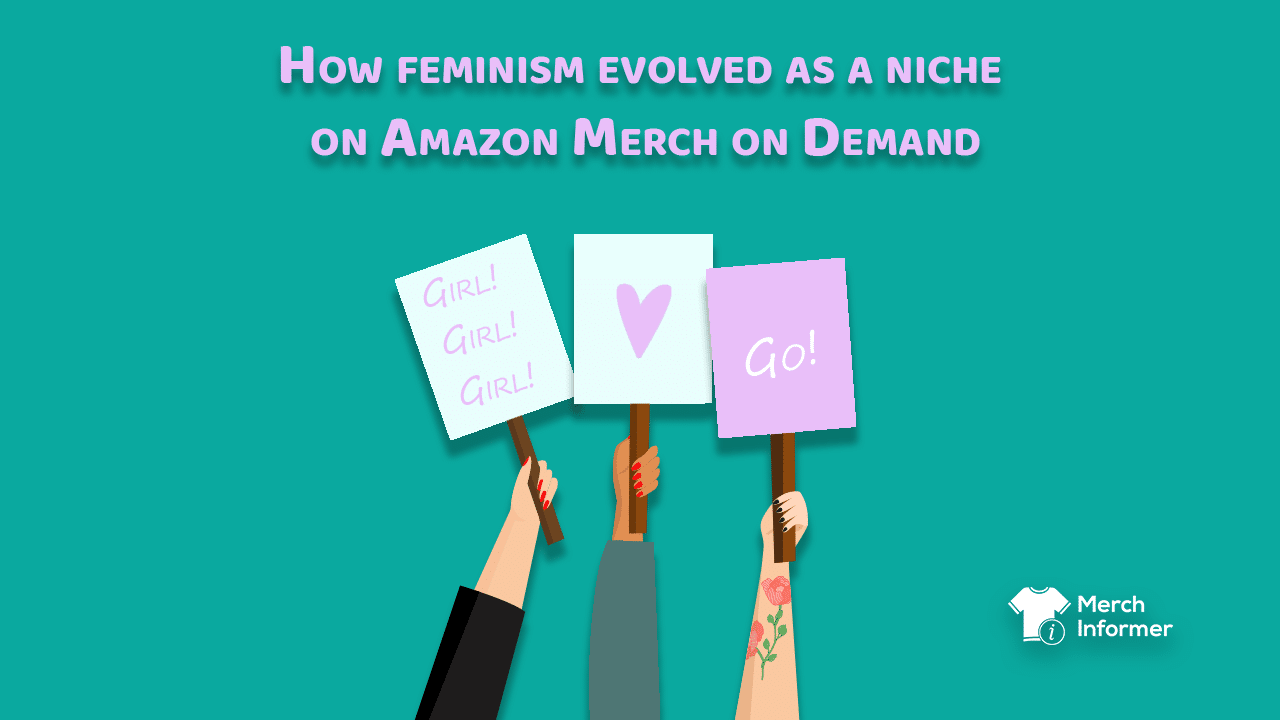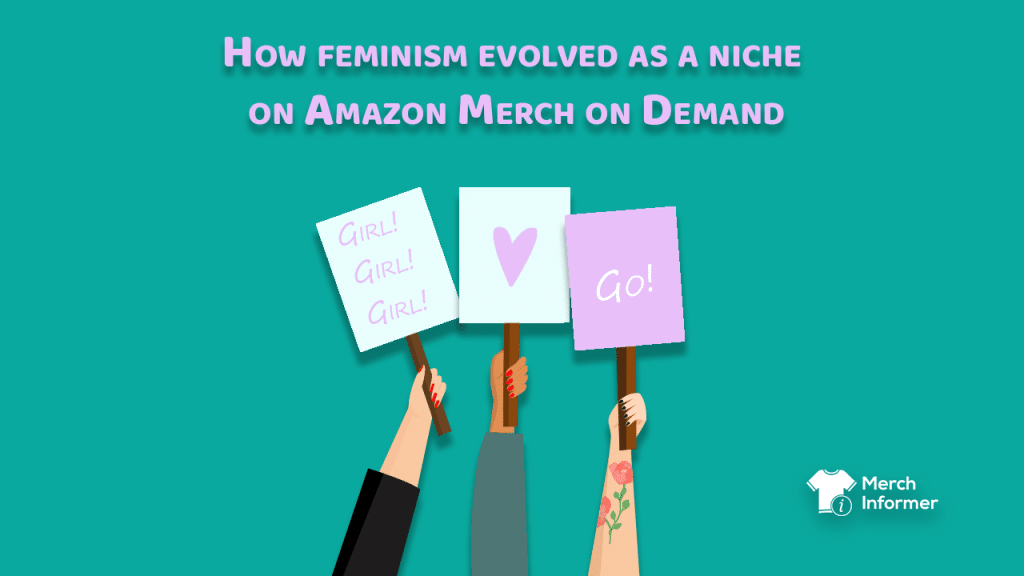 As an Amazon Merch on Demand seller, you should always be on the lookout for trending niches to create your merch designs in. Sometimes, opportunity-rich markets are easy to predict, like Valentine's Day and Christmas.
Other times, they're related to politics or wave-creating events. One such niche that has taken different shapes and forms in recent years is feminism.
In the following sections, we'll explore how the topic has influenced Amazon merch sales historically, and how it fares today.
The fluctuations of a sensitive niche
The feminist movement started in 1848, when the first official Women's Rights Convention was held in Seneca Falls, New York. Since then, the topic has evolved and gained popularity on a global scale. It tackles fundamental inequality problems between the genders and therefore consists of different themes, like work equality, abortion, and more.
Although it's considered a topic that attracts constant interest, it's extremely sensitive to publicly significant events. Political movements, new group formations and laws can all influence the popularity of feminism as a niche. What does this mean for Amazon sellers looking to tap into this market?

That up-to-date information is key and research is inevitable.
But say that you're interested in creating feminist t-shirt designs. When is it best to launch them? How would you know what the hot themes are at the moment?
We recommend utilizing a combination of Google Trends and Merch Informer.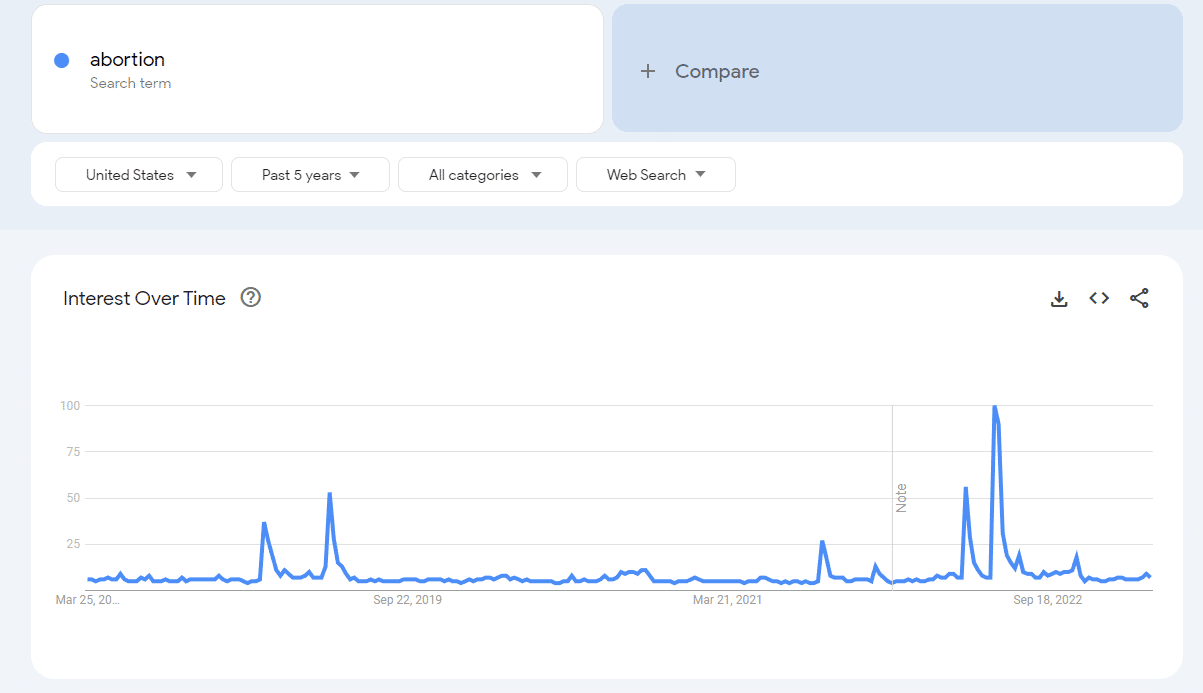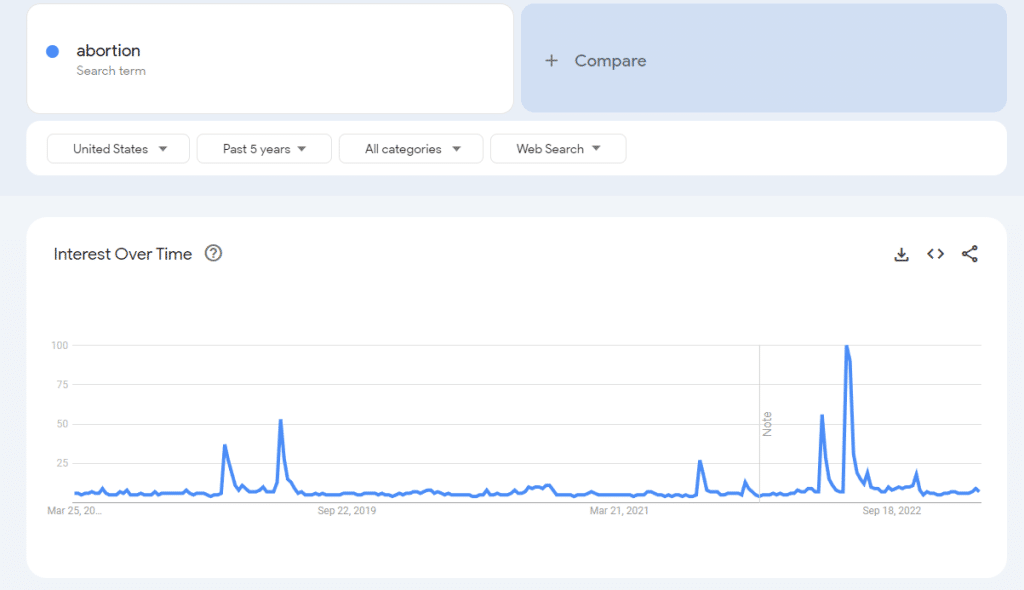 Let's look at an example. We used Google Trends to examine how popular the word "abortion" was in the past three years. We discovered that the highest peak was from the 26th of June 2022 until the 2nd of July 2022. Why? Because on the 24th of June 2022, the supreme court closed the Roe v Wade case by ruling that there is no constitutional right to abortion in the United States.
The results? Mass protests and the rise of pro-abortion groups, not only in the USA, but around the world. This had an impact on Amazon Merch on Demand trends, as consumers became increasingly interested in expressing their opinion via t-shirts, hoodies, and other merch.
How do we know? By analyzing data from Merch Informer.
Expected and unexpected peaks in feminist merch sales
We used Merch Informer's Keyword Cloud tool to travel back in time and identify top-trending keywords. We used the data from Google Trends and focused specifically on the period around the 26th of June.
Here are our discoveries on the top searched-for keywords related to the topic of abortion and the specific case from above


25 June 22
laws off my 10
her body her 12
my body my 13
pro choice feminist 15
choice feminist 44
women's rights 62
26 June 22
pro choice feminist 30
choice pro 37
reproductive rights 42
choice feminist 72
women's rights 96
pro choice 205
27 June 22
pro roe 44
choice pro 47
reproductive rights 70
choice feminist 79
women's rights 112
pro choice 223
As you can see, the popularity of the phrases continues growing from the 25 to the 27th of June. This trend continues on to the mid of July when its popularity slowly drops but is still present.
In August 2022, there were no longer any abortion-related keywords that appeared in Keyword Cloud. Put otherwise, the trend phased out around this time.
This is a great example of an unexpected feminist wave. Being informed is the only way to react on time as a seller and launch designs to meet this demand. For this niche specifically, we strongly advise using Google Trends and other similar tools, being up-to-date with news and events, and taking advantage of Merch Informer.
Apart from these unpredictable sub-niches of feminism, there are also plenty of predictable ones. These are usually associated with seasonality or holidays. For instance, International Women's Day on the 8th of March and Mother's Day in the USA on the 14th of May.
There are dramatic shifts in bestsellers around these periods, where buyers are actively looking for merch gifts for the women in their lives. As a seller, you can take advantage by creating your designs a couple of months in advance and launching them on time.
This will help you enjoy a competitive edge.
The feminism niche on Amazon Merch on Demand today
Now that we've covered the peculiarities of the feminism niche, it's time to dissect the niche from the perspective of today. We centered our efforts on the t-shirt category as it's the most popular on Amazon Merch on Demand.
Next, we used Merch Informer's Merch Hunter tool to explore the bestsellers for words like "feminism" and "abortion".
Here are our findings.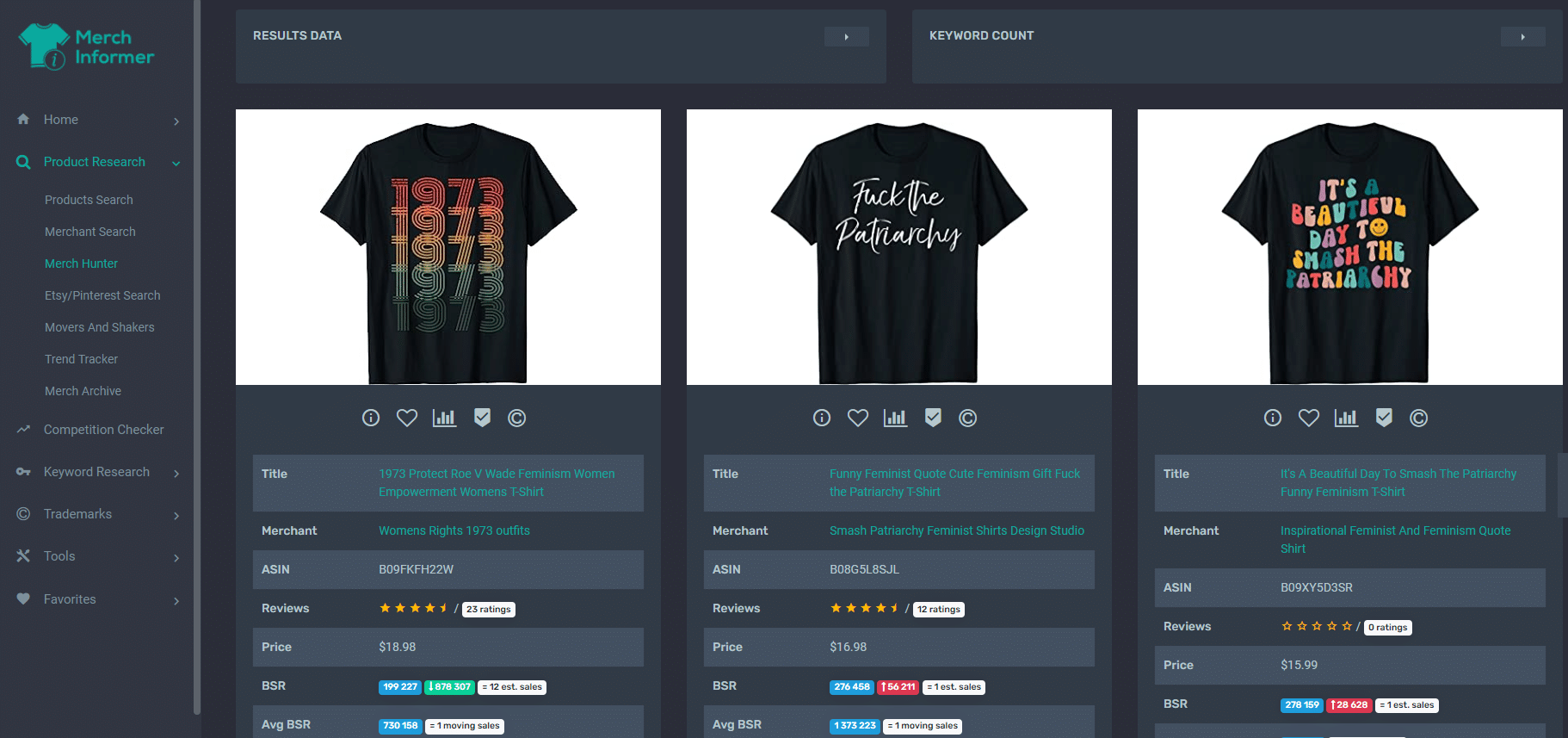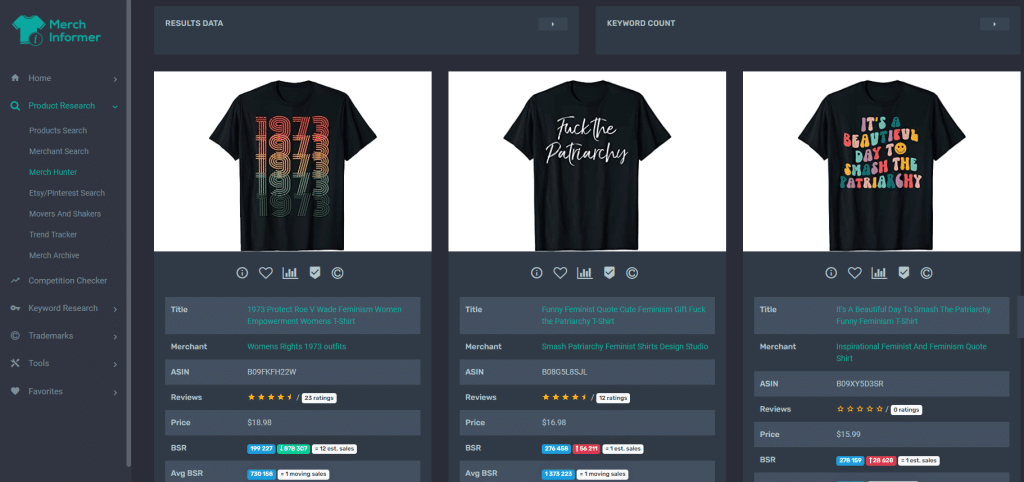 The feminism niche overall is well-developed with 177 bestsellers in the space. These listings have an average BSR of 433 246, indicating that Amazon users are purchasing feminist designs. A look into the popularity of niche-related keywords also confirms this theory:
feminist shirt – 5 047 – high
wild feminist shirt – 4 139 – medium
Next to the words, you can see their monthly search volume and competition level.
In terms of profitability, there are three price points to consider – lowest, highest, and average prices in the space:
Lowest Price: $13.38
Highest Price: $24.95
Average Price: $18.52
Remember, it's best to enter the niche with a price similar to the average in the market. This way, potential customers will have one more reason to choose you over others – your competitive price. In this case, this means positioning your merch designs somewhere along the lines of $17 – $20.
Exploring the bestsellers, we saw that the "Pro Feminism – As Strong As The Woman Next To Me T-Shirt" listing is the number one product in terms of sales. It goes for $15.99 with a BSR of 228 450. The design is simple and consists only of text appreciating the strength of women.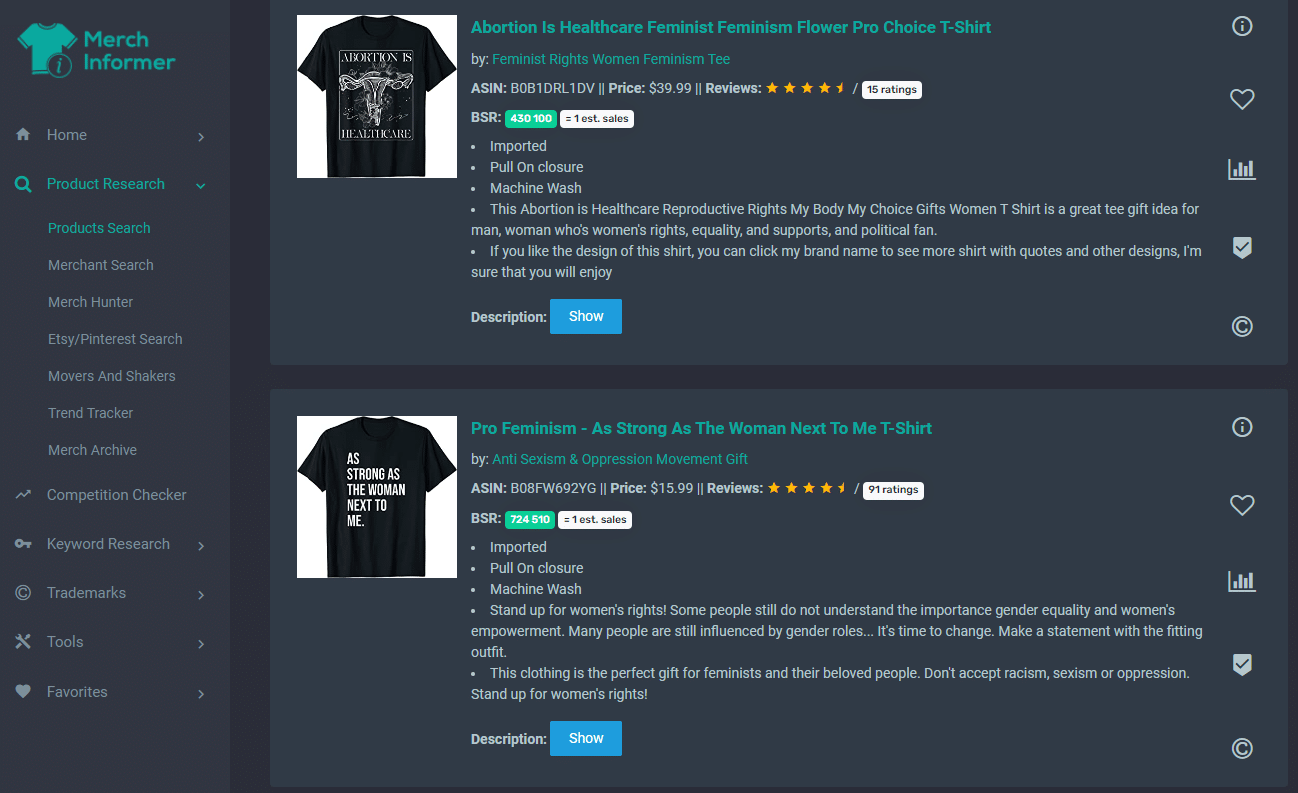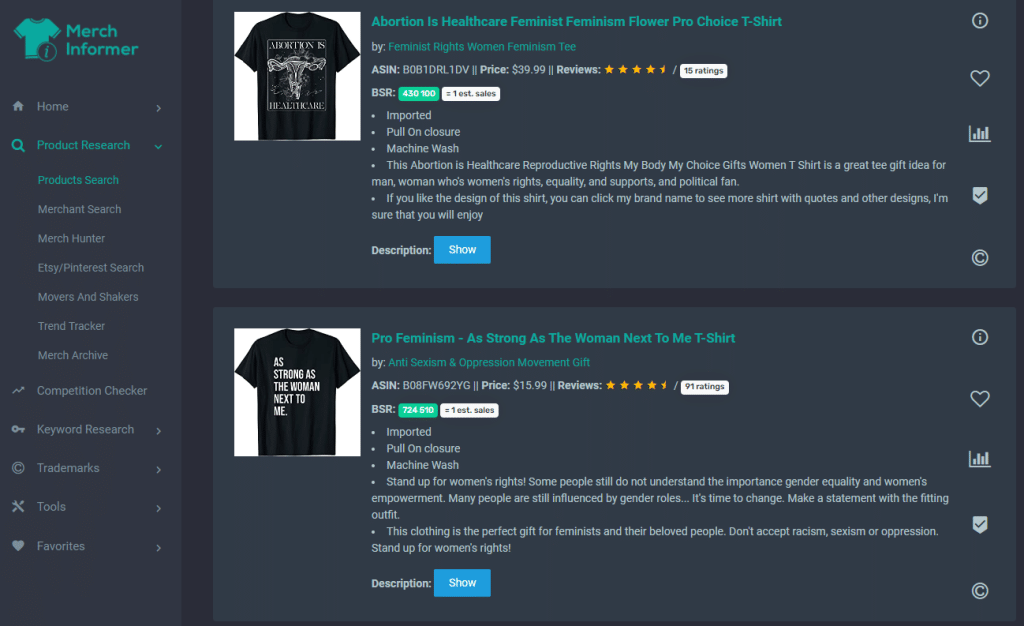 Merch Hunter also helped us discover some of the most popularly used keywords by other sellers in the niche. These include women, choice, rights, support, abortion, equality, girls, body, protest, reproductive, empowerment, justice, and uterus.
Why are these words important? Because they can help you attract more traffic to your listings. Furthermore, they can give you ideas about niching down in the feminist market.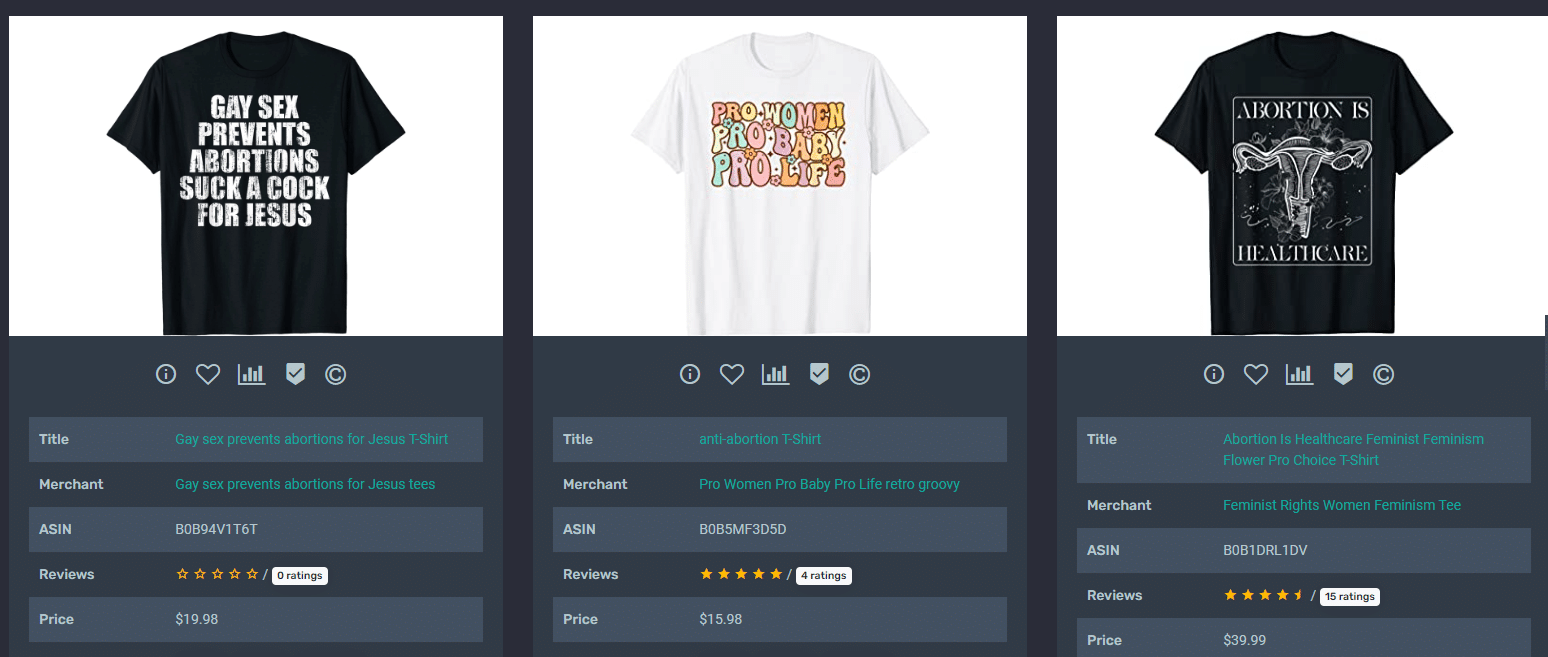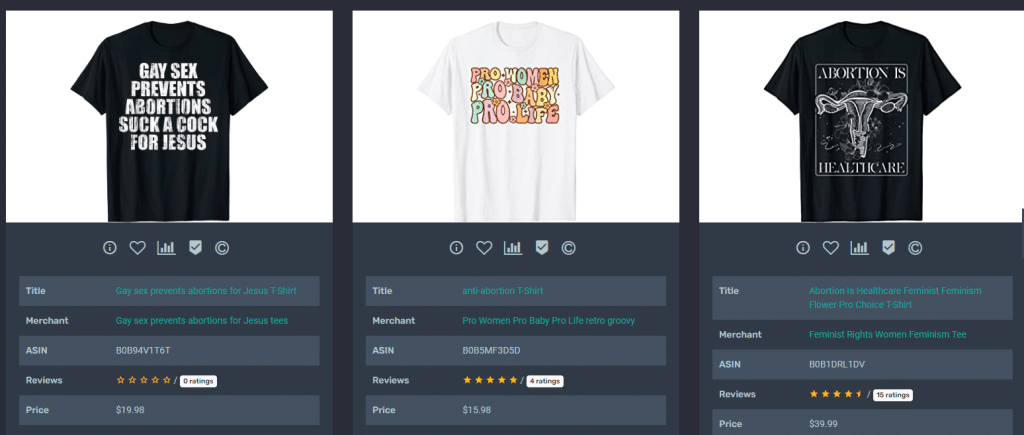 To gain an even better understanding of the feminist genre on Amazon, we decided to deepen our research and find data for the keyword "abortion". Here, only 76 bestsellers appear in Merch Hunter. However, the search volumes of related keywords are much higher, suggesting more interest from users.
abortions are healthcare shirt – 39 217 – high
abortion rights shirts – 37 707 – high
abortion rights – 34 693 – low
abortion shirt – 32 893 – high
aid and abet abortion shirt – 18 714 – high
no abortion – 12 495 – low
At the same time, the prices are very similar to those we discovered for "feminism":
Lowest Price $13.38
Highest Price $24.95
Average Price $18.72
Although we concluded that the abortion merch trend on Amazon has passed, the number one listing in the space still has a low BSR of 540 944.
The "Keep Your Laws Off My Body My Choice Pro Choice Abortion T-Shirt" listing attracts shoppers with a simple and straightforward design. It's a text-only t-shirt with a female sign and represents the power of women to protect their bodies and have a choice.
What this means for you as a seller
What can you extract from this extensive research? Is the feminism niche worth entering and can you make satisfactory profits?
The short answer is yes, given that you invest time and effort into tracking the movements in the space and acting on time. We exposed the vulnerabilities of the topic and noted that there will inevitably be peak searches for feminist-related merch. However, there will also be periods of low searches and therefore slow sales.
The best way to adequately take advantage of this niche is to combine it with other niches and maintain a diverse portfolio. This will enable you to enjoy fruitful results when a new feminist wave rises while keeping your seller account healthy throughout the rest of the year.
Conclusion
Feminism-related mech on Amazon Merch on Demand can certainly help you increase your popularity as a seller and boost your performance.
To achieve this, use Google Trends, be consistent in your information gathering, and rely on advanced tools like Merch Informer. These tactics will equip you to make all the right decisions and stay ahead of the competition.