Studying Your Merch By Amazon Competitors: Merch Informer's Comprehensive Step-By-Step Guide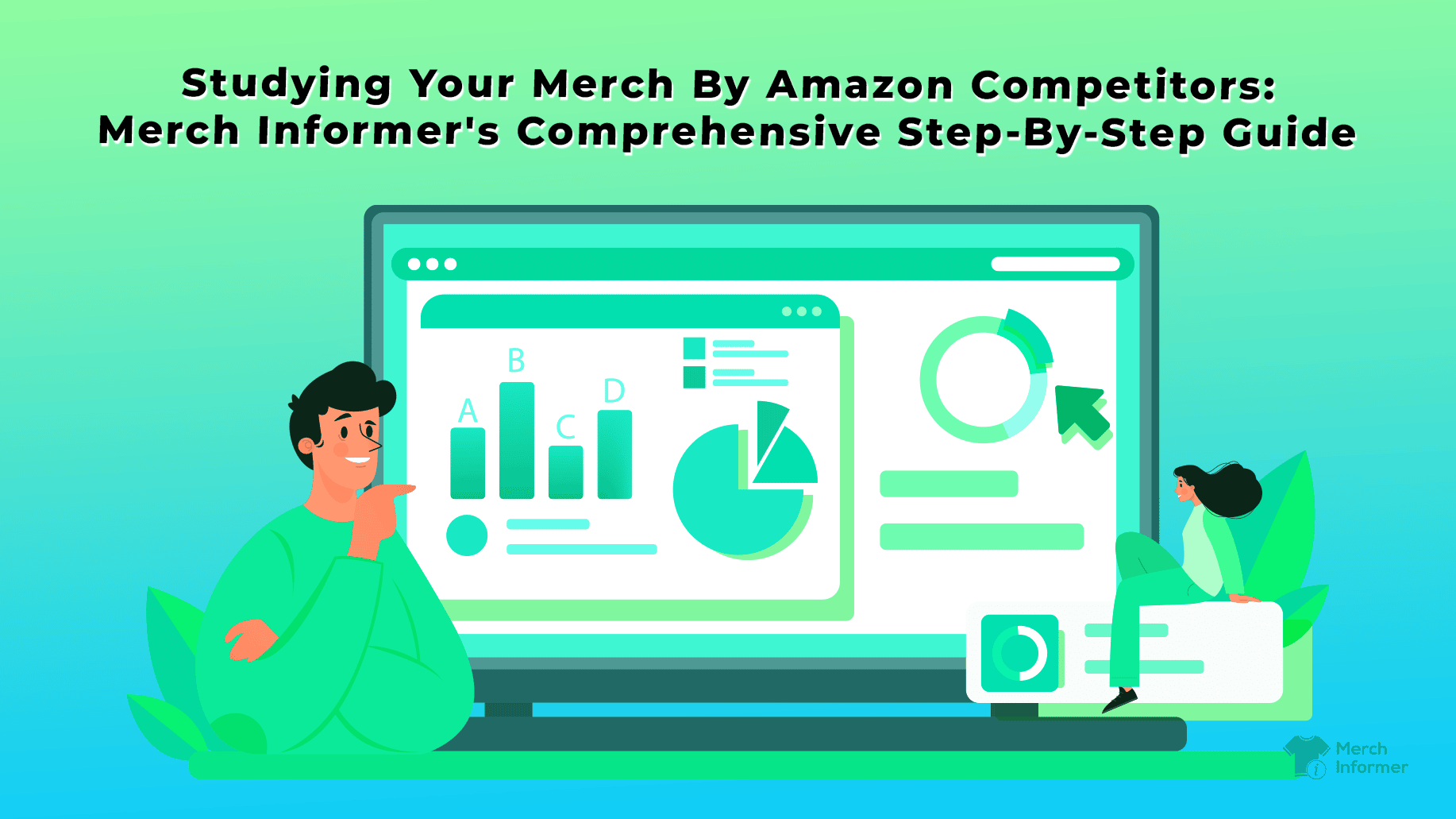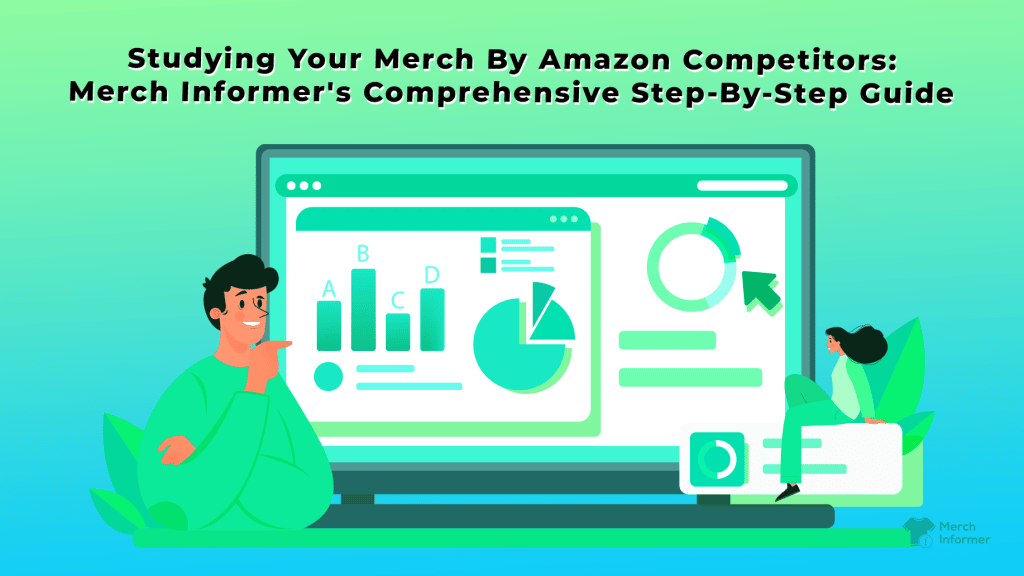 Every business owner is aware of the importance of competitor research. A subset of market research, studying your competition enables you to see what products they're selling, at what price and volume, what features these products have, what their customers are saying, and more. In addition, competitor research enables you to see where your competitors' strengths and weaknesses lie, as well as what strategies they're using to get ahead.
As a Merch by Amazon Seller, you need to think like an entrepreneur when creating your t-shirts. After all, this is a side business, but a business nonetheless. Gathering insights into what competitors are doing will help you improve your rankings and get more sales.
One of the best tools you have at your disposal for this is Merch Informer and its various modules. Ready to find out which ones to use in order to conduct a step-by-step competitor analysis?
Good. Let's begin.
Why And How Should You Go About Researching The Competition On Merch By Amazon?
Researching your competition on Merch by Amazon is useful for a variety of reasons. In the t-shirt trade, studying your competitors' designs, keyword usage in the title and description, pricing strategies, and others has the potential to enable you to:

Create and sell better products
Rank higher on the Amazon algorithm and in search results
Ultimately bring you more sales
Merch Informer's comprehensive menu of modules, used in conjunction with each other, can help you research your competitors. Some of the most useful ones are the Niche Hunter, Merch Hunter, Competition Checker, Products Search and Merchant Search.
How does using a combination of Merch Informer's tools help increase your performance as opposed to using just one tool?
Using the above mentioned tools together, you'll be able to find what your competitors are selling and how. By identifying specific sales, design, and pricing strategies, niches, and keyword usage, you get insights into what works and what doesn't. You'll also be able to figure out how you can replicate another Seller's success instead of trying to reinvent the wheel.
How Do These Tools Work?
Here's a brief summary of each tool's functionality, before we get to the step-by-step process of how to conduct in-depth competitor research.
●     Niche Hunter


The Niche Hunter is found under the Keyword Research module. The parameters you have to choose from are t-shirts, hoodies, sweatshirts, and popsockets. All you have to do is hit "Search" and wait for the results to be brought back. This is a good starting point because you'll first be able to see where the trending items are and see where you want to get started.
●     Merch Hunter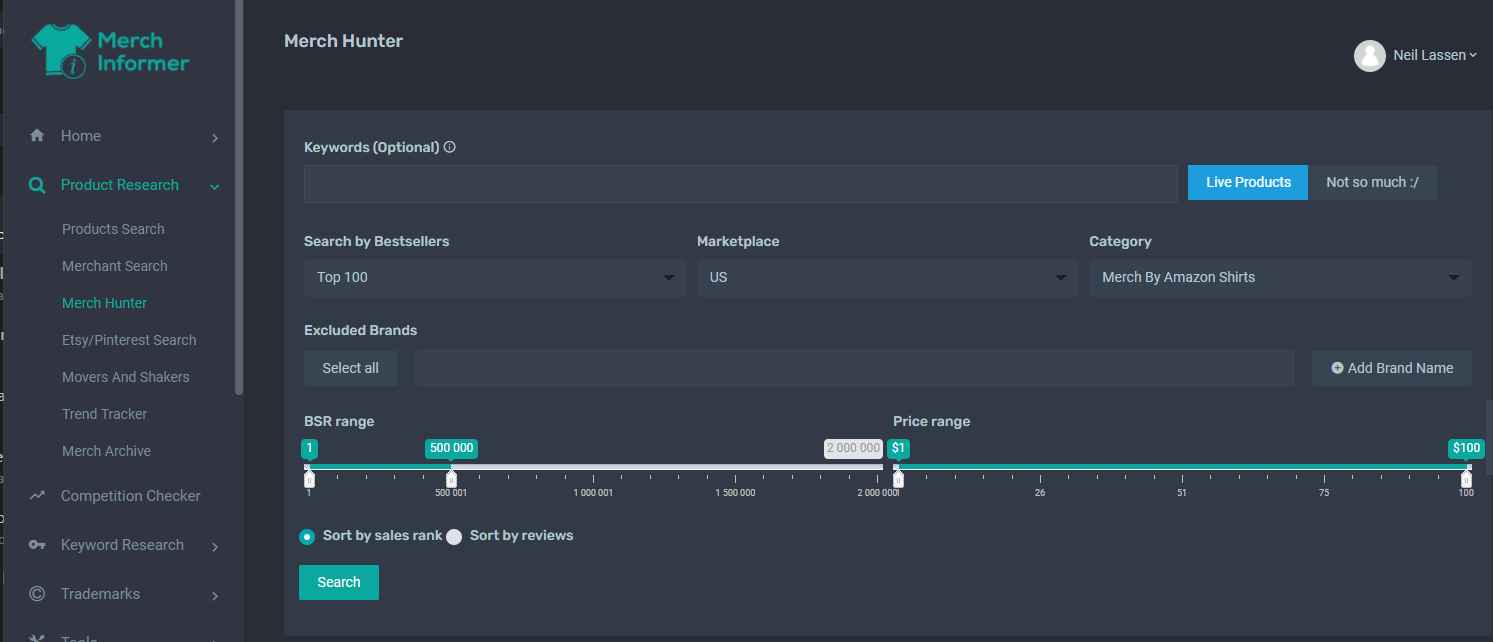 Merch Hunter is found under the Product Research module of Merch Informer. You can enter in a keyword (although it's optional) to find your competing products. The rest of the parameters such as best-sellers rank (BSR), prices, marketplace, category, etc. are all pre-filled in although you can adjust them.
Once the results are revealed, you'll be able to see all the details about a given product including title, merchant, ASIN, reviews, price, BSR, description, and more. When you've identified a t-shirt and its Seller, you can either look at their keyword usage or click on the merchant's name to take you to all their remaining products so you can see their entire portfolio. You'll also be able to look at the Seller's pricing strategies for a particular item.
●     Competition Checker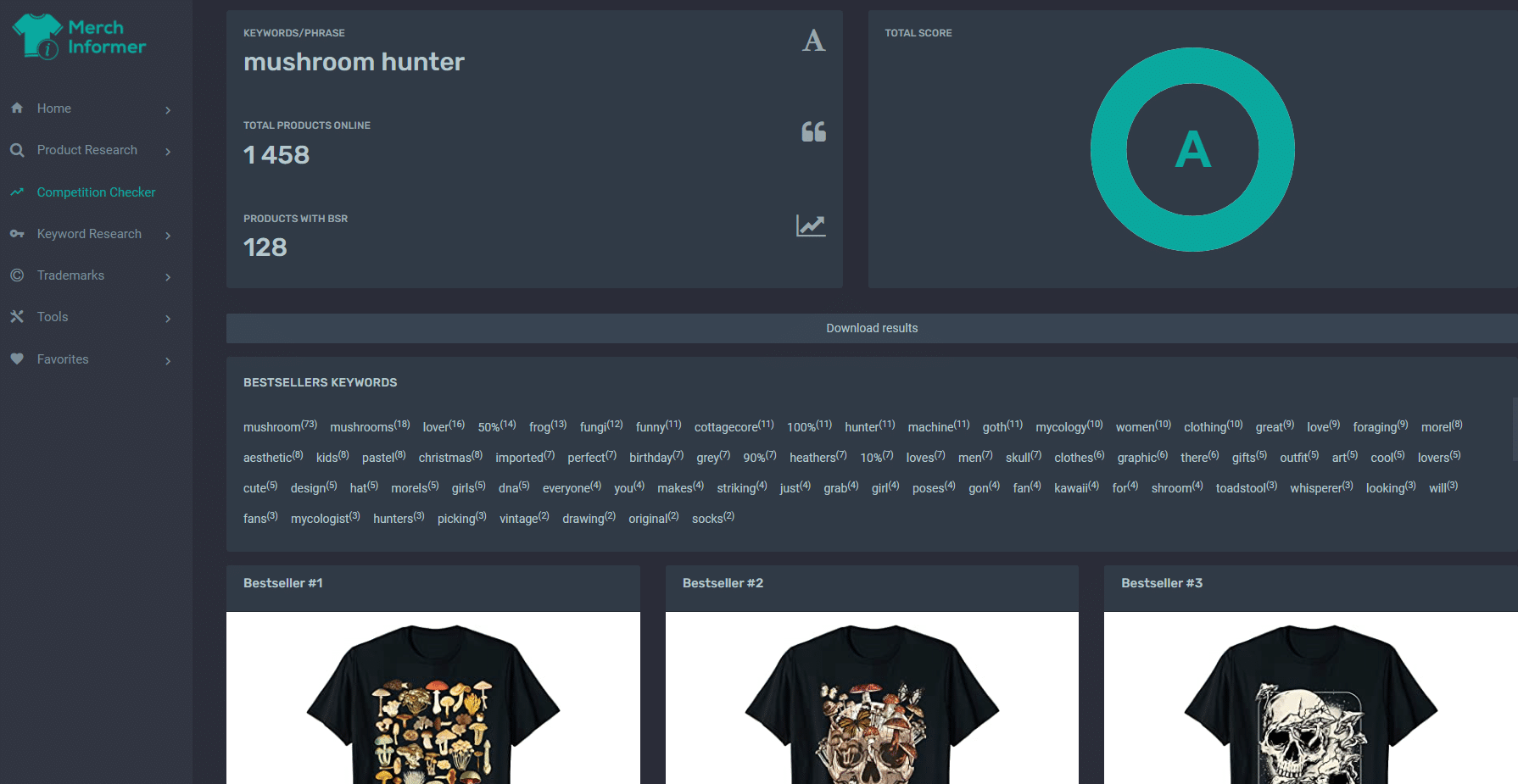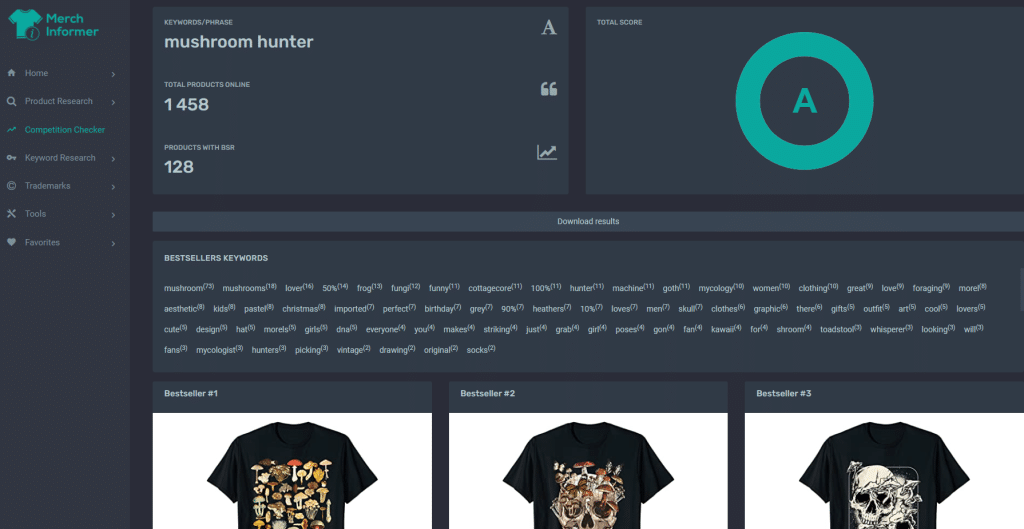 The Competition Checker is a module unto itself. It enables you to enter keywords and select a marketplace such as the US. When you hit the "Search" button, you'll be able to get results for the competition of that particular keyword. In addition, you'll be able to see related keywords and the best-sellers for your search phrase.
●     Product Search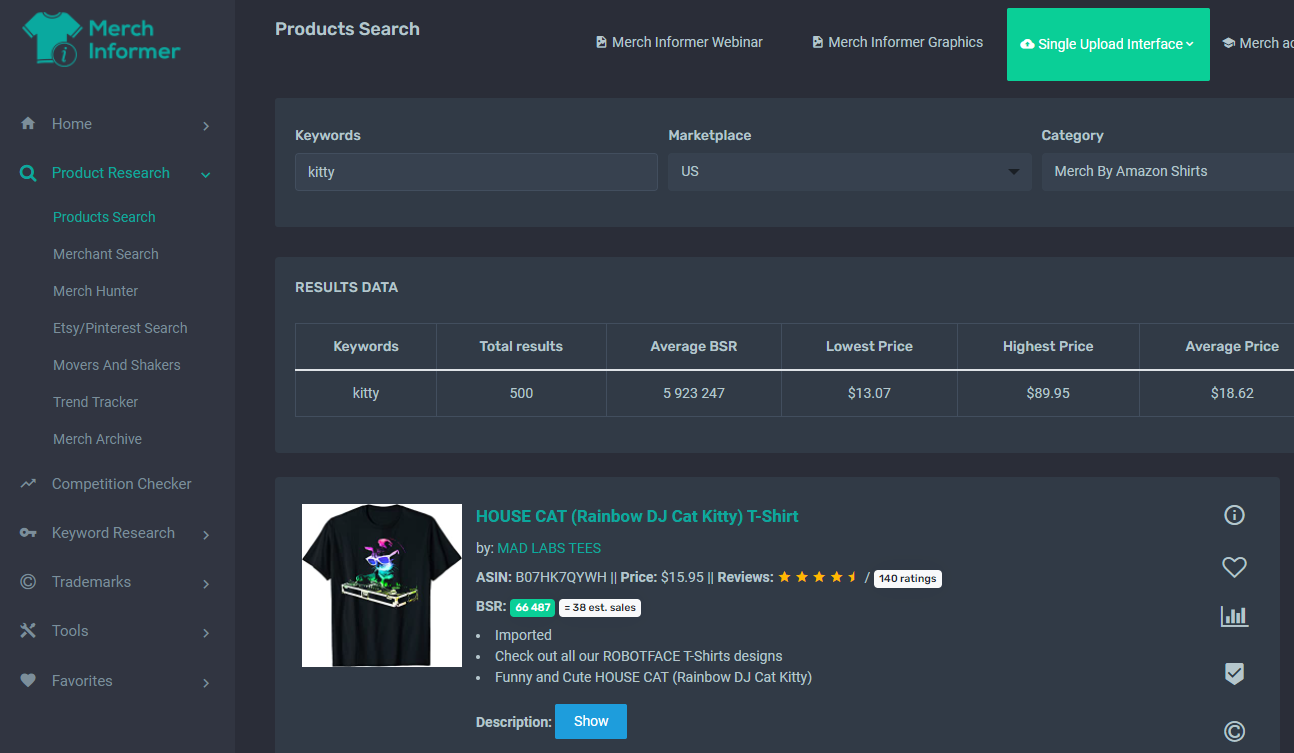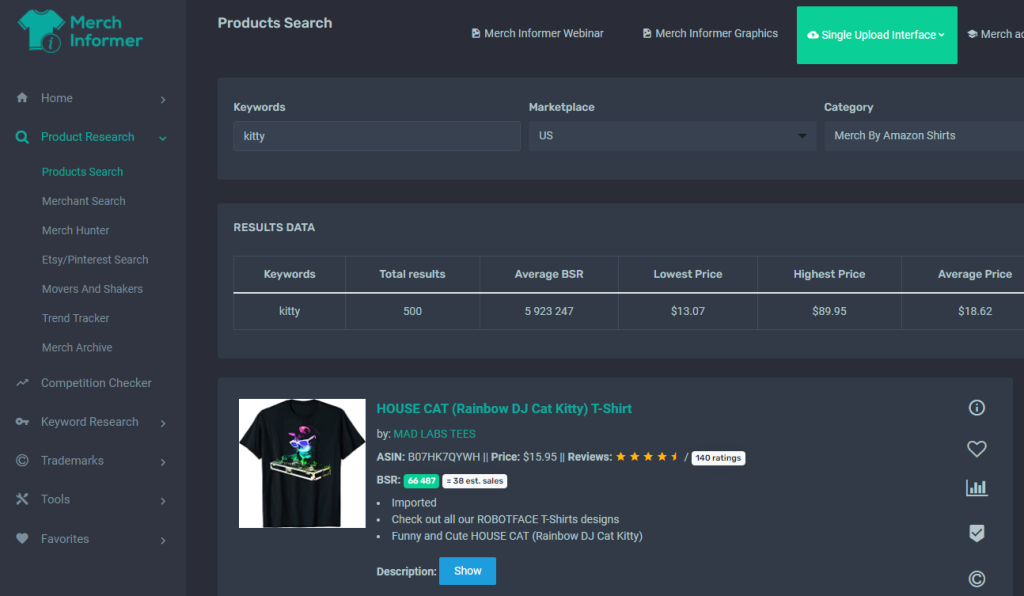 The Product Search under the Product Research module enables you to type in a keyword, choose a category of apparel, and the marketplace. You'll then hit "Search" and get the results. These will reveal a summary of your search entries as well as bring back all the results for the particular keyword you entered.
●     Merchant Search
Finally, you can use the Merchant Search, which is also under the Product Research module. Here, you can examine specific merchants by name, choose a marketplace, and select your category of apparel. Once you hit search, you'll get all the results for that particular Seller including all the details of each shirt they offer. This can help you make informed decisions about how to create, design, and optimize your own listings.
A Step-By-Step Process For In-Depth Competitor Research Using A Practical Example
Step 1: Niche Hunter
Open the Niche Hunter module in Merch Informer. Here's where you'll look for your niche. Say, for example, that you'd like to offer baby gender reveal t-shirts. In this category, we scrolled down to see that the "It's A Boy Blue Boy Baby Shower Adoption Gender Reveal T-Shirt" is currently trending.


Based on this, we can also click on the details to see that the competition for this type of t-shirt is "A", which indicates low levels of competition. The shirt also gets a search volume of 198,720. We get the estimated monthly sales volume of 28. And we also see that the t-shirt is trademark safe. We've now got a product in mind that we'd like to do competition research on. It's time for step two.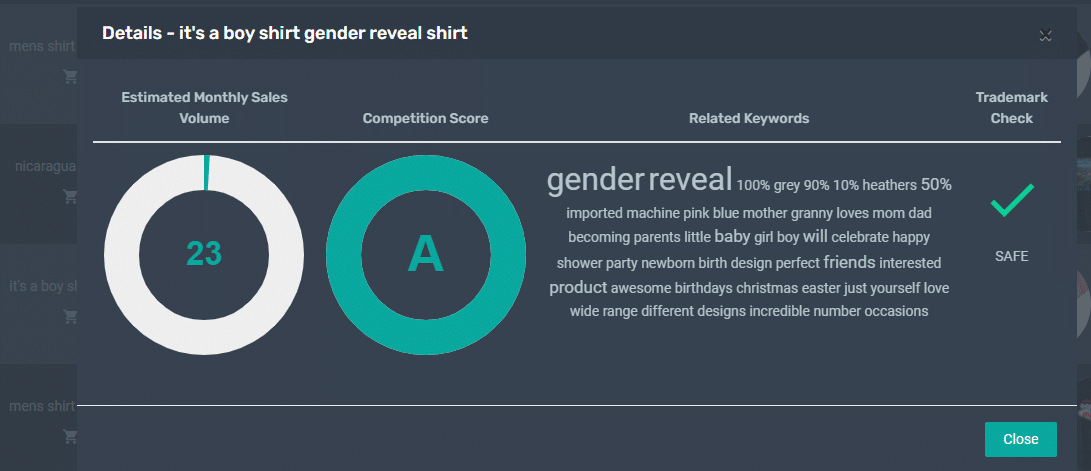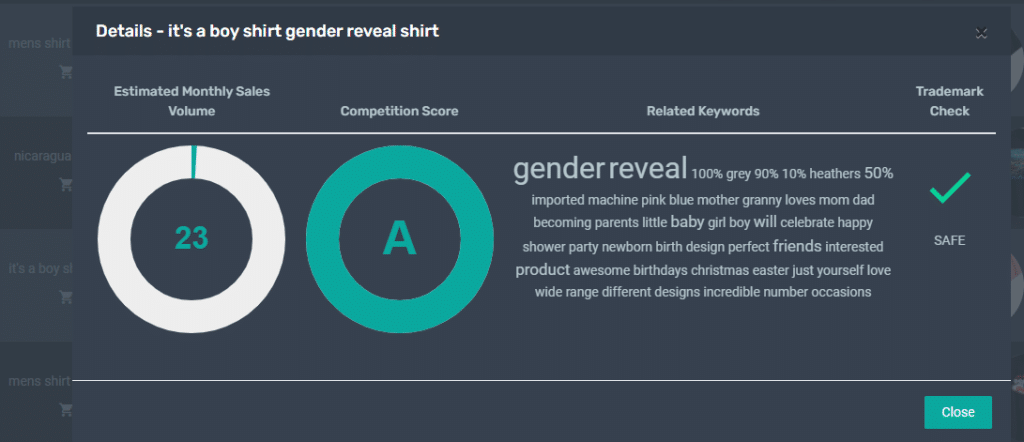 Step 2: Merch Hunter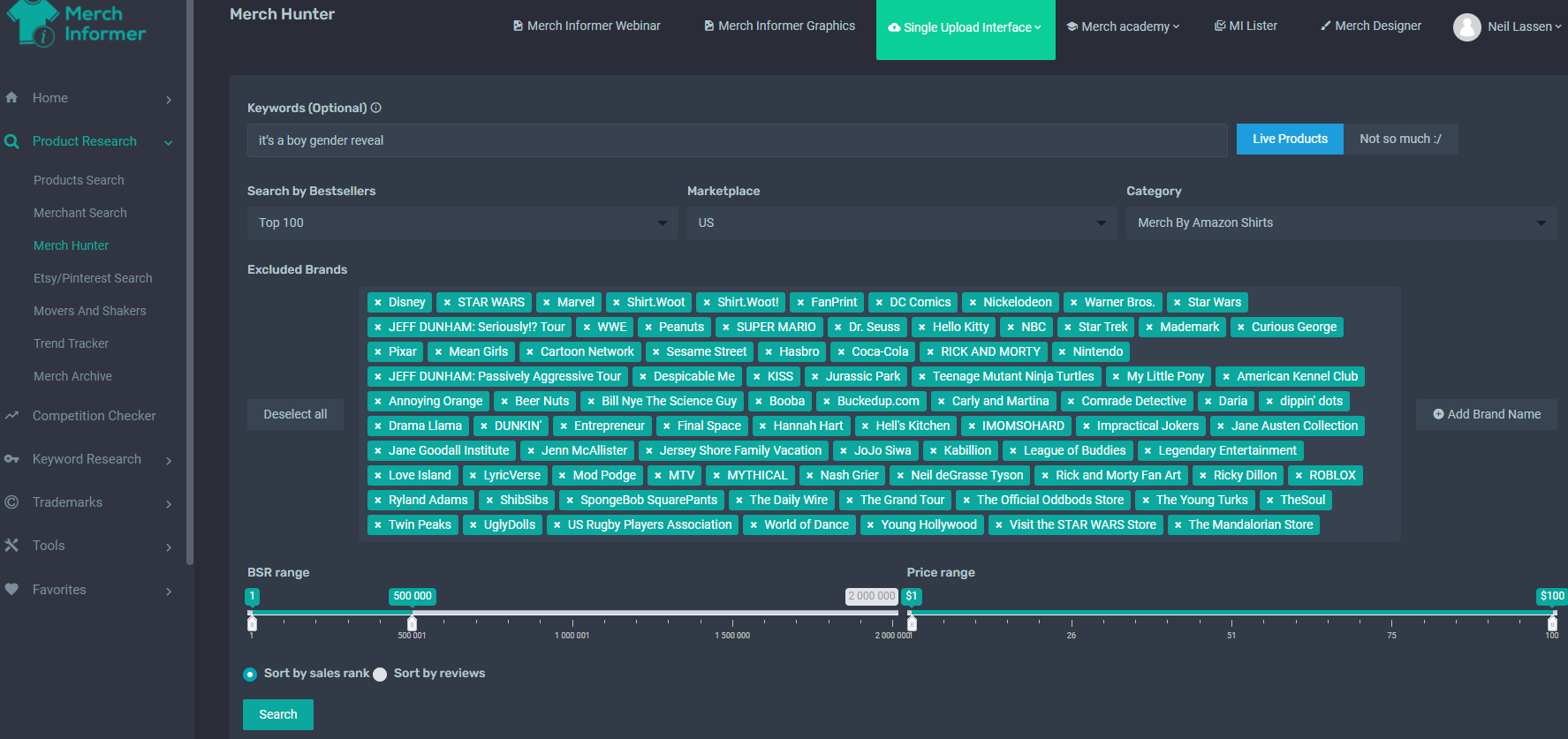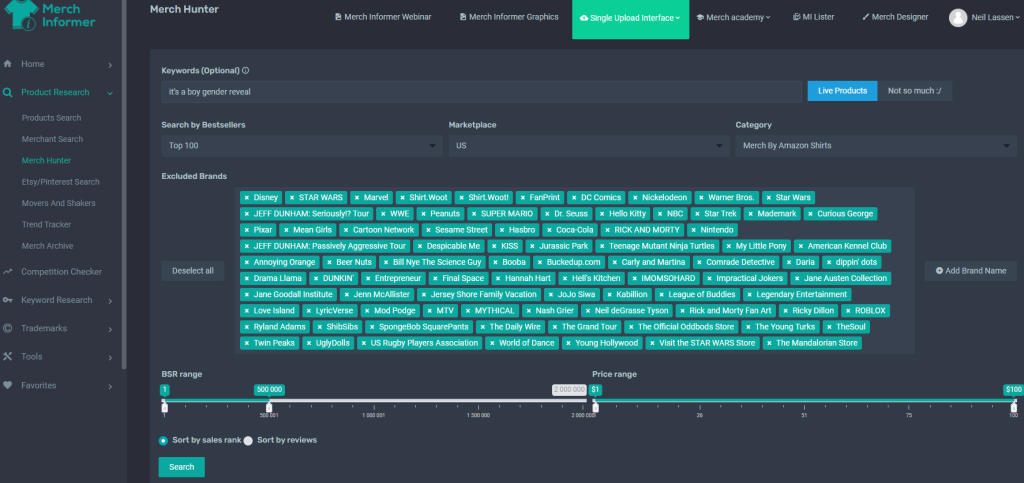 Next, use the Merch Hunter and enter in the keywords "it's a boy gender reveal", leave all the parameters as they are (except the brands, which you can address by selecting all), and click on "Search". What comes up when scrolling down the list is a gender reveal t-shirt for boys by the merchant "Funny and Cute Gender Reveal Party Gifts."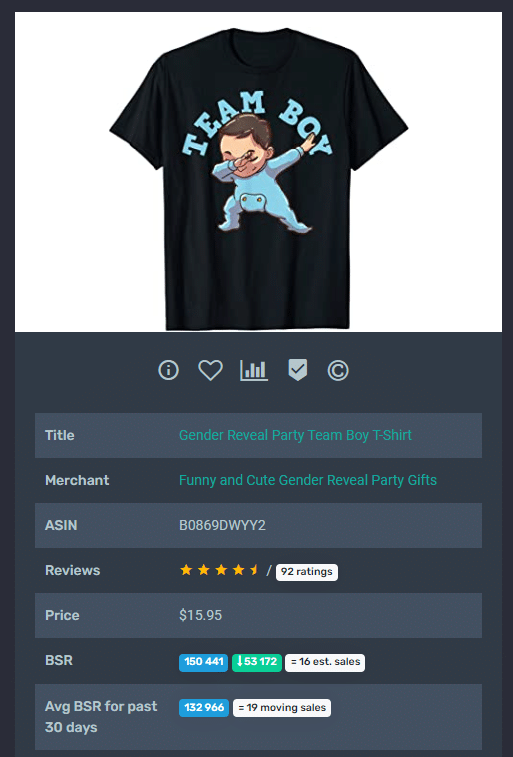 Step 3: Merchant Search
You can simply click on the merchant's name in Merch Hunter and it will take you directly to Merchant Search. The results that will be brought back will include details of the highest, lowest, and average prices, the average BSR, and a competition score for the keywords. In this case, we see that this Seller has listed three products on Merch by Amazon.


They have an average BSR of 3,126,286. The lowest, highest, and average price are all the same at $15.95. As for the designs, we can see that they've got one black t-shirt with a predominantly blue baby boy design and another black t-shirt with a predominantly pink baby girl design. The third t-shirt is a variation of the blue t-shirt with a blonde boy instead of a brunette one. The prices for each of these three products are the same. Furthermore, the Seller has not used any pricing strategy or variations to get their products higher up in the rankings.
Step 3: Competition Checker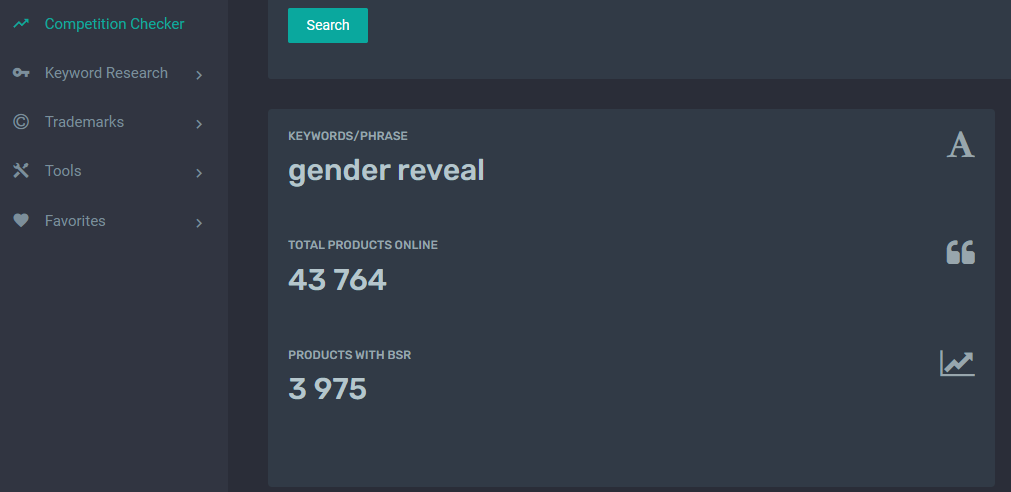 We then go to the Competition Checker to take a look at the "gender reveal" keywords used by the Seller. From this, we can see that there are a total of 43,764 products online. Moreover, there are only 3,975 products with a BSR. Some of the keywords and the keyword count used by the best-sellers in this category include: gender (53), reveal (44), baby (20), party (19), auntie (6), shower (6), mom (6), dad (6), boy (6), girl (6), godmother (5), blue (5), newborn (5), parents (5), pink (5), announcement (5), birth (4), daddy (2), mommy (2), mother (2), and welcome (1). Looking at "Funny and Cute Gender Reveal Party Gifts", we see that they have not optimized their title or description using a combination of these keywords. This is one of the possible reasons their BSR is so high. Here's where you can come in and make an improvement after doing this type of competitor analysis.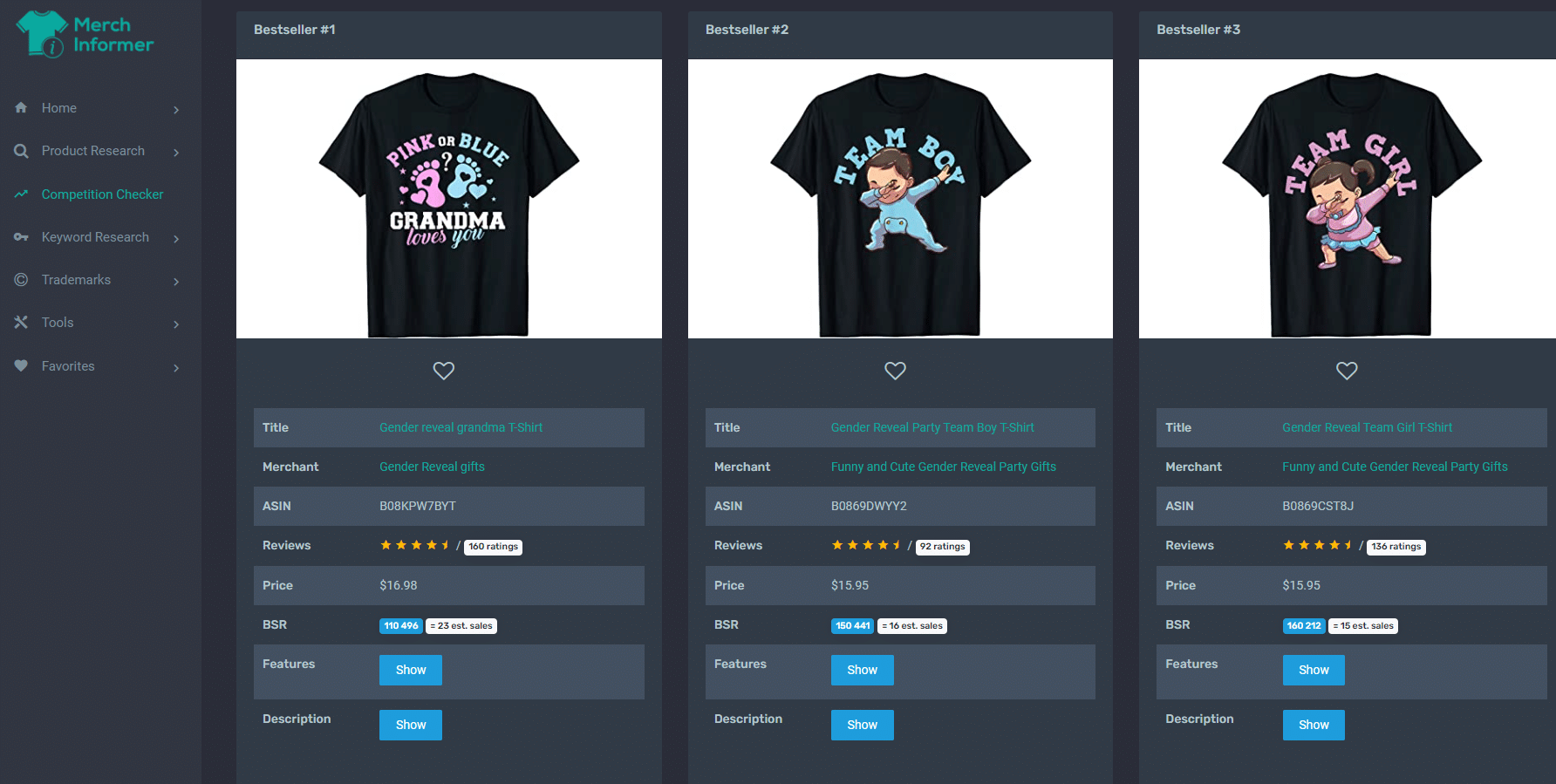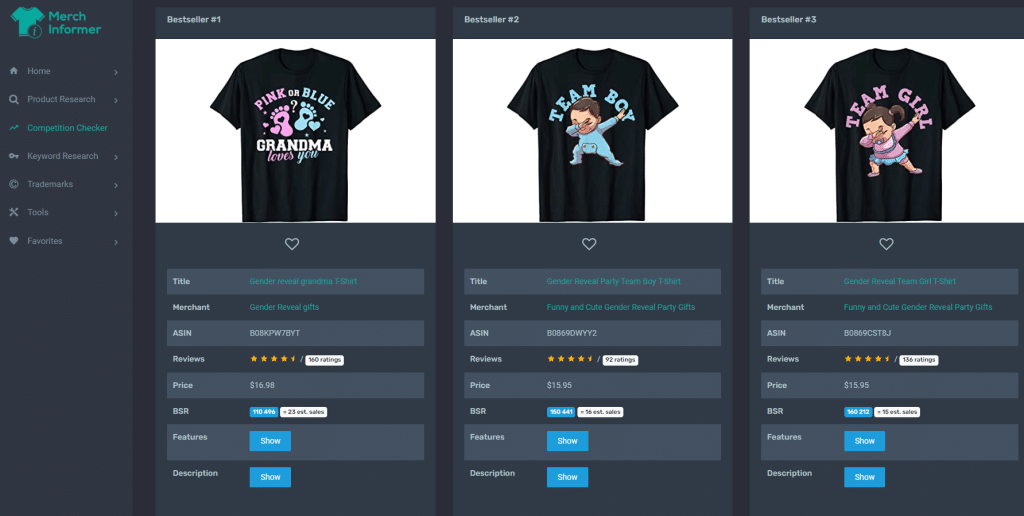 Step 4: Product Search
Finally, we go to the Products Search and again type in our seed keyword, which is "gender reveal". Here, we can see other Sellers and what they're doing differently in terms of designs and pricing, as well as keyword usage, to get in front of an audience. For example, we can see that "Gender Reveal gifts" is another Seller that you may be competing with and if you simply click on the merchant's name, it will bring you back to the Merchant Search where you'll again be able to look at this competitor from every angle – including price, BSR, designs, pricing strategy, etc.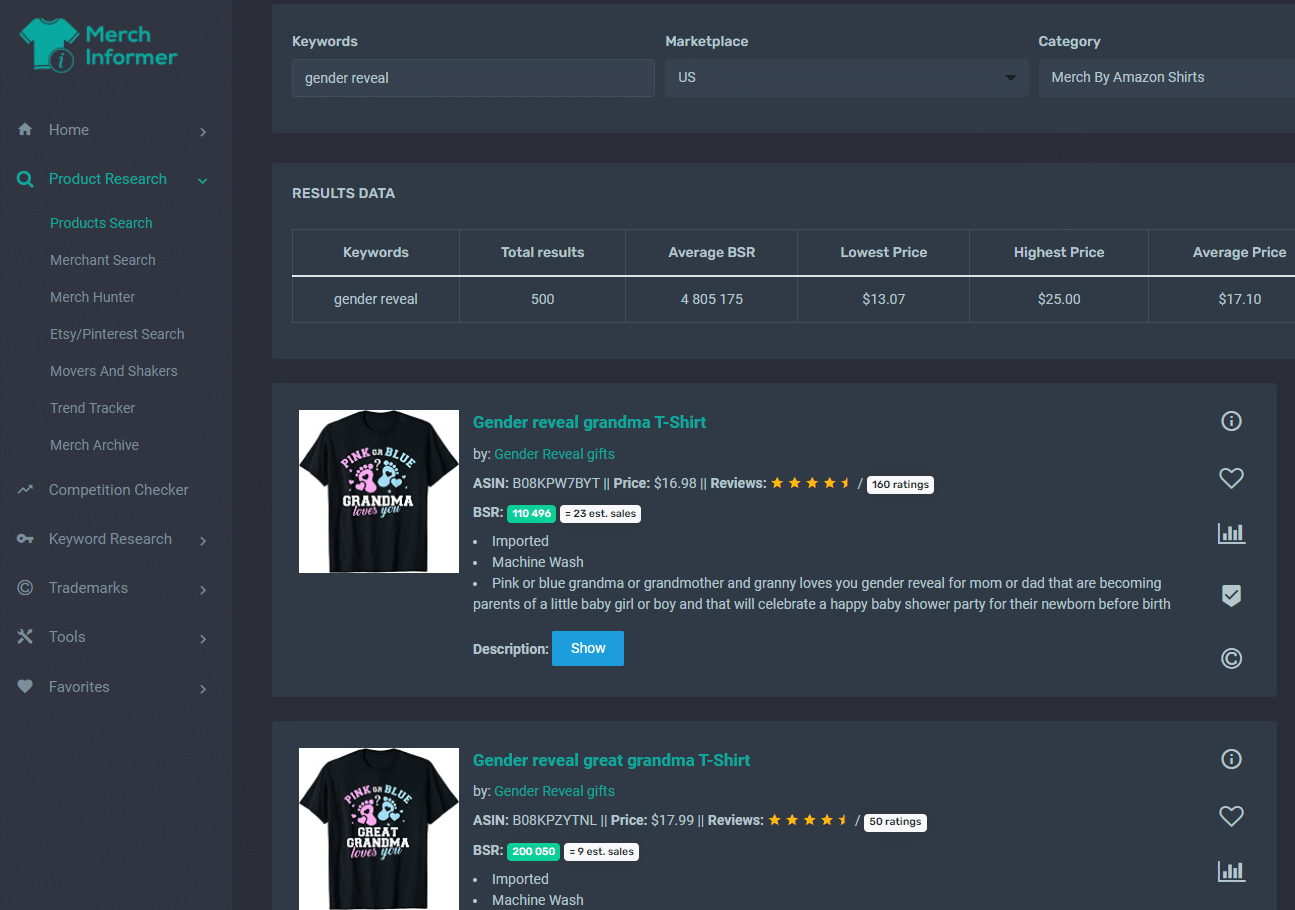 In Closing
An integrated strategy is required when doing competitor research for your Merch by Amazon trade. All this can be done using a few of Merch Informer's modules in conjunction with each other. It all starts with you selecting a niche and then drilling down even deeper to see how competitors are faring.
Will you be able to create a better design than them when looking at their portfolio? Will you price your t-shirts more competitively? What keywords will you use? Each of these items can be looked at in isolation but the best strategy is to follow a more holistic approach. This is why Merch Informer is such a great choice for many Sellers. It enables them to do competitor research in the space of minutes to determine where their strengths and weaknesses lie. And more importantly: how you can capitalize on this.