Nostalgia merch: How big is this market on Amazon Merch on Demand and will it bring in the big bucks?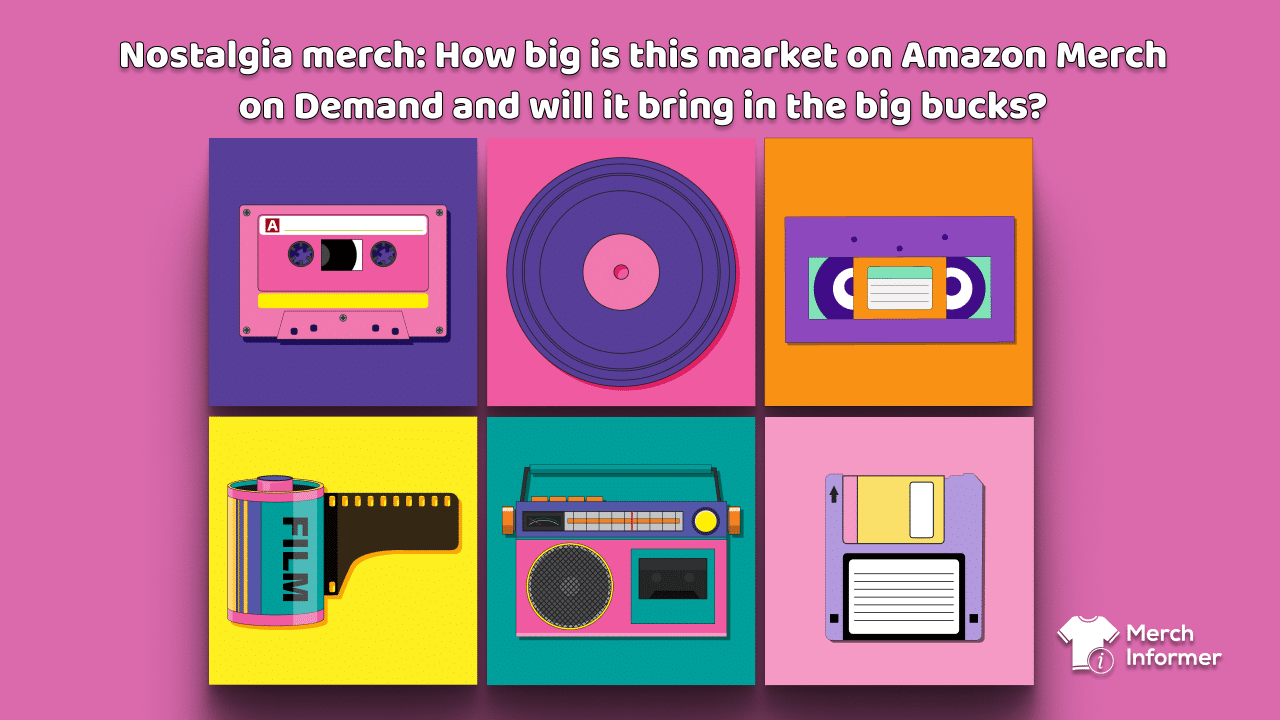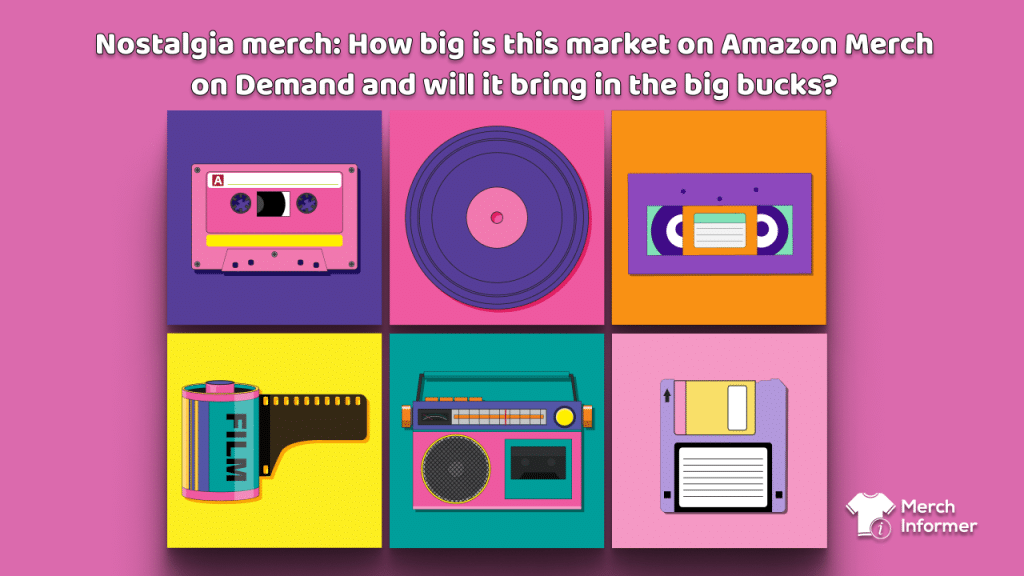 In a world increasingly saturated by digitization, nostalgia has been staging a comeback, selling memories as physical keepsakes.
But just how big is this trend on Amazon Merch on Demand? And more importantly, is there real gold to be mined from this rich vein of reminiscence?
In the following sections, we explore the nostalgia market's size and potential. We also analyze some of the best practices adopted by successful sellers. The shared discoveries will help you navigate through the nostalgia space to see whether it truly offers the route to the big bucks.
An overview of the nostalgia market on Amazon Merch on Demand
Before we dissect this niche to uncover what lies beneath, let's look at the basics. Is there an established nostalgia market on the platform? Are sellers earning fruitful gains from sales? Are shoppers searching for related products?
A quick browse on Merch Informer provided all the answers we needed. According to the Merch Hunter tool, there are a total of 137 bestsellers that rank for the word "nostalgia" in the t-shirt space (the most popular merch category on Amazon). Their average BSR is 261 343, which is much lower than that of other niches, indicating a high sales potential.


This unquestionably proves that other sellers are enjoying popularity thanks to nostalgia designs. But what about profitability?
Here are the lowest, highest, and average prices among the top-sold items:
Lowest Price $13.38
Highest Price $38.99
Average Price $19.73
If we assume that most nostalgia shirts sell for around $20 then the majority of sellers earn royalties of around $4.89 per sale. As we'll reveal later on, some of the top listings in the niche score around 230 monthly sales. This translates into $1,125 monthly earnings from a single listing.
Not bad, indeed.
Best of all, the nostalgia theme appears to be a trend among Amazon buyers.
Here's what our keyword research says about that:
1980s nostalgia gifts – 38 044 – high
1990s nostalgia gifts – 37 486 – high
1960s nostalgia gifts – 37 480 – high


This data reveals that nearly 40,000 consumers search for nostalgia gifts on Amazon on a monthly basis. Unfortunately, all of these keywords have a high competition level, making them hard to rank for.
Being more specific, here are the searches related to particular merch items:
nostalgia sweatshirt – 1 711 – high
nostalgia shirt – 1 702 – high
nostalgia t shirt – 1 558 – high
As you can see, the search volumes here are much lower, while the competition level remains the same.
This only proves that making a name for yourself in this segment will require a bullet-proof sales strategy and data-based decision-making.
Exploring nostalgia themes across different decades
One of the ways to differentiate yourself from the rest and increase your visibility is via the selection of a lucrative theme.
When dividing into the nostalgia merch world, we identified the following keywords that dominate listings:
Retro
Vintage
70s
80s
90s
Cool
Cars
Groovy
Music
Old school
But interestingly, each decade stands out with its own individual sub-themes. For example, the designs for 70s nostalgia merch differ widely from those for the 90s.
Let's take out a magnifying glass and investigate further.
Below, we share some of the most popular themes for 70s, 80s, and 90s nostalgia merch on Amazon Merch on Demand.
70s
70s nostalgia merch specifically aims to pay homage to various elements of 1970s culture, fashion, music, and more.
Taking a trip back to history, the 70s were known for diverse trends such as bell-bottom pants, wide collars, tie-dye, psychedelic prints, and platform shoes.
This time period was also a golden era for various music genres including rock, disco, punk, and soul. We also saw the release of many popular toys and games. For example, the Rubik's Cube, Nerf balls, and the Atari 2600.
In terms of culture, the 70s also saw the rise of movements like the hippie and disco scenes, along with the environmental movement.
Why does all of this matter for Amazon Merch on Demand sellers? Because all of these themes can be utilized to grab consumers' attention and boost nostalgia merch sales.
Let's now see how popular 70s nostalgia merch is in particular.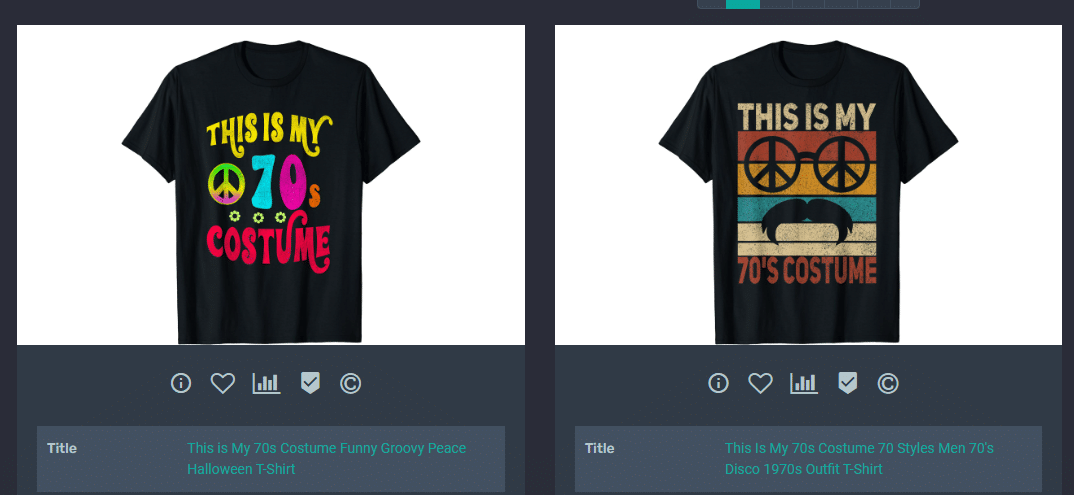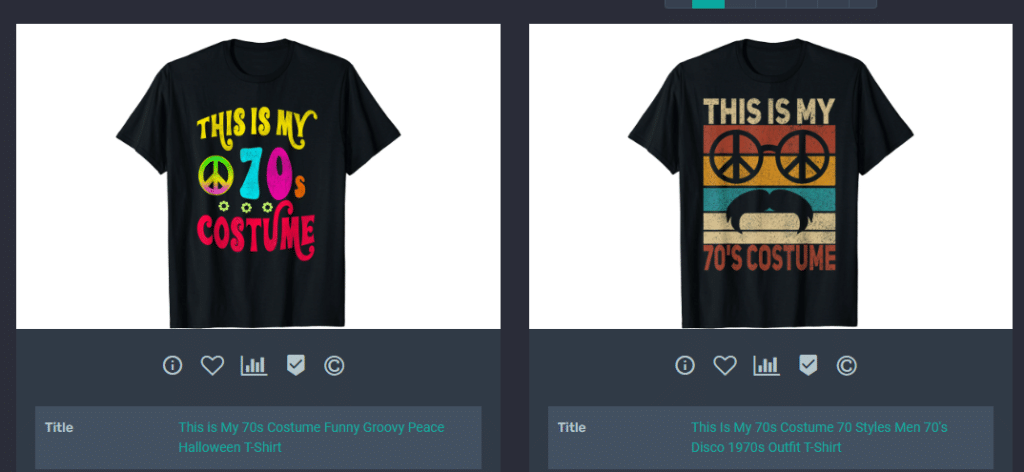 Merch Informer revealed that there are more than 500 top-performing listings that rank for the word "70s". They share an average BSR of Average BSR 813 177, proving the sales potential of these items.
This is a clear indication of the success of this niche. In terms of profitability, you need to know the following numbers:
Lowest Price $13.38
Highest Price $42.50
Average Price $18.20
Put otherwise, there are nearly identical royalties to be expected per sale as in the general nostalgia niche (assuming you price your item around the average in the market).
But what are some of the trending listings in the space doing well to generate sales?
Let's take a look at one bestselling example, the "This is My 70s Costume Funny Groovy Peace Halloween T-Shirt" listing. It strategically targets vital keywords like "70s", "groovy", and "peace". All of these fall under the category of popular themes for the era. In addition, the seller has targeted "halloween", "funny", and "costume", which are other highly searched for phrases.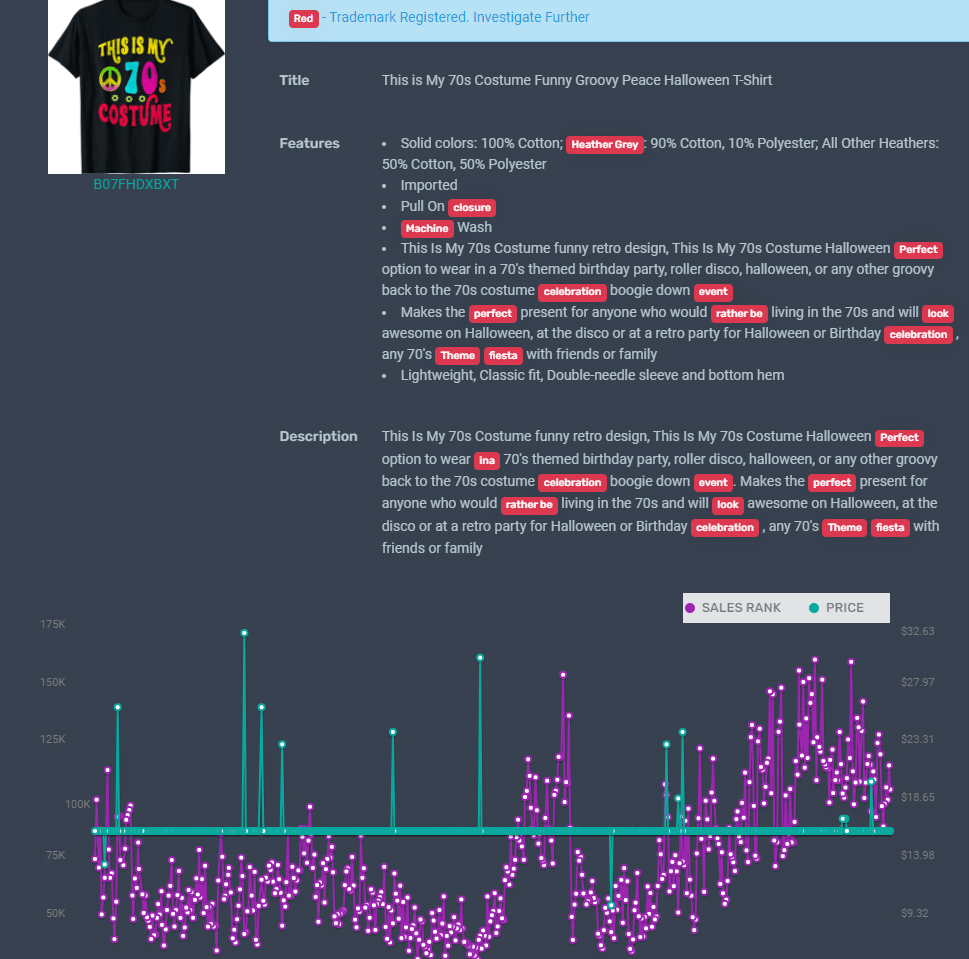 The price of the listing is $15.99, which is slightly under the average in the market. This positions the listing competitively against others, inspiring more customers to make a purchase. The BSR of this product is 109 384, translating into roughly 30 sales per month.
80s
The 80s era was marked by neon colors, leg warmers, oversized sweatshirts, high-top sneakers and big hair. It was also a memorable age for music, with the rise of genres like synth-pop, hair metal, hip hop, and new wave. Iconic artists like Michael Jackson, Madonna, Prince, and bands like Duran Duran or Bon Jovi defined the period.
This period saw the release of many cult classics and iconic TV shows, including "The Breakfast Club", "Back to the Future", "Star Wars: The Empire Strikes Back", "E.T.", and "Ghostbusters". TV shows like "Miami Vice," "The Golden Girls," and "Knight Rider" were also trending.
Video gaming with consoles like the Nintendo Entertainment System, games like Super Mario Bros., The Legend of Zelda, and arcade hits like Pac-Man and Donkey Kong also dominated the scene.
As a seller, incorporating any of these waves into your designs will undoubtedly grab the attention of those on a nostalgia hunt. However, we must note that any direct depiction of these trademarked themes will most likely result in penalties from Amazon. That's why you must be careful to only feature free to use elements, depicting the feel of the era, and not the faces, names, logos or characters that defined it.


Looking into this specific sub-niche, we identified more than 500 bestsellers, with an average BSR of 817 751. The average prices in the space look very similar to those in the 70s market:
Lowest Price $13.38
Highest Price $60.00
Average Price $18.61
However, we can see a significant difference in the highest prices, where the 80s listings dominate with a highest price of $60.
Examining the number one listings, we uncovered the "Keeping It Old School – Vintage Boombox 80s T-Shirt" item. It sells for $19.98 and has achieved a BSR of 118 735.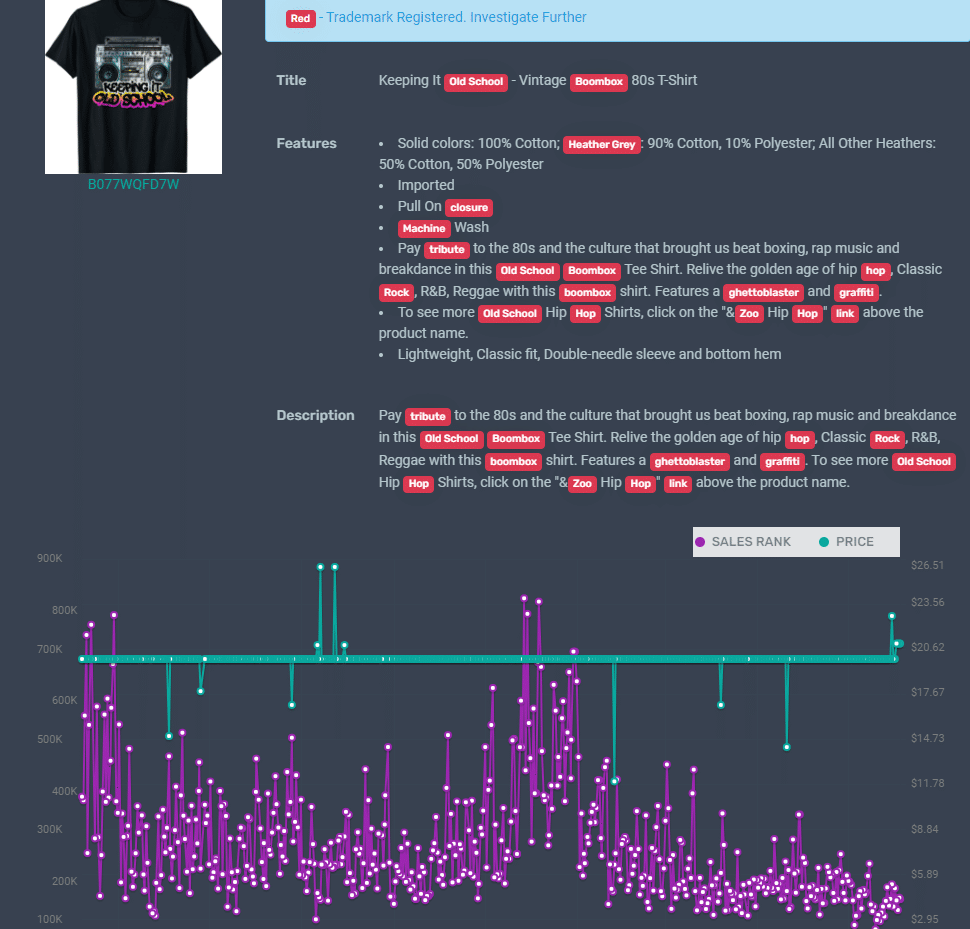 Contrary to the previous example, the seller here has priced their t-shirt slightly over the average price. Still, the design and the content of the title and description are lucrative enough to secure fruitful sales.
90s
The 90s was characterized by baggy jeans, windbreakers, flannel shirts, bucket hats, and platform shoes. It was an important decade for music, with the rise of grunge, hip hop, pop, and boy/girl bands.
Bands and artists like Nirvana, Spice Girls, Backstreet Boys, and rappers like Tupac and Notorious B.I.G were very popular. Some of the memorable movies and television shows include "Friends", "The Fresh Prince of Bel-Air", "The Simpsons", "Titanic", "Jurassic Park," and "The Matrix."
The 90s was another big era for gaming, with the release of the PlayStation, Nintendo 64, and iconic games like Pokémon, Super Mario 64, and The Legend of Zelda: Ocarina of Time. Some of the most loved toys included Beanie Babies, Furby, and Tamagotchis. Animated shows like "Rugrats" were also creating waves at the time.
Browsing through 90s nostalgia merch on Amazon, we spotted a number of these themes across listing designs.
From the existing items in this concrete niche, more than 500 are featured in Merch Informer's Merch Hunter tool. This categorizes them as bestsellers, with an average BSR of 662 931.
Just like 70s and 80s merch, 90s nostalgia t-shirts are mostly priced around the $20 mark. Here are the exact market rates you need to keep in mind:
Lowest Price $10.34
Highest Price $54.00
Average Price $19.62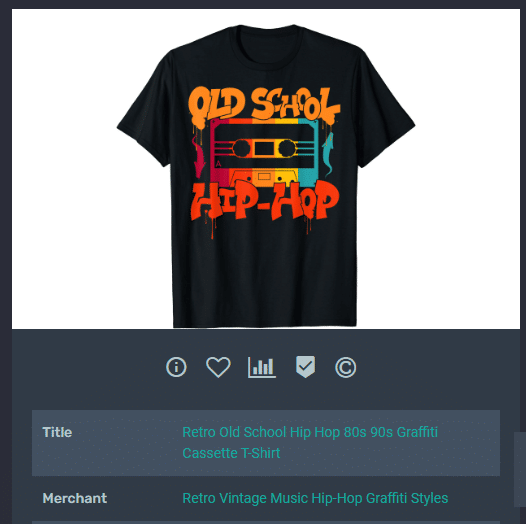 A look into the bestsellers on Amazon reveals how some of the mentioned above themes and findings can be utilized. For example, the "Retro Old School Hip Hop 80s 90s Graffiti Cassette T-Shirt" listing sells for $19.98 (just slightly over the market average). It has achieved a BSR of 84 504, generating around 30 monthly sales.
As you can see, the main keywords in the title feature "hip hop" and "90s" – two powerful and frequently searched-for phrases. With a catchy design, this t-shirt is among the most successful examples of using specific nostalgia themes to your advantage.
In conclusion
Оur research shows that the power of nostalgia should not be underestimated by sellers on Amazon Merch on Demand. As the world continues to evolve at a rapid pace, there's something comforting and undoubtedly appealing about being able to reconnect with the past.
In your journey through the nostalgia realm, don't forget to use Merch Informer as your powerful tool for analytical data and informed decision-making.
At only $9.99 per month, it's the premier tool for Amazon Merch on Demand sellers.