Text Only T-Shirts On Merch By Amazon: Pros, Cons, And Successful Strategies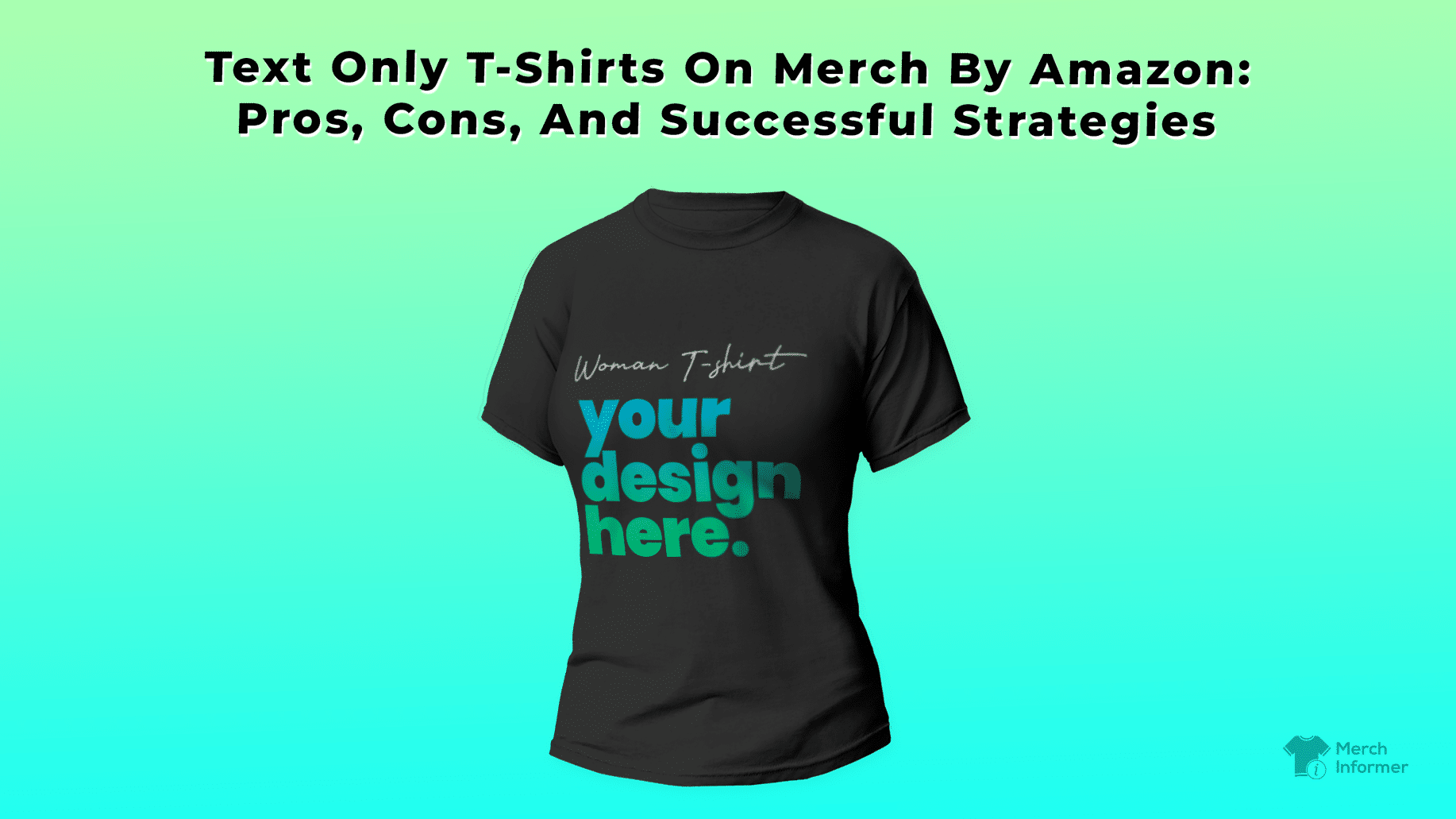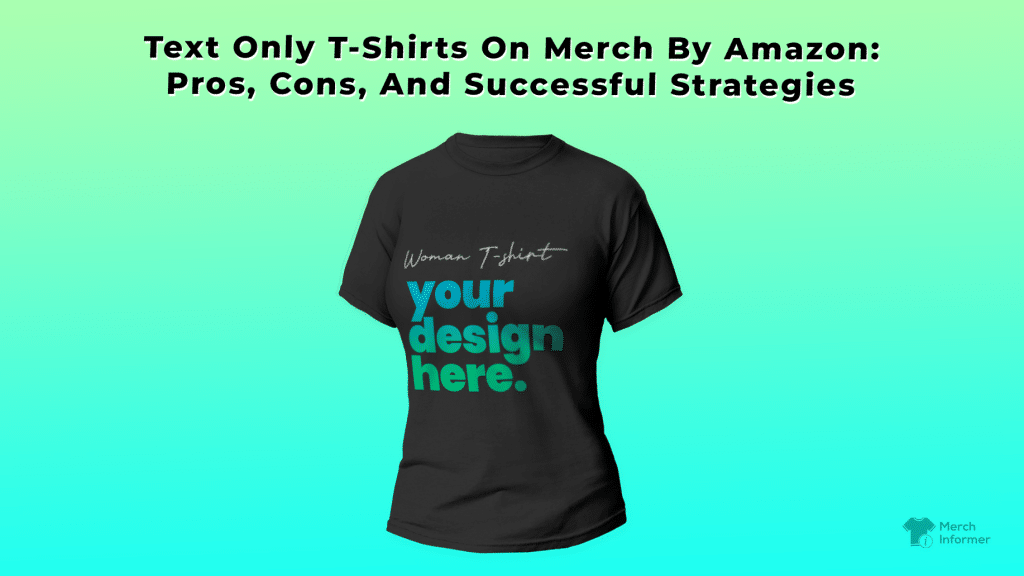 A lot is said about designs in terms of creating a successful Seller strategy on Merch by Amazon. But what should Sellers without design skills do? What about those that have a message to convey without necessarily using a special image to accompany it? The answer lies in text-only t-shirts.
Yielding a total of 500 search results through Merch Informer's "Products Search" tool, the average best-sellers rank for these t-shirt types is 142,083 on the US marketplace. While the lowest price is at $13.07, the average and highest prices are $18.46 and $28.00, respectively.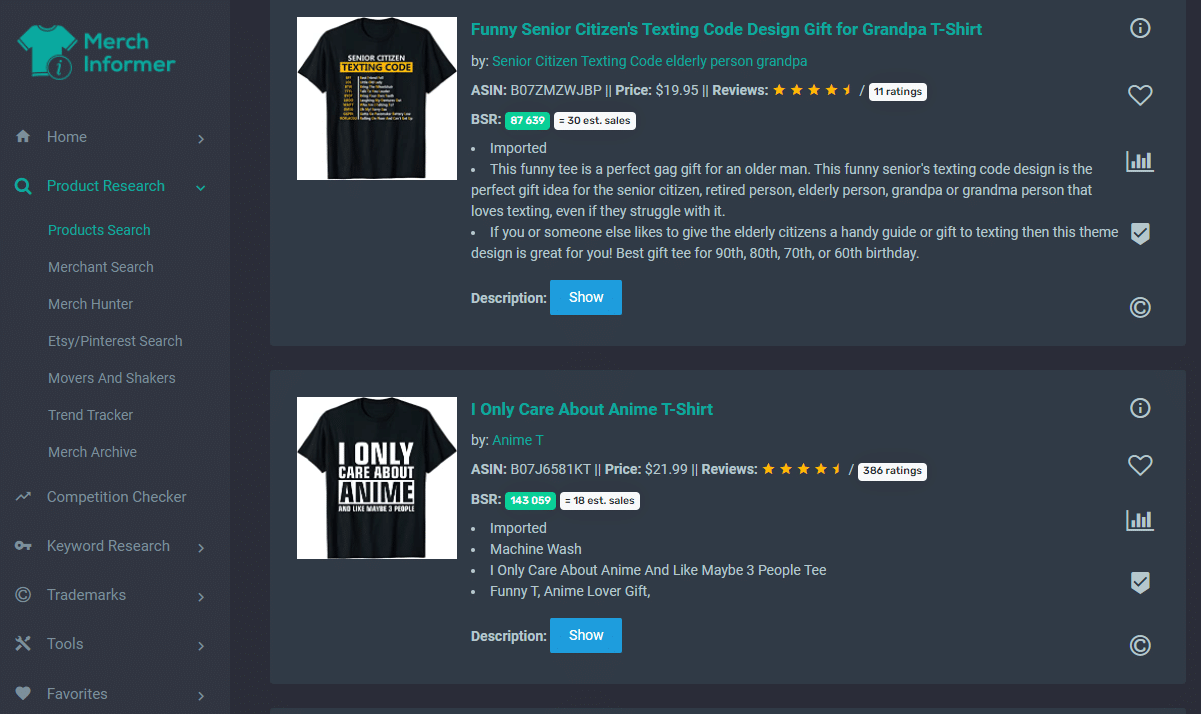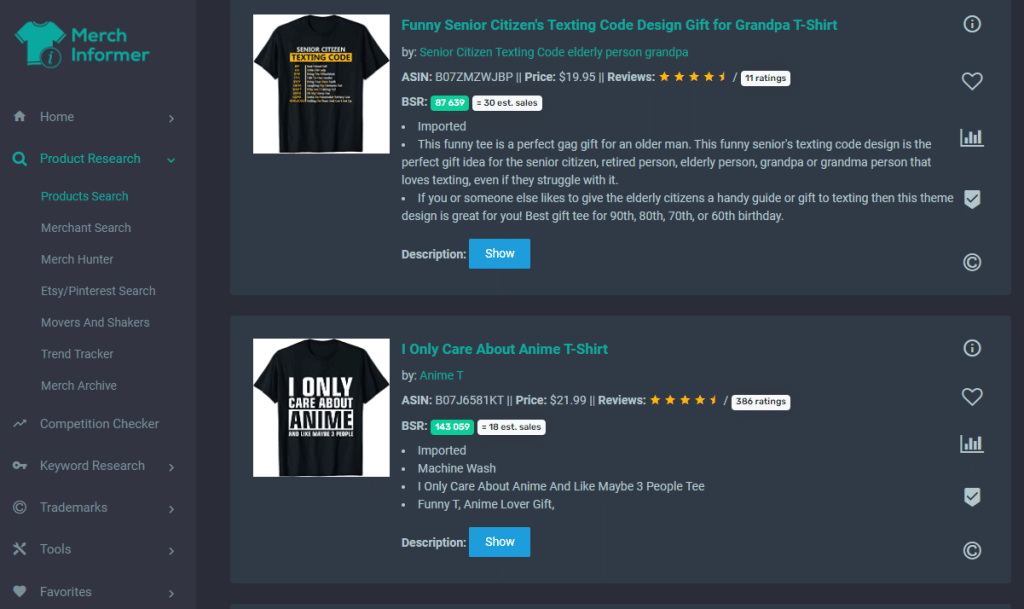 So, what is a text-only t-shirt, what are their pros and cons, and what are some successful Seller strategies to emulate for those considering this niche? Let's take a look.
What Is A Text-Only T-Shirt?
Obviously, a text-only t-shirt is a t-shirt with text on it only. This text may have different fonts, font sizes, colors, as well as symbols such as hashtags, punctuation marks, or others. However, they are not accompanied by an image that is displayed alongside the text. The Seller, therefore, uses only words to express their intended message. Because of this, a text-only message on a t-shirt needs to be visible and legible, meaningful, sometimes funny, and always accurate.

How Do Text-Only T-Shirts Differ From Classic T-Shirts?
Regarding design, text-only t-shirts and classic t-shirts do not differ in terms of the fact that the text itself still needs to be centered on the t-shirt. However, sizing requirements for the text can indeed differ.
As for the Seller strategy, many in this category of items use keywords such as "text-only" to describe their products. They also accompany these keywords with the actual text on the t-shirt to make it more discoverable.
Regarding the descriptions, a common theme that runs through these t-shirt types is to indicate who the potential customer is. In some cases, this may be a senior citizen such as a grandpa, while in others it may be best suited as a gift for a sports lover. The audiences of such t-shirts are broad and vary. From car and boat racing, to gender reveal t-shirts, agent repossession shirts, location shirts (such as Elon, North Carolina), anti-racism shirts, and more. This also ties in with the fact that, because the audience is so broad, the niches themselves are numerous.
Pros And Cons: Are They More Successful Or Not?
On the whole, text-only t-shirts cannot be considered more successful than classic t-shirts. Although there is a market for them, they have not yet gained enough traction to be as popular. One of the possible reasons for this is because images combined with text tend to convey a message and grab attention in a more striking way. Although this may appear to be a con, that is not to say that there's no potential for them.
As an example, searching for text-only t-shirts on Merch Informer yields a total of 500 search results. Meanwhile, a search for "fishing", "patriotic", and "America" supplied around 1,500 results combined. This means that the various text-with-design t-shirts are overall more abundant in terms of supply when compared to text-only ones.
Therefore, it could be said that text-only t-shirts are an underexplored niche, representing an untapped opportunity. Especially for those with weaker design skills but great text-only ideas.
That being said, when considering tapping into the text-only t-shirts trade, a Seller needs to consider several factors.
These include:
The ultimate message being conveyed
The specific audience
The seasonality of the t-shirt
Seller confidence in their ability to present a message that will sell without imagery
Whether the t-shirt will be used at special occasions or presented as a targeted gift
A Few Examples Of Text-Only T-Shirt Niches
We've compiled a list of just some of the text-only t-shirt categories as well as the Seller approaches to help you see if this niche is for you.
Sports t-shirts
First up on our list is the "Text Only Formula Racing T-Shirt". Created by Formula Racing Text Tees, the price for this item stands at $14.95. Although the BSR of this listing is 624,728, there is one major detail worth noting. The description says exactly what the user will get – namely, that it's a white print, text-only, formula racing t-shirt ideal for race car drivers and sports athletes. Why is this important? Because it's incredibly specific, and therefore without competition when it comes to the corresponding customer case.
There's also the "Text Only Racquetball T-Shirt" brought to you by Racquetball Text Tees. The item sells for $19.95 and it has a BSR of 2,998,959. The main target audience here is racquetball players and sports athletes, which is a highly niche hobby and therefore a highly niche t-shirt category. Again – a high-precision listing, aiming at very specific buyers.
Sarcasm and humor t-shirts
Spot & Tiger Sassy sells the "I'm Only Sarcastic When I Speak Sassy Joke Distressed Text T-Shirt". It has a BSR of 2,887,069. The item is presented with an all-white trendy, grunge text on a black background. This is the first t-shirt on the list, which conveys a personality trait or characteristic through the text displayed on the print. In actuality, these are the more common text-only t-shirts. They, too, however, are aimed at a specific target audience. The Seller has priced this shirt at $19.98, which is just above the average price of $18.46 and has not employed a variation in their pricing strategy.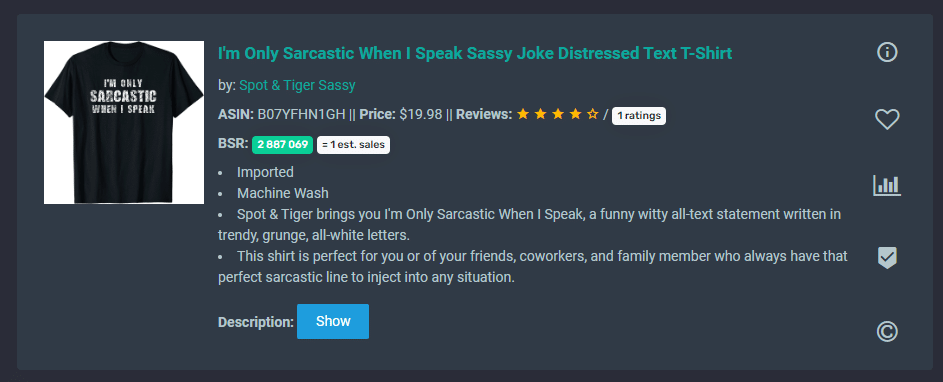 Another text-only t-shirt in the sarcasm and humor category is the "He Only Loves His Bat and His Mama Vintage White Text Premium T-Shirt". It's created by He Loves his Mama Baseball Tees. The shirt is priced at $20.99 and has a BSR of 7,469,806. What makes this t-shirt slightly different to the others is that although it uses white text on a black t-shirt background, and although there's no design associated with it, the font used is creative and can appear as a design in its own right. According to the Seller, the shirt is "great for those that love funny quotes and sayings," and it can be worn at a softball, tee ball, or baseball game. It makes for a great gift for a mom, wife, sister, or grandma, thereby, expanding the scope of the listing.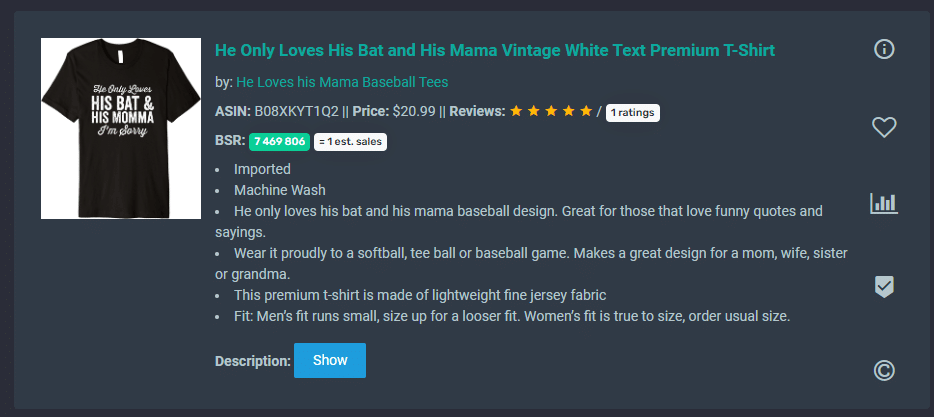 There is also the "Funny Senior Citizen's Texting Code Design Gift for Grandpa T-Shirt". It is brought to Merch by Amazon by Senior Citizen Texting Code. The item is priced at $19.95 and it has a low BSR of 101,818 with 24 estimated sales. What makes this shirt unique is that it's highly targeted at older men, senior citizens, retired people, elderly people, grandpas, or grandmas who love texting, even if they struggle with it. One characteristic of this shirt that makes it stand out from all the others is the use of color and font sizing. Most of the t-shirts in this niche are written with a white text on a black background. Yet this one utilizes orange, too, adding more variety and flavor to the mix.
Wisdom t-shirts

There are also t-shirts with wise words inscribed on them. One such example is "The Only Easy Day Was Yesterday (black text) T-shirt". Created by Wise Philosophy Tee Shirts, this listing is priced at $21.99 and has a BSR of 4,748,235. The Seller has indicated in the product description that this shirt is ideal for wearing "at the gym or for anyone ready to take on life's challenges." In addition, they've specified the material the t-shirt is made from, as well as the different sizes available. This is a detailed description that gives the user more information, which they'll want to know about when making a purchase. Crucially, this is a text-only t-shirt that falls into the massive "motivational" trend of consumer items and media.
Seller Strategy Analysis
Let's start with the price. Each of the Sellers and products mentioned above, prices below or near the average, which is a good strategy to follow. However, practically none of the Sellers have implemented a varying pricing strategy. They have not experimented with lowering their prices when their BSR is going up and hiking up their prices when the BSR has reached a trough.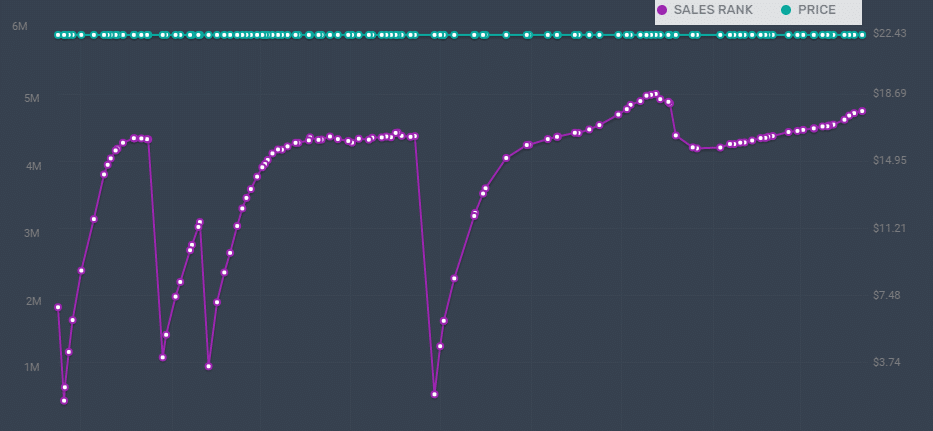 In addition to this, keyword usage has not been optimized. Sellers have a certain character limit to display their titles. In fact, it's 200 characters. This can tell a customer a lot about the product, but very few Sellers mentioned above have utilized this space to their advantage. They have missed an opportunity to really target their audience and segment it as well as use the opportunity to rank better on Amazon's search pages.
The same can be said for the descriptions. While most mention who the t-shirts are best suited for and what sizes are available, they can be more descriptive by mentioning the idea behind the t-shirt's text. This is one way of capitalizing on the description space available, which customers read for more information and to convince them to buy the product.
The Bottom Line
Text-only t-shirts are a great idea if you're not design-inclined. However, whether witty or serious, these types of t-shirts need to stand out from the crowd. Sellers in this category are encouraged to utilize their real estate space on Amazon to its fullest potential.
Implementing different price strategies is also advisable. Font usage, colors, and font sizes become crucial for a text-only t-shirt and this is another element to consider. If you're interested in entering this niche, then these are pointers you may wish to consider as you build your strategy towards success.