What are the top-selling autumn niches to target on Amazon Merch on Demand in 2022?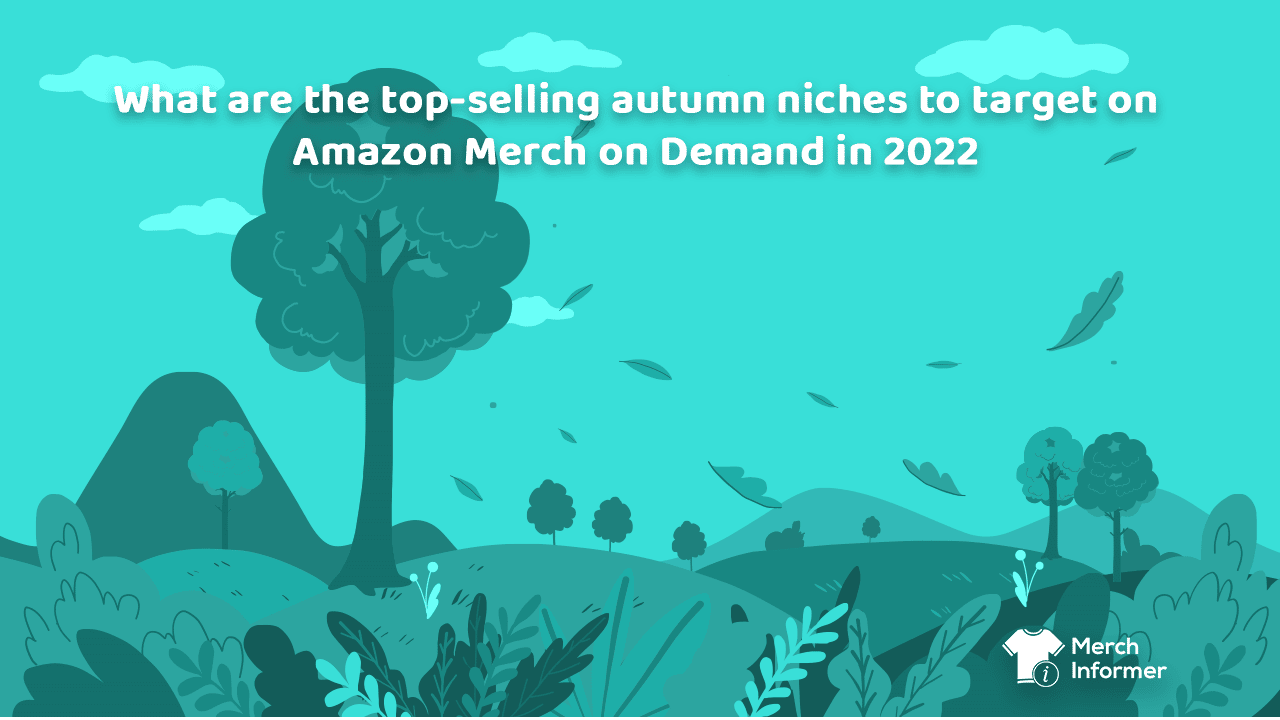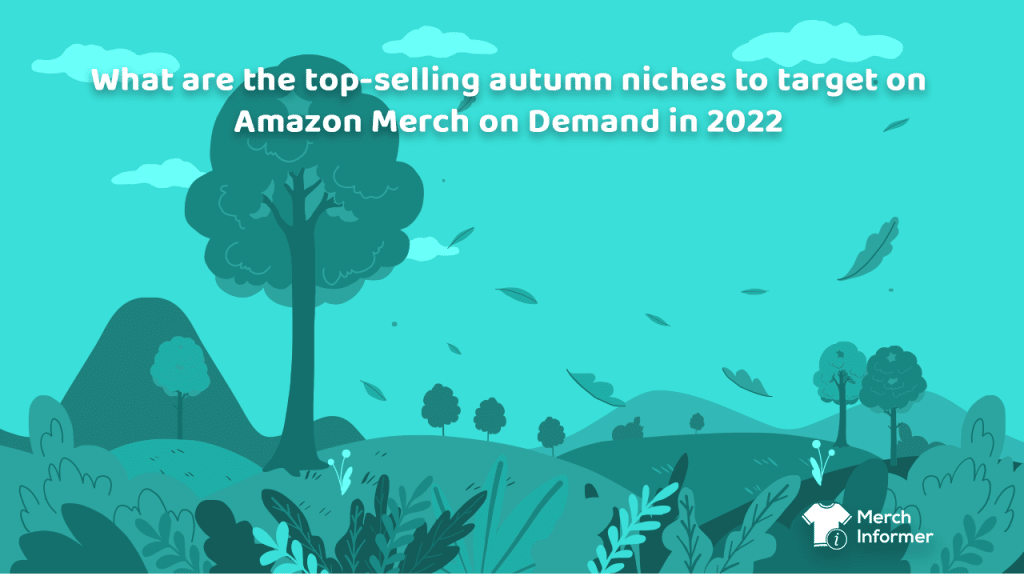 Are you looking for ways to make your sales on Amazon Merch on Demand reach new heights during the autumn of 2022? In that case, you're in for a treat.
We'd like to help you make your seller journey an exciting ride with fruitful results. How? By tipping you in on the most popular niches and product categories this autumn season.
And to turn this into a profitable experience, we'll also share a few combos that you can target to see your listings perform even better.
Popular niches this autumn
Choosing a niche is a critical step in your seller strategy. If you're interested in making your print-on-demand merch attractive and profitable, it's important to niche down and find a market segment that you can compete in. This is why we've decided to start our research for the trending merch this autumn with a niche discovery ride.
Merch Informer has plenty of different modules that can help you discover popular niches. For this research, we choose to rely on the Keyword Cloud and the Trend Hunter features.

The Keyword Cloud tool allows users to identify the most used keywords by bestsellers at a certain point in time. We picked the 20th of September 2022 and performed our search.


We discovered the following keywords actively used by top-performing listings at the start of the season:
Birthday
Vintage
Halloween
Logo
Retro
Pumpkin
Halloween costume
Back to school
Hispanic heritage month
Breast cancer awareness
Thanksgiving
We also discovered a lot of movie and TV series titles. This means that sellers who are ranking for these words and phrases generate high volumes of sales (but these are brands that you do not own the rights to).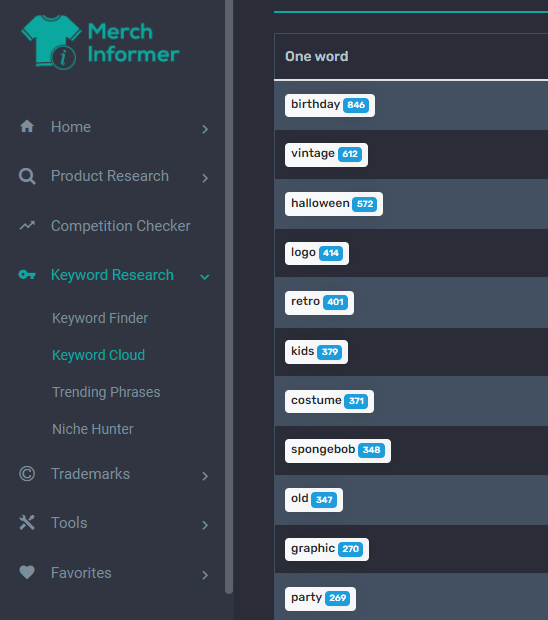 To check if our findings match with current keyword trends, we also used the Trend Hunter tool. It enabled us to see keywords and phrases, which are currently trending and generating interest among shoppers. The majority of keywords from above occurred in our findings again. However, there were also new ones that are mostly related to different product categories on Amazon Merch on Demand.
Popular product categories during the autumn season
Sellers can create their merch design in a multitude of product categories on Amazon. So how do you know which ones to focus on?
Let's pinpoint the most popular options.
According to Trend Hunter, these are the trending category-related keywords this autumn (in descending order):
Case
iPhone
Phones
Pro max
iPhone SE
iPhone XR
Phone case


Phone cases are clearly the most trendy product category.
To our surprise, we didn't see any t-shirt-related words, which triggered some important questions. T-shirts are considered one of the most saturated and attractive product categories on Amazon Merch on Demand. So why aren't they part of the list?
As it turns out, t-shirts are truly not as popular as phone cases when it comes to autumn themes. We used Merch Informer's Merch Hunter tool to confirm this theory. A look into the bestsellers shows that while more than 500 phone case listings rank in the top performers for the word "autumn", only 223 rank in the t-shirt category. Other merch categories are even less popular, with only several bestselling listings appearing in the results.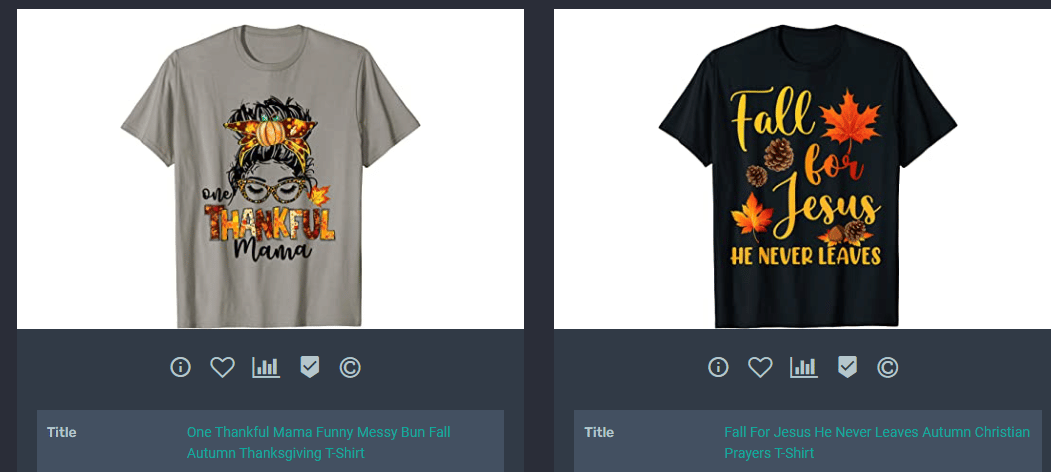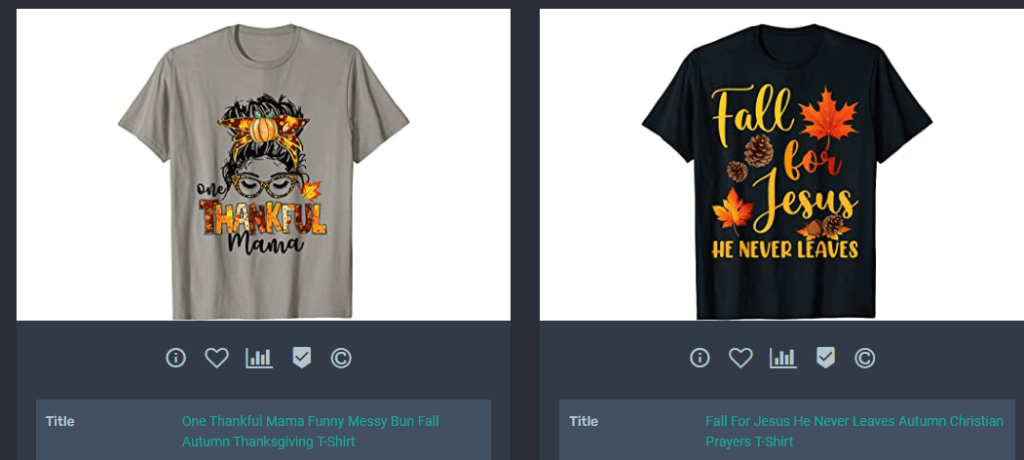 Of course, this doesn't mean that your research should stop here. Every sub-niche will present different results. Let's say you choose to explore the Halloween sub-niche in the autumn niche. You'll notice that both phone cases and t-shirts are categories with more than 500 top-performing listings for this main keyword. This means that you can create Halloween-inspired cases and t-shirts and enjoy relatively equal results.
Now that we've cleared that, it's time to discuss profitability.
The most profitable options for you as a seller
The best way to get an idea of how profitable you can expect to be is to consider the average BSR in a market, along with the average prices.
We've divided this phase of our research into two main sections – profitable niches and profitable product categories.
Profitable niches
Our earlier findings concluded that the most popular niches on Amazon Merch on Demand this autumn are:
Birthday
Vintage
Halloween
Logo
Retro
Pumpkin
Halloween costume
Back to school
Hispanic heritage month
Breast cancer awareness
Thanksgiving
However, we can see that some of them are not related to the autumn season, but are rather all-year-round themes. Some of these examples are birthdays, vintage designs, logos, and retro merch. When looking at profitable autumn niches, we'll exclude these options.
We researched the average BSRs of the autumn-specific keywords in the phone case and t-shirt categories. Additionally, we looked at the minimum, average, and highest prices among bestsellers. We found out that the niche with the lowest BSR is "back to school" and it sells best when used for iPhone cases. Top performers from this space have an average BSR of 28,780. As a comparison, best-selling back-to-school t-shirt listings have an average BSR of 1,255,373.
This dramatic difference proves that a lot more sales are generated by sellers offering phone case designs centered around the back-to-school theme. Best of all, the lowest, average, and highest prices are also much better for the iPhone case category as opposed to t-shirts.
Although the difference in average prices is around a dollar, the highest prices between the two categories for the same niche have a difference of around $17. This means that you are not only likely to generate more sales in the back-to-school market selling phone cases, but you will also earn more royalties as the prices are higher.
The next most profitable niche is Hispanic heritage month. In the t-shirt category, top-selling listings themed around Hispanic culture have an average BSR of 81,026. Combined with a highest price of $24.99 and an average price of $18.51, this is undoubtedly an attractive opportunity for sellers.
However, keep in mind that similar niches will not be rewarding throughout the whole season. For instance, Hispanic heritage month is between September 15th and October 15th. You can score impressive sales before and during this period, but once the moment has passed, you'll need to move on to the next trend if you want to continue earning royalties.
Product categories
Earlier we concluded that phone cases are the most attractive product category this autumn, followed by t-shirts. If we search for the bestsellers in t-shirts using the keyword "autumn" in Merch Hunter, we'll find out that the average BSR is 494,268. At the same time, the average price is $17.31, while the lowest and highest prices are $13.07 and $25.99.


On the other hand, the average BSR among top performers in the iPhone case category is 545 382, with an average, lowest, and highest prices of $18.27, $13.84, and $39.99 respectively. A higher average BSR means that sellers land fewer sales than in other categories with a lower BSR. Although you can price a phone case higher than a t-shirt, chances are that you'll be making fewer sales, which could damage your bottom line.
Best combos to target this autumn
The best way to stand out from your competitors this autumn is to target combinations of niches and product categories. We've already suggested two profitable combinations – the back-to-school niche in the phone case category and the Hispanic heritage month niche in the t-shirt category.
However, keep in mind that you can discover hundreds of similar combinations based on your findings from Merch Informer. The goal is to compare how profitable certain themes are in different product categories and spot opportunities. Furthermore, don't forget to narrow down your listings by targeting a specific audience. For instance, the back-to-school niche will be best combined with keywords related to kids, such as "children", "students", "kids", "teenagers", and others.
This will add an extra layer of competitive advantage and help you stay ahead of the pack.
Conclusion
Every season has its peculiarities when it comes to buyer behavior on Amazon. A deep look into the trending niches and the most profitable merch categories can lift the curtain and show you endless opportunities for sales this autumn.
Don't forget that Merch Informer can quickly and easily equip you with all of the insights you need to make strategic moves as a seller and enjoy higher returns from your Amazon Merch on Demand side gig.