100k School Debt to Financial Freedom – Merch by Amazon Update 6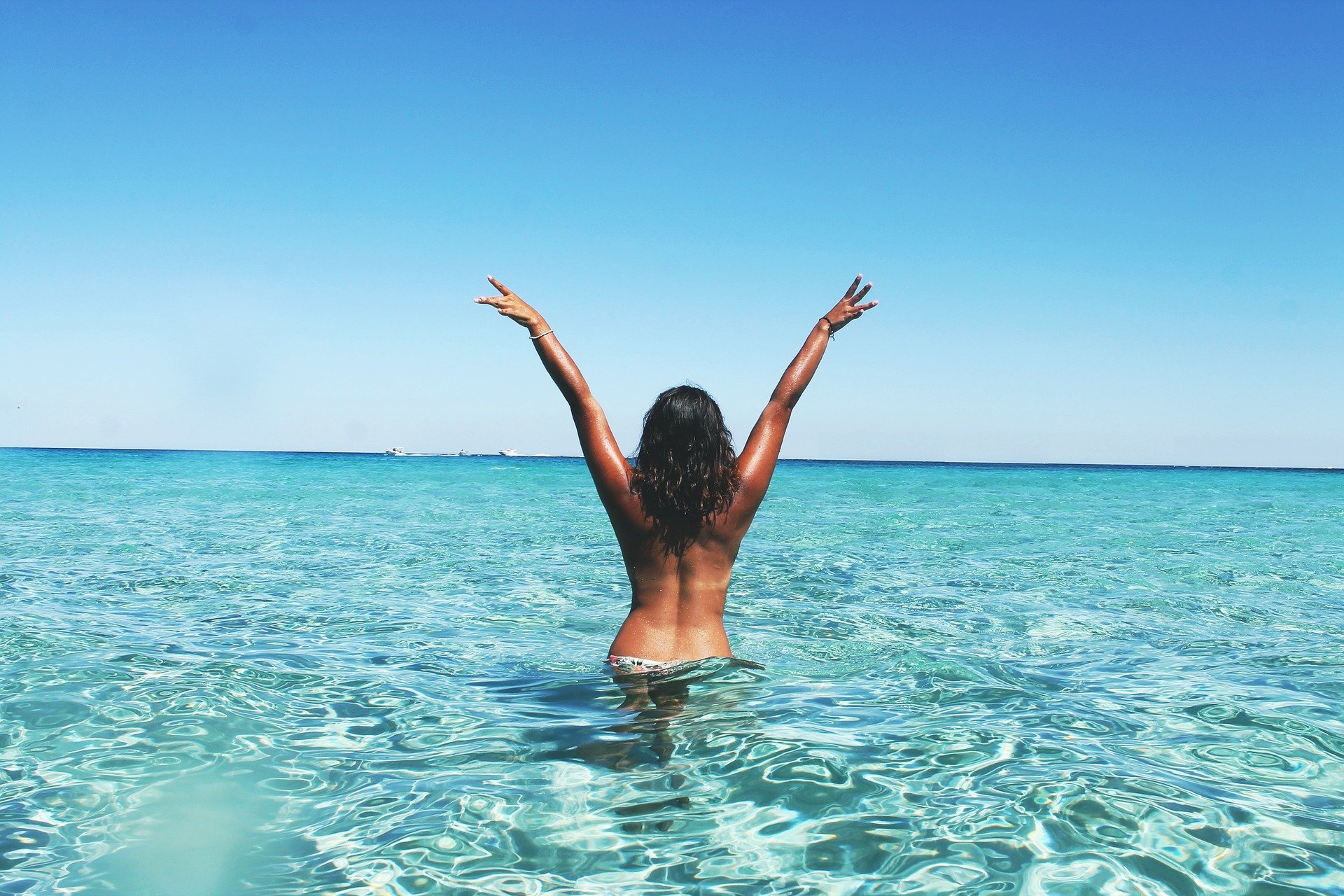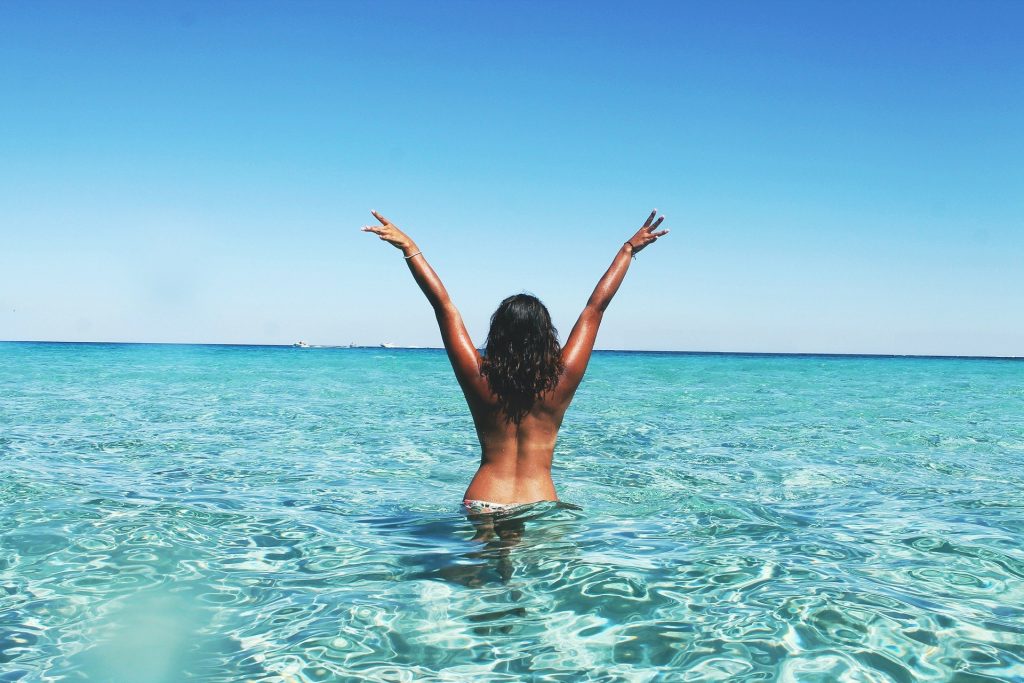 It looks like I might finally get this article out before a week has passed into the next month! There has been some consistent work being done this month, but first I need to address the image that I use for this case study series.
I have had numerous people ask me about the image used, if it was my girlfriend, if it was supposed to "motivate" them, or if it was family friendly. It is NOT my girlfriend, and I have no idea if it will motivate you or not. Family friendly is up to you to decide, but I can tell you one thing. It gets a very high CTR (click through rate) and that is exactly why it is used. Just like marketing your t-shirts (which you should all be doing), you want to use big bold text and images to get the highest click through rate you can, and this is why we use this image. Take it for what you will, but it works!
This month has actually been one where the account could be focused on, new designs outsourced, and best of all, we were NOT fighting the 90 day rule as it was finally caught up on.
In case you missed it, here is last months case study:
https://merchinformer.com/100k-school-debt-financial-freedom-merch-amazon-update-5/
The best news I have to report is sales are FINALLY on the up!
They are not up by a massive percent as I would imagine that would happen at the end of November into December as people are starting to buy shirts as gifts for loved ones. What is nice that even though the account had some rough individual days the past month, overall, the account is up and should keep climbing.
As of writing this, this officially marks the middle point in our journey to pay off the $100,000 worth of school debt. There are 6 months left to pay this off if we are going to reach the goal of doing it in a year. Last month I wrote that this WILL be happening and this month is no different. You may be looking at the numbers we are about to talk about below and think to yourself that it is not possible, but we have some tricks left to play to make it happen.
In the previous month's case study, it was mentioned that the niches being targeted were going to move from BSR 100k-300k up to 300k-600k. This strategy has been working for me personally, but for my girlfriend's account, we decided to do something a little bit different than the original plan. Instead of outsourcing as much as possible to get new designs up, we decided we would finally get going with premium shirts for the known winners on the account.
Last month, this account did $2,230.00 which was up from the previous month by a small margin but this month is even better and we will get into what exactly happened as we are now in the full swing of things during Q4.
What Happened In October?
October has been a month of consistency. Daily uploads as often as possible were done because this is the easiest way to make money with Merch by Amazon. Now, when I mention daily uploads and how important they are, people tend to forget the underlying "but…". You need to hit your daily uploads BUT the designs need to be good! You can put up 100 text based designs a day but if they are 100 text based designs in comic sands point 12 font, I can guarantee you will not be selling any. The designs you spend your time putting up need to be good and they need to be something both you believe in, but has been properly researched so you know there is an audience of hungry buyers willing to open up their wallet and pay for it.
Filling 20 a day for her was pretty difficult with all the school going on as well as tests as we are nearing the end of the year. What is REALLY difficult though, is filling 40 slots a day!
Yep, she got tiered up from 1,000 slots to 2,000 slots!
Getting 40 a day uploaded is not always going to happen. Some days she might come home from school and get only 6 live before bed but that is 6 more than 0 so that is progress and something she has shot for every single day.
Crushing Premium Uploads
Now that the 90 day rule was finally caught up on (which was hundreds of shirts, thanks Amazon!), she could actually focus on getting designs uploaded that had not been taken down. Since I have been swamping my main designer (who is also the one who designs for this account), we were only able to get a little over 100 new designs in October. Since with little designs and another 1,000 slots to play with, we decided to start with the winning designs and start uploading them to premium shirts.
Our strategy has been as follows:
1: Take the best sellers, upload them to premium shirts.
2: Brand new designs take priority, which go on Anvil shirts first.
3: When no new shirts are available, premium designs are uploaded with the goal of getting all designs on premium in the future.
4: All premium designs are priced at $19.99.
5: ALL premium designs have new brands, new bullet points, and new description.
Now, you might be asking yourself, why on earth would you put new brands, bullet points and descriptions for the premium t-shirts when you could just copy and paste the successful keywords you were using before?
Let me explain. My background is in affiliate marketing and building large websites to rank in Google for specific keywords. This is very similar to ranking in Amazon for specific keywords. What I learned building these websites is that in order to rank, you first needed great content (for merch you need great designs), and then you needed good unique content. For Merch by Amazon, the equivalent to unique content would be the title, bullet points and brand.
Okay so what?
Well, let's use the keyword "panda shirt" as a keyword. If I have a hot seller in this niche, it might be ranked on the first page. If I were to upload my hot seller on a premium shirt and just copy all the information, the Amazon algorithm is not going to want to rank the exact same design with the exact same text in the bullets on the same page even though this is the premium version. They want to give the customer as many choices as possible so it will probably only be 1 of your products. The goal is to get ALL your products ranking for those terms, and for this you need unique content.
With the release of Long Sleeves (we will talk about that later, this account has not been activated for those yet), if a customer puts in a search term, wouldn't it be nice to have Anvil, premium, AND your long sleeve design show up on the front page? 3 of your products in front of your customer gives you a lot higher chance to make the sale than just a single with competitors taking the other slots available. This is why you use unique content, and so far it has been working!
Not only have we gotten some results ranked on the same page as the Anvil shirts that already existed, but they have started selling pretty well too! They are not selling as much as the majority of the $16.99 priced Anvil shirts, but every day at least a few premium sell and this equates to a royalty of $5.69 at a $19.99 price point.
Throttling?
It is time to finally address the issue that many people are upset about but no one really seems to be discussing with a cool head.
Throttling, is it a real thing?
Putting it simply, YES, Merch by Amazon is throttling designs.
So what is it, and why does it matter?
Well, throttling when it comes to Merch by Amazon means that even though you may have a link to your design from your dashboard, Amazon may selectively remove your designs from search. For the first time ever, they have actually acknowledged this.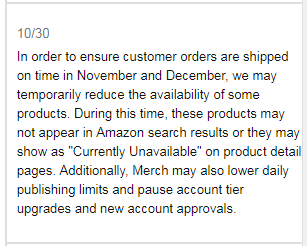 What we have noticed is that when Merch throttles a design, it is both removed from search AND removed from your brand so that a customer really cannot find it. Another version of of the throttle is when only certain sizes or colors show as available. This has meant a lot less sales for a lot of us.
So why throttle?
Amazon is a business and because of this, they have brought some other big brands on board to sell on the platform. You have probably noticed some of the big players such as Marvel, Disney, and Coke. As a business that is publicly traded on the stock market, they have a financial responsibility to make as much money for their investors. To do this, big brands are going to take up the print capacity first. Why would Amazon throttle your designs instead of throttling Coke? Simple! Coke makes Amazon a lot more money than any one of us could, and thus increases their stock price.


That being said, there is still room for us. Think about it! Individual content creators like us can react much faster to the market to trending topics and hot seasons a lot better than some giant company on the platform could. Will the big companies and brand accounts get access to more products long before we do? Of course, but there is always going to be room for us. We just get to fill up the print capacity that is not being occupied.
Now, the one thing that I have a growing hunch over is that there is no way Amazon is going to throttle a design where you are driving your own traffic.
We all love to rely on organic traffic because it is essentially free money. That being said, the customer is ALREADY on Amazon and since they are the masters at conversion, they know they are getting a sale no matter if it is your product, or someone else. Since they know they are going to get that sale on traffic that they have already required, they really do not "owe" us anything. When we are driving traffic on the other hand though, we are providing them a potential customer that was NOT ALREADY on their platform. There is zero reason for them to throttle designs when outside traffic is driven. In fact, it works in their favor to make those products available to capture the sale because they ended up visiting Amazon because of you.
It is what it is, and all we can do is roll with it and hope that they expand capacity much faster.
The Results for October
Before we get to it, here is a quick recap of the September numbers: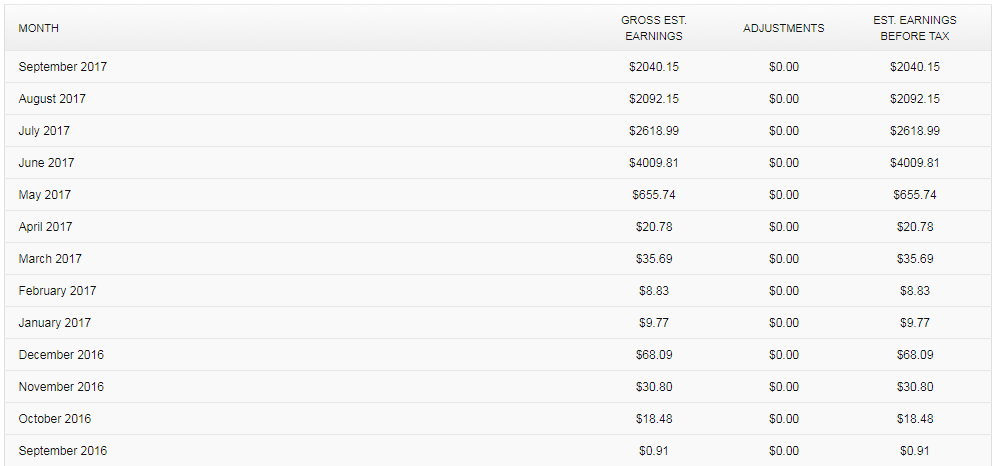 You will notice that September looks a little bit lower than was reported in the last case study. This is because Amazon pays based on when the shirts actually ship. The extra is always brought over to the month following. This month was actually better by a good margin.
Most of the shirts that have been put up are at the $16.99 price point but there are a few that are higher than that based on the reviews that the shirt has.
Since a lot of the 90 day rule shirts got put back up, many of these were put back up on Anvil shirts at a cheaper price. Generally, $12.99 or $13.99 was used based on the niche to try and get that sale on them so the effort to put them back up would not need to happen again.
For the month of October, there was a really good spread of t-shirts sold. The best seller only equates to around $107 dollars of the total for the month:


Here is what the current uploads look like (keep in mind that this might be a tad bit more than at the end of the month since I am writing this a few days later):



Here is a summary of the totals for October 2017 from download the excel spreadsheet:



600 ASINS on the dot sold with $2,581.07 in royalties.
If the month of November is anything to go by, it should be higher than this for next month since we are off to a good start.
No more work has been made on the Etsy integration that was started, but a single sale was made that has not been reported here.

The Math
Since designs can easily be created yourself (and what most people are doing when they start), we are only going to be including the royalties in the math.