100k School Debt to Financial Freedom – Merch by Amazon Update 8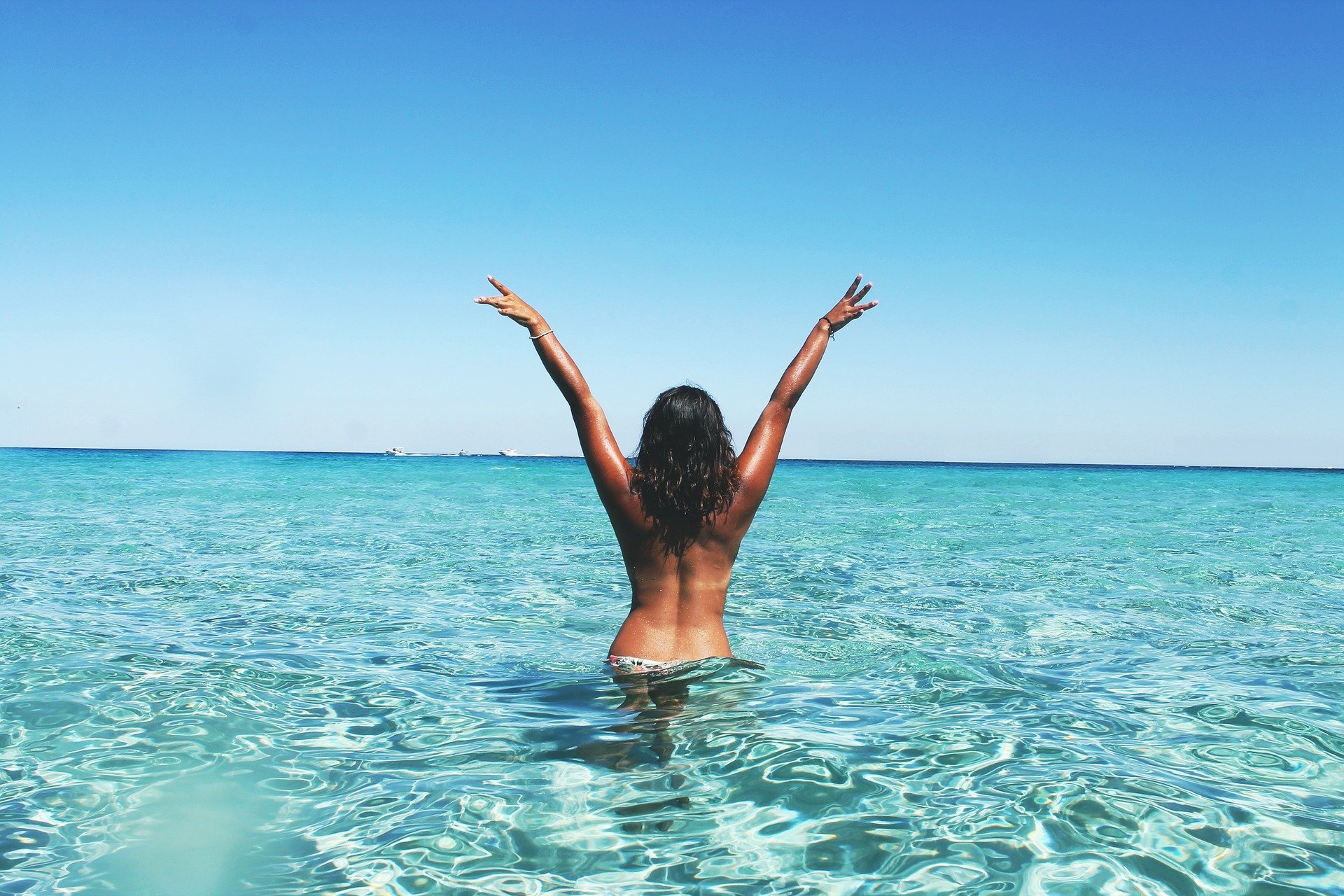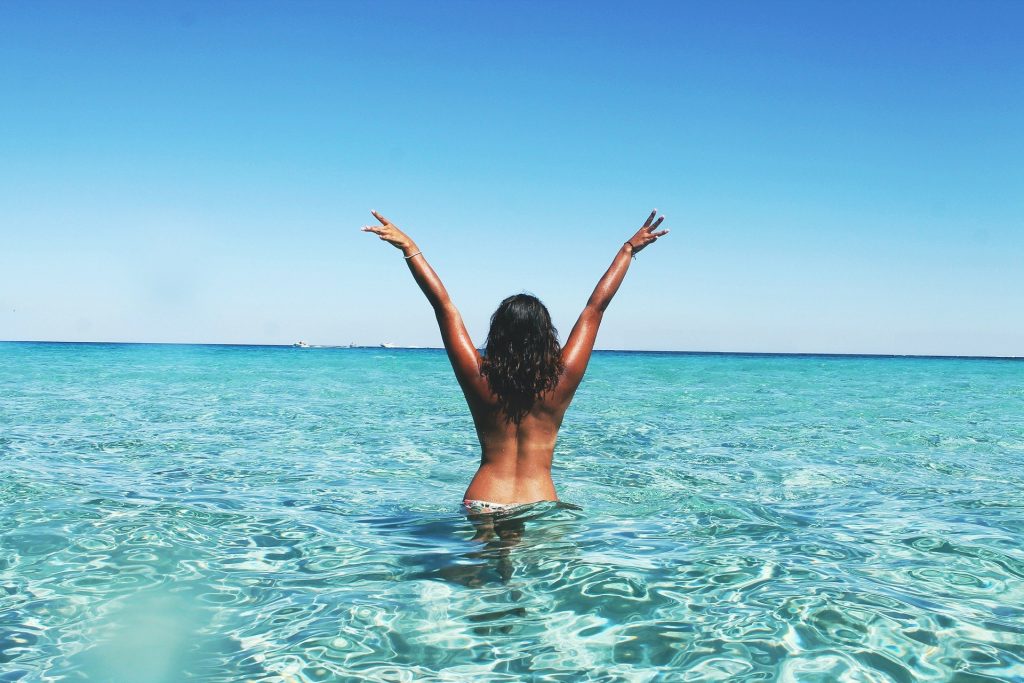 Now that everyone should be back at home and ready to get back to work on Merch, I thought I would finally release this update. Q4 is finally done and December was an exciting but bumpy ride. My girlfriend's account crushed some goals, did well from some advice we received, and is in a position to have an incredible 2018!
Q4 is finally over when you are all going to be reading this. For some it lived up to the hype, and others it did not. This is something I will dive into in another article, but for us, Q4 was a mix of both which I will explain below.
In case you missed it, here is last month's case study:
How To Use Upwork To Outsource And Scale Your Merch Business

Quick Note: Merch Informer released the newbie plan a few weeks ago. If you are looking to duplicate the success of this case study, make sure to go over and make sure you lock in your rate. Read until the end to grab a limited time discount.
December saw a very healthy jump in royalties day after day just like was expected. With nearly 2,000 shirts live (current tier is 2000), even with decreased upload limits, the goal was to max those out each day as each slot is incredibly valuable in December.
Then we all got hit with this: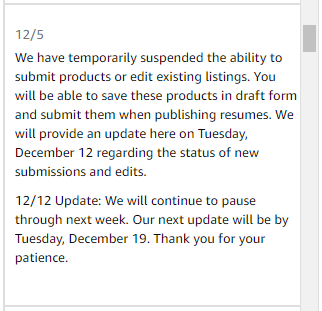 Most people were expecting this to hit but just did not know when. I will fully admit that I did NOT think this would happen, as the throttle on shirt designs was getting worse and worse. I figured it was easier to throttle designs (less anger from the community), than just fully shut off all uploads. Looks like I was wrong!
During this time, no one could upload anything and the majority of people I know in the Merch game decided to simply take a break from the entire thing and come back to it after the holidays. This is wasted opportunity, but I cannot blame them. Merch can be stressful hitting your uploads every day, researching, and then optimizing each listing to sell. That being said, there was a goal to reach here, and putting in the work when everyone else was "taking off" is the perfect way to get ahead.
In fact, this has almost always happened to me. When the going is good, you feel nearly invincible and that it will never decline. Q4 did this to a LOT of people. Even though you fully realize that Q4 is the biggest shopping season of the year, for some reason you feel like this run will not stop or go back to a normal level. I have done this with almost every online venture I have been in, and I am willing to bet most of the people reading this have too.
It only took 4-5 times of getting lazy and complacent to realize that if you are willing to put in some work when other people are not, you are setting yourself up to blow past them the next year.
So, knowing all of this, and conveying it to the girlfriend every single day, she decided she would take the time to upload more listings to Etsy which got healthy sales in December!
Read about how to sell your Merch by Amazon designs on Etsy here:
What Happened In December?
With uploading to Etsy is a bit more involved than it is on Merch, building out your portfolio that is ALREADY researched and vetted (through selling on the Merch platform) is probably the easiest thing that could be done during this freeze. Each one of the platforms out there has their own audience, and during December, they are all rapidly buying as much as they can for presents and what not.
On December 14th, we all got this message in our dashboards: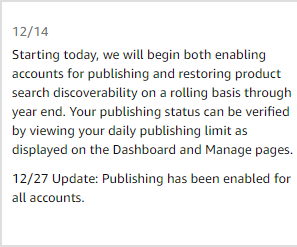 The 14th they told everyone that they would begin enabling accounts and restoring product search discoverability on a rolling basis.
With all the excitement this caused, publishing on this account took a LONG time to get enabled for some reason. From all the chatter in the groups, I am not really sure what criteria they were using to decide who got unfroze first.
That being said, the 14th was also a big day because the girlfriend graduated from her 1 year accelerated nursing program! Nursing degrees here in the USA are typically 4 years long, and she got hers in a single year. Balancing 60 credits in 11 months and 800 clinical hours in a hospital sounds hard enough, but through all of that she was able to grow this Merch account to pay down her debt at the same time. I am very proud of her =).
To celebrate, we headed up into the mountains to go skiing (for the very first time ever).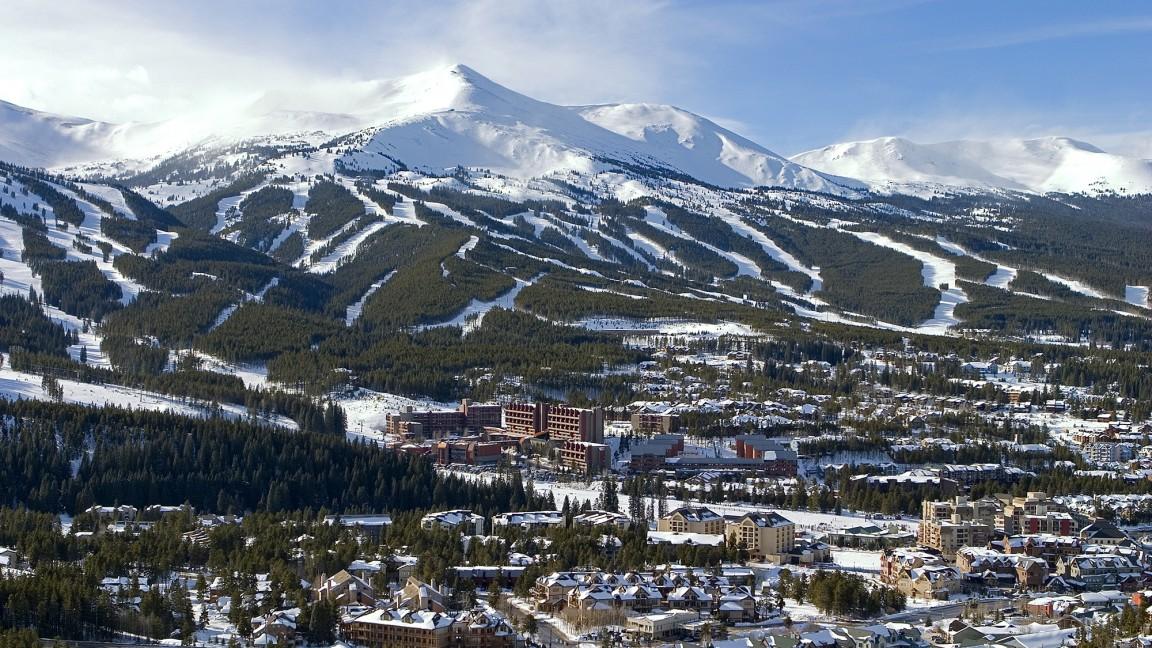 From someone who grew up in the Midwest, this was pretty intimidating, but ended up being incredibly fun!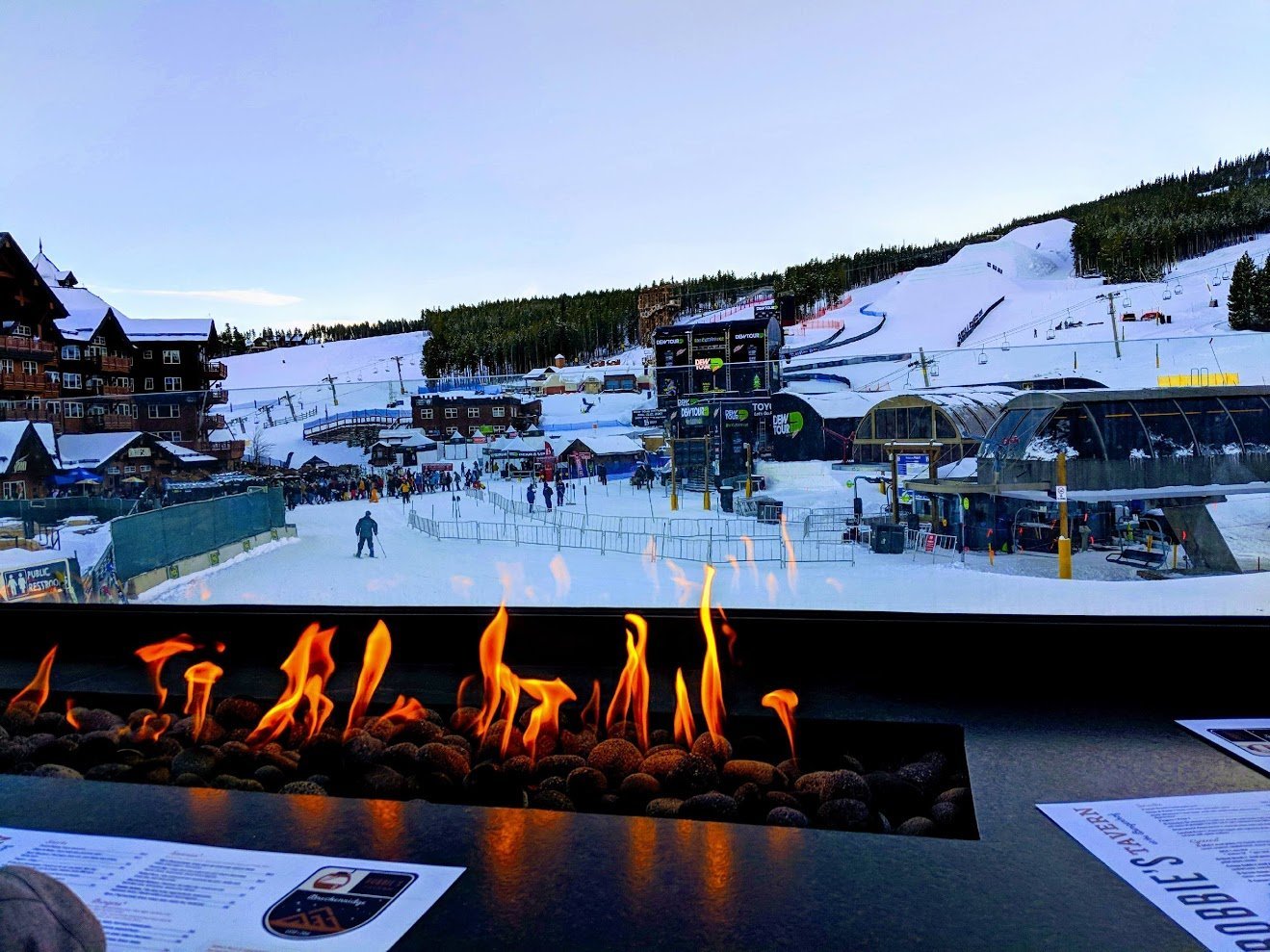 During this time, not much was done on the Merch account (still frozen), nor Etsy for a few days.
Premium Shirts and Long Sleeves
Last Christmas season, there was a giant throttle as well. One of my good friends, Ken Reil, likes to mention that premium shirts then saved his Christmas. At that point, I was not uploading premium at all. That being said, if you look back in this case study series, you can find the point where my girlfriend started uploading on this account all her designs from standard over to premium shirts.
With history repeating itself, I would have to say that this pretty much saved Christmas for this Merch account so a big thanks to Ken!
Standard shirts got throttled first, and even though that Premium shirts ended up getting throttled pretty hard as well, they did not get throttled first, which allowed for a LOT more sales. It seems that Long Sleeves were in the same boat, as premium and long sleeves made up the bulk amount of sales for this month.

Reuploads
Once the account was finally turned back on to publish, the first order of business was uploading all the shirts that dropped off from the 90 day rule.
Last month's case study showed nearly 1700 shirts uploaded. During the freeze, almost 150 of those came down which is frustrating because they could not be instantly put back up. Oh well, better late than never!
I have been a proponent of putting up your 90 day rule shirts right away and I still think this is a good idea. You did the research on these niches and got some good designs created (or did them yourself). Giving a second look at the niche and then reuploading is perfect for your account and typically these shirts sell the second time around.
Even with the loss of shirts, the account got SO SO close to $3k a week but never cracked it. $2,990 is the closest we saw, and of course I forgot to screenshot it!
The Results For December
Before we get to it, here is a quick recap of the November numbers: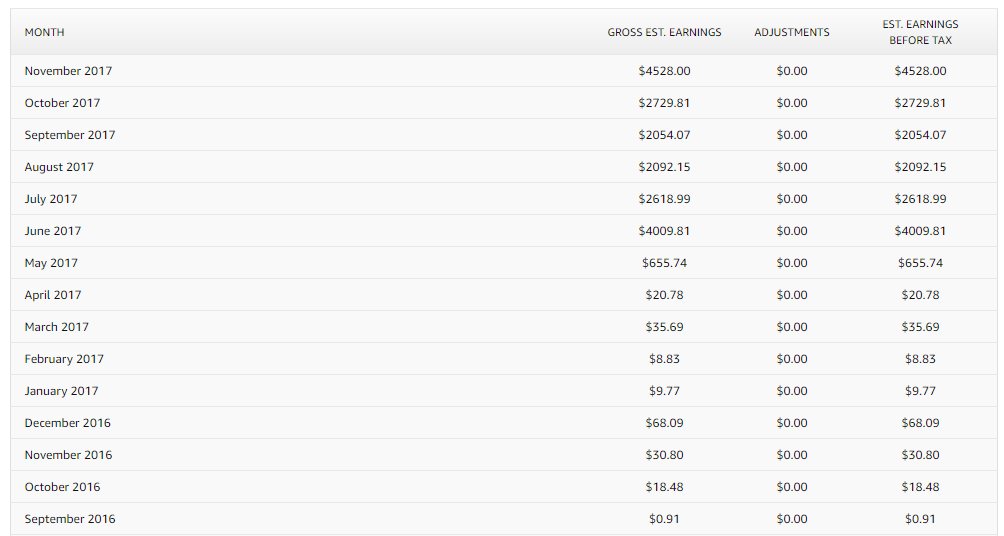 You will notice that November earnings are actually a bit lower than what was reported in the case study. Actually scratch that, they are a LOT lower. This is because of Cyber Monday and Black Friday taking up a ton of print capacity and thus the products got shipped out late. We are almost $900 short, so the payment in January that it is added on to should be very nice.
Almost all of the anvil shirts are priced at $16.99 while the premium versions are priced at $19.99. The long sleeves on the account are priced higher at $25.99 but give about the same royalty as the other shirts on the account.
For the month of December, even with all the freezing, and throttling, there was still a bigger spread of t-shirts and long sleeves sold than November. Reuploads, shirts that haven't sold before, and best sellers stayed strong as they popped in and out of the search algo.
Here is a summary of the totals for December 2017 from download the excel spreadsheet.



1462 Asins sold, with $7,045.14 in royalties!
We were hoping that this account was going to hit $10k in the month of December. It certainly would have if it were not for the throttle but that is nothing that we can control, so there is no point in dwelling on it. Creating an income producing property that pulls $7k in a single month all while being in school full time and spending almost 1000 hours in a hospital is incredibly good I would say. If you are putting in the time and effort required into Merch and are not reaching decent numbers, take a good look at your business and try to find out what is going wrong.
What is more interesting though is the break down of shirts here. I mentioned above that premium outsold standard. Here is the breakdown:
Standard: 37.3%
Premium: 38.5%
Long Sleeve 24.2%
If you are ignoring either premium shirts or long sleeve shirts, you are not doing yourself any favors. Get on it!
Sales were made using the Etsy integration but have not been included here as work has not been focused here.
If you are looking to replicate this success, then make sure to check out the newbie plan Merch Informer just released. This plan is half the price and the girlfriend decided to release some coupons to celebrate the end of the year. You can use coupon code: casestudy for 20% off the monthly $9.99 a month newbie price or coupon code: casestudyyearly for 25% off your first year on the newbie plan. These codes are extremely limited so make sure to snatch them up before they disappear.
The Math
Since designs can easily be created yourself (and what most people are doing when they start), we are only going to be including the royalties in the math.