Merch by Amazon Success: Interview with Ken Reil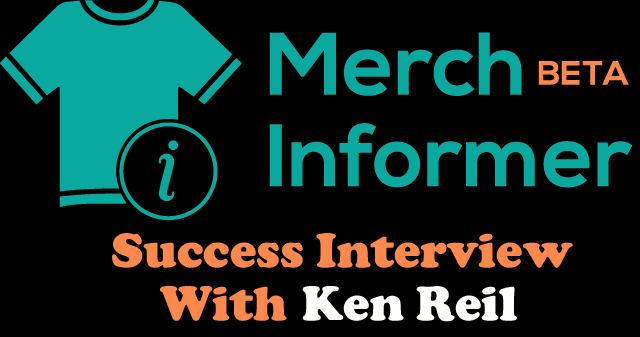 Over the past year or so, I have gotten to know Ken pretty well. We got the chance to sit down with him and pick his brain about the Merch business and how he has managed to succeed in crushing his own numbers month in and month out.
What is most notable is that even though Ken owns an offline business, he was able to tackle Merch by Amazon and turn it into another full time income surpassing 6 figures fairly quickly. This was achieved by hard work and determination. With 85 uploads a day, the guy is sometimes too busy to chat as he is filling those slots.
I can even barely keep up with my own uploads so it was interesting to see how he balances being one of the top earners with living life and finding inspiration for that many daily designs.
Tell us a little about who you are and a general ballpark of how much per month you are doing with Print on Demand?
Hi I'm Ken. I'm 46, from Las Vegas Nevada. Wonderful wife, three kids, a beagle-bassett and a cat. Originally from a little town in Alberta, Canada. Managed in the oil field a number of years and now run my own sign decorative window tint company. I currently do between $10-15k/mth with POD platforms.
How long have you been a member of the Merch by Amazon Platform?
I have been part of Merch by Amazon since the beginning in Sept 2015.
How did you first find out about the platform and what were your initial thoughts?
I actually stumbled upon the platform and signed up. I had been doing some listing with Teespring and thought the platform looked interesting. At first I found the upload system cumbersome as I had never uploaded to a platform that needed the art dimensions to be "exact". After numerous emails back and forth to support I figured out the design had to be to the pixel. I listed a couple of shirts and forgot about it.
What was your "AHA!" moment when you realized the potential from selling Merch online?
In January 2016 I noticed a $18 payment from Amazon to my bank account. I went looking and saw that a couple of shirts had sold on Merch. I listed a couple more designs that afternoon and forgot it again. Then I got a $27 payment in February 2016. That was when the lightbulb went off. It hit me I could just post designs on Merch and they would just sell in the market. I had no experience with Amazon before this and was only really aware of other POD's where you drive traffic to your listing. I listed more shirts that night. I began to get the itch and watch daily for sales. Little by little they came and in March 2016 I saw my payment grow to $196. From there I was addicted. I looked for some Merch groups on Facebook, found Chris Green's MerchLife group and discovered a whole new universe of "Merchers".

Did you have to wait for approval? Any tips for those submitting applications today?
I did not wait for an approval. I was in before the lock down. At the time I thought nothing of it and kind of expected to sign up, get instant approval and list shirts. Shortly thereafter they locked the program to invite only. I did however, early in 2016, apply for accounts for every family member after the lock down. I saw potential in the program and figured the family could use the tools I already had in my sign business to develop a passive income.
My best tip for submitting an application today is to fill in the application completely. Use the information section to explain yourself. Set up an outside store like Shopify. Demonstrate your willingness to Merch that you are an asset to them adding you. If you are a graphic artist or "shirt" designer, then ensure you have a great gallery somewhere online you can link to. The days of cookie cutter robot applying are over. Apply from multiple emails. Give yourself more than one hook in the water. This is the greatest opportunity in the POD community in my opinion. An account is a gold bar to be purified.
What tier are you at and how many designs do you currently have live?
I am currently at the 6k tier and have 3300 designs live. I've been at this tier since the last big sweep of tier ups to higher levels last summer. Right about the time it was obvious tier ups were no longer an automated thing. I had hoped for 8k at the time but was very happy with 6k.
Do you outsource your design work or do you do it yourself?
90% of my listings I do myself. I enjoy it. I should outsource more but it is the fun part of the business. I do contract out for larger packages of designs from a couple of select individuals I chat closely with. I will dabble in some of the "design clubs" as well and nab something I like.
Where are you outsourcing and at what price? Any tips on the process?
If I outsource I tend to pay a little higher for designs. I'm not usually in the $3-6 range some larger people with VA's will discuss. My typical payout on an outsourced design is $7-15. If there is something I'm really shooting the moon for in a concept, I'll pay much higher. This comes from paying graphic designers in the sign world and expecting an hourly rate from USA designers. I prefer to keep my designers under wraps but I love working with Gary Greenwood. He can nail a typography design in minutes and knows what I want most times without explaining past a phrase.
Since I do a lot of my own stuff my process in finding designers is not as in depth as many tutorials you may see. I am a big fan of People Per Hour however. Much better quality than Upwork or Fiverr but expect to pay more.
Merch Informer Note: Gary Greenwood was the designer we used for the "big dill" shirt in our 20k a month case study article. You can check out his work here: http://8dd.store/
Do you do any outside marketing at all or are you strictly focused on the organic traffic from on page optimization?
I do some Facebook ads depending on the niche and have a couple of Facebook pages I'll sell niche stuff into. I am slowing getting my daughter to help with understanding Twitter and Instagram. I grew up in the development of computers but some of the newer, hipper social media confuses me. I'm having some fun with Pinterest. It is simple to me but need to spend more time on it. The new AMS ads have been a surprise. I'm seeing some success and I love them as it is the hooks in the water principle to me. More hooks so more fish.
When it is all said and done the organic traffic on Amazon is a monster. Both for Merch or Seller Central listings. What an amazing marketplace that is just starting to get it's mojo in my opinion.
Have you done any Amazon PPC (Pay per click)?
Yes. Dabbling in it more and more. Been doing it since it was that "secret" in the Merch world.
Have you done any Facebook advertising?
Yes.  I'll admit thought I find it frustrating 90% of the time. Kicks me in the face more than I kick it.
Are you using free or paid traffic?
90% free. 10% paid.
Do you have any suggestions on how to get started and learning an advertising method?
There is no magic bullet advertising method. They all take work and you will take bruises along the way. The simplest so far has got to be AMS but you can go through A LOT of money quickly if you are in a highly competitive niche with good designs. Just remember most times you are competing with good looking designs. Clicks cost. Find the right wave and don't be afraid to spend some money when something is working. Ride the wave. The bonus to AMS is that the sales you are getting are also boosting your BSR and organic algorithm page placements. On the flip side get out quick if your ad is getting tons of clicks and no conversions. It can have the opposite effect. Remember whether you make sales or not with clicks Amazon always takes your money.
Suggestions for Facebook…let me get back to you on taming that donkey.
Pinterest ads have me excited to start trying more. Seen some good success over Christmas and St Patrick's Day when I promoted some pins. Really easy when set up right. Again it comes down to time and getting myself to let go of things I enjoy doing to VA's.
When it comes to your experience what is the most important factor in getting your Merch ranked in Amazon?
The rule I have followed for over a year is:
Quality design > Quality keywords > Quantity of designs in the niche
I am not afraid to purchase test shirts to get a shirt moving. It does work. It is part of the business. Designs I know that will sell if seen I won't hesitate to do this. My friends are now trained to ask for the latest shirt offerings at a "penny profit price". I'm happy to drop the price for them, get a sale, and have free advertising wherever they wear the shirt.
I do not hesitate to kill a listing and relist entirely with new keywords instead of editing. If it is a dog in the marketplace yet I know is a good design I'll restart the engine and try again.
Do you Use Any Tools For Your Research Process? If so, what aspects do you like best?
I do use tools. My go to set is Merch Informer, Merch Research (now part of MI) and I'd be adrift in the stormy ocean without Merch Tools by Hamza Mallat.
I call Merch Informer the hammer of my toolbox. As I go through my idea list it is the first place I turn in getting market information, comparisons of BSR's, keyword insight and yes to look over (spy on) other brands. It has saved me more time from diving into useless niches than any other tool. It has driven me to always remember to research before committing to making a design. Something I think too many Merchers fall into the trap of.  The tool is top notch. The support is top notch. The tutorials and blog posts updating the community are second to none. The constant addition of new content is exciting. Bring this puppy out of beta already. Neil and Todor really have a grasp on the Merch program and helping the community. Yes it costs you monthly but the price you pay is a pittance vs the revenue you can generate. I'm surprised it does not cost 5x or 10x what it does now. Before you say I sound like a commercial for them, no I do not have any affiliation income for saying this. It has made me thousands of dollars.
Merch Research is a handy set of utilities and is an absolute idea blood hound. It is my idea list generator. Easy clicks to easy ideas. As Chris Green says, "Ideas are everywhere!". Having it tied to Merch Informer now just makes it all the better.
If Merch Informer is my hammer then Merch Tools is my duct tape. The euphoria of Merch tools is like when you went from dial up internet to cable, from one monitor on your desktop to multiple monitors, or realizing your mother's well done steak should have been medium rare all along. Merch Tools saves me hundreds of hours. Hamza has quietly added a set of tools that no Mercher should be without.  From the ability to list multiple shirts visually on one screen in the shirt lister to the amazing new quick editor giving you single right click edit ability on all your listings. Add sales graphs and the "CHA CHING" sales notification and it is paradise.
When it comes to your keywords, how are you approaching them?
I may be a little backwoods on keywords. I just try to put my mind as if I was jumping on Amazon and buying random stuff. I focus on preventing myself from explaining my shirt design and more on what keywords would bring a buyer to simply view my listing. Tied to that is I am a firm believer in bolder is better. When the customer sees his search page appear you have to be seen. You need to be the black sheep in a flock of white ewes. If they can't notice your shirt when the keywords have brought the customer to your listing then you fail anyway. I like to have my close friends do what I can the 3 second test. Tell them the keywords that will bring up one (or many) of your listings. Do not let them see your design(s). Then have them scroll relatively quickly on the search results. In 3 seconds which designs did they notice. If your design is not one of them then you fail. For me this means designing bigger on the template. Some preach against this but I have yet to have a negative review for a design that was "too big" in close to 20,000 sales.
I like to keep keywords simple and sentence readable. I'm definitely sold on not filling large paragraphs of keyword bullets but I'm not completely sold on the technique of little to no keywords either. Go for the hottest phrases that are not trademarked. I do lean towards the order of Brand, Title, Bullet 1, Bullet 2 being sequential in the way the search picks up your keywords and focus my best keywords down to my weaker.
What about your pricing? Do you experiment with your prices or are you listing all your designs at the industry standard of $19.99?
I tend to focus on the standard pricing of $19.99 but it really goes with the niche I am chasing. Yes there is price pressure depending on what is selling and how many are selling. I do not tend to chase trends though so I'm not into playing the game of $12.99-14.99. Most of my listings you will find in the $17.99-19.99 range with some in the $15.99-16.99 level. I will strategically drop daily sellers in a niche to the extreme low price points for the day, grab double or triple sales for BSR and quickly change it back as the steam rolls. Never for more than a 24 hour period though.
Have you expanded into other platforms or are you taking advantage of any of the integrations to list on Amazon (Shopify/Printful/Printaura/Teespring)?
Yes I do have my own Shopify store that is also integrated to Amazon Seller Central. I am a fan of Teelaunch and they have been stellar on quality and timing. I have been selling from Teespring for about 3 years now as well and really like their selection and quality. I do list quite a bit on Redbubble and Teepublic as they are just easy organic sales. The last one I am setting up is Etsy and see great potential there. Time is the factor but my wife is my sidekick and an amazing supporter and aid in my POD adventure.
How do you ensure your designs remain safe from any possible infringement?
I try not to worry about infringement for stuff that has not sold. I see too many people chasing copycats and their own stuff is not even selling. Now this is a different story on listings that sell consistently on a daily basis. I will guard them.  The new brand registry 2.0 from Amazon coupled with the new Merch image recognition software could entice me to move all my listings to my brand and protect them under brand trademark.
If there is one thing to avoid when learning the MBA business, what would you say that is?
Careful who you take advice from. Most saleable tutorial products such as eBooks, courses, and "secret tips" can be found readily in the most popular Merch groups, in free podcasts, or YouTube streams. I have a few secrets I keep to myself but anything you need to be successful can be found online for free.
A close second would be don't get emotionally attached to your designs. Sometimes good designs just don't sell no matter what you do while absolute garbage does. You just never know and if you sit and dwell you miss other opportunities.
What is the end goal for your MBA business?
My end goal has changed from a year ago as seeing this as a nice addition to my business. Kind of new spending money. Now it has taken on like a beast. It has changed my entire business focus from the sign business to being totally enthralled by the online e-com of apparel. Not just Merch but now focusing on building out my own brand. My goal is to build a profit stream that exceeds the worries of the daily ebb and flow of sales while achieving a very comfortable living into and building for retirement.
Any plans for all the money you have made from Merch?
Ask my wife. The money flows to her bank account. J All kidding aside the money I have earned from Merch has taken me out of debt in a year. The great economic/housing crash of Las Vegas nearly bankrupted me. My business survived by a hair and a year ago I was still pulling my head out the debt. It felt great to write a check for $30k last January to my Father in Law to pay family loans.
If there is one piece of advice you would give to someone who is starting to use Merch by Amazon for the first time and wants to get ahead, what would it be?
Summed up my advice is simple. Throw as much spaghetti against the wall that you can and see what sticks. If none of your pasta is sticking you probably didn't cook it first. Uncooked pasta is bad.