Exclusive Interview With 6 Figure A Year Merch Brand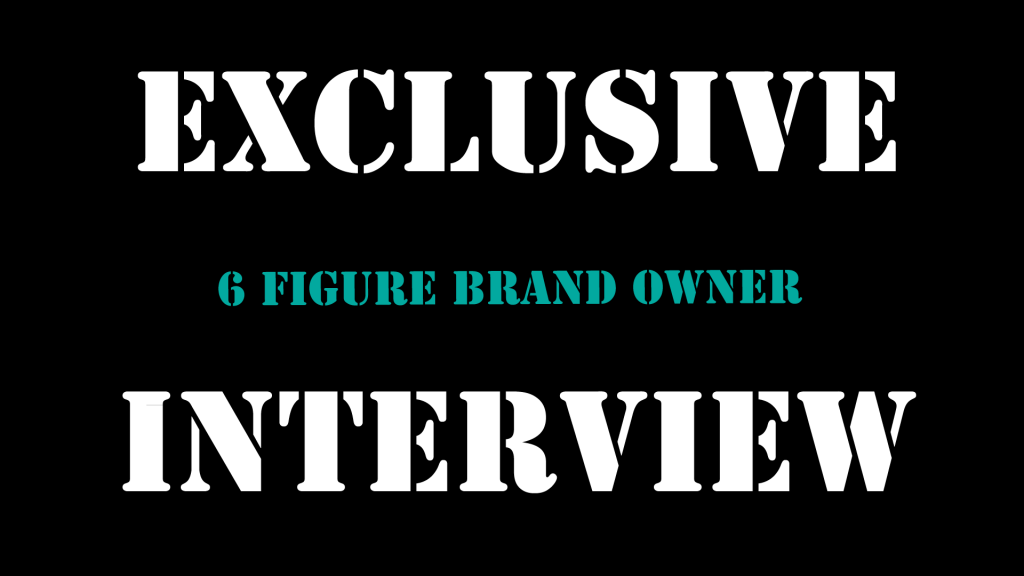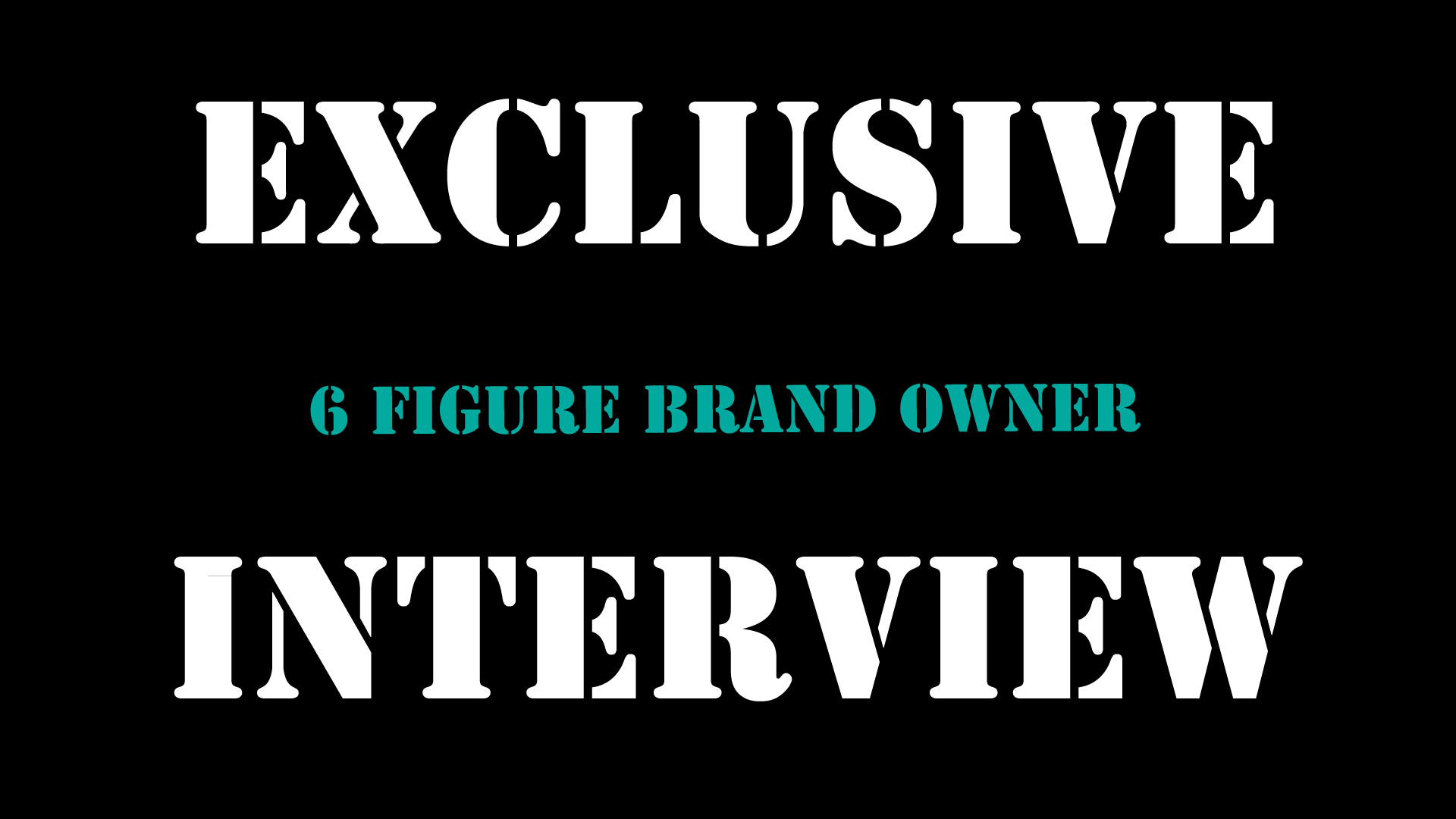 Today I am going to be bringing you one of the most exciting interviews I have ever done. This one is with one of the biggest (non partnered) Merch brands there is!
If you have been on Merch by Amazon for any amount of time, you will be familiar with this brand. They have been a powerful force in some of the toughest niches out there.
With how hard it is to come in contact with these big brand owners, I have decided to respect their privacy and not mention the brand by name.
As Merch Informer has such a wide reach in the Merch community, disclosing exactly who this is could possibly be a negative experience for them. As they were gracious enough to sit down and talk to me so that I could share with the Merch community, I will respect their wishes to remain anonymous.
I have broken up the interview into several major sections:
Background/Before Merch
Research
Business/Creation/Outsourcing
Uploading/Listing
Promotion/Sales
General Questions
I have also included MANY of the questions that we crowd sourced for this brand in the interview below as well as a few of our own.
I hope this inspires you and you are able to take some actionable content from this interview that you can use in your Merch business right now as we head into a busy time!
Let's get to it!
Background/Before Merch
Tell us a little bit about yourself? What is your background and what did you do before discovering Merch by Amazon?
I worked as a 3D animator for about 8 years. I also worked and had a small studio with a partner for about 2 years in the same business. I grew tired of this during the last final 2 years. Eventually, I quit my job and decided I didn't want to do it anymore. After that I worked at a local club and driving for Uber to pay the bills.
I ended up driving for Uber for about 6 months. One day I thought, there should be a way to do some kind of online business. I started watching Youtube videos. That's where I found, I think it was Glen Zubia (Merch Minds) video.
If you had to name 3 things that contributed to your success on Merch, what would they be?
Having no background in the T-shirt or eCommerce industry, I knew I needed to learn as much as I possible could. So I did. I watched every single Youtube video about Merch there is.
3 things that contributed to my success are the following :
Having a "design" or graphic background.
I was desperate for success, so I pretty much worked 7 days for the next 6 months
Problem Solving. I think this is one of the most important things in business (in general). If I didn't know something, I make sure I find out the answer.
Did you start with a strategy when you started with MBA or did you learn as you were going along?
After watching his video (Glen Zubia Merch Minds), I thought this could be my "side" hustle while I figure out what I really want to do.
Since I have design/multimedia background, the transition wouldn't be too hard. Although graphic design is not my area, I knew how to use Photoshop and Illustrator. I didn't have any plan or strategy when I started MBA,
My plan was to get a stable income around $2000-$4000 a month. I thought that would be nice.
Do you use Merch Informer and why?
Yeah of course I use Merch Informer. It's a good tool to see what niche to go for.
Can you screenshot your sales dashboard?
Here is my best day on Merch:



Here is my first calendar year on Merch: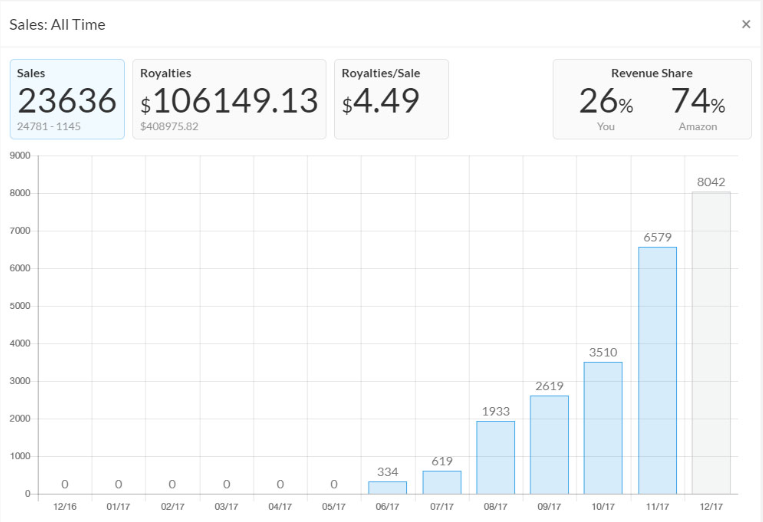 Here is where the account is today: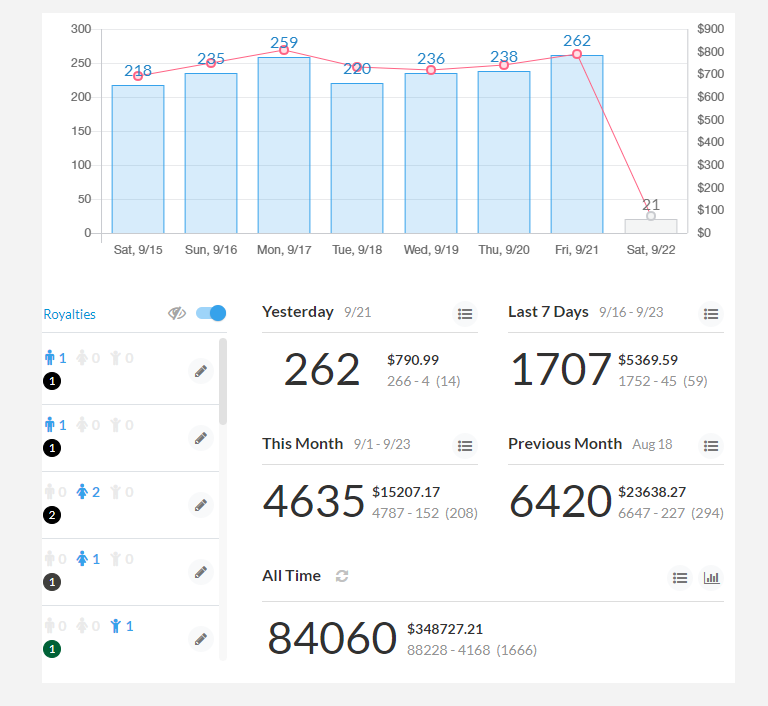 Research
Do you design yourself and your audience buys no matter what or do you research what people are interested in before you design?
Yes, I do research on the niche and design style before going into a niche.
In short the niche must be in demand.
For the 1st 6-8 months I did all the designs myself until around beginning of this year. This is when I hired a few full time designers. I still do designs for things that I think are important (these days).
I don't create random art. I tried doing it from time to time in the past, but it doesn't quite work. I have to say though, my keywords for these designs may sometimes be a bit lacking. With better keywords , it may work better.
Can you provide some insight into your creative process?
1st I look at the first 2-3 pages on Amazon to see what type of shirts are selling.
Then I will do a quick study on the style of designs that work for the niche.
I then go to Google and Pinterest to see the type of designs are available on the internet.
From there I will get the general idea on what type of fonts or graphics I would want to use.
Random ideas are always going around in my head, so it's hard to explain.
Do you establish a trend and push it and if so, how? Or, do you simply look for a developing trend and put your brand's spin on it?
Seasonal / trending designs are good, but I prefer seasonal like Halloween, Christmas, etc. This is because designs will sell again the year after and sometimes some seasonal designs become evergreen.
I don't usually go for real trends.
So I focus more on evergreen and seasonal.
How do you pick a niche (what metrics are you looking for before you dive in?)
With picking a niche, first i'd normally choose something that I'm interested in. Second, I'd see if the niche is profitable. Third, i'll take a look at the competition.
See what's selling. If I can do better I'll go for the niche. Just by looking at the first page on Amazon search page, we can see if the niche is selling well by looking at the BSR.
Recently you made a video on niche research, I need to do more in depth research.
Merch Informer note: Video is here
How do you come up with your original ideas, that you then spin off into multiple variations?
If you worked as a designer before, there's 1 thing used called a "Mood board".
I've never worked professionally as a graphic designer, but I do this mood board.
This is basically collecting images and designs from the internet that caught my eye. You can get a lot of ideas just from little things. I don't put it on a mood board, I just saved them to a folder on my computer.
Then did you validate the niche itself on Amazon before you went ahead and designed something?
For sure! The niche has to be in demand to begin with.

Business/Creation/Outsourcing
Did you always focus on building a brand or did it come about slowly as you learned the market?
When I started MBA, my initial thought was to always go for a brand.
However, I didn't really want to build a brand from the start.
The brand is kind of an accident after I realized it did good for the sales.
So you thought a brand was a good idea, but you were not really keen on building the brand but realized it led to more sales?
Yea, it's more like that. I thought it might be a good idea to do a brand.
Now the more I look at it, people will click on your brand to see what's selling.
Do you outsource and if so, what parts of your business?
So currently I have 6 people working for me. All are full time except 1 is more like part time. I kept him because his designs still look good.
I have 3 illustrators and 2 text designers and 1 VA  (helps with research and trademark checks).
The VA even check trademarks for the UK and DE marketplaces.
Now that you mentioned it, I need to give her your recent TM check extension.
The designers get a full time salary, regardless how many designs they do. They also get holidays off!
What are your total expense per month ?
Expenses around $1500+ per month. It depends from time to time, as they do sometimes work overtime and have extra work days.
What is your tip to find good designers but also keep them around
A good designer is a bit tricky to find. It does involve some luck and persistence.
To find a good designer we must first know what a good design is. When I look for a designer, (which typically come from onlinejobs.ph), I only care about their portfolio.
So seeing a good portfolio is important in recruiting designers.
Knowing how to utilize their skill is also key I think.
For example, 1 of my illustrator was a drop out. I asked him why he didn't work with his past employer ( which was a Merch seller too ). He said there's no more jobs, their sales weren't good.
He's one of my best illustrators now!
Through out my Merch journey, I probably have gone through 15 – 20 designers / illustrators.
Learning from Gary Vee and the Jersey boys, hire fast, fire fast. If they are not up to your standards, just find someone who can do better. One of the first illustrators was actually pretty good, but I needed someone who can draw more varieties of styles.
Do you have any standard operating procedures when it comes to business?
No, I dont have any SOPs
Which part of the business do you do yourself ?
So right now, we're operating as a small online studio. My jobs are mostly as an art director and researcher. A big part of my time is spent on directing the designers.
Most merchers would give a shirt or design and tell the designer, "Ok do something different and better."
What I would do is, it goes back to the "mood board" that we talked about before. I give them more than just 1 design. I give them reference images, designs styles, other images. Most of the time, I explain to them what style or pose I'm after for a particular design.
Uploading/Listing
How many total rejections and total removed?
I got my only 2 rejections in the first 2 weeks I was on Merch. I was so nervous! Total? I think I have around 6 to 7 rejections total.
Removed, I'm not too sure, but it is probably around 20.
There's 1 design that got removed with multiple products that was about a rally. What rally was that, let me think?
It was a trending design! That's why I don't really go for anything trending.
It had nothing to do about trademarks.
I can tell you that I have never had any removed because of a trademark issue. ZERO!
How do you go about writing your titles, bullets, keywords and descriptions?
I'd use Amazon auto suggest for a niche to see what people are searching for.
Then I ask my VA to collect related keywords or sometimes I suggest where to look. These days she's getting better at it.
I use auto suggest mainly for the title.
So let say its a Christmas design.
Amazon auto suggest will give us some important keywords, such as the gender. Christmas T shirt for men or women, I would put gender in the title so the shirt ranks better.
For bullets – I usually collect as many keywords as possible, and put them in a sentence.
Usually I do this for each niche with small variations.
If there's a phrase. The phrase will go in the title.
Let's talk about pricing strategy. What do you do and why?
Ah pricing!
With pricing I will go low to begin with. Most of the time I set the price so low there is no profit.
For the first sale I will go even lower than you Neil. No profit low. $12.87 for standard!
After getting the first sale, I'll bump it up to 14.99 or 15.99.
These days I changed my pricing structure a bit. Before I was doing 16.99-17.99 straight away after 1st sale. But these days rise them slowly 14.99 – 15.99. After I get a review, i'll raise it to 16.99 – 17.99.
However all of this is what I do for evergreen.
For seasonal, I take the same approach as above but keep them low for a longer period of time. When it comes to a few weeks before the seasonal holiday, I will raise them to 17.99-19.99 automatically.
Are you currently looking into new niches or are you "fattening" your niches that you do well in? What your percentage split between these for new uploads?
I am currently focusing on more new niche and fattening these new niches. My older niches are already quite fat. (I have around 17k live and around 20-30 niches total)
Do you upload designs that fall off?
Yes I do upload designs that fall off when I don't have any new uploads to do. This hasn't happened for the last few months.
We always have more new stuff to upload.
Do you find designs selling with lots of targeted keywords, or just a few repeated keywords?
I don't repeat keywords, So its more targeted Keywords. Targeted keywords are selling more for sure.
There's no point in repeating KW from what I learnt from Neil. I'd stuff more related keywords as much as I can fit in. (without sounding spammy)
note – related keywords.
Do not stuff unrelated keywords into your listings!
What is your argument to those who say listing under one brand wastes important areas for keywords?
See, I get that. I actually still remember an article you wrote about the keywords in the brand.
While I agree with you. Having more shirts under 1 brand might be more beneficial. From my experience, keywords in the title is still the most important factor to ranking and having good designs is key.
Promotion/Sales
What should we do to market our designs or is it better to focus on keywords and niches?
I'd focus on better designs first.
For marketing, AMS is good if you know how to optimize properly and not overspend.
So better designs, keywords and niche research are equally important. They're just part of the game.
Where is the majority of your traffic from?
Amazon has taken away AMS, so traffic is mostly organic now. Not mostly, its 100% organic.
Merch Informer Note: This massive brand still does not have access to AMS!
Do you use paid advertising on platforms outside of Amazon itself? If so, which do you get the best ROI from? Why do you think that particular platform serves up the best results?
No paid advertising. All traffic is purely organic for now.
General Questions
What is the best way for higher tier sellers to get through a plateau? Is it possible to get back to the glory days?
Well the best way is to look back through your portfolio. Be honest to yourselves, and ask yourself a question. Are the designs good?
There will always be more competition ahead, so as a business owner, we just have to adapt to it. This means having better designs, better keywords, and a better marketing strategy.
What are the top 3 things Merch sellers should focus on in order to build a 6 figure Merch business that is also sustainable?
Always go for better quality designs. Good designs will keep selling more than bad designs, hence more sustainable
While doing your own designs is cool, consider getting designers. Create a team of designers that can produce good works consistently.
Build a good foundation for yourself and your team.
Merch is not the only game, there are other ways to make money.
What does it mean to you to be "true to your brand" if anything?
If I can give a customer the best experience when buying our Merch (design wise), I feel I've achieved my goal.
What is your strategy for building a coherent brand and at the same time not worry about losing sales to copycats?
Copycats are a huge problem in Merch, I agree. There's no solution for now until Amazon takes a stronger approach against it. Last month I sent probably more than 30 take down notice on 1 design. note – 1 design !!!
One of the things I have done lately is apply for multiple trademarks for my brand IP.
So to answer the question:
There's no specific strategy. The original designs will always have better quality. More often than not, the copycats usually come out worse. Our designs will still have better sales than the copycats in most cases.
2017 versus 2018 designs. Give us the down and dirty? Do they sell?
Most of my 2017 designs are still selling well. I'd say about 50-50 for 2017 vs 2018 designs that are selling. Putting it simply, they are selling fine (2018 designs).
Who taught you everything you know? (Matt Sheeran Joke Question)
Its pretty much everyone in merch community in short. I learned from just about everyone in the Merch community.
I learned a lot from RJ, or had more like an "AHA!" moment when I saw his video.
I learned a lot about SEO from Matt and reading Neil's articles.
Have you put up a design that went viral unexpectedly? If so, when you took a look at that design were you able to find out why?
Yes!
There are few occasions when this has happened.
One of my best selling shirts from last year, I almost didn't want to publish it. I thought it wasn't good enough.
There's 1 seasonal design that my designer did that I thought was just okay. It became the best selling shirt for that seasonal niche.
Then there's another that took half a year for it to become a REAL good seller.
What is some preparation that we might not see any results from now, but will see a large benefit on our brands in the future?
Having a good team of designers with a good system in place takes a while to see the benefit. It creates the foundation for your business!
Did you have a mentor in the process to becoming a 6 figure brand? If so, what was the most important thing they taught you?
Mentor? I'd consider RJ, Matt, Neil and Ken as mentors as I learnt a lot from them. They taught me everything there is about Merch.
Most important thing in business is problem solving.
Be a thinker.
If your merch business is not doing well you have to see what's lacking on your part and what the solution is to fix it.
There's no single most important lesson unfortunately.
What is your daily routine?
I start the day with coffee, check emails and Merch sales.
After I do all of that, I start working with my team of designers.
That's all… I mean there's no set or routine for me.
So you pretty much do whatever you want, whenever?
Yes indeed! That's the benefit of having your own business.
Let's talk about the future of MBA for a second. Where do you see it going?
My thoughts on the future MBA is it will always be a good organic sales eCommerce platform.
However there are a lot of other ways to sell our Merch such as via a Shopify store and other POD platform. Merch is still young. We'll have more international markets, more products and hopefully more strict with bad actors.
I also think Merch by Amazon might eventually do 3D printing on demand. eg. Mugs with engraving, Custom figures, etc
---
Wrapping It Up
I want to take a minute to seriously thank this brand owner for spending his time talking to me for the Merch Informer audience. There are a lot of really great takeaways from this interview that you can take action on NOW in your own Merch Business.
If what you are doing in your own Merch business is not working, take a not from this interview and figure out what might not be working, and figure out how to fix it. What started out as an idea as a side business has turned into a VERY well paying full time gig for this brand owner.
Good research, GREAT designs, and the proper keywords is the beginning to a huge Merch business. Make sure to integrate these things into your work when building out an amazing team and this is all possible!