Merch by Amazon Success: Interview with Amy Herberger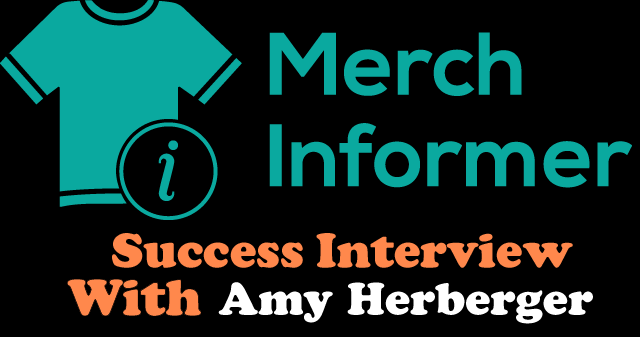 Today's guest on our interview series is someone who I have been meaning to get on the blog for some time now. I have been seeing her name in the groups for YEARS now, but it was not until late 2017 that I started to see little tips and tricks as well as hints she was dropping as replies to other people that I realized she was someone big in the Merch game.
Her name is Amy, and she was an early Merch by Amazon adopter like many of the people I interview for the Merch Informer blog. While reading this interview, you may notice that a lot of her techniques are polar opposites of what works well for me in my business. This just goes to show that there are many ways to be successful in this business and that you should ALWAYS be testing to see what works for you!
Amy runs the first all female Merch by Amazon Facebook group which you can find here: https://www.facebook.com/groups/GirlBossMerchByAmazon. I have heard she routinely drops some gold nuggets here but as I do not fit the description to join the group, this interview will have to do =). Let's jump into it!
Tell us a little about who you are and a general ballpark of how much per month you are doing with Print on Demand?
The last few months have been a bit lower than usual but I was making approximately 20k a month since last June. The past few months have been fluctuating at about $15-$20k for Merch and $3-$4k for Etsy, Redbubble etc combined.
How long have you been a member of the Merch by Amazon Platform?
I joined October 2015 and the first shirt went live November 2015.
How did you first find out about the platform and what were your initial thoughts?
I've followed Chris Green for years for the Amazon selling side and he mentioned it, so I signed up before I got sidetracked and forgot about it as he's never steered us wrong yet. I also joined his Merch Facebook group.
Initially I didn't do much until more chatter started happening in November and took the plunge and threw up some shirts.
I had zero expectations and as my main business on Ebay had just gone through a rebirth of sorts it was just another potential side hustle to me.
What was your "AHA!" moment when you realized the potential from selling Merch online?
Daniel Cauldil's podcast style interview with Dave in January 2016. I listened to it while I cooked dinner and when he started rattling off figures, I said damn, why can't I do that? So I did.
That interview spurred a huge interest. I had spent the last year or two rebuilding my Ebay store and it was pretty self sufficient so I started to block out time for Merch every day in addition to Ebay, Amazon and Etsy.
I had a text only shirt go somewhat viral in April that year and made $10k in two months off of that shirt.
LOADS of copycats spurred as a result.
Then someone smarter than me put an application in for TM (Trademark) and I wasn't well versed enough to know that you needed a registration number … and after Merch told me they couldn't guarantee that I would be covered from a take down as first to use the phrase…I pulled it.
And that hurt, but I thought about longevity in this business over short term gain and didn't want to risk my account. Looking back, that wasn't needed but I didn't know enough then to know better.
That is really when I started to see that the sky was the limit for Merch and doubled down even harder.
I hired Adam Guballa of Tshirtfella in August 2016, surpassed my Ebay 5 figures a month income by September and Merch went from a side hustle to devouring my other businesses. I hit the 8k tier by December 2016.

Did you have to wait for approval? Any tips for those submitting applications today?
No.
Don't sit on your hands waiting for approval.
Learn as much as you can now. Have designs ready to go. Get moving on other POD sites to learn the business and get a feel for what sells and what doesn't. This will help tier you up much quicker along the way.
What tier are you at and how many designs do you currently have live?
10k and right now have a little over 5k designs live.
Do you outsource your design work or do you do it yourself?
I really love designing and I do about 80% of my own designs and 20% are purchased.
I have a very vanilla, safe from possible content violation type portfolio and stay away from any gray areas. You really can make great money on merch by playing by the rules.
It may take time to build that up, but you'll guarantee a place at the table as Merch continues to grow and expand in the coming years by adhering to their rules.
If outsourced: Where, Price, Any Tips on the process?
I hire Adam several times a year for large 200+ count custom work. Adam is my main go-to and as varied as my requests are in terms of niches … there is literally nothing he can't do. He designs in ways that shock and amaze me each time he completes work. I probably annoy him because I'm like a 5 year old on Christmas morning every day when I grab my latest designs
I also hire Qasim Iqbal of MerchDesignsclub for some custom work and will buy designs on his site on a weekly basis more often than not. Qasim is a rising star. Book him now before he can't take on any more clients.
Matt Carlett's newly relaunched Merch Design Factory impressed me greatly with a SuperPak bundle that I bought. This company is going to be BIG. And I have a feeling that customers are going to get cutthroat to get their hands on designs offered
Prices and process for all of these sources vary. I stumbled upon Adam before many others really did in the Merch world and I've seen him literally blow me away more and more with each order that I place. He is a hands down genius and as kind as they get.
Qasim has been recommended by many Merchers and he has a very unique design style that really makes his work stand out. Plus he's fun to work with and is just getting warmed up in this game.
I've gotten to know Matt as a fellow seller and his customer service is something that you won't see everywhere.
Best advice… start with recommendations. Just like Ebay and Amazon, the Merch community genuinely wants to see you and will help you succeed. We won't share our designs but we will help when asked so ask for recommendation.
Any bad apples out there will be put on blast at some point, so skim old posts as you want to work with someone who takes the safety of your account into consideration when designing for you, handles customer service issues professionally and check their portfolio before you decide to hire someone.
There is nothing wrong with starting with a small test project and deciding how to proceed from there
Don't think that you HAVE to hire someone or worry about added cost. I didn't hire anyone until I made at least $1k a month consistently on Merch for several months.
The reality is you don't. My own designs outsell anything I've ever purchased and trust me .. these guys run circles around my design skills by far. It just goes to show that allowing your own style to shine through is never a bad thing.
Do you do any outside marketing at all or are you strictly focused on the organic traffic from on page optimization?
Like most people, I tried Facebook ads and while they work great for most of my businesses, they suck for Merch in my experience. I've yet to hear otherwise from anyone.
I initially tried some social media but will admit as I tiered up and upload limits grew some things had to be placed on the back burner. Social media being one of them.
I rely on a strong title and good designs.
Have you done any Amazon PPC (Pay per click)?
No
Have you done any Facebook advertising?
I tried as mentioned above
If you have run any types of paid traffic, any tips or suggestions?
Facebook ads were a waste of money for me. I know how to handle FB ads and they work well for my regular businesses but not Merch.
When it comes to your experience what is the most important factor in getting your shirt ranked in Amazon?
I literally don't pay attention to BSR. I couldn't tell you what my daily sellers ranks are and don't really care.
While I have many shirts that sell every day, it's not 100 shirts in one design. It's broken up with 8 here, 3 there, etc.
I am a big supporter of understanding predictive search and using it to your advantage when crafting a listing.
I describe the shirt and the niche.
I used to overthink the shit out of merch. And one day I stopped and just factored in common sense and that is when i started selling shirts daily. It didn't dawn on me to take that route until I got to tier 500 and it was the best thing I could have done in my opinion.
Do you Use Any Tools For Your Research Process? If so, what aspects do you like best?
No. It's common sense and occasionally Google. Seriously, that's it. 16 years selling on Ebay certainly helps me.
For niches that I don't know much about yet but know I need to add to my portfolio it's Google and Twitter to learn what terminology or slang is used for that niche.
My research time is minimal.
When it comes to your keywords, how are you approaching them?
Quick, fast and common sense.  I'm describing the niche (if applicable) and the design.
Keywords are married into a couple of coherent sentences and lately I have been using less and less descriptive content and relying upon my title and design.
What about your pricing? Do you experience with your prices or are you listing all your designs at the industry standard of $19.99?
I am in the old school Merch of "price high". It helps you weed out garbage and learn what sells
If you have a good design, people will gladly pay for it.
I won't price under $19.99 for standard and shooting more for $21.99-$28 lately.
One thing that Etsy via printful has taught me is that people will pay $30+ for a T-shirt.
I might price more for a highly detailed design but won't bat an eye at doing the same for text only.
Be greedy.
Have you expanded into other platforms or are you taking advantage of any of the integrations to list on Amazon (Shopify/Printful/Printaura/Teespring)?
Not for amazon
How do you ensure your designs remain safe from any possible infringement?
You can't.
I literally had not searched for any copycats or derivative theft since early summer 2017.
I checked recently, found some, reported, and moved on.
Merch has really gotten better about the process though and I think there are fewer pixel by pixel and derivative theft cases now than ever.
Have I found my designs on independent websites, yes, and that's more surprising and somewhat annoying than anything. You can report them but 5 more pop up in its place so just make shirts and make sure that you're following the rules and doing your best.
If there is one thing to avoid when learning the MBA business, what would you say that is?
Not knowing the terms of service or thinking that your own originality isn't "good enough"
I don't look for low BSR to "copy and make it better"
I design what I feel like designing that day. Yes sometimes I know that I need to add XYZ as any business owner would plan and will learn about other niches, but I'm still using my own ideas from a lot of trial and error over time
I've read, watched, practiced with a ton of graphic design related materials for the last few years to improve myself and as nerdy as I am (Star Wars, 90's hip hop and cats make me happy) I do really well by allowing my personality to dictate and shine through in my designs.
What is the end goal for your MBA business?
I don't have an end goal for any of my businesses. I will do this forever if I can.
I love what I do for a living and in 2018 I'm a lot more confident in the fact that while I will always need to evolve as the market does, I've built strong foundations to add to across the board.
I will Merch forever. I love it. It's what I was meant to do in life as far as my career is concerned. I'm good at it and it's more fun than it probably should be.
Any plans for all the money you have made from Merch?
2016 was when I paid off all debt, redid my entire home, bought a car, Invisalign for my daughter, helped my family a ton and stocked some cash away
I'm a solo mom so a safety net was first priority.
2017 was Disney for the first time for my daughter and a few quick trips but I stay pretty low key and feel that I'd rather have money in the bank than on my feet.
I'm just happy to know that I don't have to struggle as I have in past deciding if the gas bill or the electric bill gets paid that month.
If there is one piece of advice you would give to someone who is starting to use Merch by Amazon for the first time and wants to get ahead, what would it be?
Work Merch every single day in some way. Read an article, watch a YouTube video on a certain technique, etc.
Be original. Don't build a business by playing an impostor. You can't solely copy low BSRs and expect to do well. You're competing with hundreds of other people who literally just recreated the same exact design.
Don't lowball your designs. Price respectably to learn what sells and what doesn't
Merch advice from anyone is not a one size fits all. Take what you learn from other merchers and see what you can apply to your business and your design style.
Don't shun someone at a lower tier than you are. They might know twice what you know believe it or not.
Be open to advice and know you need to constantly be open to change in this industry.
Figure out what sells well for you and go deep but don't forget to test the waters and try out other niches.
Go into this with zero expectations. I did.
Avoid "sales are sooo slow" posts in group. They are not productive.
Understand that this game is "slow and steady wins the race".
Don't risk your account for anything. Always always always play by the rules!
Believe in yourself.
Don't give up.