Merch by Amazon Success: Interview with Matt Carlett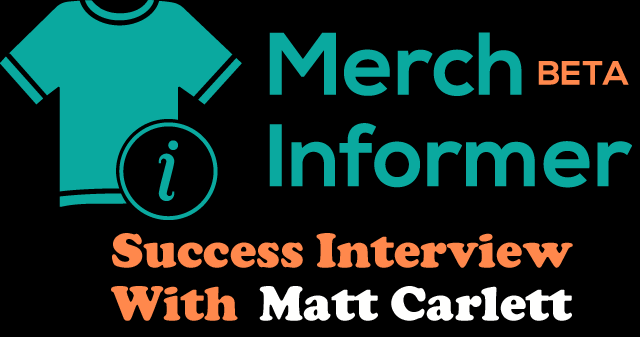 When Merch Informer first launched, Matt was one of the first people to jump on board and has stayed with us ever since then!
He has seen some crazy growth with his Merch business and regularly posts in the Facebook groups giving general advice and getting people motivated by displaying large daily selling numbers.
We got a chance to sit down and chat for a bit about how he approaches Merch and some of the steps he took to get ahead of the curve. He is one of the most helpful Merchers out there, so I will let him take it away!
Tell us a little about who you are and a general ballpark of how much per month you are doing with Print on Demand?
My name is Matt Carlett I am a stay at home dad for the last 4 years. Started an Amazon FBA business 4 years ago when I came home and then started Merch in October of 2015. I bring home around 9 to 10K in royalties a month from POD.
How long have you been a member of the Merch by Amazon Platform?
I started in October 2015 but because of having an FBA business and it being Q4, put MBA on the back burner and got serious about it in February 2016
How did you first find out about the platform and what were your initial thoughts?
Chris Green and I thought it was an amazing opportunity. I messaged Chris that day and thanked him because I knew it was going to become a major part of my business for the future.
What was your "AHA!" moment when you realized the potential from selling Merch online?
My "aha" came because of Leap Year 2016. I saw the Leap Year shirts were selling on Amazon and decided to make some. Here I am sitting at Great Wolf Lodge on vacation with my family and created 5 Leap Year shirts. All 5 of those shirts started selling that day. It was my first taste of good sales with MBA and I was hooked.

Did you have to wait for approval? Any tips for those submitting applications today?
I did not have to wait for approval. My advice is too not wait to start designing. Take advantage of all the other POD platforms out there while you wait for MBA.
What tier are you at and how many designs do you currently have live?
I am at the 4k tier and have a little over 2k designs up right now.
Do you outsource your design work or do you do it yourself?
I do both. I have 2 designers and I also create about 30% of my designs.
Where are you outsourcing and at what price?
I originally found my designer on Fiverr. Now I only look to Upwork or Onlinejobs.ph. Tons and tons out there willing to work immediately.
Do you do any outside marketing at all or are you strictly focused on the organic traffic from on page optimization?
Right now organic traffic. I am learning more about AMS and will be using it in the future.
Have you done any Amazon PPC (Pay per click)?
Not for my shirts no.
Have you done any Facebook advertising?
I have used FB ads and it was a huge failure for me because I pretty much had no idea what I was doing.
Are you using free or paid traffic?
I do use Pinterest and some Twitter to just get designs out there.
When it comes to your experience what is the most important factor in getting your Merch ranked in Amazon?
Content. You need to sell what's selling. Not copy what's selling but sell what's selling. So if you see Frog shirts are selling good. Start making frog shirts, ect.
Do you use any tools for your research process? If so, what aspects do you like best?
I use Merch Research Pro and Merch Informer. I love seeing all the competition in one place. MI makes it so easy to scroll through and see what's selling in niche. Also I LOVE the trademark tracker. It makes my life a lot easier.
When it comes to your keywords, how are you approaching them?
I keep is very simple and take a less is more approach. I use Exact match search terms and then 2 long tail keywords in my Brand and bullets.
What about your pricing? Do you experiment with your prices or are you listing all your designs at the industry standard of $19.99?
I have done tons of experimenting with my prices and found what works best for me is to keep the price low for the first sale then raise it to compete with in the niche.
Have you expanded into other platforms or are you taking advantage of any of the integrations to list on Amazon (Shopify/Printful/Printaura/Teespring)?
I use Teespring, Spreadshirt, Teepublic, Red Bubble, Society6, Zazzle, Café Press, and Sunfrog. Also just getting into Fanprint.
How do you ensure your designs remain safe from any possible infringement?
I don't. I have found spending time on that is just not time well spent. I keep creating more designs.
If there is one thing to avoid when learning the MBA business, what would you say that is?
Copying anything. Do not copy. Create original designs or hire someone to do it.
What is the end goal for your MBA business?
The end goal is to have a nice healthy business that produces great cash flow and so far it is far exceeding my expectations.
Any plans for all the money you have made from Merch?
I have almost paid off all my debt and then my plan is to keep pumping money into my other investments and maybe buy an apartment house or two.
If there is one piece of advice you would give to someone who is starting to use Merch by Amazon for the first time and wants to get ahead, what would it be?
Max out your uploads every single day. Be consistent with good designs and you will see the rewards.