Merch by Amazon Success: Interview with RJ Martinez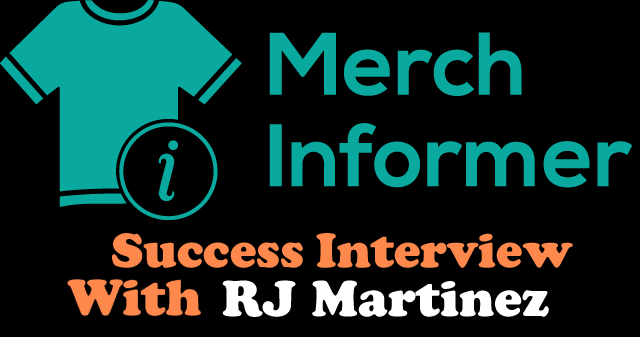 A lot of you might already be familiar with RJ Martinez through a multitude of channels. I have heard through many people it was because of him that they got involved with Merch by Amazon after they found his YouTube channel documenting his journey. Through transparency in numbers, RJ has built up a following from Youtube, to Facebook, and just recently a podcast. He hosts a talk with Matt Sheeran who we just interviewed on the blog called Real Talk.
Some of these answers might be a little dated as we got this put up a month or so ago and then we got really deep into some Merch Informer updates (which we will talk about soon!). Better late than never though, so lets jump into it!
Tell us a little about who you are and a general ballpark of how much per month you are doing with Print on Demand?
My name is Remus and everyone calls me RJ. I was named after my uncle so they couldnt call both of us Remus in the same household haha. I been going full time with print on demand for a little over 5 months and Im doing $4k-$5k a month in profit with Print on Demand right now. My main goal is to get it over $10k a month in profit on average.
How long have you been a member of the Merch by Amazon Platform?
I have been a member of Merch by Amazon for 2 years but I never took it serious and I didnt realize how powerful it was until 5 months ago. I got my grandpa an account like a few weeks ago. Its at tier 10 so Im excited to get that going for him.
How did you first find out about the platform and what were your initial thoughts?
I heard Chris Green mention something about it so I signed up and then got approved like 3 months later. I uploaded a few shirts and left it alone and did start taking it serious until like 5 months ago.
What was your "AHA!" moment when you realized the potential from selling Merch online?
When I started uploading shirt designs to my Shopify store and then I was like I might as well upload to my Merch account and then the sales started doing better than my Shopify haha

Did you have to wait for approval? Any tips for those submitting applications today?
Just fill out all the blanks and wait thats all you can do. Some people do go out and buy accounts. There are some nice people that are nice enough to give the account to you but you have to get lucky with that.
What tier are you at and how many designs do you currently have live?
I'm at tier 6k and I have 4523 designs live.
Do you outsource your design work or do you do it yourself?
I outsource all my designs I suck at designing. Like Im horrible !!!
Where are you outsourcing and at what price? Any tips on the process?
I have a design team (4). I would go to the Philippines (Onlinejobs.ph) They love their work and proud of it. I dont pay no more then $2 per design. When you tell them they're gonna be working long term and part of a team they love that.
Do you do any outside marketing at all or are you strictly focused on the organic traffic from on page optimization?
I been testing AMS ads. I do see some ads make a difference in sales but its kind of hard to traffic it with AMS ads because they dont traffic a lot of information. If the shirt makes a sale I been running it straight to ams ads. So we will see how it goes but so far its ok.
Have you done any Amazon PPC (Pay per click)?
I been testing it and I have made a few shirt sales.
Have you done any Facebook advertising?
No
When it comes to your experience what is the most important factor in getting your shirt ranked in Amazon?
I think its of course design and price point. So if you have a good design the customer will click on the shirt and then of course the price is next. So make sure you test the sweet spot with the pricing. ($14.99- $16.99) All my shirt I been uploading straight to $16.99 Anvil
Do you Use Any Tools For Your Research Process? If so, what aspects do you like best?
I use Merch Inform (Merch Hunter) and what I like to do is look for keywords that seem to be making sales and figure out why. I like to search amazon with the Merch reseach chrome extension its free. Research process is more of a brainstorm search. Start with one keyword and branch off in to other keywords.
When it comes to your keywords, how are you approaching them?
I have a uploader that does all of this but when I was doing it I would "Cherry Pick" a listing in that niche making sales and look at the main keywords and take them.
What about your pricing? Do you experience with your prices or are you listing all your designs at the industry standard of $19.99?
I think its important to price competitive with that niche. You dont want to list your shirt at $19.99 and the market is at $14.99 unless you have some crazy design. You will get more sales in the long run if price competitive with that niche.
Have you expanded into other platforms or are you taking advantage of any of the integrations to list on Amazon (Shopify/Printful/Printaura/Teespring)?
I started Etsy a month ago and I see it does have a lot of potential. So Im focusing on Etsy while I have the team work on Merch By Amazon and then once I figure this out I will teach the team next.
How do you ensure your designs remain safe from any possible infringement?
My main designer I taught him a lot and he trains everyone I bring on to the team and he watches them for a month or so before they go on their own. I tell the team its a long term job so take it serious or you can go somewhere else.
If there is one thing to avoid when learning the MBA business, what would you say that is?
Well I would say designs because I outsourced asap and then to this do I still dont know how to do it. One of these days I might learn but until then it will be the designing part.
What is the end goal for your MBA business?
I want to have to have it all outsourced and I want to use Merch to help leverage other platforms and scale it up. That $10k a month profit is still one of my main goals.
Any plans for all the money you have made from Merch?
Just use it to help build other platforms and build my team.
If there is one piece of advice you would give to someone who is starting to use Merch by Amazon for the first time and wants to get ahead, what would it be?
Outsource asap and your business doesnt have no choice but to scale. Build that foundation and scale to the moon!!