4th Of July Merch: How To Crush Your Merch By Amazon Competition On America's Independence Day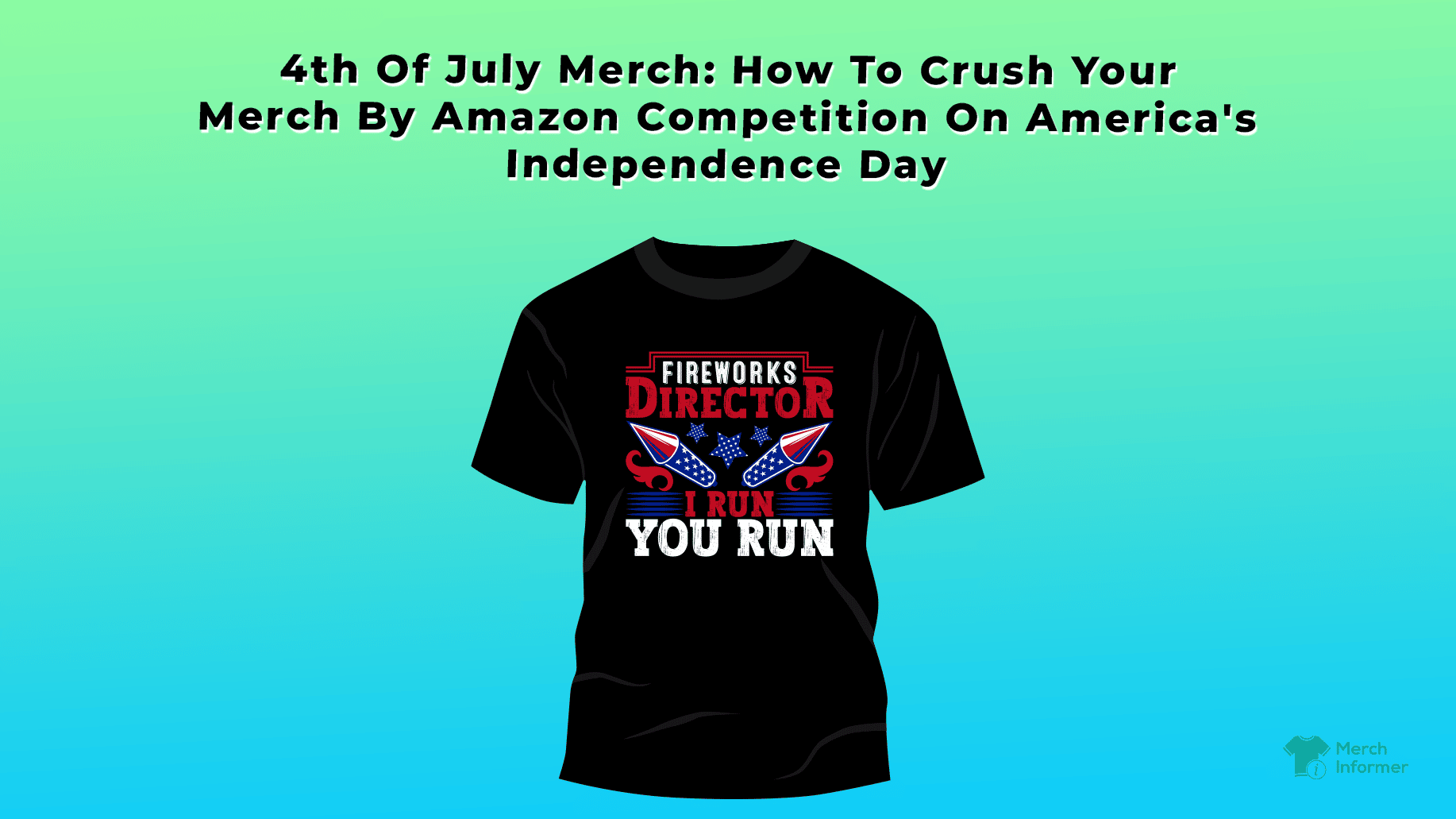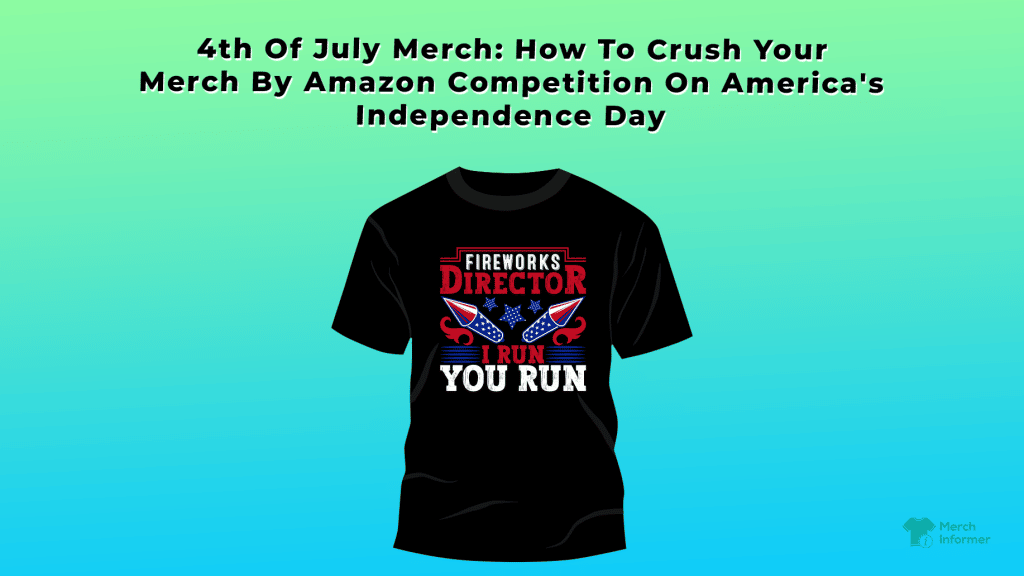 Independence Day in America has been celebrated since the 18th century, and it is marked by festivities that span the entire country. Fireworks, sparklers, backyard barbeques, and parades, these are just some of the ways Americans celebrate this special holiday. But, in terms of merch, they also wear the colors of the American flag and wave flags at various places. All this in the spirit of patriotism and the historical events the country has gone through to get where it is today.
Since the 4th of July is such a huge holiday that's on everyone's calendar, are you, as a merch seller on Amazon, ready to take advantage of it?
Let us help you with some insights.
Exploring The 4th Of July Market On Merch By Amazon
To find out the current size and scope of the market for this special holiday, we headed over to Merch Informer's Keyword Finder to take a look at the Amazon and Google search volume for apparel that's centered around this theme.
We ran a search on keywords such as '4 july shirts', '4 july tshirts', 'july 4 shirts' and all kinds of combinations of these 3 words. What we got was an astounding search volume of more than 3 million on Amazon and a correspondingly large search interest on Google.

The most searched keyword was 'july 4 shirts' with over 2.6 million queries.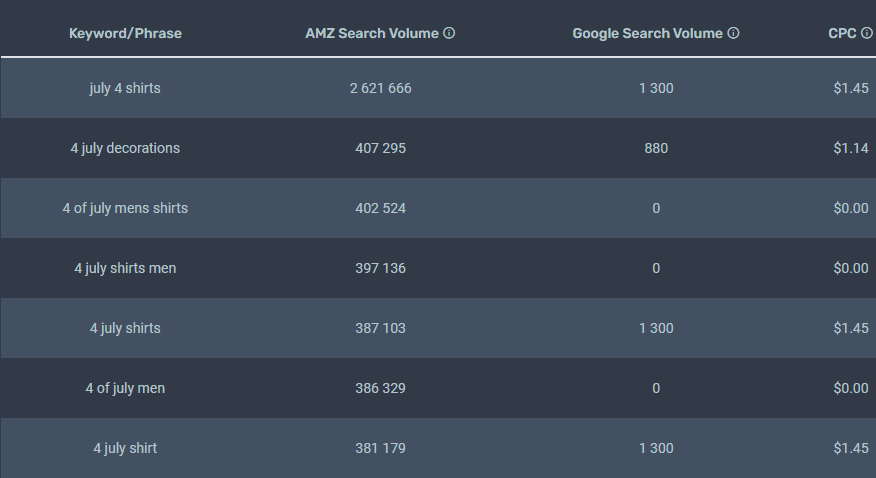 Deepening our search a bit further, we then headed over to the Merch Informer Competition Checker. We typed in 'July 4' in the keywords box and were surprised by the results. Despite the high search volume for these products, there are only around 1,705 total products online. This should immediately signal to you that this niche is worth exploring.
Next up, to try to confirm these findings, we headed over to the Products Search and typed in "July 4 shirts" in the keyword box, chose the US as our marketplace, and selected shirts as the category. This is what we found. There were around 500 total results for this high-use keyword. The average BSR is in the region of 2,347,091. Meanwhile, the lowest, highest, and average prices are, $6.99, $26.99, and $18.07, respectively.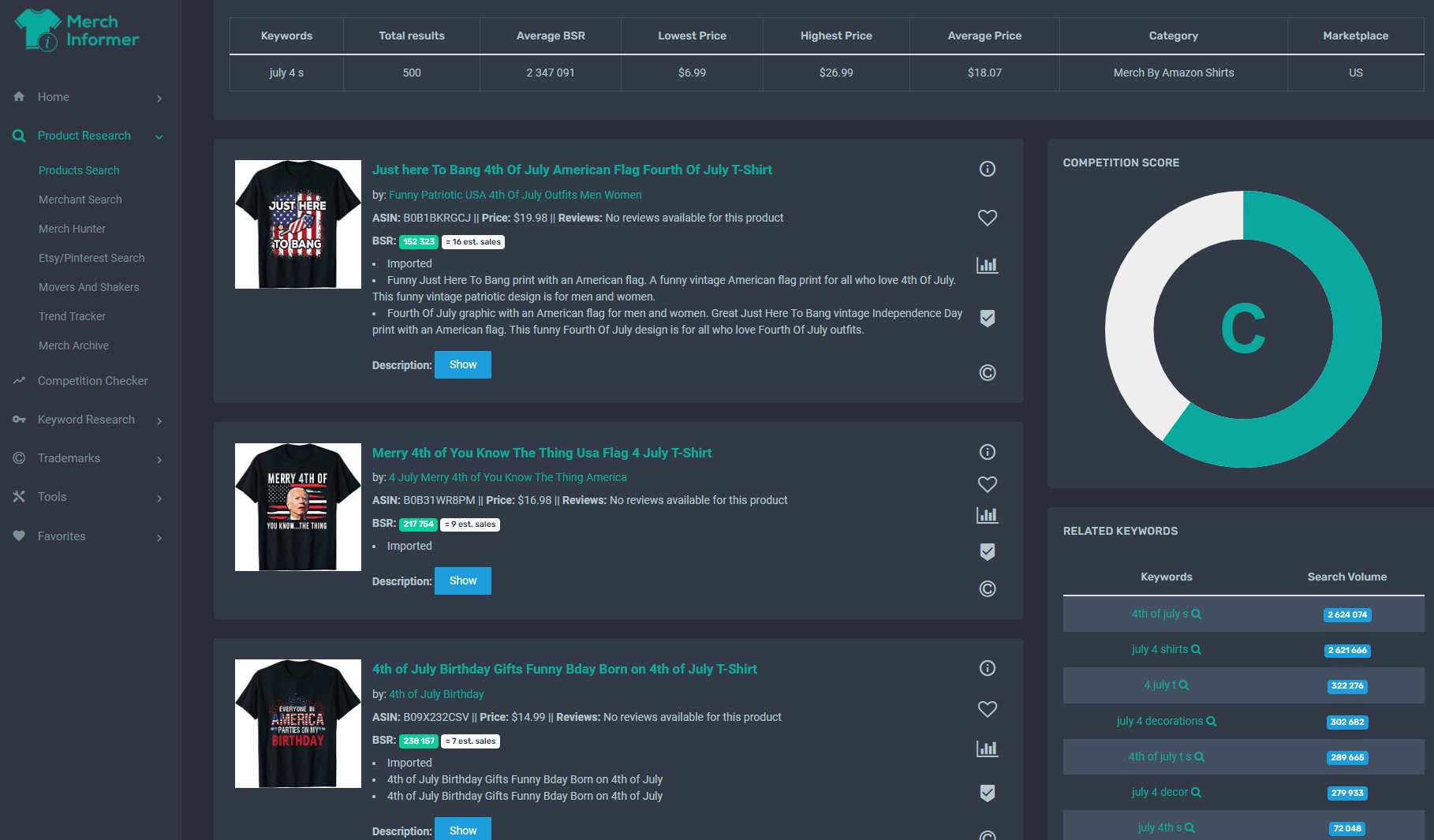 Looking at the designs of these t-shirt products, it's clear that they all have a patriotic theme, bearing the American flag. But also interesting is that they contain humorous or meme-like designs as well. These designs and their performance will certainly be worth looking into to see if you can improve on the current offerings.
So, why are these stats important?
One of the first things a Merch by Amazon Seller should probe is the size of the market in a given niche. With search volume in the few millions, it's safe to say that the demand is rather big. And with listings amount at around 1,700, this means that the competition is low. Why? Because there's high consumer demand and low Seller supply. Therefore, offering 4th of July t-shirts is bound to be a lucrative undertaking.
What Are The Right Strategies To Employ In Order To Compete In This Niche?
The right strategy in order to compete in the 4th of July niche for t-shirts needs to be a holistic one. This will include carefully selecting your keywords, product type, pricing, and audience targeting. We take a look at each one in turn.
Use smart keywords
Keywords are perhaps the most important factor for ensuring your product ranks high on Amazon's search results. And just by looking at the table of keyword usage and search volume above, we can immediately determine which keywords need to be included in our listing.
This includes both the product title and description, as well as the keywords that one enters when they first list their product on the back-end of Merch by Amazon. To do an even more in-depth research into keywords, use Merch Informer to help guide the process for you.
Here's a ranking of the top-performing 4th of July keywords, starting with the best one. The numbers beside the keywords represent search volume, i.e. active buyer interest.
"July 4 shirts": 2,621,666
"4 of July men": 386,329
"4 July t": 322,276
"4 of July shirt": 34,141
"4 July clothes": 33,463
"4 July shirts": 4,814
"4 July tshirt": 3,221
"4 of July tshirts": 1,852
Product type: Aim for t-shirts
Research shows that t-shirts are the top performing apparel types on Merch by Amazon, as opposed to items such as hoodies, sweatshirts, v-necks, and others. This should be a guiding principle for any niche on Merch by Amazon, unless you've done specific research and the data says otherwise. As a reminder, use Merch Informer to figure out the product type that's most relevant in a niche.
Unsurprisingly, the most popular 4th of July product types are, you guessed it, t-shirts. Long sleeve shirts also get hundreds of listings but their relevance decreases as the shirt designs are amalgamations of the US flag as opposed to more patriotic type of merch. The same applies to sweatshirts and hoodies.
Pricing: Go with the average prices
To remain competitive, you also need to use the right pricing strategy. Of course, you can price your t-shirt at a price that you think will be appropriate. But you need something more solid to rely on than your intuition. This is where Merch Informer comes in. It enables you to immediately see the lowest, highest, and average prices for given t-shirts and other apparel categories.
When it comes to America's Independence Day, we were able to discern the following average prices for the top-performing merch types:
T-shirts: $18.07
Long sleeve t-shirts: $23.45
Sweatshirts: $31.69
Hoodies: $34.43


Audience: Target men
Finally, you want to identify and segment your audience. This is crucial for making sales. Will you target your t-shirts at men, women, or youth? Will you use a humorous theme, or will you be more serious? How will you portray the American flag as a backdrop to your design and how will your design speak to your audience?
What becomes clear from our research is that men's merch is much more sought after than women's or children's apparel when it comes to the 4th of July theme.
What Are Some Of The Historically Well-Performing Listings And Sellers?
Despite the high search volume for "July 4 t-shirts", current Sellers don't appear to be performing as well as they could be. This is largely attributed to the low number of estimated monthly sales as well as the high average BSRs for existing products in this niche. One of the possible explanations is that these types of t-shirts are created more as memes and are relatively humorous. However, the number one reason is that 4th of July is just one day in the calendar of a Merch by Amazon Seller. Consequently, it should be approached as an opportunity to cash in on a holiday, rather than a centerpiece of a grander strategy on Amazon.
Let's now look at an example of a well-performing listing and analyze its components.
The Seller is Original A-murica U.S.A. Their product titled "USA Flag 4th July American Red White Blue Star Stripes 4 Day T-Shirt" is priced a bit below the average at $13.99. They have quite a low BSR at 18,065 and have made approximately 158 sales.
As mentioned above, men's 4th of July t-shirts are the biggest market in this niche and this is the exact target market that the Seller has aimed for: men. However, their listing description is not optimized because it does not feature any special keywords mentioned above. Neither does it go beyond the materials and care instructions for the particular item being sold.
Furthermore, the title can be somewhat confusing because it mentions the keywords "4 Day" and this is not a popular keyword and when delving a bit deeper, we see that "4 Day" is a keyword that's linked to kids' apparel for birthdays as opposed to the Independence Day holiday. Therefore, despite the more solid design employed by this Seller, their listing is somewhat lackluster when it comes to optimization and this could be improved upon to drive further sales.
So why is this listing successful? Because it has answered demand in a niche, where not many are competing. If you create a similar product, but optimize it better, you're bound to score a lot more sales.
Advice And Relevant Factors For Success
Let's now go through the main elements of creating a successful 4th of July t-shirt on Merch by Amazon.
First, you may wish to do a Merch Informer Product Search to see what designs Sellers are creating and how you can improve these. Memes, for instance, are not very popular. Whereas the American flag, Uncle Sam, fireworks, an eagle, the words "America" or "USA", and other patriotic themes would make for stronger designs.
In addition to the actual design for your July 4th t-shirt, you may also wish to factor in all the relevant keywords when creating your listing. With the help of Merch Informer's Keyword Finder, you will simply type in a seed keyword and get all the results that are relevant to it. One example of this is using keywords such as "July 4 shirts", "4 of July men", "4 July t", "4 of July shirt", "4 July clothes", "4 July shirts", "4 July tshirt", and "4 of July tshirts".
Once you've identified top performing keywords, you can then implement them in various combinations in your listing title and description. You can also do so in the Amazon back-end where you enter seven relevant keywords to your product.
Furthermore, you can take a quick look at the pricing strategies of the Sellers to see what price an Independence Day t-shirt should, on average, be priced at. As we discussed earlier, pricing around the average of $18.27 should net you some solid sales.
In Conclusion
The American Independence Day market is huge. However, not many Sellers are capitalizing on this opportunity as they should be. Remember that special holidays are a great way to capture a niche market with your outstanding and unique designs. And to do that, all you need is Merch Informer to help you with every aspect of your research, design, and upload process. It really couldn't be any easier than this. And at just $9.99 per month, this truly is the best investment you can make for your Merch by Amazon side gig.