Can You Start Selling Print-On-Demand T-Shirts Just By Being A Good Artist? (Sadly, The Answer Is No)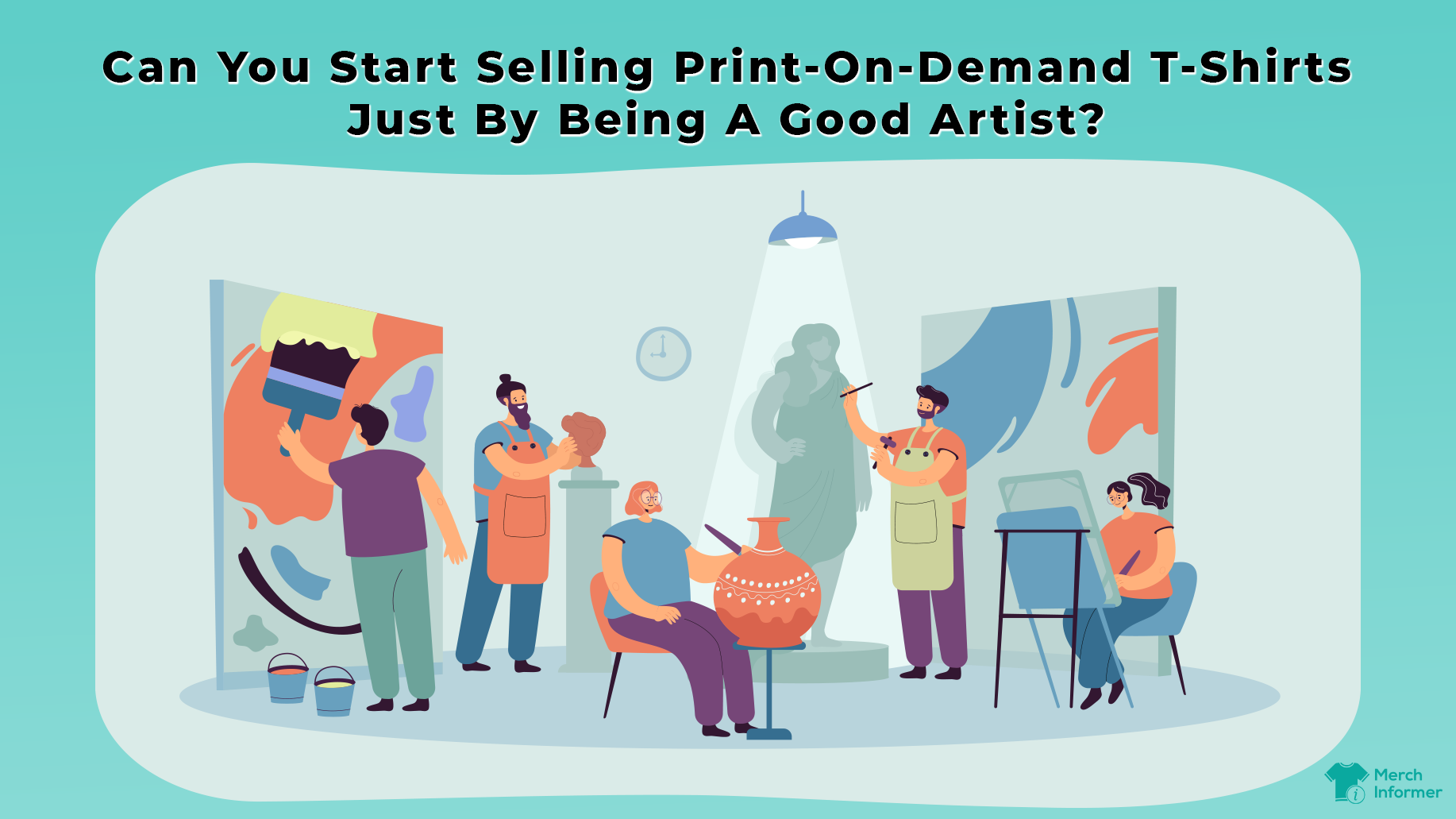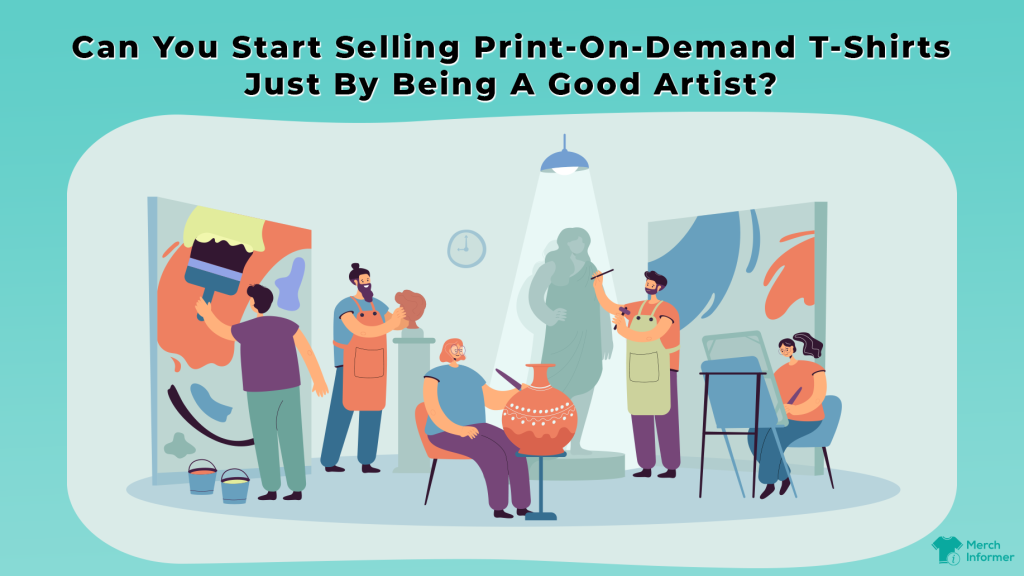 If you're the creative type, always doodling, sketching, or drawing, you might have always wanted to monetize your craft by selling print-on-demand t-shirts and for a good reason. It's estimated that the custom t-shirt printing market was valued at nearly $4 billion in 2020 and is expected to more than double and hit $10 billion by 2025.
Artists now have the ability to create unique, intriguing, personalized, and customizable t-shirts and have them printed on demand while making a profit with zero risk that the print-on-demand (POD) model offers. But if you think your artistic skills are all it takes to get started, you're in for a surprise. Just like any business venture, selling print-on-demand t-shirts requires business acumen, determination, research, and skills.
In this article, we emphasize some of the most important variables you'll need to consider when starting off.
Peculiarities of POD T-Shirts on Amazon
Specifications of your artwork
When printing t-shirts with Amazon, you need to consider some fine-tuned specifics. Amazon recommends that you create your final artwork in RGB (Red Green Blue) to produce a greater range of colors when printed on your t-shirts. In addition, it's also advisable to output your artwork file at 100% of the print dimension at 300 dpi (dots per inch).

Next up, ensure your file is not larger than 25MB.

When it comes to a design software, the most popular apps are Photoshop and Illustrator. Photoshop, which is a raster program uses pixels, which are small squares that make up the design and when enlarged, your final product can appear blurry. To have the best results, it's best to save it as the highest quality PNG format. If you're working with a vector software like Illustrator, remember that it uses lines and anchor points so that when enlarged, it never loses quality. Finally, although you do not need to buy software, you should remember that free programs can have limited features.
Sizing and placement of your artwork
Amazon also suggests that you can use the entire 15" width of the t-shirt you're planning to print on, customers can find this a bit overwhelming so keeping your maximum dimensions to 12" or less can help you with better centering. It's also wise to horizontally center your designs both visually and mathematically. If you use heavy design elements on one side can make the design feel off balance even if it's mathematically centered. It's also ideal to place your designs near the top of the print area as opposed to towards the bottom of your t-shirt dimensions.
Transparency
It's also important to keep in mind that what you see on your screen may not be what is actually printed. If you lower the opacity of the elements in your design, the underlying artwork becomes visible. In addition, during printing, a white underbase is printed on darker products underneath the artwork and this may cause subpar results depending on what platform you are selling on.
True black printing
Although CMYK (Cyan, Magenta, Yellow, and Key) is the most frequently used space for printing, remember that Amazon requires all art files to be created in RGB. R-0, G-0, and B-0 are the richest black you can achieve. You can do this by either using the software's color picker or by manually entering in the color build.
Resolution of your artwork
As mentioned above, Amazon recommends that you create your art files at 100% of the print dimensions at 300 dpi to create an image that's not blurry or pixelated.
Selecting your colors
In direct-to-garment (DTG) printing, water based-inks are used, and the ink colors are translucent. When printing on dark colors, a white ink base is printed first with the color added after. This is the best way to ensure that colors are visible on dark t-shirts. It's also important to select your colors appropriately because your customers will be purchasing from you based on the image that they see on the site. If the finished product that arrives on their doorstep looks different, they may think they've purchased a subpar product and could lead to negative reviews and returns.
Text and lines printing
It's vital to keep in mind that your artwork will always look crisper on screen when compared to the printed product. Some rules of thumb to follow here include using a minimum font size of 32pt and a minimum line weight of 2pt.
Order samples
It's also recommended that you always order samples of your work to see how your t-shirts will look and feel when the final printing is done. We recommend doing this when you first get started selling print on demand on Amazon, but this is not something you will need to do for every design.
Additional Tips To Start Off Selling Strong On Amazon
Amazon Research
To get to a starting point, one of the best practices is to pay attention to the custom designs on the home page. You should notice the categories they're featured in and the types of designs that are highlighted. This is not to say that you should copy these designs, but it will help you get an understanding of your typical customer. Remember that print-on-demand is a numbers game and that you begin to learn what sells by research and honing in on your audience. Make sure your t-shirts are targeted at specific niches. As the saying goes: money is in the niches.
Text size and color
As a rule of thumb, you should avoid making the text too small and hard to read. In addition, black t-shirts sell more than any other color and if you were to add a light stroke around the outside to stand out on darker clothing, or vice versa for lighter clothing, you're on your way to success.
Avoid copyrighted and trademarked content
This type of content violates content policies and can get you in trouble with the law. Ultimately, if you copy others, your content will be taken down. Make sure you are the owner of the copyright, that you purchase the rights to use and display, the right of publicity, and follow trademark and copyright law. Transforming and using someone else's work is illegal, so play it safe and create original designs.
Boring and unoriginal content
There's generally a higher cost per product because they're printed on demand, which are competing with unique products that are printed in bulk. Generic products don't create a sense of urgency and drive sales. Scarcity is a dealmaker in e-commerce. If your customers can buy it anywhere else, why buy it from you? Once again, follow the advice: find a specific niche and make designs that stand out.
Being frugal on designs
It's advisable that you don't buy the cheapest design online – this is considered boring and unoriginal content that won't drive sales. Print-on-demand files require more work than regular design. You need to color correct, choose the right image resolutions, and invest time and money on print files when printed. This will help you avoid spoiled samples, orders being placed on hold, etc.
Poor grammar
Poor grammar on your text will show you haven't spent enough time on your designs to notice the mistakes. There is one exception and that is when you write puns or a niche-specific inside joke. The key is to be creative and make it obvious that the misspelling was intentional.
Note: We should know, we had a misspelled shirt up that gathered 10 negative reviews before we noticed the mistake!
Violent or graphic content
Content with violent or graphic content will be taken down because you need to be respectful of others and the law. Obscene content that promotes illegal activity or hate may be removed. Follow local laws and the laws of those countries that you're shipping to. It's important to understand what you legally can and cannot create.
Read the Terms of Service BEFORE you upload anything and then read it again until you understand it.
Custom labels
These, by law, require that you spell out the size of the t-shirt, where it was made, and what material it's from. Without this, your order can be put on hold. Luckily, you can use an automated template with all the information included.
Note: Most Print on Demand services will do this for you!
Conclusion
And there you have it. Some great starting points for your print-on-demand t-shirt business. Remember that no matter how skilled you are as an artist, you need to think like a business person and always remember that what looks good on screen may not translate as well onto fabric.