Create Scaled Design Variations With The New Merch Informer Designer Update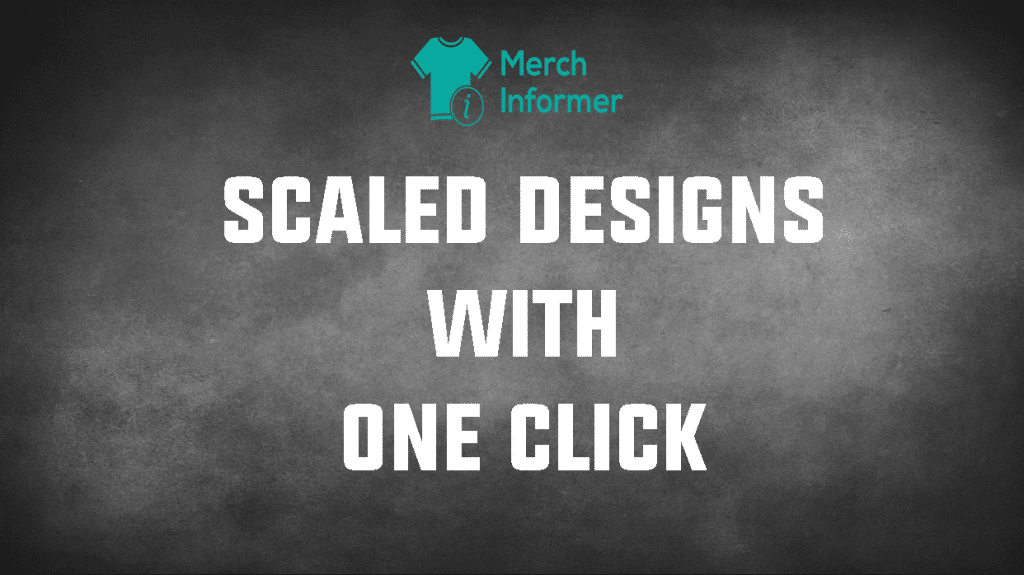 Bulk designs on Merch by Amazon have been something that we have not talked much about. Sometimes they can do EXTREMELY well while other times they can just fill up your account with lots of shirts that come down and do not sell.
However, if you have taken the time to do your research properly and know what niches a good design variation would do well in, then I have good news for you!
Merch Informer just released a bulk design tool in the Merch Informer Designer!
Previously, it would take a LONG time to go through and edit individual files to change out specific words in a design. Even if you were using Photoshop or Illustrator, this was a huge time sink. You should NOT be wasting your time on small things like this. Instead, you should be spending your time on what makes you the most money, uploading!
Let's go over the new update and how easy it is to create a lot of Merch by Amazon ready designs in all sorts of variants.
Creating Bulk Designs In The Merch Designer
The first thing you need is a Merch Informer account so that you can access the Merch Informer Designer. If you do not already have an account, make sure to grab a free trial here: https://merchinformer.com/pricing/. Once you start using this new update, it becomes addicting.
Once you have an account, log in and go to the Merch Informer Designer from the upper right hand corner menu. Once you are logged in, you will be met with the product selection page. Select a t-shirt.
If you already have a design that you would like to add variations of text, upload it via the images tab in the right hand menu. If not, go ahead and make your own design. For this example, we will be using a very simple text based design.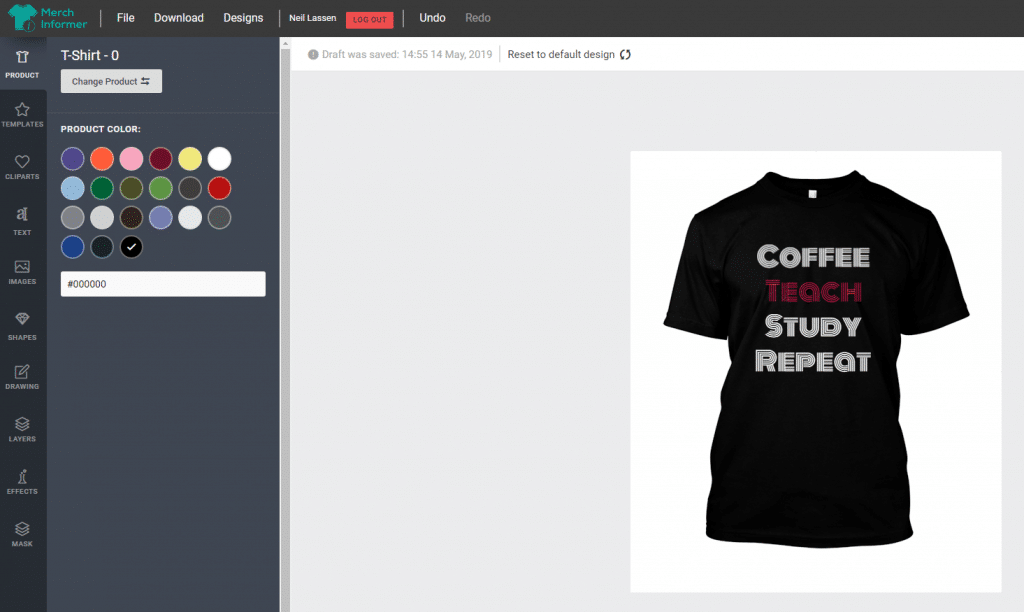 In this example, you can see the current design says: Coffee Teach Study Repeat.
However, what if you wanted to change out the word "teach" for other professions? This can be used in so many ways to create 100s of designs with a single click of a button.
Let's say that we want to switch out the word "teach" with these variants:
Engineer
Math
Science
Econ
Physics
Chemistry
Reading
History
Art
To do this, simply add these to a text file (these will be used to switch out the words on the design) like this: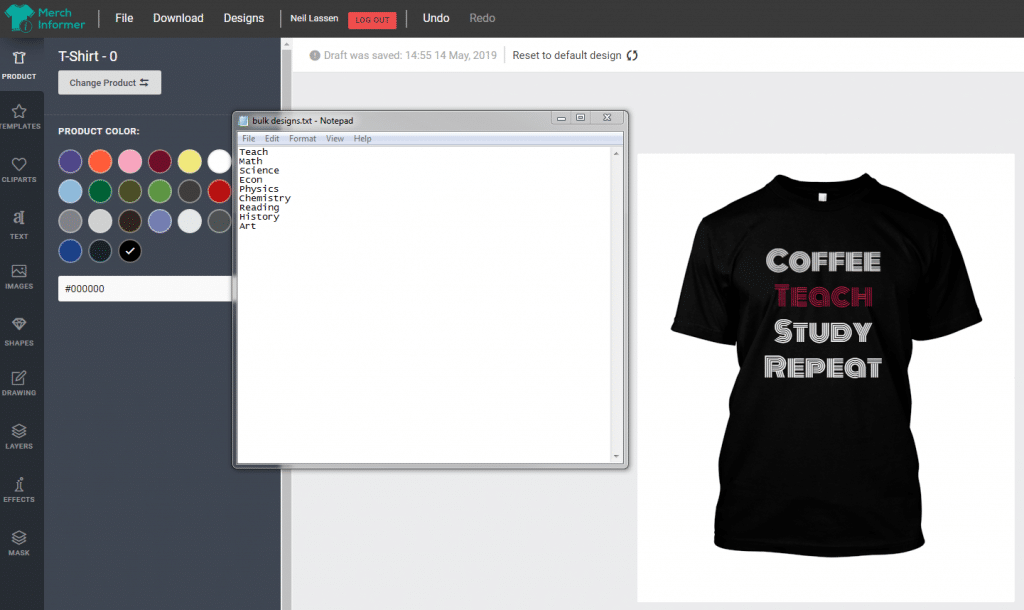 Add them to a CSV or a TXT file and save it to your computer.
Next, to actually make the magic happen, select the text line that you want to switch out in the Merch Designer: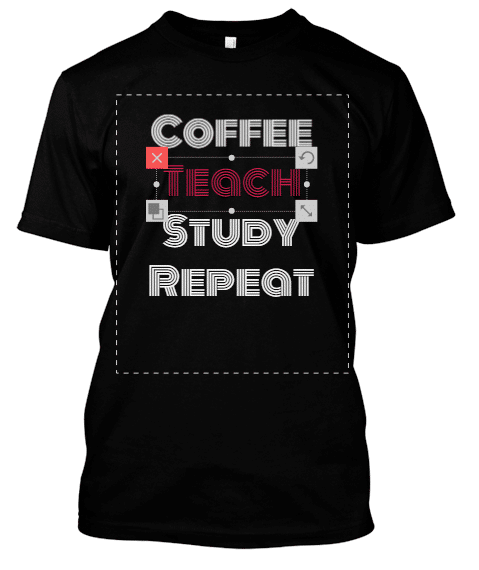 Once you have the text selected that you want to switch out for different variants, select the text variants button from the top menu: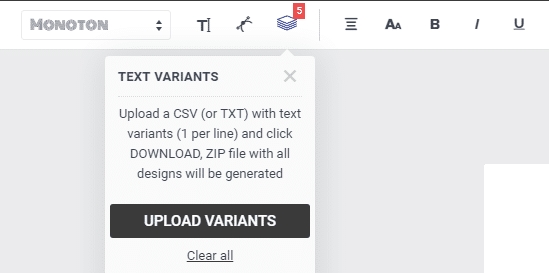 Upload the file with all the variants that you just saved to your file: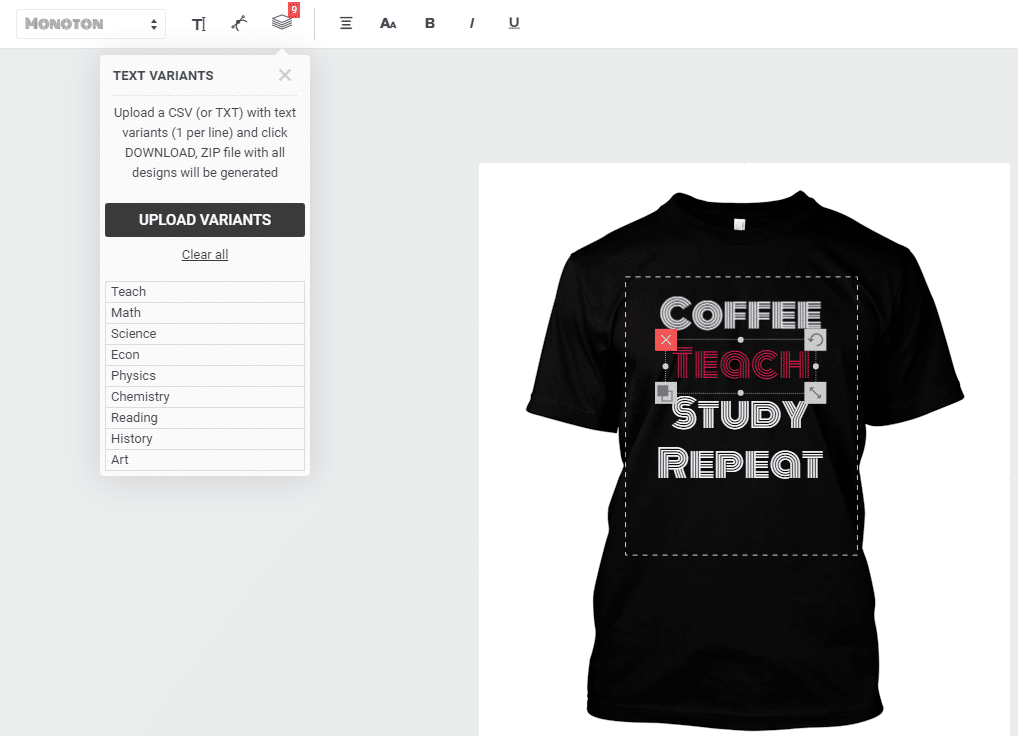 Now that you have your variants uploaded, all you need to do is select download from the top menu:



The designer will then go through and add the different changes to your design and download them all to a single folder. They are then ready to upload to Merch by Amazon!

Wrapping It Up
This can be an excellent way to take your research and artwork and turn it into hundreds of new designs. You can use these designs in NICHED DOWN markets to start creating royalties from work that you did a single time.
Stop wasting your time changing all of these manually and do it with Merch Informer!
To your success!