Dissecting Audiences On Amazon Merch On Demand: Trends And Top Sellers In The Hispanic Segment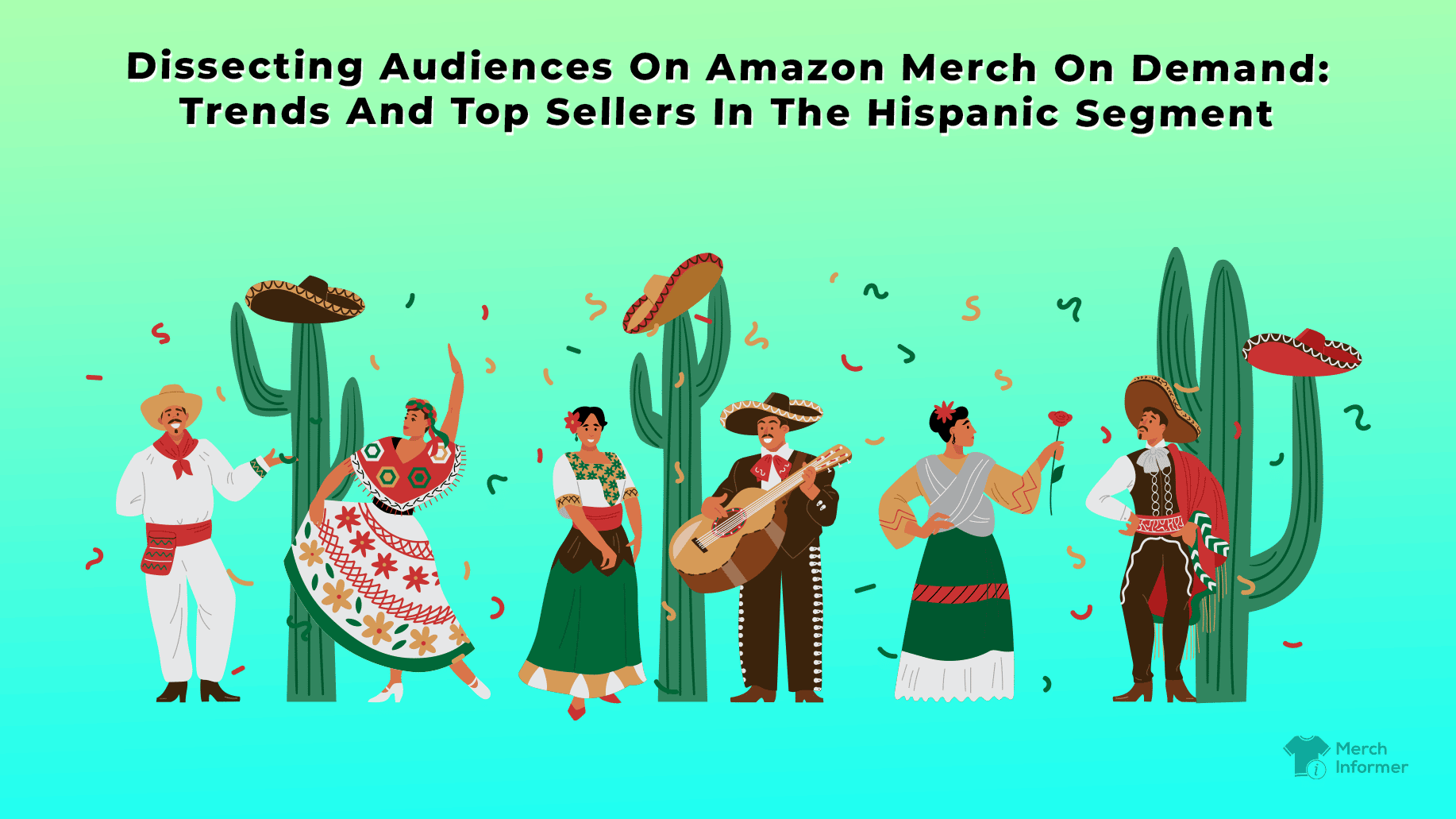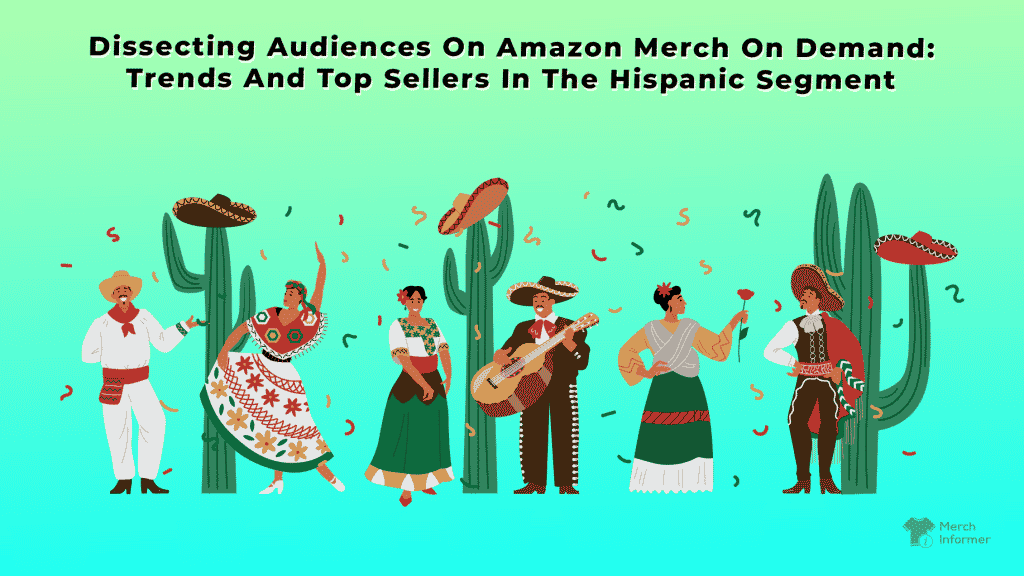 Seeing as Amazon is one of the world's largest e-Commerce marketplaces, sellers on the platform are required to know their audience extremely well in order to cater to specific segments and enter targeted niches.
Defining a target audience can be difficult. This is especially true since research about the overall Amazon demographic is conflicting.
In some cases, it's been indicated that shoppers who spend the most are in the region of 45 to 64 years old, married with kids, and college-educated. But other research findings indicate that the majority of the Amazon audience is 18 to 44 years old. Another study affirms that the most populous customers fall under the 35 to 44 and 55 to 64 brackets.
On the whole, it can be said that the average age of an Amazon consumer is 37.
Apart from age, gender is also a defining factor, with women (mostly white) being among the top in the audience. They tend to be situated in the south or south-east of the US and earn in the region of $80,000 or more per year.

On average, an Amazon shopper will place around 74 orders a year at a cost ranging between $600 and $2,591.
But how does one uncover the ethnicity of a buyer demographic on Amazon?
In this article, a first of many, we attempt to dissect the Hispanic audience on Amazon's US marketplace.
How to uncover the ethnicity of the buyer audience on Amazon
Given our brief breakdown of the buyer audience on Amazon, is it possible to determine their ethnicity? And when talking about an Amazon buyer audience, are there some factors that emerge as common between them?
The answer appears to be a "yes".
The defining factors of completing a sale
For example, it's been indicated that 64% of Amazon shoppers will choose the platform due to the low prices they're likely to find there, with free shipping playing a major role in their purchasing decisions. In addition to this, studies also show that a whopping 78% of Amazon searches are unbranded. This means that most shoppers value a product over an individual seller. Customer service through helpful efforts on the part of the marketplace, such as with efficient returns policies, are also a huge factor.
Hints to look at when determining buyer ethnicity
When it comes to looking at your audience, it's important to consider what their median household income is, their age, gender, education, and marital status. But since this information is mainly hidden from sellers, they have another way of unearthing their buyers.
This can be done through exploring some of the listings, which have received the most clicks, looking at the most sought-after keywords, and checking out the top five competing products.
Popular holidays

Other factors to take into account include people's interests and the importance of certain special holidays that center around particular ethnicities. For example, Dia De Los Muertos (Day of the Dead) is a popular Mexican holiday that takes place on 1 and 2 November each year. Looking at particular categories of keywords related to this and other holidays can help a seller get deeper insights into their audience.
Needs and wants
Other factors to consider when unearthing a particular ethnicity on Amazon is to ask yourself some important questions. For instance, what are some of the needs or wants that can be solved by using your product? Who typically uses such a product?
It's also important to think about multiple groups within one ethnicity. For example, you can break it down into genders and age groups, as well as buying power and keyword searches. This way, you may find that you have multiple target markets whose needs are met with one product. But the crucial thing is to identify these groups and target your product to them exclusively.
Geography and psychographics
Finally, apart from demographic factors, determining a buyer persona specifically for Amazon, you can also broaden your research to geographical regions (whether a specific town or an entire country or even continent).
Then there are psychographic metrics that segment people based on what they like to do when it comes to common interests and personality traits. Some of the best ways to segment psychographics include looking at opinions (through customer reviews and ratings), interests and activities, social class, lifestyle, personal values, and attitudes.
How big is the Hispanic segment of merch buyers on Amazon?


Although it is difficult to accurately and numerically express the size of the Hispanic segment of buyers on Amazon, some in-depth searches indicate the following listings count:
Over 50,000 results for "Hispanic t-shirts for men"
Over 2,000 results for "Hispanic t-shirts for women"
Over 3,000 results for "Latina t-shirts for women"
Over 3,000 results for "Latino t-shirts for men"
Over 10,000 results for "Mexican shirts for men"
Over 10,000 results for "Mexican shirts for women"
Over 7,000 results for "Mexican shirts for boys"
Over 8,000 results for "Mexican shirts for girls"
Overall, there appear to be in the region of 100,000 items related to the Hispanic segment of buyers on Amazon with the possibility of more items being discovered.
This is a strong signal that this audience is huge and can be segmented further to go beyond men and women to children such as girls and boys.
In addition, it's important to look at variations of keywords such as "Hispanic", "Mexican", "Latino", "South American", and even break the "South American" search further down into different Latin American countries, too.
How big is the Hispanic segment of buyers on Amazon Merch on Demand? What merch are they buying?
As a print-on-demand platform, Amazon Merch on Demand caters to the Hispanic segment quite well. We used Merch Informer's tools and modules to look at some of the top performing keywords, alongside their associated best sellers ranks (BSRs), search volume (when applicable), and average prices for various subcategories of merch products.
Here's what we found:
"Hispanic": average BSR of 6,513,200; average price – $17.59.
"Hispanic heritage month shirts": average BSR of 4,923,346; search volume of 35,294; average price – $16.97.
"Hispanic heritage shirt": average BSR of 5,876,897; search volume of 2,525; average price – $17.17.
"Mexican men's shirts": average BSR of 1,484,568; search volume of 3,117; average price – $18.50.
"Mexican hoodies for men": average BSR of 669,093; search volume of 3,147; average price – $18.50.
"Mexican t-shirts mens": average BSR of 1,516,449; search volume of 2,435; average price – $18.41.
And so, we come to the logical question: "What are Hispanics mostly buying on Amazon Merch on Demand?"


Although there is relatively high demand for men's hoodies, the majority of searches are for t-shirts in both the men's and women's categories of merch with a lower number of t-shirts designed specifically for youth and children.
What are some of the trends and seasonal events that attract the most Hispanic buyers?
The trends and seasonal events driving purchases include things like "Hispanic Heritage Month". But there are also multiple family-related events as well. This is illustrated by the vast availability of products related to:
Mexican gender reveal shirts
Merch that includes words like "nino", "nina", "chica", "abuela", "mujer", and "benito"
"Sanchos" and variations of different Hispanic surnames
Celebrations such as "La Fiesta" and "Cinco de Mayo"
Food-related cultural aspects such as tacos, and more

Who are the top sellers in the Hispanic segment and what are they doing right to attract Hispanic buyers?
We chose three sellers catering to the Hispanic segment, which are making actual sales with their products.
The first is the "Mens Mens Best Nino Ever Gift for Spanish Mexican Godfather T-Shirt". The seller is Birthday Fathers Day Christmas Gifts for Nino with six estimated sales this month (July, 2022) at a price of $19.98.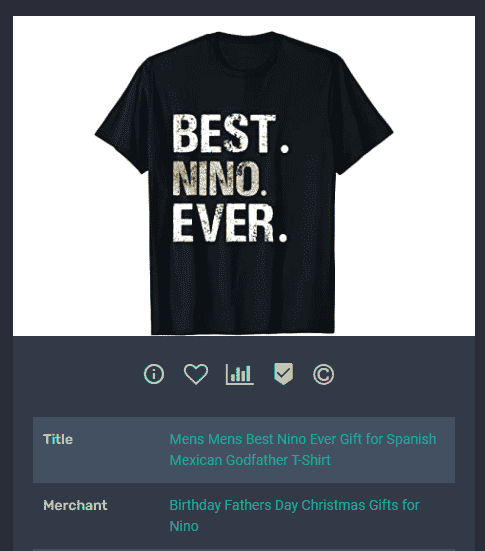 The item has received 110 ratings and reviews to date and has a BSR of 256,985. What makes this particular shirt popular among buyers is that it's targeted specifically at Hispanic godfathers, thereby touching on the tradition and importance placed on the family in this broad cultural, geographic and linguistic group. The description indicates that the shirt is ideal for various holidays, and particularly, the celebration of godfathers.
The second item on our list is the "Mens El Papa Mas Chingon – Funny best Mexican Dad Gift T-Shirt". Produced by seller chingón, it has received only two ratings but it has a pretty impressive BSR of 264,120. It has also made six sales this month (July, 2022), at a price of $19.98.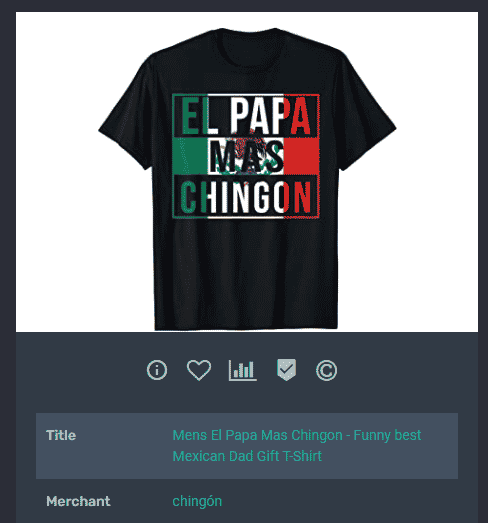 The description is strong because it appeals to people with Mexican roots who would like to buy a gift for their Mexican fathers. This indicates precise targeting, thereby catering to a very specific audience.
The final listing in our analysis is the "Dabbing Mexican Poncho Cinco de Mayo Boys Men Sombrero Dab T-Shirt". It was created by seller CINCO DE MAYO and has received 68 ratings and reviews to date.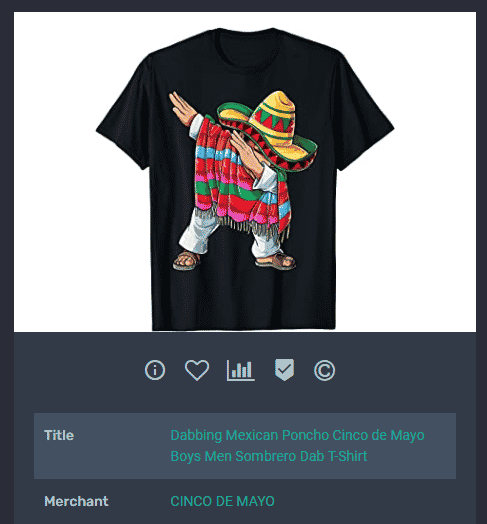 This seller outperforms the other two with 28 sales, with the product priced at $17.98. The description once again comes out strong with an indication that the shirt is perfect for a costume party outfit or for those who love dancing at a Mexican fiesta or festival.
What is our tip-list for sellers in this segment?
Regarding titles, it's crucial to ensure that you use targeted keywords (some of which were mentioned above) that have high search volumes.
These keywords should appear in both your title and description and they should also be closely aligned with your shirt's design. Regarding the description, be sure to indicate who the t-shirt or merch item is intended for, what holidays it is most suitable for, as well as whether it can be presented as a birthday, holiday, festival, or Christmas gift.
As for pricing, it appears that Hispanic segment shirts rarely go above the $20.00 average and this should serve as one indication of the segment's purchasing power. Pricing higher than $20.00 should be warranted only by an exceptional design and a highly optimized listing.
Designs are usually bright and very colorful (normally on a black background) and feature various traditional Hispanic cultural holidays, ornaments, celebrations, food types, national figures (e.g. Eddie Guerero), the different flags of Latin America, etc.
There are even multiple text-only t-shirts which use cursive fonts to spell out important words in the Hispanic segment in Spanish such as "Chica", "Latina", and more.
In conclusion
Amazon audiences can broadly be divided into loyalists, convenience shoppers, and bargain hunters.
When it comes to the Hispanic segment, it's evident that there's a huge market segment that can be catered to based on the number of listings on Amazon as well as the high search volume for Hispanic and Hispanic related merch.
Use Merch Informer to help you dissect your audience, and you'll see that when you're catering to an Hispanic audience, you're catering to a very broad range of people. Therefore, further and deeper segmentation will be required depending on whether you're selling to men or women, boys or girls, different age groups, different nationalities, cultural events and festivals, traditions, and more.
Merch Informer takes care of all your audience-segmentation needs on Amazon Merch on Demand for only $9.99 per month.