Diving In The Tote Bag: How Does This Category Of Products Perform On Amazon Merch On Demand?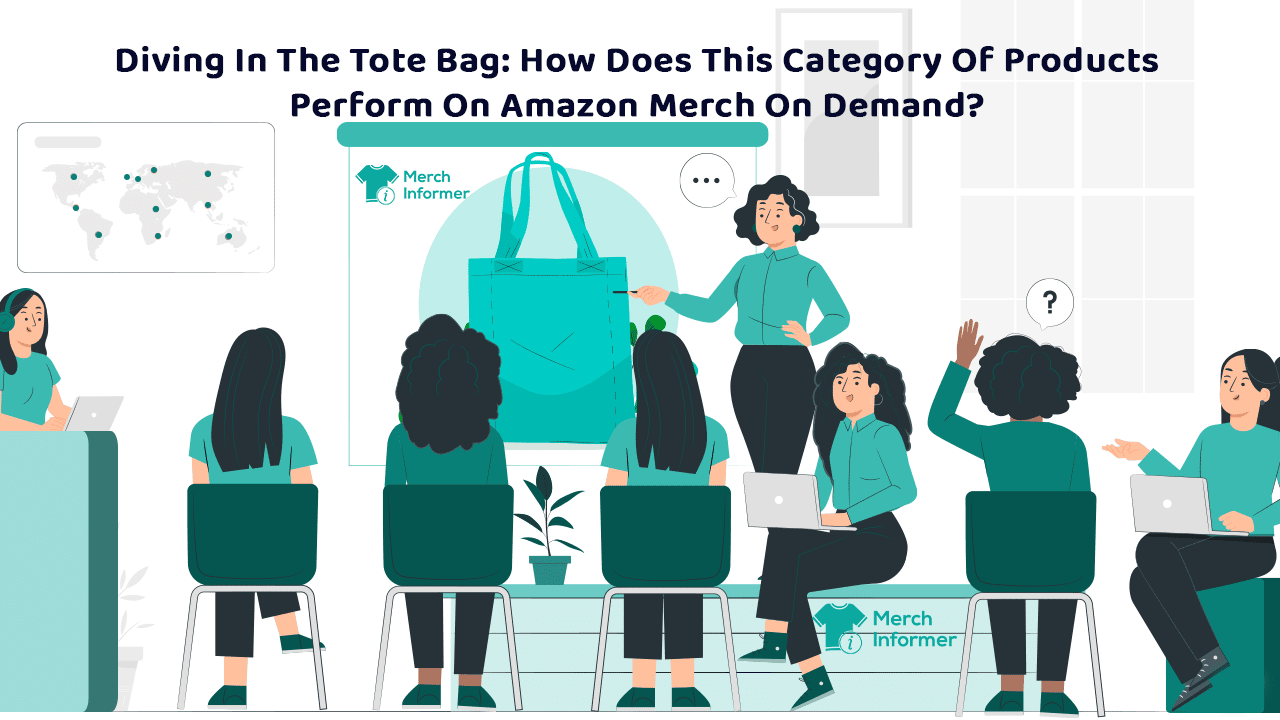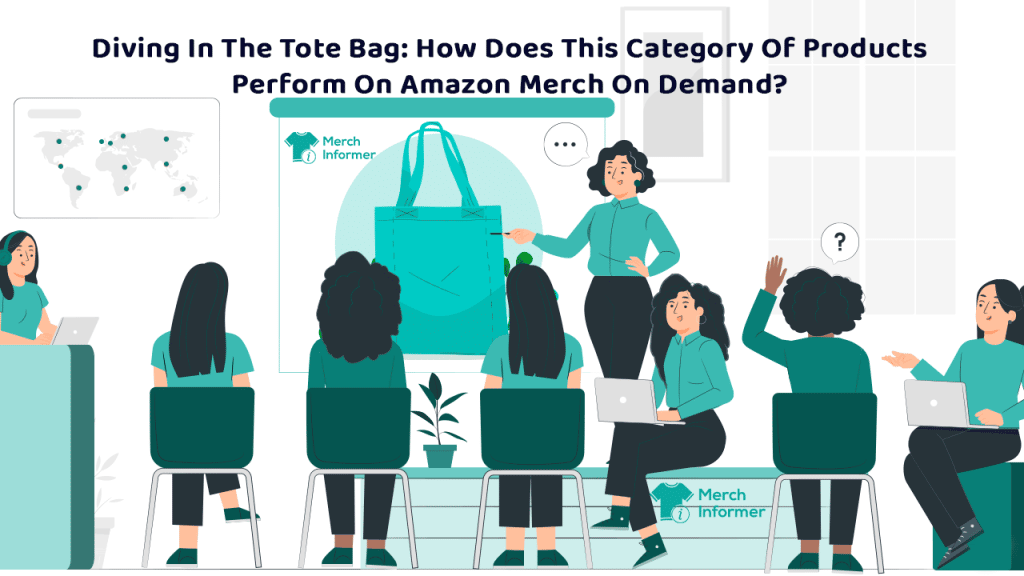 One of the first decisions to make when selling on Amazon Merch on Demand is what category to focus your designs on. With options like t-shirts, hoodies, popsockets, raglans, iPhone cases and more, selecting a profitable category is no walk in the park. You may be tempted to stick to the most popular options, but this could mean swimming in a pool of sharks. The competition can get pretty serious, indeed.
It may turn out that selling your designs in less trendy categories will reward you with higher profits.
Let's take tote bags. To figure out whether the category is worth your interest as a seller, we used Merch Informer and performed a deep dive into the market.
Here's what we discovered.
How big is the tote bag product category on Amazon Merch on Demand?



Before we take a look at the peculiarities of the product category, it's essential to find out what the size of the market is. This will give us an overview of how many other sellers are competing in the space, how many tote bag listings there are on Amazon, and most importantly – how popular the category is among buyers.
We used Merch Informer's Merch Hunter tool to get some answers. By personalizing our search, we wanted to look at the top 500 best-performing listings in the category. However, the tool only showed us 457 listings. This indicates that the category is not as big as others, as there are not enough listings to fulfil the 500 mark search requirement.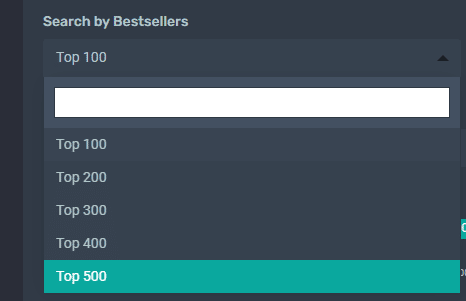 Next, we used the Keyword Finder tool in Merch Hunter to discover whether Amazon shoppers are interested in the category. The keyword's search volume will reveal how many users have searched for the word when browsing through the marketplace. The higher the search volume, the bigger the audience for your listings in the category.
According to the tool, the word "tote bag" receives a 228,778 search volume per month. This means that there are more than 200,000 users actively searching for tote bags on Amazon. In other words, there's a market for your designs. Considering that there aren't that many existing listings, it's safe to say that you can enjoy fruitful gains in this category.


Is the tote bag product category competitive on Amazon Merch on Demand?
By comparing the search volume of category-related keywords to the number of listings available on Amazon, we can determine how competitive a market is. For example, in the previous section we concluded that there are few tote bag listings, yet a lot of search.
However, by looking at the Keyword Finder module, we can spot a different trend. All of the tote bag-related keywords have high competition. This means that other sellers are actively using them to rank their listings. For new entrants, competing for these keywords could be a pain in the neck.
How profitable is the tote bag product category?
The next big question is related to the profitability of the product category. As a seller, your earnings from print-on-demand merch sales derive from royalties. Certain categories have their individual royalty structures. When it comes to tote bags, here are the royalties that you can expect to earn based on the listing price:
Purchase price vs royalties:
$16.99 nets you $1.20
$17.99 nets you $2.03
$18.99 nets you $2.86
$19.99 nets you $3.69
$20.99 nets you $4.52
$21.99 nets you $5.35
But which one of these pricing ranges is the most reasonable in real life? The best way to find out is to look at how other sellers are pricing their tote bags.
By looking at results from the bestsellers, we were able to pinpoint the lowest, highest, and average prices in the category. The cheapest tote bag costs $5.69, while the most expensive one is $59.99. If you're looking for the golden middle, it's the average price that you're interested in. For tote bags, the average price is $20.33.
In a nutshell, by pricing your tote bag designs in a similar way to other sellers, you can expect to make around $4.50 per sale in royalties.
A look into the best sellers in tote bags on Amazon
So far so good. Tote bags are a lucrative opportunity to make money on Amazon. But what makes products in the category sell? What are the top performers doing better than others?
Let's find out by analyzing the bestsellers in the space.
According to Merch Hunter, the number one best selling tote bag listing is the "Library Due Date Cards Stamp Book Return Librarian Vintage Tote Bag". The listing sells for $18.98, which is just under the category's average price. This means that the seller enjoys a competitive edge over their peers, enabling them to attract more buyers. The BSR of the listing is 123,599, which equates to around 21 sales per month.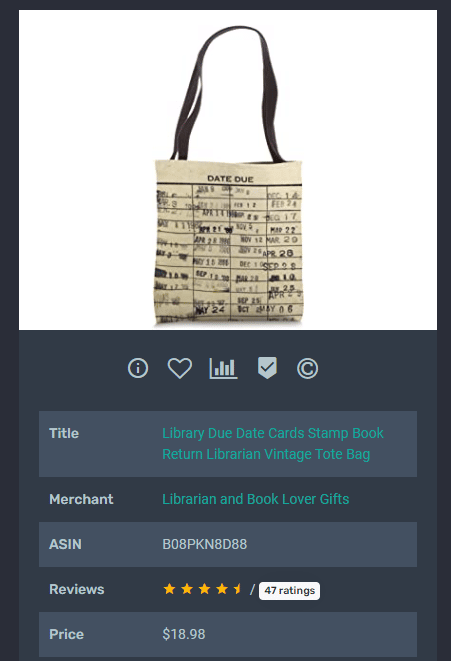 Important to note here is the fact that although this is the top performer in the category, compared to other merch categories, the sales volume isn't actually that big.
The design of the bag is very authentic and vintage, with a table of different date stamps, which perfectly match the librarian theme. In terms of keywords, the sellers use librarian and book-themed keywords to attract more users to the listing, such as "library due date", "due date card stamps", and "librarian vintage tote bag".
Best practices that will make you stand out
But looking at a single listing isn't enough to pinpoint the best practices in the tote bag product category. In order to offer some practical guidance and tips on how to make a tote bag listing sell, we did some extra digging into the category.
The following best practices are a summary of a thorough analysis of the bestsellers in the space.
Design
When looking at the chart toppers in the tote bag category, a few design-related specifics become vivid. First, the background color of most bags is either white or black. This enables the creation of a nice contrast between a range of other colors, making the design stand out. Second, the majority of tote bags include some form of text as part of the design. There are a multitude of text-only designs, but there are also listings with a combo of text and images. The most appropriate choice of design will depend on the specific tote bag niche that you've selected.


For example, creating a funny tote bag design is almost always related to text. On the other hand, tote bags targeted at art enthusiasts, fashion fans, or movie character lovers tend to contain visually appealing images.
Before choosing the design of your tote bag, make sure you're aware of your target audience and their preferences. Use colors that create contrast, go for text size and fonts that are easy to ready, and don't forget to follow any requirements outlined by Amazon.
Pricing
We already looked at the typical pricing models for the tote bag category. In order to make your listing attractive, we recommend gaining as much competitive advantage as you can via your pricing strategy.


What does this mean? Either create a listing that is priced around the category's average or go lower. Be careful not to undersell your design as this can also trigger negative effects. A surprisingly low price usually signals for lack of experience, confidence or quality. As you become more competent in the category and receive more reviews, you can gradually increase the price to earn higher royalties.
Keywords
As with any other merch category, keyword optimization is essential. Adding relevant and highly searched keywords in your listing title and description will make your products easily discoverable. As a result, you will enjoy more traffic. If you have managed to create a catchy design, set a decent price and provide value to your target audience, converting this traffic into sales will be a piece of cake.
But how do you know which keywords to use? For starters, never focus solely on the most evident keywords from the category or niche, like "tote bags". Earlier we concluded that there is a ton of search volume for this keyword. However, there's also a lot of competition.
Instead, research the market to discover related keywords and phrases that have to do with specific niches. When you've selected a list of keywords to use, check their search volume and competition metrics. These pieces of information will reveal how easy it will be to rank for these words and how many users you can expect to reach.
Niches
Speaking of niches, there are a number of narrow sub-markets that you can compete in when selling in the tote bag category. By running a quick keyword research, we came across the following trending niches within the space:
tote bag for women: 64,847
goyard tote bag: 3,192
laptop tote bag: 2,327
bride tote bag: 1,032
mini tote bag: 893
cat tote bag: 683
football tote bag: 460
boho tote bag: 457
funny tote bag: 436
baseball tote bag: 436
unicorn tote bag: 363
You can also tap into a multitude of other ideas for niche inspiration by exploring the bestsellers. Some of the recurring themes we came across were pets, music, funny sayings, books, wine, and others.
We recommend niching down as much as possible to be one step ahead of the pack. This will enable you to target a specific audience and offer supply to a particular demand.
In a nutshell
From our research into the tote bag product category, we can conclude that there are opportunities that you can explore as a seller in the space. The category may not be as large and popular as t-shirts or hoodies, but it does have a significant audience.
By taking into consideration all of the mentioned above facts and best practices, you can enter the tote bag category with confidence and quickly grow your print-on-demand merch business.