Festival Amazon Merch On Demand – Is Merch For Festivals A Profitable Niche?
The summer season offers a ton of opportunities for Amazon Merch on Demand Sellers to diversify their listings and expand their revenue stream. One such opportunity is related to festivals. Festivals are popular throughout the hot months of the year, making festival merch a lucrative niche to tap into. But, before you get excited and start planning your strategy, it's key to get to know the market in more detail.
We're here to help you with key insights from Merch Informer.
A look into the size of the festival merch market on Amazon Merch on Demand
The festival merch category on Amazon Merch on Demand is fragmented because of the enormous variety of festivals. For instance, there are music festivals like Coachella, Lollapalooza, and the Pitchfork Music Festival. However, there are also film festivals, comedy festivals, anime festivals, and more. Considering the diversity, it's difficult to determine how big the whole market is.
However, we can use Merch Informer to peek into how many bestsellers use the keyword "festival" in their listings. The number exceeds 500, which is a clear indication that the festival merch market is popular enough to deserve your attention. We can also look at festival-related keywords and explore their search volumes and competition.



EDM festival clothes – 93,788 – high
lollapalooza tshirt – 9,585 – high
holi festival tshirt – 6,048 – high
jazz festival tshirt – 6,045 – no data
pride festival clothing – 4,357 – high
beyonce coachella hoodie – 3,227 – high
coachella music festival – 2,057 – low
festival t-shirt – 1,787 high
coachella hoodie – 1,787 – high
astroworld festival merch – 1,771 high
festival tshirt – 1,700 – high
sundance film festival tshirt – 1,619
stagecoach festival tshirt – 1,595 – no data
With thousands of searches for keywords centered around "festival", we can conclude that there is certainly a market for this type of merch.


How profitable is the festival merch niche?
Market size is one thing. But what about profitability?
In order to determine how profitable you can expect to be from selling festival merch designs, it's essential to understand how others in the niche price their products. Why? Because this will determine your pricing strategy. But let's back up our theory with numbers.
Here are the lowest, average, and highest asking prices for festivals according to merch type:
T-shirts: $7.73 – $18.78 – $51.00
Long sleeve t-shirts: $19.99 – $25.79 – $29.99
Sweatshirts: $26.39 – $33.05 – $39.99
Hoodies: $13.49 – $32.10 – $46.99
Popsockets: $11.72 – $14.92 – $19.98
Tank tops: $15.66 – $19.96 – $25.99
iPhone cases: $13.84 – $19.12 – $24.99
*We've excluded merch categories likes v-necks, raglans, tote bags, Samsung cases, and throw pillows as there is not enough information and competition for festival merch in these niches.
It's clear to see that the average prices for festival merch vary according to the merch category. However, it's safe to say that you can expect to sell festival merch for between $14.92 and $33.05 if you want to stay around the average price of the niche. As you gain experience, you could be selling festival hoodies for somewhere around $45, which will result in bigger royalties.
Top-performers and best practices
Great, let's say that you've considered this information and you've decided to get a taste of the honey pot. It's natural to be asking yourself what other competitors are doing. What makes their listings attractive and sellable?
We used t-shirts as the most popular merch category on Amazon Merch on Demand to perform detailed research using Merch Informer.
Design
When looking at the bestsellers in the festival merch space on Amazon, the first thing that we observed was design patterns. From the start, it became clear that the majority of t-shirts have a black base color. This enables Sellers to create an attractive and vivid contrast between other colors. It also makes the design suitable for anyone, as black is a classic color that goes well with everything.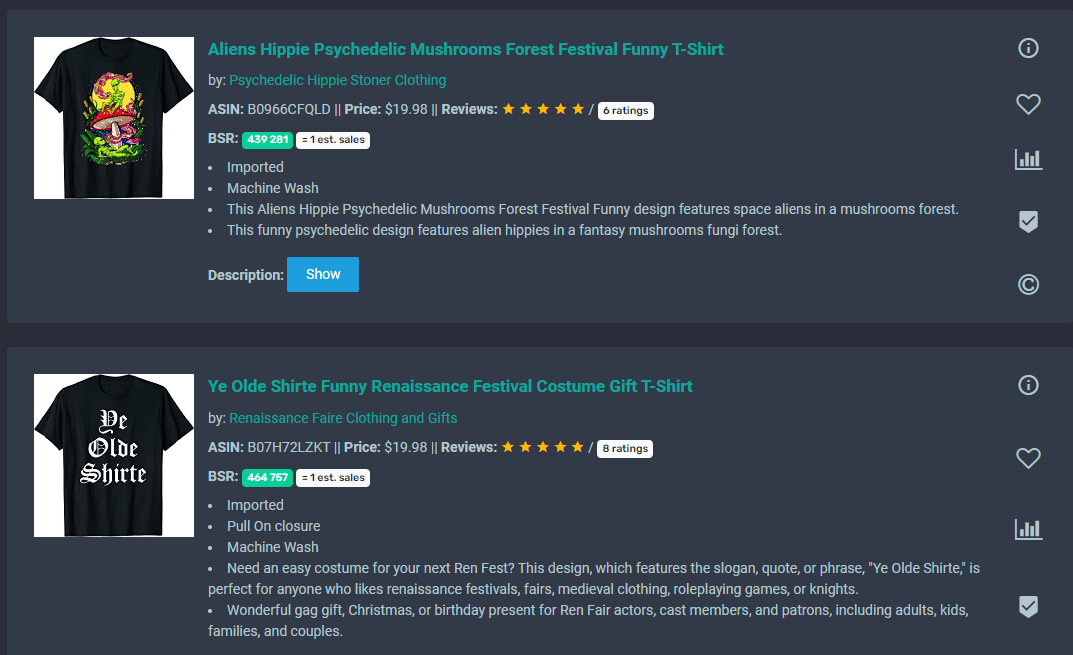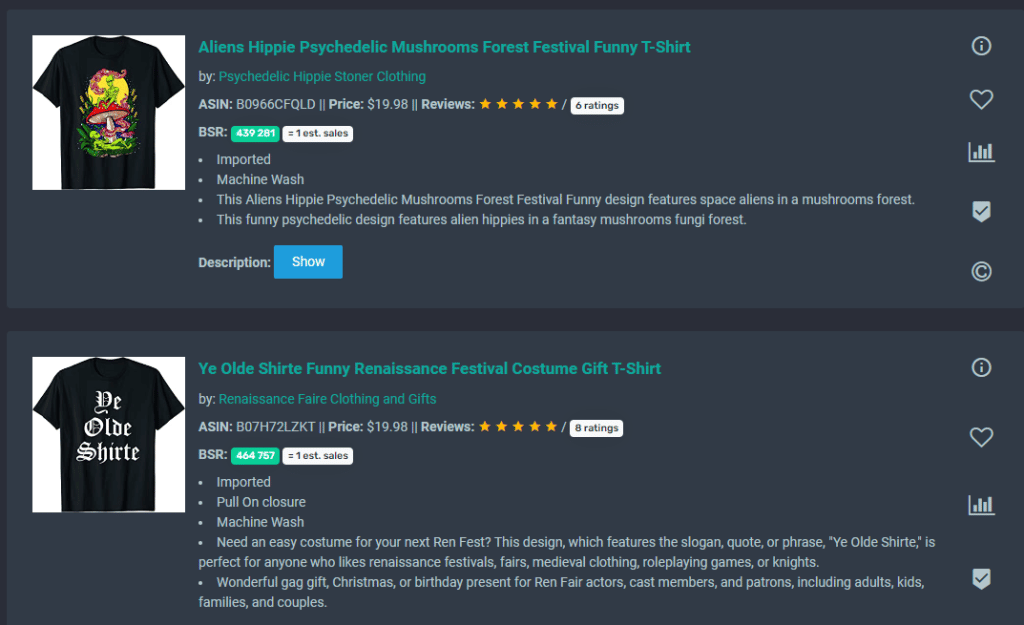 The choice of design colors comes down to the type of festival that the product is targeting.
For example, let's look at the "Hippie Mushrooms Camping Psychedelic Forest Fungi Festival T-Shirt", which is the third-best-selling listing in the festival niche. Its design is purely image-based, with no text. The colors used are vibrant, including red, green, yellow, blue, purple, and brown. Other psychedelic-related designs also rely on a mix of shades and nuances, matching the audience's expectations.
Some of the most popular colors that we observed when analyzing festival merch designs include yellow, red, white, and purple.
Niches
We already mentioned that there are hundreds of different festivals taking place around the world. For Sellers, this means hundreds of different niches. Some of the most popular niches in the festival merch space include EDM festivals, psychedelic festivals, pride festivals, and funny festival merch. However, it's worth noting that these are also some of the most competitive niches according to keyword research and volume of listings.
Overall, we can segment the festival niches into the following categories:
Music festivals – Jazz festivals, Rock & Roll festivals, Coachella, EDM festivals, Rave festivals
Film festivals – related to specific movie genres, movie titles, or characters
Lifestyle festivals – pride festivals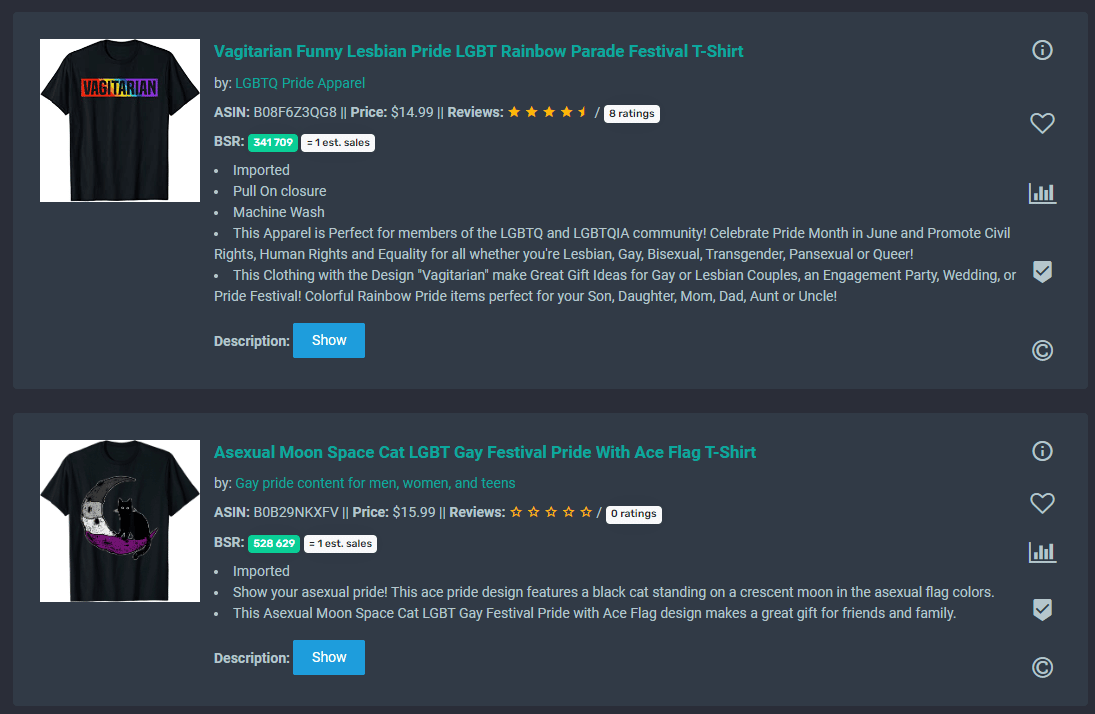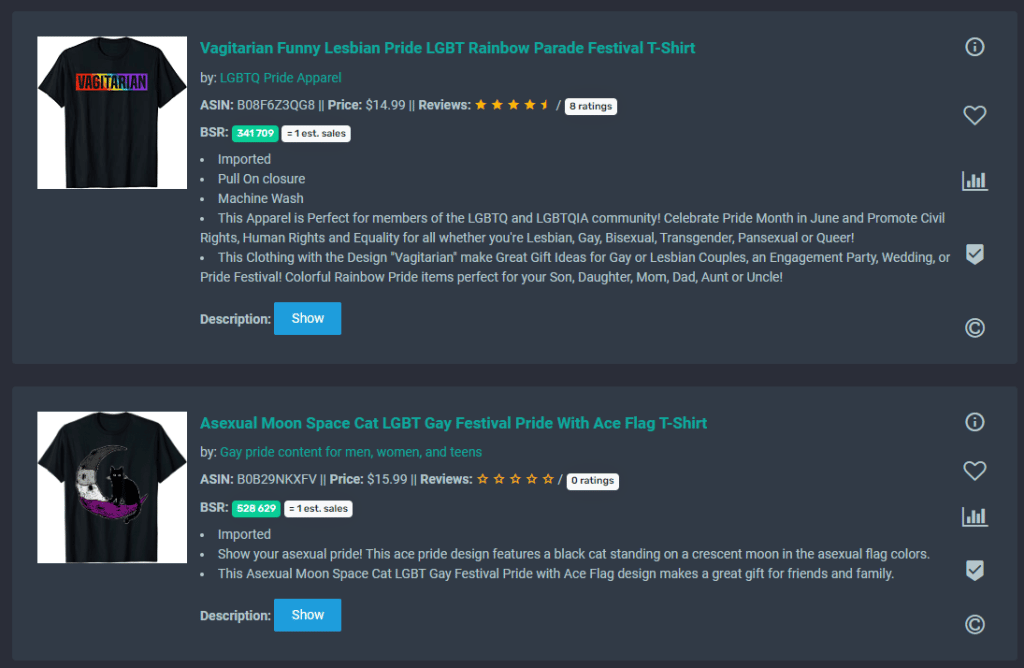 By taking advantage of these niches, you can create specific festival designs targeted at a narrow audience. This strategy enables you to quickly make your listings visible to the right buyers, increasing your chances of landing more sales.
Keywords
The chart-toppers always stand out from the rest with one crucial element – perfect use of keywords. Keywords are one of the most essential factors in a listing. They help Amazon users discover your products, click on them, and consider making a purchase. For the festival merch space, some of the most crucial, highly searched for, and actively used keywords include:
Music
Festival
Concert
Funny
Pride
Festivals
Men
Women
Techno
Rave
EDM
Costume
As you can see, some of these are related to specific festival niches, audiences, genres, and more. Using a combination of such keywords in titles and descriptions will optimize your listings for success.
Price
As we saw from the niche profitability research above, every merch category has different prices. If we look at the top-selling listings from the t-shirt category, we can see that the majority of products are priced around the average price of the niche. Why? Because this is the pricing point where Sellers are most competitive. Underpricing speaks for uncertainty and low quality, while overpricing may push away buyers due to the inability to afford the product.
Tips for success with festival merch on Amazon
Create your products based on keyword research
The truth is that a lot of merch designs don't differ much from standard merch in a given niche. For example, a jazz festival t-shirt design could include images of music notes, jazz instruments, or musicians. It can be sold as a classic t-shirt or hoodie and not have anything to do with a festival. However, by adding keywords like "jazz festival", "festival t-shirt", or "jazz festival tshirt", you are transforming your listing completely. How? By setting the expectations for users.

Make sure to target the Amazon audience interested in festivals by optimizing your listings with relevant keywords. You can get ideas and inspiration for creative designs by analyzing keywords with high search volumes and low competition levels.
Don't make risky moves with pricing
You can take risks with pricing once you get comfortable in a niche. After winning some popularity and attracting attention, you can afford to increase prices. However, if you're just getting started in the festival niche, it's best to stick to the average prices on the market. For instance, if you're hoping to sell festival t-shirt designs, it's important to know that the average asking price in the space is $18.78.
This means that you can price your product somewhere between $17 and $19. By setting your price in the middle, you'll be more affordable than the priciest options in the space. At the same time, you won't be pricing your designs too low, which is also off-putting for buyers. In a nutshell, staying in the middle is the recommended course of action.
Use niche-specific keywords
We already touched upon the importance of keywords. However, make sure to use keywords that are specifically chosen based on a niche. The more niche your listing is, the higher chance it has of scoring sales from a narrow audience. In other words, the more competitive you will be as a Seller.
Optimize listings with audience-specific keywords
Don't forget about your audience. The majority of bestsellers from the festival merch space have used audience-specific keywords like "men" and "women" in their titles. Why? Because at a glance, users can get an understanding of who the design is created for. In addition, a lot of festival-related searches are performed in combination with gender or age-related keywords. For example, rather than searching for jazz festival t-shirts, a lot of people search for jazz festival t-shirts for men.
Taking advantage of this will help you make your listings visible to a specific segment of the Amazon audience, who is likely to purchase your designs. Consequently, you will receive more traffic and enjoy higher conversion rates.
Consider timing as a crucial factor


Last but not least, use timing to your advantage. There are a lot of different festivals taking place throughout the year. Do your research and make a list of when specific festivals take place. If you're planning to sell merch designs related to them, make sure to have your designs and listings ready at least a month before the event. A lot of people shop for festival merch as a gift for friends. You'll want to be there when the wave of shoppers starts browsing for designs just like yours.
In conclusion
Festivals are a great opportunity to let your creativity out of the box, create awesome designs, and grow your customer base on Amazon Merch on Demand. The niche is certainly rich in opportunities. By using business intelligence tools like Merch Informer, you can get to know the market in detail and grow your presence on Amazon.