Guns'n'cowboys: How Big Is The Gun Themed T-Shirt Market On Amazon Merch On Demand?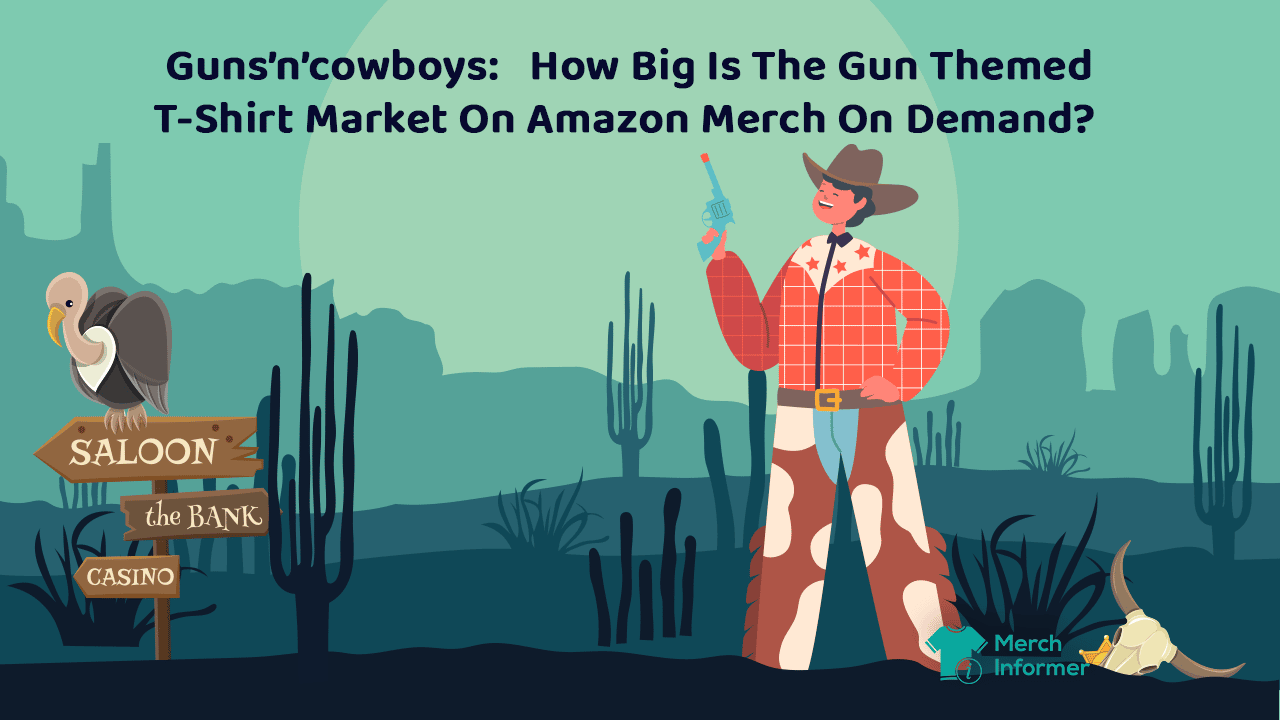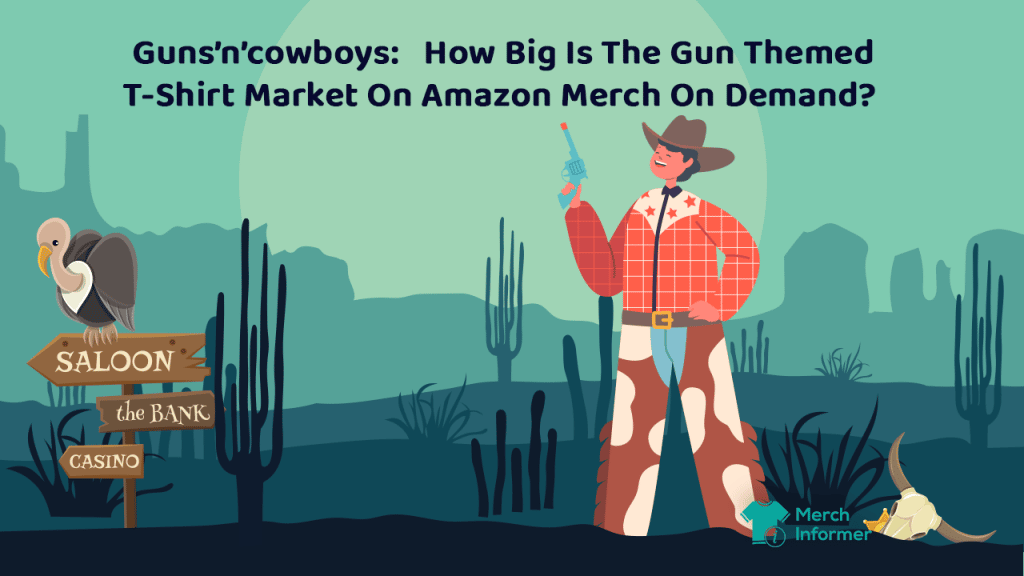 In most cases, the demand for specific t-shirt designs is directly linked to certain trends, political topics, cultural characteristics, and other factors in a given society. To grow your Amazon Merch on Demand side gig, it's essential to be aware of such niches and have insights on how profitable they can make you as a seller.
For example, one niche to explore is gun-themed t-shirts in the Amazon US marketplace. Whether it will be a cowboy, a rifle, or an NRA-inspired design, the gun niche is likely to be well-developed and rewarding, considering the national gun rights and the interest in this topic.
But entering a new niche based on assumptions is a risky endeavor. In this article, we'll confirm this theory with evidence from Merch Informer.
The size of the gun-themed t-shirt market on Amazon Merch on Demand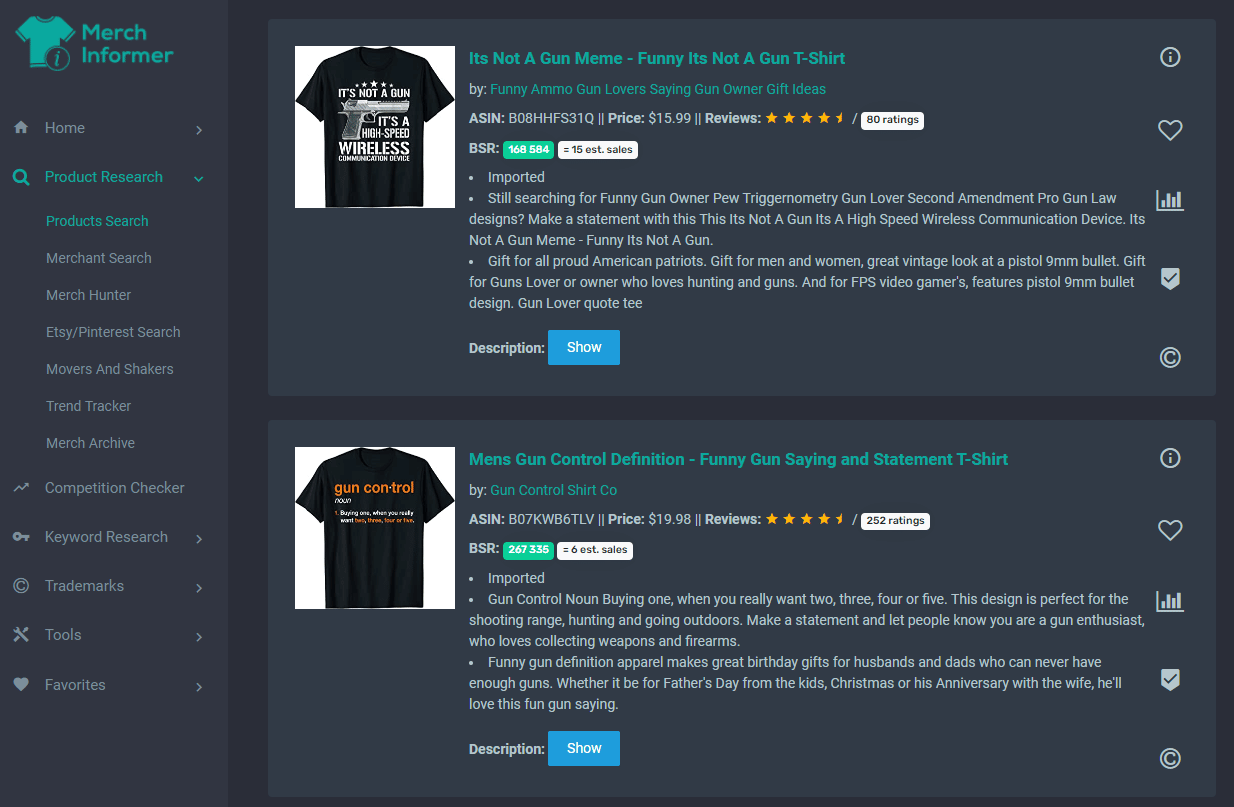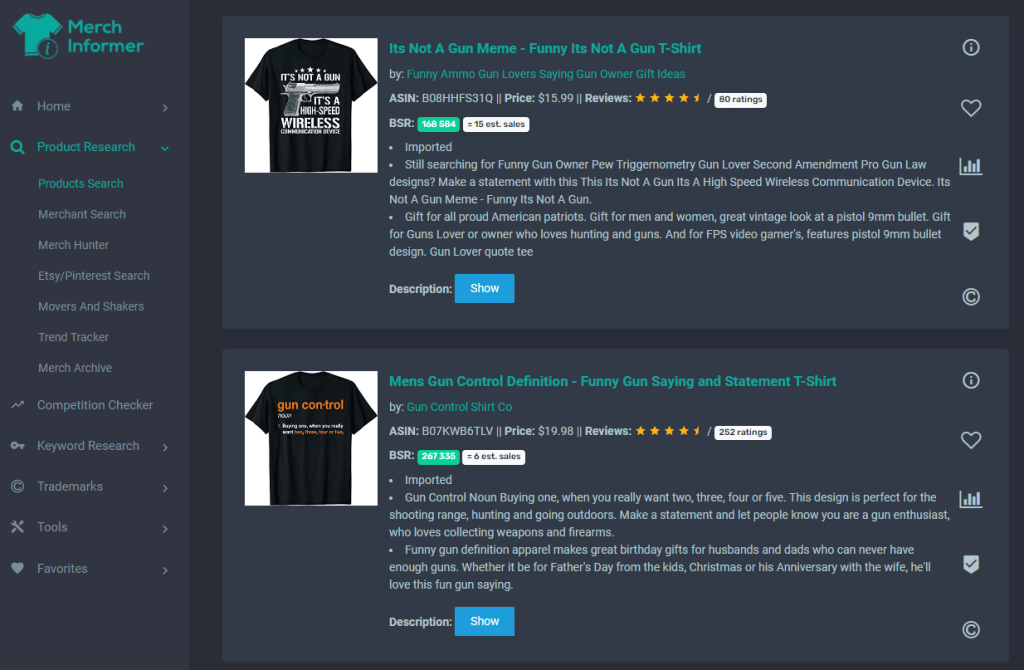 When analyzing the potential of a new niche, it's always best to start with an assessment of its size. A large market consists of enough shoppers or user demand to comfortably host a multitude of sellers. On the other hand, an insignificant market only allows limited space for growth for a few merchants, making it extremely difficult for new entrants to compete.

The most reliable way to examine how big a niche is is to explore the user demand and the competition. To discover this data, we used the main keywords "gun" and "rifle" to perform our search on Merch Informer.
Competition
First, we discovered that more than 500 listings rank for the word "gun", indicating a substantial market. However, it's important to note that some of the listings factored into the results include those that rank for things like "Guns N' Roses". These listings don't fall under the category we're interested in for the sake of this article.
This is why we decided to double-check our findings by researching the word "rifle". The results were the same – more than 500 listings are actively sold on Amazon Merch by Demand using that word. In addition, the two words have a competition score of F, making them both highly competitive.
User demand
Don't forget that high competition doesn't necessarily mean enough shopping demand. We conducted quick keyword research to find out how many buyers are interested in the niche.
We discovered the following keywords along with their search volumes:
Rifle-related keywords
rws air rifle – 83,545
bb-gun rifle – 80 ,82
rifle sling – 77,633
pellet rifle – 30,284
rifle – 27,947
assault rifle – 14,756
Gun-related keywords
guns guns – 247,675
bb guns – 208,163
bb gun – 182,775
Guns – 115,058
pistols guns – 81,625
pellet gun – 70,909
This shows us that there is a significant amount of interest from shoppers around the gun-inspired niche. Interestingly, we noticed that there isn't enough data on the competition level of the majority of keywords. This usually means that there aren't enough sellers ranking for these words.
Put otherwise, they're very easy to rank for, yet are frequently used by buyers for discovering products.
The profitability of the niche
Great, the market is large enough, and there is a sufficient amount of search volume for gun-themed t-shirts, suggesting that the niche is worth your time. But what about profitability? What can you expect to make in the market?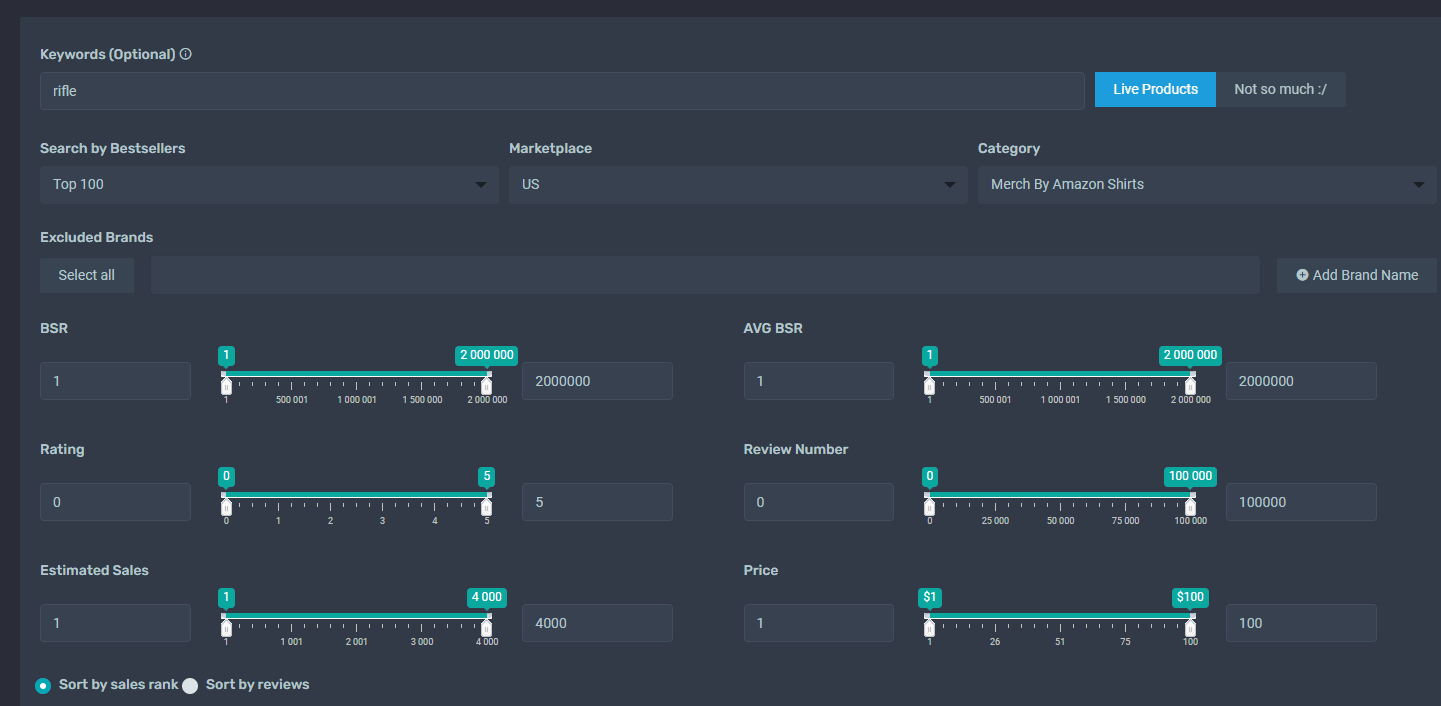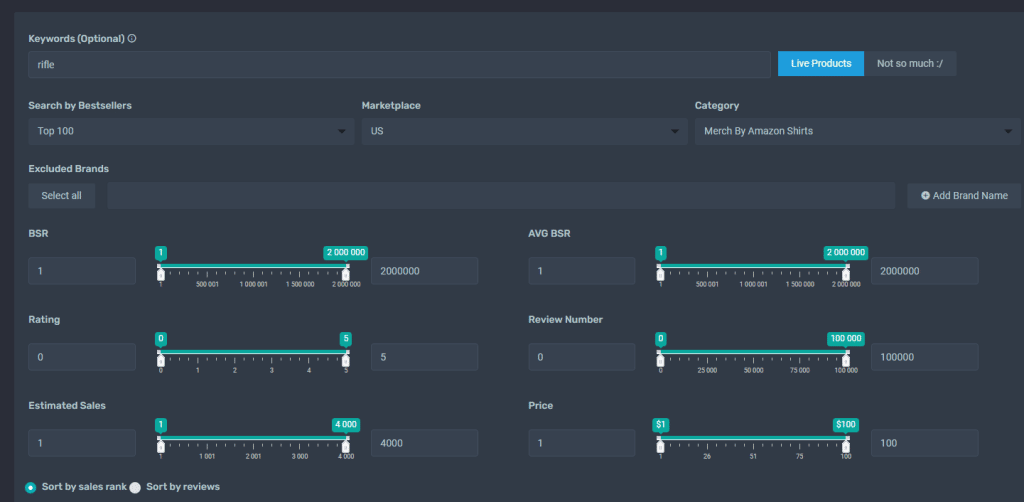 One of the most reliable ways to find out is by looking at the average BSR and prices of bestsellers. A search on Merch Informer's Merch Hunter tools for the word "rifle" shows the following:
Lowest Price – $11.95
Highest Price – $22.99
Average Price – $18.54
The average BSR among the top sellers is 481,933.
The same analysis for the word "gun" revealed these prices:
Lowest – $13.07
Highest Price – $30.00
Average Price – $19.29
In this case, the average BSR is 1,137,097, which is much higher. A higher BSR means fewer sales. However, let's not forget that the gun niche is slightly diluted due to other gun-based themes unrelated to weapons.
Exploring the bestsellers in the guns t-shirt niche: Best practices
Another critical component of inspecting a niche to determine its potential is to observe in detail what the best-sold listings are doing. What gun-based themes are they focusing on? What designs are they using? How are they optimizing their listings? What about their pricing strategies?
Let's find out the answers to all of these questions. Again, we'll split our research and look at both "gun" and "rifle" as our main keywords.
Guns
The number of best-performing listings for the word "gun" (excluding the Guns N' Roses results) is "Its Not A Gun Meme – Funny Its Not A Gun T-Shirt". The design features an image of a gun along with text and is part of the funny sub-niche. The listing is priced at $15.99 (slightly below the market average) and enjoys a BSR of 223,709. Like most other t-shirt designs in the space, the background color is black, while the text color is white.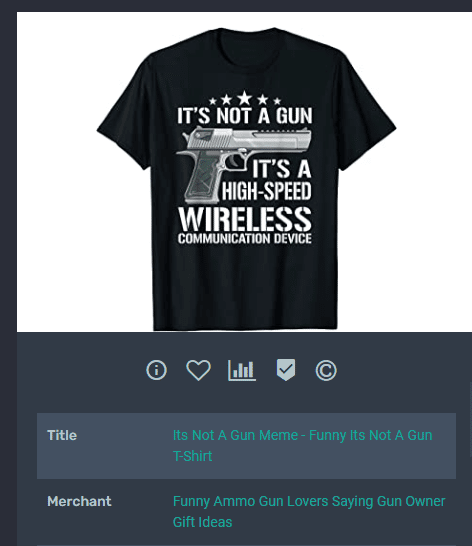 Browsing through other chart-toppers, we noticed that fun-inspired listings dominate the results. The seller of the example we looked at has successfully taken advantage of this sub-niche and has created a catchy design that has resulted in success.
Rifles
On the other hand, a search on the bestsellers for "rifles" results in the following top-performing item – the "AR-15 Nutrition Facts Gun Rifle Funny T-Shirt" listing. The design is priced at $16.95 (again, just below the market average) and has a BSR of 504,307.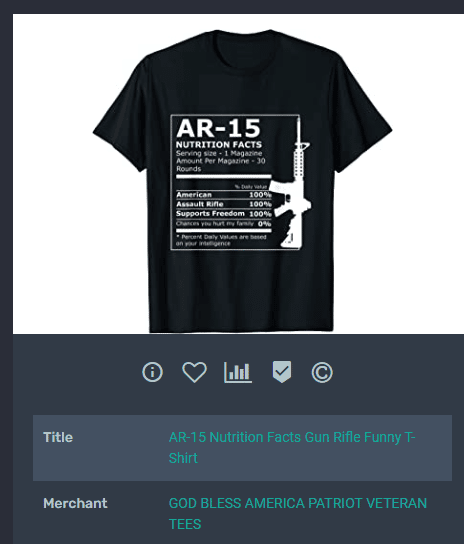 The dissection will reveal similar traits to the listing explored above. Both t-shirts are designed with black background color with white text, both use humor to create an interest in shoppers, and both are strategically priced near the market average.
A look into the most frequently used keywords for listing optimization in the gun and rifle niche unveiled the following:
Hunting
Machine
Funny
Amendment
Shooting
American
Patriot
Veterans
Support
Freedom
Flag
Dad
Licensed
These keywords are actively used in bestselling listings to attract more shoppers. They could be viewed as inspiration for specific sub-niches in which you can narrow your products. This will enable you to make your designs stand out and put you in an advantageous position when compared to others.
This brings us to one vital question – how can you enter the niche confidently and reach for success?
Tips for competing in the market like a pro
Considering all of the research-based insights we uncovered, we can suggest the following tips for being successful in the gun-themed t-shirt market.
Use keywords strategically
Optimize your listings for success by utilizing appropriate keywords. You want to target the keywords with high search volume, yet low competition. What would that lead to? You'd be satisfying demand for products in markets that other sellers do not aggressively saturate. This will help you stay ahead of the pack and quickly witness an increase in sales.
Successful listings in the gun niche use a wide range of keywords to target shoppers. We recommend taking advantage of the examples listed above for your own listing optimization.
Price your listing slightly below the market average
Your listing price is one of the first things shoppers will check when they land on your t-shirt design. Charge an amount that is similar to the standard in the market. You will have an even more significant advantage by going faintly lower than the average.
For example, we witnessed that the bestseller in the gun niche has set a price of $15.99 when the average price in the niche is $19.29. Why? Because buyers will instantly notice a lower price. Subconsciously, shoppers are attracted to the opportunity to get a good deal or, in this case, pay less for a high-quality product.
However, be careful with how low you go. Asking for too little can harm your reputation as you may be perceived as a low-quality seller.
Niche down as much as possible
If you've set your eyes on the gun niche, congratulations. You've made the first step to niching down. But there's so much more to it.
Narrow down your target audience by selling in sub-niches. For instance, our keyword research divulged that a lot of shoppers search for specific gun and rifle models for t-shirt designs. We also saw that funny t-shirt slogans perform exceptionally well. Use this to your advantage and position yourself ahead of your competition by digging further into the niche.
Follow the t-shirt design best practices that work
When it comes to design, there are two roads to take. One is risky and involves experiments with the target audience. In other words, trying something new. Experienced sellers can afford this strategy as they won't lose much from failing in one t-shirt design.
However, our recommendation is to take the second, more secure road – following the best practices.


T-shirts with a black background color and use text or imagery in white make it to the top of sales charts. Why? Because these two colors create a nice contrast, they're simple and can be worn by anyone, regardless of style, taste, or preferences.
Focus on these colors when creating your first t-shirt designs in the gun niche.
Know your target audience and their product search behavior
Finally, get to know your target audience before you go all in. More specifically, be aware of what they're searching for on Amazon Merch on Demand.
We discovered that gun-related keywords are much more attractive than rifle-related keywords in terms of search volume. What can you do with this information? Optimize your listings with gun-based keywords as your priority. This will make your listings easily discoverable, attractive, and more successful.
Wrapping up
The gun-themed t-shirt market on Amazon Merch on Demand provides sellers with vast opportunities to grow sales and thrive in profits. It can be a rewarding niche for both beginner and experienced sellers when approached strategically.
Don't forget to use Merch Informer's capabilities to make informed decisions and base every move on reliable data.